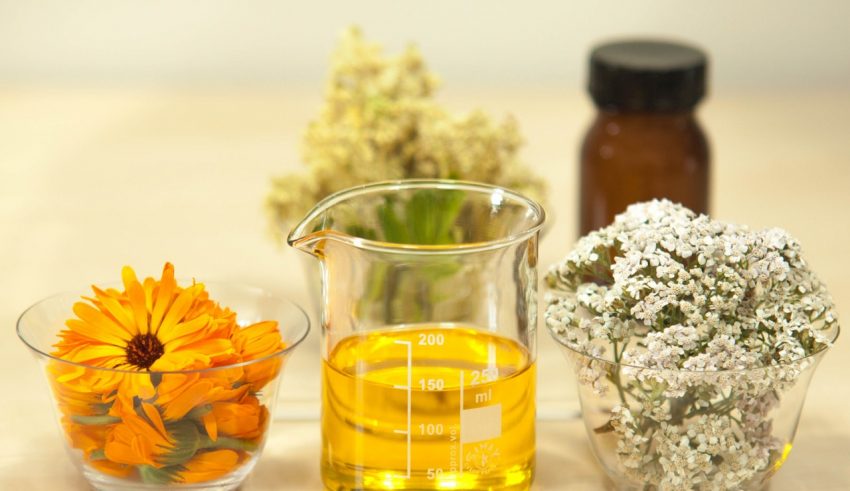 Sunflowers are one of the most magnificent and breathtaking flowers out there, but they are more than just being pretty. Sunflowers' seeds harbor a really brilliant oil that is extracted by pressing them under high pressure. Mostly, used as a food frying oil, sunflower oil has various other uses too. Believed to be a native of North America, today, millions of households use sunflower oil as their primary cooking oil. The seeds of the sunflower are put through a press which thoroughly squeezes all of the oil out of them. The oil usually has a light amber colour with a gentle and mild flavour.
Sunflowers were first cultivated by Native American tribes around five thousand years ago, they used parts of the plant to heal snake-bites and nourish their skin and hair. In today's world, too, sunflower has almost the same uses, and more. Sunflowers are rich in Vitamin E which happens to work wonders to our skin and overall health. Sunflowers and its oil is also an abundant source of many other nutrients and anti-oxidants.
This oil has the ability to reduce bodily cholesterol because it contains the right amount of linoleic acid and moreover, does not have any saturated fats.
When consumed in moderation, sunflower oil can even keep a check on the health of your heart. It can prevent many heart-related diseases, such as atherosclerosis or the clogging of arteries.
Sunflowers have healing properties which promote the skin to retain its moisture content. Furthermore, the presence of Vitamin E means that it will be able to trap the moisture leaving the skin soft and supple. For folks with extremely dry skin, sunflower seed oil might as well be a miracle oil.
Sunflower seed oil is also plentiful in Vitamin A, C, D, and other fatty acids that act as anti-oxidants and help form new skin cells hence battling acne-prone skin. This oil is also useful in fighting other skin issues like inflammation, redness or irritation.
Sunflower oil's Vitamin E content even retracts premature signs of aging and makes the skin look young and beautiful. The Vitamin E content also shields the skin from harmful UV rays and its related skin diseases.
In addition to all of this, sunflower oil is rich in anti-oxidants and other nutrients that act as anti-oxidants and might eliminate free radicals that mutate healthy cells into cancerous cells.
Now you probably use sunflower oil, but if you don't, no worries because we have created this mind-blowing lineup of ten of the best brands of sunflower seed oil that are available in India.
Extracted using a traditional wooden press or the Kachi Ghani, this sunflower seed oil is not only nutritious but also organic. The sunflower seeds are hand-picked and sun-dried before extracted all of the goodness from them.
Furthermore, the oil is kept under the sun for two days to ensure that all the free-floating sediments get a chance to get settled. This oil is a beautiful golden colour and is a little sticky to the touch, unlike your regular refined oil. You can buy a 1-liter bottle for ₹295 from their website itself.
This brand of sunflower seed oil happens to be cold-pressed and organic. The flowers for the oil are grown in eco-friendly farming conditions, and this oil is extremely nutritious and rich in anti-oxidants.
Daana Sunflower Oil is unrefined and retains all of its original and natural properties. The seeds have been pressed in a traditional Kachi Ghani and are of the best quality. The oil is pure and has no additives, so, what you see, and taste is all natural. Amazon sells this oil in two quantities; you can get a 1-liter bottle for ₹399 and a 5-liter one for ₹1,899.
This beautiful bottle of sunflower seed oil has been produced by cold-pressing cherry-picked sunflower seeds. The oil extracted is of exceptional quality and is packed with nutrients.
This robust oil smells pleasant and enhances the taste of anything you cook or fry with it. The sunflowers are cultivated in small-scale community farms that believe in using traditional and natural farming methods. You can buy a bottle of 1-liter for ₹250 from Amazon.
Sourced directly from the farmers without any mediators meddling, the sunflower seeds used to produce the oil for this brand are of the most excellent quality and are full of nutrients.
The sunflower seeds have been gathered from the best producers all over India and have been generously crushed to get the most oil out of them. The sunflowers are grown traditionally and organically without the use of any pesticides or unwanted chemicals. You can get a bottle of 1-liter of oil for ₹265 on Amazon.
Fortune is one of the biggest brands that sell cooking oils in India. Over the years, it has gained trust from millions of customers, and it is well deserved because their oil is exceptionally healthy and makes one's food delicious.
This sunflower seed oil is a light one that is very easy to digest. It is loaded with natural vitamins and does not have any artificial additives. You can get a 1-liter of oil which comes in a recyclable bag for just ₹120 on Amazon.
Perfect for frying, this sunflower oil is refined and has high-oleic quantities. It has a beautiful colour and incredible ability to enrich the taste of whatever you cook with it. The sunflowers for this oil have been grown in Spain, and the oil is made and packaged there, too.
This particular sunflower oil has 75% of MUFA (Mono-Unsaturated Fatty Acids) which are excellent for maintaining the health of your heart as well as the rest of the body. You can get a 5-liter bottle from Amazon for ₹1,125.
Farm Naturelle sources its sunflowers from farmers that do not use unwanted pesticides or chemicals in their cultivation process. Their products are 100% organic and retain all of the original nutritional properties even after being packaged.
This oil is best for Indian cooking and also elevates the flavour. This sunflower seed oil is also rich in Vitamin A and Vitamin E which are essential to sustain the health of your body. You can get a bottle of 915 Ml on Amazon for ₹329.
This brand of sunflower oil is 100% organic, and it is certified, too! This oil has an ample quantity of nutrients and anti-oxidants that guarantee to keep your body, especially your heart, healthy.
The sunflower seeds are of excellent quality and are carefully picked; then they are rigorously cold-pressed to extract the maximum quantity of oil. Pro Nature is a brand working towards the betterment of people involved in agriculture, so you would also be helping the farmers if you purchase this sunflower oil. A 500 Ml bottle for ₹180 is available on Amazon for you to place an order!
Sundrop is yet another brand that has gained trust amongst many Indians. Their sunflower oil is exceptional; it is laden with Vitamin A, D, and E and many other nutrients. The oil is purely made from sunflower seeds and has no artificial additives or preservatives. It has a low quantity of saturated fats so you won't have to worry about cholesterol problems.
This sunflower oil is enriched with a low-absorb technology which ensures that the food you make with it doesn't take up more oil than required. Also, you are in luck because Amazon sells a combo pack of two 1-liter bottles for just ₹350.
This brand of sunflower seed oil, like the others, is also extracted from cold-pressing the seeds. The brand 24 Mantra understands that producing organic commodities will pave the way for a better future, which is why all of their products including the flowers for this sunflower oil have been cultivated without interventions from pesticides or chemicals. 24 Mantra Sunflower Oil is incredibly healthy and can be used for all sorts of cooking and other purposes.
You can order yourself a 1-liter bottle from Amazon for just ₹250.
Before you go, we love hearing from you so do tell us what you think of these brands if you decide to try them out!