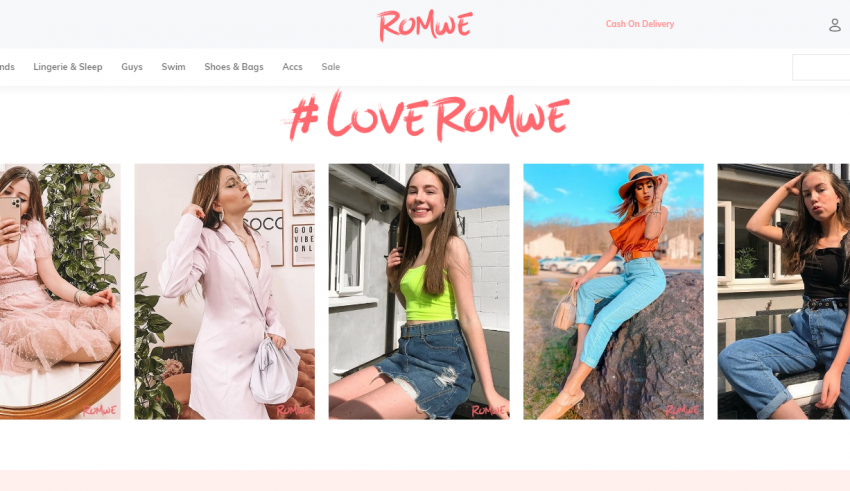 Most women in their life often have that one dress they always dream of, the one only available at the most luxurious store in town, the one dress they know could turn them right into Audrey Hepburn straight out of 'Breakfast at Tiffany's'. The one dress that puts Julia Roberts to shame. The one dress that could cause all her girlfriends to green out of envy and the men to swoon in her beauty. 
But unfortunately, that one dress is often the one that costs no less than an entire month's rent. And that is when all the dreams shatter. 
For our generation though, those dreams could turn into reality and that too at a price that does not burn a gaping hole in our pockets. And the one-stop destination for it has always been 'Romwe'. The miracle site developed in 2010 that provides ALL the latest trends at the cheapest of prices!
Catering to the young, fearless, and independent woman, just ready to take on the world, Romwe supports you when there is no one else- giving you the best, most expensive-looking clothes for all occasions for a nothing price! 
So here is a list of some shopping sites like Romwe that are sure to expand your shopping horizons even further!
Disclaimer: The order of the sites does not in any way indicate any ranking of the stores. All opinions are sole of the author. 
Here are the Best Alternatives of Romwe: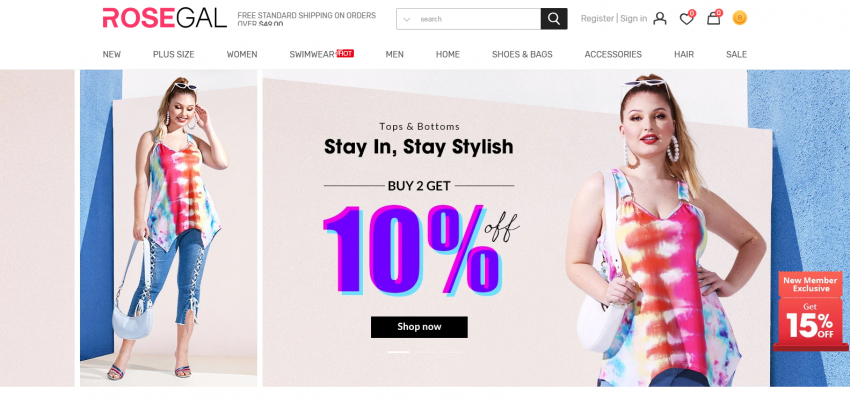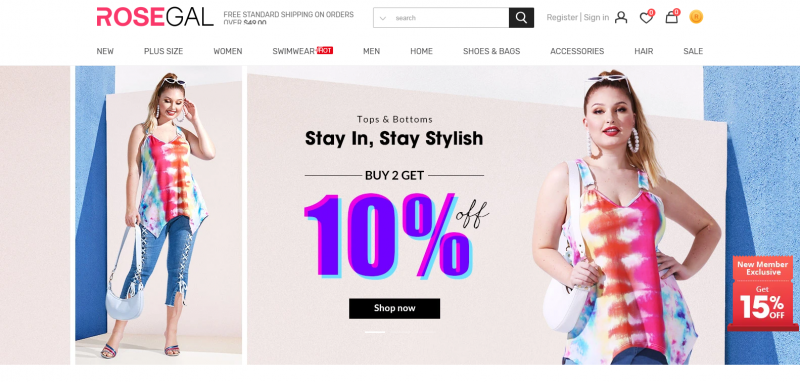 ROSEGAL was started by a group of friends who all share a deep and abiding passion for stunning clothing and fashion. Specifically, it is the intimate fusion of endless possibilities that vintage and modern apparel has to offer.
By seamlessly offering both styles of clothing, shoes, and accessories, they aim not only to capture the imagination but also the hearts of their customers. Inspired by the natural charm and appeal of the vast spectrum of fashionable clothing, their goal is simple: to share their love for the best fashion with each and every one.
They specialize in plus size clothing and allow women to embrace themselves. Their range is just as diverse and is surely something to look out for. They give direct competition to online stores like Fashion Nova.
---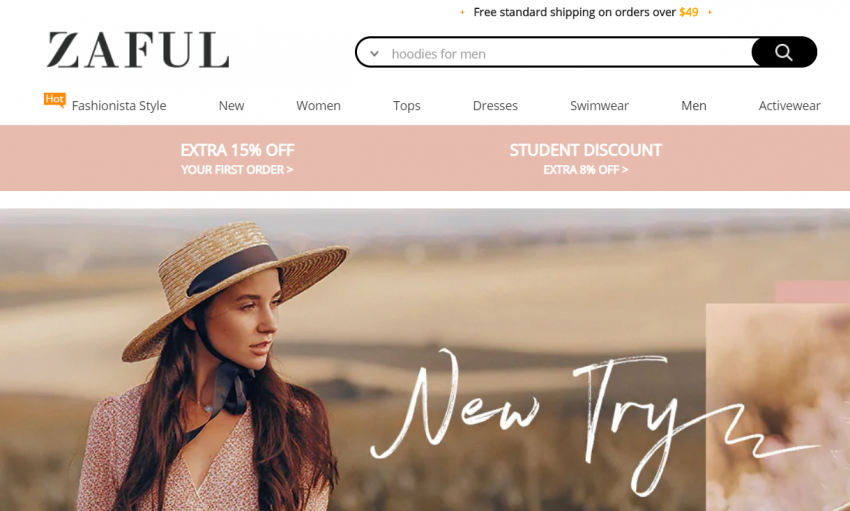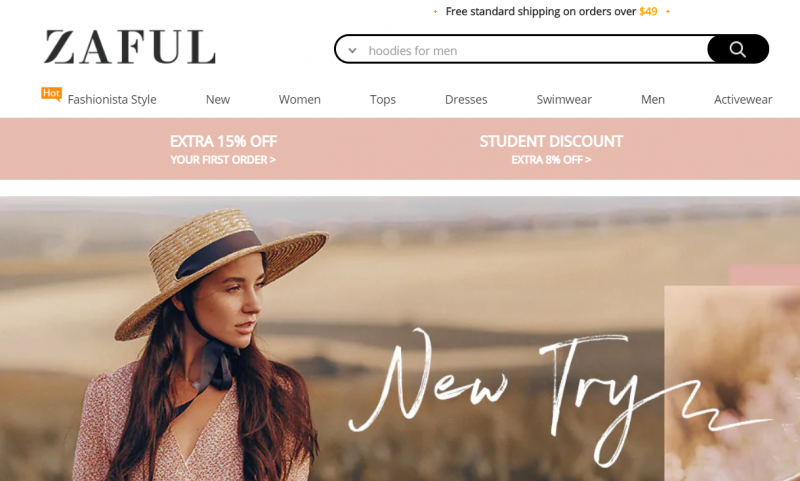 Zaful is your fashion book directly out of 'clueless', the iconic movie. Making a splash of colors, it is fashion for the young 15-year-old teenager to the new graduate still finding her style! Zaful is insta worthy clothes like you have never seen before! Head over to their website and they will give you the best inspiration for how to turn your wardrobe and yourself into the famous blogger/vlogger! They have great customer service and they manufacture their products keeping in mind the needs of a sustainable future. 
Do you need a jacket? They have hundreds of types- name it and they have it. With so much diverse fashion, Zaful is sure to turn heads when you walk your high school corridors. 
---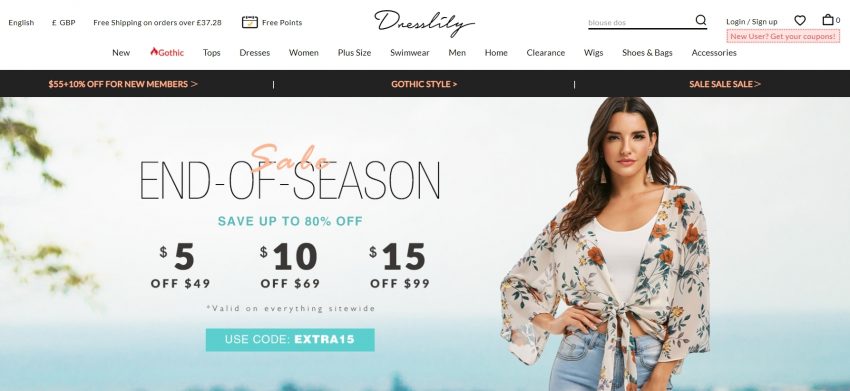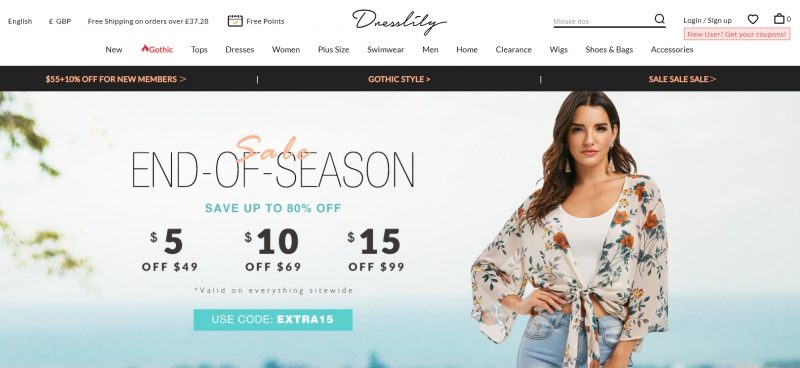 Dresslily has multiple different fashion categories and style when it comes to clothing and accessories. It has a good collection of vintage fashion and you will find trendy stuff as well. The store has been active since 2013 and its goal is to provide fashion for women of all sizes. The store ships to over 100 countries all over the world.
The rates of the products are quite affordable. Check out their collection of office wear, casual wear activewear, sleepwear, lingerie, swimwear, partywear and many more.
---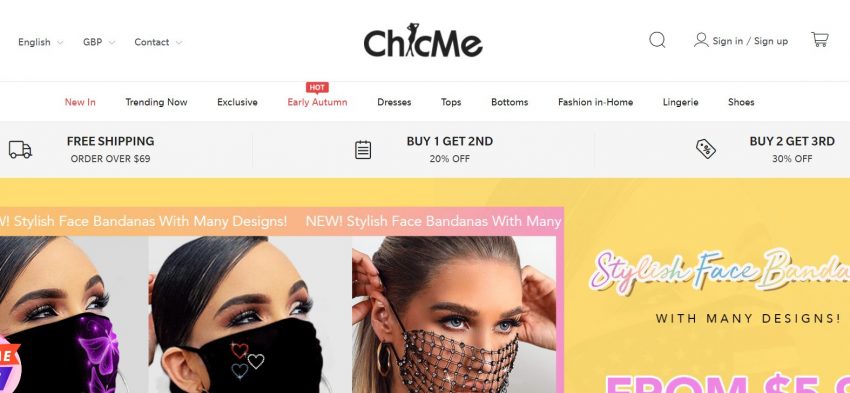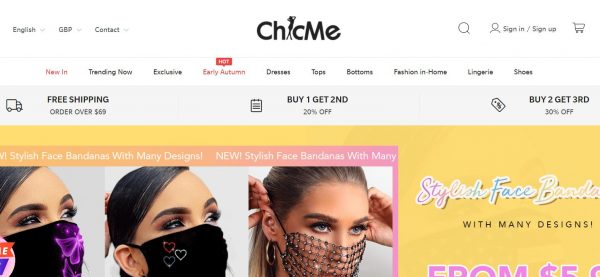 Chic Me is a store which has been around for half a decade and has become quite popular due to the affordable rates of the products. The company gives regular discounts and holds sales to let customers save more.
The store has a distinctive tone which focuses on women's fashion. It has a huge selection of products with different styles and with more than 500 styles being added daily. The company promises that want you will find on the store will be priced 50-70% less than the locals.
---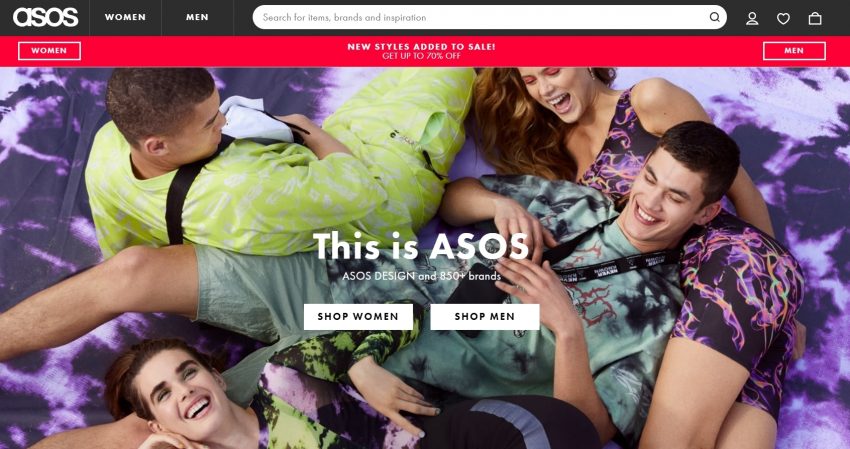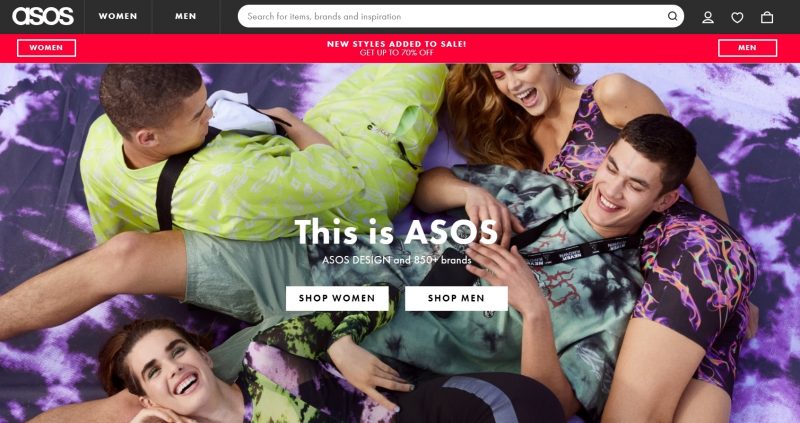 Who are they? Ask them and they say 'Your biggest fan'! They believe in fashion democracy, giving everyone a chance to explore who they are, giving them a style that comes in every size and every gender. The models that adorn their clothes are as real as they can be- with their stretch marks and their unedited beauty.
And yes, on top of that they are usually giving some discount or the other along with free delivery and hassle-free return! Brands that they have partnered with include – never fully dressed, Topshop, reclaimed vintage, ray ban, Ted Baker and GLAAD. 
With ASOS, being a student actually becomes helpful- giving you 10% off right until you graduate! Another great part about the ASOS experience is the ASOS app which provides 'STYLE MATCH'- a feature that allows you to find similar pieces to the ones you found in a magazine or your dorm mate's vibe, with their quick photo search technology! What more could you ever want!
---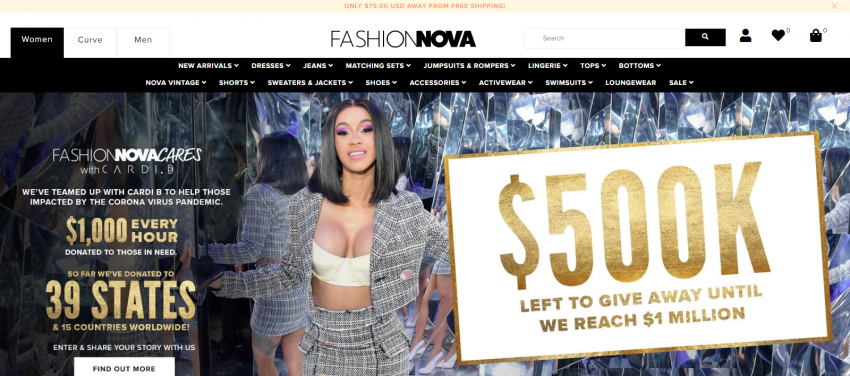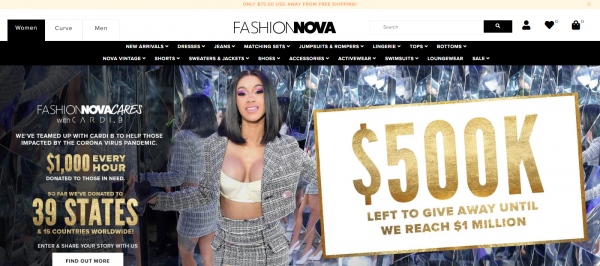 The 'Nova Style' makes the rules and breaks the rules. A website dedicated to 'celebrating your curves', Fashion Nova can dress you head-to-toe according to your personality on the cheapest budget ever!
They believe the Nova Style followers are bad-ass, fashion-forward and always on the list! Whether you are the trendsetter, the hustler, the life of the party, the wanderlust, or the social media maven, Fashion Nova allows you to break barriers and embrace who you really are.
In 2018, they launched an entire collection with CARDI B at the 'Party with Cardi' event featuring performances from Cardi B, Saweetie, Brianna Perry, and Dream Doll. And this time too, they are not far behind.
---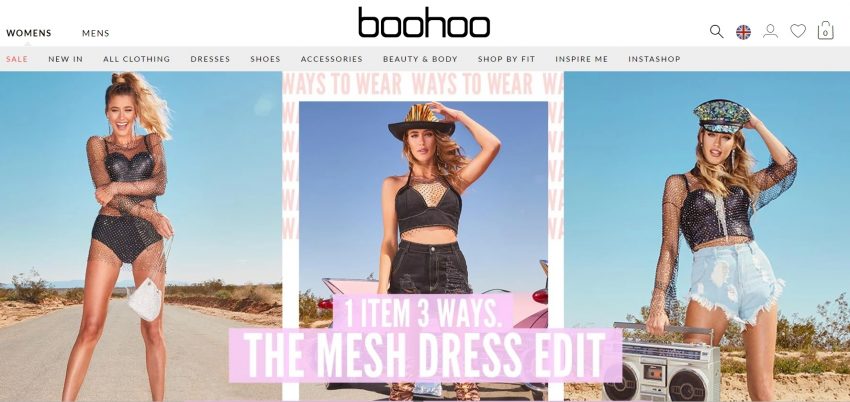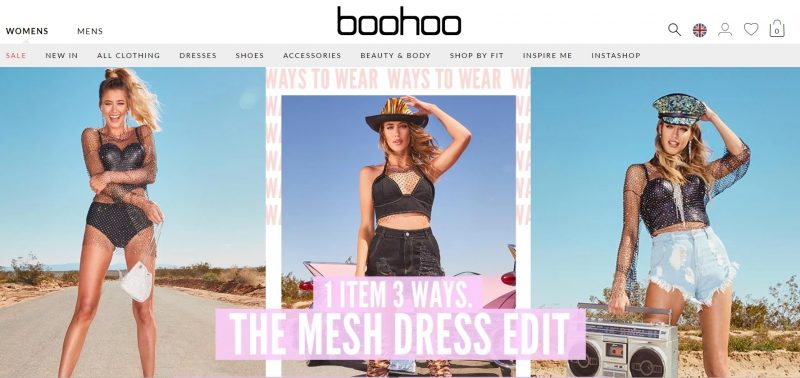 They are 24/7, they drop 500 products a week and they give you all the discounts! They are BOOHOO! Their philosophy – they don't take life or fashion too seriously. Launched in 2006, being a primarily clothing site, they even offer makeup for women and have now started offering clothes for men as well. With all the latest trends, their customers can be sure that their wardrobe shall never be amiss on any of the hottest clothes. And with BooHoo Premier, they can now get Next-Day delivery! 
BooHoo also has a student ambassador program so that you can get free clothes, tickets to the best celebrity parties, and be the 'mean girls' of your college. Because this store is just Fetch! 
---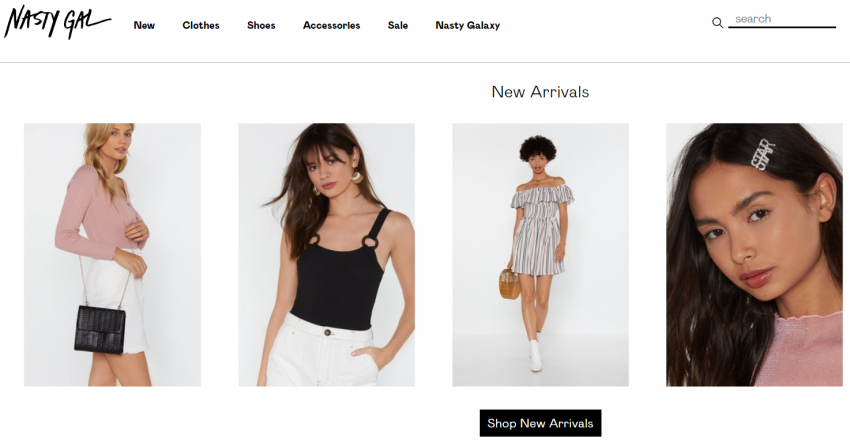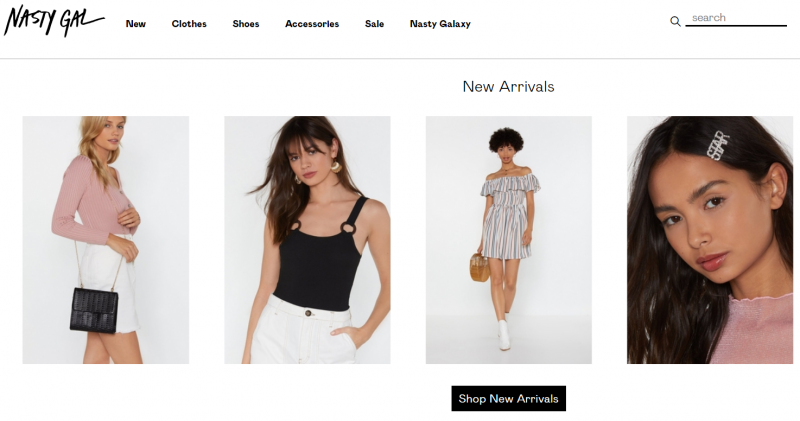 Nasty Gal started in a tiny San Francisco apartment stacked with killer vintage, a single laptop, and an eBay account. Thirteen years later, they have outgrown that apartment, moved to LA, and today they are bigger and better than ever. They now carry new clothing, shoes and accessories under their own label–all for girls who know how to own it and have the confidence to just be themselves. 
Their philosophy is inspired rightly from their own founder Amuroso, who published a bestselling book #GIRL BOSS, which was turned into a Netflix Series (Yes, it is true!).
But the best part about Nasty Gal? You don't have to pay all at once. Why wait for payday when you can pay them in installments! 
---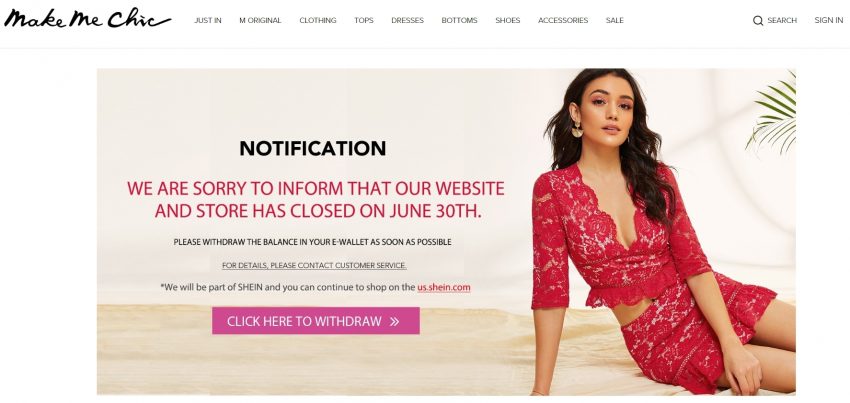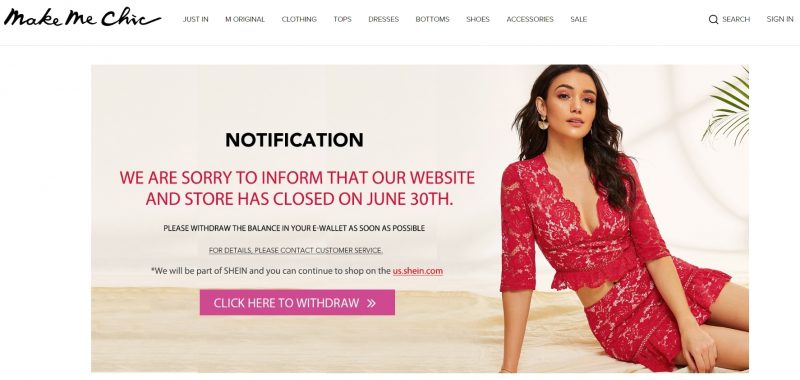 MakeMeChic.com was created with the vision of providing women everywhere the latest fashions at the most competitive prices with exceptional customer service. Though today they have gone out of business as a separate entity, their clothing range that can now be found on Shein, and is sure something to look out for. They first gained popularity through their unique and fashion-forward footwear selection, which rapidly increased their product line to apparel, accessories, handbags, swimwear, costumes, and lingerie due to high demands. 
They provide free shipping on all US orders above $39 and they even have a 60-day money-back guaranteed policy. 
So go and make yourself chic now! 
---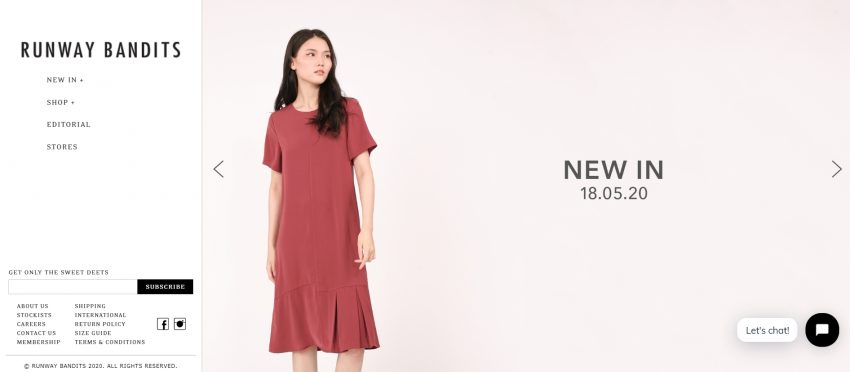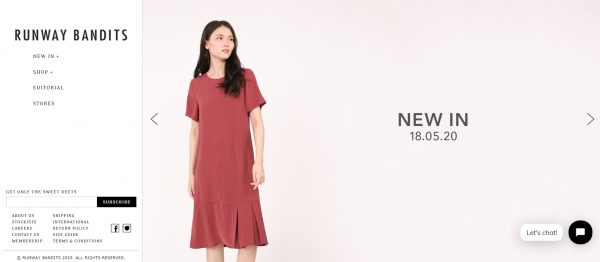 Runway Bandits' style is different, simple, and yet classy. It has grown to be known for its timeless, understated wardrobe essentials at accessible prices. They reinvent everyday staples to create modern, effortless silhouettes with minimal aesthetics that last beyond the season.  
A tastemaker most recognized for its in-house ready-to-wear, Runway Bandits has in recent times, expanded its portfolio to include articles from established and emerging brands to complement our signature aesthetics.
The latest permanent line to be introduced, Hunt seeks to provide a wholesome, all-rounded shopping experience and is an extension of Runway Bandits minimalist yet adventure-seeking personality.
They provide free standard shipping after a certain amount of dollars and 10% off on all first orders!
---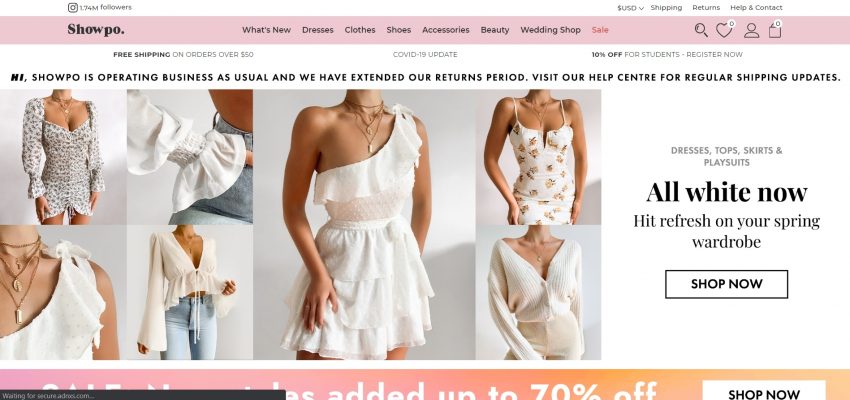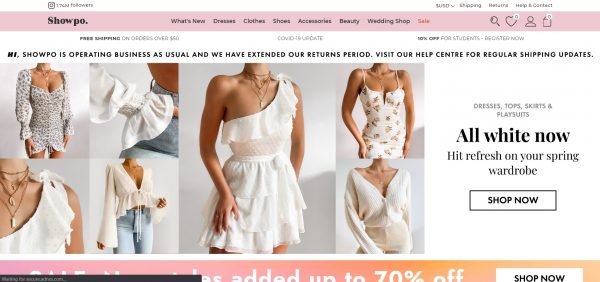 Show Po is class, class, and class. Started in 2010 by Jane Lu in a small apartment with her killer skills, today she has turned Showpo into a global empire. Providing wedding dresses as well as beauty products, Showpo is for the true fashionista.
They provide dresses not just for the bride but for the bridesmaids, wedding guests, and for the engagement party as well! They have even partnered with some great brands such as Billini, Lipstik, Tony Bianco. 
---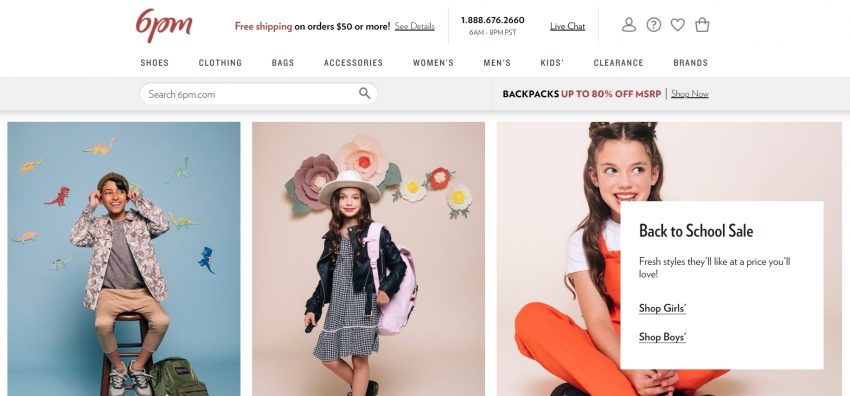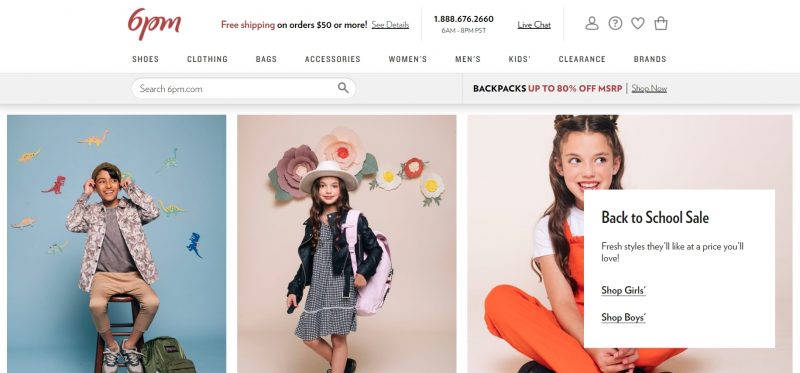 6 pm is for all occasions, all ages, and all people!  You can shop according to YOUR style and your need! They segregate their apparel into so many different categories giving you what you really want – be it athletic, outdoor, luxury, cocktail parties, or a slumber party. 
They also usually offer 30-70% off on the MRSP of most products from the best brands. Their stock runs out very quickly so be sure that when you like a dress, you buy it immediately!  Go and order now for the best discount fashion!
---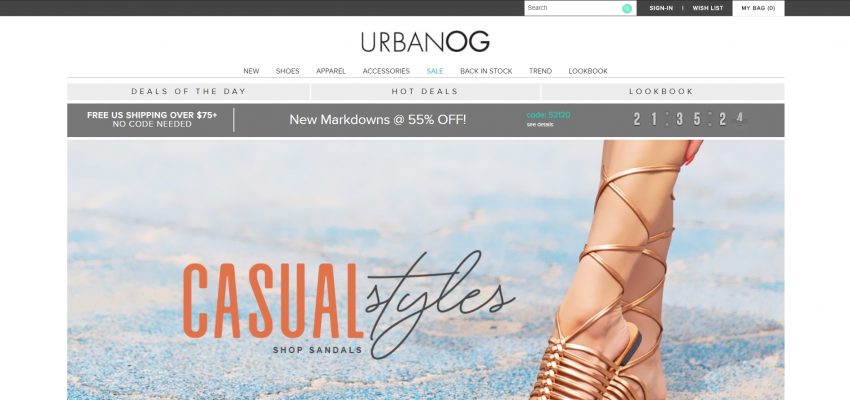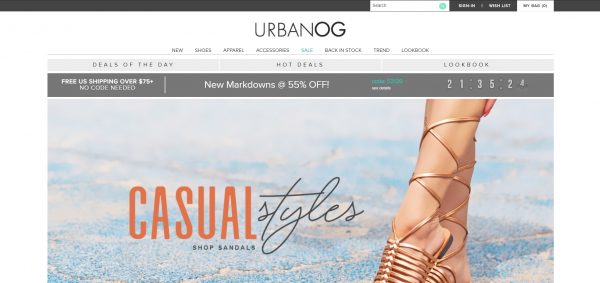 This online store specializes in Footwear, though they also offer apparel. But their footwear is not just any- they give you all types you can imagine and in practically all colors and patterns on earth! And their designs? They are the latest ones. The shoes that you get here are straight out of the movies- whatever character you want to be for the day- the cowgirl, the diva, or the high powered woman, they have something for everyone! 
From lace-up combat boots to the fringe look, it will be a crime not to hoard footwear from their store and that too, at the cheapest! 
You know you want to!
---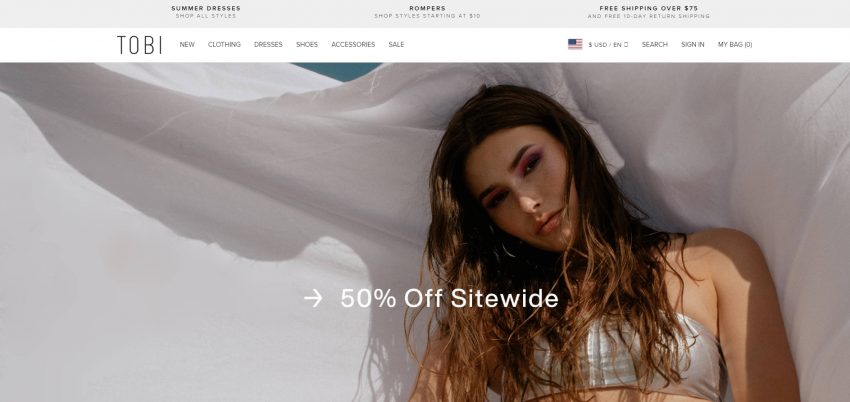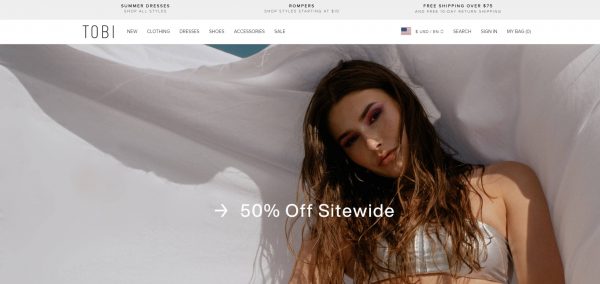 Tobi prides itself on their 'California Flair'- that touch that makes them stand apart in the crowd of stores like Romwe, Shein etc. Tobi has thousands of styles, ranging from flouncy jumpsuits & rompers, essential bodysuits and trendy crop tops, to floor-grazing maxi dresses and form-fitting bodycon dresses, to sexy formal dresses and little black dresses. Tobi features homecoming dresses, prom dresses, bridesmaid dresses, sequin dresses, and evening dresses of all cuts and colors. 
And these are aimed at the young graduate who has just set her foot in the world. With effortless, chic, California fashion, she is sure to never go wrong! 
---
Shein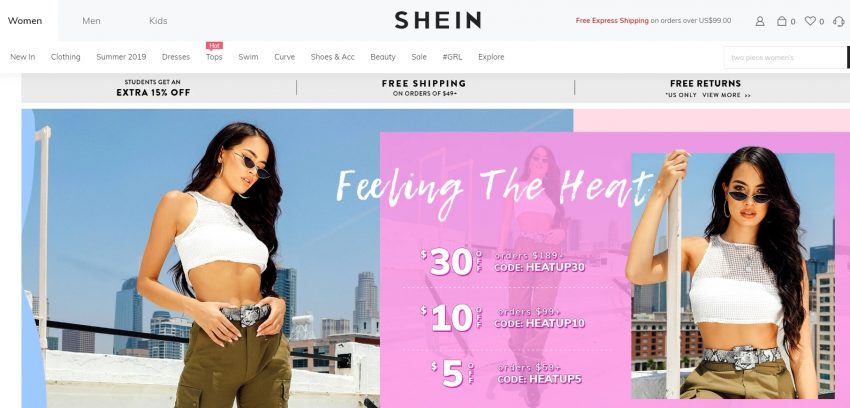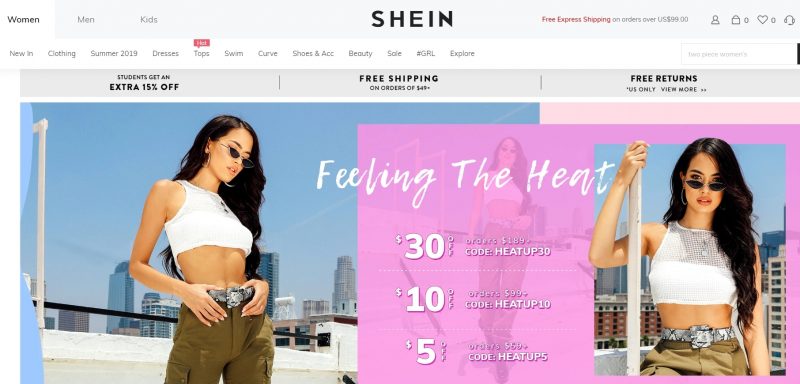 Making a list of websites like Romwe, how could we ever forget Shein- The one online megastar that locks horns head-on with the company. For all the college students out there, Shein offers the greatest discounts and the most fabulous fashion. Searching for THAT fashion trend you saw in THAT movie? Shein probably has it. From boho dresses to graphic tees, it is the first one to get its hands on the trends and deliver it to you in the most economical way possible. 
Now offering the newest in fashion for men, children, and curvy women, Shein has left no one behind in its philosophy of fashion for all. There is nothing here that you will not find- your entire fashion mall in one corner of the internet! 
---
LULU'S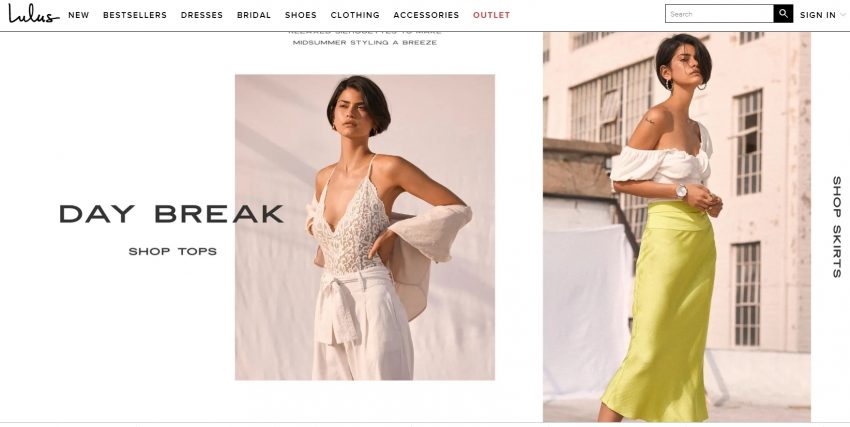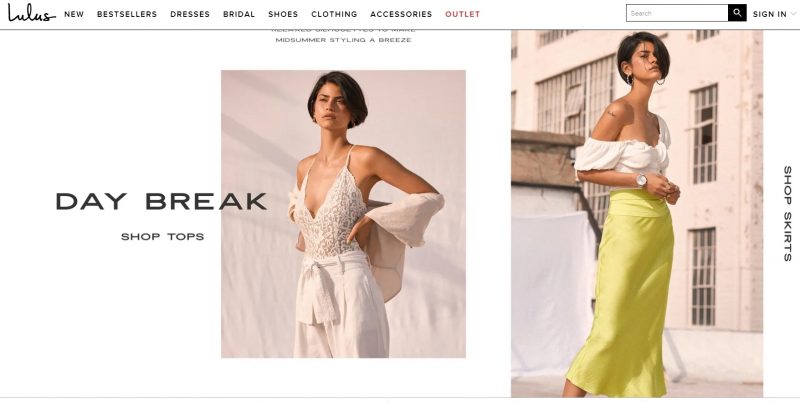 Established in 1996, it earlier sold only vintage clothing. Now they have phased it out and to let in a new kind of high-end fashion. They are composed mainly of private label styles while the rest are Steve Madden's, Levi's among others.
With an elegance that can be seen in a few brands, Lulu's prides itself on being a luxury brand but at the lowest prices! They give great 'First-order' discounts and you are sure not to be disappointed. 
They are not your usual gaudy brand with eye-ripping colors and senseless fashion styles, instead, Lulu's possesses a simplicity and effortless fashion that can be pulled off by every young woman, whoever she might be. 
It's affordable, it's feasible and it is high-end fashion. 
---
Its high time to beat the 'Plastics' with your own 'Anti-Plastics'! 
Go and order now for the greatest deals.