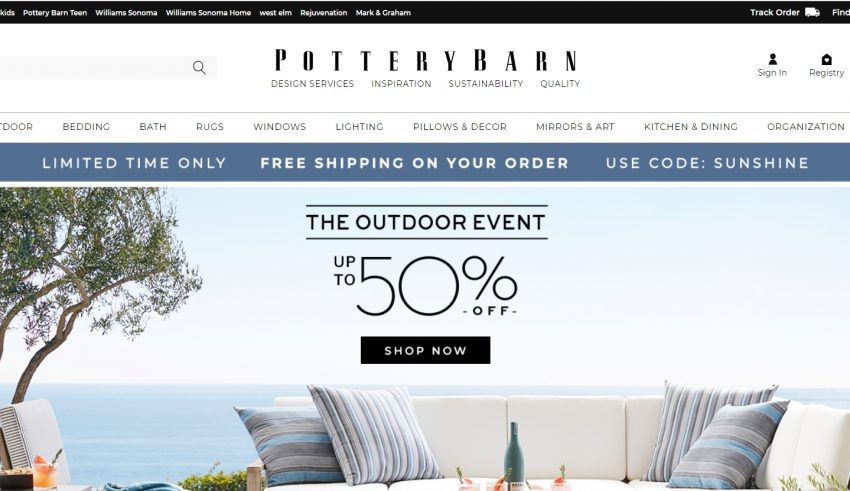 Pottery Barns are very popular in the USA for every furniture solution for yours. Readily available stores at all corners of the country and very convenient as well. Pottery Barns attracts major customer crowds to their quality furniture showrooms.
If good quality furniture is what you are looking for and you are ready to lose your purse strings a little bit, this is the store to go. The uptown stores depict perfectly all the trendy and stylish décor items that will give an amazing look to your home.
The store chain has surely captured a huge market in the mid-century home furnishings, but there are other stores like Adairs, Birch lane, Crate & Barrel, IKEA, and many more where you can fulfill your requirements when Pottery Barn is not standing for your rescue.
All these stores offer great quality furniture and stuff and have come very far in the race of quality furniture. If you feel your physical presence at the store might not be possible, you can also visit some online stores like West Elm, Wayfair, Lulu & Georgia, Urban Outfitters and more, that can help you out with the furniture problem quite swiftly.
We have prepared a list of some of the best stores like Pottery Barn in the USA to help you choose from the best lot for your home furnishings.
Here is the list of stores that resemble Pottery Barn:


If you don't have Pottery Barn as an option, do not bang your head hard and head over to the Wayfair store for all your furnishing requirements. Not just offline stores, there is an online option available for you to select the best furniture the store has to provide 24 hours.
The stores provide a number of options and a variety of beautiful home décor and furnishings to choose from.
It is one of the most popular and one of the biggest furniture stores in all of America. Though these stores are a little expensive than some of the other stores mentioned in the list, if you are thinking up to the level of Pottery Barn to design your home, then Wayfair can be quite affordable, even more so than Pottery Barn.
Their website also provides many ideas as to how to decorate your room according to its type through the 'Get Inspired' section. The stores also support furnishings and home décor items from big brands like Dash & Albert, All Modern, Birch Lane, Joss & Main, and many more.
With attractive discounts and offers provided here at almost all times, some of their most popular and hot items include Outdoor Fireplace, Tables, Deck Boxes, Patio Furniture, and Umbrellas.
---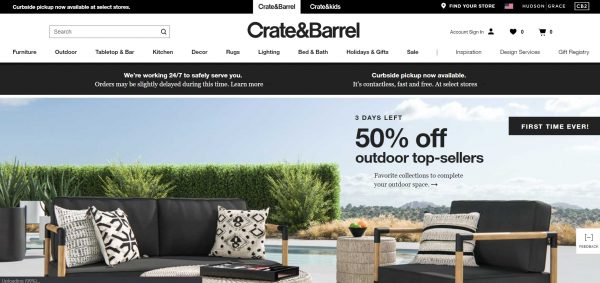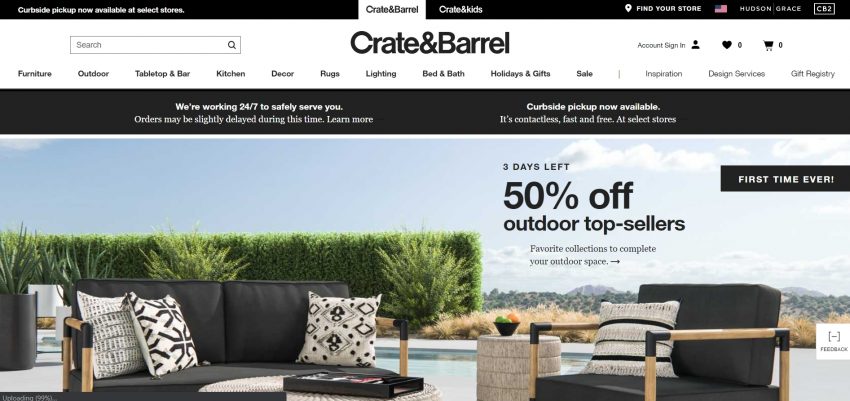 Another great discovery to your home furnishing problems. Owned by the second-largest e-commerce company in the world, The Otto Group of Germany, Crate & Barrel allows you to choose from a wide range of products that are quite affordable in nature and you won't have to roam around searching at other stores for your requirements.
There are more than 150 stores alone in the USA and is also cheaper than Pottery Barn. You will be surprised at the number of options and beautiful items that the store has to offer to you. All your regular home décor items are available here.
Additionally, there is an 'Inspiration', section on the website that will provide you many ideas to decorate your home when you have low space, or you want to get innovative with designing your home and many inspirational ideas to help you get some tips from the very best. another section that the website provides is the Crate & Kids section, where you will find all your baby-related items at very reasonable prices and the range of items is also very wide, from giving you ideas about how to decorate your kid's room, to all furnishings, cribs, mattresses, crafty supplies, baby toys, puzzles, games and many more.
---
West Elm
West Elm is also another good alternative to Pottery Barn and you will find really attractive and decent products here for your home.
They have a great collection of mid-century styled furniture if you are a fan. The store provides a lot of options to choose from and you will find the search quite satisfactory with its website, which will assist you 24 hours.
Although the products can be found to be a little expensive, if a good style doesn't come in between your budget, then we would suggest you go with the store. People, in general, have come forward to appreciate the merch of the stores quite a lot, so that is one of the hottest items of the store.
There are attractive packages and discounts provided to certain sections, so that is also an added advantage for you. The store offers you many ranges of products for your home décor and furnishings, be it a dinner set or living room furniture, other home décor items, bed, bath items, and many more at the store or the website.
They have their own service of credit cards to use for purchasing stuff and also offer cashback and rewards on such purchases, which is another lucrative offer to think about.
---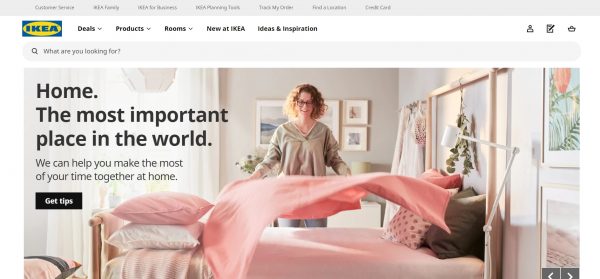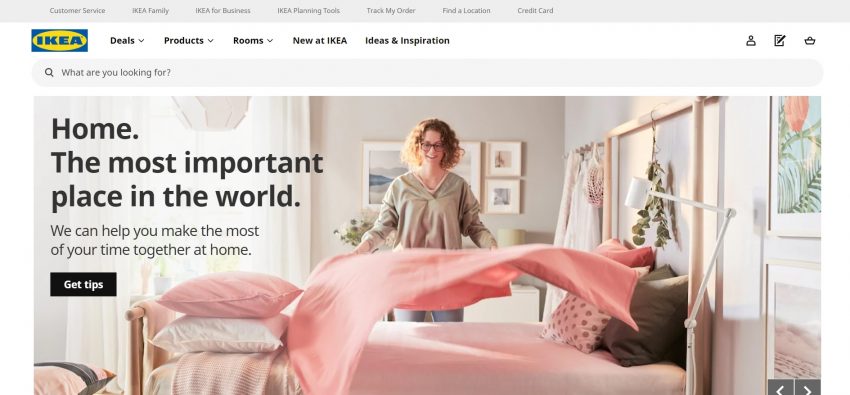 Ikea is one of the greatest finds in the furnishing departments that happened in the USA. Though it has its origins in the Netherlands and is a Dutch multinational group that offers its products at many locations, one of its main partners being the USA. It's affordable, easy to build furniture and home décor will make you fall in love with it. The offline stores are a different story altogether, as they are very stylish and can make you lose your way all along with the trendy and new designs and products it has to offer you.
They have a whole other section for furniture or décor items that you can build yourself at your homes and then set them up as per your wish and desires. These stores are spread all across the country and have also spread its wings in other countries like Sweden, Japan, India, Germany, Australia, Canada, France, and many more.
IKEA is a superstore that is one of the most affordable options for people who are having a tough time around their budgets or people who don't want to spend high bucks on their furniture. Not just for home furnishings, the store brand is also famous for its meatballs aa along among people.
---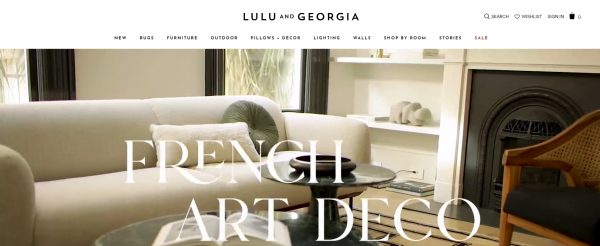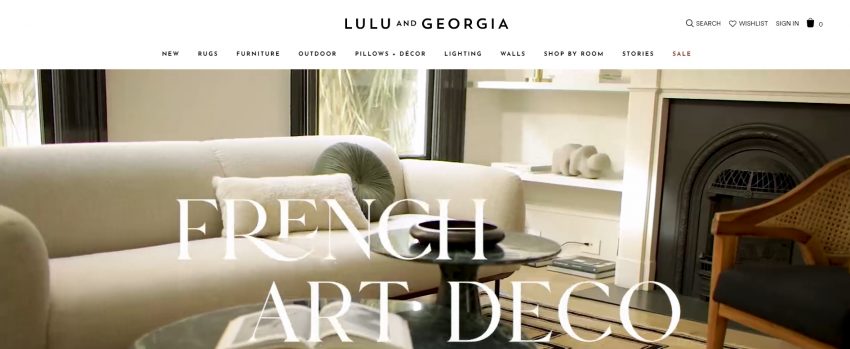 Lulu & Georgia is definitely a high-end brand that will give you the best home décor options, just like Pottery Barn. It is quite famous in the USA and provides both offline as well as online services to let its users choose the best from the best at all times. They have all your items of requirement ranging from sofas, beds, chairs, tables, bath, pillows, baskets, dinnerware, rugs, wall decor and so much more.
It is like a one-stop solution for all of the interiors that you want to decorate your house with. The prices are a bit on the higher end, like Pottery Barn, but the designs, quality, and the stylish options they have will make the spending worth it.
They have a very good collection of the mid-century styled furniture and décor items from which you can choose from. The store will provide you with their best and most stylish items and products from around the world and onto your desktop and mobiles and tablets to review.
Not just this, the website also has various ideas and tips as to how you can decorate your homes and every room inside. So, you can also get inspired from there to start with your imagination as well.
---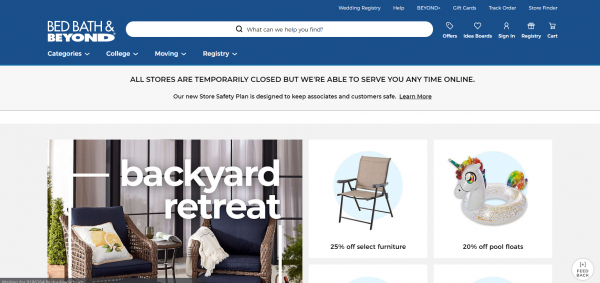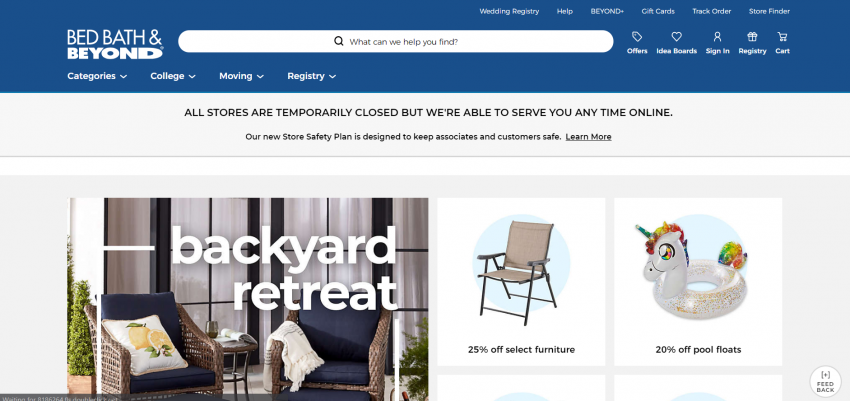 Bed Bath & Beyond is also like our very own Pottery Barn and is an American merchandise retail store that is spread out across the country. The chain has its own website where you can shop as per your desires and if you ever want to check out their products in person, you are free to go to their offline stores anytime you want.
Not just in America has it recorded its presence, but it has spread its wings in other countries like Mexico and Canada as well. Another Achievement in terms of success is that the company is also included in the Fortune 500 list of companies.
The stores and the website offer you a wide range of products to choose from. The most attractive and important part of their products includes bed accessories and bathroom accessories as well, which they boast to the customers. The range is a bit higher but mostly affordable in nature.
They have a very elegant and stylish range of products when it comes to bed and bath like pillows, pillow covers, mattresses, sheets, protective covers, soaps, shampoos, loofas, and many more. Among its competitions, there are many other online websites like West Elm, Pottery Barn, Target, Walmart, and many more.
---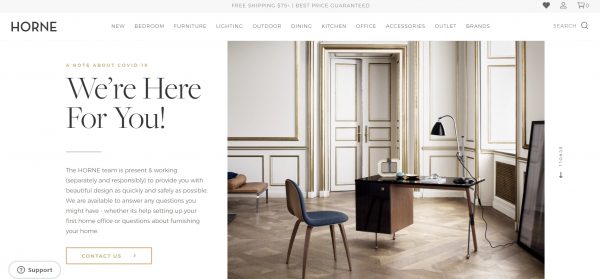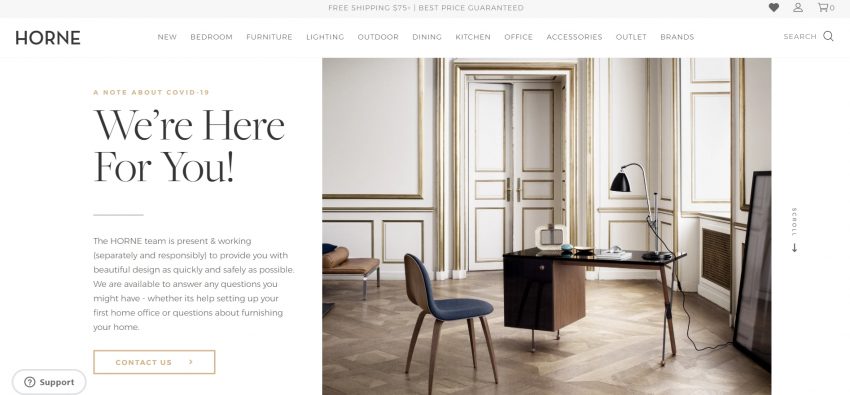 Horne is also one of the most sorted home décor stores to visit if you want a sophisticated store like Pottery Barn. They offer a wide variety of options that will aesthetically please your eyes and leave you craving for more. The store makes available all the trendy but minimally designed products, ranging from the bed, bath, living room furniture, patio furniture, dining ware, kitchenware, office items, and many more.
All authentic sources and brands are merged together, from around the world like Serge Mouille, BTC, Eastyold, etc. here, and then made available to you, so that you get the best. Their customer service is also on point to address your grievances and problems.
You can find both physical stores as well as online assistance from the company.
It has a lot of competition from various shopping sites like Lulu & Georgia, Target, Anthropologie, and more, and therefore, it stays on top of the game by regularly upgrading itself.
---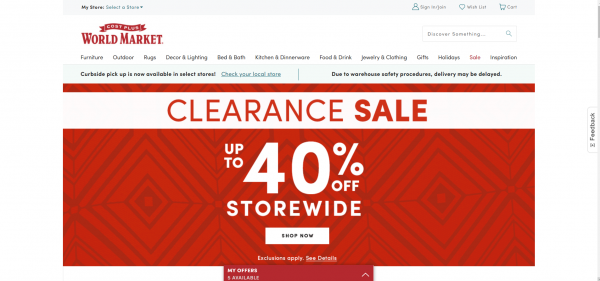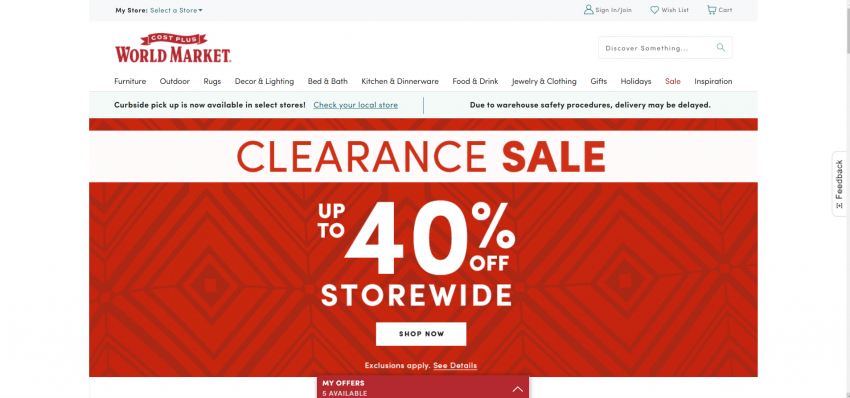 World Market does not focus on a bigger range in products, but more on the availability and affordability of the items they offer. You won't find a large variety of options to choose from, but you will find yourself with a good deal of products while leaving the store. They spread their stores all across the USA and have an online site too, to make buying things easier for you anytime, anywhere.
Almost all the products they sell are mid-ranged and quite affordable, so you don't have to spend a huge fortune on your home décor. The place is a like a flea market for furniture and home décor items, where you will find a lot of things, might like a few items and reject others, but end up bargaining and getting a pretty good stock at great prices.
One of the most trendy and hottest items in their list of items is their rugs, which are large in variety and trends and have a great quality to them a swell. Another thing that you will love here is the window curtains and shades, that you can buy at very reasonable prices and get a pretty good deal on them. There are always some or the other discounts and deals going on in here, so grab those moments and get yourself some fabulous things.
---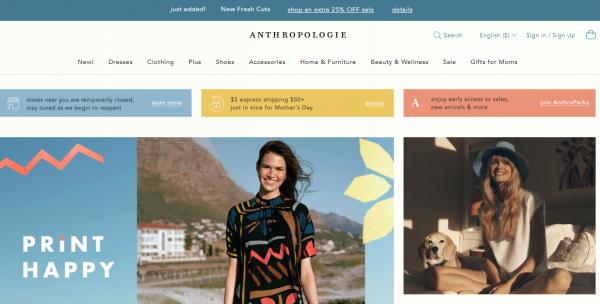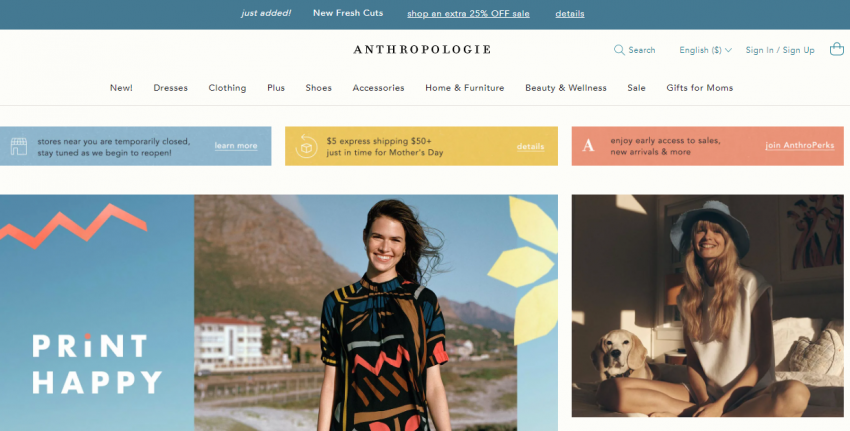 Anthropologie is a very famously owned subsidiary of the Urban Outfitters, headquartered in Philadelphia, America. Their collection is one of a kind and is very attractive. Though it is not so popular as Pottery Barn, the company has its own cult following. Once you have experience with its products, you will fall in love with them.
One of the major attractions to their collection is the Bohemian styles of furniture, it will completely change your outlook towards decorating your homes. Not just furnishings, their jewelry is also quite unique and stylish, so that's another thing that you might wanna try.
Moreover, they have a huge variety of home décor items like paintings, abstract art, picture frames, wall clocks, mirrors, lighting, color palette, and other wall art, that will take your breath away. You should definitely try this brand out at least once for your home furnishing solutions and you won't regret buying from here.
The prices for the items offered by the brand are almost similar to Pottery Barn and they also suggest many ways and methods to beautifully decorate your houses, especially for small spaces and apartments.
---
Restoration Hardware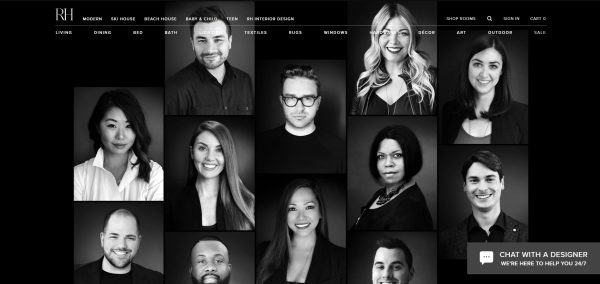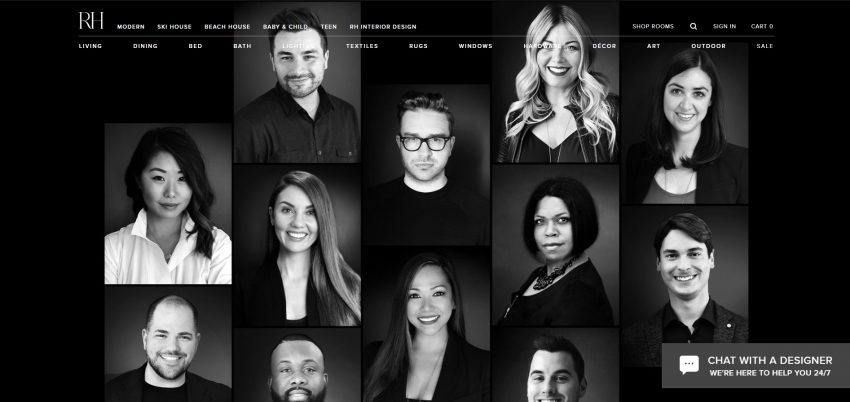 Restoration Hardware is again a really popular chain of furniture stores in the USA and almost like Pottery Barn. Although, this store is a bit overpriced when it comes to some products and overall expensive than Pottery Barn, but will have you stuck towards it because of the really trendy offers thrown by the brand.
If you can spend a whole lot on home décor and furnishing without worrying about the budget restraint, then this is the ultimate shopping place to decorate your house. You can also become a member of RH on a yearly basis and get some amazing discounts on your purchases.
The brand offers you an elegant and sophisticated collection of items to choose from and you will be left in amaze at the unique and stylish fabrics and material used in the products.
Here you get innovative and new ideas to decorate your homes and quality items to decorate it with. It is definitely an upscale place for all the high-end brands where you can find all the things you need at the utmost quality and style. Some of its most popular items include Beach House furniture, Ski House décor, Lightings, Bath ware, Patio furniture, and many more.
---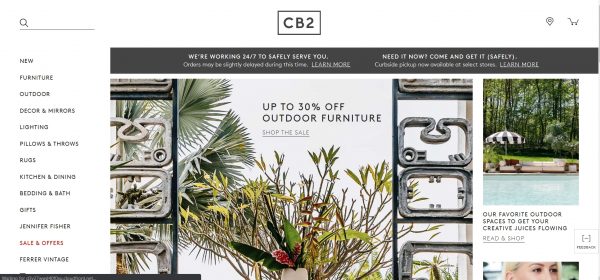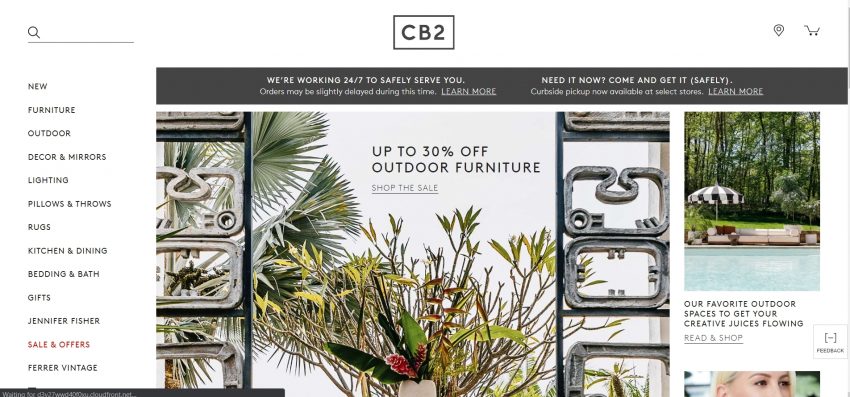 CB2 is the original brand outlet in the USA, which owns the brand label Crate & Barrel. If you want amazing furniture and other home décor items, you will get them all here at amazing prices.
Here, you will find all modern and trendy items to take to your house and start working on them. The store offers a wide variety of items ranging from patio furniture to décor item to mirrors to pillows to rugs to dining ware to bath ware and so much more to explore. You can suit yourselves with the experience in offline as well as online stores provided by the company.
The stores are spread over to almost 20 locations all over the country. There are various tips and methods shared by the company to help you decorate your dream house and get inspired by it. You can also take advantage of their offers and discounts to get the ultimate deal for all your home furnishings.
CB2 is definitely a hit when it comes to décor items and furniture and so is Crate & Barrel, so do not waste your time further and start shopping now to take full advantage of their prices and discounts.
---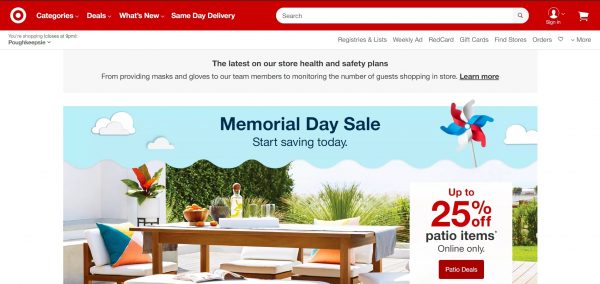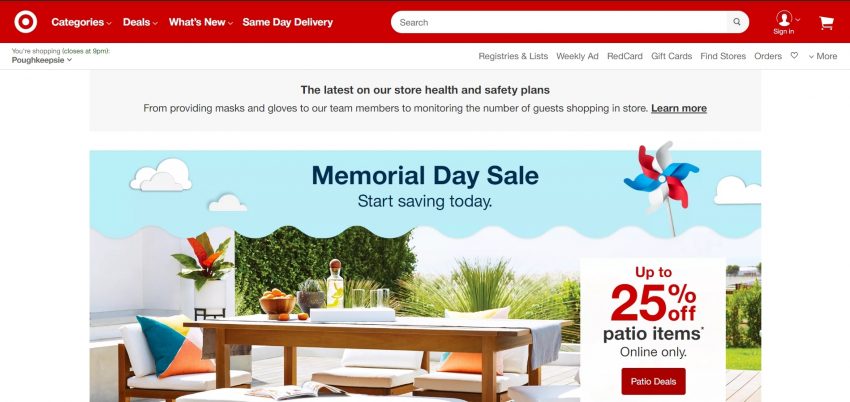 One of the most popular furniture and other items shopping store for Americans. Target is very famous among the people of the country as it provides a huge variety of items, not just in the furniture listings, but also in other categories as well.
The stores are spread all over the country, with more than 1500 locations tapped in by the company and its headquarters situated in Minneapolis, Minnesota. If you feel a close connection to Pottery Barn, Target has a lot of furniture that looks like a parallel world of Pottery Barn.
Almost all the products are very reasonably priced, so you wouldn't have to worry about spending a fortune on your home furnishing requirements. A lot of their summer outdoor patio furniture and baby furniture look the same as Pottery Barn. Seeing its popularity, there is no surprise that Target is the eight most famous and largest chains of retail stores in the country.
It also has a dedicated website to help you select anything while sitting at your homes or offices and also provides free shipping of all the items you want to get delivered at your houses. Some of its hit products include Towels, Bath Mats, Shower Curtains, Robes, Slippers, Mirrors, and many more.
---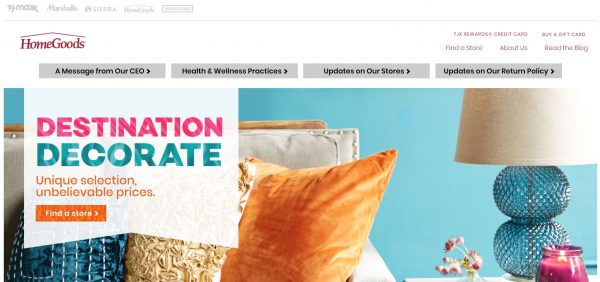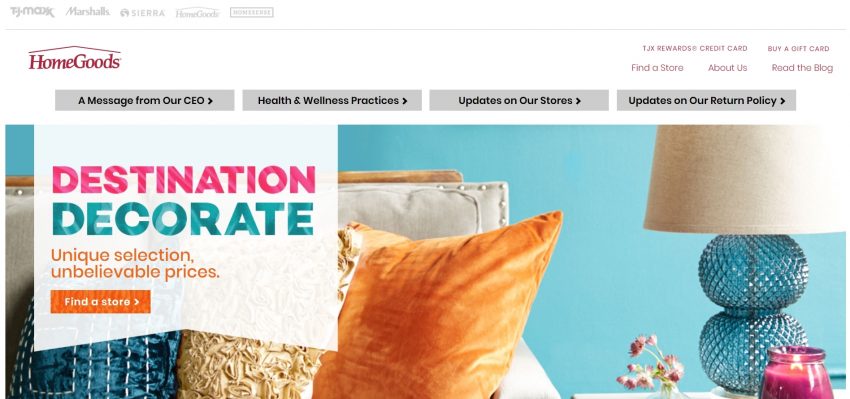 HomeGoods is a good alternative to Pottery Barn, where you can find all your solutions to home furnishings items. It is an American chain retail store of discount home furnishings and décor, which was founded in the year 1992. The brand is also owned by the company TJ Maxx, which sometimes have a shared space with the store at various locations for increased marketing.
All the items are quite affordable here and you don't have to burn a hole in your pockets anymore. You can always bargain at their stores or get a discount, which they usually provide, and get a good deal on your purchases.
With this brand, you can get the benefit of only the offline stores present around the country, but it does offer an app like thing called 'The Goods', where you can follow local stores and check out any sort of future deals and new items.
The most famous category that you will find in these stores is the stationery items which are a hit among people in the country. Some of their popular items include things like linen, kitchenware, art supplies, various home accessories and many more to choose from.
---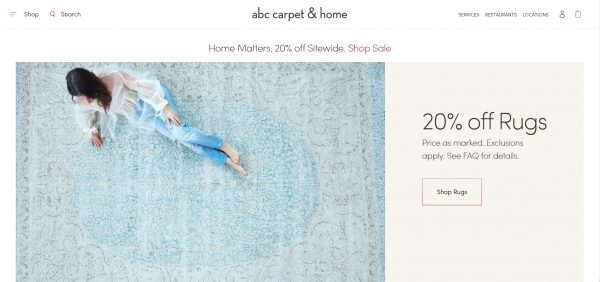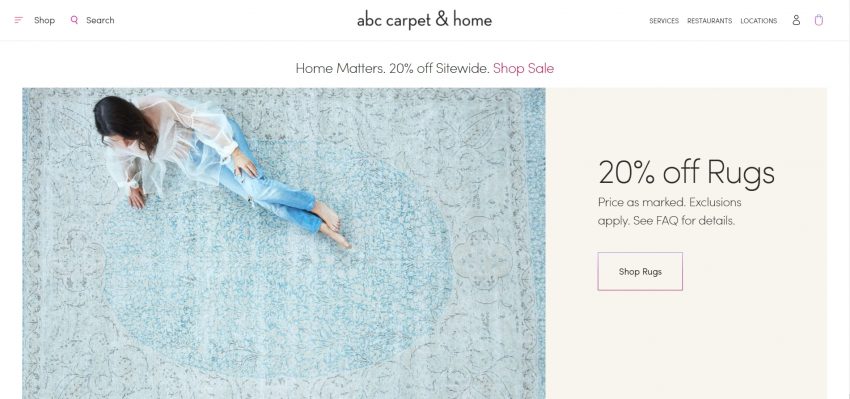 This list can't get any better! Another great addition is the ABC Carpet & Home. If you are a fan of Pottery Barn, this place will get your adrenaline into the quick rush. They have a huge collection of items that you will definitely find very trendy and stylish. You can choose from their vast collection to style your home and get the best deals out of it.
They have items ranging from Rugs to Lightings to Wall Art, to Bedding to Bath ware to Dining ware to Beauty Products and as far as Jewelry, so get your senses high with their amazing collection.
Though the prices are a little over the top, but you will definitely not be run over by quality and fashion. They have both, the physical stores to visit whenever you feel like and the online store, whenever you feel like, which gives you a stretched timeline to select all your favorite accessories and décor items. You will not regret spending your money here.
---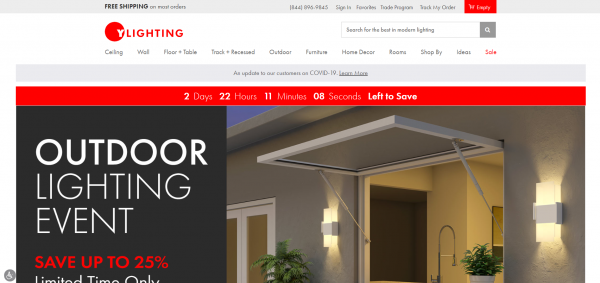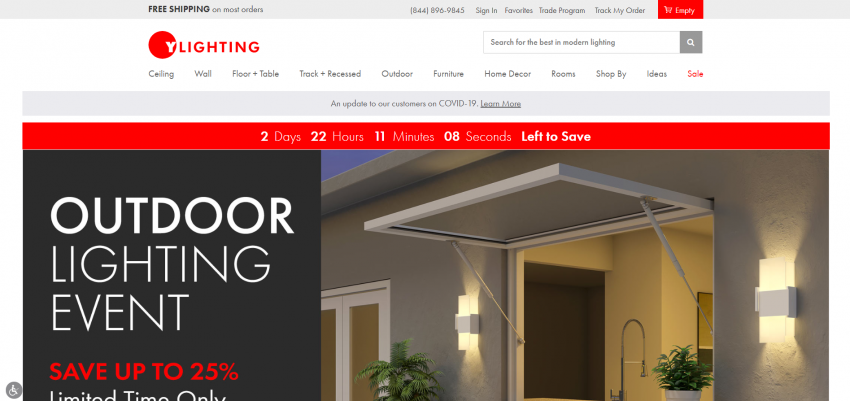 Just like Pottery Barn, YLiving is also another furnishings and home décor store that is loved by many and is spread across the country.
They have a huge collection of items that will you're your confidence, but their most famous and stylish collection has to be of the mid-century furniture section they maintain, which is quite popular and worth trying in your houses.
You will have thousands of options to choose from the best of the brands like Herman Miller, Knoll, Alessi, Missoni, Kartell, Cattelan Italia, and many more on the list. With this said, a huge range of products also a big treat including Rugs, Dining Ware, Kitchen Ware, Bathroom accessories, Pillows, Curtains, Lightings, Patio Furniture, a whole other Kids section and many more.
They have offline as well as online store help so that you get the best of both worlds and can select the items as per your convenience. They have well-lit, innovative ideas to help you redecorate your homes to make them look alive with energy and rejuvenate your souls.
They have collections specific to rooms and outdoors to give you an idea as to what you are choosing and how to do them the right way. The company was founded in the year 2009 and has been giving major furniture goals ever since.
---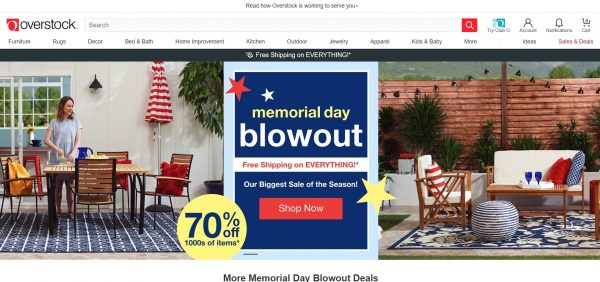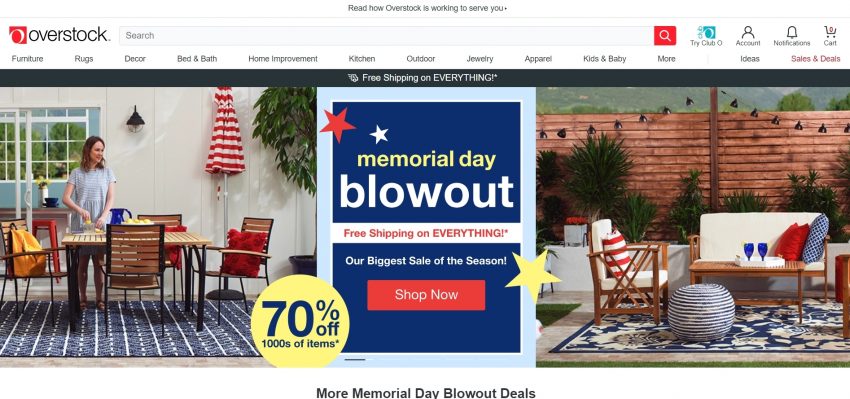 Overstock is definitely a good choice or alternatives for Pottery Barn as it has the same sort of vibes that PB does for you. The company is a tech-driven online retailer that is located near Salt Lake City in the USA and was founded in the year 1999. Since its inception, the company has grown out to be a really successful endeavor to provide a one-stop solution to home décor and furnishings.
You won't be disappointed here, as they have made sure to give you the highest quality items in their stock at some very reasonable prices. The company also has amazing after-sales and customer care services to address your needs and concerns. As per official data, Overstock has been one of the most trustworthy companies in the retail sector in terms of customer and employee satisfaction.
They have their own website in addition to the physical stores spread out in the country, to provide all the needed offers to the customers. There might be some issues with some items in terms of quality, but rest assured about the overall market dominance of the company, and you can also bargain here wholeheartedly.
---
Conclusion
These were the best online offline stores for home décor and furnishings that you can find in the country and all of them are mid-range when it comes to prices, but quality-wise, they all fulfill most criteria. If not Pottery Barn, there are many other stores like it that you can opt for.
Not just stores, there many other apps like Wayfair, Overstock, Ashley Homestore, and many more are also an option for you to choose your favorite furniture and home furnishing items sitting at your homes or offices. All the above-mentioned stores are tried and tested by various people and you would not regret your decision, so stop worrying and try out these options right now.