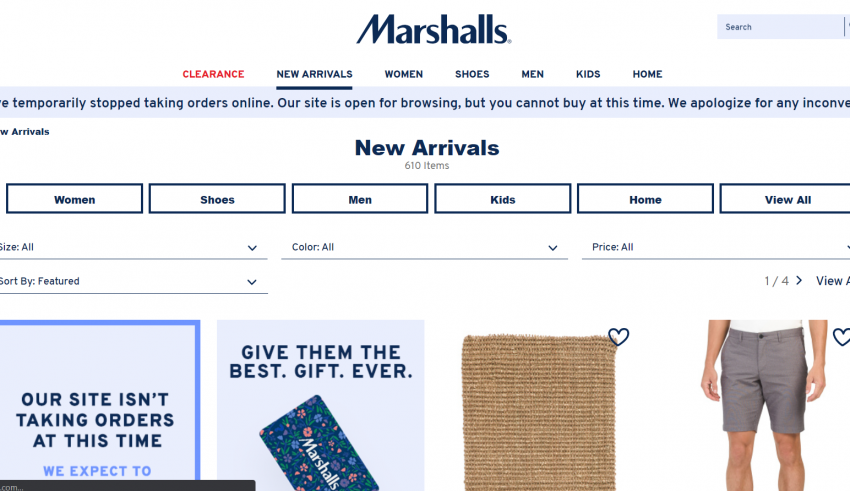 Imagine the most famous, enormous, luxurious, and fashionable brand in the country selling almost everything at 60% off the marked price — but for just half an hour.
Most shopaholics in and around that store would probably try and get to that place before all the good stuff runs out. But almost each and every buyer for that specific half an hour has to undergo a lot of suffering as well as regular adrenalin attacks… a series of emotions such as spotting branded jeans so cheap and then suddenly having to snatch, pull and push it away from the other buyers until she can call the piece of art her own.
Well, congratulations! Because you will not have to snatch, pull, and push the jeans away- because the discounted products are there, not just for half an hour instead you can get them anytime you like!
And that is the very definition of Marshalls'- the legendary store that has saved many of us, many times from fashion faux pas with its designer clothes, the one store we can rely on with blind eyes for all the most coveted brands and designer products of the world at the cheapest of prices! 
Here is our roundup of off-price discount stores (including both online and offline) just like Marshalls, if not better that will give you the best brands without wreaking havoc on your pocket:-
Disclaimer: The order of the stores does not in any way indicate their ranking and the views expressed in the article purely belong to the author. 
Here is the Best Stores Just Like Marshalls:
1. TJ MAXX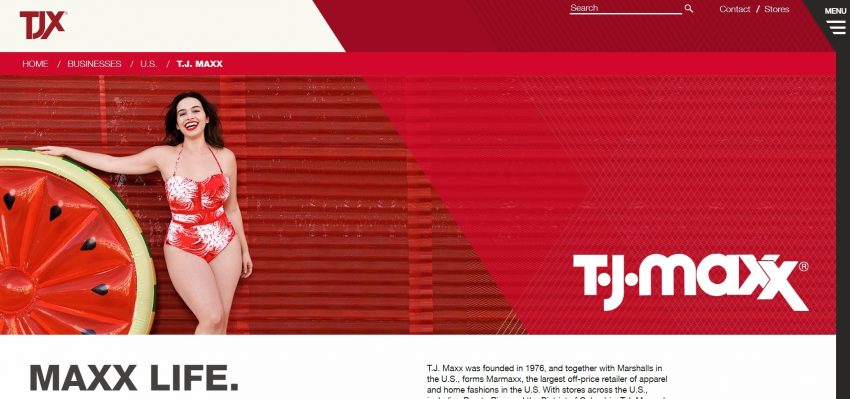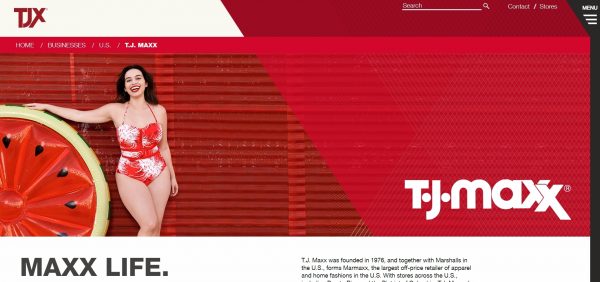 Owned by TJX Companies 
Marshall's sister company, known together as Marmaxx, is also an off price department store that gives you all you need. From men and women's clothing to kitchenware and home products, it caters to all your needs to make you and your home look like an art piece straight out of a Vogue cover! 
In direct competition with retailers like Macy's, TJ Maxx encourages its customers not to go spending thousands of dollars on that one dress when you can buy everything from Kate Spade, Ralph Lauren, Jones New York to Missoni, Calvin Klein and Nike on their shelves at the lowest prices ever! 
---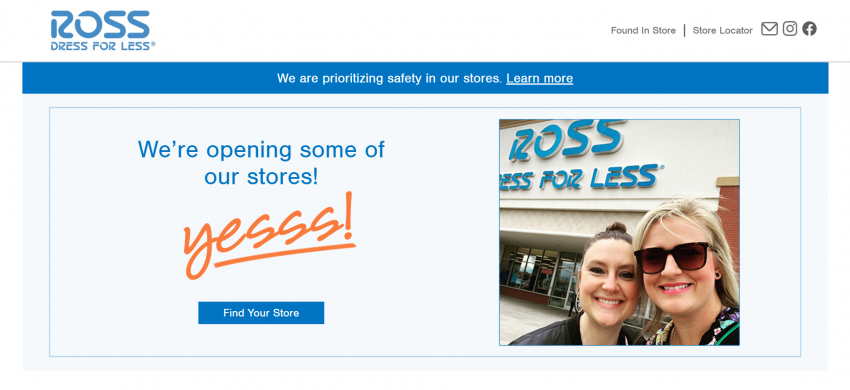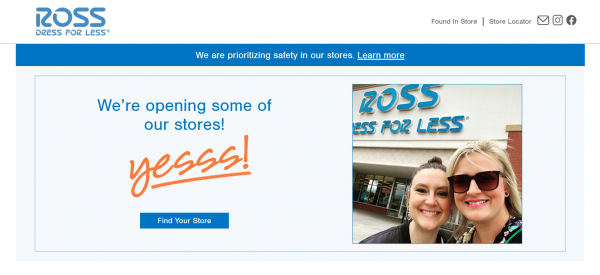 Being one of USA's biggest off-price retailers, Ross Stores directly lock horns with chain stores like Marshalls and TJ Maxx. Started in 1950, the chain has a long history. They pride themselves on 'no frills'- no window displays, mannequins, fancy fixtures or decorations in the stores so as to be able to save and pass on the savings to their customers! 
They literally sell stuff at half the price to their customers- so much so that the same item can be found at only a 10-20% discount on the clearance shelves of the brand's store. 
Why not grab it immediately- end of season at Gucci means start of season for the sane world! 
---
3. SIERRA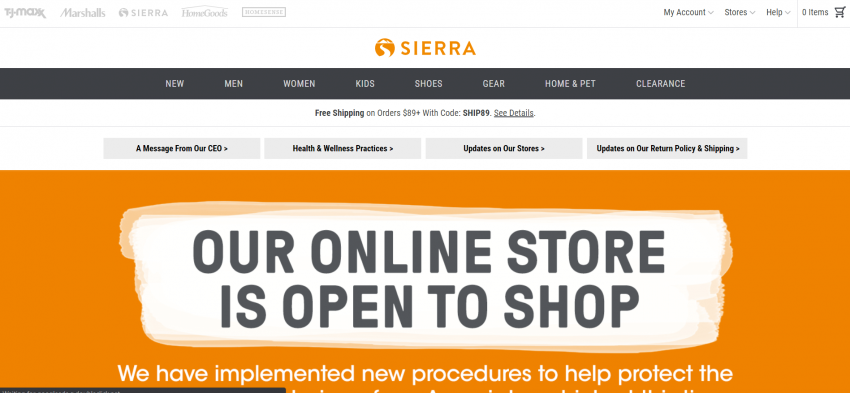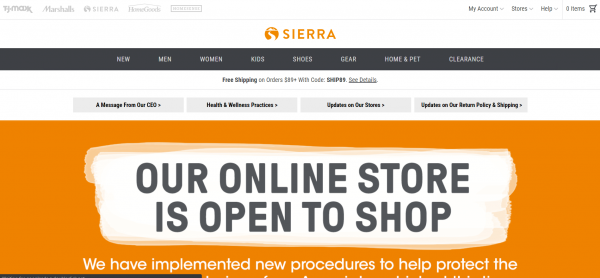 -Owned by TJX Companies 
Flaunting products from almost 3000 brands, it specializes in outdoor recreation, fitness and adventure gear. It also sells apparel, along with footwear, clothing, and home decor. 
Their motto is to let people explore more, so now you don't have to empty your pockets to go for that camping trip, simply head over to Sierra to get the best outdoor products at the best prices. A great feature they offer is 'Comparison Pricing' – which are references to regular retail prices of the same or similar items at full-price department or specialty retailers. This helps to show you how much you are saving! 
They add new merchandise almost daily, thus creating a 'treasure hunt' shopping experience. If you are in quarantine, head over to their website to browse their great collection now! 
---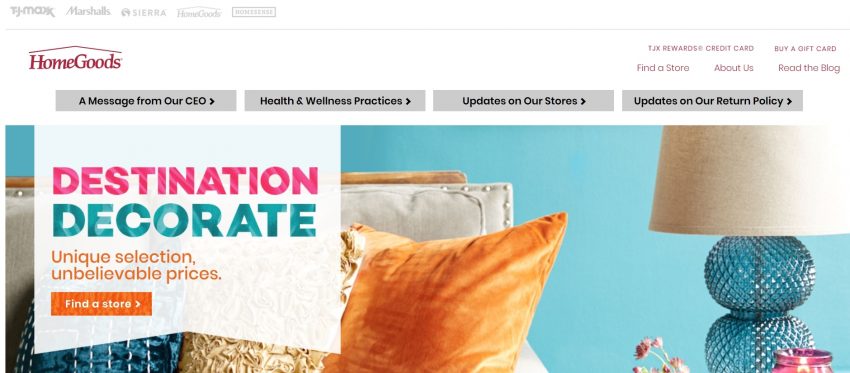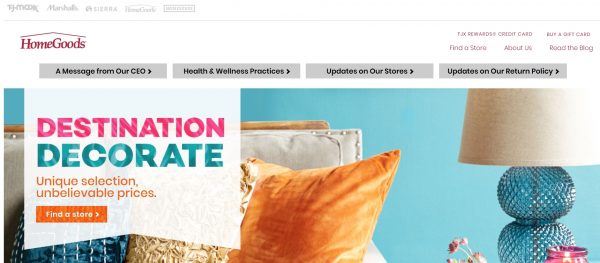 -Owned by TJX Companies 
Just as Sierra is for staying out, Home Goods is for staying in. Home Goods makes your home a place where you would want to be – with the most fashionable lighting, the classiest crockery, and the most elegant beds! 
Today, they have more than 700 stores and you can go on their site to find one near you. They also offer an app- The Goods that allows you to browse through the unique items available at different store locations. 
And the best part about them? You enter and a burst of inspiration hits you from everywhere! Suddenly, that festive party you were planning comes back into focus and that perfect backyard oasis you saw in that magazine comes to life right before your eyes. All your dreams coming true- at the lowest price! 
Download the app now!!!
---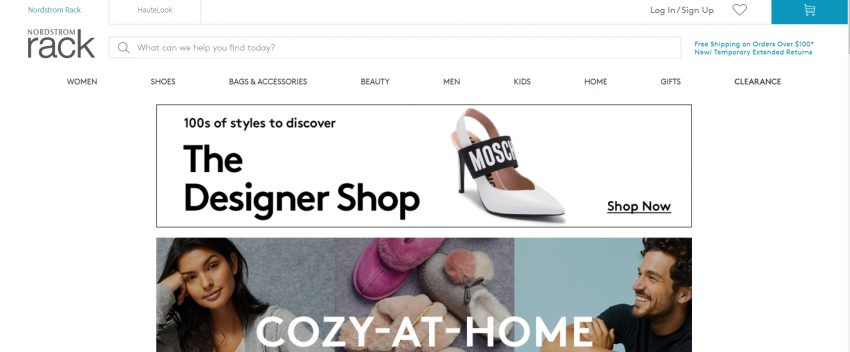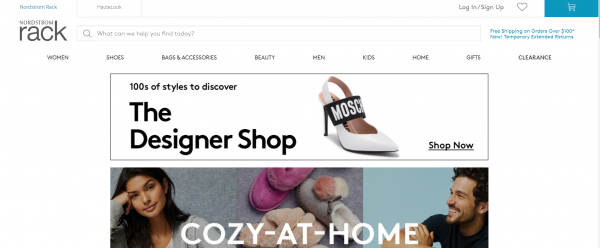 When it comes to discounts, the other chains become insignificant in front of Nordstrom Racks. While the others go upto a 60% discount, Nordstrom will offer it at 80%- those are not savings, that is practically free! 
I just bought a pair of Salvatore Ferragamo Sunglasses at $59 as against the original $276!-  I don't think I have ever made a better buy.
As the entire New York Fashion Week under one roof, on one corner of the internet, there is nothing that Nordstrom Rack does not have to offer- from the classiest oxfords by Kate Spade to the chicest dresses by Ted Baker. So the next time, someone gives you the Manhattan Once-Over, they are sure to turn green with envy. 
Go shop now! NOW!
---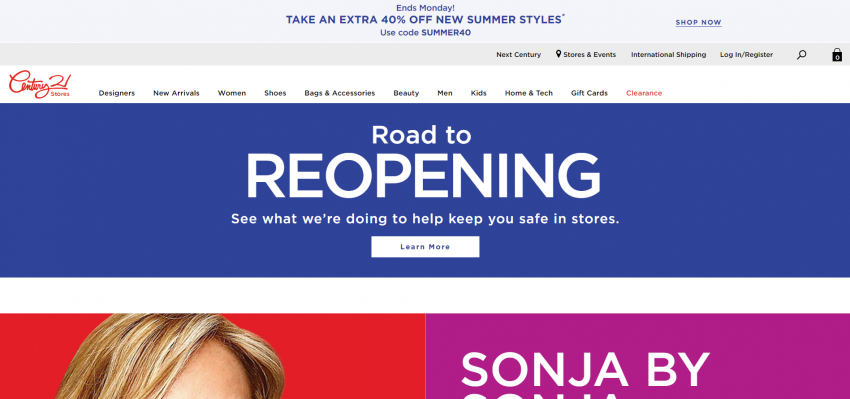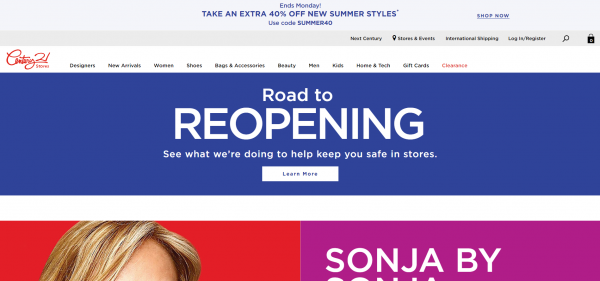 One of the best stores with great reviews everywhere and from everyone, Century 21 still holds its humbleness unlike the other chain stores, catering to their customers wholeheartedly. They offer Karl Lagerfield, Dolce and Gabbana at discounted prices upto 70% off. Today, their flagship store spans three buildings up from a mere three floors from when it first opened, and there are 14 locations spanning the east coast. 
And the best part about them is their CELEB customers! Beware, your eyes might pop out – Kim Kardashian, Ed Norton, rapper Cardi B, Extra host Mario Lopez, The Hills alum Kristin Cavallari, Bravo's Paige DeSorbo and Sonja Morgan and The Sopranos star Jamie-Lynn Sigler have all shopped from them. They even got a shout-out from THE Carrie Bradshaw on HBO's hit show Sex and the City.
It will be illegal not to shop here!  Go and refresh your wardrobe now! 
---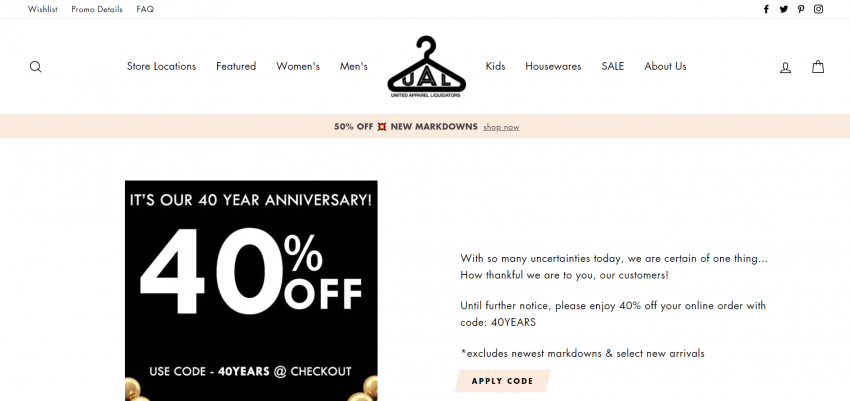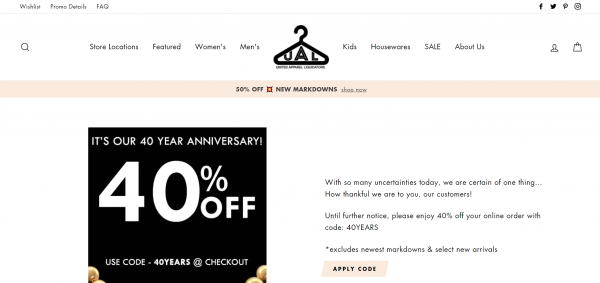 Called by the New York Times as the 'Best Kept Secret in Fashion' and included in the list of 'The World's Best outlets', this small chain of stores beats Marshalls, TJ Maxx and Century 21 by a hard bargain (they don't even stand a chance near it). From the outside, it is hard to see why the drama around it, just go inside and you will never be the same person again! 
If you are into fashion, this is a temple and it is unreligious and unethical not to have visited it. Unlike the other chain stores where it is only a fish market when you enter, their stores are like a Tiffany Ring Boutique- the only difference is that everything comes at 50-70% off! Also, the attendees are available and are much friendlier and nicer than at any store! Fashionistas flock to UAL crossing states and driving for 6-7 hours on end. Located in non-prime locations, in between large buildings, in small areas, it is hard to find them but when you do, be ready to lose it. 
UAL does not just give you Kate Spade or Calvin Klein, it gives you the 'Met Gala' designers- belonging to THE CURRENT SEASON, forget the last. Thus, it is often cautioned to the shoppers to visit the stores with a suitcase, anything less never works. 
---
8. Saks Off 5Th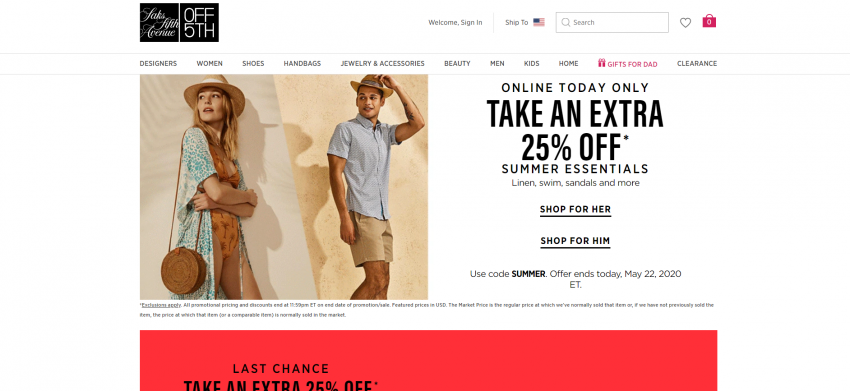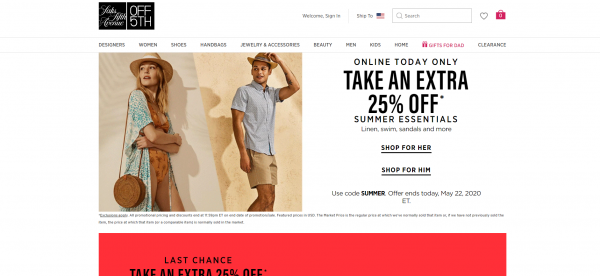 A branch of the famous 'SAKS FIFTH AVENUE', these chains of stores by SAKS offer the best stuff with the deepest discounts. Though not as glamourous as the original SAKS, this place is perfect for the new collegiate who cannot afford to buy from the original store, but sure knows how to turn heads. And now, they ship almost worldwide! 
What could be better than this? You never have to worry about authenticity especially when its coming from the King of Designers/brands- SAKS itself. 
They sell almost everything you would find at a SAKS store, so the issues of quality or authenticity are out the window. If you know how to dig deep for the perfect dress and get 3 times the value of your money, this is surely the place! They run both an online store as well as offline stores within the original SAKS.
Go and shop now for the best deals!  
---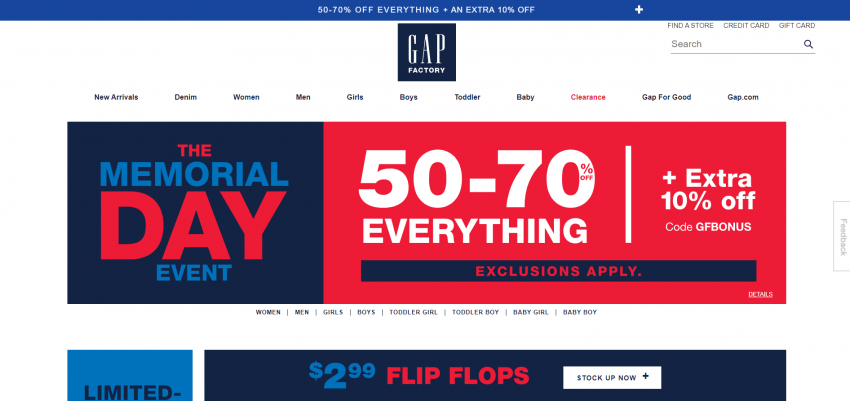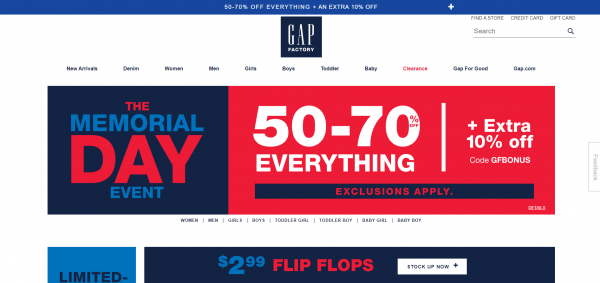 Gap factory, a branch of the brand Gap only, is not like the factory outlets of other brands, where one might get overwhelmed with overstocks, last season's trends or flawed products. Instead, at Gap Factory, you will find an exclusive line of 'casual-chic styles' that can be worn by everyone, anytime and anywhere. And it is created by Gap's in-house design team itself!  
So when you wear a Gap Factory product, you haven't bought it from some thrift store or even an off price retail chain store, instead you have bought it from the brand Gap itself. The only difference is, you saved yourself a fortune and still managed to looked at the top of your game ! So go out there and rock the world! Who says you need only be a millionaire to do so?
Order now from their website! 
---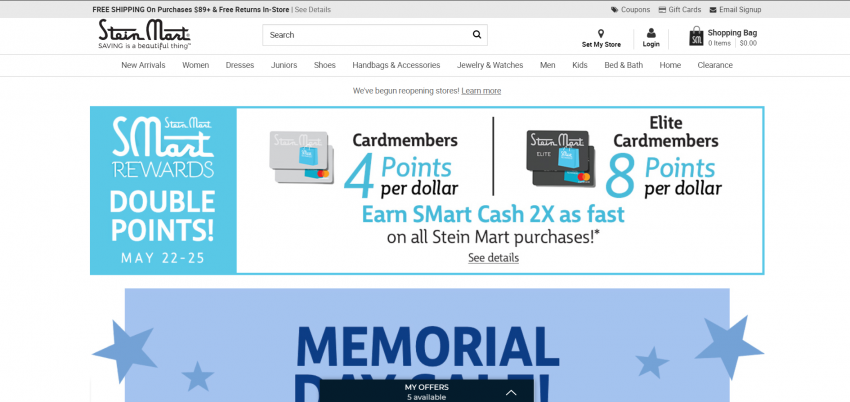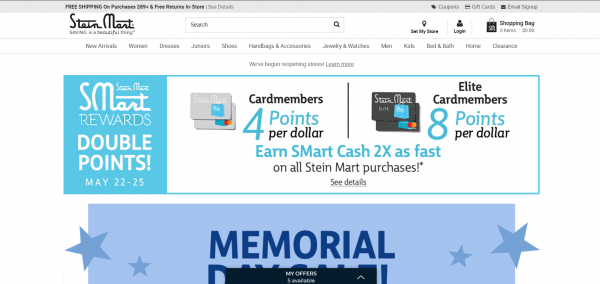 Driven by a passion for fashion, they believe saving is great! And why should saving make you compromise ever? Thus, they provide you with an array of products from up-and-coming designers as well as the established ones, hunting in boutiques in nooks and corners across the world for the most exclusive items! And they provide the season's latest and trendiest! Off-season just isn't their style and they think it shouldn't be yours too. 
Thus, it is in these terms that they set themselves apart from their competition- Discount retail stores like Marshalls, TJ Maxx, and Century 21! 
So if you are a true fashionista but can't think about burning a hole in your pocket, head over to Stein Mart today! 
---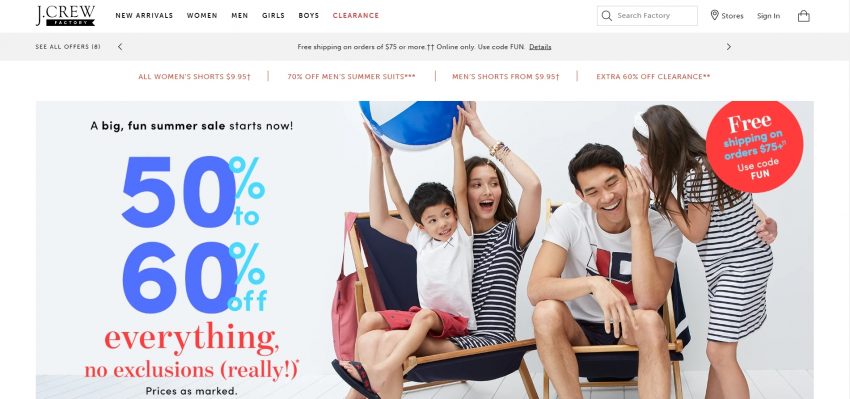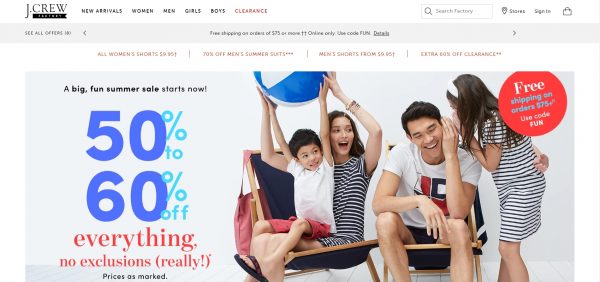 Lesser known but more feasible, J CREW'S Factory is the best deal! If you love J Crew's clothes but hate their prices then this is the place to go. They offer the exact same clothes but at deep discounts.
Though there are few brick and mortar stores of these factory outlets, their online store works great unlike those of other off-price retailers.  On-time delivery is their forte though returns are usually not possible. So buy that great J.CREW blazer now at J.CREW Factory!
They make shopping fun without spending an arm and a leg! !!
---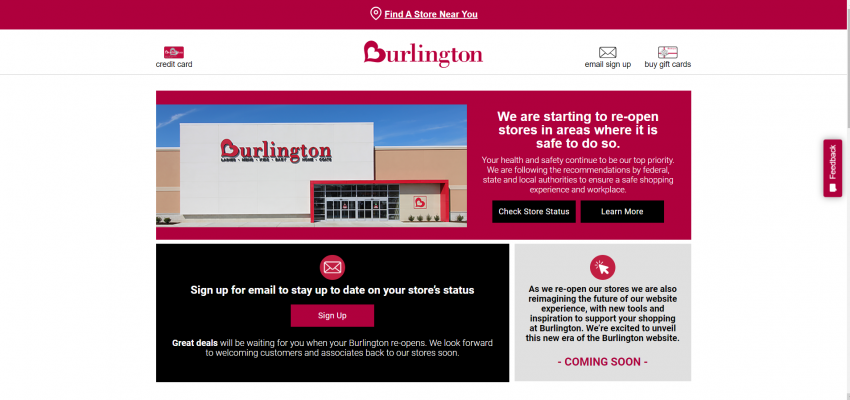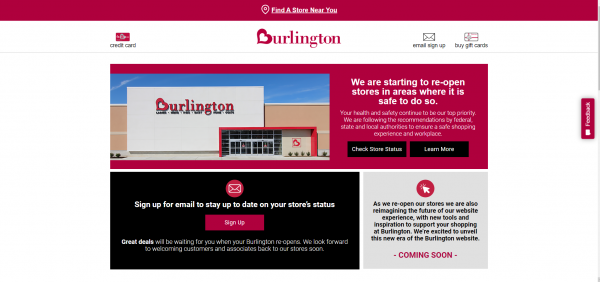 Earlier known as the hyped 'Burlington Coat Factory' and established in 1946, today it has more than 600 stores across the country. Giving a good competition to its opponents, department stores like Marshalls, TJ Maxx, and Ross Stores, Burlington has been observed to thrive in both the good economy and the bad. It has also retained its position as the third biggest off-price retail chain after TJX Companies and Ross Stores. 
A historic moment for the company was when it renovated and reopened its stores to the general public after surviving the 9/11 attack. Many formed long queues outside the store to be able to get a sales receipt from the historic day. 
Since then, Burlington has never looked back. Being the first to open an e-commerce platform, it has now closed it realizing that the business that it deals in requires a more offline presence. 
Today, it caters to all women, providing great designer and branded pieces at prices that keep lowering further every day- only better for us! They have also always been a significant part of the community around them, partnering up with many charitable organizations for the same. 
Being a great all-rounder company, Burlington deserves its share of applause!
---
We gave you the best of deals, it's now your turn to embrace it and show the world who you are- wearing the sassiest clothes and the sleekiest pumps!