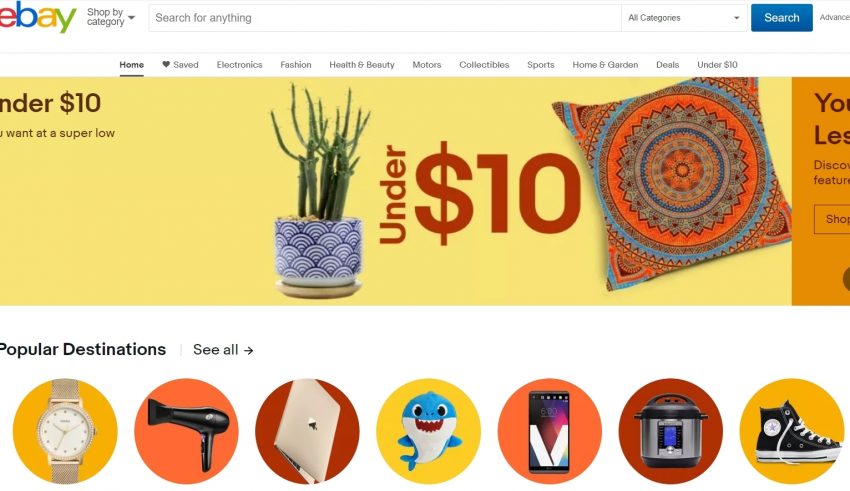 eBay launched way back in 1995, right around the time when the internet was slowly and steadily establishing its place in our daily lives. Way before Amazon or any other e-commerce site there was eBay and it took the world by storm. Based in San Jose, California, this multinational American corporation paved the way for e-commerce as we know it.
The shopping website lets consumers and businesses buy and sell a wide variety of materials and even services. And for a website that was launched eons ago, it was way ahead of its time; packed with interesting features, especially the one which allows not the only business to the consumer but also consumer to consumer sales via its website.
The store is free for buyers but if one wants to be registered as a seller they will be charged fees for listing their products after the initial handful number of free listings. When eBay first started, it sold its items primarily through an auction-style but has quite recently added many reformations which even lets you buy products instantly.
However, if you're looking for a new store for whatever reason, we have quite the list for you – 10 stores like eBay.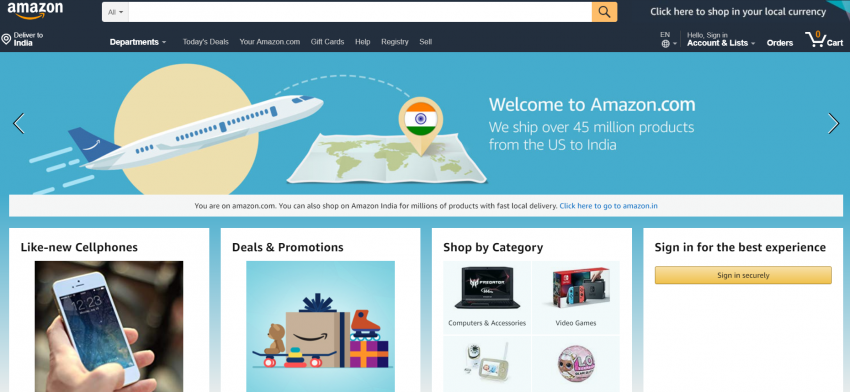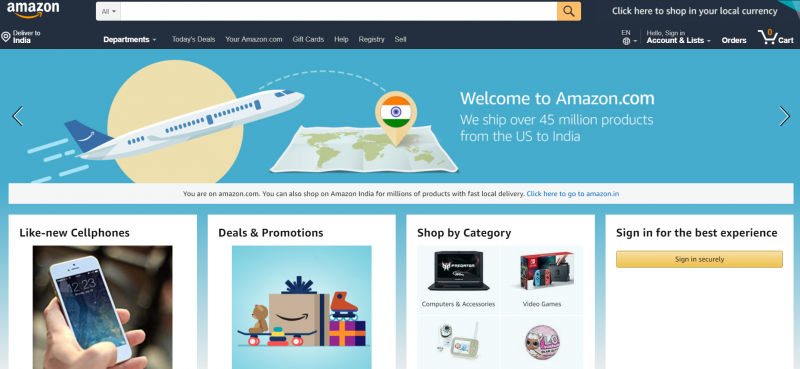 The multinational Amazon conglomerate may have well established itself as one of the Big Four technology companies in the world with its varied range of services such as artificial intelligence, streaming app, cloud computing but its entry into the market that it now rules was by e-commerce. Emerging as a staple store for every requirement, Amazon is much-loved and attracts huge traffic worldwide. In nature it is quite similar to eBay sans the auctions or bids, but Amazon only became a household name all thanks to their genuine products and quick service resulting in immediate buyer trust. Containing almost every product imaginable in the store's inventory, it is almost shocking to think that Amazon was previously only an online bookstore. Either way, now it has millions of customers daily scouring the website to purchase their requirements. A large consumer base is useful if you're trying to make it as a seller but you should also be prepared for the competition to be undoubtedly fierce.
Why choose Amazon over eBay?
–         Quick Sales: eBay sellers sell their items in an auction-style so the interested customers will first have to bid on the item and the entire process may take a week or two. But with Amazon everything is instantaneous thanks to its more traditional form of retail. There's no chance of bargain here since the prices are always fixed thus sales are instant.
–         Seller Supportive: The sellers at Amazon are given a basic, free account that they may upgrade according to their necessities and product demand. The thing to remember is that all listings in Amazon are free and the store only charges commissions on sales. eBay however charges for listings and helps themselves to commissions as well, this would mean that you will have to pay up whether or not you have been able to successfully sell your product.
–          Numerous Incentives: eBay does not essentially sell anything itself and thus provides no benefits to its buyers. Whereas Amazon has been winning the game with its prime membership facility which provides discounts, 2-day shipping, and top-notch customer service. It's no surprise the buyers stick to this particular store
–         Excellent Marketing Strategies: Promoting products can be quite a hassle. Marketing is no easy task, you usually need an entire team for that. For individual sellers, it's a hefty expense to bear and honestly a headache. But Amazon promotes the products on behalf of the sellers.
–         Customer Base: Now I know we need not repeat this, but Amazon's customer base is honestly no joke. It is after all the largest e-commerce platform worldwide.
---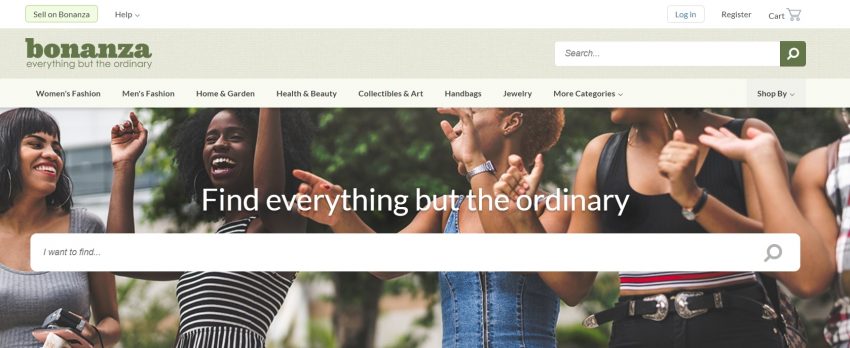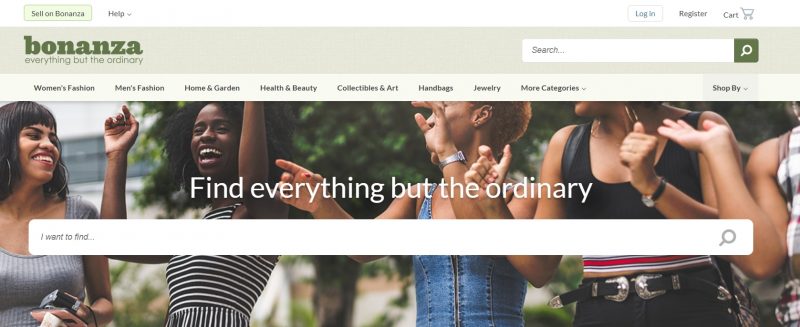 Quite a new addition to the e-commerce marketplace, Bonanza is growing exponentially thanks to the sheer variety in products; from the most mundane to most zany, you can find it all in Bonanza. Sure to be the next big thing, Bonanza is a hot favorite among both buyers and sellers. The buyers get to revel in all of the site's quirky glory while enjoying the best of both worlds: fixed prices as well as negotiable prices. While the sellers can customize their price listing and also lower commission rates than eBay makes it all the more lucrative.
Why choose Bonanza over eBay?
–  Quirks Galore: Bonanza is the place to be if you like indulging in a little creative shopping. Of course you get the regular stuff but the eccentric products do way better here. So, if you have got something unique to pitch, Bonanza is the place for you.
–   Easy on the pocket: Listings at Bonanza are free, the fee for registration is honestly quite meager and once a product is sold successfully, the seller has to pay a commission of only 3.5%.
–   Wide area of coverage: Quite popular in the US, this web store's presence can also be felt in over 200 countries. So, business is bound to be great.
–    User Flexibility: Bonanza is an easy to use web store with a wide range of categories which not only attracts many customers but also makes the job of product posting for sellers fairly simple. Its flexibility is further proved thanks to its innovative feature of including both fixed and negotiable pricing.
–    Less competition: When compared to eBay the ratio of sellers is less in Bonanza as it is still growing. That is exactly why now would be the perfect time to advertise products on their website. Less sellers means shoppers will invariably chance upon every item on the category they are searching for. So, better exposure at a much lower cost is guaranteed.
---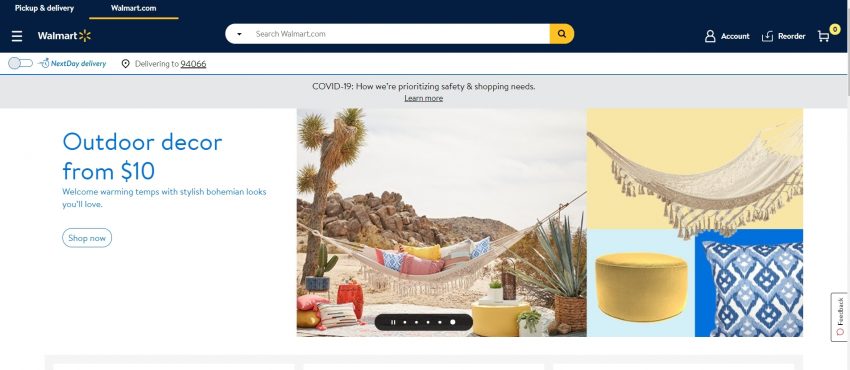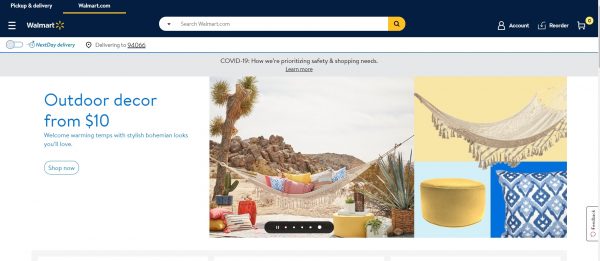 Now this is somewhat of a long shot, but if your product has already gained a certain degree of popularity and its demand is on a steady hike, there's probably no better marketplace for you than Walmart, the world's biggest retailer. It is not exactly common knowledge but Walmart does accept you as sellers provided you tick all their required boxes. So, if you feel want your business booming in no time, check out Walmart's seller policies. Also, just how cool would it be to see your products on Walmart's shelves and site?
Why choose Walmart over eBay?
–         A chance to upgrade yourself: Since Walmart is extremely selective about choosing their merchants, you will be constantly motivated to do the best for your product. You will have to maintain the quality, reach out to your customers and solve their grievances, nurture your reputation and ensure fair pricing.
–         Better exposure, more revenue: Every seller who has made it into Walmart's star list has made it big and reached new heights with their product. This means more traffic to the seller's personal stores and more sales.
–         No commission: While every other store will take a considerable amount of commission each time you make a sale, Walmart isn't about that life. It will only charge you a referral fee of 6% to 20% based on your product.
–         Honesty first: Imagine a platform that strives to look out for each of its sellers and ensures that there is no chance of foul play. That's Walmart for you. Even though they do give their sellers a certain degree of freedom to attach a price to their product, they will delist if you try to one-up your competitors by raising your prices exorbitantly.
---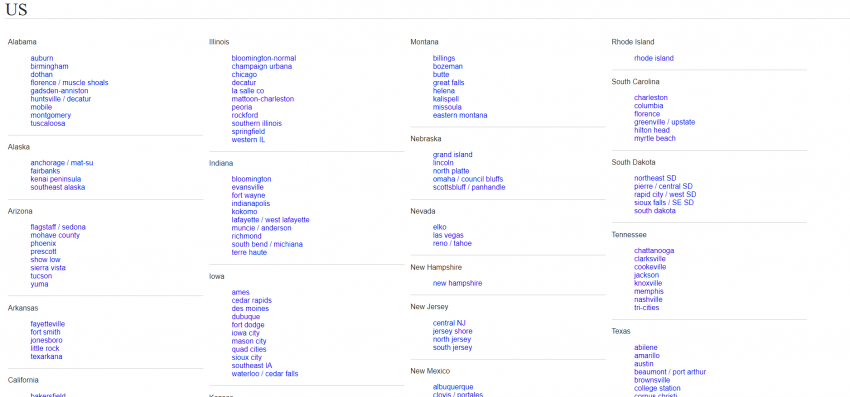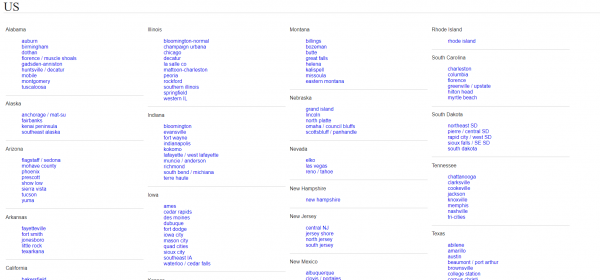 This American advertisement forum has become somewhat of an internet sensation since its launch in the market. This basic, easy to use platform lets you sell and purchase virtually anything and everything under the sun, including yourself (yes, that's a thing!).
Why choose Craigslist over eBay?
–         Little to no expense: All product listings are free of cost except for a few job and automobile listings
–         Great purchases: Not everyone on Craigslist is trying to "sell" their products. Some are just looking to give away their items as they are no longer in need of it. So, if you scroll through the "Free Section" you're likely to find a few products which could of great use to you and you get them for free too.
–         Do it yourself: While eBay looks after the shipping and delivery that is not the case with Craigslist. You're pretty much on your own there. So, you or your product purchaser has to arrange for the delivery. While that might sound a little tough, you really can turn it around into a boon.
–         Top-notch services: There are numerous people on the forum selling their services for a very cheap price. The method is easy, fast, and light on the pocket.
–         Privacy: The website looks after their sellers via the service of automated email services. This ensures that the seller's privacy is not compromised.
---


If your products are the artsy-craftsy type, you will find a larger audience in Etsy. Based in Brooklyn, New York, Etsy was founded in 2005 and has since amassed 26 million buyers and 1.6 million sellers. This online crafts and arts community specializes in selling authentic handmade trinkets and accessories, vintage goods, furniture & home décor making it the ideal selling place for artists and art enthusiasts.
Why choose Etsy over eBay?
–         Perfect for small-scale sellers: Etsy is the place to be if you want to sell your handicrafts. The site is crawling with art lovers who will jump to the occasion of buying products that have been made so meticulously and with a lot of love. The listing price per product is quite nominal and a commission of 3.5% is charged per sell.
–         Lucrative Deals: Etsy gives free membership, free listing for 4 months, and store operation opportunities.
–         Unique purchases: With e-commerce giants like eBay and Amazon, you know you are bound to run into people who own the same products as you do. But Etsy's buyers always end up with the most unique items at inexpensive rates. As the community is much smaller in Etsy, you may even get in touch with your seller and customize your products.
–         Better support: Etsy offers a range of facilities to their sellers as they strive to make their merchant's experience on the site as comfortable as possible.
---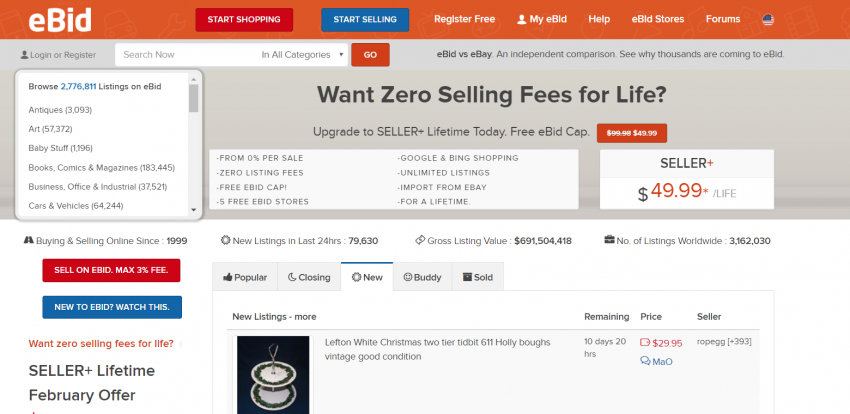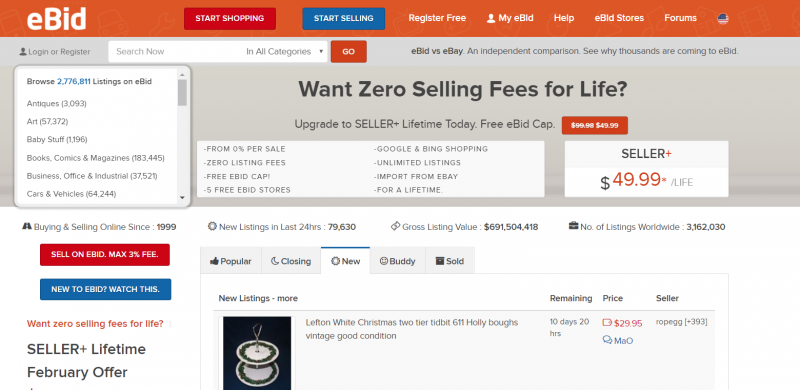 eBid is not just in name but in nature too quite similar to eBay as it holds the same auction-based style of selling. Launched in 1999, this eBid now functions in over 23 countries. But still, it has a lot more of expanding left to do if it truly wants to compete with the big names in the e-commerce marketplace. While its slow growth is not so good for its creators it is plenty good for the sellers. Why? Doesn't a smaller community mean fewer purchasers as well? Well, yes. But this is the perfect place to test out your new product as listings are offered free of cost and commission rate is meager.
Why choose eBid over eBay?
–         Economical: It's a great place to be for both buyers and sellers. Sellers get to advertise their products at literally zero cost while buyers get to buy products at a much cheaper rate than one would on eBay.
–         Variety: eBid allows you to sell anything your heart desires. It's a trusted marketplace with a wide range of varieties when it comes to product categories.
–         Support: eBid has great customer service so if you find yourself at odds with something on the store like technical faults or bad reviews from buyers, you will find instant help from them.
–         Exposure: Although not as popular as eBay, eBid is still quite popular raking up 15 million customers per annum. You can freely take advantage of less competition and make sure your products reach every buyer.
---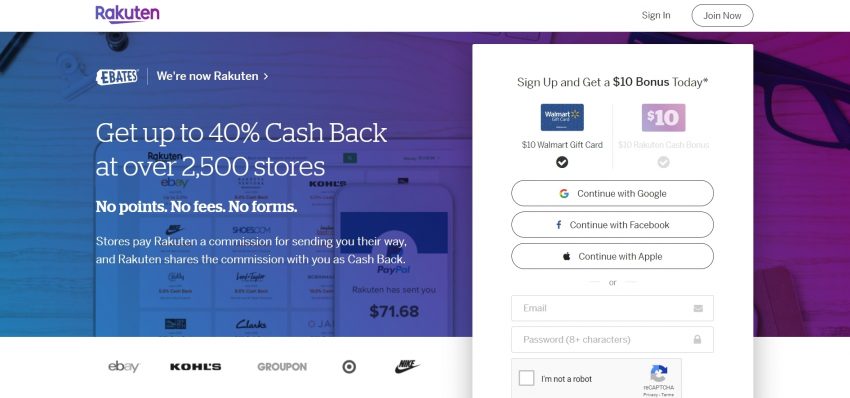 Formerly known as Japan's Amazon, Rakuten has 90% of Japan's population on the website. Those are some staggering numbers so it must be doing something right. Big brands like Dell, Lenovo, Dyason use Rakuten to endorse their products as well. Offering varied products to international buyers, this platform could just become the next big thing.
Why choose Rakuten over eBay?
–         Direct sales: Rakuten is a great fit for people who don't love the concept of auctions style sells.
–         Customize your store: The platform allows designing and customizing your store your way, something that no other renowned e-commerce website provides as of yet. Add blogs, tips, creatives, fashion it exactly how you want it.
–         Chat options: Rakuten helps sellers and buyers communicate directly. This improves morale and ensures authenticity
–         Lucrative deals: The platform offers easier selling plans, reward points for sellers and even cross-platform selling to improve sales.
---
So, which one do I go for?
You now have a great list to get you started and there has to be some store that intrigued you So, follows your hunch, does the requisite market research, and choose the platform that best aligns with your interests. Happy selling!