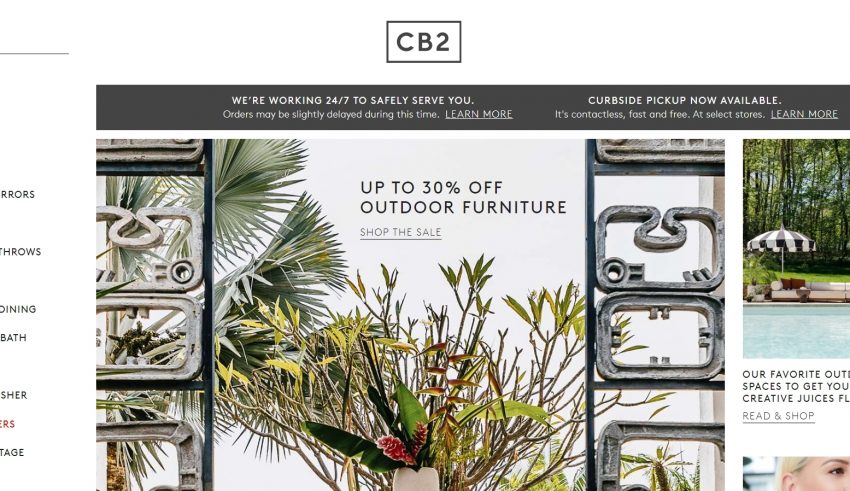 CB2 is one of those brands that always offers some of the most daring and unique home décor items. Their collection is fresh and original thanks to the multitude of talented indie artists and designers working for them who are consistently trying to up their game. Home décor is something that most of us are interested in.
Who doesn't want to fill their space with striking furniture, artwork, and decorations? Not only does a good-looking home make you look forward to spending time at yours but it also gives you the initiative to throw those lavish parties where people can't stop raving about your beautifully designed home.
But the problem is that most people tend to end up with the same stuff since they shop from the most common stores and somehow, that just doesn't sit right. With CB2 however, you will never have to face such a conundrum.
Two homes decorated to the brim with CB2 furnishings will look nothing alike and that is exactly why CB2 is so well revered. Below listed are some stores who quite like CB2 can do wonders to light up your home with progressive and suave furnishings.
Here are the best Alternatives of CB2 Stores: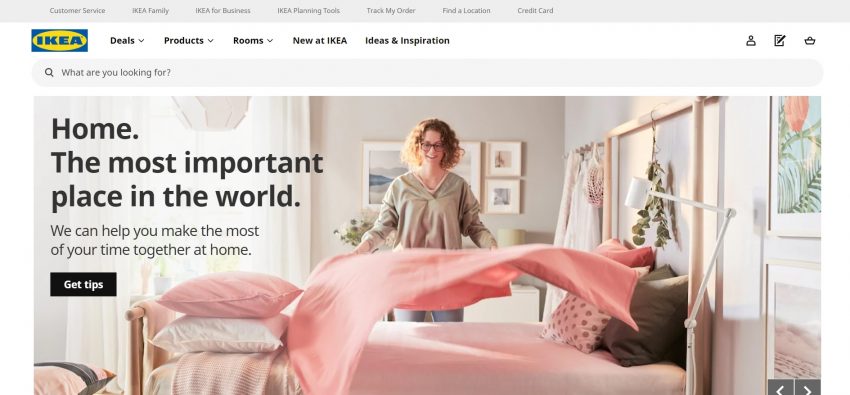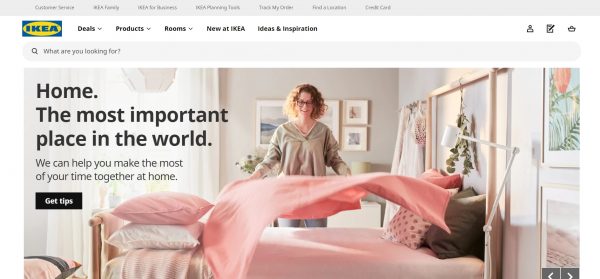 IKEA is easily the most popular and prominent name in the furniture retail industry and it's little surprise why. The collection they hold is so enormous that one would ideally have to spend hours in their store to go through every item. Beds, sofas, kitchenware, TV unit, and storage closets, they really do have it all.
Inspired by Scandinavian design, the retail company employs artisans from India, Thailand, Rome, and Jordan to meticulously produce their handicrafts. If you're visiting someone's house and can't get your eyes off something, it's more than likely that it is from IKEA. It is, after all, everyone's go-to furniture company.
And despite gathering mass popularity, it has still kept its price quite affordable. They also provide other luxuries like home delivery, free assembly and installations, and 90-day returns. Even if home décor isn't exactly your cup of tea, one trip to IKEA will be enough to inspire you. Whether you have recently moved into a new apartment or you're looking to revamp your current home, IKEA will not disappoint you.
---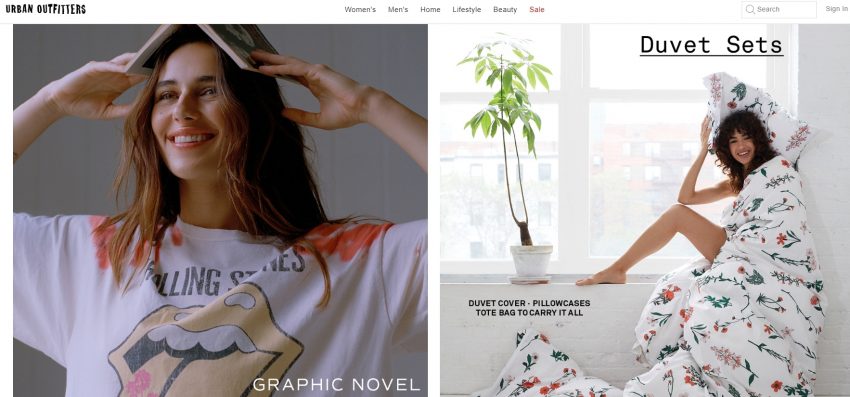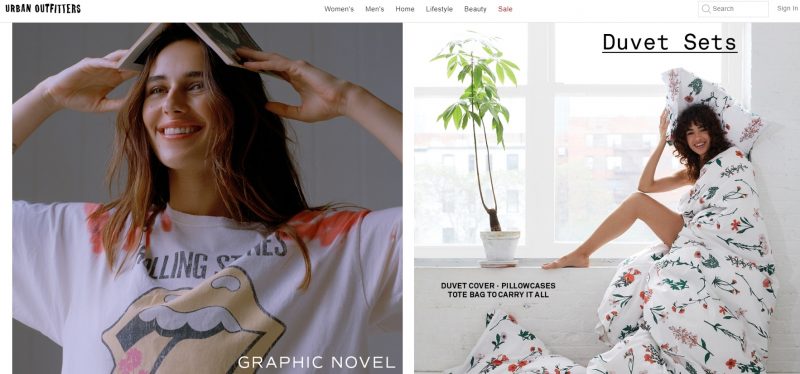 Another popular name among multinational lifestyle retail companies that people just can't seem to stop talking about is Urban Outfitters. Yes, the brand is quite popular among fashionistas as well but their "home" category is honestly the scene-stealer.
Offering designs of every kind from vintage to minimalistic, urban to bohemian, there's something for everyone and every one of your moods.
Urban Outfitters doesn't just believe in following trends but creating them, so if you spot something new and impressive in their store, chances are it might just end up becoming the next big thing. Thereby, when you find something that catches your eye right of the bat, buy it, because it is sure to be sold out in the blink of an eye.
---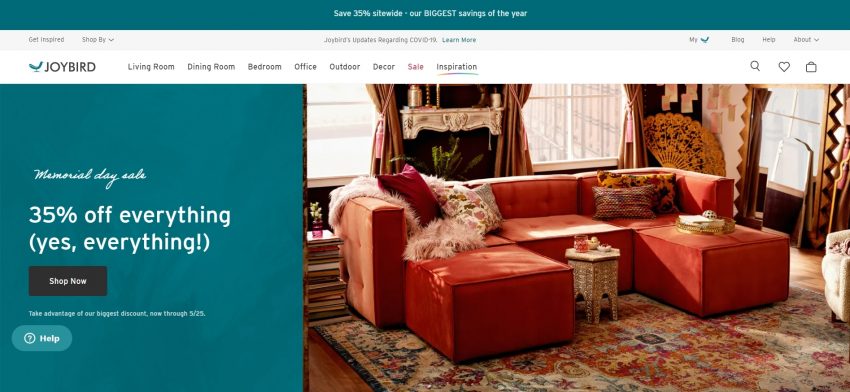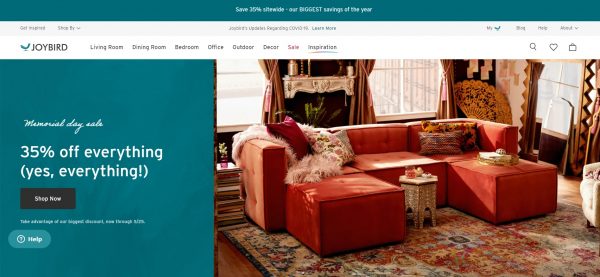 Joybird is tailor-made for those who believe in decorating their home in a quirky yet minimalist fashion. The company is largely different both in terms of products and services when compared to big-box retailers.
They carefully take note of their customer's demands & tastes and then employ their most talented craftsmen to begin their work from scratch. Each item you come across at Joybird is the result of nights of brainstorming sessions, hard work, and heaps of talent, passion, and bold artistry. But despite all this, all their products are fairly priced and they hold some of the biggest sales you will ever witness.
So, whether you are looking to completely transform your living room, washroom, kitchen, office, or your toddler's playroom or simply in need of some inspiration, go to Joybird. There's nothing like it.
---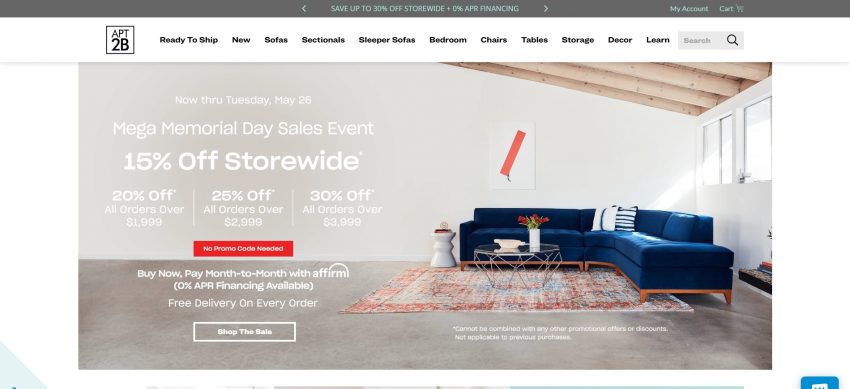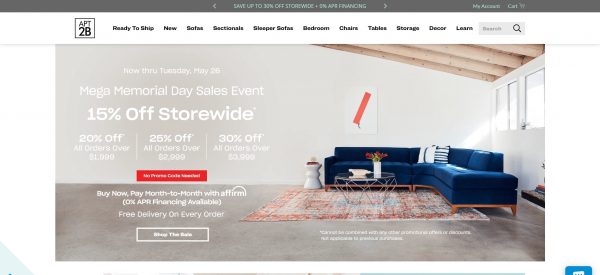 CB2 lovers can often be found shopping at Apt2b to their heart's desire and with good reason. This is a company that understands its customers, their tastes, and their bank balances.
They believe that simplicity is sexy, less is more and paisleys, solids, gingham, and pinstripes are immune to the raptures of time. If you want to revamp your space with modern furniture that has a hint of timeless essence attached to it, you won't find a better alternative to Apt2b. It's almost a given that you will find something of your liking on their store but hey, what about the delivery?
In the hustle and bustle of finding the perfect addition to your home, it is quite easy to forget that furniture delivery can be quite a hassle not to mention the expenses. But Apt2b has got you covered in this regard as well. Their delivery charge: Nada! So, fill up that cart and get those pretty pieces delivered right at your doorstep absolutely free of cost.
---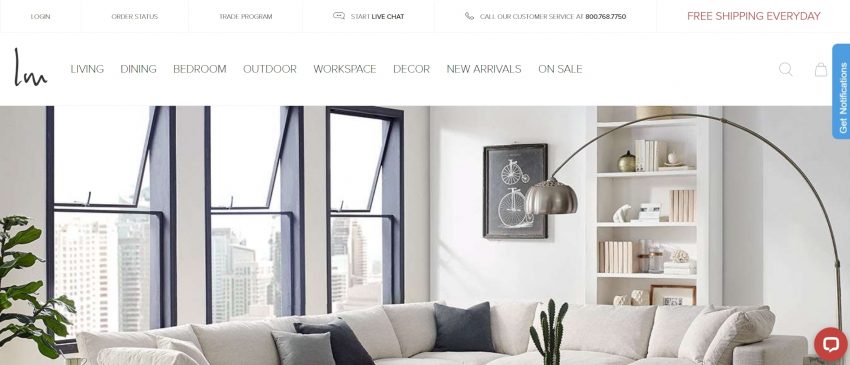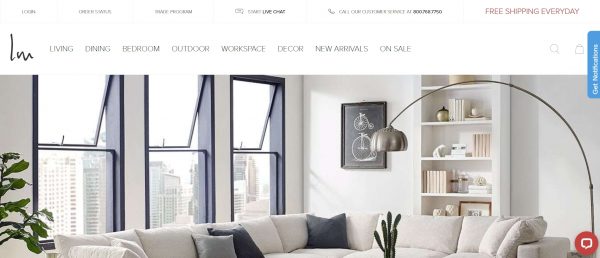 Although fairly similar to CB2 in terms of style, design, and price, Lexmod often houses products that you will rarely find in the CB2. From Scandinavian inspired to boho and rustic, mid-century modern to coastal, Lexmod is home to all styles of furnishings. The brand has products for every personality and every kind of accommodation.
Their sophisticated and fashionable products have indeed paved the way for them and made the company an ideal destination of professionals, homeowners, interior designers, and architects.
Their unique selling point is that even though none of their items is over the top they have a distinct aura of luxury and lavishness attached to them. No matter how tiny your choice of product may be, they will light up the entire room. Lexmod is also available on Amazon and offers free shipping too!
---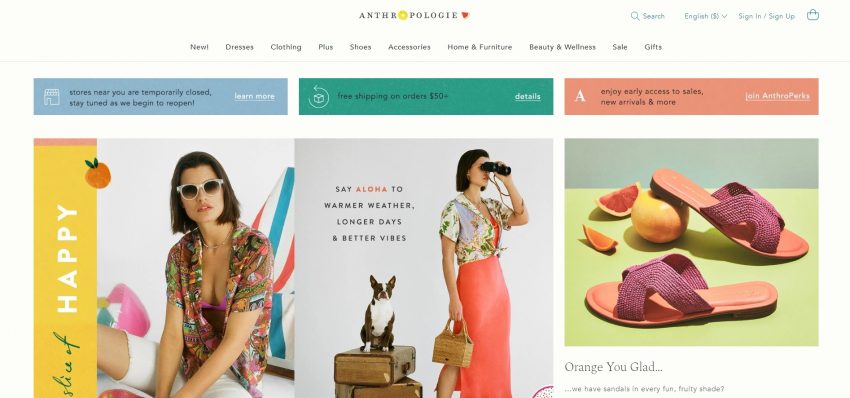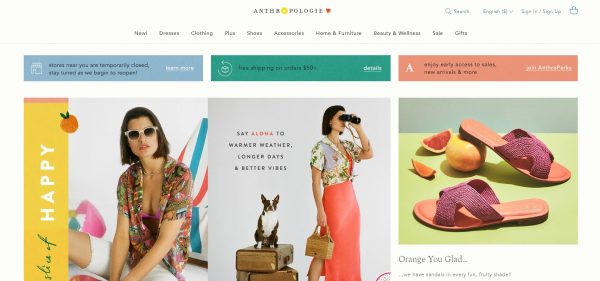 Many may not be aware of it but Anthropologie's parent organization is Urban Outfitters, so you are assured of quality and style. But the store has only made a name for itself in the market by being vastly different from the URBN brands. Their home collection is very bohemian aesthetic and doused in Mediterranean colors.
Although a little pricey their pieces make for great additions to your home, needless to say, they are extravagant and will catch everyone's eye. If you are on an ode to making your home stand out and decorate it with a completely unique vibe, there cannot be a better alternative to Anthropologie.
---
West Elm
Although we do love a good looking home, our home is not just for show, it has to be eye-catching, yes, but above all, it has to be comfortable. It is so often that we go to furniture stores and find so many items catch our eye but on closer inspection, we realize it would be of little use you in reality. This makes the process of home shopping extremely laborious.
West Elm understands that sentiment better than any brand. Their home collection consists of items that are problem-solving and stunning at the same time. And not only do their products look good but they also feel good. Why do you ask? Simply because they maintain a standard of quality that is hard to challenge.
All their bedding and bath towels are all-cotton and organic, the products are certified non-toxic and sustainably sourced and they participate in a fair-trade union as well to ensure the workers are fairly remunerated for their impeccable handicraft. Shopping at West Elm isn't just good for the home but good for the soul too.
---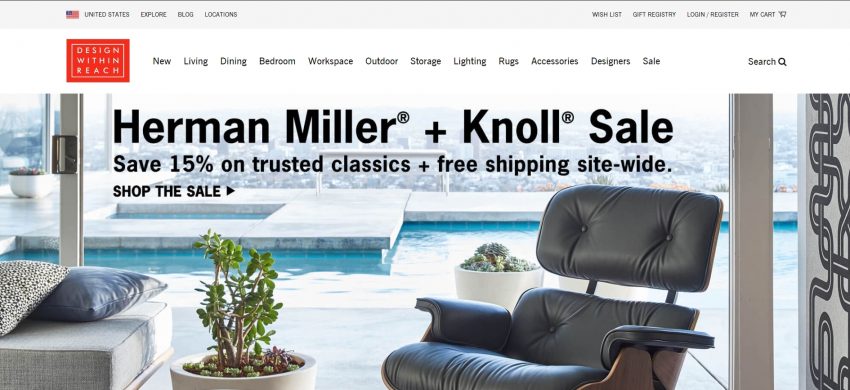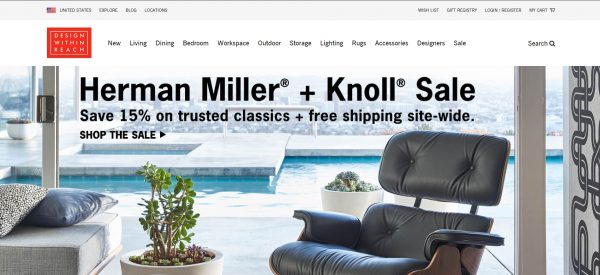 If an upscale, authentic modern design is what you're after, Design Within Reach is your best bet. The furniture retail company works with some of the most iconic designers in the game and churns out innovative works that can very well change how we look at home designing. They don't believe in simply emulating the big brands out there but creating work that has never been seen before. One visit to their store and you'll know what we are talking about.
Their passion for designs and unique approach to merging designs of the past, present, and future has resulted in some of the best goods you will ever lay your eyes on. So, if you want to give your home or office a magical spin, reach out to Design Within Reach.
They are extremely enthusiastic providing their customers with the best of services and they do maintain so via free design consultations from experts, 3-D room renderings, and in-home visits. Once you experience Design Within Reach, you will never want to try any other brand.
---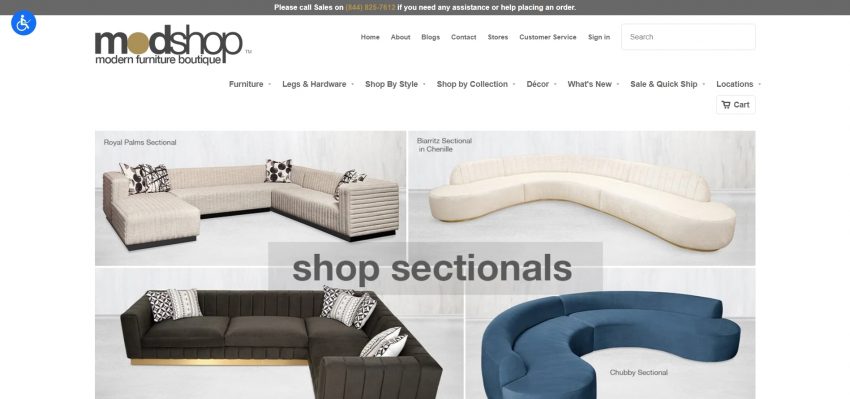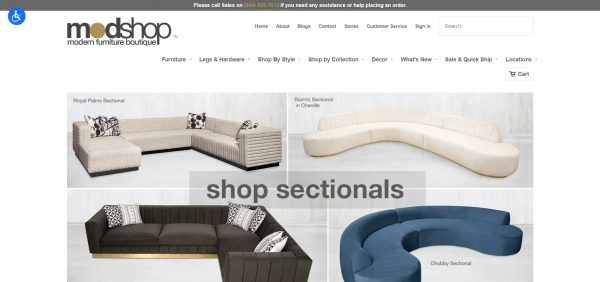 Modshop and CB2 may not be the one and the same when it comes to their styles and designs but their collection is awe-worthy just the same. Their furnishings are designed to suit any and every kind of décor from chic cool to an urban loft, old Hollywood glitz, and glam, clean European and organic and industrial modern.
They are one to always keep up with trends and have a fresh inundation of styles each time you visit their store. From modern art, stylish furnishings, bedding prints, bar cabinets, and wardrobes to ceramic, they have it all.
---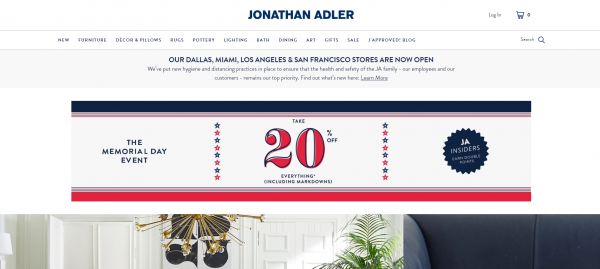 We constantly hear about visionaries who leave their 9 to 7 jobs to pursue their passions thereby creating something extraordinary. Jonathan Adler is one such person. He started out with simple yet chic pottery but expanded his company bit by bit to create the furniture retail company we know and love.
The company now operates in over 1,000 locations with retail locations spread throughout the globe. Their thriving e-commerce site boasts of gorgeous residential and commercial products that are designed to suit the modern American dream. Their signature style is bold colors and lavish design. People who love to shop at CB2 and are prepared to spend a little more will never look back from Jonathan Adler.
---
Designing your home is a very personal experience and the opportunity to go on a full-on splurge does not present itself quite often, so when it does you have to know you're choosing the right brand. One wrong choice could change the entire look of your beloved home. But when the aforementioned furniture retail companies are in question one just cannot go wrong.