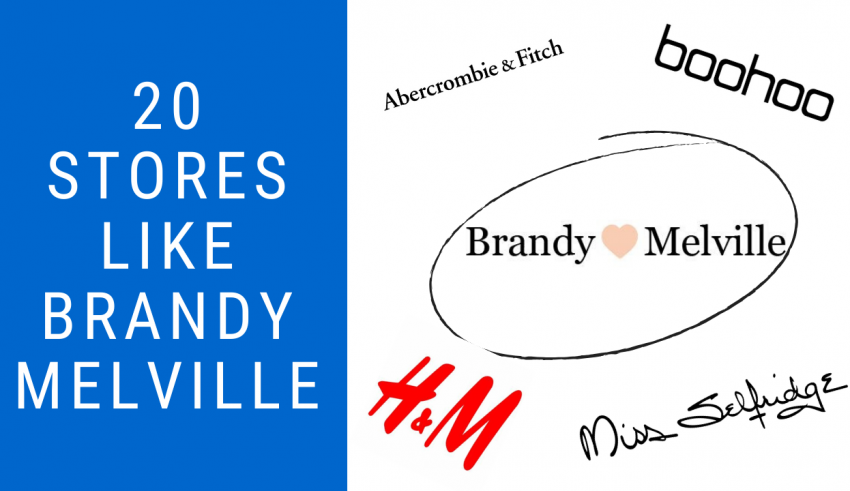 Brandy Melville is an online fast fashion boutique that was originally an Italian brand founded by Silvio Marsan. Scaling to great prominence, it has come out to be one of the most sought after online stores for teenagers and women in their early 20s and also has many physical stores across the United States and other countries.
On this website, hardly any product prices go above the mark of $50. They have a vast assortment of styles including basic must-haves, a variety of tops such as crop tops, tanks, short-sleeved and halters, multiple dress types – bodycon, fit and flare, straight fit, etc.
Although the store was criticized for the restrictive sizes of clothing that it offers, it has lately upgraded to hoist an all-new collection of plus-sized clothing and other basic accessories for every fashion-forward youngster. Their product turnover rate is fast and the new styles are almost always the spot-on trends.
However, there is no denying that one can never get enough of fashion and so we have curated an exclusive list of online stores similar to Brandy Melville, to keep you flaunting off the best trends of fashion each day that you step out!
Here the best Alternatives to Brandy Melville: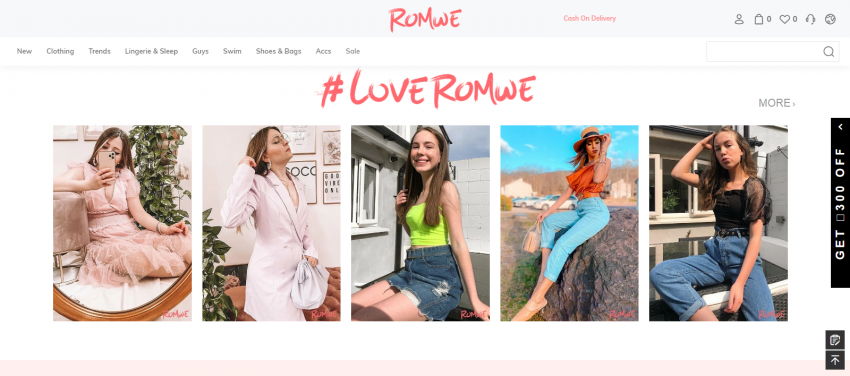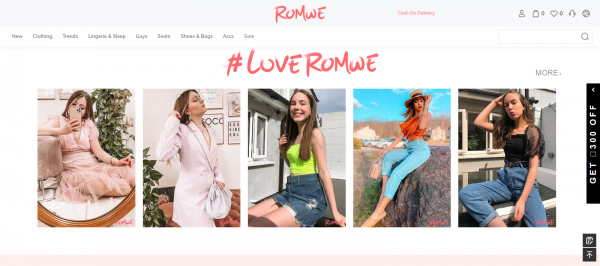 This is a complete online shopping multiplex for college going youngsters that is hands-on trendy and affordable. They design, source, market and sell men's and women's clothing, accessories and home and lifestyle products, by ensuring quality standards. Here you can find almost everything you need for an attractive outfit. Dresses, tops, pajama sets, swimwear, accessories, shoes and bags, you name it and they have it. Besides, you can also shop for cute stationery items, home décor basics and essentials, jewelry, basic electronics, cosmetics and beauty, skin and personal care products.

They have a fluid and hassle-free shipping and returns process. However, your order may take up to 16 to 25 days to process completely. Free deliveries are also available for orders above $35. Their sale prices start from as low as under $5 and if you are a student, they have some dirt-cheap prices and bulky discounts for you!
---
Abercrombie & Fitch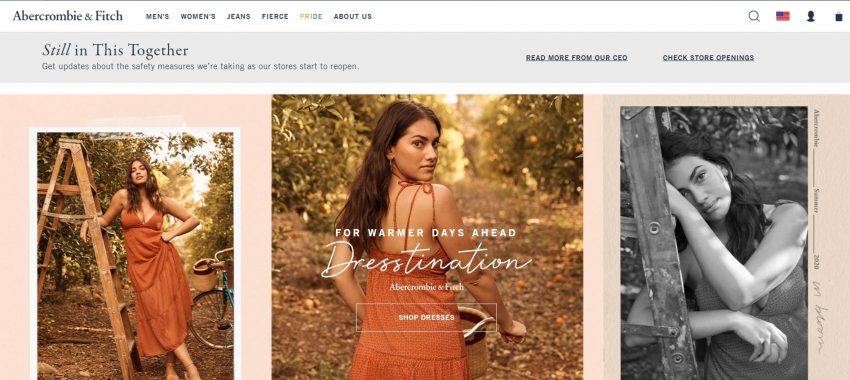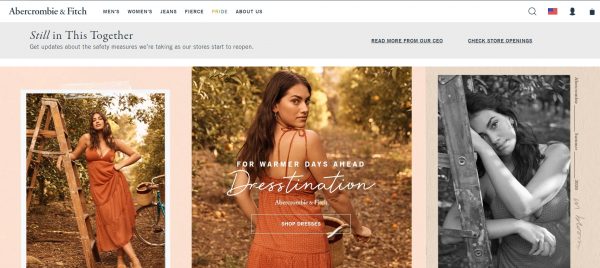 Abercrombie & Fitch is an American fashion and lifestyle retailer for women, men, and kids, that sells online as well as in stand-alone stores across the United States. With an expansive range of products, they have become one of the top women's clothing stores similar to Brandy Melville, and that, which your favorite influencers are going after. Tops, shorts, jackets, shrugs, trousers, dresses, they have everything in a variety of designs and fabrics, that you will never feel short of choice.

Most of their product prices fall well under $100, which means that you can create an entire outfit without an expensive budget. They also offer skincare and beauty products that are flattering and hence, must-haves. One of their recently launched fragrance collections named Fierce is a bold blend of marine breeze, sandalwood and sensual musk wood that emanates the fragrance of individuality; their iconic cologne is just as unmistakable as the one who wears it.
---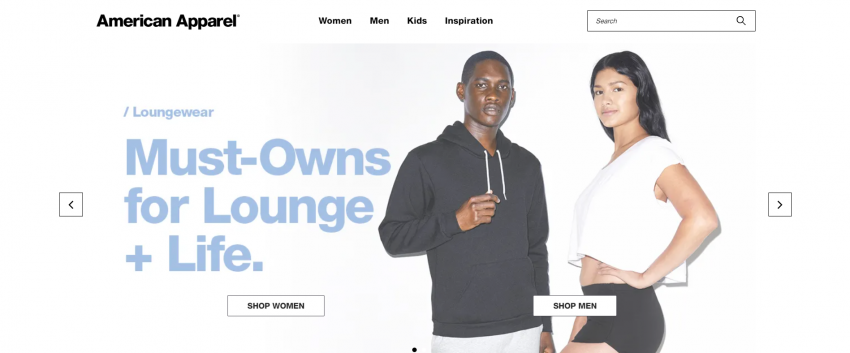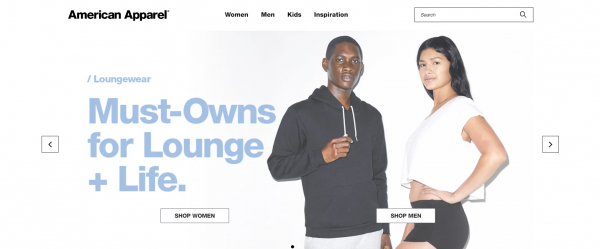 As one of the world's largest manufacturers of fashion apparel and accessories, American Apparel has a direct impact on the lives of thousands of fashion influencers around the world. As the brand's name suggests, their styles are inspired by a truly innate American culture that is free-spirited, artistic, and based in the ethos of community life. All their in-house designs are a reflection of these values.

They want their fashion to reflect every individual's personal style. So, their clothing range has something for everyone. From metallics and comfortable basics to lingerie and everyday casuals, it has all essential clothing items to suit your style.
Besides, they are also leading sellers of men's clothing and kids to wear and provide ample diversity in these collections. On their website, you can see the best sellers get a hint of what is currently trending.
---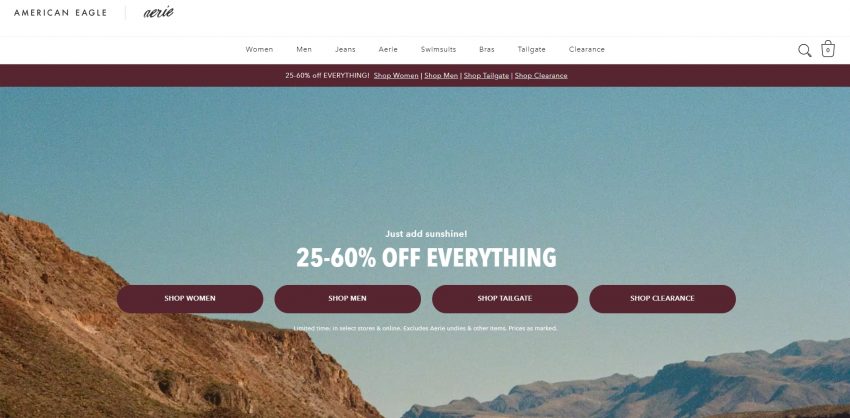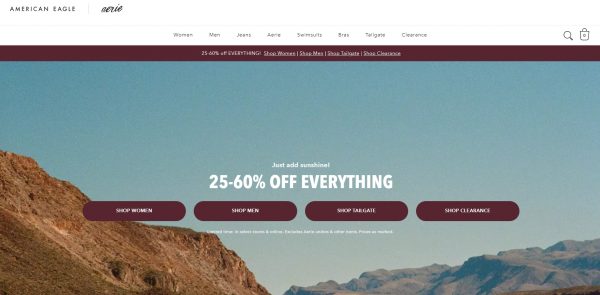 If you are looking for hi-street, quality and trending fashion clothing for your next special event, go no further than this online clothing website and store that is reputed for selling designer products that are unlike any other. With values of inclusiveness, optimism and empowerment, the company celebrates the individuality of its customers as well as its associates. The purpose of their clothing range, as they claim, is to show the world that there is real power in the optimism of youth. In effect, they sell everything that is youth-inspired – clothing, accessories, home essentials and décor, beauty and skincare essentials, gifts, etc..

They have an assortment of products showcased on their website and you can own them with a minimalistic budget. They have featured brand and themed collections, graphic clothing, gender neutral clothing and much more.
---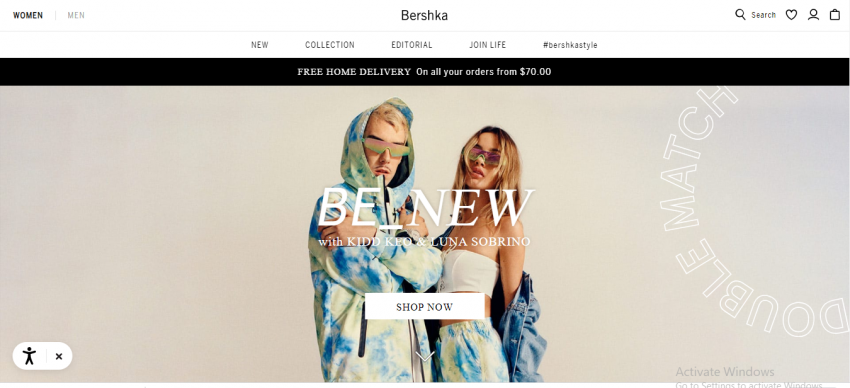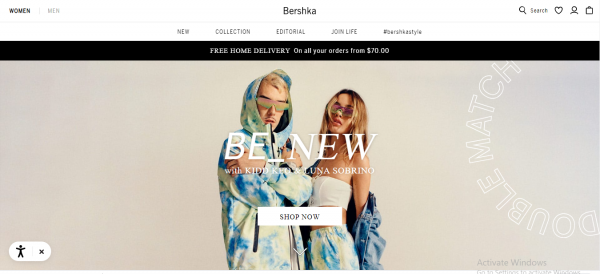 This is one of the likes of fashion stores similar to Brandy Melville, that is globally acknowledged with more than 1000 physical standalone stores across the world. It is reputed for selling fashion clothing and accessories characterized by adventurous young people who are aware of the latest trends of the world of fashion. Their styles are curated in-house, so they offer a promise of uniqueness and originality. But you can also find certain collaborative collections from other brands on the website.

In fashion, they offer a variety of products such as swimwear, dresses, tops, jeans and jeggings, shorts, shirts and blouses. Presently, you can also shop from their 'Spring Trends' collection for some latest branded clothing of the season. Their sales run high on discounts that go up to flat 70% off and you will get free shipping on orders above $70.
---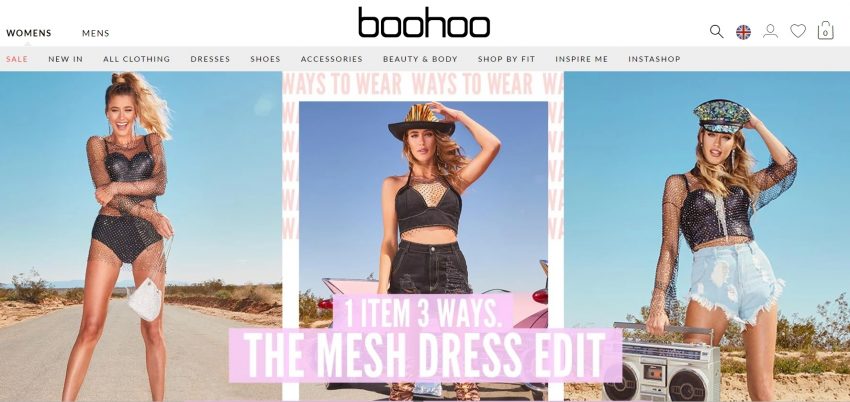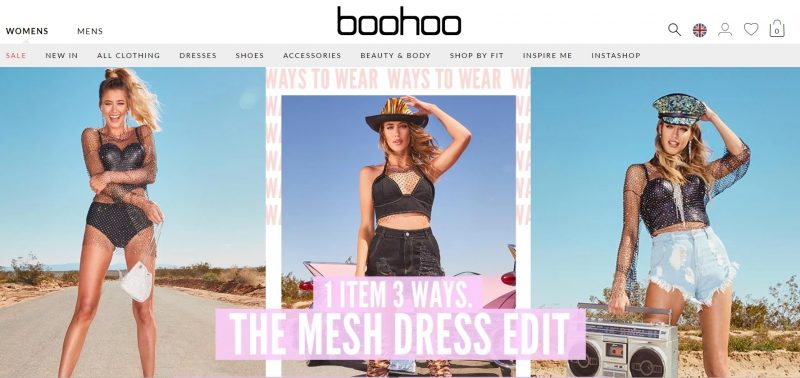 Launched in 2006, Boohoo is an online fashion boutique, originally from the UK, that delivers about five hundred new products every week. So here, you will always have the latest looks at minimalistic costs. They make fashion accessible and fun for all, which means that every girl can create the wardrobe of her dreams, by embracing her individuality. Their prices start from as low as $10 and accessories start from $4.

With new collections, and newer styles, they have a plethora of options for you to choose from. From gym wear to maternity wear, from size clothing to casual day wear, from trendy tops to prom dresses, you name it and they have it! They have Express delivery slots available. Therefore, you can get your orders in as little as four working days. Also, they have a 45 days free returns policy.
---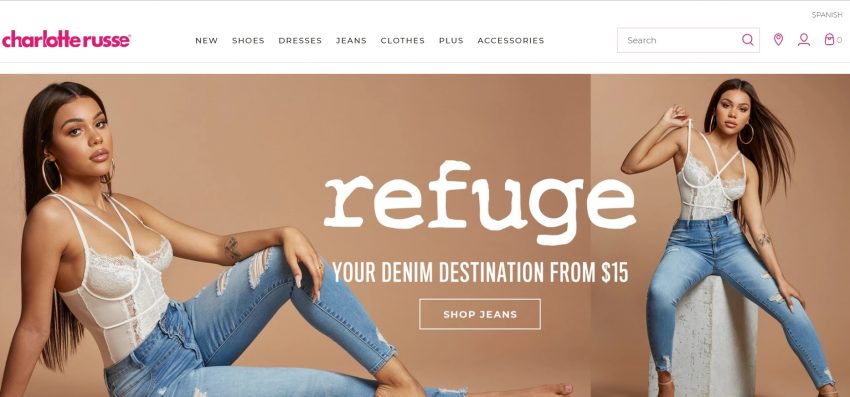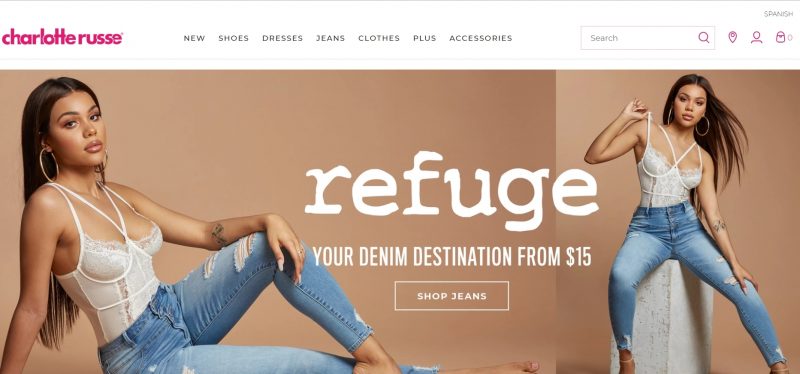 This online clothing store should be your go-to destination for the latest women's fashion including footwear and trendy accessories. With an assortment of styles like high-waisted jeans, curvy jeans, mom-fit jeans and bodycon, flare and lace dresses etc.. they are loaded up with immense categories to fill your wardrobe with the latest fashion. On their website, they also have a separate section for plus size clothing, and you can also choose clothing based on a particular occasion.

Besides, they also offer some unique accessories and supplements for your outfit, such as sunglasses, scarves, fragrances, bags and wallets. They continue to add newer styles regularly, so you will never run out of options. Other perks include a free shipping on orders above $100.
---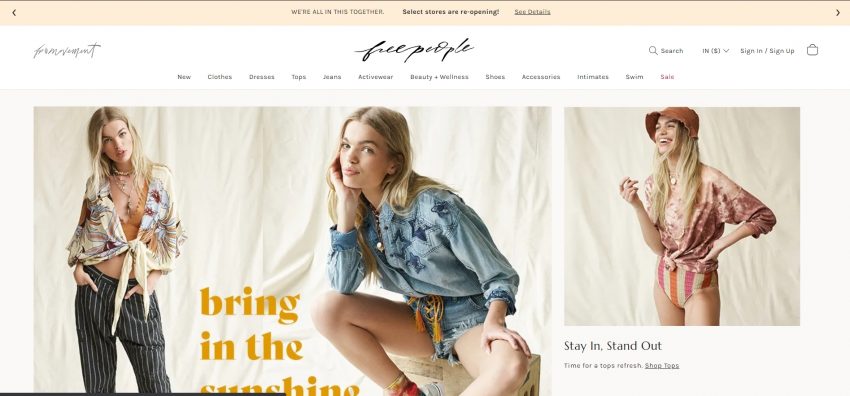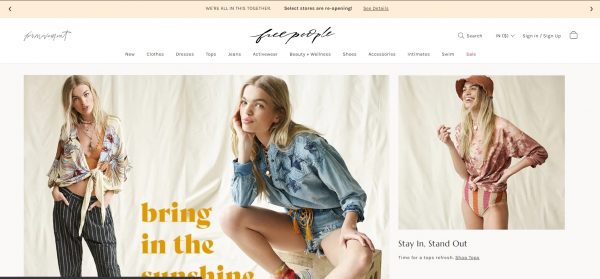 This is one of the online women's fashion stores similar to Brandy Melville, offering bohemian clothing for the fashionista who is always on the go. It is yet another brand child of the company URBN and therefore, the fashion merchandise sold by Free people is similar to Brandy Melville products. From comfy essentials that you will wear repeatedly to that one exclusive party dress, which would go far back in the wardrobe, everything is at your disposal at this fashion e-store. High-rise athleisure bottoms, basic bodysuits, flared jeans, strappy tank tops and accessories that add an extra something to your outfit, they have everything that is on your mind.

Moreover, they have a beauty and fashion blog that you must explore for outfit ideas, beauty and skincare hacks etc.. They have also launched virtual fitness sessions from home to keep the fitness freak in you on toes. Since they keep renewing their collections every day, you will find several products on sale throughout the year and this is where you can go discount hunting. Plus, their discounted prices start from as low as $4.
---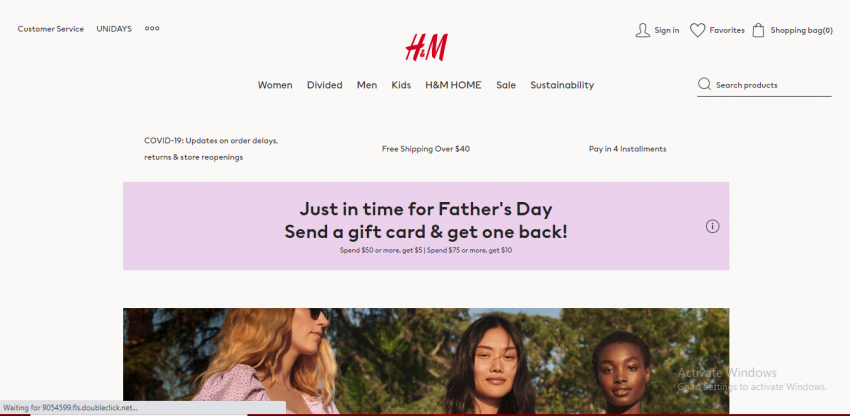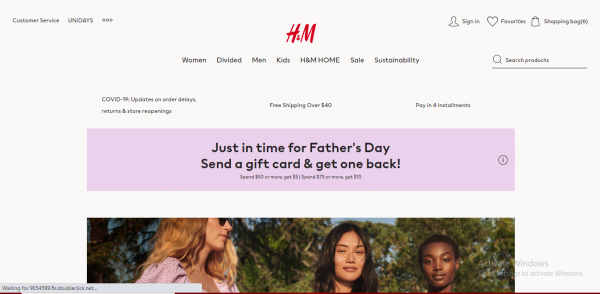 Perhaps the brand is in no need of an introduction, for it is one of the best high street fashion and accessories brands on a global scale. Indeed, H&M is renowned for launching some quality fashion every season and their collection of tops and dresses especially, is something to roll over. Here, you can find everything from casual day dresses to sharp office wear. They have jeans in every possible fit, premium quality clothing, and the latest fashion essentials.

Also, check out their environment-conscious collection made out of more sustainable materials, that makes women's fashion way more sustainable. Besides clothing, they also have bath and body essentials, home décor and certain furniture items under different brand labels and not to mention their range of flattering lingerie and loungewear, stylish shoes and bags to perfectly compliment your attire every time. With such a diversity of styles and designs, clothing from H&M is a must-have in your wardrobe, if you are someone who likes to step out in style each day. Do not forget to check out their recently launched Spring and Summer footwear collection.
---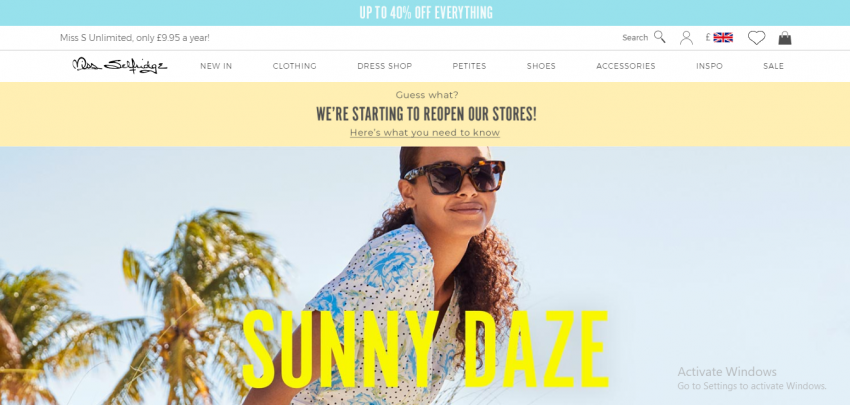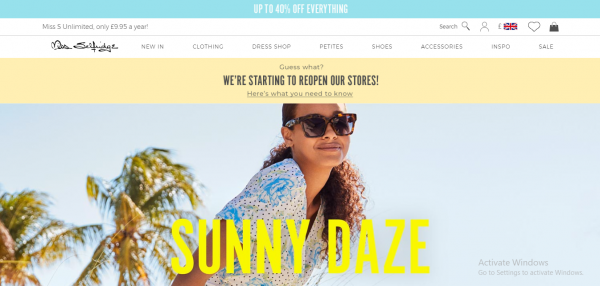 This online fashion boutique is one out of the ordinary, for it offers quality, high street, celebrity-level fashion clothing and accessories to the customers. Floral dresses and jumpsuits, stylish culottes, denim jackets and tops that you wouldn't be able to resist, they have it all to make you look good. The accessible enterprise of their website makes it easy for you to select the exact kind of product that you are looking for. You can browse them on the basis of neckline, fabric, fit, pattern, color etc.. They also have a separate section for clothing that is trending.

Their beauty, fashion and lifestyle blog has great content with a number of fashion hacks, beauty tips and other beneficial lifestyle content. Do not forget to steal a look at their attractive collection of fashionable and designer bags, because they are a must-add to your wardrobe.
---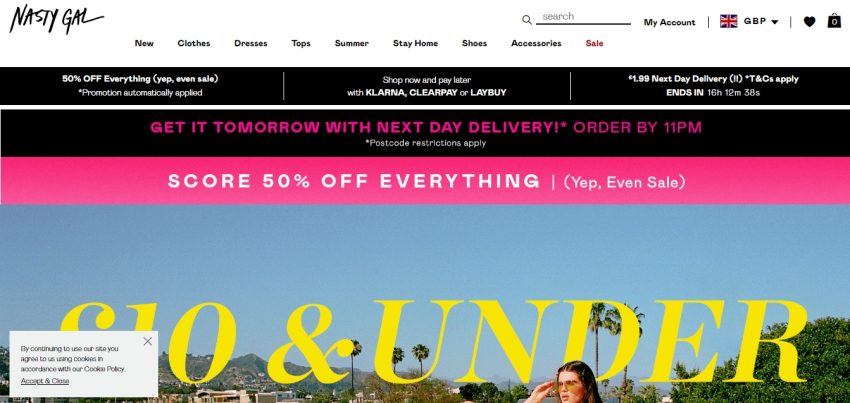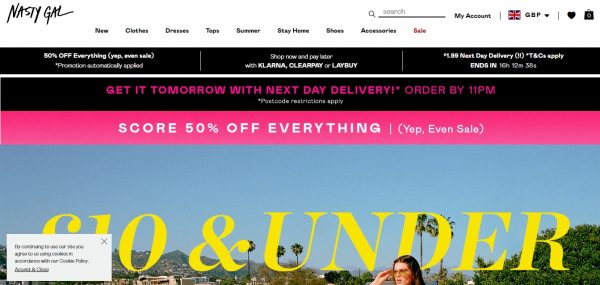 It is one of the fastest-growing American fashion retailers that was once a platform for second hand apparels. Nasty Gal has turned things around and has now become one of the highly sought after online fashion shops for young and vibrant women. Just as its name implies, the platform offers trendy women's fashion clothing for every occasion, be it a party or a weekend getaway or a formal meeting, if you are looking for trendy apparel or accessories, Nasty Gal has you covered. Here, you will find everything that you are looking for – knitwear, stay at home clothing, trendy dresses, statement tops, exclusive bottom-wear, athleisure, swimwear and what not. Their fashionable apparel will truly awaken the diva inside of you!

They regularly post attractive daily deals on their website, that is a must to check out, for it comes with massive price cuts. One of the perks of this platform is their 30 days returns policy. You will also qualify for free shipping for orders above $75.


---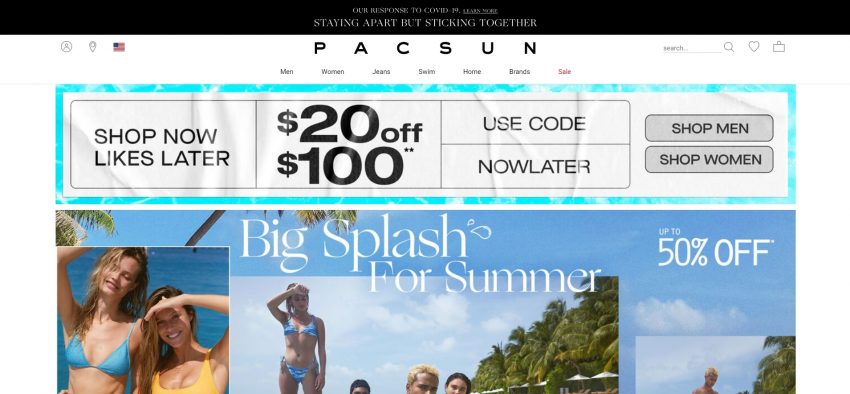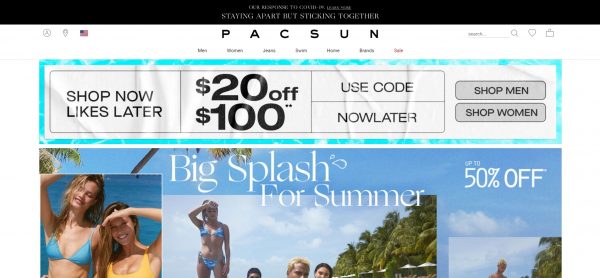 PacSun, which stands for Pacific Sunwear is the subsidiary brand label of the company California Inc., and is a US – based retail clothing brand principally rooted in the youth-oriented culture and lifestyle of California. The company sells fashion and lifestyle apparel, along with footwear and accessories designed for teenagers and young adults. Among their range of fashion clothing, you will find everything from stay-in comfort clothing to swim wear and college casuals and all of it at prices that won't break your wallet.

They also sell home décor essentials and other lifestyle products. Also, they frequently collaborate with brands so you can steal a deal if constantly on the lookout. Shopping from here is sure to bring in great discounts and perks. Moreover, if you are a regular shopper and fashion enthusiast, you can also enroll in their Affiliate program and as well make money out of your shopping.
---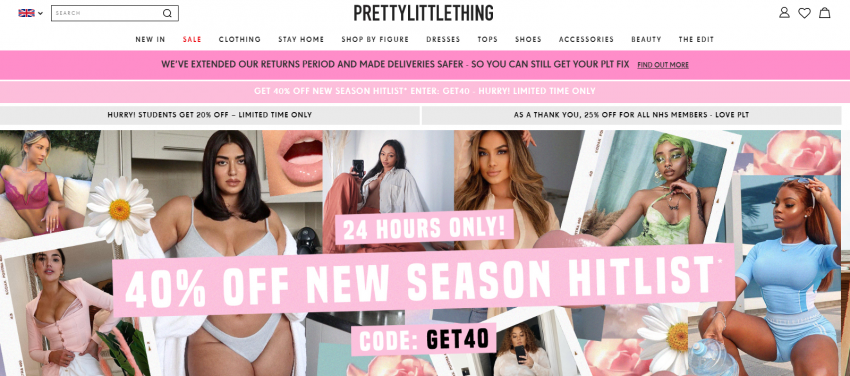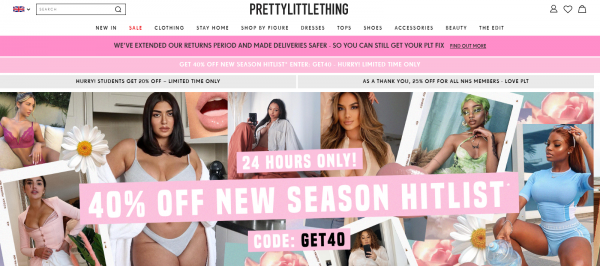 This online store is your go-to destination if you like to spot new and trending fashion each day. It is one of the online stores like Brandy Melville that allows you to purchase affordable fashion merchandise ranging from active wear, lounge wear, everyday casual wear like dresses, tops, jeans, skirts.

A unique feature of this online fashion store is that they allow you to purchase custom styles, based on your body type. These all will upgrade your wardrobe with statement-making fashion. Here, you can also find some fashionable footwear, accessories and affordable, good quality makeup tools and products. Moreover, some huge discounts are up for grabs, every time you visit their website, with sale discounts that go as high as 75%. With hassle-free shipping and returns, they make designer fashion as affordable as possible. Do not forget to check out their exclusive beauty blog for some interesting latest beauty trends and hacks.
---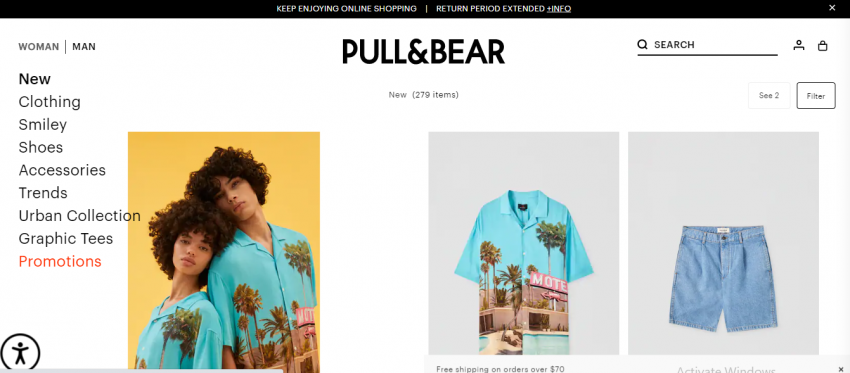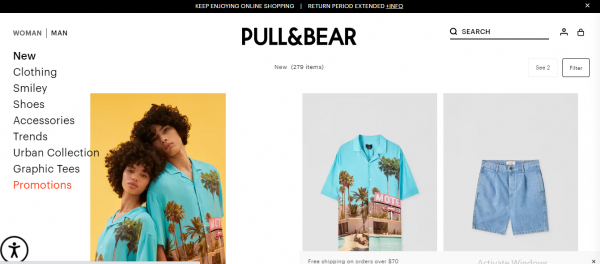 Pull & Bear is originally a Spanish clothing and accessories retailer that was launched in 1986 and has gone on to become one of the best online stores like Brandy Melville. It is a complete packaged deal for the fashionista of today, who is always upgrading her style in the fashion-forward world. They have almost every style of clothing – jumpsuits, tops, dresses, t-shirts, bottom wear, winter wear, athleisure, and so on. There is something for every kind here at this online fashion boutique, given the assortment of designs, patterns, materials, fabrics, and sizes that they put up with.

One of the characteristic features of Pull & Bear is that they are spot-on up to date with latest trends. In effect, they have released a range of clothing themed on the web series that has been doing popular rounds on social media – Money Heist. This is not it. They also have an entire collection dedicated to Star Wars fans. These are reasons enough to steal a look at this popular fashion clothing e-store.
---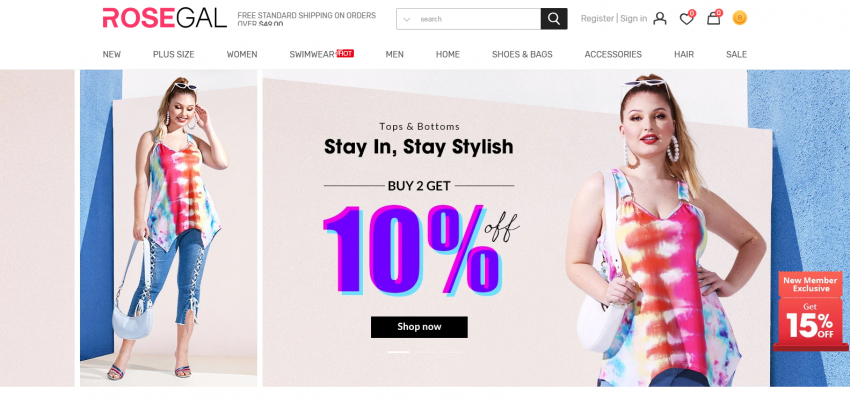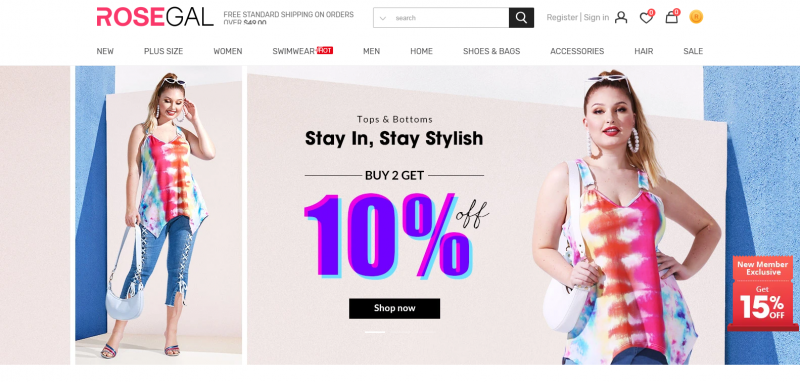 Rosegal is one of the top websites like Brandy Melville that offer classic women's fashion at affordable prices. They believe that 'big is beautiful' and their plus-size collection is worth envy. They have everything from vintage to contemporary, athleisure to nightwear and everyday casual fashion consisting of a diverse range of tops, dresses, sweaters, cardigans, and much more. They also have some quality lingerie, swimwear, and accessories that you would not be able to resist.

Other than this, you can also grab some bed, bath, and body essentials at nominal costs. For first time users, an exclusive 15% discount is available. Their clearance sale prices start from $0.99! Do you need another reason to instantly check their website?
---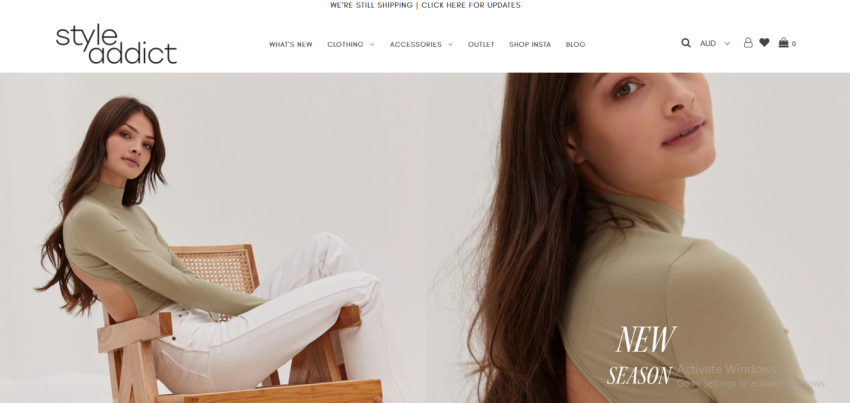 Every style addict should definitely shop from Style Addict, for it is one of the most valued online websites to shop for quality fashion. Whether you are looking for flattering intimates or feel-good coats, whether you are looking to curate holiday outfits or collecting stay at home comfort pajamas, whether you are dressing up for a professional meeting or for a casual getaway with friends, Style Addict has got you covered. Their unbeatable diversity of designs and styles will load you up with choices, most of which are well below $100.

At Style Addict, they keep on adding new products on a daily basis so that you never run out of style. While on their website, you can also check out their blog under the 'Mood' section for workouts, beauty and fashion tips, etc.. Do not forget to shop from their knitwear collection, because it is truly something to drool over!
---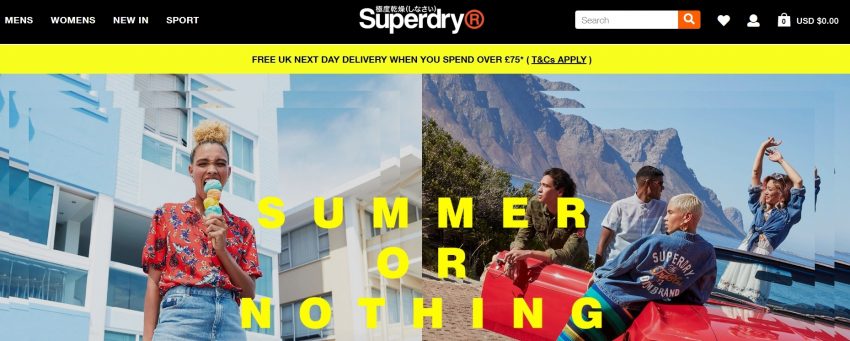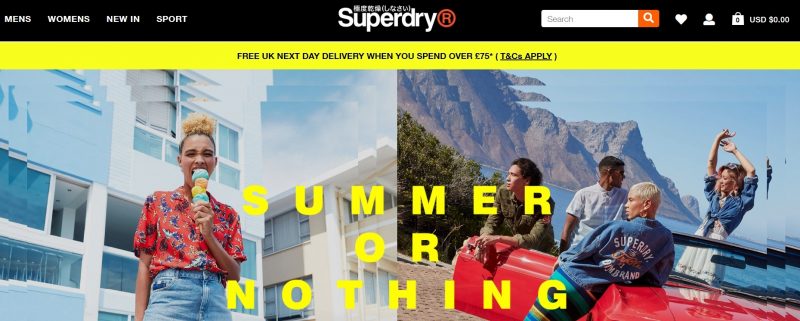 It is a well-known brand name when it comes to fashion clothing for women and men. As a contemporary brand, it focuses on high-quality products that combine vintage American and Japanese-inspired graphics with a British style.
The products are characterized by top quality materials and fabrics, authentic and unique vintage shades, intricate detailing, the world's leading hand-drawn graphics, and custom-tailored fits with diverse styling alternatives. Such distinctiveness has led to the brand gaining an exclusive appeal as well as an international celebrity following.

They are most famous for their collections of winter wear for both men and women – jackets, cardigans, pullovers, coats etc.. But, you will also find on their website a diverse and appealing collection of women's tops, dresses, bottom-wear and basics. Swimwear, athleisure and pure organic cotton products are also available. Head on to their website or a physical store nearby for attractive discounts.
---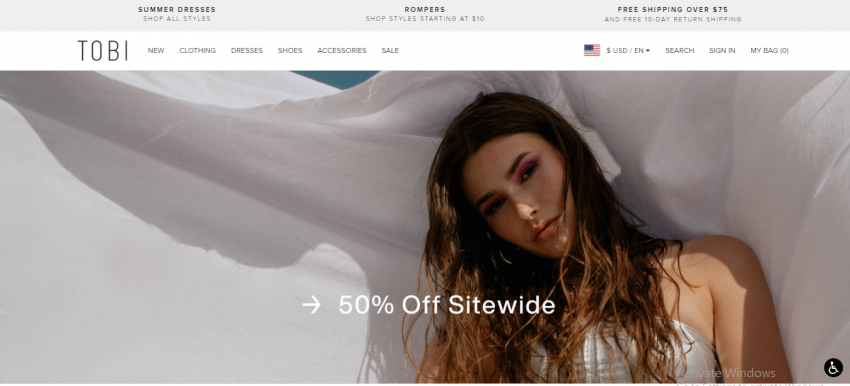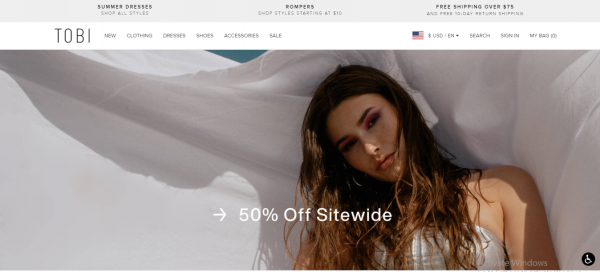 Yet another among the top fashion stores like Brandy Melville, shopping from Tobi will not disappoint you. From recently launched spring dresses to irresistible coordinates and floral crop tops, their collection of fashion clothing is worth adding to your wardrobe. Plus, if you are shopping from Tobi for the first time, you get an instant 50% off. The best part however, of shopping from this e-store is that they offer designer wear on massively inexpensive costs during the sales, which you would definitely not want to miss out. Especially worth checking out is the range of designer sweaters on the website.

They also have on offer, a variety of accessories including sunglasses, scarves, belts, footwear, stylish bags and much more. Another reason to shop from Tobi is that most of their product prices are well under $100!
---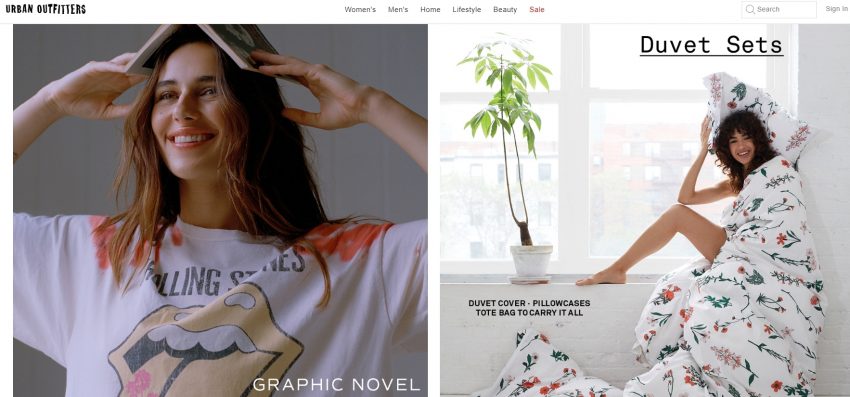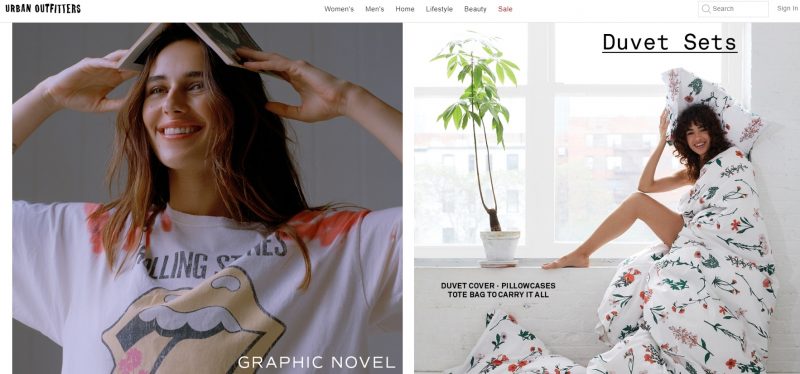 This is yet another among the online fashion and accessories websites like Brandy Melville, which is a subsidiary brand of the URBN business group – the same company that owns Anthropologie. It has a diversity of products for the fashion-forward youngsters of today. Graphic t-shirts, tie and dye prints, stay at home pajamas along with collection fulls of lifestyle, beauty, décor, and stationery products, here you will find everything in one place.

They have more than 200 physical stores in the United States presently and ships to several other countries worldwide. Their physical stores are specially designed to offer experiential retail environments for its customers. From time to time, they announce massive discounts on their website, so you can be on the lookout. Presently, they have a flat 40% off on dresses and rompers. So hurry and revamp your wardrobe!
---
Shein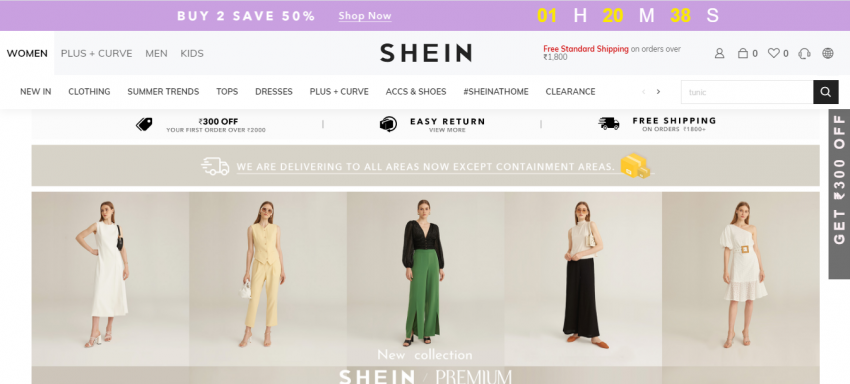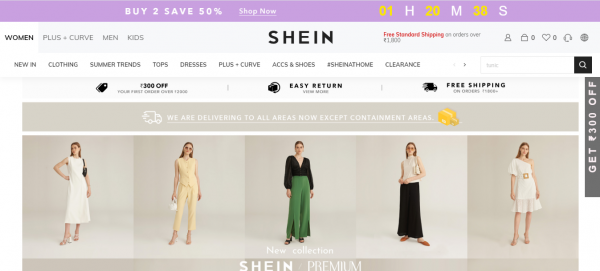 Shein is one of the online fashion stores like Brandy Melville operating in over 200 countries currently. Like other fast fashion e-boutiques, Shein, which is a Chinese based web store, offers a range of fashion apparel for women including crop tops, t-shirts, dresses, trousers, and so on. Besides, they also have some cutesy accessories, creative stationery and beauty, and personal care products and home essentials. All of it is available at attractive prices that you would not want to miss out on. They upgrade their collections by adding more than 500 new styles every day.

Their philosophy revolves around making fashion affordable and accessible to all. Therefore, they give out free coupons and discount promos quite often; so, you will have to be on the lookout. They have fluid shipping and return process, with the option of free returns within 40 days from the date of delivery. Their shipping time is usually between 6 to 10 working days.
---
Stepping out in style every day has much more to do with appearance – it is a way of embracing one's individuality and a way of self-expression and confidence. And while everyone is loading up on fashionable basics from websites like Brandy Melville, this exclusive list will help you explore a much more diverse collection from online fashion boutiques of equal stature to help you adorn your unique style. So, wait no more and grab that look that you have been waiting for!