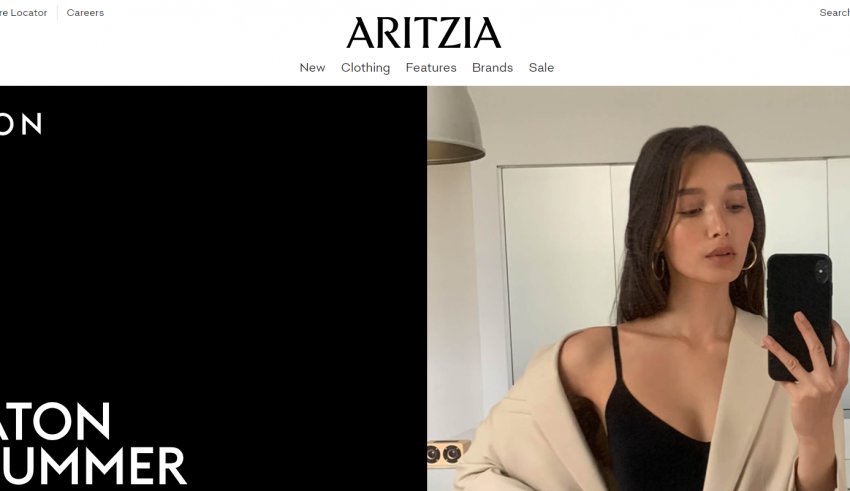 A store that started in Vancouver, Canada in 1984, Aritzia is a little different from our usual fast fashion finds. Unlike others in the field (Zara, H&M, and others), Aritzia offers a more appealing perspective, providing its customers with clothing that has the quality and durability that can very rarely be found in fast fashion stores.
The prices are definitely steep, and they even refer to themselves as a luxury brand, but a luxury brand which also appeases its mainstream customers. You have people like Bella Hadid and Meghan Markle claiming this to be one of their most favorite "affordable" retailers, and you also have regular old people like us who love the style and sustainability Aritzia offers!
So, if you're looking for some good alternatives to shopping at Aritzia to widen your horizons, we've put together a list of stores that you can visit and deck your wardrobe with!
Here are the Best Alternatives to Stores Like Aritzia: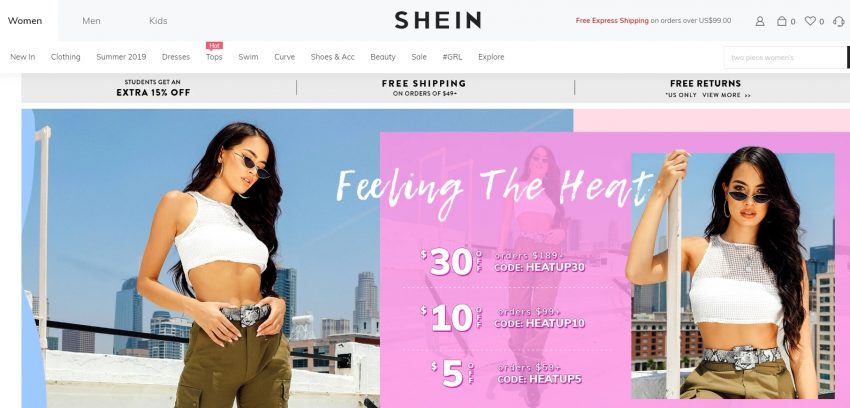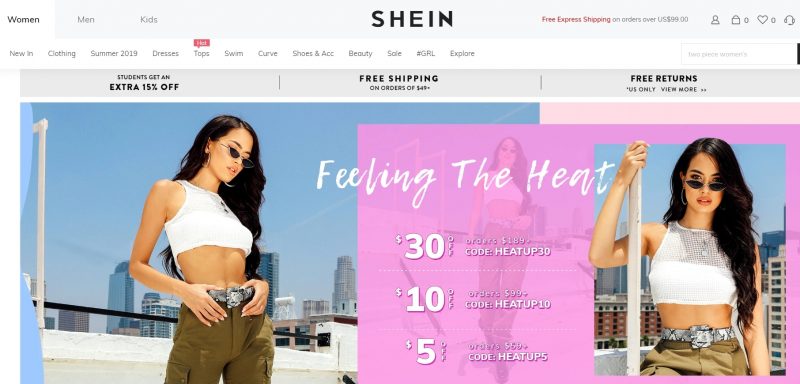 Whenever you are searching for an online store for cheap and fashionable clothing you will find Shein as one of the websites. It is quite popular and hundreds of thousands of people use this store for hauling cheap and fashionable and accessories. Without spending a tonne of cash you can get something that is trendy and will look good on you.
The quality is average to decent. With most clothes leaning towards the former. But don't worry here average doesn't necessarily mean bad. We just mean that you should not expect top-tier quality. The website offers a full refund for US customers. So, you can definitely give this a try.
---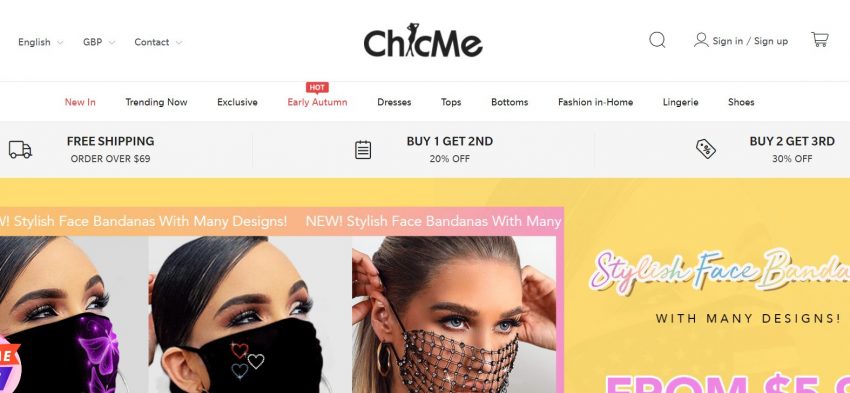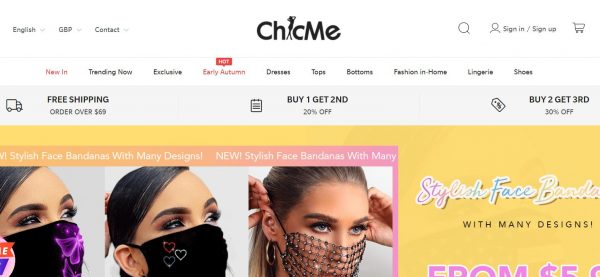 Chic Me is another popular fashion store for women. It gives lots of discounts on its products allowing you to buy a bunch of products for a lower price. They have provided for stuff below $20.
They have a lot of different options and categories to choose from. If you are looking for something to wear this season then you can check out their seasonal products and if you are looking for current trends then you can check out that option. The items of clothing are generally decent and you don't have to spend a fortune to get some good-looking stuff.
---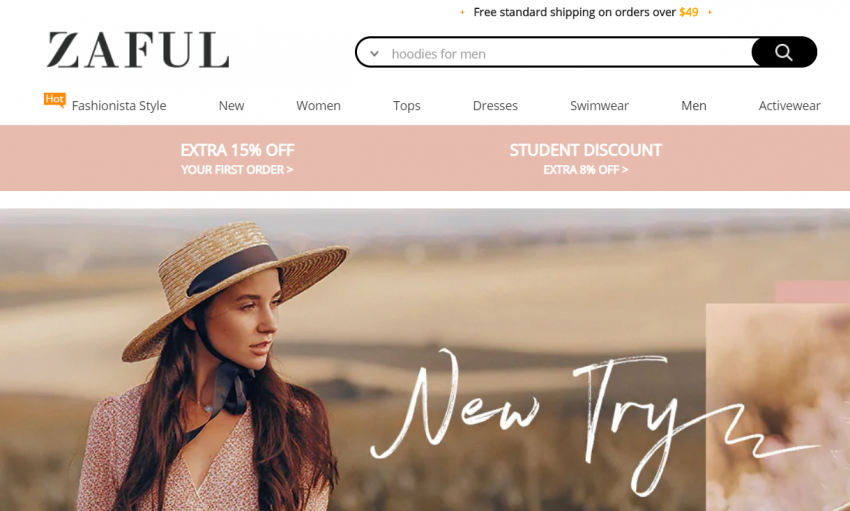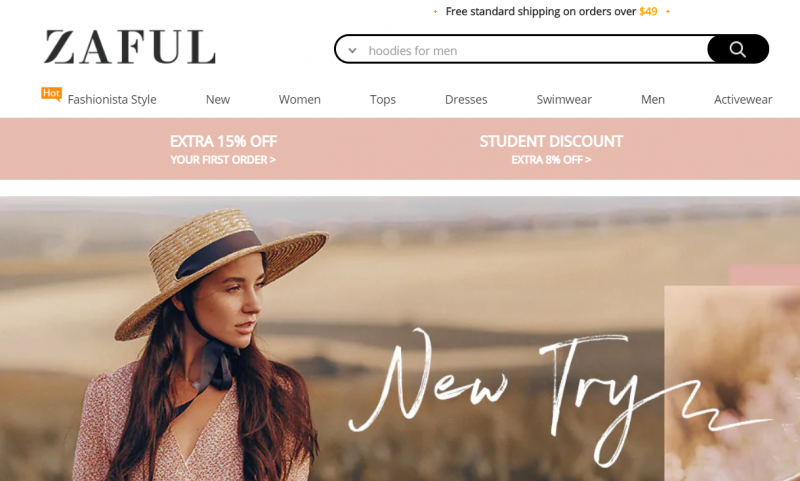 Zaful is a fashion clothing store for both men and women. Comfortable, trendy and edgy fashion finds abode in this store. You will find a lot of discounts when you visit the website. The quality of the clothes are quite good and will not make you feel uncomfortable. All the latest styles and trends are researched by them to bring you the latest stuff.
Their business structure is not just driven by economical motivation but ecological as well. You can check out the collection of swimwear, lingerie, sleepwear, tops and jeans. Zaful holds regular sales and you can get some sweet deals on the items.
---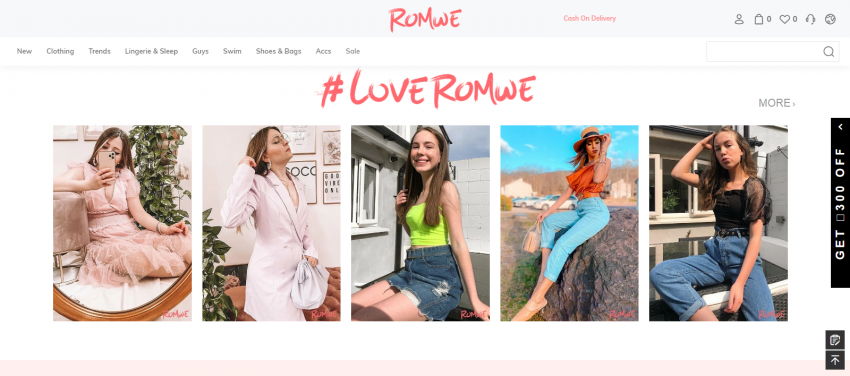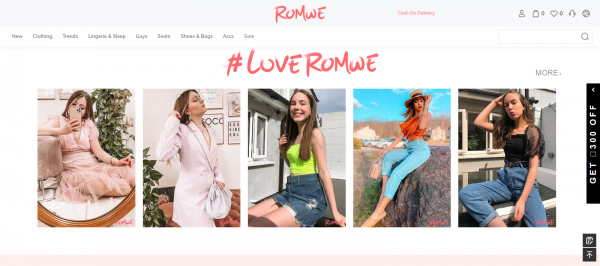 Romwe is a popular fashion store for women. It is a one-stop-shop for your needs. This store has been around for over a decade and has a good customer base.
There are a lot of categories and options to select from when it comes to different, styles and trends. You can find a variety of items related to clothing and accessories. A good thing about this website is that it has something to offer regularly. You can get free shipping for $10 worth of shopping one day and the next day you can get 50% off on products. You also get 10% off on your first order.
---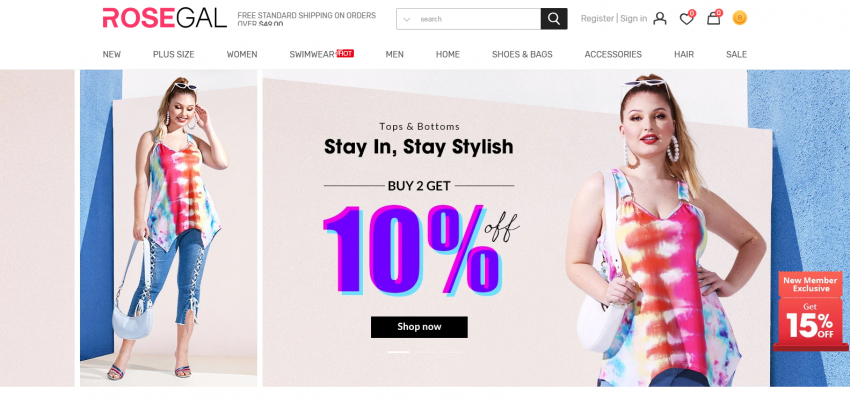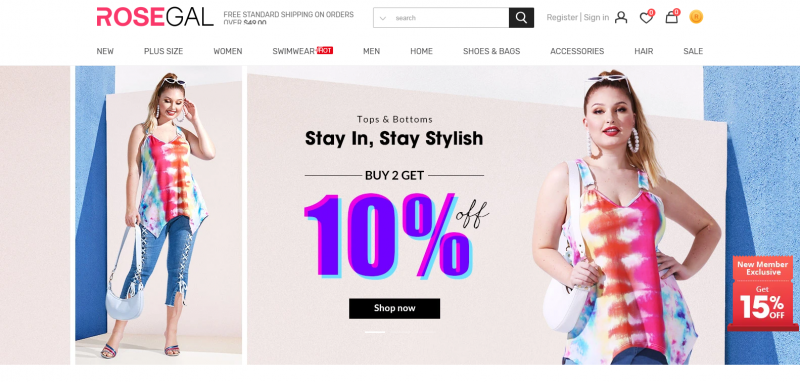 Rosegal has its roots in passion for fashion. A group of friends who were quite passionate about clothing and fashion decided to build a store via which they can bring the trendy and stylish fashion to everyone.
They created Rosegal and it offers a variety of trends, styles and categories when it comes to clothing and accessories. The items are of good quality and comfortable to wear. We liked that they have readily included a section for plus size clothing. Check out for regular discounts and sales.
---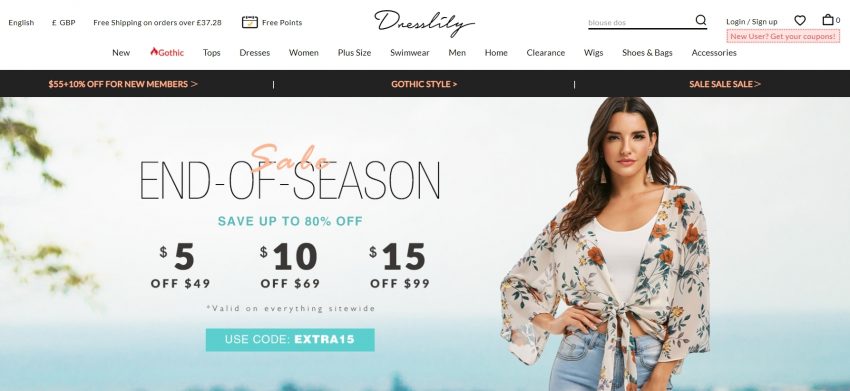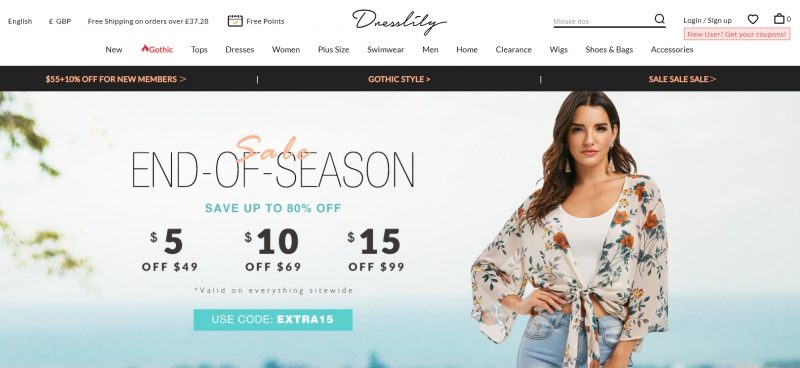 Dresslily has over 7 years of experience in this market. The main agenda of the website is to provide comfortable and decent-looking clothing for women of all shape and size. The company claims to have over 14.7 million registered users and has become quite popular for good clothing at cheaper prices. The website has a range of collections in various categories.
From regular tops, shorts, skirts and jeans to swimwear, lingerie and sleepwear. So, check out this website if you are looking for something similar to Aritzia.
---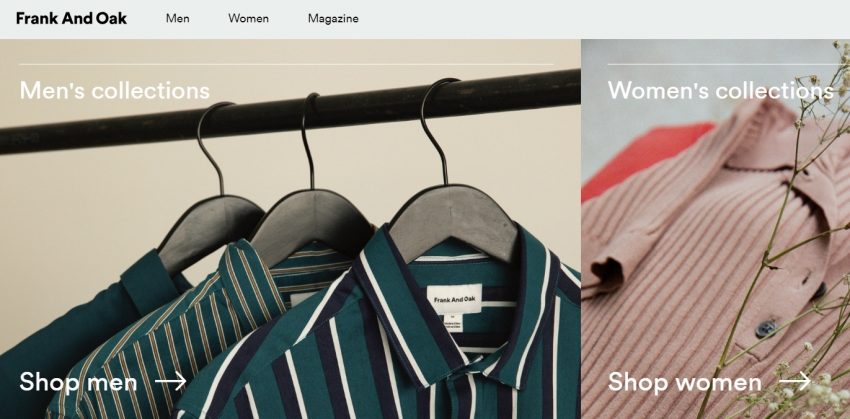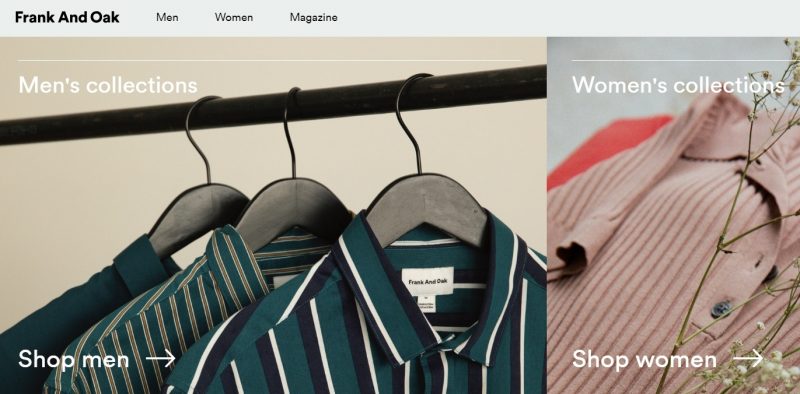 First on our list is another Canada-based brand called Frank and Oak. Frank and Oak is a perfect alternative to Aritzia, from the types of clothes they sell, to the very aesthetic they employ! While a little bit more expensive than Aritzia, Frank and Oak is wholeheartedly dedicated to producing their clothing in ethical, sustainable ways. All their clothes are made using eco-conscious material, and their entire chain of production is ethical, ensuring that the clothes they provide are of the best quality, durable, and free from the sweatshop-culture that other fast fashion brands lean on.
This ethical chain is what makes the prices of their clothing understandable and so much more worth it, and if you have that extra money, this is a great alterative to try out and buy from!
---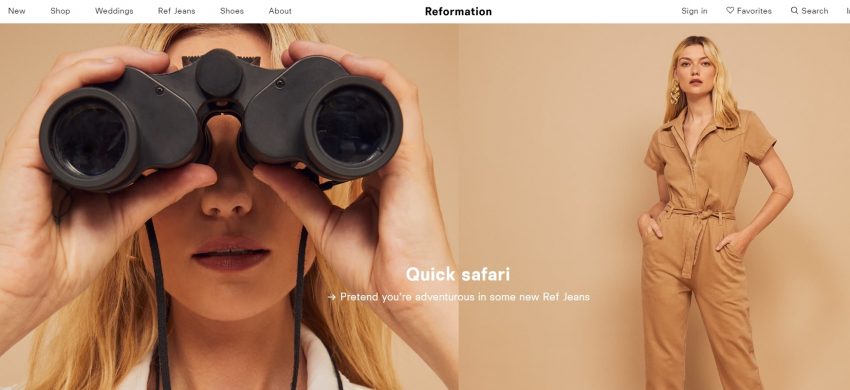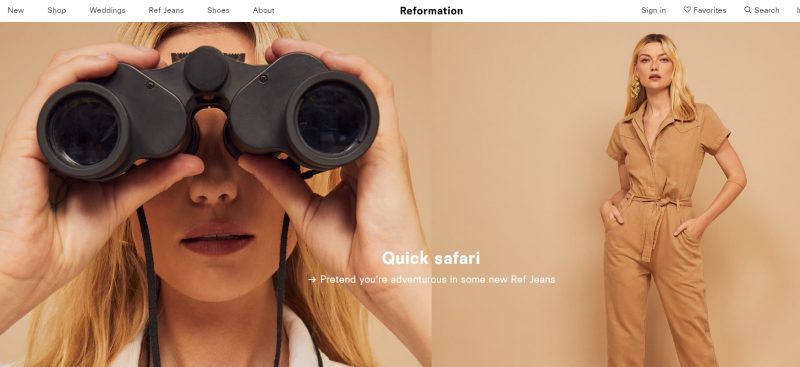 Yet another big name in the sustainable fashion world, Reformation is perhaps the brand that led the way in ethically sourced fashion, and has long since become a favourite for many. With their catchy tagline "Being naked is the #1 most sustainable option. Reformation is #2", they really stay true to the fact that they are leading in the environmental field.
Receiving a 'great' in the environmental rating, they employ the use of eco-friendly materials, like Tencel and other recycled materials, with some of their products being Bluesign and Oeko-Tex Standard 100 certified. They also reuse offcuts created during the manufacturing process, and have successfully reduced their carbon footprint by manufacturing much of its range close to where it is sold. While their clothes are pricy, they are 100% worth it!
---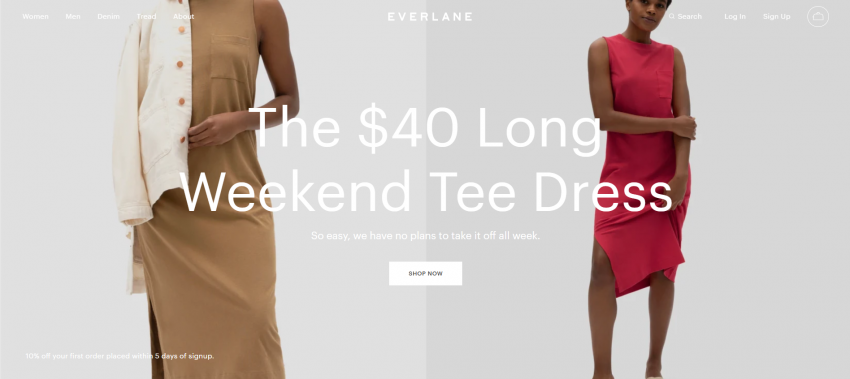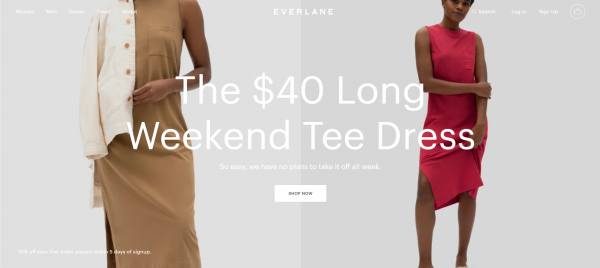 Next on our list is Everlane, one of the more affordable retailers on this list! While Everlane isn't as known for its sustainability, they do have certain categories that cater to more ethical, organic clothing. They have a big collection of clothing that is simple, and at the same time unique. Quite similar to the sophisticated, simple aesthetic that we love at Aritzia, Everlane has a variety of clothes, ranging from loungewear to formal dresses that follow the same pattern of being muted, yet standing out.
If you love Aritzia, you're definitely going to love Everlane, and it'll make a great addition to your wardrobe, so don't forget to pay them a visit!
---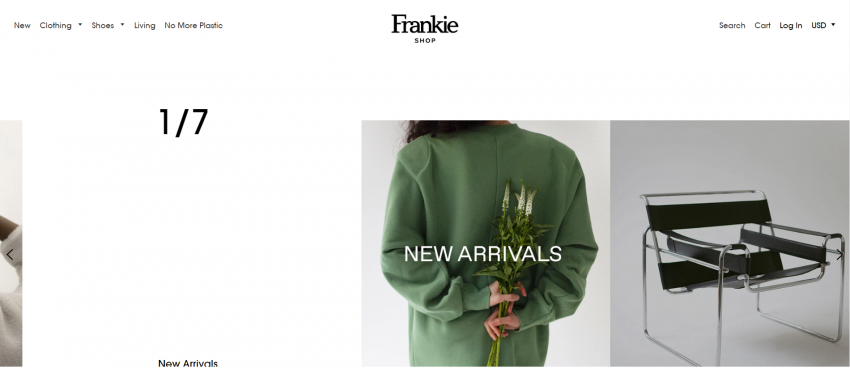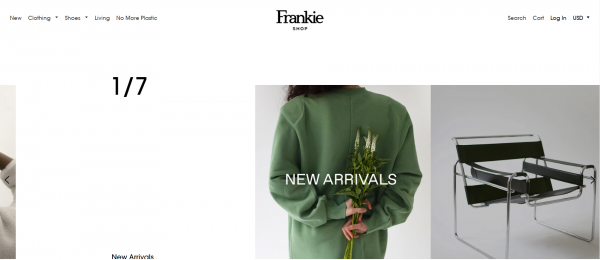 A lesser-known retailer considering it was founded pretty recently in 2014, The Frankie Shop is a brand aimed at providing its customers with high-end fashion inspired by the looks we see on runways all over the world! Based in New York City, The Frankie Shop definitely has the elegance and charm of the city, which is also one of the fashion capitals of the world.
Quite similar to Aritzia with its price range, The Frankie Shop is just a tad bit chicer and more sophisticated with its designs, experimenting with a lot of unusual silhouettes that are definitely not for the faint-hearted!
With their interesting twists and takes on popular basic clothing, they create something that is very unique and awe-worthy, while still having the power to be understated. A quiet power, of sorts. So, if you like Aritzia, and looking to experiment a little with your outfits, The Frankie Shop is the perfect place for you!
---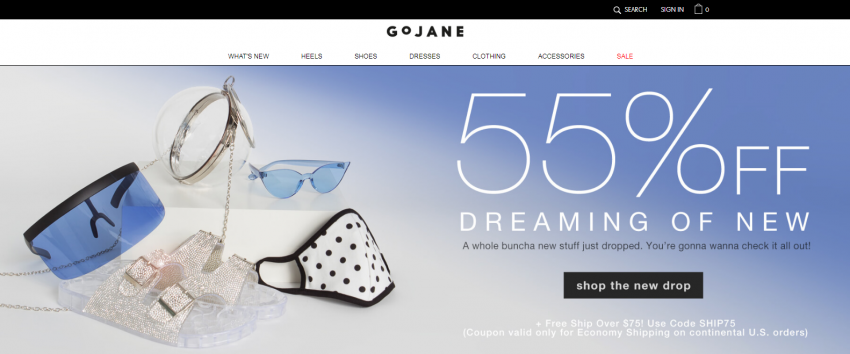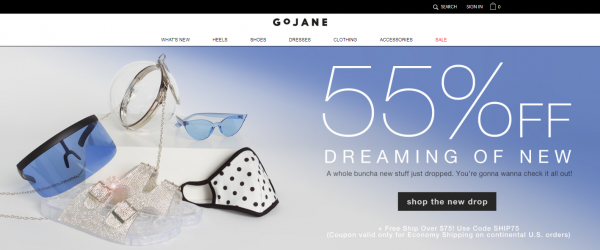 Founded in Ontario in 1998, under the parent company of Aeropostale (one that we all know so well), Go Jane is the next brand on our list! Up until now, our options have been pretty similar in their aesthetic with muted yet powerful colors and unusual silhouettes.
Go Jane is a little different. With bright, bold colors, and styles that are very inspired by the popular trends of the day, Go Jane is definitely more mainstream.
But, while they provide some great basics, some of their pieces do require a certain amount of courage to style! From more princess-inspired dresses and blouses to funky jeans, Go Jane has it all! And it is also, by far, the most affordable brand on the list, so in case you're looking for a style similar to the one Aritzia struts, for a lesser cost, Go Jane is a great place to start looking!
---
Nearing the end with another brand committed to sustainability, we bring to you, Pixie Market! Pixie Market is a great alternative, since, like some of the other brands on this list, they are wholly aimed towards creating their clothing lines from ethically sourced, eco-friendly materials.
All their clothes have a certain fairy-like quality to them, with the subtle grace and aesthetic, they are displayed in, immediately drawing our eyes to them for their unique styles. Their fashion is very similar to The Frankie Shop but less experimental, a more subdued, but equally gorgeous option if you want clothing that isn't too "out there".
Price-wise, we can say they fall right in the middle of Aritzia, and Frank and Oak, with their clothes not being the most affordable, but definitely worth it, with the tag of "ethical" that they come with.
---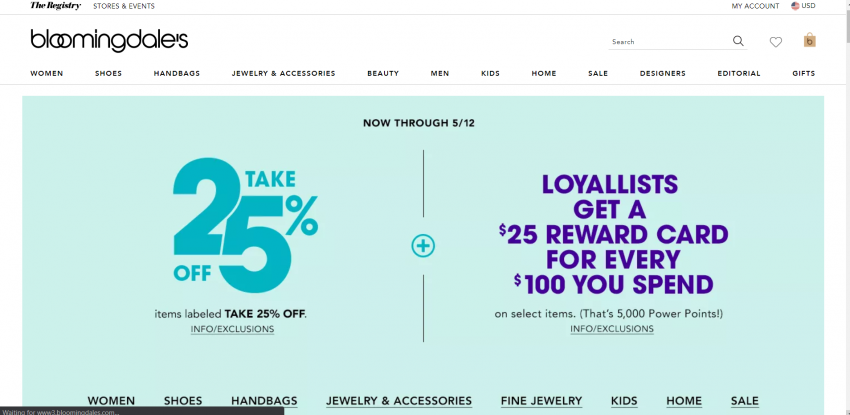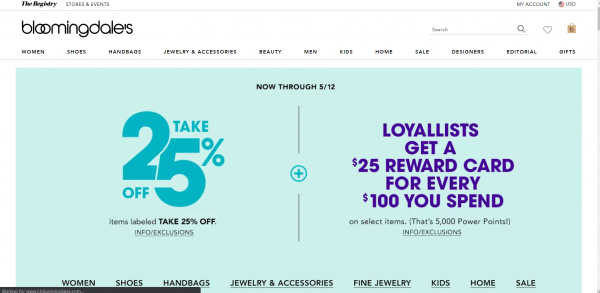 Now we've all heard of Bloomingdale's no matter where we live. There are those of us who always knew it existed, and those of us who got introduced to it when Rachel got the first job she loved there, on F.R.I.E.N.D.S! Safe to say, we always trust Rachel Green's fashion choices because we can't deny, her style was flawless!
Nonetheless, Bloomingdale's is a great alternative to Aritzia because of the variety it offers. While we definitely agree that the prices are steep, the clothes truly make you fall in love with them! What's more is that they are taking steps to be more sustainable, and have even introduced a specific line of clothes made of recycled materials! That definitely earns Bloomingdale's some extra brownie points!
---
And that brings us to the end of our list! I hope you liked this refreshing list of ethical brands! Tell us what you thought of them, or if you feel like we missed out on any good ones, don't hesitate to contact us and let us know! We'd certainly love to hear from you.