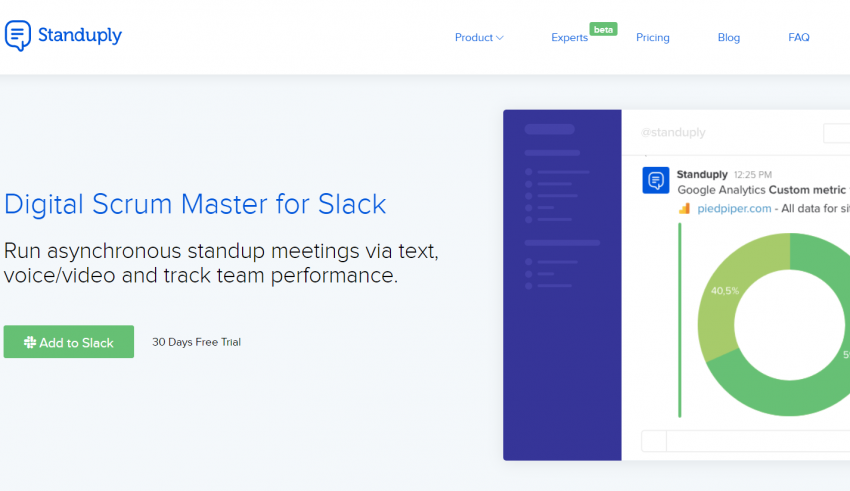 Today many of the teams are distributed across the globe. This situation gives rise to daily communication problem among the team members. Standuply is a Slack bot that helps in creating standup meetings and polls.
Standuply helps the team to communicate and ask questions. It enables the teams to coordinate their efforts to achieve the collective goal.
What is Standuply?
According to Scrum rules, daily meetings enable to optimize the product and prepare the product in a better way. The discussions develop the team for on-time and efficient product release. Standuply plays an essential role in making these daily meetings creative by including polls, discussion forums, notes, etc.
Standuply is a thoughtful tool for the teams to have a productive and creative work environment. Standuply comes extremely handy when the unit is at various geographical locations.
---
Features of Standuply
Standuply can be integrated with various other tools and serves as an excellent tool for agile teams, startups, and agile product teams. Standuply is unique in the following regards:
High-end integrations:
Standuply can be integrated with Jira, Trello, GitHub, Bitbucket, and Google Analytics. Standuply enables the teams to discuss and contribute to the tasks in an efficient manner. The integration also helps in keeping track of the functions.
Reporting:
The teams when placed in different locations, Standuply arranges for standup meetings. A schedule for discussing important issues along with a questionnaire. This questionnaire selected is shared with team members for feedback, comments, and queries. Standuply prepares a detailed report on all these aspects for further working. The timings scheduled are as per each members' local time. The reports delivered are as Slack thread, direct message, or email.
Video and voice messages:
Users can record video messages for reporting using the slash video (/video) command. The voice and video messages are recorded for up to 5 minutes. The notes are registered via a private link and uploaded on Standuply. The link is then ich is shared to all the team members.
Instant Updates:
Standuply updates the team members about the online posts and tutorials. The sharing of information makes achieving the goal more manageable.
Synchronizing business software:
allows synchronizing the business calendar and meeting schedules for all the team members.
Standard and custom templates:
Has a pre-defined set of template questionnaires. Standuply also allows for a custom template. Users can use Google Analytics, Salesforce, Trello, and Stripe in a single report. They can also use other integrations for ease of work and discussions.
Standuply Assistant:
assistant sets and manages reminders for the team.
Stakeholder Management:
Allows for the stakeholders to know and address the progress of the tasks. This way, they are aware of all the crucial aspects of the project and can raise a concern or suggest a change while the process is on.
---
How to use Standuply ?
Visit main page of Standuply's website and click on the "Sign Up" button.
Enter your mail Id and create password and click "Create Account".
Sign In with your account and click "Add team".
Select the Slack team you'd like to add and click "Continue".
You are Done, For more concern you can watch video tutorial:
---
Pricing
Standuply offers four different types of packages. Their price points are:
Starter:
The starter pack is a free package. It allows for three active respondents. This package offers customizable options, quick replies, and video, and voice messages.
Standup Bot:
The package costs $5 per month with unlimited standups for 3 active respondents. The price changes with the addition of active respondents. The package included all the features of Starter packs. Apart from this, it also contains standups history on the web, asking people on different time zones, integrations with Giphy, Product hunt, etc.
Scrum Master
The package costs $10 per month with unlimited standups for up to 4 respondents. This includes all the standard features, along with video, voice, conditional questions, multi-reminders, etc.
Program Manager:
The package costs $17 per month. It is an enterprise plan for the company and involves all the advanced features and integrations. It comes with an SLA guarantee of 99.99%. It is a powerful tool for the teams to hold interactive communication.
The users can use the package for 30 days on free trial before buying any of the enterprise packages.
---
Conclusion
Standuply is trusted by large organisations for their team communication. It is noted as #1 bot in Slack's app directory. It has become a fun way to arrange for asynchronous meetings, polls, sprint backlogs, and hold communication.
Standuply has a modern and functional approach to team building, communication, and interaction. It works smoothly with other application. It is easier to use and allows for regular follow up and custom templates.