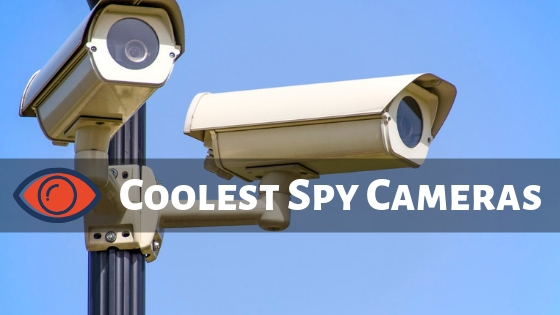 The concept of spy cameras has always been intriguing, what with so many reality shows based around it. Although the mention of spy cameras might make you feel like a neighborhood Sherlock, reality is slightly different from fiction.
What we need spy cameras for is to ensure security in and around our house and office space. Be it a nanny cam for your kids or a CCTV camera for the office corridor, these tiny recording devices serve many a purpose. However, that doesn't mean you cannot have a little bit of fun installing security cameras where you need them.
Listed below are 24 best and coolest spy cameras that you can invest in:
Hidden Charger Cam
This cool security camera is also a USB charger, can you believe that? You can put it in your nursery, office, living room, or wherever you like. It records in full 1080p HD quality and also automatically erases old videos on the SD card to make room for new ones.
The Charger Cam has motion detection abilities and also doesn't need to be charged periodically. What else do you need?
---
Alarm Clock Camera
As the name suggests, this camera is hidden within a perfectly normal looking alarm clock and does not make it evident that it is recording your every move. What makes it an even cooler spy equipment is its night vision and motion detector that sends an alarm to your phone when there is movement inside your house, even in the darkness.
You can connect this camera to your WiFi network and see in real time what is going on in your house, even if you're in a different part of the world.
---
Reusable Water Bottle Camera
This little spy camera comes in the form of a real reusable water bottle that you can carry around with you. It has memory allocation up to 32 GB and is great for personal security.
So the next time you're reluctant to go somewhere because it feels unsafe, just carry this discreet security device and enjoy yourself.
---
Photo Frame Camera
Cameras can be placed anywhere but what's more discreet than having it in a photo frame? The robbers would never realize that the ornate photo frame is actually recording their every move and sending an alert to your phone.
This frame camera has a one year standby time and can record accurately up to 20 feet in complete darkness. Discreet, cool, and efficient: it is as good as it gets.
---
Lightbulb Spy Cam 
The light bulb spy cam is the next gen security device that we all need at home. It provides a 360 degrees panoramic view of the room, in which you can zoom and concentrate on things of interest.
It supports browsing and automatic round tour of the view, along with motion detection and night vision.
---
Hidden Smoke Detector Spy Cam
This security camera is ideal for installing at home and office as it comes within a smoke detector enclosure. It looks exactly like a smoke detector on your ceiling or wall, but offers much more than that.
It supports a 32 GB memory card and is motion activated in situations of risk. It can easily record footages in day and night lighting, which will give you accurate videos of the goings-on in the area.
---
Surveillance Glasses
This one is exactly like the camera glasses you have seen in movies! It is wearable and attached to a pair of fashionable glasses that you can wear anytime and anywhere.
The camera records everything you can see in front of you and lets you view it later in HD format. It is suitable for both male and female users, and can record up to 70 minutes continuously without having to charge it.
---
Ballpoint Pen Cam
The ballpoint pen game offers you two things at the price of one. It is a perfectly functional pen fitted with a high-end security camera that supports up to 32 GB memory. It can record 60 minutes of continuous footage at one go.
It is rechargeable and provides HD quality photos and videos. Take a look, you won't regret it.
---
Wall Adapter Spy Cam
This spy cam is easy to use and can be taken anywhere with you, making it a perfect travel companion for security. You can plug it into a wall socket and leave it in your hotel room to keep a watch over your belongings.
The portable camera can be used to keep a watch over your room, pets, kids, and elderly patients in your absence. You can plug it in your laptop or tablet and watch its footage at leisure.
---
DIY Anywhere Cam
This tiny camera with a detachable lens can be installed anywhere on your own and moved around for maximum coverage. It has interchangeable dual lenses and allows you to view the footage in real time on your phone or computer.
Its tiny size and handy usage makes it suitable to be used as a nanny cam, CCTV camera, body cam, sports cam, etc. Satisfy all your needs with this one device now.
---
Coffee Cup Cam
Spy cams work best when put in unlikely places. And which place is more unlikely than the lid of your to-go coffee cup? This 3D printed coffee cup lip is fitted with a motion detector security camera that can be connected with AV cables.
The camera supports loop recording and up to 128 GB memory. With this cool camera, you can get HD quality images and videos of the recordings in a jiffy.
---
Mirror Cam
This mirror cam is more of a permanent fixture in your office or home and they have to be connected to the DVR to operate. It is easily concealable and provides high definition footage.
You can keep an eagle eye on your house or office space even when you're not around and nobody will be any wiser about your actions.
---
Coat Hook Spy Camera
Put this coat hanger in a corner of your room but don't hang your coat on it! This inconspicuous device is a state of the art rechargeable spy camera. It starts recording immediately after detecting motion and supports up to 16 GB memory.
The camera can be reused after charging and provides an easy solution for your home and workspace for maximum security.
---
Bookcam Covert Recording Device
Worried about the creepy person lurking in the library? Carry this book cam recording device with you next time. The camera and transmission device are fully concealed inside the book and can be plugged in for viewing later.
Real time security surveillance becomes easy with this device and you can take it to unlikely places where you're worried about your safety.
---
Kuna Outdoor Spy Cam
The Kuna Outdoor camera is a perfect lamp to be placed in the outside porch or corridor. It conceals an HD recording camera and also works as a smart light. It is good-looking, easy to install, and links the footage directly to your mobile phone.
It is well maintained and its AI feature lets you set up an area of maximum surveillance. If it stops working, you get an alert immediately on your phone so that your safety remains uncompromised.
---
iPhone Charging Dock Spy Cam
This HD Minicam comes in the form of a wireless iPhone charging dock that can be placed strategically on your desk or side table. While ensuring security for your room, you can also get your iPhone charged without hassle.
The dock spy cam also supports real time viewing of the footage and saving the images and videos on your phone or computer.
---
Toy Dog Nanny Cam
This super cute security camera comes inside a dog soft toy. It is best suited for keeping an eye on your kids and nanny. The adorable exterior makes it very attractive to children and it can be placed in their room without anyone's knowledge.
The cam comes with labelled body parts to educate kids and keeps your mind at ease by recording HD quality footage of your darlings when you're not around.
---
Necktie Spy Cam
A perfect fit for law enforcement officials, this secret camera can be hidden in your necktie, which makes it inconspicuous and efficient as a recording device. It has 720p resolution and supports up to 16 GB of memory.
The photos and footage can be viewed by plugging the camera into a computer. It gives you a very cool James Bond vibe indeed!
---
Bucket Outdoor Cam
This secret camera is placed inside a plastic bucket which will look completely natural at home and in a workspace. The bucket comes fitted with a WiFi enabled pinhole camera that helps you keep track of things in real time.
It supports 28 hours of constant recording and stores the footage in 1080p HD quality. It also has a one year battery life.
---
Toothbrush Motion Activated Cam
This multitasking spy cam works both as an electric toothbrush and a security camera. The camera is remote controlled and motion activated so it saves memory by pausing the footage when there is no movement.
It has a battery time of up to 10 hours and can be connected to a computer for viewing later.
---
HD Lamp Cam
This fully functional table lamp is equipped with a spy camera that can be controlled through a mobile app. You can choose the video quality among 480p, 720p, and 1080p.
The lamp is powered by electricity, which also powers the camera, so it can record endlessly without interruption. You can watch the videos on your phone in real time and ensure your home is perfectly safe.
---
Wall Clock Cam
This discreet wall clock cam has a one year battery standby time and records 720p quality videos for 30 hours nonstop. You can set a frame in motion detection settings to ensure maximum security when you're not at home.
Be it watching over kids or looking out for burglars, this camera ensures you have your security concerns covered at all times.
---
Smart Home 360 Degree Cam
This pretty-looking, remote controlled, rotating lamp has a security camera hidden inside it which supports up to 128 GB memory. Its camera rotates to 330 degrees, giving you a proper view of the room.
The camera works perfectly at both day time and night, even when there is no external light source. It is ideal for keeping in your home as well as office.
---
Air Freshener Spy Cam
The air freshener container fitted with a spy cam is perfect for placing anywhere in your surroundings without rousing suspicious. It works soundlessly and without emitting any light.
The cam can be connected to the WiFi to provide real time coverage of the area and can also be plugged in to a computer and viewed later.
---
With so many different types of covert cameras available in the market, security concerns should go out the window. All these devices are easy to install and use, so remember to use them at home or office for your own safety. But make sure you're not compromising the privacy of unsuspecting people. Stay good, stay safe!