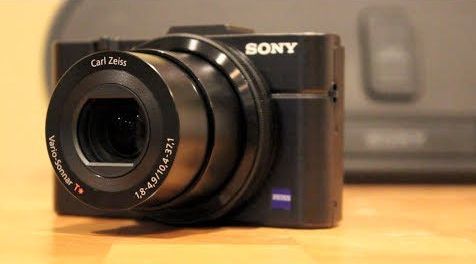 The Sony DSC W810 is the cheapest camera in Sony's range but it still supports a 20-megapixel CCD sensor with a professional 6X optical zoom lens which is focal length terms is equivalent to 26 to 156mm. The 2.7-inch clear photo LCD 230k dot monitor allows for clear picture viewing even in bright sunlight and to shoot HD movies at 720P. The highest resolution of this model is 5152×3864 pixels with the aspect ratio of 4:3 and 16:9. The DSC W810 has a native ISO range of 80 to 3200, but I realized that unfortunately, it does not have RAW file support.
When it comes to design, the Sony DSC W810 is very sleek and can fit perfectly in your pocket. It measures 3.8 x 2.2 x 0.8 inches or 96.8 x 55.5 x 20.9 mm (W x H x D) and weighs just 3.92 Oz. The finish is attractive and the ergonomics are not bad for such a small camera. W810 does not have any environmental sealing and so it is not water resistant.
The Performance of Sony DSC W810 is perfectly alright for a camera at this price. Taking pictures has never been so fun and easier for me. Priced at Rs.6,899, the DSC W810 offers some features that you wouldn't expect from cameras at this range. The camera comes up with fun party mode settings which automatically adjust sensitivity and colour in low light social settings to get great party shots with minimal effort. The advanced flash on the W810 model is extremely useful for indoor or dusk shots, as it boosts the overall sensitivity of the camera and effectively extends the flash range to make far away subjects appear brighter.
In addition to this, for convenient movie shootings, there is a dedicated movie button on the camera that instantly starts recording HD video without going to the menu. The HD videos record at the highest resolution of 1280X720P which is pretty low by today's standards and saves the files in H 264 formats. The Sony W810 can shoot continuously at the maximum speed of 1 fps and has the maximum shutter speed of 1/1500 sec. It has a built-in Mono microphone and a mono speaker. The camera features contrast detection autofocusing system and face detection AF, which intelligently detects the faces in the frame and locks the focus automatically.
At the rear, the camera has a fixed type 2.7'' LCD screen with the resolution of 230k dots, which is lower than most of the recent models in this class. W810 does not have a viewfinder. I found this difficult, especially under the strong light where visibility of LCD screens goes down dramatically.
When it comes to performance, the W810 delivers pretty much what you can expect from a camera at this price range. It is a delight for those who enjoy easy-to-use shooting modes. The camera offers easy, party and picture effect modes for creative shooting. There is the smile shutter system that instantly clicks a picture upon detecting a smiling subject. The panorama mode also delivers beautiful panoramic images and sweep panorama allows you stitch 360` panoramic shots.
Sony Cybershot DSC W810 Specification:
20MP – 1/2.3″ CCD Sensor
ISO 80 – 3200
27-162 mm F3.5-6.5 Zoom Lens
Optical Image Stabilization
2.7″ Fixed Type Screen
1 fps continuous shooting
1280 x 720 video resolution
111g. 97 x 56 x 21 mm
Pros:
Compact and sleek design
Pretty good image quality
4 megapixel CMOS sensor
Attractive color options
Cons:
Old TFT screen
Average noise performance
Ratings:
Design and build: 8/10
Performance and features: 8/10
Image quality: 7/10
Value for money: 7/10
Sony Cybershot DSC W810 price:
Sony Cybershot DSC W810 Sample Images:
YouTube Reviews:
Overall, the Sony DSC W810 is a worthy pocket-friendly camera. If you are looking for features like high in megapixel and zooming ability, stylish and sleek look, then this camera is perfect for you. The front grip and metallic hairline-style finish have a truly premium feel in hand. The dedicated movie button at the rear will make shooting HD videos much simpler and quicker. The new Party mode adjusts itself automatically to the challenging light condition making your magic moments that much more glorious. The box contains a rechargeable battery pack, an AC adapter, wrist strap, multi USB cable and a user instruction manual.
Check Also: 5 Tips to Select your first DSLR Camera for Travel (2021)