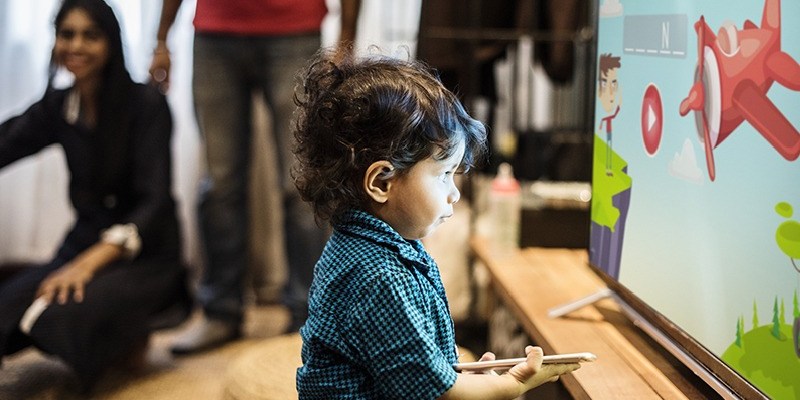 Children spend the majority of their time watching TV and are likely to learn faster when they view shows that are entertaining and educational at the same time. You can now use your smart television to expose your child to different subjects and inculcate better learning.
Apart from the fact that smart TVs give you access to a range of programmes, these devices make learning easy owing to the large screen, and also because children can pause the programme if they're studying or crafting along, and even do so via voice commands.
While there are plenty of avenues to browse content, here are some apps and streaming platforms available on a smart TV that help boost your child's learning experience.
Duolingo
One of the best apps that you can download on your smart TV to help your child learn a new language is Duolingo. Initially launched as a mobile app, Duolingo now works on a smart TV too.
Using this app you can help your child learn languages like Spanish, Dutch, French, Irish and much more. You can easily download this app free of charge and use it to encourage your child to master a new language while having fun.
---
Quick Maths
Another learning app that you can download from the Google Play Store on your smart TV is Quick Maths. This app boasts of a collection of exercises and games that have been designed to improve math skills for students of grades 2 to 6.
This app covers topics ranging from algebra, graphs and geometry to matrices. Using the app, your child can retrieve detailed explanations for maths concepts and theorems and arrive at the solution by following appropriate examples. In this manner, the app helps your children improve their problem-solving skills.
---
YouTube Kids
Apart from apps, OTT platforms like YouTube Kids are especially designed to give your child access to content that encourages learning and is fun too. The content on offer is interactive and you or your child can browse these videos as per your choice, free of cost.
Not only can your child learn new things with the help of educational videos from around the world, but can also watch their favourite shows on YouTube anytime they want to.
---
Netflix 
Another streaming platform that has a separate section for children's content is Netflix. From educational series, cartoons, comedies, award-winning shows from around the world to animated films, Netflix has a long list of content, especially for your child.
Furthermore, Netflix updates its library on a regular basis so you have new additions to look forward to periodically. The kids account on Netflix comes as an addition to a family account, free of cost and your child can browse through their own account anytime they want without having to search for shows suited to them using your account.
Moreover, once they start browsing, Netflix will create a list of 'must-watch' shows for them, depending on their preferences.
---
Hotstar
Just like Netflix, Hotstar too has a list of children's shows, films and documentaries. With a Hotstar subscription, you can give your child access to all this content right on your smart TV. You get to choose from educational shows, movies for kids and other series, that can help develop your child's listening, thinking as well as linguistic skills.
Smart TVs like the LG Smart TV or the Lloyd Smart TV support these apps and OTT platforms, so buying one is a good way to encourage your child to grow their knowledge and discover the world. You can shop for a smart TV of your choice from the Bajaj Finserv EMI Network.
Not only can you shop for a wide range of products from the Network, but you can also easily convert your purchases into No Cost EMIs.
You can then repay your EMIs over a flexible tenor of 3 to 24 months using the EMI Network Card or walk into a physical store to shop for a model of your choice.
To be able to do so instantly, remember to check your pre-approved offer from Bajaj Finserv and access instant financing through a customised deal.