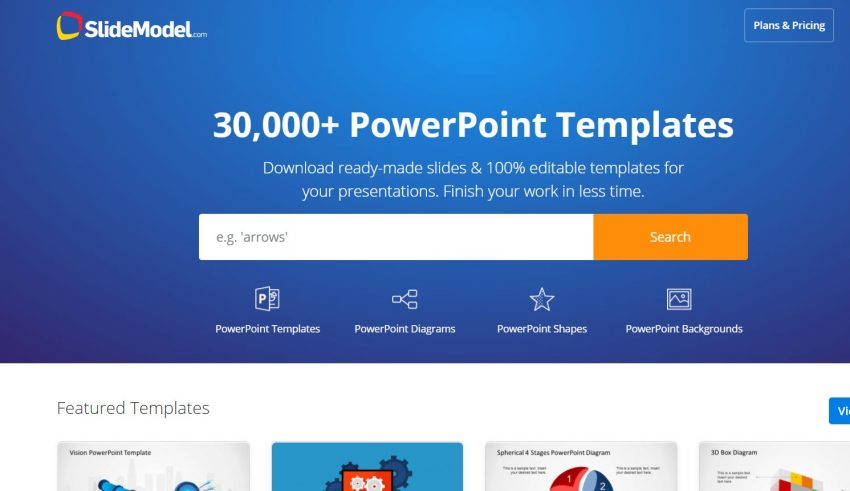 PowerPoint presentations hold a special place in the business and educational sector. With the ease and convenience of displaying ideas in a refined and presentable manner, PowerPoint helps to convey beliefs, ideas, and research with the minimum effort possible.
There are hundreds and thousands of PowerPoint templates and slides available to date. With amazing features and specifications, you can create quite a catchy presentation with these. But are these singularly memorable and will help you hit the mark?
If you are skeptical about the success of your previous PowerPoint slide templates and themes, it is time to shift to SlideModel.
What is SlideModel?
SlideModel is a leading name in PowerPoint slide providers and works as an online resource under SlideModel.com. It helps you create eye-catching presentations that are not only appealing and engaging but also informative, effective, and powerful.
The resource helps you wound your intricate knowledge around the framework of PowerPoint templates and themes provided to you. All you need to do is focus on your content, on what goes into the slide while SlideModel takes care of the graphics, layouts, illustrations and color palettes.
Why SlideModel?
Apart from the highly professional take on PowerPoint slides with its support and work model, SlideModel comes with more than 30,000 slide designs and themes, making it no child's play. The presentation backgrounds or the Google Slides themes and other themes focus on creating slides that are fun to watch but at the same time carry the professional seriousness you need to relay your concepts.
Source: Invictus PowerPoint template by SlideModel
The  SlideModel website comes with exclusive categories navigation to help you browse the abundance of templates in an easy way. The BCG Matrix, SWOT analysis, complex business diagram, and other templates facilitate the otherwise gruesome. Hence, the online resource is highly efficient for helping you create the best premium presentations for all kinds of topics and in all settings.
Key Features
SlideModel has a plethora of PowerPoint templates, themes, backgrounds, presentation templates, and more. Here are a few key features and services provided by SlideModel:
Professional PowerPoint templates
Creating a presentation for your business can be a hectic and worrying task. But, SlideModel ensures that professional presentations need not be interesting and definitely not tiring. In fact, if anything, the professional PowerPoint templates help engage your audience, make it enjoyable for them, and are designed to persuade.
The customizability and personalization of the slides let you broaden your horizons and experiment with styles and fonts while staying in the realms of professionalism. The diagrams, shapes, editable maps, and graphics can help you add depth to your presentation. You can, of course, pair these with Google Slides templates or other presentation backgrounds for the most awe-inducing presentations. Thus, you get the best, pixel-perfect slides that you can display anywhere from board meetings to A-list events.
100% editable templates
Conveying concepts and ideas in an opulent manner is as important as coming up with the idea. If your ideas are not properly displayed, you are at the risk of not reaching as many people as you need to. Of course, people might view your slides, but your viewpoint will not be clear.
Luckily, with the 100% editable and latest PowerPoint templates of SlideModel, every aspect of the slide is adjustable to your preference aiding the process of your presentation.
Source: PropTech PowerPoint template by SlideModel
You can experiment with Burke Litwin, Weisbord Six Box models, animated tabs, side-by-side diagrams, Eisenhower Priority matrix, cycle diagrams, and countless more templates representing popular business models or useful slide layouts that fit well in almost any presentation to help create more engaging slides.
Fully personalizable shapes and diagrams
The 100% editable policy does not limit to templates only. Every component you see on any of the PowerPoint themes, PowerPoint templates, or backgrounds are customizable. You can easily change the shape, size, and color of any aspect of the templates and shapes.
Hence, the editable components also include Circular Diagrams for PowerPoint, Chevron Arrows & Process Diagrams, 2D & 3D Cube Structures for PowerPoint with 100% editable placeholders. Other 3D designs, buttons, currency shapes, structures, animations for
PowerPoint, PowerPoint shapes, backgrounds, and everything else you come across is editable, too!
PowerPoint and Google Slides Compatibility
SlideModel slides are completely compatible with Google Slides, PowerPoint, and Keynote. These are highly popular presentation tools in the times of today.
So despite which presentation tool is favored by your work or educational environment, you can easily use the slides for the same. The Google Slides themes and PowerPoint themes are also, hence, easily accessible from your mobile or desktop, enabling you to edit and review your slides on the go.
Source: Example of PowerPoint template provided by SlideModel
You can easily add the slides to your Google Drive or add them to PowerPoint or Keynote as needed. The business's templates allow you to work with the best templates for a professional event and can be accessed along with Google Slides tools, etc. The same goes for other premium PowerPoint templates and Keynote slides.
Templates to look out for:
With more than 30,000 template designs to appease you, it can be overwhelming to witness the sheer number of options. Here are a few templates that stand out and are excellent choices for your next office presentation.
Side-by-Side Diagram PowerPoint Template
When looking to portray core concept layouts, side-by-side diagrams are a good choice. Here, SlideModel provides a four-slide of side-by-side diagrams with three to six steps diagram templates. It consists of a circular center and square sections near its outline for your text to go into.
The slide is optimal for project management, business marketing, educational theories, and other related presentations. Not to forget, the components are editable and customizable.
Animated General Purpose PowerPoint template
A universal slide-deck template, the Animated General Purpose PowerPoint Template, is optimal for marketing agencies, business people, creative people, and corporations. You can expand the reach of these to the educational sector, elite events, speeches, and every domain imaginable. The template comes with 50 fully editable slides with a diverse range of layouts and pictures.
Source: Animated PowerPoint template by SlideModel
Other noticeable templates include slide-deck templates, strategy PowerPoint templates, and more.
Reliability and concierge support
State of the art concierge support is manned by human support always eager to help you pick the best for your presentation and are available even on weekends.
From fetching customizable slide designs to carrying out specific instructions, there is nothing the team is not able to accomplish.
The reliability of the service is well-earned and well-maintained. Every penny you spend on this paid service will come back to you in the form of awe-worthy slides. You can request anything for your slides, and the task will be carried out in basically no time at all!
Conclusion
It is not every day that one comes in contact with a resource as highly functional and efficient as SlideModel. From the sheer brilliance of design, categories created and templates under it, to the support team, everything is built to serve and help you best your presentations.
Do use SlideModel and give its genius a try for yourself!