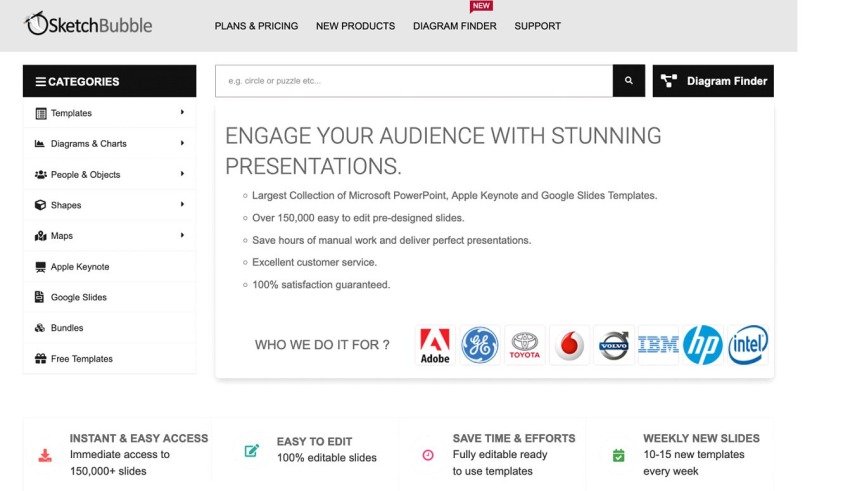 With the new normal of 'Work from Home' and 'Going Remote,' most of our tasks are being run on the internet. One of the most important tasks we are endowed with is creating and delivering presentations.
Many times, we devote a huge fraction of time to selecting a color theme, picking the right templates, using excellent graphics, aligning texts, and whatnot, to prepare an excellent presentation, but the outcome doesn't turn up as we expect.
Here, SketchBubble serves as your reliable partner! With innumerable expert-designed templates, this platform is one of the best providers of high-definition decks.
What is SketchBubble?
SketchBubble is an online platform that has revolutionized the presentation sector. It provides over 1,50,000 professionally designed PowerPoint and Google Slides templates and serves the needs of presenters in over fifty countries across the globe.
With designs that are dynamic and versatile, it is a source being used by people from all walks of life – from small startups to various companies under Fortune 500.
SketchBubble not only contains presentation templates but also serves a gigantic market with its vector graphics, icons, maps, and infographics. Thus, it serves as the perfect solution for all your presentation needs!
The Beginning of SketchBubble
In 2014, three colleagues, Ashish Arora (Head of Product & Design), Rohit Khariwal (Head of Technology), and Pankaj Narang (Head of Social Media Marketing), were developing a mobile monitoring software and shouldered the responsibility of preparing a stunning presentation to pitch to their potential investors.
Being technologists at heart, the trio was not very good at designing presentations and hired a professional designed for $500! Even though their spending was worth every penny, they realized that hiring a professional designer was an expensive affair.
Well, this is where an idea ignited in their minds. They saw this as an opportunity to enter the world of presentations by providing bespoke presentation solutions to professionals of all backgrounds.
They started with just 50 templates, expanded to more than 10,000 PowerPoint templates with over 1,50,000 slides, and changed the dynamics of the presentation world with their uniquely crafted slides and templates.
Talking about SketchBubble's long-term vision, Ashish said, "Professionally designed and high-quality templates with meticulously researched content are what provide SketchBubble a competitive edge.
Intending to give voice to your ideas, SketchBubble provides templates at cost-effective prices for all major categories and is committed to continuing working on expanding its portfolio of offerings."
What Makes SketchBubble Unique?
SketchBubble offers a wide range of templates and delivers its promise of 100% customer satisfaction and value for money. Their decks are free from copyright and can be used again by the customers even after their subscription expires.
One of the most intriguing features is that each template can be completely customized with its colors, fonts, alignment, position, and much more, giving the user complete control over the design.
Taking their journey ahead, SketchBubble plans to add e-commerce, web, and CMS templates and aims to be the biggest marketplace providing all categories of templates under one roof. Visit sketchbubble.com to know more about it.