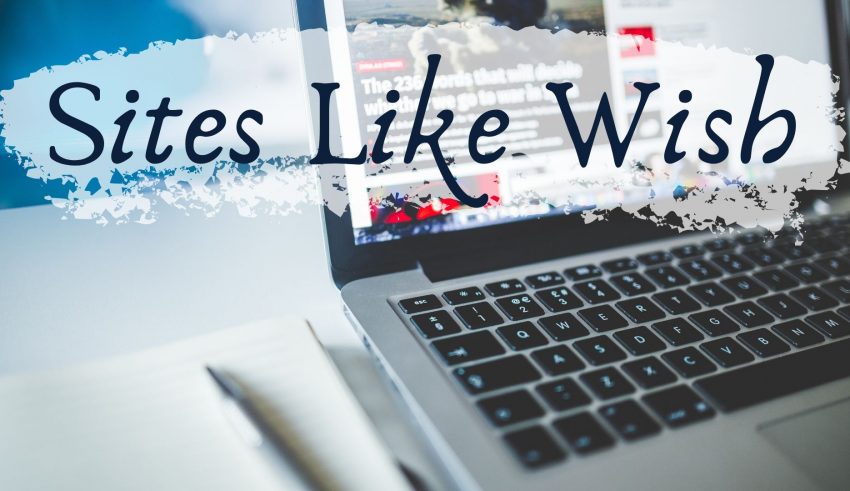 In all honesty, I have a love-hate relationship with Wish; I love it wish has what I want for cheap, but hate it when it shows weird things on my Fb feed under the tag of "You might also like", now which heterosexual guy would like to buy a 17 settings vibrator for himself or a 10-inch strap on? None as far as I can say.
Anyways, Wish offers you some of the best products at an absurdly cheap price tag, it sure is a great thing but you can't be sure if you'll get the same product, of the given size or in good condition until you receive it, so buying things from Wish is a gamble most of the time, hence this post shall lead you to the top 10 sites that offer products for cheap, ship globally and are reliable. 
Here are the 10 Best Alternative sites to Wish: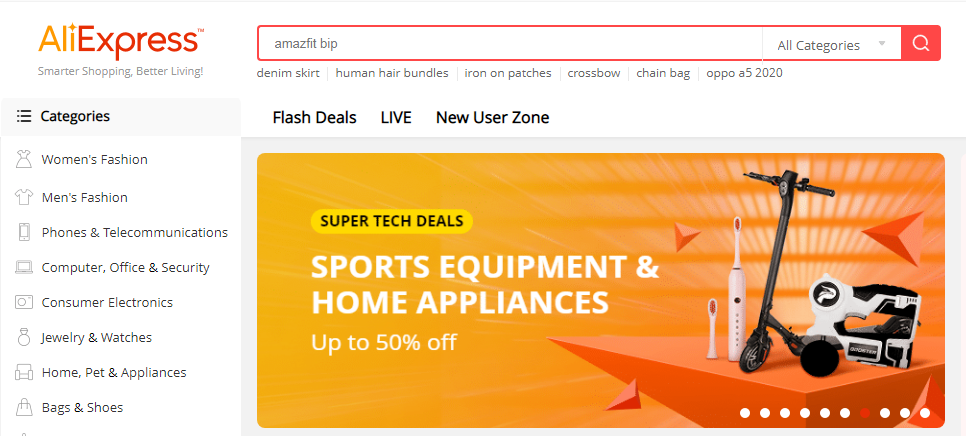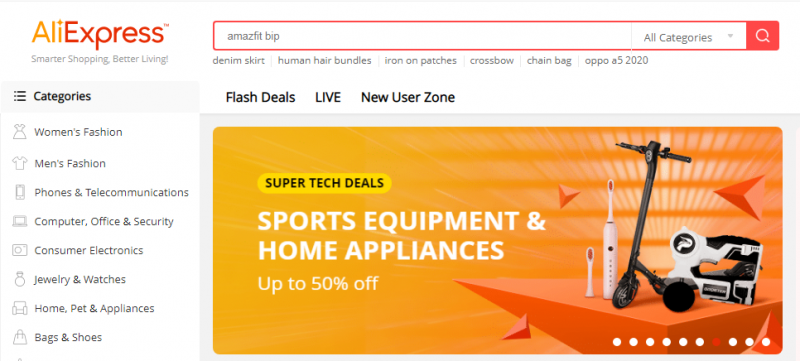 This one is my personal favorite, sure there are plenty of scammers there (they're everywhere), but if you know how to avoid them then AliExpress is quite interesting to shop at. On AliExpress you can get a wide variety of products from around the world. 
AliExpress is owned by Alibaba Group, which is obviously one of the largest e-commerce firms and while Alibaba caters businesses, AliExpress is an online platform that enables small independent businesses and factories from China to directly sell their products outside the country (hence the high number of scammers). Interestingly, Native Chinese citizens aren't allowed to shop from AliExpress. 
 The reason for the lower price tag is labor costs, which are absurdly low in China. Unlike Alibaba, you can buy a single unit from AliExpress, and exactly like eBay (which is its competitor.) everything is bought and sold as shown (no customization, unlike Alibaba.) Also funnily enough, although you're buying a single product from AliExpress that you might think is cheap, if you buy the same product in larger quantities from Alibaba, it'll cost less than what you saw on AliExpress along with the customization option. 
To the people who get scammed, AliExpress offers customer protection that mitigates the risk of getting junk (bet y'all didn't try that). And buying from AliExpress is a lot safer than eBay due to its customer protection program. And in case your seller is not willing to help, you can also open a dispute with AliExpress.
---
Hollar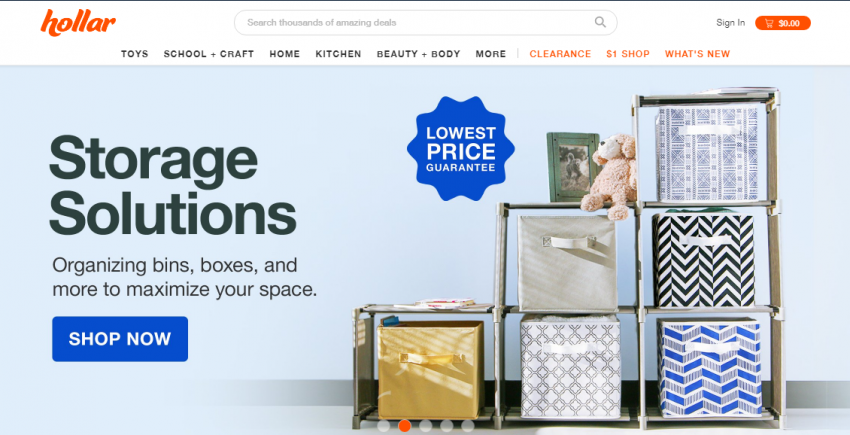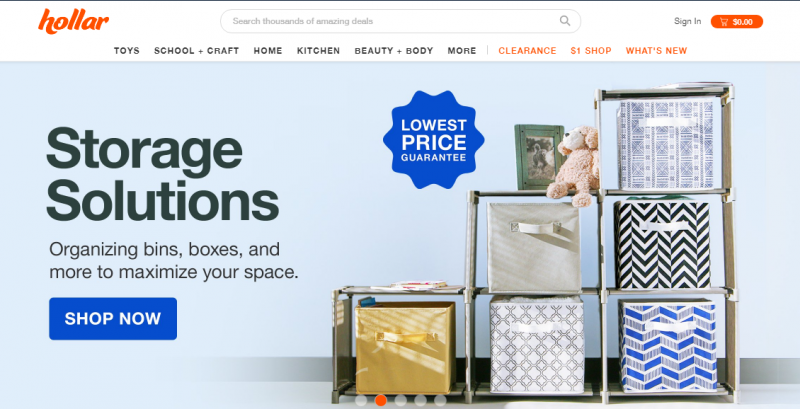 Hollar's founder, David Yeom wanted to give people something reliable that delivered products quickly and of High quality for cheap and that was how Hollar was born.
Hollar is nicknamed as the online Dollar store, and before it was born, people said that it'll be a bad idea and that whatever Hollar will offer would be fake products, but within six months of its launch, it had reached 1 million a month in sales. And they didn't sell knock-offs either, whatever they shipped was a real deal and easily recognizable, due to this Hollar earned the top Customer choice award in 2019 and it currently ranks 34th among the discount shopping sites. 
Hollar offers plenty of impressive deals in different categories like Summer, Office, Essential, Pantry, Household, Pet supplies, and plenty of others. But Hollar doesn't ship bulky products (like 50lb bulky) or perishable items (like Milk). 
For domestic deliveries, Hollar takes a maximum of 7 days for domestic delivery and 30 for International ones, which beats its competitor and unlike its competitors, Hollar has a strict vetting process for each seller before they list their products on the Marketplace. if you're still wondering if it's genuine or safe, Yes, it is completely genuine and safe, but lately, they've had trouble with deliveries. 
---


Geek.com is quite similar to wish, except the different color scheme, everything else is identical, including the company and suppliers, both are similar to the point of showing fake reviews as well. Geek boast ridiculously low prices on various tools and gadgets, Geek tries to come off as Amazon but it is more similar to eBay than Amazon due to the third party suppliers.
Geek serves as a messenger between the buyer and the seller for questions, shipment, and disputes (smelled like AliExpress knock-off there.) Anyways, I don't have much to write about it isn't original and everyone knows about Wish.
---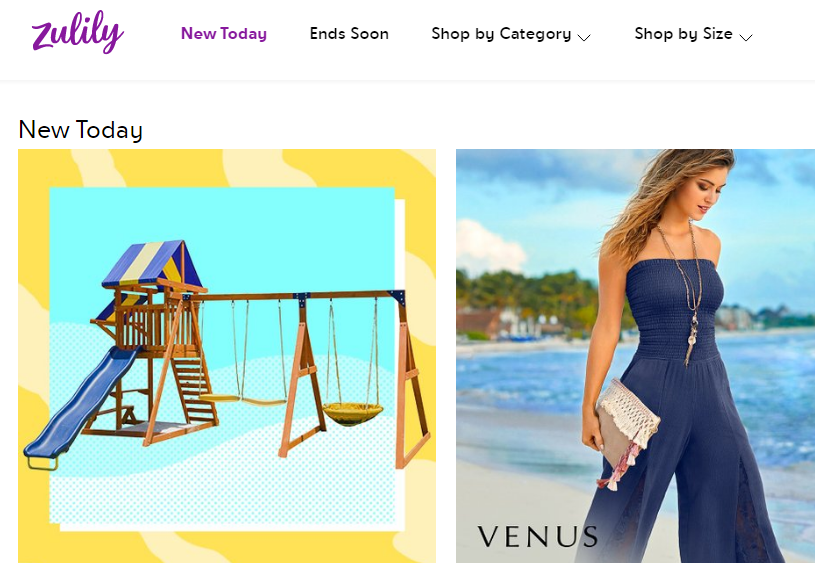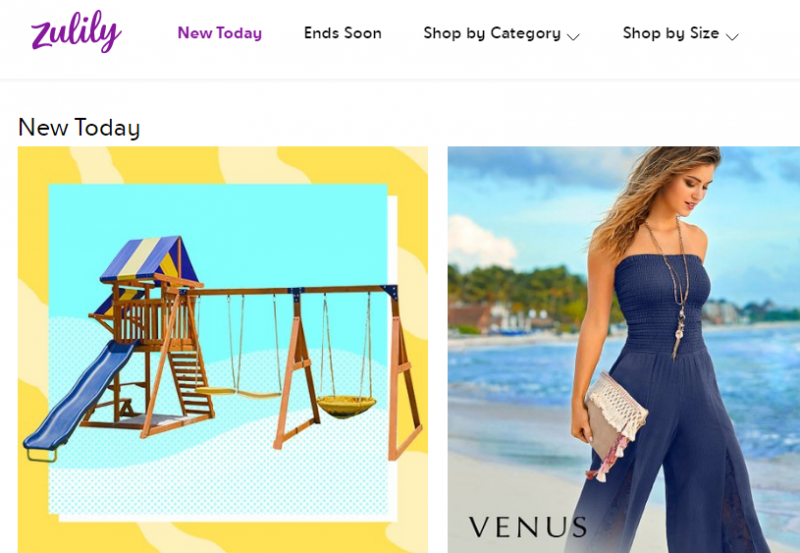 Zulily ranks 7th in daily deals and is specially created for mothers, they offer everything a woman would want for herself and her family. Zulily is the one-stop-shopping solution for Women for all their shopping needs, it offers some of the best designer items and home decor items for a relatively low price tag. 
Zulily brings merchandise from other firms to sell on their site at discount prices, hence most of their designer products are a lot cheaper than their original price tags. Also, most of the products are around the 20$ range but can drop down to 10$ in some cases. Unlike its competitors, Zulily provides a lot of promotional offers at any given time.
Some people tag Zulily as a scam due to their shipping and return policies, but that could've been solved if they just had read the policy page, but No! We're too lazy. As you already know that Zulily brings in products from different firms, that's also where the products return when you decide to return the products and hence the delay, if you can't stand long refund processes, do avoid Zulily.
---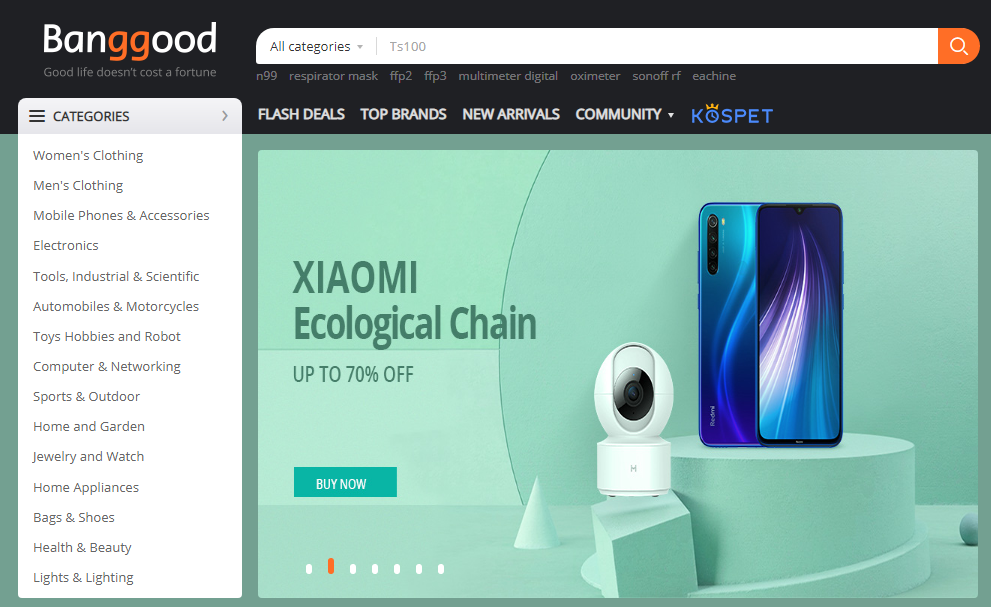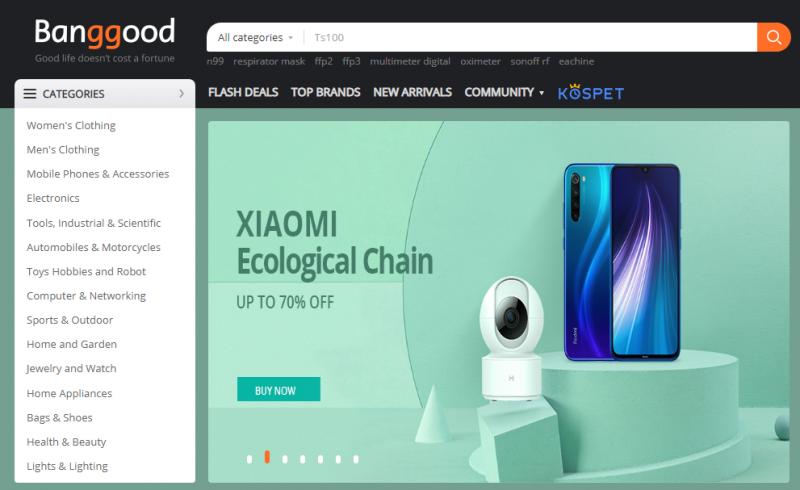 Shopping is our lifeline, but most of the time we don't have the time for it, which is why we prefer shopping online mostly these days. Banggood is one the contenders of Wish from China (again.) And like Wish, it provides a variety of products to us buyers. Banggood aimed to supply China's high-quality products to the world through the customer cross border process. 
When I first checked the site, it was so cheap that I couldn't help but wonder if it's even legit… but it is completely genuine. According to Banggood, Once they receive the highest quality product, they ship it to one of their 34 globally positioned warehouses to help them perform additional quality checks before the product reaches the buyer.
Banggood offers free or low-cost shipping, Credit card, PayPal, and other 20 secure payment options, professional customer service, VIP club, affiliate program, and a couple of other things, but that's just the surface, they also have a dedicated page for their guarantees for example Broken screen policy, 14-day returns, products warranty among a few others. 
---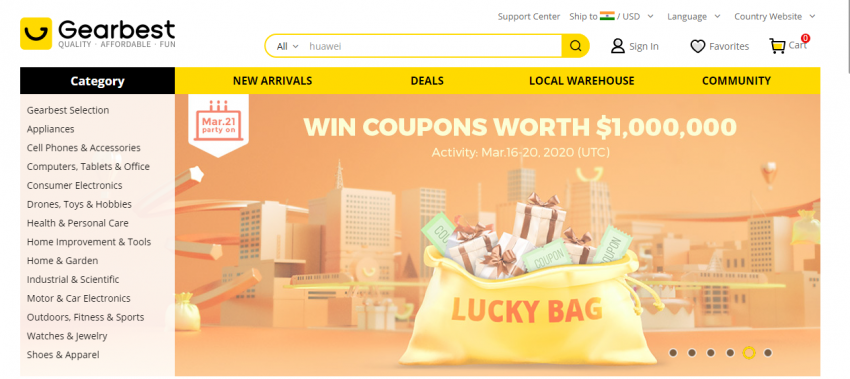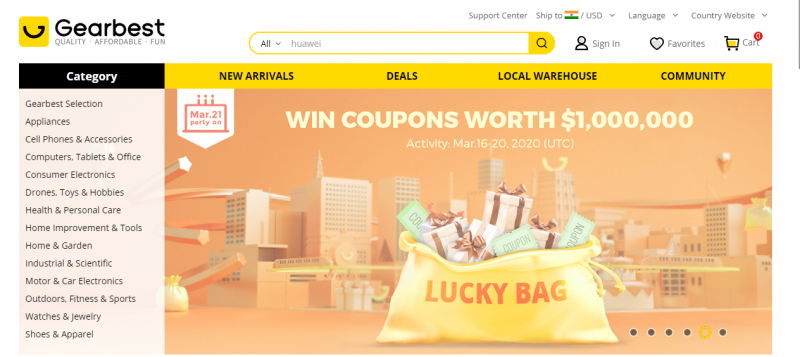 Gearbest is an affordable online shopping store offering various products. Most of the brands which you'll see on Gearbest are Chinese brands (it might be a bad or good thing according to your preference).
Gearbest offers great offers and coupons to make the products more appealing. They also ship to various countries. Gearbest does have some cons, one of which can be their limitation to the Chinese brands. 
Gearbest is popular to provide an affordable and good quality product, by directly providing the products to customers from manufacturers. They try to minimize their supply chain, to maintain their affordability. But it's true too that there are many consumers who aren't that satisfied with their services.
Related: Sites Like Gearbest
---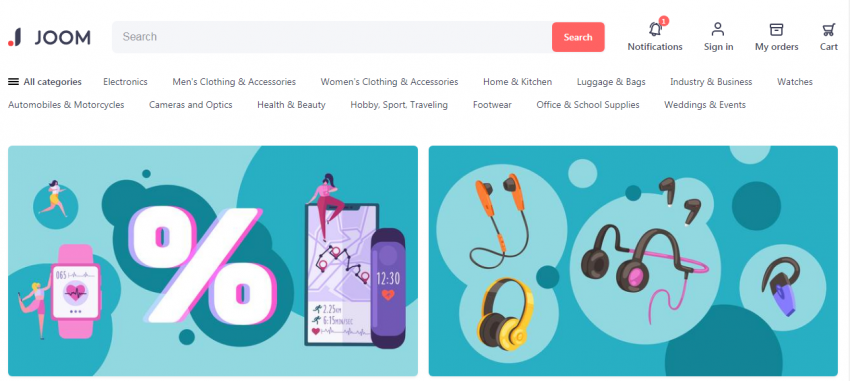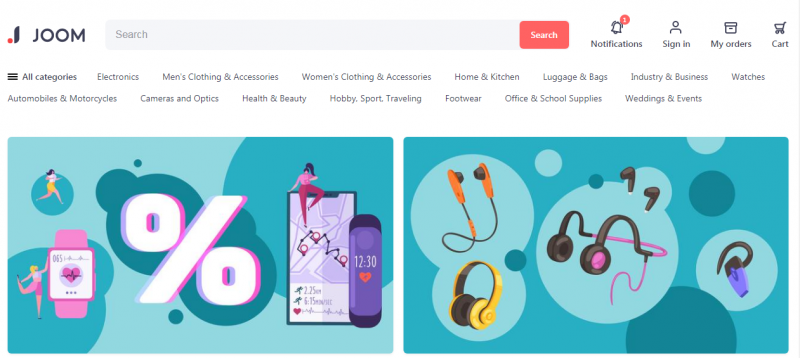 Joom is one of the closest competitors of Wish and offers many similar features; just the difference is its shipping which happens to be free. Don't celebrate too early, as one delivery by JOOM takes around a month or two to deliver our purchases.
And similar to Wish, your products sometimes may not get delivered, although they do provide refunds if you don't receive products or received defective products within 75 days. Yeah, nothing much to write home about Joom either. 
---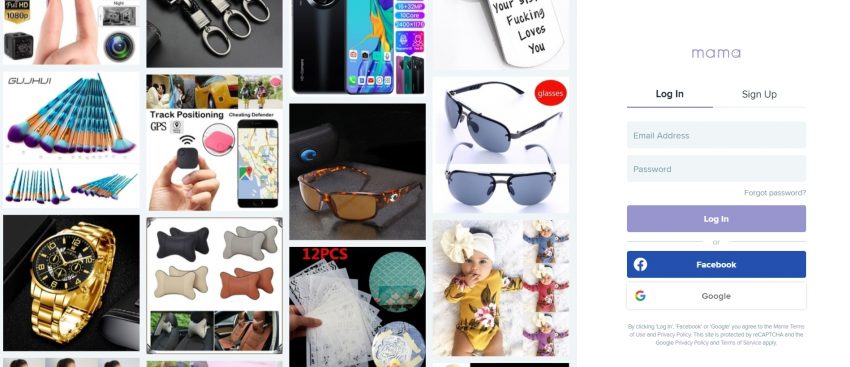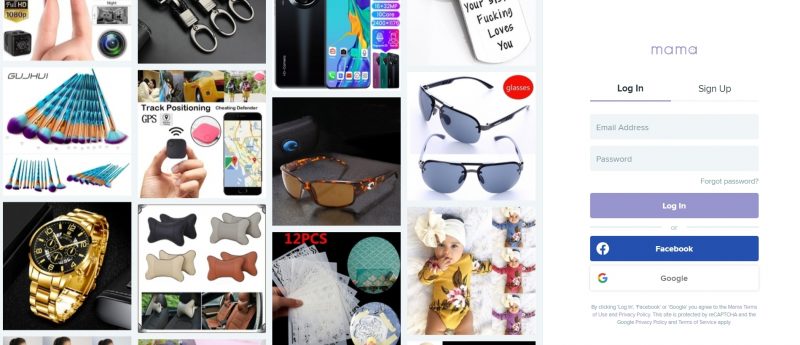 The irony is, I've got Bohemian Rhapsody playing while writing this, and I can't help but think that whoever named it "Mama" must've heard too much of Bohemian Rhapsody. Mama is exclusively made for women who are about to become new mothers, Mama is one of the most popular apps among mothers in the USA and Europe, due to its interesting offers, new mothers can also save quite a lot. 
People often think twice before ordering something that has a lower price tag, but with Mama, things have a lower price tag but a fine quality. But lately, Mama has been riddled with scammers so it makes it quite tough to use this app, that's the thing with every other shopping app, but be careful and try not to buy in bulk. 
---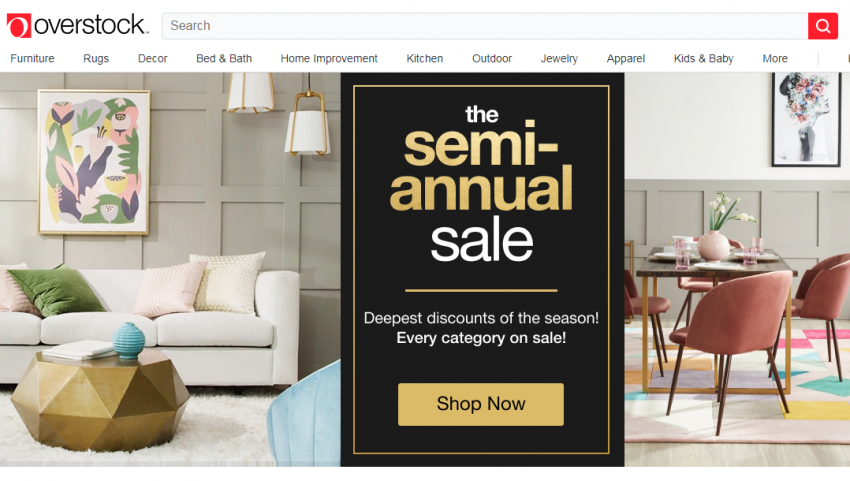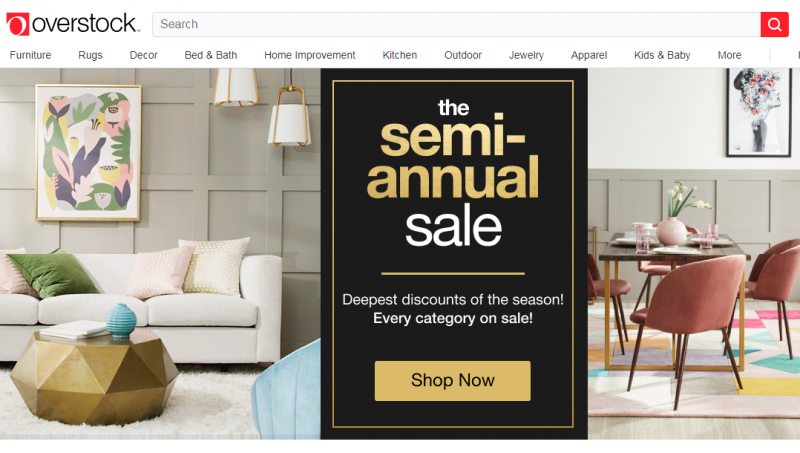 Imagine TJ Maxx or HomeGoods and a few others having a digital version that's exactly what Overstock is. Overstock offers Bedding, Sports equipment, appliances, clothing, insurance, and many others (yeah definitely lives up to its name). Outside the U.S., Overstock ships to over 200 countries with varying shipping rates but if you're in the U.S. then you can avail free delivery for products over $45. Us U.S. peeps can't question it's legitness as it's been in business since 1999 and is worth 1.5-2.5 billion $$$. 
Overstock is like the twin brother of Amazon but the better one has its products for cheap. If you wish to question its authenticity, you can easily call the customer service or just believe in Overstock as they put every effort to ensure the products' authenticity.
Overstock is the first online e-commerce platform that accepts bitcoin, you can also get a premium Overstock membership (Club O gold) which offers free deliveries, special, customized promotion, rewards on reviews (up to $20), and a couple of other things. With Overstock here, I don't think you need to look anywhere else. 
---
DHGate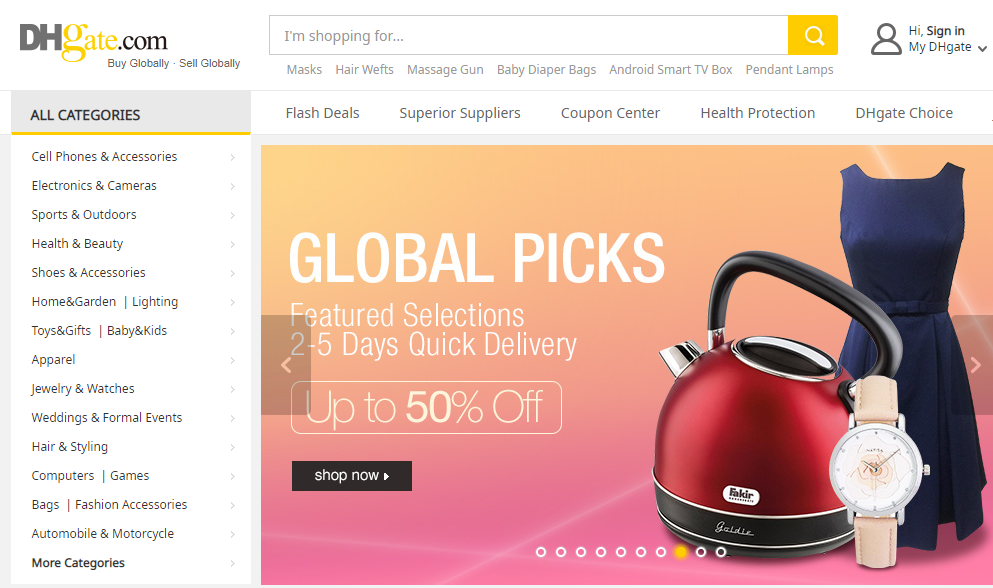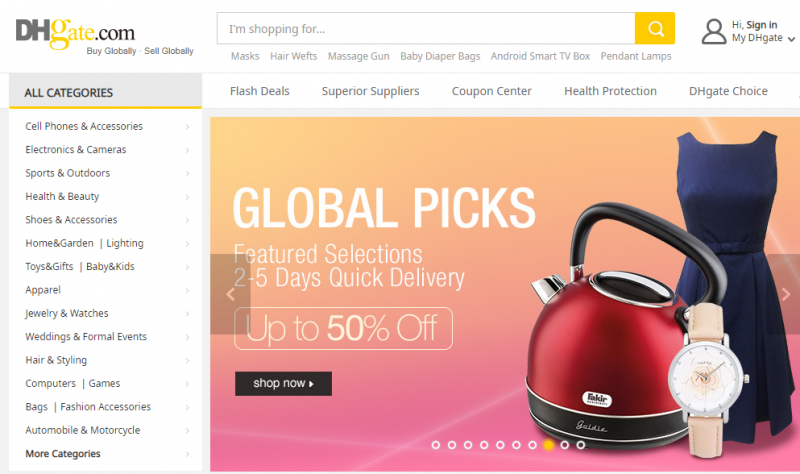 It's genuine to doubt a website when they are selling the same product at a low cost for which people are paying a lot more. You may think, "Is it even legit!" But it is completely genuine. So you just need to analyze the websites, customer reviews, their distribution channel, and their policies.
DHGate is a Chinese site (you must have already guessed it), where you can get huge discounts and a lot of coupons. And the reason for it is there are many sellers who sell their products directly to customers or for business purposes, without any middleman. 
To know the trustworthiness of these sellers, you can always rely on unedited reviews. Product quality and worthiness may vary. DHGate does freeze the funds in case of any kind of dispute, even though they provide some time to sellers and buyers to settle it by themself. DHGate offers a refund guarantee too. 
---
Conclusion
In this costly world, everyone wants things for cheap and of good quality like back in the 80s and 90s, there was less greed and need for resources back then, but now with the human population at 7.3 billion, it's taking a toll on resources hence the price hikes (well there the corporate greed too).
Anyways, Few good samaritans, have brought forth places that could've helped us buy genuine products for cheap, but they are failing to do so due to the scammers, now it's easy to complain about it, but there's just so much around 10.000 employees might be able to handle. So next time you order something, be smarter and shop only after thoroughly the product, supplier, and the reviews. As for the ones on this list, they're the best one but not the only one where you can buy incredible things for cheap. In case you know something even better, drop a comment.