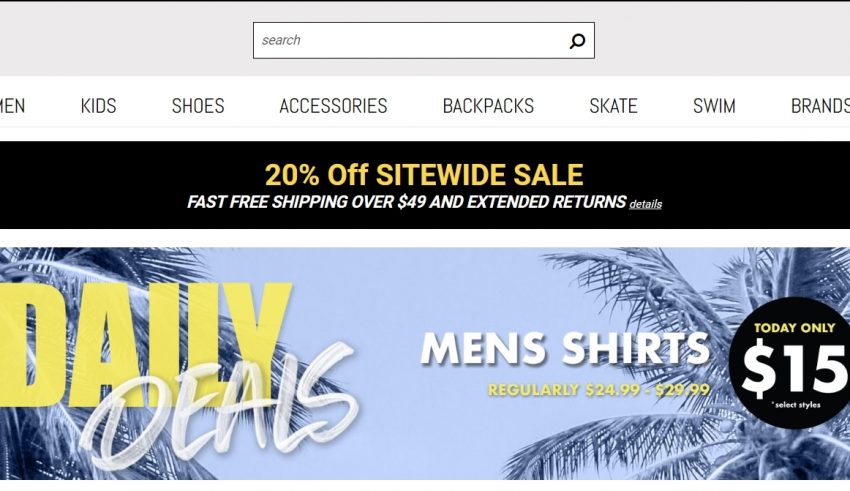 Let's get real, we all love shopping. Who doesn't want to go out wearing a new outfit that can turn heads? But in reality though, shopping isn't simply about the compliments, it's about feeling charismatic and confident in your own skin. When you wear something good, it almost feels like you could take on whatever challenge life throws at your way. And retail companies like Tillys understand our sentiments so very well. Founded in 1982, the American retail clothing company Tillys has made quite the name for itself in the fashion industry by selling an assortment of branded apparels, shoes and various accessories for men, women and kids. Its simplistic fashion style and comfortable items make it hot favorite among fashionistas and shopaholics. If you happen to be one of those who feel like they have purchased Tillys' entire collection and could do with some new shopping stores, websites and apps with a similar vibe, we have just the list for you.
Top 10 brands like Tillys:
Hot Topic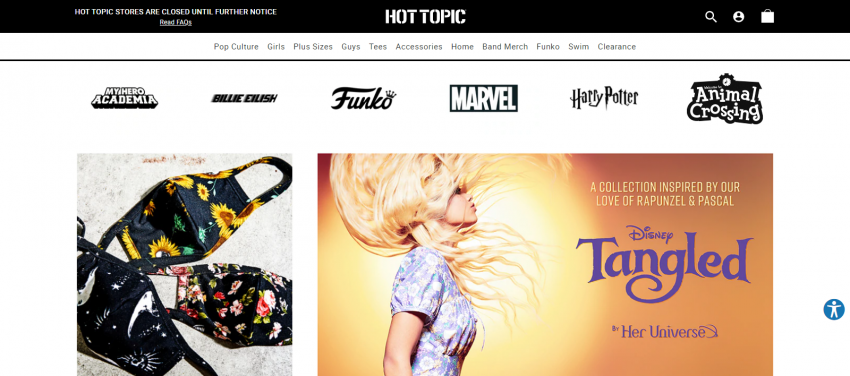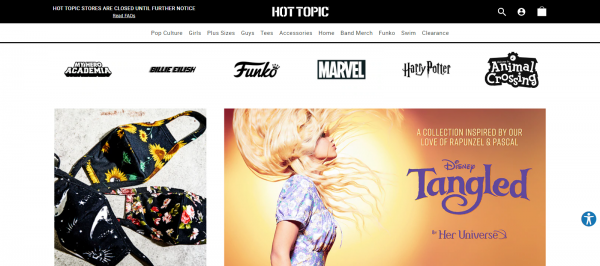 An uber-cool retail chain headquartered in California, USA, Hot Topic is a retail chain that deals with music, video games and pop-culture inspired clothing and accessories as well as licensed music. The shop targets and attracts the younger crowd by luring in teens and young adults who have a knack of wearing pop-culture referenced tees and music band and TV show merchandise.
Selling everything from tops, tees, bottoms, swimsuits to accessories, Hot Topic offers everything one could need. The shop's website also has a section devoted just to plus-sized women. And the best part? They love keeping up to date, so whenever there's new trend or internet sensation, you will know where to head to find relevant apparel. They also have round the year clearance sales, exciting offers and free shipping over 50 dollars. Not to forget that they also sell adorable Funkos; the perfect collectibles to decorate your room with.
---
Zaful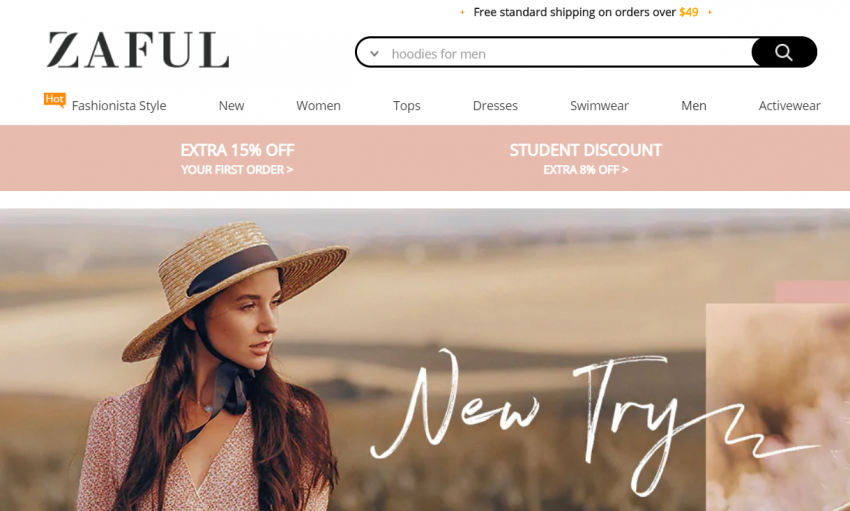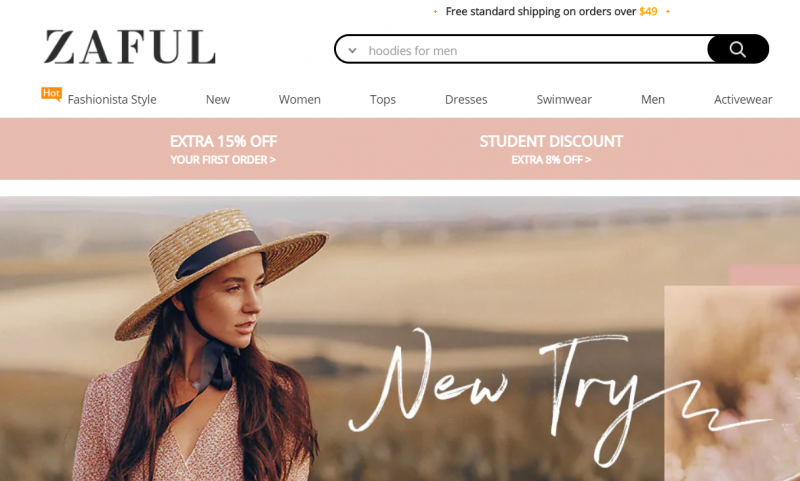 In need of some trendy outfits but a little short of cash? Don't worry. Get shopping at Zaful. A shopper's paradise this Singaporean website has emerged as the go-to website for teens, young adults and women in their mid-30s from all over the globe.
The website is as colourful as the clothes they sell and they always ensure you're spoilt for choices. Each clothing item you come across is sure to catch your eye with their vibrant colours, style and uniqueness. But too many good options can be a little confusing and Zaful knows that so the site has a catalogue which segregates its apparels based on the occasion which you are shopping for: Vacation, Beach, Date Night, Casual, Work, Festival. Shopping has never been this fun, easy and hassle-free. Oh and did we mention that they are very easy on the pocket as well?
---
ASOS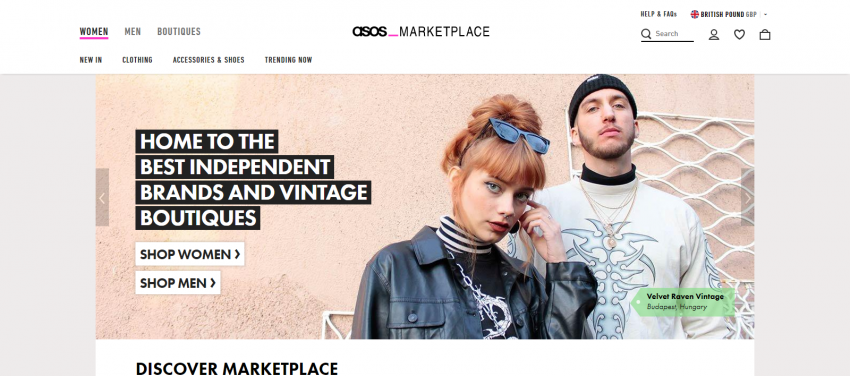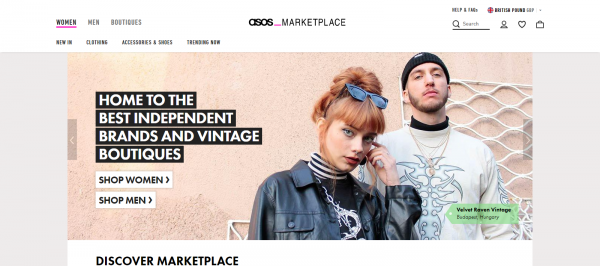 British owned fashion and cosmetic brand, ASOS is aimed primarily among the youth but it has found relevance among men and women of all age groups. The popular website has tie ups with over 850+ brands and advertises and sells their products while also having its own range of apparel and accessories.
The site sells clothing, shoes, accessories, active wear and face and body cosmetic products. The sheer variety of items the site offers in each category is like no other. The website also goes the extra mile by consisting of an inspiration section where you can read through plethora of fashion blogs to plan the perfect outfit, revamp your style, solve your fashion grievances or read up on your favorite fashion icon. ASOS ships worldwide to all 196 countries from their fulfillment centers of US, UK and EU.
---
Forever21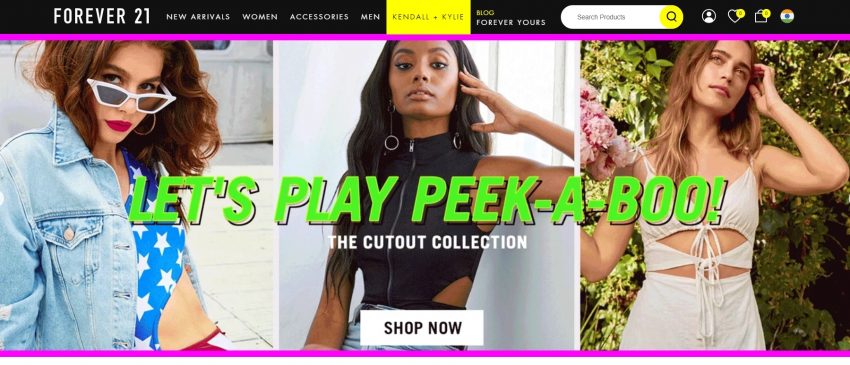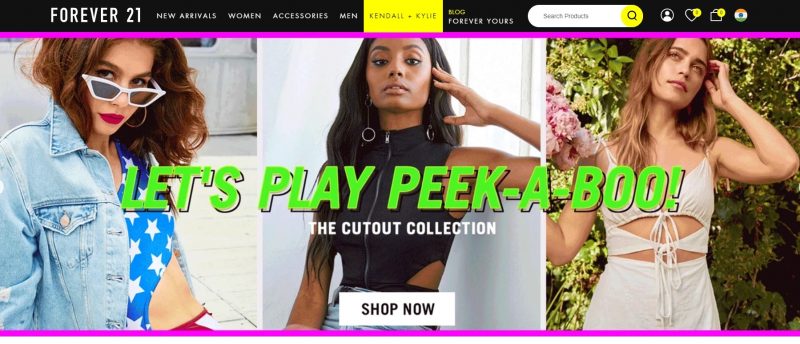 No shopping list compilation is complete without the mention of Forever21. Founded way back in 1982 in California, Forever 21 now has over 600 stores in America, UK, Middle East and Asia. And each store is no less than a young shopper's paradise.
Always up to date with the latest trends and one also known to start trends, Forever 21 has everything you could possibly want. Gorgeous tops, cool tees, evening dresses, party wear, snazzy bottoms, varieties of shoes and chic accessories. Whatever your fashion emergency may be, Forever 21 is your one stop solution. Want more options? Well, the store gives you that too in the form of its shopping website. It has styles and favorites from all over the world. 
---
Old Navy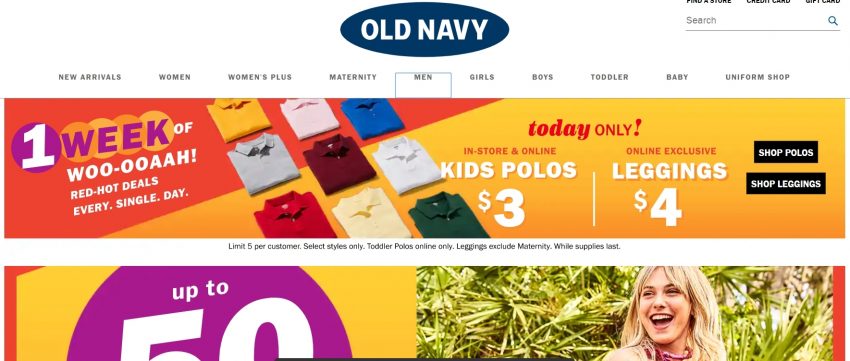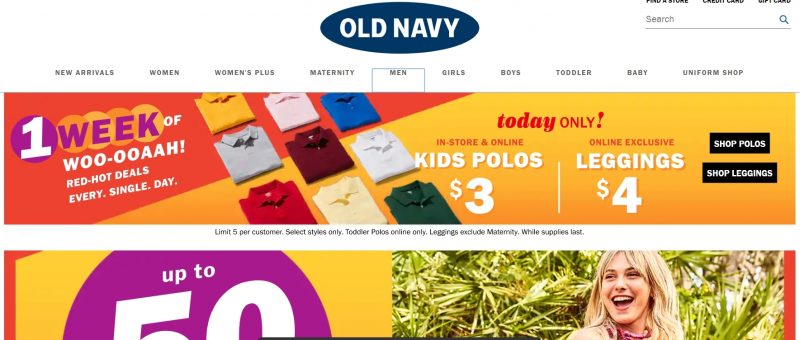 This American clothing retail company is all about the comfort. Yes, we do love extravagant shiny outfits but we don't want to wear them every day. If casual, comfy and chic is what you are in search of, you will find your match in the Old Navy.
They obviously have every style of clothing but they take it up a notch higher by adding a few more options to their website such as a section dedicated to different body types: petite, tall, plus size, a section for maternity clothes and a section where you can buy matching outfits for the whole fam. Also, their website hosts the biggest sales, so you might want to keep tabs and sign up to their email blasts. With its parent organization as GAP, it's no wonder Old Navy stands out among other retail shops. 
---
Aeropostale
 This popular clothing brand may have every other style of clothing but no one does jeans like Aeropostale. They have every kind of jeans that you could probably conjure: mom jeans, destroyed denim, high raise, 90s jeans, bootcut, skater jeans; seriously the list doesn't end.
And the jeans are available for both the sexes and in every size imaginable. Also, they make these jeans 100% from natural sources which not only ensures that you are at your comfortable best when in Aeropostale's jeans but you're also doing your bit in helping the environment. Need more reasons? Well, the store has one more up their sleeve. Their website often holds sales where clothes are sold at a whopping 80% off!
---
H&M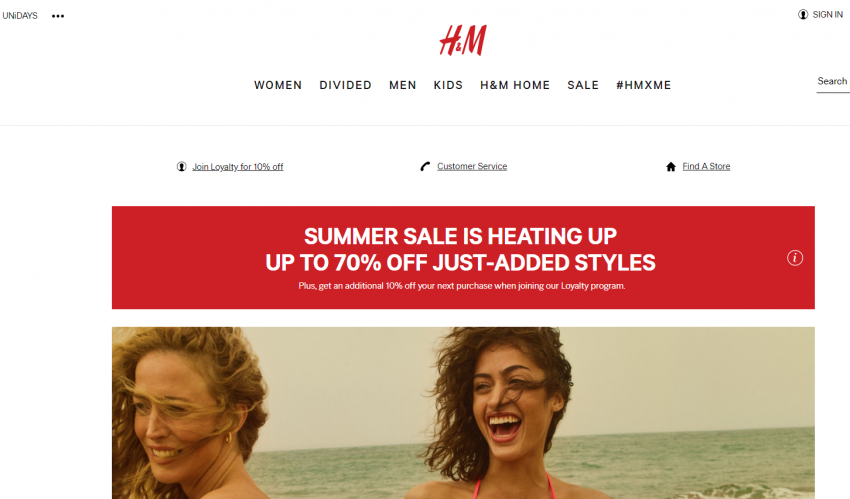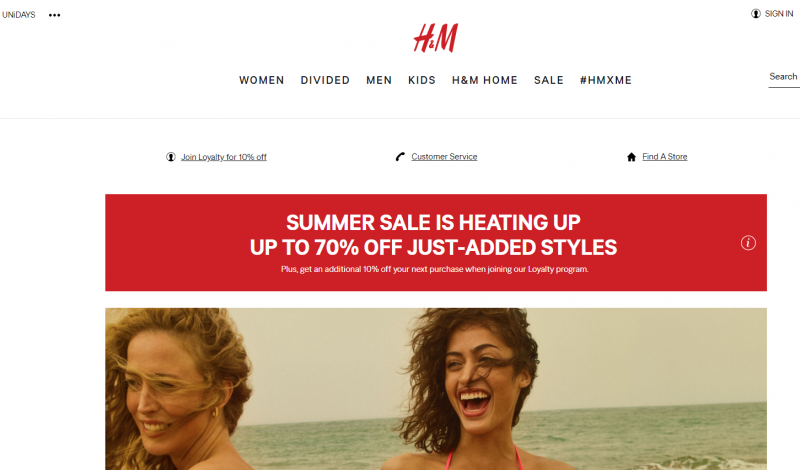 One of the biggest retail clothing companies in the game, the multinational Swedish company H&M was founded way back in 1947 and has now grown into a magnum opus brand. A name that is on every shopaholic's lips. This trend-setting company has a section dedicated to every fashion item with a wide range of variety; there is always something for everybody.
For all those fashionable mothers out there, H&M also has a section dedicated to kids with sections for toddlers and newborns too. But a lot of stores offer such facilities, what makes H&M so special? Because no clothing store is as bold as H&M. Each clothing item in H&M is not just comfortable, affordable and trendy but they also dare to be different. It's no surprise fashionistas swear by them. 
---
Urban Outfitters
This multinational lifestyle retail company headquartered in Philadelhphia, United States has been on a steady rise ever since its inception in the 1970s. The target audience specifically remains the teens and young adults who are into pop-culture, hipster and alternative fashion. But the variety of products they offer lures in men and women of all age groups.
Urban Outfitters sells fashion apparel, shoes, active wear, wellness and cosmetic products, lifestyle and furniture and even music, predominantly focusing on vinyl records and cassettes. The quality and uniqueness of their products have made them a craze in the fashion world and thus facilitated them to open up multiple stores in the countries of Germany, Spain, Canada, Ireland, UAE, Israel, Denmark, Netherlands, UK and Sweden. If you too want your wardrobe and room to look like your favorite Instagram influencers, you know where to shop. 
---
Revolve
Quite a latest addition to the fashion industry but quick to rise to fame, Revolve has excellent advertising strategies and even better products to keep itself in the top of the game.
Revolve has got every fashion blogger wearing their outfits thus making sure all their apparels are always the center of attention and their new launches are instantly in demand. The only con? The prices might just be a little too steep. But where else will you find such an exquisite luxury fashion? It's okay to splurge a little, every so often. 
---
Boohoo
This UK based online fashion company only started out in 2006 but was quick to capture 16-30-year-olds with their trendy fashion. Boohoo is the place to shop if you're someone who gets overwhelmed by the varieties of products online. When you have too many choices and you're looking through all them in search of something you like, you cart ends up with an insane number of products.
Boohoo has strategically cataloged all their clothing items which makes it easier for you to search and purchase just the thing you want. Polka dot blouses, prom dress, peplum tops, espadrilles, whatever you want, Boohoo has a tag for it. 
---
So, there you go. You now have the dream list. Get shopping!