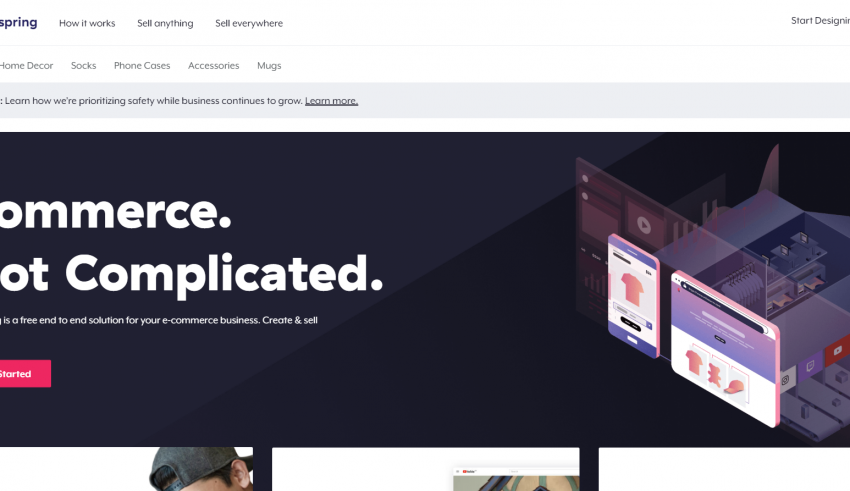 Are you an artist or designer looking to put your work out to gain exposure, hands-on experience and a few extra bucks? Or are you a customer looking to purchase personalized goodies for friends, family, beloved or yourself? No matter which category you fall into, Teespring is the ideal website for you.
Not only does this popular platform provide its users with a plethora of uber-cool customized options to choose from but it's also fairly simple to enter into business with them.
To get started, you must first have a unique and original idea you would want to put forward. Then, you have to visit their website and use their launcher to bring your idea to life.
You may then proceed to boost your sale by using marketing tool and partnership facilities. Since Teespring is quite renowned it won't be late before orders for your product will start pouring in.
It's honestly a very simple process but if you want to dip your toes in other print-on-demand websites whether it is for creating or purchasing we've just the list for you.
Top Ten Websites Similar To Teespring: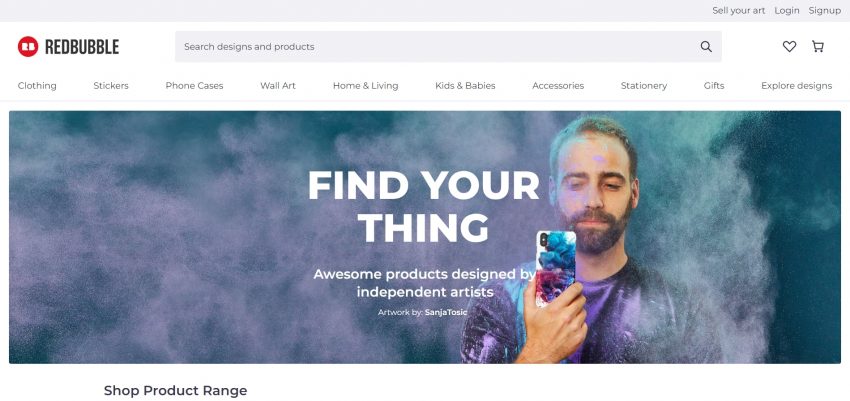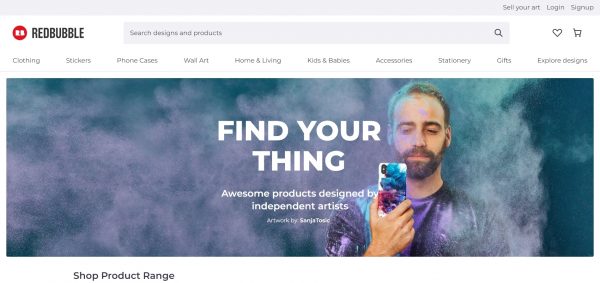 What was simply an idea for years, Redbubble first emerged in the e-commerce marketplace in 2006 and has since pretty much revolutionized the idea of customized products.
The now renowned website had humble beginnings though, they only wanted to provide a platform for independent and passionate artists to showcase their art. Presently, they have as many as 700,000 artists, designers, and illustrators from across the globe working for them and their fan-base is ever-growing.
Redbubble has achieved somewhat of a permanent spot in the top #3 print-on-demand stores in the world. Every piece of art you come across on the site is bound to catch your eye with their bold and stylish way of expression.
And no matter what your mind can conjure, their artists will deliver. A shirt with a witch's face, a mug of your favorite prime-time show, a tote of that new lingo that's taken the world by storm.
Whatever you desire, Redbubble will give you. The idea will be authentic and unique, the story behind it personal and the quality will be top-tier. It's a win-win! If you're the artistic type trying to set up shop at Redbubble, simply upload your designs and art to their website and they will take care of the rest.
---
Zazzle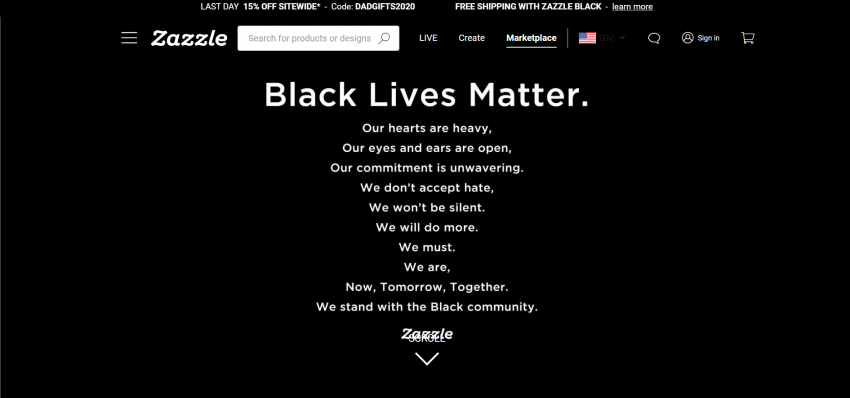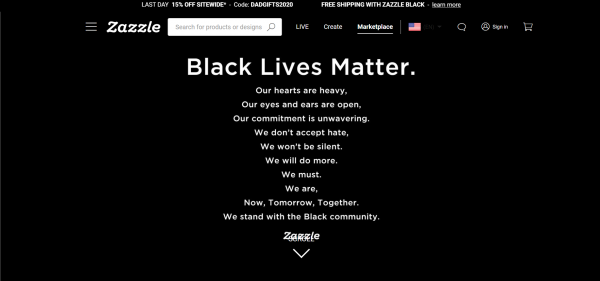 We promise you that the website is funky as their name sounds. Founded in 2005, Zazzle has some of the most unique and out-of-box items that you will ever come across all thanks to their huge group of innovative artists.
Zazzle's popularity has so reached the height that it has bagged some of the biggest and hottest brands to collaborate with them starting from Disney, Pixar to Hallmark. Thanks to these big collaborations, Zazzle has access to premium quality and never seen before digital images that can be printed on over 60+ products.
The sky is the limit when it comes to Zazzle, if you can imagine, you can create. Whether you want to buy some awesome merchandise for yourself, gift your beloved with something personal, print same t-shirts for your uni friends or hand over personalized presents to your guests after a lavish party; Zazzle has you covered. Zazzle also lets you add touches to pre-existing designs, as per your request.
It's such a common occurrence to find something absolutely stunning while shopping only to realize it was lacking in some aspect. Maybe it was the colour, the writing or the style of the product that ultimately made you give up on the product.
Not anymore, with Zazzle, you only have to say it as you want it and you will have it. The platform is always trying to better itself and provide its customers with the best service, so they are constantly revamping their products and creating new trends.
---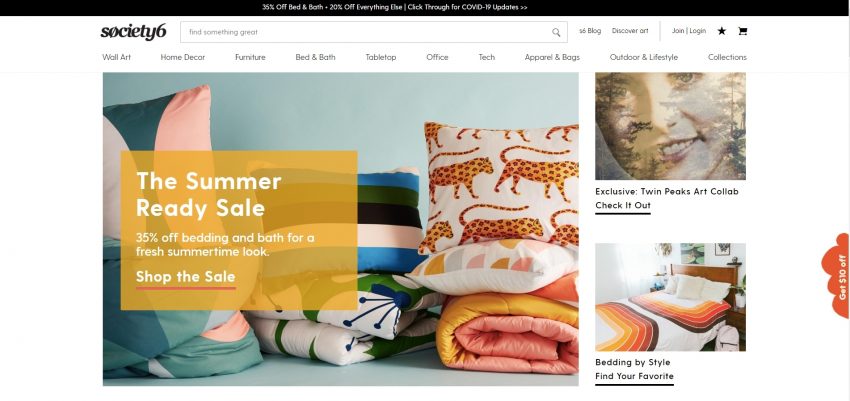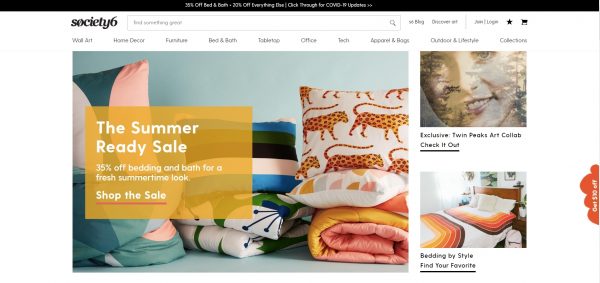 In 2009, a group of 6 passionate and immensely talented artists dared to dream big and thus was born the brand we know and love as Society6. One of the best print-on-demand alternative stores to Teespring, Society6 has hundreds of artists and designers working dedicatedly to provide their customers with only the best.
The platform's diverse products, unique designing and trusty service have made it quite the popular site among customers seeking personalized products.
Wall hangings, yoga mats, totes, merchandise, blankets, pillows, and towels; whatever you want the platform provides. Imagine a room that is adorned with all your current obsessions; Kpop bands, animes, viral art, your favourite person's face. The only issue you might face on Society6 is how you will make your way out of the website without making a hole in your bank account.
But don't you worry, the website has your back. They offer all their products at discounted rates and also hold some of the biggest sales. So, feel free to shop away to your heart's desire. Also, Society6 is not limited to any location, sell or purchase from across the globe with this website.
---
Threadless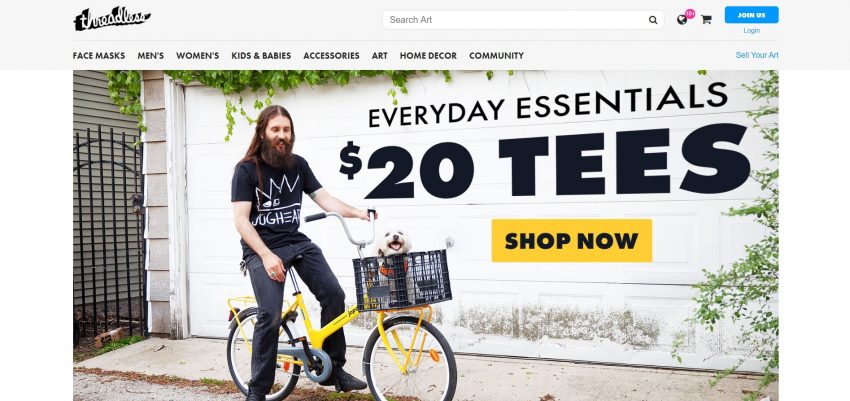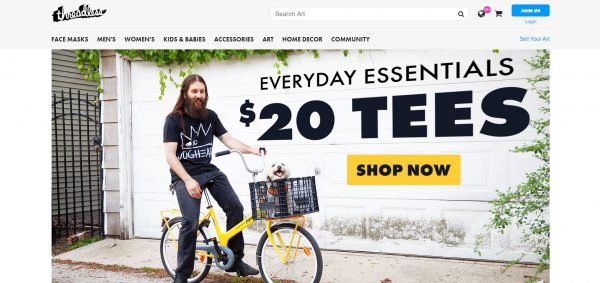 Tired of wearing the same old boring t-shirts you own? Maybe it's time to revamp the wardrobe game a little. But all the stores seem to have the exact same designs and you are more than certain that you have seen half your friends wear these. If you want to want to stand out, you have got to think differently.
Think Threadless. A great alternative to Teespring, Threadless is even more exciting than it looks at a glance. They have the absolute craziest, wackiest, and fun designs in the game and there's a reason why.
Threadless values customer opinion like no other. Their key to producing the most innovative and unique designs in the market is their consumers themselves.
Every week thousands of artists from all over the world submit their ideas and designs to the Threadless website. The platform then proceeds to hold a weekly contest where they let their online community vote and decide on the best submissions.
The top ten designs that are thus handpicked makes a permanent spot on the Threadless website. Needless to say that this is a win-win situation! Not only do the artists get highly rewarded but the audience too gets to own products they chose.
With such a progressive attitude, whopping discounts, and the constant inundation of creative products, its little surprise why Threadless is one of the most revered names in the customization industry.
---
Café Press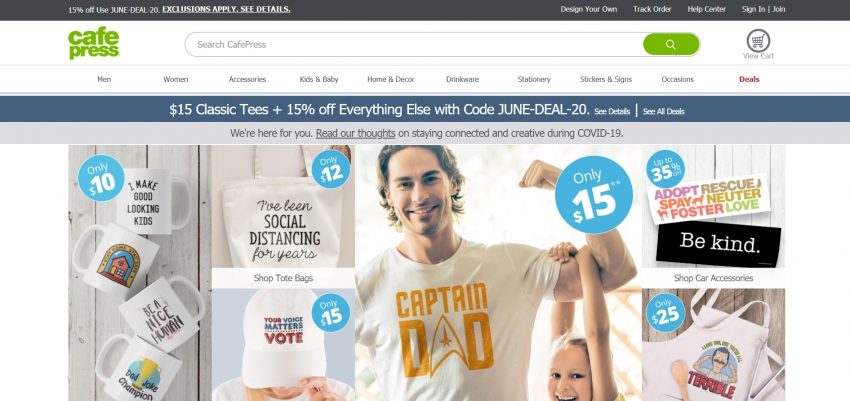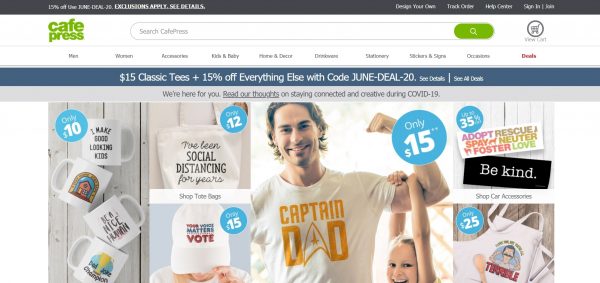 Founded in 1999, Café Press offers a varied range of products ranging from classic t-shirts, mugs, stationery to home décor; and for nominal prices too. Stacked with millions of products for cool moms, tech junkies, sorority/fraternities and movie buffs; they have some of the coolest merchandise that you will come across.
So, whether you're a fan of comics, music bands, reality shows or superhero flicks, find your fix here. This website is perfect for anyone who wants to gift something special to their loved one; nothing spells love like customized gifts with hidden meanings and innuendos. They also have a separate section for occasions so you know where to shop whenever there's an event around the corner.
Can't find what you are looking for? Just let them know and they'll take care of the rest. Café Press adds a whole new meaning to good customer service – not only do they work on your design with the utmost care and love but they also accept returns or exchanges – even if they are personalized! It's little surprise that they were awarded the prestigious People's Voice Webby Award.
---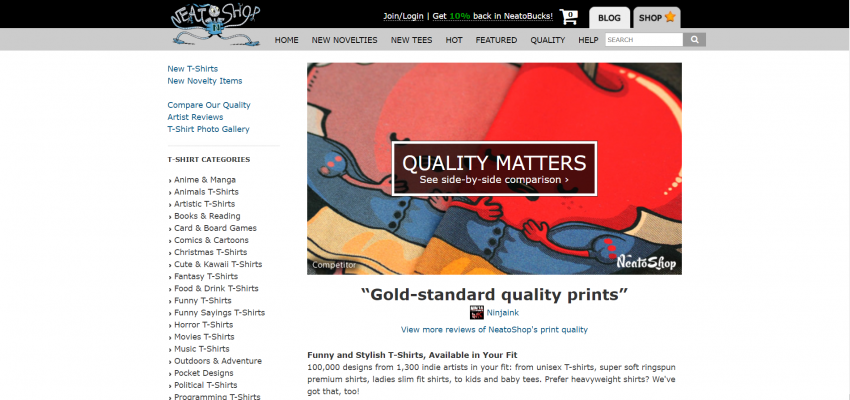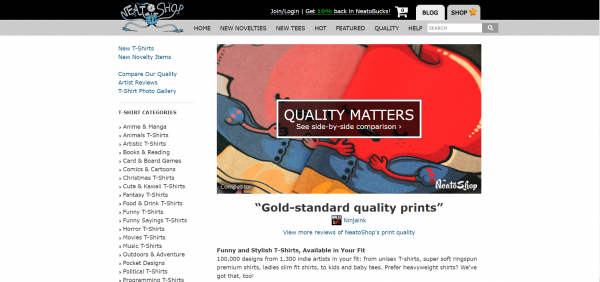 You'll often find the best products in shops that are yet to become popular. NeatoShop is one such hidden gem. The platform has over 1,300 working indie artists and 100,000+ fun and stylish designs.
Neatoshop is constantly pushing to create enticing designs for their customers and they house literally every T-shirt category you can think of: Anime, Fantasy, Horror, Movies, Politics, Gaming, Festivals.
They have it all. And they give you a diverse range of options in t-shirt size and styles too: slim fit, plus size, tank tops, unisex, premium soft ringspun, and kids and babies too. Want to purchase some cool new styles but also want to go a little easy on the pocket? Visit their NeatoShop's sale section.
We promise you, you won't want to shop from anywhere else and free shipping too! Although Neatoshop essentially customizes T-shirts, they also sell a few novelty items such as socks, pins and badges, keycaps, beanies, keyrings and so on. And each of these tiny items is so meticulously and creatively made that you will just have to add a few to your cart.
Can't find something you want? Avail their custom printing service, they have no minimums, unlimited colours, expertly skilled artists and accepts rush and same-day printing.
It couldn't get better than that, could it? Actually, it can with each purchase you earn NeatoBucks which you can not only redeem as an instant discount but also a free shirt.
---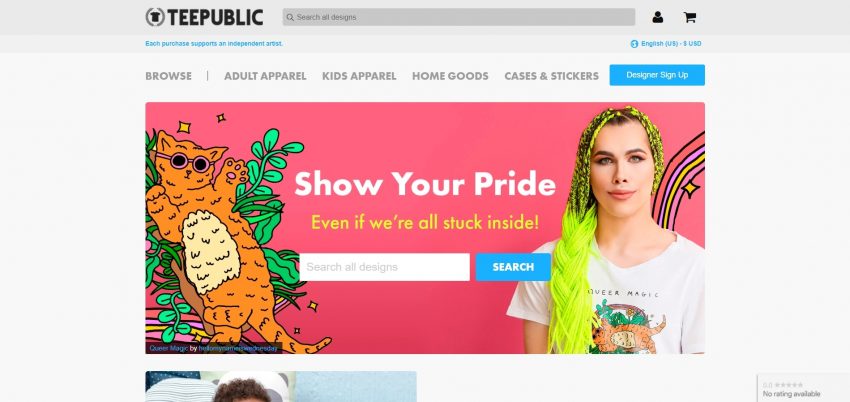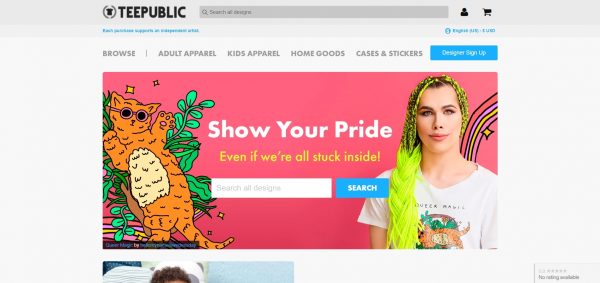 TeePublic claims to be the world's largest marketplace for independent artists and creators. Their main goal is to ensure that independent artists always have a place to flourish and they have remained true to their goal. Every purchase of your at TeePublic supports indie artists, designers, bloggers, streamers, and more.
They have over 1.2 million designs on 100 different products to choose from. There's no way you won't change into 10 things that are absolute must-haves for you each time you visit their website.
They also some of the coolest and popular artists and brands on board with them, so you know where you have to head to if you want exclusive content.
Also, a major reason why you should shop from TeePublic is that they are strongly committed to making the environment better for us by using 100% biodegradable, non-hazardous, and vegan-friendly ink.
Why give your dollars to some power and a money-hungry corporation when you can invest in do-good brands like TeePublic?
---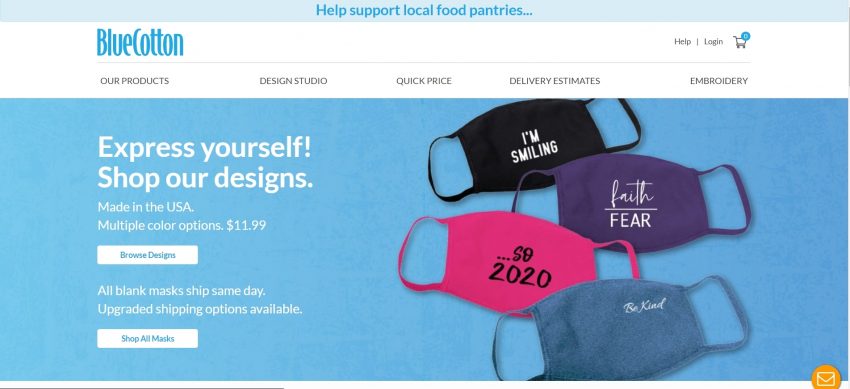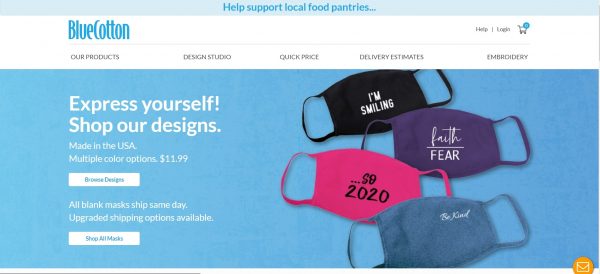 Blue Cotton is the kind of website whose door you knock on when you are exclusively looking to personalize an item. There is after all something uber cool about owning and wearing customized goods.
Anyone and everyone who shops at Blue Cotton becomes a customer for life. They value their customers like no other and are entirely dedicated to providing them with the best experience.
With super comfy and high-quality products, excellent artwork, fast shipping, and instant email replies, it's little surprise why customers can't stop raving about their products.
---
Printful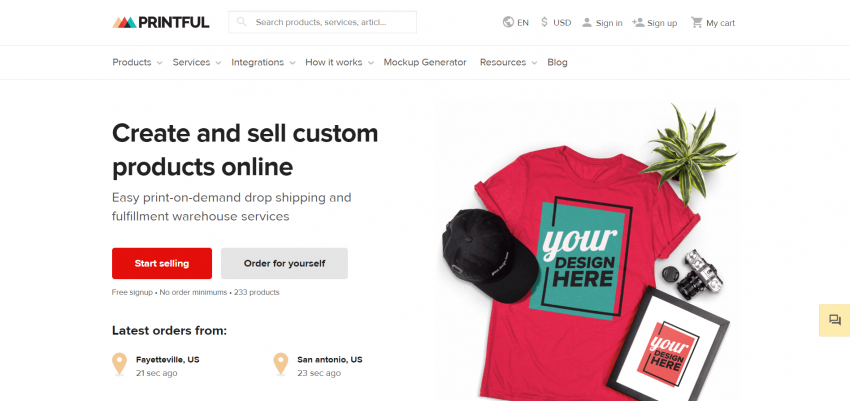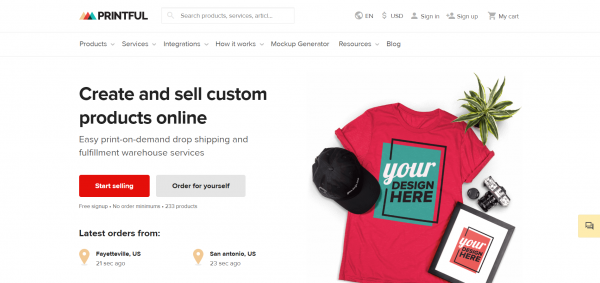 Quite similar to Blue Cotton, Printful allows customers to get innovative with their customizations and create something entirely from scratch.
They have some of the most basic items on display such as hoodies, slippers, bracelets, hats, etc. You have the liberty to choose the item you want to personalize and submit your idea to them.
Once your instructions have been submitted, Printful's designers will begin work on your design to turn your imagination into reality. And don't worry, they will be in constant touch with you to ensure you only get the best.
---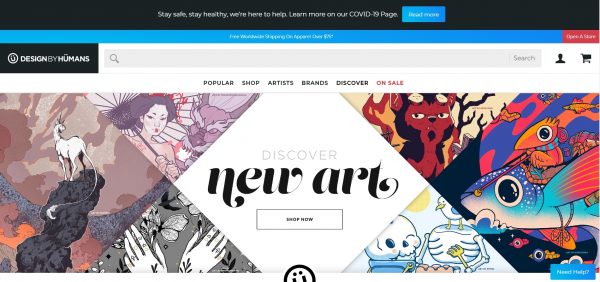 If you are someone who loves wearing and collecting uniquely designed tees, you will find yourself in awe from your first visit to the Design by Human's website.
The platform is in collaboration with some of the most talked-about brands in pop-culture such as Marvel, DC, Stranger Things, Harry Potter, etc. and thus dish out some of the most incredible merchandise. If you are not a fan of merch and just want some weird and zany tees, Design by Humans ha got you covered in this department too.
They have some of the most talented creators from across the world working for them who are continuously submitted new content to the website. We assure you that you will fall in love with each of them.
---
Now you know ten places to shop from whenever you are in the mood to treat yourself with some personalized goodies. So, get shopping and turn heads wherever you go with your unique taste in fashion.