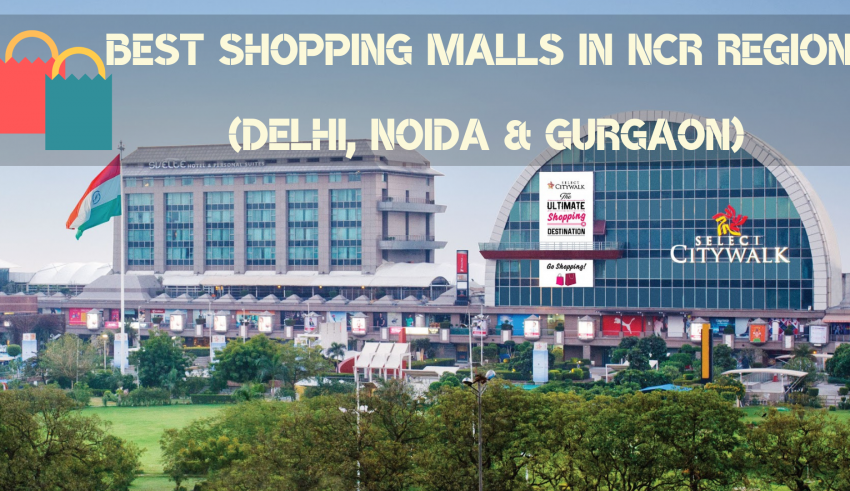 Apart from being in the historic National Capital Region (NCR), the cities of Noida in Uttar Pradesh, Gurgaon in Haryana and the capital city of New Delhi, have endless list of attractions in their arsenal. But, if you are looking for a fun time to explore shopping malls here, with your family and friends, then keep reading. There are several tens of huge shopping malls that are scattered around the national capital region and they serve as great entertainment destinations to enjoy a pleasurable time with anyone you visit.
Here is a brief list on some of the best shopping malls and complexes in Noida, Delhi and Gurgaon, where you easily spend time munching in the numerous eateries in food courts, arcade gaming areas and shopping outlets:
DLF MALL OF INDIA (NOIDA)
Taking size into consideration, The DLF Mall of India is the third largest shopping mall in the country, only behind LuLu Shopping Mall in Kochi and the World Trade Park in Jaipur. It spreads for over an astonishing area of about 190,000 square meters and has endless room for fun activities! It was built by the DLF group, India's largest commercial real estate developer.
DLF Mall was inaugurated and opened to the public in 2016, although it was commissioned to be opened in 2014. It is situated in Sector 18 in Noida, on Maharaja Agrasen Marg, very close to the banks of the Yamuna river. There are 7 gigantic floors which include almost any shopping outlet you can name and delicious eatery brands such as Krispy Kreme, Costa Coffee, Cinnabon, Pizza Hut, Nandos, Burger King etc.
The family entertainment centres here include places like Fun City and Snow World. Fun City is a lovely destination for families with kids to visit because of its many attractions and rides. Snow World, as the name suggests, is a winter wonderland where you can enjoy various snow-based activities such as snow balling, skiing and a wide variety of games to cater to anyone's entertainment needs. It also houses a classic set of 7 screens belonging to PVR Cinemas, India's largest film and entertainment company.
Enjoyable events are also held in the mall premises on a regular basis, such as the Canvas Laugh Club, Canvas Painting Workshop, Beauty Master Class, Sinful Bites, Noida Juke Box etc. DLF Mall of India has several awards and accolades to its name and is definitely worth a visit if you are with your family, looking to have a great time filled with entertainment.
THE GREAT INDIA PLACE (NOIDA)
Popularly known as GIP Mall, the Great India Place is part of an extensive network of entertainment destinations in Noida – which include the likes of World of Wonder (amusement park), Decathlon, KidZania, Entertainment City, and Gardens Galleria Mall. These are spread over an area of 150 acres in one of the most expensive commercial localities in the country, let alone NCR. It is located on the Maharaja Agrasen Marg, a walkable distance away from the adjacent Sector 18 metro station and the much bigger DLF Mall of India. It is home to variety of retail outlets, which include both national and international brands such as Big Bazaar, Nike, Adidas, Vero Moda, Marks & Spencer etc.
The top floor of the mall is the main attraction to families and people who visit it, because of the presence of an expansive food and entertainment section which supposedly measures more than 15,000 square meters! Dining options here include lovely multi cuisine restaurants, continental restaurants and regional restaurants. Fast food options such as Burger King, Pizza Hut, U.S Pizza, KFC & McDonald's are also available here.
There is a Fusion Gaming Zone, Fun Rides, Virtual Cinema, Carnival Cinema and also a bar cum pub called Ice Cube. AutoArcade, one of the country's biggest auto shows was also held here last year. There is so much to see and experience here at the GIP Mall.
GARDENS GALLERIA MALL (NOIDA)
Gardens Galleria is located in the same complex as that of The Great India Place, on Maharaja Agrasen Marg. It is one of the most liked and visited mall in the region, alongside DLF Mall of India and The Great Indian Place. Gardens Galleria is frequented and favoured usually by teenagers and adults looking to have a blast, as it is one of the most happening places with dine outs, lounges and bars such as The Smoke Factory, Tito's (yes, you read that right. Goan authenticity is now here!), Turquoise Cottage, Imperfecto, Jokers.
Fantastic fine dining restaurants such as Bohemia, Soiree, Pahmos and Spellbound are here to fulfil your urge of having mouth watering and delicious food! It also provides a wide array of shopping spots, to fulfil your shopping pangs – with brands such as Being Human, Cotton Culture, Allen Solly, FCUK and Adidas. It is most definitely a food paradise and the perfect hangout spot to have a memorable night with your family and friends.
LOGIX CITY CENTER MALL (NOIDA)
If you are a shopaholic and crazy about even window shopping, Logix City Center Mall is an amazing place to spend time at. It is situated in Sector 32, very close to the Blue Line of the extensive metro system. It is frequented by thousands of people each day, from the time it opens – at 10 AM, till the time it shuts down – at 12 AM.
It is always almost crowded during peak hours and weekends. Although the food court here is comparatively smaller in size and has lesser options when compared to the other big names in the business (as mentioned above), it is nonetheless a superb destination to eat and hangout with your family and friends – with delicious outlets such as Baskin Robbins, The Nut Lounge, Dunkin' Donuts, The Beer Café, Chicago's Pizza, Subway etc.
For entertainment purposes, you can always spend some leisurely time at the PVR Cinemas here or head to the mini indoor theme park called The Gaming Vegas, with games and activities here such as Kung Fu Panda, Jurassic 3D Adventure, Bowling, Theatre Dome, The Knocking Down Monkeys Game and the Star Wars Pod.  One of the best features of the mall is 5th Avenue, a hospitality and luxury space with state-of-the-art cafes, bars, lounges and fine-dining restaurants such as The Flying Dutchmen, I Sacked Newton, Ruin Pub and Sky House. The ambience here is great and promises a fun time for families, kids and adults, alike.
THE GRAND VENICE MALL (NOIDA)
The Grand Venice Mall, as known by its abbreviation – TGV Mall, is a crowning achievement to mall and complex architecture in Noida as it is an Italian-themed shopping mall located in Greater Noida. It was inaugurated in 2015 and is located on the Surajpur Kasna Road, near the Pari Chowk Metro Station. The peculiarly designed building draws its influences from Italy as its buildings and walls are Roman and Venetian themed with replicas of statues and models of well-known landmarks such as the Trevi Fountain and the magnificent Julius Caesar statue in Rome, the Leaning Tower of Pisa in Pisa and Venetian mini canals that provide the luxury of an exciting Gondola rides, all of which showcase the splendour of Italian design and architecture.
Its main façade is line up with gothic arches and tall towers. There are plenty of options for one to have a bite at – from the Spanish delicacies of Mr. Zurros and mouth-watering pizzas of Chicago Pizza to the delicious desserts at Nirula's and hot beverages at Barista, the choices are widespread. It also has one of the biggest gaming zones in NCR. Mastii Zone has numerous activities for people of all ages such as Bowling, Horror House, Cricket Lane, Bumper Cars, Virtual Games such as Formula1 and Cricket, Sweet Lollipop and Carousal. For kids, there is a unique indoor arena called PlayLand with play areas such as Bungy Trampoline.
The Grand Venice Mall could arguably be the most distinctive styled shopping mall in the whole of NCR! A visit here is a great opportunity to spend some quality time with your families and kids.
THE STARLING RETAIL (NOIDA)
The Starling Retail Mall is situated in Sector 41, on the Vishwakarma – Link Road, near the Lotus Boulevard. Starling is one of the most easily accessible malls in Noida as it is situated close to other main attractions. The mall is dotted with wonderful eateries, shopping zones and play areas, that cater to visitors and tourists of all ages.
Some of the famous restaurants and dining options at Starling Mall are Barista Diner, Punjab Grill, Theos, SKY Rooftop Dining, Sagar Ratna, Big Wong and Alchemy Terrace. The mall claims to be Noida's first ever fusion of high street and mall and it certainly does not disappoint when to coming to offering a memorable outing with family and kids. It is a great hangout spot to visit if you are around the area.
SPICE WORLD MALL (NOIDA)
Spice World Mall is a famous landmark and family outing site in Noida. It is situated in Sector 25, right adjacent to the Noida Cricket Stadium. The mall spreads for an area of approximately 15,000 square meters and attracts a fair number of visitors on a regular basis. A plethora of shopping activities, entertainment facilities and essential amenities are available at the Spice World Mall.
It is one of the oldest malls in the country, but it is still frequented by people of all ages. Spice Cinemas here is the best place to watch a movie with friends, if you are on a tight budget.
SELECT CITYWALK, SAKET (NEW DELHI)
Situated in the commercial centre of Saket district south Delhi, Select Citywalk is one of the best malls in the national capital region. The large shopping mall complex is spread for more than 6 acres and possesses spacious office buildings, residential complexes, public spaces, shopping outlets and multiplex cinemas. More than 500 shopping centres are present that cover hundreds of national and international brands. Famous international brands like Tommy Hilfiger, Zara, Gant, Aeropostale, Armani, Massimo Dutti etc. Calvin Klein's first standalone store in India was established in Select Citywalk.
A wide range of eating options are available here that cover various types of cuisines such as continental, European, Asian, Thai, Chinese, Italian, Mexican etc. Fast food chains are available along with fine dining restaurants such as Yum Yum Cha, Saravana Bhavan, Punjab Grill and Saatvik.
Delhi's first IMAX theatre experience was put up here, along with the already existing PVR cinemas. The open-air plaza is famous for holding fairs, carnivals, music events, cultural extravaganzas, exhibitions and art shows. The amphitheatre also holds performances from time to time. Also, do visit Hangout – a rainforest themed café and family entertainment destination, which provides a fun time for families, especially kids.
DLF PLACE, SAKET (NEW DELHI)
Also situated in the bustling middle-class neighbourhood of Saket in south Delhi, DLF Place is situated right adjacent to the Select Citywalk Mall. DLF Place, along with Select Citywalk, are two of the most visited and frequented shopping mall complexes in New Delhi, bar none. The mall is centred around numerous high profile events that take place here, such as Oye Hoye Lohri, World Street Food Fest, The Battle of Bands, Christmas & New Year fests, Tattoo Festival, India Fashion Runway Week, Konnichiwa, Cinco de Mayo, Caravan Teapot Festival and the Meme fest, which attracts people from all over the place.
There are 21 delightful food outlets here, ranging from fast food stores to fine dining restaurants. You can also spend some leisurely time chilling at the Hard Rock Café, rocking to some old-age rock music. A gaming zone is also present for entertainment purposes and a play area is solely dedicated to young kids and children. DLF Place is an amazing destination to soak off the stress and enjoy an amusing time with family and kids.
DLF SOUTH SQUARE (NEW DELHI)
DLF South Square is strategically located in the affluent commercial market area of Sarojini Nagar. You can spend time here exploring the retail outlets and restaurants such as Haldiram's, Domino's Pizza, Frontier Kitchen, Dr. Kitchen, Subway, Café Coffee Day etc. Sarojini Nagar market is famous not only in New Delhi, but also the whole country.
It is prominent for cheap articles, clothes, jewellery, arts, crafts and what not. The area is also famous for its fantastic street food. So, do not miss out on all these, especially if you are visiting here with your family and kids.
DLF PROMENADE MALL (NEW DELHI)
One of the most famous malls in New Delhi, the Promenade Mall by DLF is a hotspot for shopaholics. It is situated in the well-off locality of Vasant Kunj in south Delhi, and spreads over a staggering 4.5 lakh square feet of area. The nearest metro stations are Chattarpur, Vasant Vihar and Munirka. With such a huge space at its service, it is no surprise that it holds some of the most famous national and international brands for shoppers to experience and shop at. Marks & Spencer, Forever 21, Sephora, Chanel, Harley Davidson, Alcott, Reebok, Da Milano, American Eagle etc. all have their stores here.
It also houses one of the largest indoor kids play arena called Kiddyland – with facilities like ball pool area, slides, swings, rope climbing etc. It is one of the best places to hold birthday parties and events for kids. PVR Cinemas here – PVR ICON, has 7 screens where you can enjoy a luxurious time watching any movie of your choice. The Eat Food lounge has tens of food eateries and cafes such as Starbucks, Café Delhi Heights, Krispy Kreme, The Beer Café, Nando's, Dominos Pizza and McDonald's.
The mall is the winner of several awards such as the Best Shopping Mall of the Year, Best In-House Magazine, Most Admired Shopping Centre of the Year etc. The ambience at DLF Promenade is perfect for a family day outing. There are lots of activities for kids to enjoy and you can easily spend the whole evening strolling around, window shopping and munching on fast food here!
PACIFIC MALL TAGORE GARDEN (NEW DELHI)
With 140 stores in its collection that spread for over 5 floors, Pacific Mall is a shopper's paradise that certainly does not fail to amuse anyone who visits it. It is located right next to the Subhash Nagar Woodland Park, on Najafgarh Road, in West Delhi. It is one of the more regularly visited mall in this part of the city because of its easy accessibility, great ambience and plethora of activities. The mall is considered by many as a leisure destination with unlimited entertainment options.
It houses the PVR Cinemas, India's largest multiplex chain, with several screens where you can wade your time munching on popcorn and watching a blockbuster movie. There are endless food options at the mall with classy restaurants and lovely cafes such as Chilis, Biriyani Blues, Punjab Grill, Jamie's Pizzeria, KFC, Delhi Heights and Starbucks. Fast food outlets include Pizza Hut, KFC, Burger King, Subway, Domino's Pizza etc. The family entertainment centre called Hangout is a jungle-themed café and play area where kids can enjoy a fun time playing around.
The Bluo gaming zone is a fantastic arena where there is an 8 lane bowling alley, mini dashing cars, arcade games, computer games, pool table, air hockey etc! You can plan for special events such as a birthday party or a family get-together, especially if you have a large family with lot of young adults and toddlers. This is the place to be if unlimited entertainment is what you are looking for.
AMBIENCE MALLS (NEW DELHI & GURGAON)
Ambience Malls' charm attracts the residents of New Delhi and Gurgaon alike as there are two Ambience Malls in the space of 10 kilometers from each other, bordering the south western fringes of New Delhi and its satellite city, Gurgaon. In Delhi, it is in the posh locality of Vasant Kunj, neighbouring other big-shot malls like DLF Emporio and DLF Promenade.
In Gurgaon, the Ambience Mall is situated close to the Delhi-Gurgaon-Jaipur Expressway, near the DLF Cyber City. Both the malls host a wide variety of entertainment, leisure and recreational options for visitors to immerse themselves in. The shopping experience is unparalleled with major regional and international clothing, footwear and accessory brands like Armani Exchange, Amante, Arrow, H&M, GAP, Carlton, Diesel, Calvin Klein, Wrangler, Levi's, Zara, Puma, Adidas, Mufti, Van Heusen, United Colors of Benetton, Ted Baker, Tommy Hilfiger, Pepe Jeans, Nike, Numero Uno etc.
Food outlets at the Vasant Kunj mall has stores like Chilis, Gelato Italiano, Burger King, Punjabi by Nature, Pizza Hut, Pizza Express and Taco Bell, to name a few. Restaurants, cafes and bars at the Gurgaon mall include Barbeque Nation, Beer Bahadur, Barista, Haagen Dazs, The Beer Café, Krispy Kreme etc. There are amazing entertainment options at both the places. Most notable ones include – the ice skating rink in the Ambience Mall, Gurgaon and Fun City play arena at Ambience Mall Vasant Kunj. iSkate is India's first ice skating rink and is an absolute joy to visit. It also has a café where you can relax and enjoy some delicious food.
The SMAASH Bowling Alley is a great place to spend some time bowling. Apart from all these, the presence of PVR Cinemas makes it hard not to experience the hardcore visual treat of entertaining yourself to a theatre adventure. Ambience Mall is a fan favourite and will be yours too, once you spend some time here!
DLF EMPORIO (NEW DELHI)
If luxury shopping is your thing, you will find it extremely hard to turn down the lavishness and royalty of DLF Emporio Mall. The mall is situated very close to the DLF Promenade Mall and Ambience Mall in Vasant Kunj. The premium mall caters to high end needs of customers with the presence of some opulent brands like Dior, Louis Vuitton, Hugo Boss, Gucci, La Perla, La Martina, Jimmy Choo, Janavi, Canali etc. Few lifestyle brands like Molton Brown, Mont Blanc, Jay Strongwater, Ravissant, The Koncept Prive etc. are also housed here.
There are three elegant cafes here – Café E, Cha Shi, On The Go, and one remarkably cosmopolitan restaurant, with an attached bar cum lounge called Set'Z – a contemporary multicuisine outlet which serves Thai, Chinese, Japanese, Mediterranean, Seafood and North Indian. Many luxury events are held here at the mall premises, such as the Design Awards, Versace product launches, Fashion & Food fiesta, Luxury Shopping Festival etc.
MOMENTS MALL (NEW DELHI)
Situated very close to the Kirti Nagar metro station, Moments Mall is one of the most famous malls in central-west Delhi. The mall claims to be one of the first malls in the country, let alone Delhi, to provide a community experience. Spread over an area of approximately 600,000 square feet, the Moments Mall is huge and certainly does the job of providing an entertaining time and fun-filled activities for families and kids. The kids play area is one of the best places to leave your kid to enjoy, while you can simply treat yourself to a wonderful shopping experience.
It holds a wide variety of brands, from clothing and footwear to gift shops and electronic stores. Adidas, Levi's, Max, United Colors of Benetton, Lifestyle etc. are some of the brands where you can shop for a great experience and good quality apparel. The huge food court is an additional plus point as it provides a myriad of eating choices, from fast food and bakery items to small bites and restaurants. You can visit the Moments Mall for a great time, to have fun with your family and kids!
CITY CENTRE DWARKA (NEW DELHI)
City Centre Dwarka Mall is located on the westernmost fringes of the city, in the suburb of Dwarka – an upcoming and sought-after residential area. It is in close proximity to the Indira Gandhi International Airport. Due to the area being an emerging destination as a cultural hub, City Center Mall has been established as the go-to shopping mall to fulfil one's shopping and entertainment wants. The mall is present right opposite Sector 12 of the Blue Line metro station.
The retail services and amenities at the mall makes it the perfect place to enjoy a shopping experience. From fashion boutiques and electronic stores to branded retail shops and great food outlets, there is so much see and do here. The multitude of multi cuisine restaurants, cafes and eateries such as Symposium, Haldiram's, Basil Tree, Taco Bell, Club Lepid, Bueno, Barista etc. The only downside of the mall being, that it has no multiplex screens to have a gala time watching a movie. You may at once forget that, when you enter the world of City Centre Mall! This is a great place to have fun with family and kids.
THE CHANAKYA (NEW DELHI)
The Chanakya's charm and allure is somewhat familiar to almost every Delhiite. The famous mall is located in the heart of the national capital and spreads across a staggering area of 189,000 square feet in the city center! The luxury mall cum multiplex arena has four floors with a wide range of stores and complexes. It is home to some of the most expensive, luxurious and affluent brands in the retail industry such as Ralph Lauren, Rolex, Noir, Hermes, Mont Blanc, Panerai, Ranna Gill, The Collectives, Jaeger LeCoultre etc.
It also has few international accredited restaurants such as MKT – an authentic multicuisine restaurant offering some of the highest standards in the business, NicoCaara, Café C and Yoku Moku. A three screen PVR Cinemas – called PVR ECX, offers a fantastic move screening experience. High profile events are also held here on a regular basis. It doesn't matter whether you are window shopping or going absolutely crazy with your credit card, The Chanakya is worth a visit to feel the aura of luxury and grandeur.
METRO WALK (NEW DELHI)
Developed by the renowned Unitech group and the entertainment company – Appughar, under the supervision of the world-famous Bose International architects and planners, Metro Walk is a unique creation of entertainment infrastructure to cater to people's entertainment needs. Metro Walk is situated in Rohini, extremely close to the Rithala Metro Station, which is the terminal metro station on the Red Line – on the northernmost end of the capital city.
It is an open type shopping mall, spreading over a vast area of 20,000 square metres and housing retail spaces of national and international brands like Nike, Pantaloons, Monte Carlo, BIBA, Woodland, Raymonds etc. The outdoor setting of the retail environment and food outlets make it a fantastic site to enjoy fun activities with families and kids. But the best is yet to come! It is home to a wonderful amusement park called Adventure Island. The extensive 50-acre amusement park is separated from the mall in the presence a large artificial lake and a bridge.
It is the best destination to be at because of its 26 exciting rides such as the Thunderbolt, Sky Riders, Space Jump, Z-Force etc. There are also water rides present like Splash Dunk, Splash Pool, Swan Boat, Splash Down etc. Also, few rides are dedicated to kids only, such as the Carousel, Bungy Trampoline, Bumper Cars, Wave Rocker and Air Pogo. There is so much too see, do, play, eat and buy here! The list is endless. It is an amazing destination to enjoy a day outing with family and kids.
MGF METROPOLIS MALL (GURGAON)
MGF Metropolis Mall is one of Gurgaon's favourite shopping malls. Situated on MG Road, very close to the MG Road Metro Station – which lies on the Yellow Line, the huge mall is regularly visited by thousands of people who look forward to fulfilling their shopping needs and spend quality time with their dear ones.
Some of the many famous retail stores housed here are Max, Lifestyle, Pantaloons, Woodland, Manyavar, Spar, Shopper's Stop, Bata, Vero Moda etc. Starbucks, McDonald's, Absolute Barbeque and Keventers are some of the food and beverage outlets here along with the worthwhile Food Pavilion that has great number of options to satisfy your hunger pangs. There is also a theatre on the premises – on the second floor, called Miraj Cinemas. It has only one screen, but that's all you need! MGF Metropolis Mall is worth visiting if you are looking to shop, eat or watch a movie!
GURGAON CENTRAL MALL (GURGAON) 
Strategically located on the Gurgaon city centre, the Gurgaon Central Mall is a shopping haven. With almost any brand you can name, there is no dearth of options for you to choose from. It is located on MG Road, right opposite the Harley Davidson showroom. The three-tier mall has accessories, cosmetics and other items on the ground floor, women wear on the first floor, men wear on the second, and the food court on the third floor.
Central is one of the most trusted retail brand stores in the country and it certainly does not disappoint when it comes to shopping. You can easily spend a couple of hours going through the endless collection of apparels and other accessories here. To cap your day off in a relaxing manner, the food court is an amazing place to eat your heart out and rejuvenate yourself.
MGF MEGA CITY MALL (GURGAON) 
MGF Mega City Mall is situated just a few hundred metres from its twin mall, the MGF Metropolis Mall, near the Sikanderpur Metro Station. Inaugurated and open to the public since 2010, the mall has been one of the go-to destinations for shopping in the city. There are numerous places to shop here – from apparel and clothing stores to electronic showrooms and jewellery shops.
A couple of restaurants and bar like Vapour, Pirates of Grill and Pub Nirvaan are present on the upper floors. There are too many shops and stores to explore here, so take your time and have a fun time with family and kids.
SAHARA MALL (GURGAON)
The mall-lined MG Road is dotted with numerous expansive shopping malls and Sahara Mall is of them. Sahara Mall is one of Gurgaon's oldest and most visited malls. It is huge and spreads for over 4 acres in the city centre. PVR Cinemas provides unparalleled movie and theatre experiences and is the best place to go to enjoy a thrilling cinematic atmosphere.
A lot of retail stores are present in the mall – like Big Bazaar, Pantaloons and Liberty. A Haldiram's food outlet is also located here. Also, there are several pubs, restaurants and bars on the topmost floor of the mall. You can enjoy a good time shopping and eating at the many F&B outlets here.
DLF SOUTH POINT MALL
The South Point Mall was commissioned and developed by real estate magnate, DLF. It is located at a walkable distance from the Sector 53-54 Metro Station, on the Golf Course Road. The mall has everything that a shopper may want. From amazing food destinations and grocery stores to famous retail stores and supermarkets, there is so much to shop for! It is famous for its inclusion of several regional brands like Bombay Selections, Karavaan, Fabindia.
The presence of Japanese and Korean restaurants and stores like Manami, Seela Mart, Midam & The Bibimbab make it a special attraction. There are also a number of bakeries and cafes where you can spend some quiet time and enjoy a cup of coffee. The Academy of Integral Music and Research is based here. The plethora of boutique stores and fashion salons present here are an additional boon to shoppers and visitors. DLF South Point Mall is definitely worth a visit to satisfy your shopping needs.
DLF CITY CENTER MALL (GURGAON)
Along with Sahara Mall, the City Centre Mall is one of the oldest in Gurgaon, dating back to 2001 when it was first opened to the public. The mall complex is situated on the Mehrauli-Gurgaon Road, a road famous for having a high density of malls near one another. The City Centre Mall is your one stop destination for fulfilling your shopping needs.
A wide variety of multi-cuisine restaurants like Moti Mahal, Filmi Masala, and Kwality Express are also located here. The multiplex arena has 4 screens which showcase great films in a great setting. For people looking to shop for apparel and clothing accessories, there is no shortage of options. From national to international brands, you can find almost everything here. Plan for a day outing at the City Centre Mall for a fun day with your family and kids.
GALAXY MALL (GURGAON)
Galaxy Mall is famous for having a world class spa and a high-end hotel in its premises. It is more popularly known as a hotel in itself. The mall/hotel is situated a few hundred metres away from the Gurgaon-Delhi Expressway, in Sector 15. The facilities and amenities on offer at the Galaxy Hotel are exceptional and cater to the entertainment and leisure needs of visitors and tourists.
It also houses two fantastic bars. There a lot of luxury accessory and regional clothing brands like Sozy, Anokhi, Surendri, Mora Taara and Eau. The Japanese cum Indian restaurant and bar called IchiZen is a famous hit here. Howzzat is a prominent destination to visit among the young crowds, as it is a cricket themed microbrewery. If you are simply looking to enjoy a cup of coffee, BeanStalk is a wonderful cafeteria to spend time at. The ambience of the place is very welcoming, and you are bound to enjoy a pleasant time here.
M3M COSMOPOLITAN (GURGAON)
M3M Cosmopolitan Mall is located on the Samrat Mihir Bhoj Road, in Sector 66. The mall is very spacious and provides a host of retail stores and F&B outlets, along with several cafes, lounges and restaurants such as Unbox Taste, Favito Pizza, Barista and The London Taste. There are numerous office spaces in the mall too.
For pet lovers, there is also a pet store here at the mall. M3M Cosmopolitan's big and generous ambience makes it a great place for a day outing with your family and kids.
So, head out to one of these shopping mall complexes for a wonderful day of recreation and leisure, where you can shop, dine, play or just laze around!