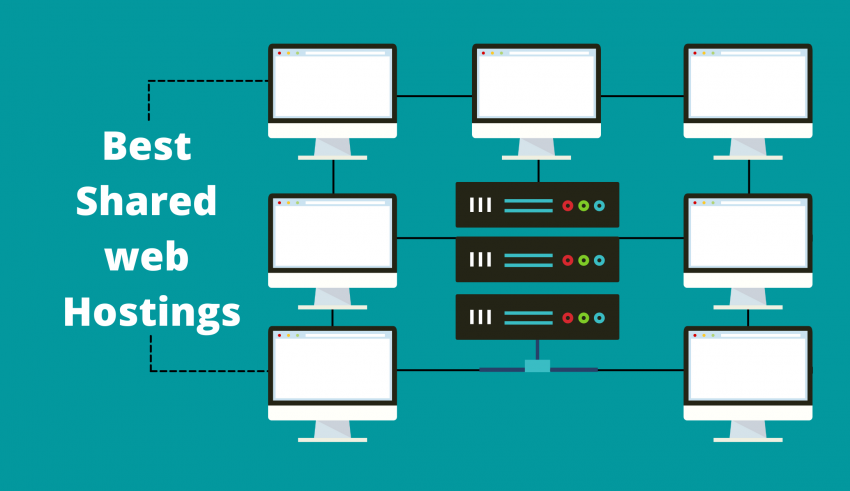 Web Hosting is one of the most crucial but potentially puzzling aspects for all, especially if you are someone tackling the launch of your very first website. The most confusing part is to sort the right one out that suits your business needs from all the different kinds of web hosting that are available. Understanding the differences between various hosting types is important for both determining the budget and the success. It may seem a bit complicated at first but, luckily, when one breaks it down, it isn't much complicated. As a beginner, learning about shared web hosting.
Knowing its advantages, and how it works is a must if you wish to make a well-informed decision while purchasing the first hosting plan for your business. Hence, in this article, we will focus on this type of hosting and discuss some of the best sites that provide these services. Let's get started!
What is Shared Web Hosting?
The secret to understanding lies there in the name itself. As the name suggests, in this type of hosting, one e single server is to operate. To make it more simple and ea for this type of hostings to understand, let's go through in short how servers and hosting work.
If you are a beginner, you must not be aware of the fact that every website you see on the internet is stored or what is called 'hosting' on a particular server. In return, the server then provides the browser with all the necessary data stored. Finally, the web page of the mentioned site will appear on your browser.
This is how web hosting works and a website becomes publicly available to users. After that, users can perform other operations on the site via navigating other pages, clicking on links, filling out forms, and many more.
Therefore, with shared hosting, one server is used to store all the files and necessary data of multiple sites at once and is responsible for serving up information about them. As a result, it becomes the opposite of a dedicated server in which just one specific website is hosted on an entire server.
Now, as we are clear with the concept of shared web hosting, let's see the reason for being the most preferred hosting type. As we earlier read that multiple sites can be hosted on a single server, as a result, each site takes up fewer resources when compared to the dedicated servers. Ultimately, shared hosting plans tend to be a lot less expensive than any other hosting type.
However, several factors should be kept in mind while choosing a company for this type of hosting. The host who owns the server should take the responsibility of maintaining it, as one of the main motives of this hosting is to minimize the work for you. Since multiple sites competing for resources on a single server, you should carefully analyze the benefits and facilities the host will provide you. You should always go for a reputed company, as in this type of hosting you do not have any idea who or what websites you're sharing the resources of a server with.
So which one should you choose?
A good host will not let you even feel you're sharing a server with other sites. It means that your site will get similar benefits such as uptime, speed, and support like a dedicated server. We've carefully analyzed and identified the best shared hosting plans on the market that'll help you save money and troubleshoot all your website-related problems. Whether you're launching a new site from scratch or looking to change host, this article will really be worth the read.
After extensive research, here is a list of the 15 Best Shared Web Hosting 2021 we recommend that you can use to find the best option for your website: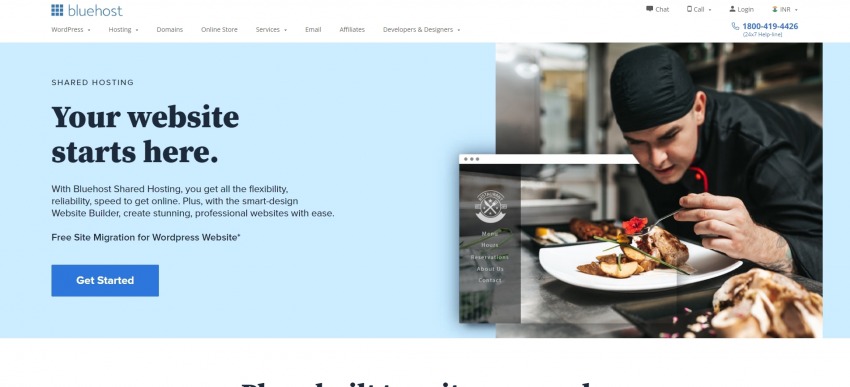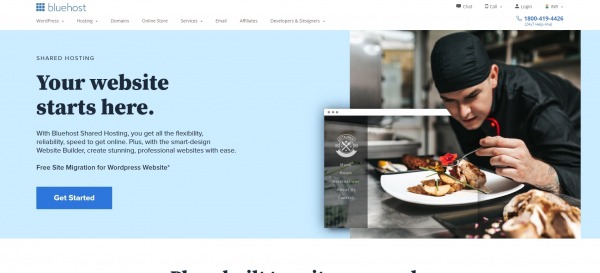 Let's start the list with the most preferred domain and hosting choice. From creating a website to a blog or online store, Bluehost is trusted by over 2 million websites worldwide. Whether you're a pro or just a beginner, Bluehost professionals provide the best support and guidance 24/7/365 to all. Getting started with hosting gets simple and easy as you can tailor plans as per your specific needs.
Irrespective of the plan purchased, Bluehost offers free Premium Cloudflare CDN, SSL, cPanel, 1-year domain to all users. Users get Unlimited domains, SSD storage, Bandwidth, Parked domains, and other benefits as per the plan purchased.
Pricing:
The pricing is very affordable and pocket-friendly built to suit all kinds of needs. There are four different plans available for shared web hosting – Basic at Rs.175/month, Plus at Rs.279/month, Choice Plus at Rs.279/month, and Pro at Rs.859/month, when the selected duration is for 36 months.
---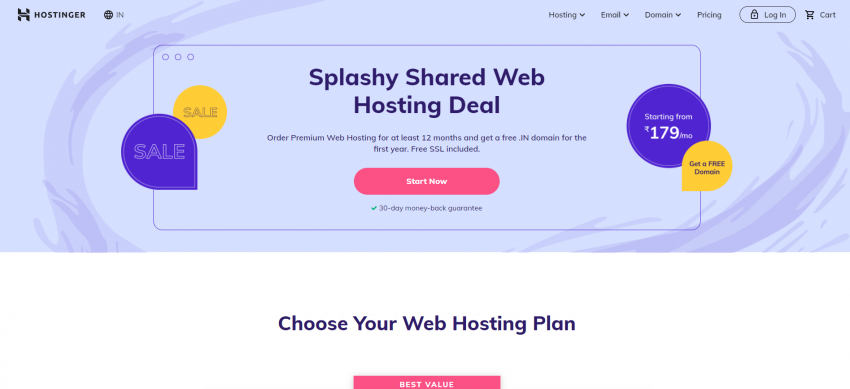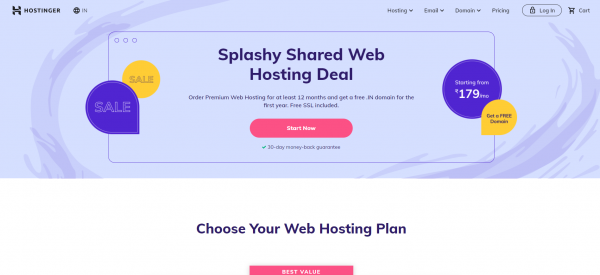 Established in 2004, Hostinger International Ltd, an employee-owned is one of the most popular and the biggest web hosting providers and internet domain registrars in the world. Hostinger is the parent company of 000Webhost, Niagahoster, and Weblink, which has more than 29m+ users all around the world along. The company also has its subsidiaries in 178+ countries.
From small to medium businesses, Hostinger is the perfect platform for all. Not only this, but the platform also does not charge their customers for one month if they order Premium Web Hosting for at least 12 months. Users also get IN domain for the first year, Free SSL, and Cloudflare, irrespective of the plan purchased.
Pricing:
There are three different plans available for shared web hosting – Single web hosting at Rs.79/month, Premium web hosting at Rs.179/month, and Business web hosting at Rs.279/month.
---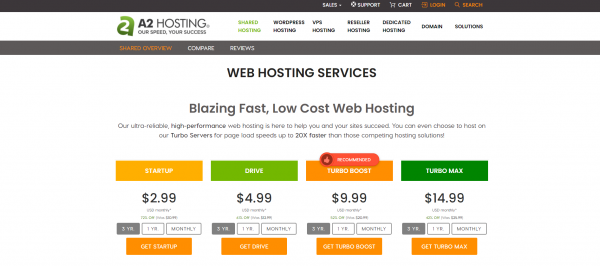 If you are looking for a super-fast hosting provider then, you've come to the right place as A2hosting is the fastest hosting service provider in the market. It provides up to 20X faster hosting that'll help you boost your SEO and conversion rate. You can contact their Guru crew support team, available 24/7/365 to help with any questions you have. You can contact them via call, live chat, or email.
Whether you're launching a new site from scratch, looking to change host, or if you want a WordPress Website, A2hosting has got it all covered. Other benefits that users get at A2hosting include – Free account migration, Migration guarantee, 99.9% uptime, etc.
Pricing:
There are four different plans available for shared web hosting – Startup at $2.99/month, Drive at $4.99/month, Turbo boost at $9.99/month, and Turbo max at $14.99/month, when the duration is of 3 years.
---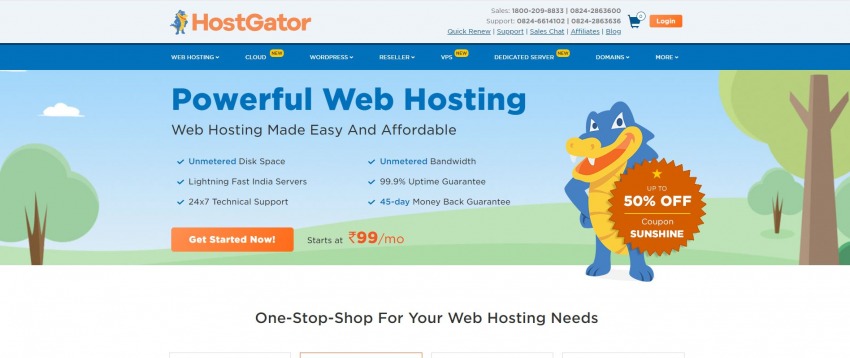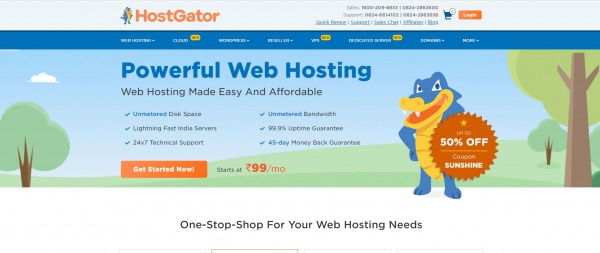 If you are looking for an easy and affordable web hosting platform then, your search ends here. HostGator is a simple, intuitive, and lightning-fast India-based hosting platform that's used by more than 2m+ users from all around the globe. You can also use this platform for solutions related to Web hosting, Cloud, VPS, WordPress, Server, Domains, and more. At HostGator, you'll get  24/7/365 assistance via Telephone, Live Chat, or Email for any hosting-related issues. It also offers Linux shared hosting.
The company guarantees users with 45- days refund and 99.9% uptime. You'll get to see some positive and heart-warming customer reviews on the site. Plans include features such as ASP.NET hosting, One-click script installs, Plesk panel, Professional email accounts, Advanced database & programming, and many more.
Pricing:
It provides services at the cheapest rates like nowhere. There are three plans available – Starter at Rs.149/month, Personal at Rs.229/month, and Enterprise at Rs.279/month. The mentioned pricing is for 5 years and, you can further change the duration as per your choice.
---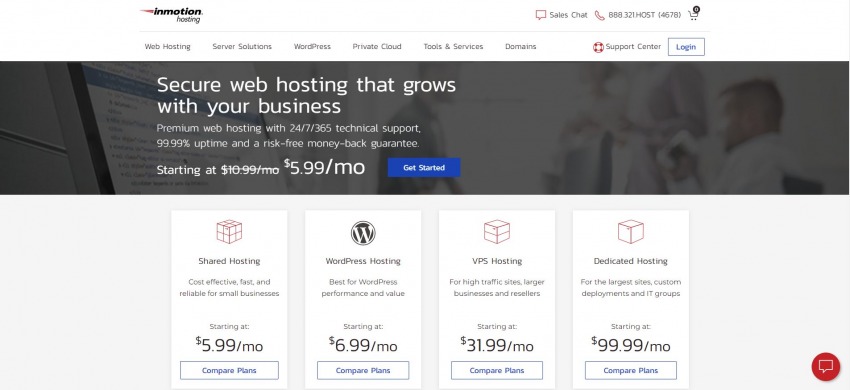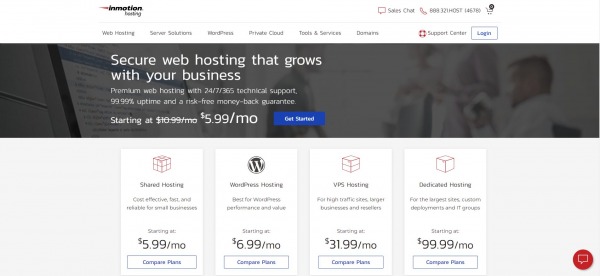 With more than 20 years of experience in hosting along with 350+ experts, Inmotionhostig becomes one of the most trustworthy companies out there in the market. The mission of the company is to make sure that every client is 100% satisfied with the products and customer service delivered to them. Customer satisfaction is of so much priority that they work 24/7/365 to ensure that the experience of hosting via their company is fast, safe, and secure. As a result, they've been able to deliver their quality services to more than 170k+ customers and are still increasing.
It is an all-in-one platform as it not only deals in shared web hosting services but also offers other web hosting & server solutions, WordPress solutions, infrastructure solutions, domains, site hosting tools, and services. By selecting Inmotionhosting, you'll be choosing a reliable company that understands what it takes to start a website. As they understand about starting small and scaling up, they provide an industry-leading control panel on up to 6x faster and budget-friendly web hosting that'll help you easily manage your websites.
Benefits that you get irrespective of the plan that you choose – Free SSD drives, Free domains, Free one-click installs, SSH access, Unlimited bandwidth, code in more languages, 24/7 human support, and many more. Other benefits that may vary depending upon the plan you choose – max speed zone, 50-100 websites, highest grade security, professional email, easy access to Google, etc.
Pricing:
There are 3 different types of plans available – Launch, Power, and Pro. If the duration is of 2 years then, you can buy Launch at $5.99/month, Power at $5.99/month, and Pro at $14.99/month.
---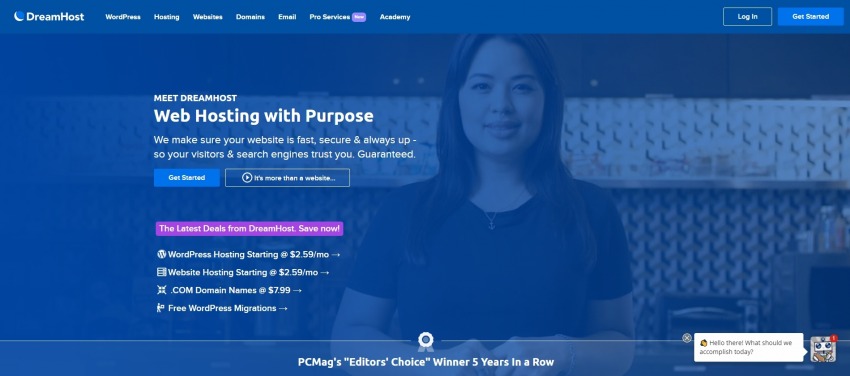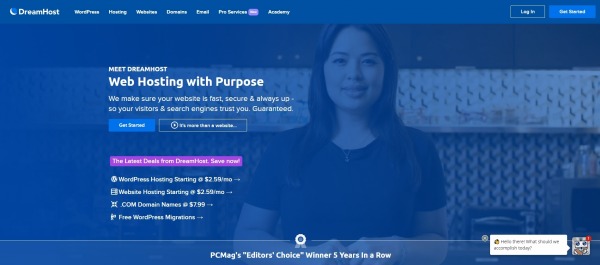 Just like the name, DreamHost has been the dream platform for over 400k+ happy customers and it prides itself in hosting over 1.5m+ websites. You can find a wide range of solutions related to WordPress, Hosting, Websites, Domains, Emails, Design, and other pro services. Marketing, The company provides real support 24/7/365 via live chat, email, or even social media handles. DreamHost has also been awarded PCMag's "Editors' Choice" for 5 years in a row.
Pricing:
Pans come with an unbeatable 97-Day money-back guarantee and the prices differ based on the duration. There are a total of 2 different plans available – Shared Starter and Shared Unlimited. The Shared Starter plan costs $2.59/month and the Shared Unlimited plan costs $3.95/month when the duration is of 3 years.
---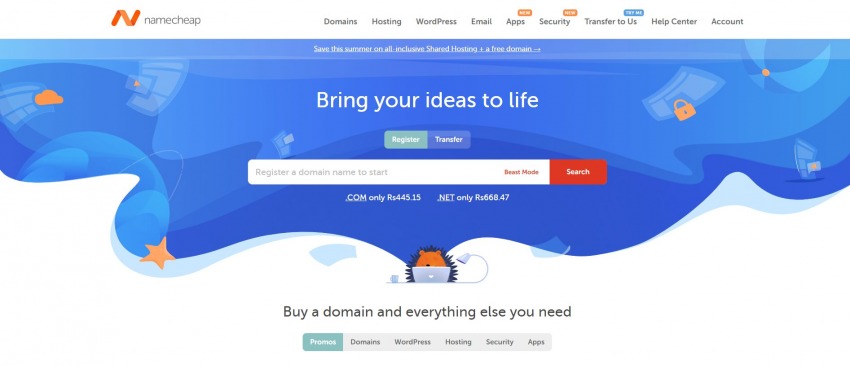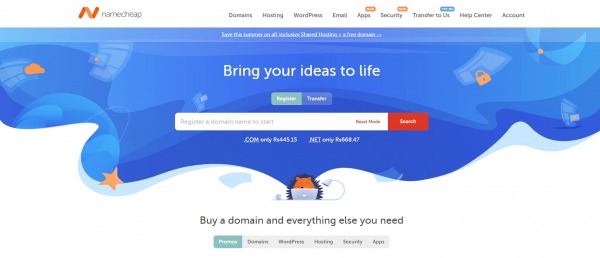 Based in Phoenix, Arizona, US, Namecheap are an ICANN-accredited domain name registrar and web hosting platform. It is a budget platform that has solutions for various online business needs such as Domains, WordPress, Hosting, Emails, Apps, Security, and a lot more. It has over 11 million registered users and over 10 million domains all over the world. The platform is rated 4.7 out of 5 by over 1.5+ customers and is trusted by famous companies such as Figma, Imgur, Privacy, Buffer, etc. It has the best solutions that'll help you to bring your website to life and help it thrive.
All plans provided at NameCheap include benefits such as Unmetered bandwidth, Free website builder, Domain protection, Automatic SSL installation, Supersonic CDN, 30-day money-back guarantee, website migration, and many more.
Pricing:
There are three different plans available – Steller at $1.44/month, Stellar Plus at $2.44/month, and Stellar Business at $4.44/month when the duration is of 2 years.
---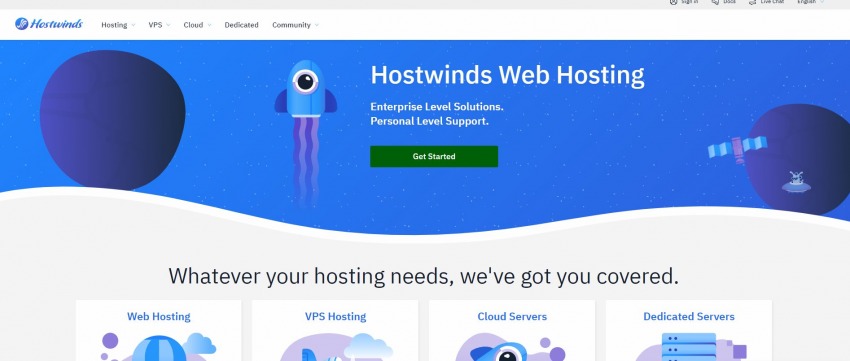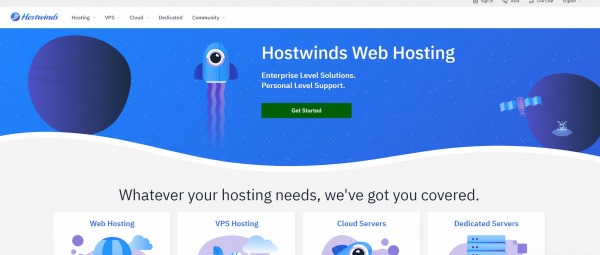 HostWinds is all about getting award-winning expertise-level solutions and personal-level support. From Hosting to VPS and Cloud, whatever be the need, HostWinds have got it all covered. The reputation of the company is unmatched as they've received numerous awards and industry accolades for their excellent services. The list of awards includes awards from companies like Inc500, PCMag.com, FindMyHost, etc. You can get assistance from experts 24/7/365.
Features that the platform offers along with every plan include – Website monitoring, Nightly backups, Full management, Free website migration, cPannel, and Easy website builder.
Pricing:
HostWinds provide exceptional quality affordable shared web hosting services. There are three different plans available – Basic starting at $6.74/month, Advanced starting at $8.24/month, and Ultimate starting at $9.74/month.
---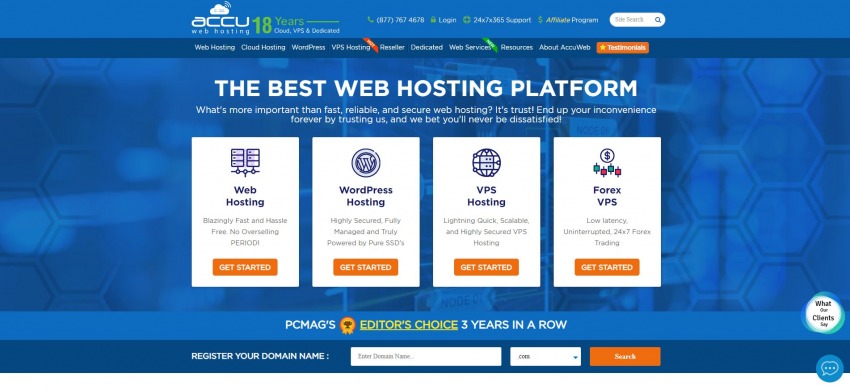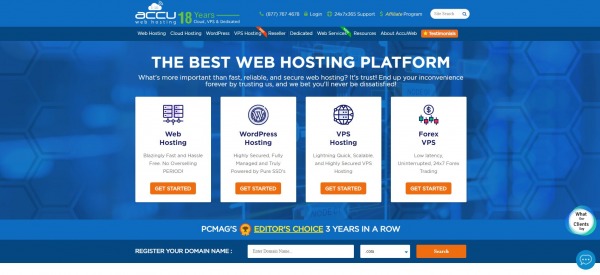 Looking for fast, reliable, and secure web hosting? Look no further than AccuWeb Hosting. With over 17+ years of experience in hosting, it is one of the most trustworthy and best web hosting platforms. Web Hosting, Shared Hosting, Cloud Hosting, WordPress, VPS Hosting, Reseller, and whatnot, you can find it all at AccuWeb Hosting.
The company claims to end up user's inconvenience forever and also bet about their excellent customer satisfaction. In the case of shared web hosting, you can choose between Shared Hosting SSD and Shared Hosting Cloud. The company has also been awarded PCMag's "Editors' Choice" for 5 years in a row.
---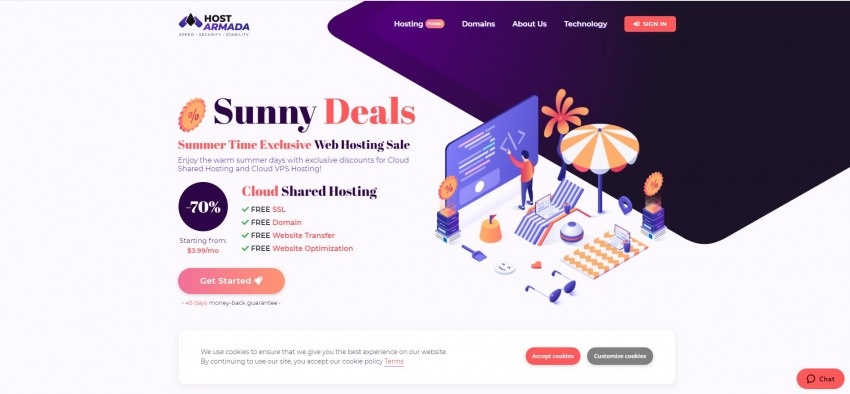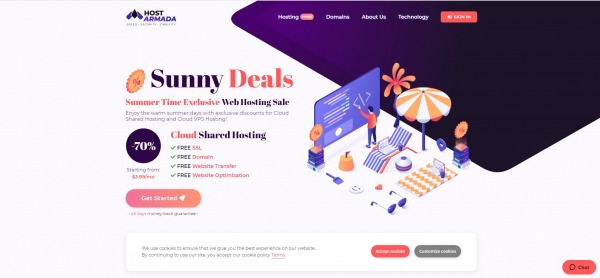 ''Speed, Security, and Stability'' are the three terms we would use to define HostArmada. The company provides various services such as WordPress hosting, Website hosting, SSD VPS hosting, CPU server hosting, Opensource hosting, Development Hosting, and Domains. You can also go through the blog posts available on the platform for the latest industry-related news and useful tips.
All the plans include features such as Free cPannel, Daily Backups, Cloud SSD storage, Free SSL, Web server cache, and 24/7/365 support.
Pricing:
There are three different plans available – Start Doc at $3.99/month, Web Warp at $4.69/month, and Speed Reaper at $5.66/month.
---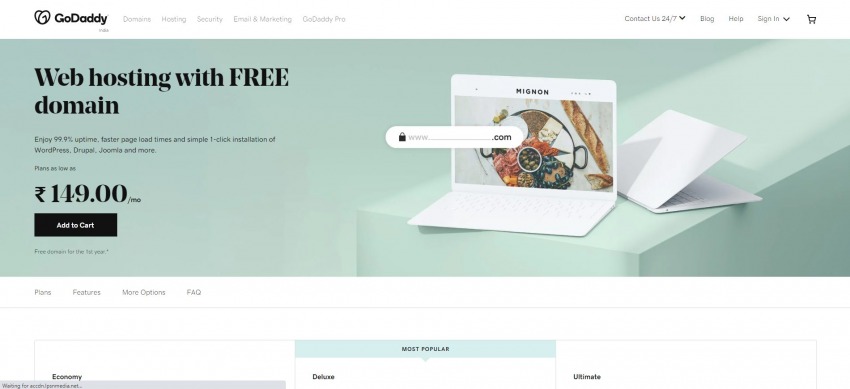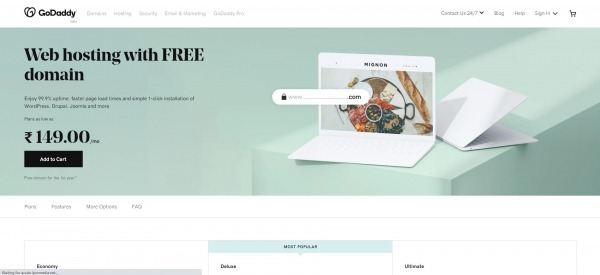 Staying true to the name, it is really the big-daddy of all the web hosting companies out there In the market with more than 20m+ customers globally and over 9k employees. GoDaddy Inc., an American publicly traded Internet domain registrar and web hosting company is the most trusted growth partner to millions of everyday entrepreneurs. At GoDaddy, you'll get perfect help and tools that'll make your hosting journey easier.
The company offers various benefits such as Industry-leading load times, best-in-class security, 99.9%‬ uptime guarantee, 30-day money-back guarantee, expert technical support available 24/7, and many more.
Pricing:
Plans start at $149/month.
---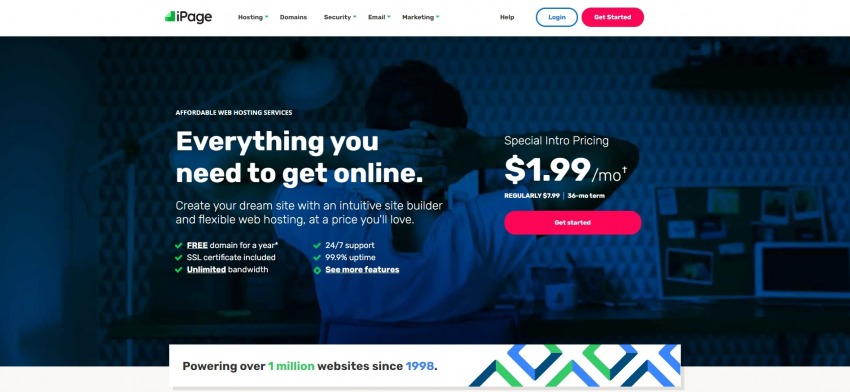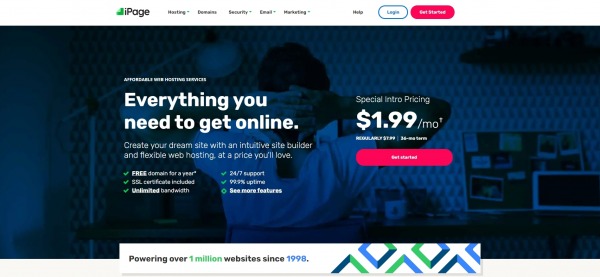 The next one on our list is iPage, an intuitive site builder and flexible web hosting service provider that has every solution to help you succeed online. iPage has been in the industry for quite a few years now and has been powering over 1m+ websites since 1998. You not only get affordable web hosting but you also get quality features, irrespective of the type of service or the plan you purchase. Some of the quality features include – Free domain, SSL certificate included, Unlimited bandwidth, 99.9% uptime, Site analytics, eCommerce functionality, 24/7 support, etc.
Pricing:
Plans start as low as $1.99 per month.
---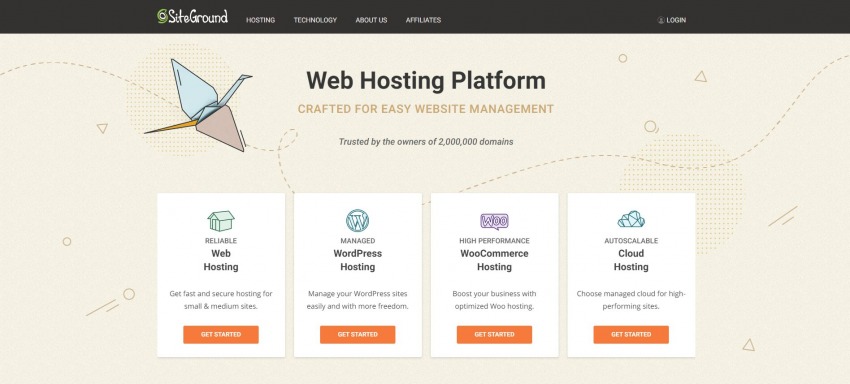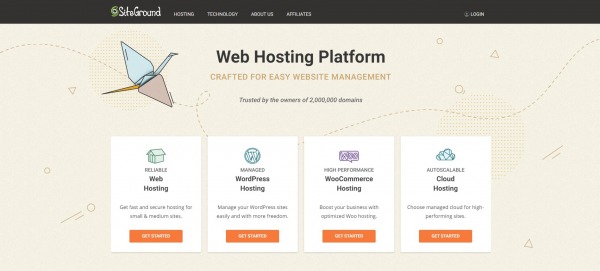 Founded in 2004, SiteGround is a unique platform of an extraordinary team of individuals who have been delivering exceptional services throughout the years. SiteGround, website building and management become easy as they offer the best tools and services for seamless site-building. The experienced professionals create in-house solutions to ensure that the sites run faster and stay safe. The services offered by the company include Web hosting, WordPress hosting, WooCommerce hosting, and Cloud hosting.
Pricing:
There are three different plans available – Startup at $4.99/month, GrowBig at $7.99/month, and GoGeek at $14.99/month.
---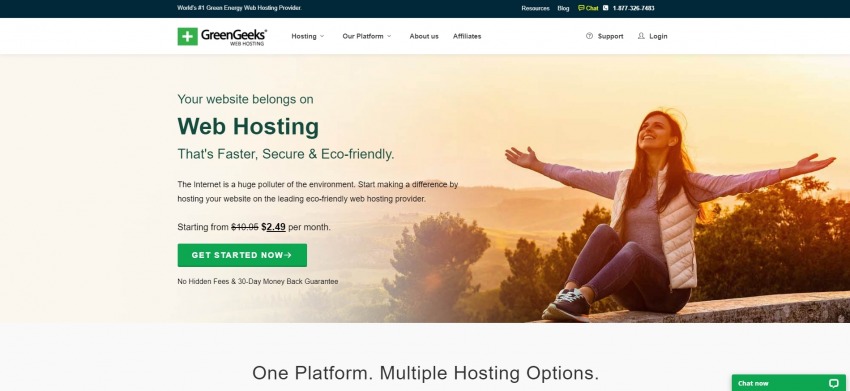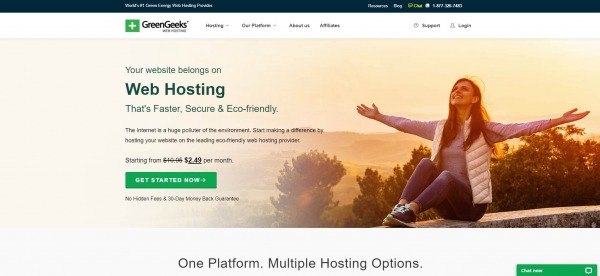 Unlike any other platform, GreenGeeks is an eco-friendly company that makes every effort to take care of the environment and make sure that they do not contribute to the increasing pollution in any way. "Faster, Secure & Eco-friendly" are the three terms we would use to define GreenGeek. If you are an environment lover what could be better than selecting a company that believes the internet to be one of the major polluters of the environment. With GreenGeeks, you'll be choosing the leading eco-friendly web hosting provider to host your website. No matter what your business requirements are, the platform offer services such as WordPress hosting, WooCommerce hosting, Reseller web hosting, and Virtual private servers.
Pricing:
Plans provided are not only blazing fast & secure but also eco-friendly hosting. Pricing starts at $2.49/month.
---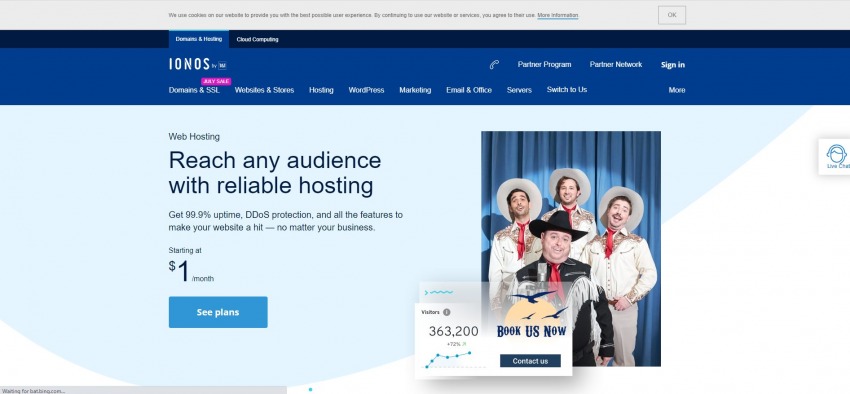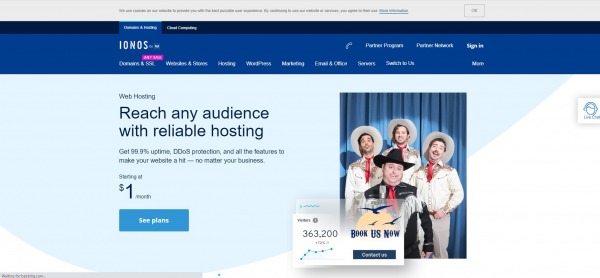 IONOS is one of the largest hosting companies in Europe that has served over 8m+ customers and has hosted over 12m+ domains. Founded in 1988, the company offers a wide range of services for a variety of business needs such as Web Hosting, Linux Hosting, WordPress, SQL server hosting, VPS hosting, etc. Features that make IONOS different from other platforms include Dual platform technology, Scalable performance, Backup, Restore, Wildcard SSL, Site Scan, DDoS protection, PHP extended support, and many more. The support team is also available 24/7 to assist users.
Pricing:
Web hosting plans start at $1/month.