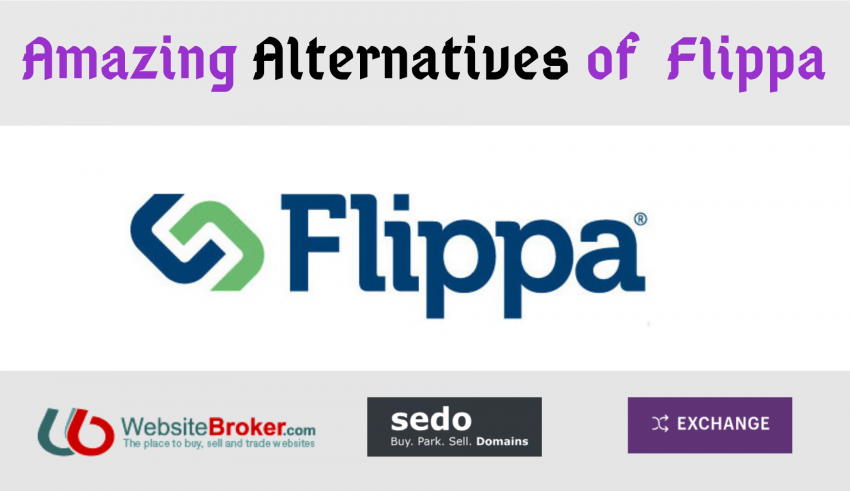 Based in the heart of Melbourne, Australia is this platform called Flippa– the world's biggest online marketplace for buying and selling online businesses, domain names, and mobile apps. It is an entrepreneur's playground, where you can discover new business opportunities. They are the world's number one destination for start-ups and ventures alike and are currently entering their 10th anniversary!
The Storied History of Flippa
Flippa was founded by Mark Harbottle and Matt Mickiewicz as the 'SitePoint Marketplace'– an Australia based website, and publisher of books, courses, and articles for web developers. However, due to its growing resources and magnitude of success, it was spun off as a separate website in June 2009.
By 2015, it had traded more than $140 million in sales.
Sales for Flippa came from all mediums; be it websites, domains, or mobile apps. Half of this website's revenue can be attributed to the sale of websites, while the sales of domain names contribute to about 30% of their deals. Their Most Expensive sale up to date was planetrx.com that sold for US$1,200,000 and the most expensive domain name was StockPhoto.com pegged at US$250,000.
But that's not all! Over the years, a lot of famed websites and notable domains have also been sold through Flippa… and you may even recognize some of them! For example, one of the many eminent sales that have happened through Flippa includes Mark Zuckerberg's former website Facemash (that would later evolve into the world famous Facebook). Other examples include the overnight success story website called Ship Your Enemies Glitter, and the notorious Retweet.com.
Flippa's rise to prominence has been meteoritic, to say the least. In May 2015, Flippa bought Domain Holdings; the domain name brokerage firm based in Florida, effectively expanding their brand even more. They are more businesses for sale than anywhere else- in fact, over 5 thousand new businesses and domains are listed for sale on Flippa every single day. Today, they have grown to have just shy of a million registered members and sold over 30,000 businesses over the last calendar year alone. They have registered overall sales of above $230 million, an an average of $5 million worth of business in sales per month!
Alternatives to Flippa
The success of Flippa can be attributed down to two major factors- the passion fostered in the people that make up the team there, and the level of talented individuals among their staff! But while they might be big in the industry, they aren't the only fish in the sea.
Here is a list of some of the amazing alternatives of Flippa:
All those who have waded the waters of today's online marketplace will be aware of Sedo. Like Flippa, this platform also deals in the sale and purchase of websites and domains. One of the most basic elements that are needed for running any successful website is a great domain name- and this company can help you with just that! With more than 2 million official accounts from all over the world, Sedo can stake its claim to be the world's largest global domain marketplace.
The advantage of this website is that buyers and sellers are directly connected here; making the purchase of domains easier and more direct. Sedo also offers a variety of different services such as domain appraisals and brokerage services, as well as transfer and escrow services.
Website Broker is the brainchild of two attorneys who understood the need in the industry for an organization to step in and assist individuals and companies in selling or buying already existing websites and domains. It was founded in 1997 and has steadily evolved into a business giant over the years. This also positions it as one of the oldest and most established players in this field; bringing credibility and trustworthiness to the table.
The platform is incredibly easy to use and works on a similar template as a home sale or auction. If you want to sell your website, Website Broker will offer you an option for a standard listing or a premium listing, thereby providing more exposure to potential buyers depending on the plan you adopt. If you wish to sell a website independently without any industrial affiliation, you can do that with ease too! You simply need to login to their platform and fill the form with basic information of your property. The details of your new listing will then be automatically added to the growing listing of sites available for sale.
Apart from this, Website Broker also offers valuation services for the broker to help determine the value of the site and what it should sell for at auction. After an in-depth analysis of the online traffic, industry trends, market position and growth potential, it will help sellers and buyers get the right price for everyone!
Com
Up next on this list is another brilliant platform for trading in websites. Targeting more on the start-up and entrepreneurial side of things, Buy Sell Website looks to pursue listings that aren't as notable on the grander global scale.
Nevertheless, this platform is one of the most trusted and reliable companies out there. It has been helping relatively unknown websites gain more exposure by bringing them to a wider audience and garner more internet traffic on them. It was initially founded at the turn of the century in the early 2000s and has since helped over 4000 amateur and semi-professional domains become established in the online marketplace.
With offices in over 3 separate continents and a membership pool of over 2.5 million official accounts, FE International isn't just a platform.
It is an empire.
One of the most reputed and premium company's out there, they don't indulge in penny businesses. The listings at FE typically start in the 5-figure range and can go up to asking prices of several million dollars.
Their market-leading M&A advisory team boats the completion of over hundreds of millions in SaaS, e-commerce, and content business acquisitions since 2010 alone. FE International is placed at the perfect intersection to drive buyer demand higher while maximizing value for your business, primarily thanks to their global network of established pre-qualified investors.
At FE International, you are looking at an astounding 94.1% sales success rate within the first 2 months, a highly efficient and data-driven process, personalized service from experienced professionals. They also have a Vetting Buyers program wherein if you sign up to be a member, then as one of their qualified buyers, you will get an opportunity to see new offers before the general public!
Launching as recently as 2017, Exchange Marketplace is a player that is rapidly carving out a niche for itself in the industry. This platform gives the user a fresh and unique experience with purchasing or selling websites and domains, while at the same time also offers authenticity and reliability that comes along with it- since it is a subsidiary of the global brand Shopify.
Riding on Shopify's popularity and reach, Exchange Marketplace has already acquired a wide range of choices to spoil their members. Some of the other pros of this platform are that they are incredibly diverse. Members can get everything from starter businesses to established drop-shipping empires. Furthermore, they also take care of all the vetting that is necessary. This leaves the buyer with a sense of confidence knowing that it is legit, and as a seller, the communication remains anonymized.
While this hasn't been around for as long as its other competitors, Exchange Marketplace is certain to give you your value for money.
These were 5 of the other amazing alternatives that exist other than Flippa. For a hassle-free experience, choose from any of these and we assure you that you won't regret it! Buy or sell, it doesn't matter- what matters is whether your online broker is can be trusted, and with any of these you can't go wrong.
So, venture on to any of these and fuel your business ambitions!