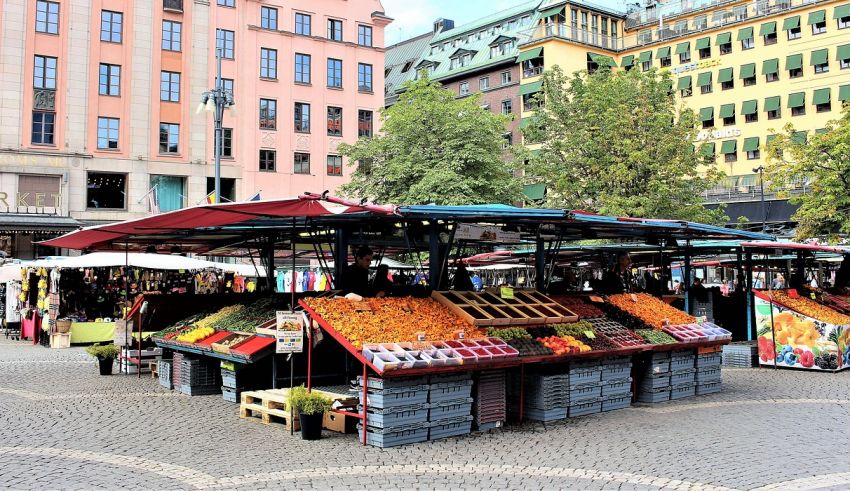 PSA for all flea market businessmen
Are a flea market owner or do own a stall at one? There is some good news for you and it comes from the most unfathomable of places. Flea markets are a productive way of making money, even if you don't do it as a primary profession you'd admit to that point. Both the owners and the stall runners make profits over a small period of time. People don't just go to these places because they don't have any other options, they do so because of the culture surrounding flea markets. Adding on small elements such a unique goods at sale and good prices is just the cherry on top.
For you, being the owner it is not the same thing. Culture or not, money needs to be made. No one runs a business solely for fun. Take the example of electronics salesmen at flea markets, it is one of the least profitable area if it is not approach as a business. However, if you do operate an electronic stall at a flea market there is a good news for you as well.
Any business relies on the fact that you can keep stocks on merchandise available, sell unique quality goods and are able to squeeze a profit, even after all that. Flea markets aren't like stores or retailers, they cannot live their lives over selling quantities over quality. You must sell what you have and make money, per product.
Where can I buy cheaper, quality goods and merchandise? 
There are aftermarket liquidation retailers who stock merchandise from big retailers like Walmart, Amazon, Costco, 711, etc. These people buy these liquidated goods at a fraction of the price and will sell you with very little overhead. So, that way you'll be able to buy the same quality goods as any big retailer but at the fraction of the price. All this and the quality isn't compromised.
The word 'Liquidation' itself might raise some alarms when you hear it, however, it is not the process but the people involved in it that cause issues (if there are any). Good liquidators always promise quality, transparency and warranties. Take the example of Quicklotz, they are amongst the biggest liquidators in the US.
They are so transparent in their business that you can literally go and visit their warehouses to check the merchandise and they sell you goods at unbeatable quality and prices. You can check out their website to know more about their products.
These retailers sell a variety of products (electronics, clothes, accessories, decor, baby products, beauty products, etc) and never run out of stock as their sources involve giant stores like Amazon who regularly move out liquidated stock (returned, refurbished, overstocked) that hasn't even been opened at times.
With that out of the way, here are some of the ways you can acquire merchandise for you market (or your stall) at a fraction of the wholesale prices.
---
Also Check : Top 5 Flea Market Merchandise Suppliers
---
Auctions and Personal sales
Auctions are organised by an auctioning party who want to sell of used, excess or collateral goods. These are a good option if you want to buy some unique merchandise like antiques, accessories, old/rare electronics and machinery (for example: cars, bikes, gramophones, etc).
The products sold here are also amongst the cheapest you'll find on the list. However, don't go in expecting newer upto date 2018 items, those are extremely rare to non existent.
These can be can be divided into two types:
Garage sales: Sales like these are simply done by households to sell off items that they either don't need or have never used. Some of these are extremely rare items or ones of high monetary value. If you're an antiques or toy salesman in a flea market, these are a gold mine for you if you can find the right ones. These are usually listed in local community boards or online listicle websites.
Estate sales: These differ a little bit as they are slightly bigger in scale in comparison to garage sales and yield interesting results. Estate sales are done after either the owner is deceased or as the collateral recollection by banks. You can find rare bottles of wine, wine glasses, antique furniture, statuettes, etc. Not much is out of the question as long as the estate owner kept it in the house. You can find good ones through reliable sources if you have any or websites like.
Close-out sales
Close-our sales are organized by 3rd party stock retailers (much like Quicklotz) who are selling the last bit of some stock off. These usually give you the more rare products but the prices depend upon what the product is and how high the bids go.
In that fashion of sales, these are quite similar to auctions except the fact that they happen quite frequently (every month or so). This is one of the best ways to ensure quality products at cheaper prices.
As mentioned in the beginning of the article, these are 3rd party retailers who sell products from bigger brands that were returned, overstocked or refurbished. Liquidation retailers will sell you their products in a set minimum quantity and the more you buy the bigger the discounts are. Quicklotz, for example, sells you in crates, pallets, and truckloads. This is a good way to ensure quality and guarantee of great and undamaged merchandise.
These vet out the problems that you may have from auctions, garage sales or estate sales – the products are relatively new and are rarely even scrapped (at times untouched). Removing any sense of doubt that you might have about the risks involved with it.
Here's a list of some of the best retailers in the market:
Bonus option – Mystery boxes
If you are a electronic salesmen, you should consider this option. All liquidation companies sell in two types of merchandise – manifested and unmanifested. Since, there is no way to tell what an unmanifested crate might contain, they are sold at pennies of the original cost of the products. Mystery boxes work the same way. There is a type of mystery box (say, electronics or toys) which will be listed on a website such as Quicklotz.
These are then sold very cheap and are mostly in great quality. You do not know what a box might contain. It could have a pair of the new 'Beats' headset or a few boxes of 'iPhones'. That's the most exciting thing.
The best part is, the risk of buying these is minimised when you see the much lower prices as opposed to the opportunity of finding some extremely valuable electronic products inside.
---
Also Check: Top 10 Wholesale Liquidation Companies 2018 (Reviewed)
---
Conclusion
Regardless of which option you pick, it completely depends on your source from who you acquire your goods. So, it is your duty to ensure that your source is verified (check out a website such as this https://www.wholesalecentral.com/Closeout-Suppliers.html).
Quicklotz is a good option as they sell the best quality goods at unbeatable prices making them the biggest retailer in all of America.