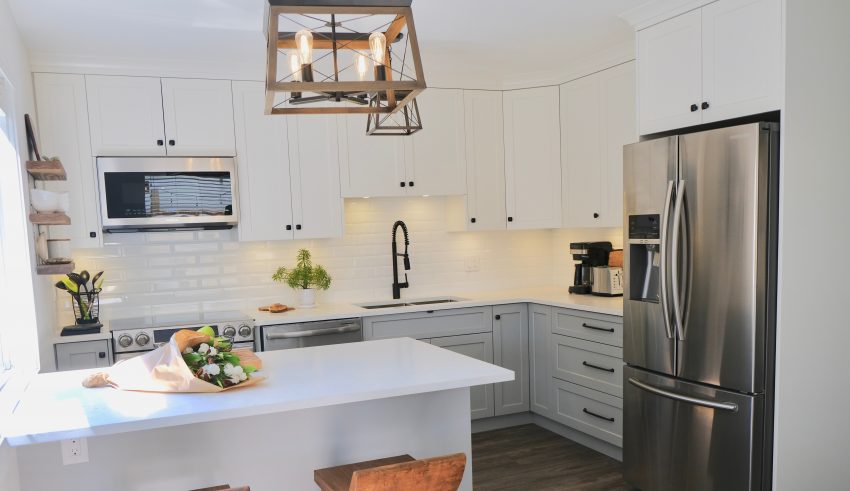 In the contemporary world, it's nearly impossible to even envision a kitchen without a refrigerator. Where would we store our groceries? And where would leftover food go? Thanks to the invention of refrigerators, these are not questions we have to think about. However, buying a refrigerator is not an easy task.
There are a lot of options in the market, and it is easy to feel overwhelmed. Moreover, refrigerators are an investment, and it is wise to purchase a high quality branded refrigerator to get your money's worth. You may not be willing to splurge a lot on a refrigerator, but don't worry because there are plenty of options to choose from that will not be heavy on your pocket. Whether you're buying your first refrigerator or planning on replacing your old one, our list of the best refrigerators under Rs. 30,000 has got your back.
Here's The List Of Refrigerators Under 30,000 Rupees: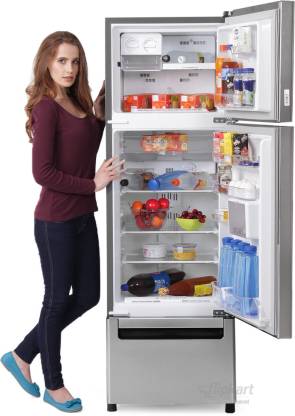 This triple door refrigerator offers an exciting array of features at an affordable price. It has a large capacity of 260 L, which is perfect for a family of 3-5 people. It has an Active Fresh Zone, which is basically a separate drawer to store fruits and vegetables. The Zeolite technology prevents excessive ripening to make your groceries last for longer, while the Microblock technology prevents 99.9% bacterial growth.
Because this refrigerator has three compartments, it greatly reduces the chances of odour mixing. Moreover, it is highly energy efficient, so you don't have to worry about hefty electricity bills. This product is currently available at a great discount, and should definitely be on your wish list.
---
A product from the house of Samsung, one of the most loved electronics brands in India, this 253 L refrigerator is ideal for a nuclear family. With a rating of 4 stars, it is one of the most energy efficient refrigerators in the market and will thus increase your savings. Its all-around cooling technology ensures that an even temperature is maintained in all corners of the fridge, keeping your food freshers.
The auto defrost feature prevents unnecessary ice build-up and reduces the chore of constantly having to clean. The freezer compartment can be converted into a fridge with the touch of a button, allowing you to store even more fresh foods. The stylish grey design will elegantly blend with the rest of your kitchen.
---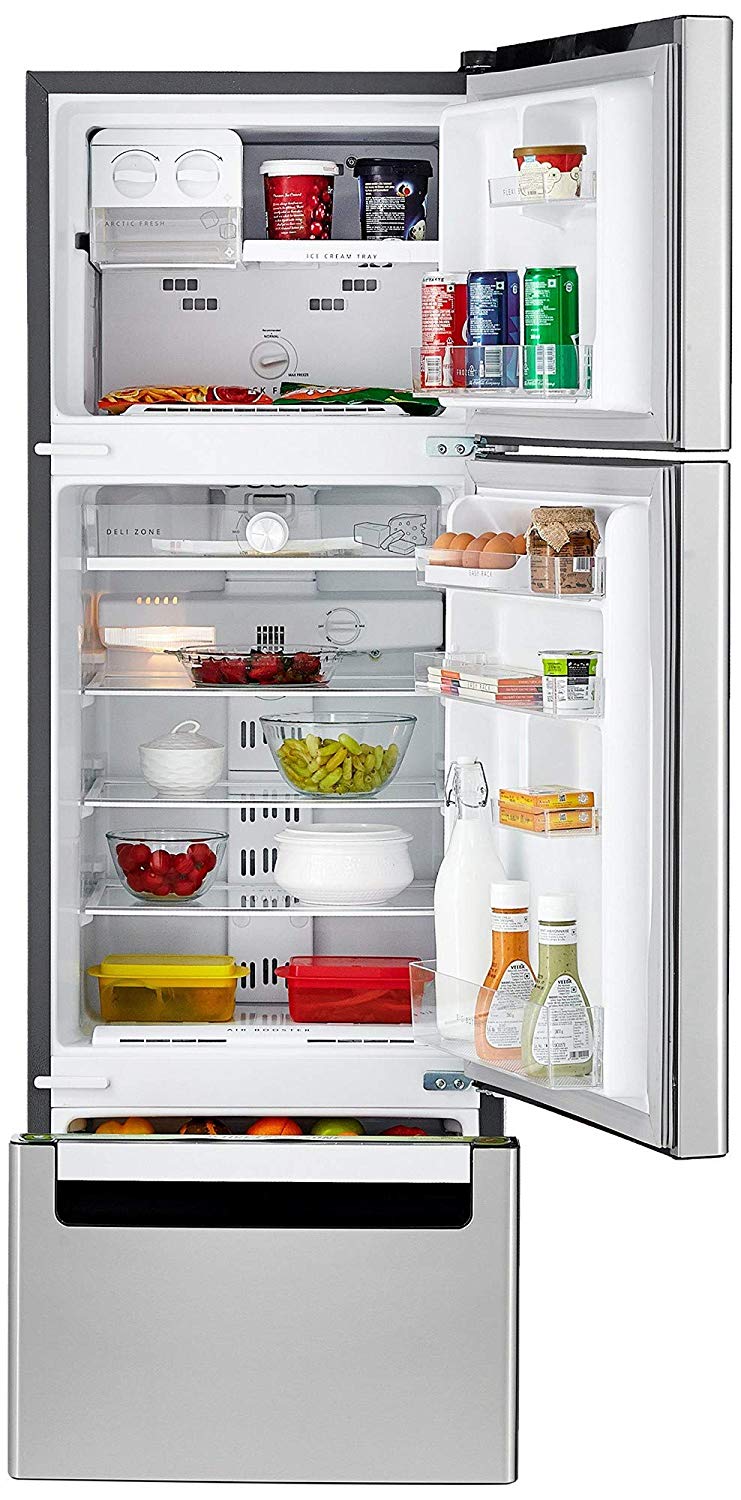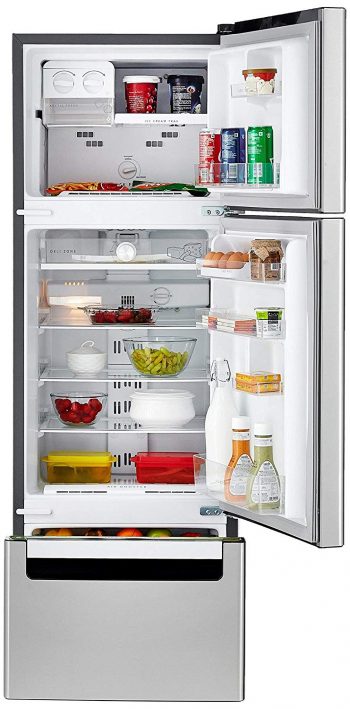 Yet another appliance from Whirlpool, this triple door refrigerator has a storage capacity of 240 L and is a great option for smaller families of 2-3 people. It is the first refrigerator in India to have an Active Fresh Zone, which is a separate compartment to store fruits and veggies, thereby preventing mixing of odour. It is equipped with features to make your food last longer.
The Zeolite technology increases the shelf life of fruits and veggies by preventing them from ripening too soon, while the Moisture Retention technology prevents loss of moisture. Moreover, this refrigerator has an air booster which ensures even cooling throughout the fridge. Not only is this refrigerator affordable, it is also very energy efficient, and will add to your savings in the long run.
---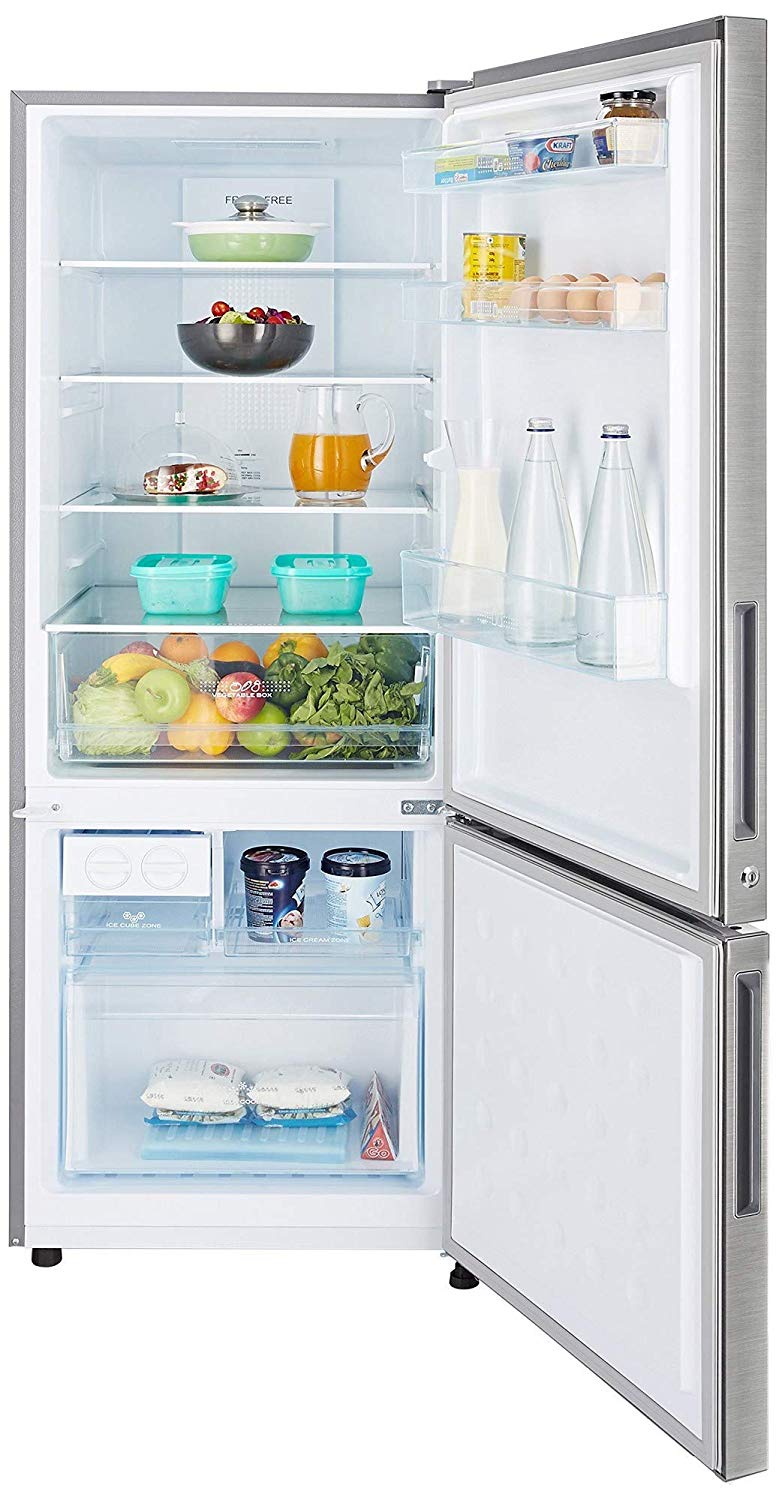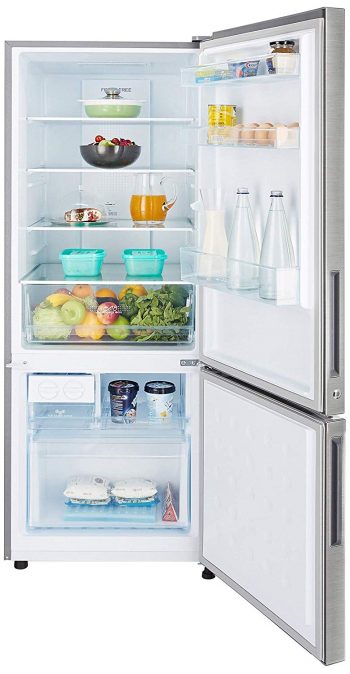 A highly efficient product, this refrigerator from Haier fulfills all the demands you could have from a refrigerator. It is a double door fridge, and the freezer compartment has smartly been placed at the bottom to reduce the trouble of having to bend down again and again. The freezer cools down extremely quickly, thereby making ice in just 60 minutes.
A large crisper allows you to conveniently store all your veggies separately. Additionally, this fridge has a 3 star rating from BEE, which means that it is energy efficient and will not make your electricity bills soar. A large storage capacity of 320 L makes it the ideal refrigerator for families of 3-5 people. It is currently on a great discount at Amazon and Flipkart, so get your hands on it ASAP!
---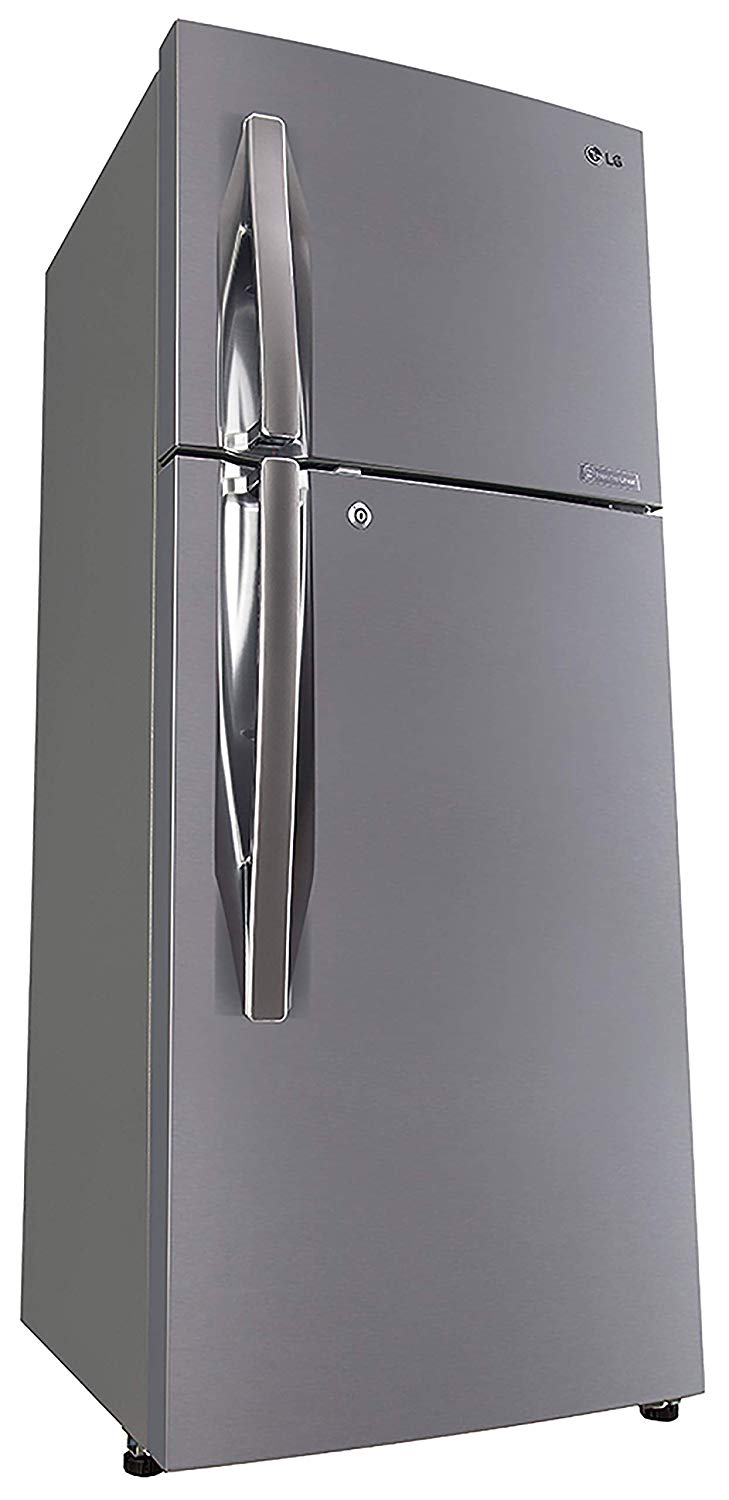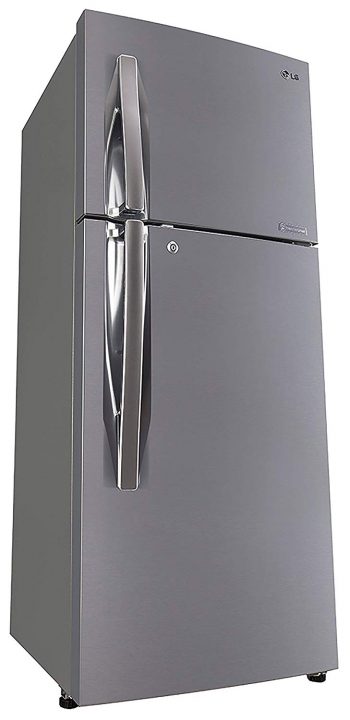 LG has packed this refrigerator with so many features, it gives its competitors a run for their money. It is equipped with a Multi Air Flow Cooling technology, which works towards distributing the air flow uniformly across the fridge to maintain an even temperature.The Moist Balance Crisper ensures that an optimum level of moisture is maintained in the crisper to keep your fruits and veggies fresh.
The bottle storage compartment is large enough to store 2L bottles, which is perfect for summertime. This product also has an Auto Smart Connect feature, which allows it to connect to your inverter whenever the power goes off. This refrigerator comes with a warranty of 1 year on the product and 9 years on the compressor, and we think that it's a steal deal.
---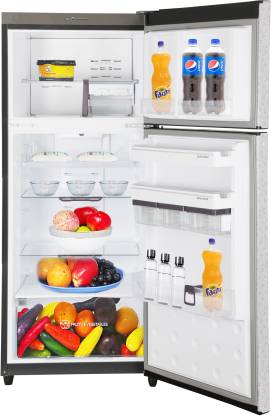 As consumers, we often tend to undermine the performance of homegrown brands but this refrigerator from Godrej will exceed your expectations. It has a storage capacity of 311 L, which is sufficient for a family of 3-5 people. Its Intelligent Mode cools down the fridge before defrosting, to prevent your food from getting spoilt due to thermal shock.
The toughened glass shelves feature built-in air vents, which provide optimal cooling. The slide-out bins make it easy to store and take out your most frequently used products.
Wide shelves and a large vegetable tray offer ample space to store large vessels, while the AquaSpace holds 2.25 L bottles with ease. Efficient, affordable and made in India, this is a refrigerator you should purchase without second thoughts.
---
A top-notch product from the house of Panasonic, this double door refrigerator has a 3 star BEE rating and is energy efficient. Its unique Ag Clean technology has a Silver Air Filter, which eliminates 99.9% of bacteria and molds, while the Twin De-Odoriser attacks any foul smells that are often emitted from fresh fruits, meat, and veggies.
The Intelligent Inverter works to give you maximum efficiency with minimum electricity consumption. A large storage space means that you can store all your food with great ease, and big door pockets effortlessly hold your bottles.
This refrigerator distributes cool air evenly across all the shelves, which helps in maintaining an even level of temperature and humidity for all your food. Grab this refrigerator while it's still on discount!
---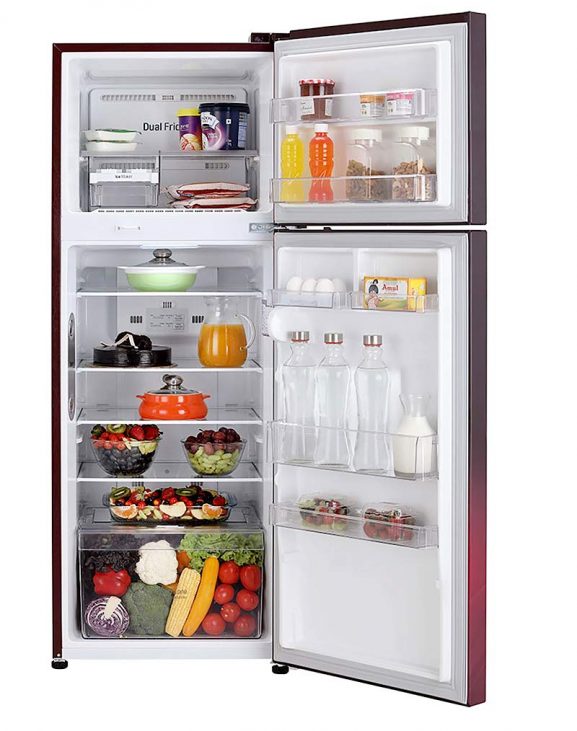 LG is one of the best selling brands for home appliances in India, and this refrigerator will cater to all the demands of a family of 3-5 members. It has an exceptionally unique Smart Diagnosis technology, which takes the experience of customer service to a whole new level. Just call the LG helpline, and place your phone on the fridge, and you'll get an instant solution to your issue.
The Moist Balance Crisper and Humidity Controller retain the freshness of fruits and veggies, and the Linear Cooling system maintains an even temperature across the fridge.
These features retain the freshness of your food for up to 14 days! Flipkart currently has an exciting discount on this fridge, making it the perfect choice for your kitchen.
---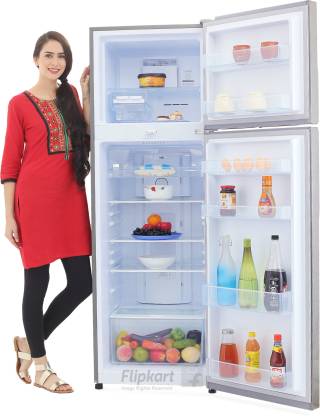 Designed to fit the requirements of Indian households, this double door fridge from Haier has an impressive capacity of 347 L and is ideal for a family of 3-5 people. Many areas in India face frequent voltage fluctuations, and this refrigerator has been made to safely operate within a range of 134-290 V, so you will not have to invest separately into a stabiliser.
An innovative 360 degrees Air Flow feature ensures that an even temperature is maintained in every corner of the fridge. It also has a child lock to ensure that your food is safe from naughty children.
The high customer rating on Flipkart for this product speaks for itself, and is a testimony to the efficiency of this refrigerator.
---
Bosch brings excellent German technology to India, and this double door refrigerator is all that you are looking for. It has a storage capacity of 288 L and will effortlessly suit the needs of a small family. It's German VitaFresh technology keeps your food fresh for long, while its Cooling Retention technology keeps food and beverages cool for up to 16 hours, even during a power cut.
Your fridge will never smell foul, thanks to its AirFresh Filter, and the toughened glass shelves can hold the heaviest of your vessels. Additionally, this fridge has 5 intelligent sensors which work towards saving as much electricity as possible. Give this one a shot and you won't be disappointed!
All these refrigerators have been tried and tested by tons of consumers in India, and have consistently received high ratings. Moreover, Flipkart and Amazon have some amazing discounts and offers, which makes it a great time for you to finally get the fridge your kitchen needs. Happy shopping!