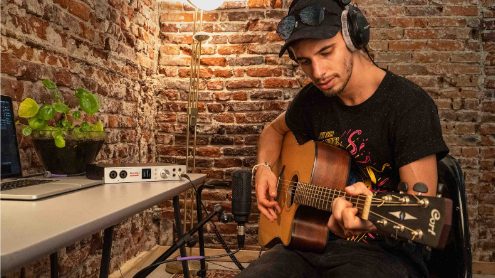 As music has evolved, so too has the technology that we use to record it. Nowadays thousands of people are playing on electric guitar in their bedroom and are looking for the right technology to capture it. The answer most often comes in the form of small box on your desktop. A standard audio interface will have at least one input that can take a microphone or a direct input from the instrument. If you are on the market for a simple functionality, most audio interfaces out there will do the trick. But what else can you get from your audio interface to make your guitar recordings sound better?
One of the best choices is the compact Thunderbolt & USB-equipped Discrete 4 Synergy Core from Antelope Audio. The audio interface offers plenty of connectivity for its form factor. It has four discrete preamps, two of which can also work as instrument inputs for Hi-Z level instruments like the electric guitar. Simply plug in a ¼ inch jack, switch the setting to Hi-Z and the interface will record the audio signal that your computer can recognize. The pair of monitor outputs and four headphone outputs with independent cue mixes will help you send the signal to your monitor speakers or headphones.
Having four headphone outputs means that a fellow guitarist can join the party. Acoustic guitars can be easily recorded with a microphone using the remaining two preamps of the interface. This alone, is how you record your guitar, or an entire group, on the most basic level. Once the processed signal is in your DAW you can create a mixed down audio track file (I.e., MP3, WAV), export it and share with the world. Where the magic lies, however is inside the box.
Onboard effects processing
The Discrete 4 Synergy Core is one of the audio interfaces that offers onboard effects processing. The DSP & FPGA processing chips inside the box hold almost 100 real-time effects among which 22 are analog-modeled guitar amps and cabinets. In the effects library you can also find vintage equalizers, compressors and modulations effects that can give your guitar signal a new sound. Because these effects are processed as you record, you can monitor with them so you can hear and experiment in real time.
The collection of amplifiers and cabinets is especially impressive. It features a number of vintage classics and new-age favorites that are perfectly suited for heavy rock and metal sounds. There is something for everyone – the effects can bring out the natural sound of your guitar or add a bit of color. Pair the amps and cabs with a guitar modulations like tremolo, which is also available in the library, and you have a new real-time goodness to play around with.  Other modulations include a flanger, an auto wah pedal, a bucket brigade chorus, and a delay pedal.
Remember the four headphone outputs? The Discrete 4 Synergy Core is the perfect audio interface for collaborating artists because of this feature. You can make four separate cue mixes and put different processing on each one. Load and auto wah pedal and a vintage cabinet on the two electric guitars and experiment with different equalizers for the acoustic players. Everyone can monitor their signal with different effects and receive immediate feedback with Discrete 4 Synergy Core's real-time processing. It's a fun way to play and it is reminiscent of how recording studios with outboard gear do things.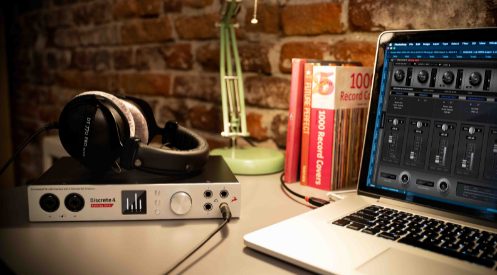 The Discrete 4 Synergy Core from Antelope Audio is a premier choice if you are looking to record your guitar and like to experiment with new sounds. After all, it's all about finding your own tune, right? Learn more at antelopeaudio.com.
Unlock the entire library of effects with the Complete Synergy Core FX Bundle*. Monitor, mix and master with 92 effects including vintage EQ's, compressors and mic preamps, as well as rich modulation.
*Auto-Tune Synergy and Instinct Synergy are excluded from the bundle.