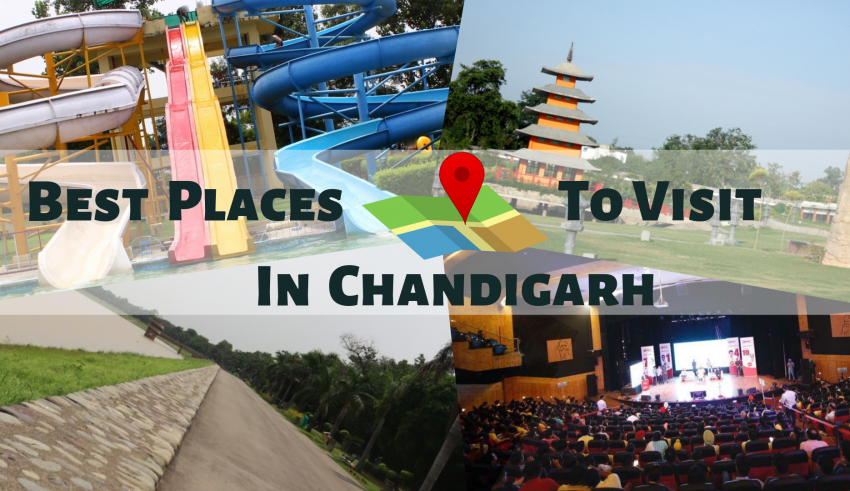 Chandigarh is a very unique city that serves as the capital of two states, Punjab and Haryana – although it is considered an union territory! It is one of the oldest planned cities in India, designed by the master Swiss-French architect Le Corbusier and was voted as one of the perfect cities in the world by BBC taking into consideration the aspects of cultural mix, modernization and architectural brilliance. Buildings in the Chandigarh Capitol Complex are classified as UNESCO World Heritage Sites and it was also voted as the happiest city in the country for its standard of living.
Nehru said of Chandigarh when he first visited the site of the new city in 1952: "Let this be a new town, symbolic of the freedom of India, unfettered by the traditions of the past, an expression of the nation's faith in the future". Among such achievements, it is hard not to find a place to spend some quality time with your family and kids to have some fun. Located only a couple hundred kilometers away from the national capital, Chandigarh has many activities and attractions to be discovered.
So here is a list of gardens, museums, amusement parks and other attractions for you to enjoy with your family and kids :
GARDENS, PARKS & LAKES
PINJORE (YADVINDRA) GARDENS
Situated on the Ambala-Shimla road, just 20 kilometers from Chandigarh in the city of Pinjore lies this magnificent sprawl of Mughal-styled gardens. Built on the model of the Shalimar Gardens in Srinagar, Pinjore Gardens is a beautiful expanse to spend a calm and cool evening in company of your kids and family. The gardens have huge historical importance because it was built in the foothills of the Himalayas as a summer retreat for the Mughal emperor Aurangzeb.
The Pinjore Garden heritage train is now operated to conduct tours around the monuments and gardens around the area. The whole garden complex is beautifully lighted up and illuminated post sunset. If you are in or around Chandigarh during Baisakhi (spring celebrations) in April, Mango Mela (fair) in July and Heritage Festival in Decemeber, make sure to visit Pinjore Gardens for a lavish festive affair that include mini bazaars, live art and folk performances, dances, food courts etc. Punjabi, Himachali & Haryanvi folk music and dances are popular part of these gatherings.
The Mango festival attracts farmers, producers, enthusiasts or just mango lovers to experience the yellow spread all over the gardens. You can find all types and varieties of mangos here, some of which you have never even seen or tasted before! This is conducted to celebrate India's position as the top producer and exporter of mangos in the world. Pinjore Gardens is a beautiful place for kids to experience the culture of the area and enjoy themselves.
CHANDIGARH ROCK GARDEN
The Rock Garden of Chandigarh is spread over an area of 40 acres and is a fantastic place to take your kids and family. It was low-key started in 1957 by Nek Chand Saini, who was a self-taught artist looking to create something out of nothing. The Rock Gardens here are famous because it is completely built out of discarded items, industrial waste and home waste! Such was the sustainable vision of this man. He maintained the gardens in the shadows for almost 18 years before it was discovered by authorities.
It is dotted with mini waterfalls and is mainly famous because of the ceramic sculptures of dances, animals and musicians that have been built out of recycled scrap such as bottles, broken pots, wires, glasses, pipes etc. The Rock Garden is an unique vision that may serve as an inspiration to kids and students to undertake recycling and reuse of scrap items and put it to good use. These are one of the best places in Chandigarh for kids to learn and have fun. Rock Gardens certainly deserve to be on the must-visit list!
SUKHNA LAKE
If you are looking for a tranquil and peaceful place in Chandigarh to spend quality time with your family and children, then Sukhna Lake is the place to go. It is situated right adjacent to the Rock Gardens and was created by Le Corbusier and chief engineer PL Verma to provide the residents of the city with a serene getaway not far away from them. The man-made reservoir was planned at the foothills of the Shivalik ranges for its scenic beauty.
It is regularly frequented by photographers, painters, nature lovers, families, kids and adults alike – who come here to enjoy peace and solitude, along with the many fun activities such as boating, rowing, kayaking, water skiing and munching at street food stalls. The lake is also visited by many exotic birds such as storks, cranes, Siberian ducks etc. The Mango festival is popularly celebrated here during the monsoon months of July-August. Sukhna Lake is a great place of fun for kids as they have ample space to run about and also engage in boating activities in the lake.
SUKHNA WILDLIFE SANCTUARY
Sukhna Wildlife Sanctuary borders the Sukhna Lake and was established as a wildlife sanctuary in 1998. The Shivalik hill ranges provide a wonderful backdrop the land that has been given the  'protected' status by the Government of India. Spread over an area of 2,500 hectares, the sanctuary is known famously for having the largest average collection of sambhars (large native deer) in the country.
Migratory birds make this their home during winter months between November and February. This is a beautiful sight to witness. A wide variety of flora and fauna can be spotted at the wildlife sanctuary and is truly an animal haven. You need to book your tickets/safari early enough as only 200 tickets are issued on a first come first serve basis each day, to maintain the sanctity of the nature reserve. Get away from the hubbub of the city and enjoy nature at its best here, with your family and kids.
CHANDIGARH BOTANICAL GARDEN 
Chandigarh Botanical Garden is one of the main attractions in the city of Chandigarh and is located close to Punjab University. There are two botanical gardens maintained by the public works department in the city, one here and the other one is present close to Sukhna Lake and the Rock Gardens.
The wide range of flora, both exotic and indigenous species, in the garden and its large open spaces make it the perfect place to rejuvenate and relax. You can find people here  throughout the day running, relaxing, exercising and even on a picnic with their families. It is a fantastic site for kids to spend a day out all by themselves, playing around and having fun.
ZAKIR HUSSAIN ROSE GARDEN
Known for being Asia's largest rose garden, Zakir Hussain Rose Garden is an exemplary colorful getaway destination for a calm time away from the busyness of life. The expansive botanical garden is spread over a large area of 30 acres with more than 1500 varieties and species of the rose plant! It is named after the former Indian president, Zakir Hussain. Many other plants can also be found here, especially of medicinal value such as harar, camphor, bel (wood apple), gulmohar etc.
The whole park is amazingly colorful and will mesmerize anyone – from kids to adults. During February or March every year, the Rose Festival is held here. The two day festival features dog shows, food stalls, fun activities for kids, play kiosks, music events and also helicopter rides! It is a lovely place for kids to spend some time around nature and is definitely a botanists' paradise. The park has wide pathways where kids can cycle around and enjoy themselves.
JAPANESE GARDEN
The Japanese Garden is a vast 13 acre park land that was constructed and opened to the public in 2014. The park Is located in Sector 31. It consists of two phases, the second phase was recently opened in 2016 and both these phases (parts) of the park are connected to one another by an underground tunnel featuring exquisite Japanese paintings.
This is the first park to feature an all-Japanese element in it as it houses pagodas, zen garden, meditation center, a Buddha idol, a mini lake and various sculptures dedicated to Japanese folklore and mythology. It is a one of a kind park that can be enjoyed by adults and kids alike. Food joints are also present here. Since, there is no entry fees to the park, you can enjoy a calm evening picnic with your loved ones here. There are fun activities to do and see here for kids.
CHHATBIR ZOO
Home to a wide variety of mammals, reptiles and birds, Chhatbir Zoo is an animal lover's paradise. Previously known as Mahendra Chaudhary Zoological Park, in honor of the former governor of Punjab – Mahendra Mohan Chaudhary who inaugurated the zoo in 1977, it is now majorly frequented tourist site.  It lies 20 kilometers south of Chandigarh, near Zirakpur.
Chhatbir Zoo is renowned for having the longest aviary of any zoo in India, stretching up to 300 meters and showcasing more than 30 species of indigenous and exotic birds in an open area. The walk-in aviary is a great place for kids to enjoy the birds with a first-hand experience. Some other animals in the zoo include Asiatic lions, white tigers, nilgais, Himalayan black bears, emu, striped hyena, Indian leopards etc.
MUSEUMS & HISTORIC BUILDINGS
LE CORBUSIER CENTER 
Once the work place of legendary architects such as Le Corbusier, it is now turned into a wonderful museum. This is a historic place as it is the site from where almost the entire city of Chandigarh was created and established, from scratch.
The city's heritage past can be traced back to this very building. It is one of the major buildings and landmarks of the city and almost everyone here knows where it is located – in Sector 19. Take your kids and family to an exciting journey through Chandigarh's historic past through the very building that gave birth to it. It is a great place to learn something new!
GOVERNEMENT MUSEUM AND ART GALLERY
The Government Museum and Art Gallery is one of the best places to visit for history enthusiasts and art lovers. The museum's origins can be traced back to the partition era when 40% of the collections were given to India and the rest 60% were retained by Pakistan, where all of them were held before partition in the Central Museum of Lahore. It houses several treasured artifacts such as Gandhara sculptures and paintings from Pahari and Rajasthani Rajput eras.
The museum houses a museum shop, textile section, child art gallery, exhibition hall, reserve collection stores, numismatics, conservation laboratory, auditorium. Indian miniature paintings, stone and metal sculpture, contemporary art and a library – among many other things.
It has four other wings within Chandigarh itself, they are Natural History Museum, Sector 10 – Chandigarh Architecture Museum, Sector 10 – National Gallery of Portraits, Sector 17 & International Dolls Museum, Sector 23. The museum and art gallery is a fun place for kids and adults alike, to enjoy and witness the nation's rich past.
BHIMA DEVI TEMPLE COMPLEX & MUSEUM
Known as the Khajuraho of North India, the Bhima Devi Temple complex is an artistic masterpiece, dating back nearly 1000 years. The ancient restored ruins of the Hindu temple contains several sculptures and engravings that has earned it its nickname. The complex is present adjacent to the Pinjore Gardens and can be easily reached from Chandigarh.
The temple has been restored to a part of its former glory, after it was extensively destroyed by Muslim rulers such as Aurangzeb, Nasir ud din Mahmud (son of Iltutmish) and Fidai Khan. The open air temple museum is largely illuminated in the evenings and looks surreal. The sculpting work in the temple is beautiful to say the least and can be enjoyed by kids and families alike to learn more about the history of the region and the country.
AMUSEMENT PARKS & OTHER ENTERTAINMENT
TAGORE THEATRE
Located close the Le Corbusier Center, in Sector 18, Tagore Theatre is a brilliant place to enjoy cultural art and performances. Wide range of activities take place here on a regular basis and caters to the fun of all kinds of people – from kids and students to families and senior citizens. Fun activities are also held from time to time for kids to actively participate in.
Named after the Indian Nobel laureate, Rabrindranath Tagore, it is and has been the only theatre in the city for a long time now and thus serves as a center for cultural activities. The beautifully constructed theatre and auditorium is a great place for families and kids to enjoy.
THUNDER ZONE AMUSEMENT & WATER PARK
The Thunder Zone Amusement Park is located at a distance of 20 kilometers from Chandigarh city, on the Mohali – Sirhind road. It was opened in 2002 and has since provided full on entertainment to thousands of families and children.
The family-friendly park offers a wide range of fun activities for an entertaining outing with your kind and family. Some of the fun activities here include different types of water rides such as Splash, Boating Club, Slide Pool, Wave Pool etc and normal rides such as Colombus, Octopus, Free Fall, Swinging Chairs, Dashing Cars etc. Thunder Zone is one of the best amusement parks in North India and is a must visit place is you are looking to have some quality fun with your kids and family.
FUN CITY WATER PARK
Situated close to Zirakpur, this is the biggest of the three amusement and water parks in the Chandigarh area and claims to be the biggest in the entire northern region. The park is just 20 kilometers south of Chandigarh. There is no shortage of normal and water rides in this lovely amusement park. Kids and families are bound to have a gala time and there is also a spacious cum luxurious resort on-site.
The normal rides in the park add up to 20 and is suitable for all age groups. The water park has six landing pools, one activity pool, one wave pool and 17 water slides of different shapes and sizes. Small water rides are also present, specifically for young children. It is one of the best places to have fun around Chandigarh for kids!
AQUA VILLAGE PINJORE
Aqua Village is present a few meters away from the famous Pinjore (Yadvindra) Gardens. It is the latest and the third entry into the list of amusement and water parks around the Chandigarh area. The water park is located at the foothills of the Shivalik hill ranges, providing a beautiful scenery and usually has a cool temperature.
The water in the park is solar heated with automatic water filters and UV protection in the pools, to suit the needs of the customers. Five pools are present here – one family pool, one kids pool, a wave pool and two pools with concentric water slides. The range of facilities offered here are also top notch – such as lockers and restaurants. Visit Aqua Village with your family and kids to get the stress out of your mind and spend a memorable time having great fun!
CHANDIGARH TOURIST BUS
By taking the Chandigarh tourist bus (also known as HoHo bus), you can experience the charm of the lovely city from the roof of a double decker bus. It takes you through some of the prominent landmarks and monuments of the city such as the Capitol Complex and its various buildings, Rock Gardens, Rose Garden etc.
Tickets can be purchased in the tourist office or from where the bus departs. It is a very pocket friendly means to see the whole city and what better way to view the whole city than this. This is a fun place for kids and families to experience since they can enjoy magnificent cityscapes without having to shed a drop of sweat.
(Get Directions)
Pack your bags and head to the charming city of Chandigarh!