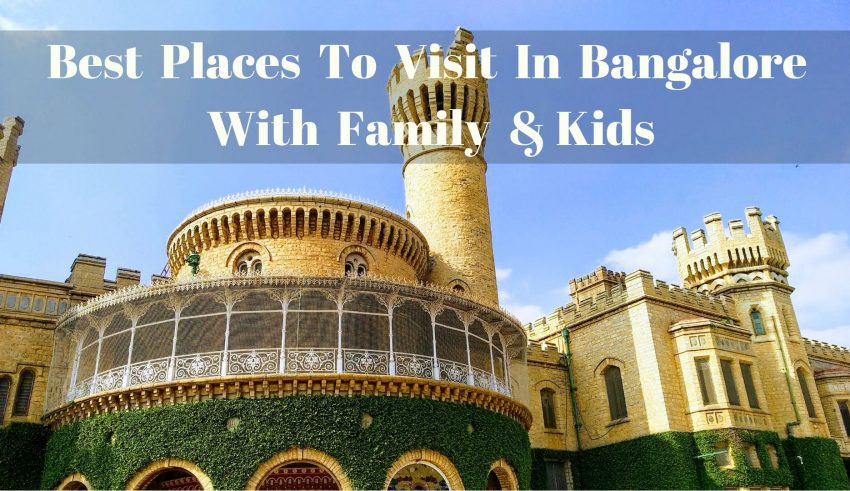 It may be known by many nicknames such as the "IT Capital", "Silicon Valley of India", "Science City of India" and so on and so forth, but Bangalore (or Bengaluru) is also a sweet haven for weekend and normal retreats, away from the hustle and bustle of daily life. There are numerous locations and sites in and around Bangalore that can satisfy your needs for a getaway.
Other than traditionally visiting shopping malls and roaming around window shopping, going to the movies every other week and munching on fast food in the spacious food courts, families and kids alike can enjoy themselves with some exciting activities to do and places to visit. It only takes a minimal amount of time to plan for such trips which can turn into a memorable fun day for the ages!
Let us take a look at few destinations such as amusement parks, botanical gardens, museums and amazing historic places to visit for families and kids in Bangalore :
GARDENS & PARKS
LALBAGH BOTANICAL GARDENS
Located in the southern part of the city, Lalbagh Botanical Gardens is one the most famous and prominent landmarks in Bangalore, which was established in the 19th century. It is known for its sheer size, spreading for nearly 250 acres and plethora of activities it offers. Lal Bagh refers to 'Red Gardens' in English is the site is home one of the largest botanical gardens in the country and houses the largest collection of tropical plants in India.
It also contains a lake and myriad of bird species can be spotted here, from Mynas and Parakeets to Kingfishers and Common Egrets. Lalbagh is famous for its beautiful flower shows, the glass house, largest collection of rare plants in the country and one of the oldest rock formations on Earth that is around 3 billion years old!Two flower shows are conducted annually, which as extremely beautiful to witness, once on August 15 during Independence Day and once on January 26 during Republic Day. The 26th January celebrations are particularly known for duplicating famous landmarks in flowers!These are arranged in order to create awareness, educate children and develop public interest in plant conservation.
Cultural folklores of the state of Karnataka is also displayed in the 'Janapada Jaathre' – which is a special program conducted by the state on the second and fourth weekends every month. It includes, folk dances, folk songs, use of traditional instruments and different forms of art. So, if you are in or around the city at these times, be sure to attend the informative and colorful fiestas with your family and kids! The entrance fee is nominal and it is worth a casual visit even if there are no happening events.
CUBBON PARK & BAL BHAVAN
Arguably the most notable landmark in the whole city, this expansive combination of parks, walkways, cycling paths, play areas and gardens are a peace seeker's paradise. Located right in the heart of the city, Cubbon Park seems awfully peaceful and awkwardly quiet in contrast to the busy areas encompassing its exteriors. It was originally created with an area of 100 acres in 1870, but due to subsequent expansion, it now covers an area of 300 plus acres! Cubbon Park is also home to several historic buildings and monuments in its vicinity such as the Karnataka High Court and the Bangalore Aquarium.
Situated within Cubbon Park, Bal Bhavan is an awesome place to spend some time outdoors with your family and children. A toy train ride, doll museum and a mini park are here to cater to the needs of kids looking for a playful time. Apart from the above mentioned options, kids can also opt for art and craft workshops which are held every now and then. You can easily spend the afternoon or evening here in Cubbon Park with your family as a picnic spot!
LUMBINI GARDENS (NAGAVARA LAKE)
Lumbini Gardens is a public park catering as a sanctuary to families, children and couples alike, along the shores of the Nagavara Lake. The lake front park is one of its kind in Bangalore. Activities such as boating is conducted at the lake and is a surefire way to have fun with your family and kids. Speedboats and water skiing activities also take place from time to time, with the supervision of professionals and lifeguards.
You can relax at the food court with your loved one while the children play their heart out on the amusement park's rides such as the Bull Ride, Colombus, Twirling Vortex and Trampoline Bungy! The wave pool present here can be enjoyed by both adults and children. Lumbini Gardens is a great way to spend an evening.
BANNERGHATTA BIOLOGICAL PARK
Bannerghatta National Park is one of the most widely visited tourist destinations in the capital city. It was founded in 1970 and established as a national park in 1974, and has since been the go-to destination for wildlife enthusiasts. Bannerghatta National Park is located on the Bannerghatta road, approximately 20 kilometers from the city center. The biological park consists of a zoo, an animal rescue center, an aquarium, a snake house, a butterfly enclosure and even a pet house! You can enjoy day safaris (jeep or bus tours) to first-hand experience wildlife such as leopards, Royal Bengal tigers, Asiatic lions, peacocks, different types of deer, elephants etc.
You may also be lucky to spot a White tiger, one of the rarest! The excursions are managed and conducted by the KSTDC (Karnataka State Tourism Development Corporation) and offer a great insight into the wildlife. The safaris are held between 10am and 4pm and the tickets are subject to availability. This is bound be a memorable experience for a family outing. Bannerghatta National Park is surely of the best places around Bangalore for kids to enjoy!
HISTORIC BUILDINGS & MUSEUMS
GOVERNMENT MUSEUM
Although this might rather suit older peoplethan kids, a visit to the Government Museum is sure to please any person that sets foot here. The Bangalore Government Museum is a treasure trove of subtle historic art works, ancient archaeological and geological artifacts, sublime jewelry works and old weaponry. It was established in 1865, making it the second oldest in South India and one of the oldest in the subcontinent. Treasured artifacts include excavated pottery, sculptures, terracotta figures, weapons from the Vijaynagar, Hoysala empires and the Indus Valley civilization.
The Venkatappa Art Gallery is a special place for art lovers as it holds a collection of around 600 paintings and art works. Rare paintings of the Tanjore, Mysore and Deccan kingdoms are housed here.The museum is also home to the Halmidi Inscription, which is the oldest Kannada inscription found till date (450 AD). History buffs and art enthusiasts are bound to get lost in the abundance of such great treasures of our land. Take your family and kids along for a fun, educational, inspirational and knowledgeable trip to the past.
HAL HERITAGE CENTER AND AEROSCPACE MUSEUM
The Hindustan Aeronautics Limited Heritage Center and Aerospace Museum is one of its kind in the country, dedicated entirely to the achievements and feats of the Indian aviation industry since the time of independence. India's first aerospace and aviation museum was set up in 2001 within the premises of HAL to showcase technological advancements in the industry over the years.
The finest pieces of aviation machinery, helicopters, aircrafts, engine models, flight simulators and also a replica of an Air Traffic Control (ATC) tower are kept here! Encompassing an area of about 4 acres, the center of attraction is definitely the display of aircrafts such as the MIG-21, MARUT, LAKSHYA, HT-2, CANBERRA and many more.A children's play area is also included in the premises to keep them engaged after an educational trip. HAL claims it to be a virtual wonderland for aviation enthusiasts and history lovers, an unforgettable experience that is entertaining and enlightening at the same time.
You can purchase small aircraft models and assorted souvenirs at the shops here. The museum is open from 9am to 5pm and the entry fees are INR 50 for adults and INR 30 for children (totally worth it). If you or anyone in your family have a special love or desire to learn about aircrafts or the aviation industry in general, this is undoubtedly the place to be!
BANGALORE AQUARIUM
Founded in 1983, the Bangalore Aquarium is one of the two largest aquariums in India. It is administered by the Karnataka State Government Department of Fisheries and is housed in an octagonal building with three floors. It is located just adjacent to Cubbon Park, on Kasturba Road. Although the government building is not maintained at the highest levels possible, it is nonetheless a lovely place to visit with your loved ones.
There are 14 large tanks present in the first floor, followed by 69 tanks each on the next two floors. It is a great place for kids to enjoy the presence of exotic variety of colorful vibrant fishes such as eels, freshwater prawns, moon tail, gold fish, pearl gourami, red-tail shark, glowlight tetra etc. The entry fee is minimal at the aquarium. You can continue your family outing by enjoying some delicious street food and proceeding towards Cubbon Park.
JAWAHARLAL NEHRU PLANETARIUM AND SCIENCE PARK
One of the most fun places to visit for adults and children alike is the Jawaharlal Nehru Planetarium, located on Sir T.Chowdaiah Road. It is an awesome place to learn about astronomy. The Bangalore Association for Science Association (BASE) has established a science center in the planetarium. They conduct regular shows such as 'Stars', 'Our Solar System' & 'Dawn of Space Age' (currently, as of summer 2020) – in both English and Kannada. The association has dedicated its aim to educate and inspire the public about science, especially children and students. Planet viewing sessions through powerful telescopes are also held from time to time.
Major astronomical events such as the venus transit, lunar eclipse, solar eclipse, comet viewings etc are showcased here. The Sky Theatre show is a no-miss here.The entry fees are same as that of the above mentioned attraction. Many children are known to answer 'an astronaut' when asked what they want to be when they grow up and this is the kind of place they need to be at. It is one of the best places in Bangalore for kids.
VISVESWARAYA INDUSTRIAL AND TECHNOLOGICAL MUSEUM
Located in the city center, close to the Bangalore Aquarium and the Government Museum, on Kasturba Road, the Visveswaraya Industrial & Technological Museum is a priceless destination to visit for people with an affinity for science and related fields. It was inaugurated in 1962 by the first Prime Minister of the country – Pt. Jawaharlal Nehru.
The museum is based on an area of 4000m2 and houses various science relics such as 1:1 flight simulator replica of the Wright Brother's first aircraft, steam locomotive, old steam powered and diesel engines, a model of the Archimedes screw etc. The Fun Science gallery displays exhibits on the science of sound, optics, fluids, math and perception. The Space and Space Technology gallery is dedicated to showcasing the achievements of the Indian Space Program, under the supervision of ISRO (Indian Space Research Organization).
There is also a Dinosaur Alive exhibit with a life size model of Spinosaurus, which can move its tail, head and even rolls its eyes at visitors! The things mentioned above are not even half of what the museum actually possesses. It is definitely a must-go place for anyone who has the science and technology craving. Such an interactive environment is sure to be lots of fun and even inspirational for kids and students to learn more about the wonders of science.
BANGALORE PALACE
Bangalore Palace is a location that perfectly imbibes the royal charm of the city's past. The grounds of the palace are spread of a vast area of nearly 45,000 ft2. The construction of the palace took nearly 4 years and was completed in 1878. It is now used to conduct major public events such as music concerts, exhibitions, expos, golf activities, horse riding, marriages and also has a miniature amusement park called Fun World.
The medieval Scottish-Tudor architecture is an eye-pleaser and attracts several thousands of people each other to witness its majestic looks. Fortified high rise towers, armaments, battlements and magnificent wooden carvings adorn this historic building. The garden of the mighty place was designed by the same person who undertook the responsibilities of the famous Lalbagh. Bangalore Palace is a wonderful place to enjoy a weekend outing with your family and loved ones.
AMUSEMENT PARKS& ENTERTAINMENT DESTINATIONS
WONDERLA
The one stop destination for all your fun needs. If you want your family day-out to be non-stop memorable fun, then Wonderla is undoubtedly the best place to go. The expansive amusement park is spread over an area of 33 hectares, and is situated outside the city just a few kilometers off Mysore Road.
It has been consistently ranked as the best amusement park in the nation and 7th best in Asia. It offers a plethora of activities like the musical fountain, virtual reality and laser shows. Land and water rides are aplenty, enough to keep you engaged for the whole day. There are few rides specifically designed for the kids so that they do not experience nausea, headaches, or any other effects such as vertigo. Lots of restaurants, cafeterias, play areas and rest centers are also available if you get tired of enjoying the rides. Wonderla is the place to take your family and kids for an unforgettable fun experience.
INNOVATIVE FILM CITY
Innovative Film City is one of the best entertainment destinations in and around Bangalore for kids and families to have great fun. Just like Wonderla, it is located outside the city, few kilometers off Mysore Road. IFC can be categorized as an entertainment destination rather than an amusement park like Wonderla.
It houses many museums, most notably the Wax Museum and the Fossil Museum. Some other attractions include Aqua Kingdom – a wave generated pool, Mini Golf, Mirror Maze, Cartoon City and Dino Park. The space of 50 acres is not short of any form of entertainment activities. Adventure activities such as Go-Karting, Net Cricket, Dirt Biking etc are also offered here. Book your tickets early, pack your bags and head on for an amazing getaway with your family!
SNOW CITY
The first of its kind in the state and Bangalore itself, Snow City is a fun place for kids and adults alike to experience the magic of snow. Snow City is located in Fun World Complex in JC Nagar. The massive indoor snow theme park is maintained at subzero temperatures and is a great way to experience coolness amidst Bangalore's high soaring temperatures.
It covers an area of 12,500 sq ft and provides fun activities and interactive sessions for kids such as Laser Tag, Interactive Shooting, After Dark, Frost Island, Alien Armageddon, Pac-Man Smash, Around The Road, Ice Bumping Car, Ducky Splash etc – apart from the usual snow throwing fun you can enjoy there! A fantasy snow castle is also built here for kids to have fun.
Stop thinking and head to one of these destinations to enjoy a memorable trip!