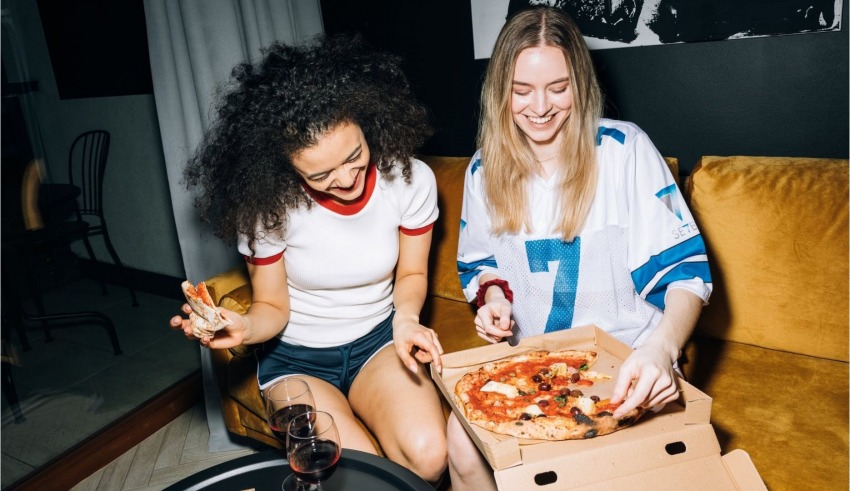 Most of North America loves pizza. Canadians love their pizza so much that they have quite a few incredible variants of their own. If you ever visit Vancouver, you simply cannot miss out on dining at a pizzeria. There are so many different pizza franchises in Canada. Yet they are unable to meet all the demand. Today we will be talking about the 10 best pizza in Vancouver.
Canadian pizzas have their toppings and everything. With pepperoni, mushrooms, bacon, mozzarella cheese and tomato sauce, these pizzas are amazing. If you are about to start living in Vancouver, you may as well start a pizza franchise. Not to mention there's always demand for it. People here love pizza – one slice at a time. Pizza is such a treat, isn't it? No matter where you are, what you are doing, pizza seems to set in perfectly! Often, unknowingly. It's bite-sized and fills you up, – what else do you want from your food? Plus, cheese! Who doesn't love cheese?
People attach victory and good times with pizza. It's not just food, it's an emotion.
So, let's get cracking on the best pizza in Vancouver straight away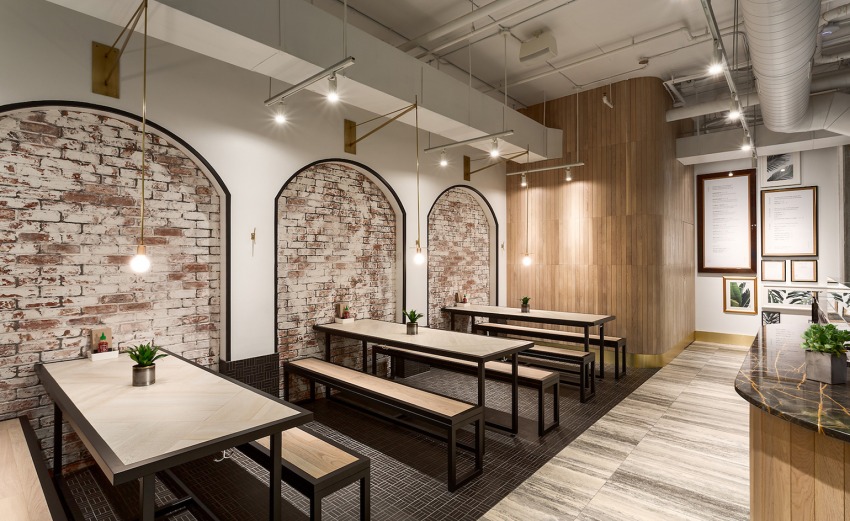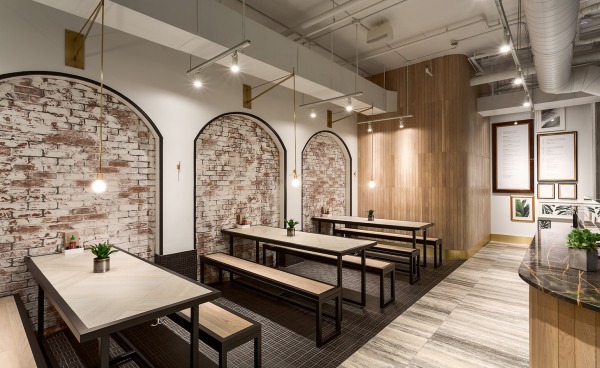 You cannot go through a list without finding your vegan option, can you? Well, not to worry here's one of the best vegan pizza eateries you will find in Vancouver. Rob Milne and his sons Ben and Alex are green enthusiasts and they are the founders of this exquisite chain of restaurants.
They boast of running two eateries for pizza in Vancouver alone. Their handmade dough is usually three days old and their entire diet is plant-based. You should try their signature pizza Stranger Wings. It comes loaded with crispy fried shallots, blue cheese drizzle, Scallion, spicy buffalo cauliflower and Bianca.
Moreover, delicacies like SuperFunghi which is a blend of Truffle Almond Ricotta, Wild Mushrooms, Arugula and Herbed Potato Cream. Virtuous Pie is known for its exquisite atmosphere coupled with intricate delicacies made with green love.
You can order home deliveries through DoorDash and UberEats. If you wish to enjoy their beautiful fine-dining experience.
Most importantly, they make their pie according to your dietary requirements. You can always tweak your orders with your preferences.
Address: 583 Main St, Vancouver, BC V6A 2V1
Phone: +1 604-620-0060
---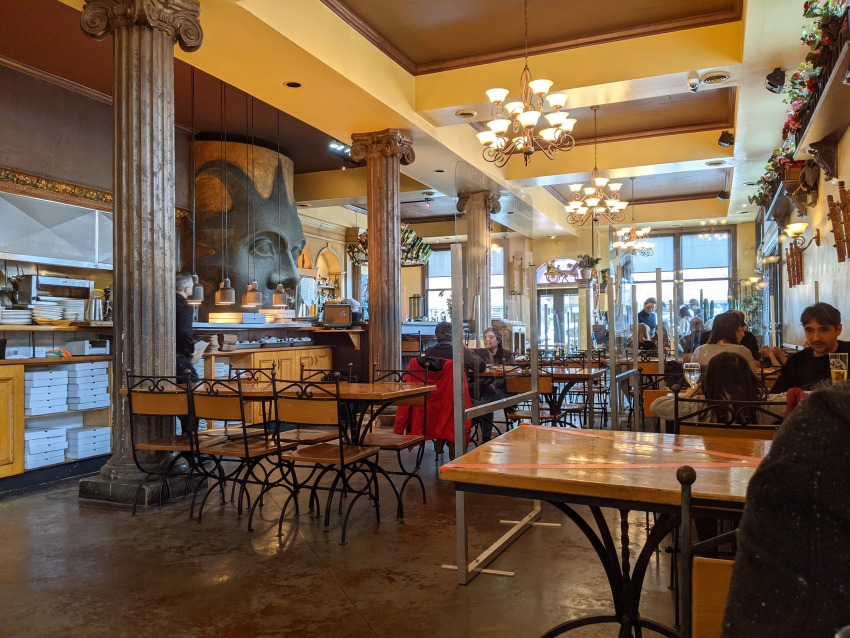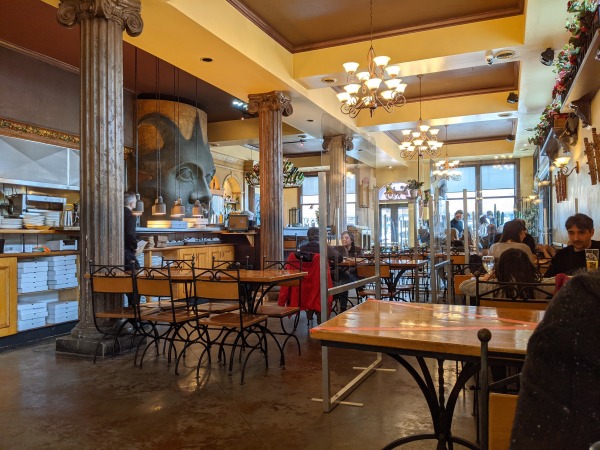 Born in Palmero, the Italian Chef Palmero is the father of this establishment. Marcello Ristorante, situated in Commercial Drive lies at the heart of Vancouver. Often residents here feel lucky that Chef Marcello left his hometown. Vancouver is truly taken over by his incredible culinary skills and talents.
Visitors and localities looking for some amazing pizza will enjoy the traditional wood-burning oven. Great safety protocols are at place courtesy of the pandemic. They are allowing reservation of up to 6 people. These 6 people need not necessarily come from the same home.
Specials –
There is something called the Ravioli which is stuffed with spinach and Ricotti, topped with fresh tomato sauce. This one costs $24.
There's a $25 salmon pizza
On Tuesdays and Wednesdays, you can expect 50% off on wine bottles.
Happy Hours are from 11 am to 5 pm every day.
Apart from one of the best pizza in Vancouver, you will get House Wine & Draft beer only for $6.
An order of Seafood Salad or Coconut prawns will cover wine or beer – all for a $15 combined meal
For those of you who have never been to Italy, don't miss out on Marcello Ristorante and Pizzeria. Embark upon the best culinary journey you will ever get to experience.
Address: 1404 Commercial Dr, Vancouver, BC V5L 3X9
Phone: +1 604-215-7760
---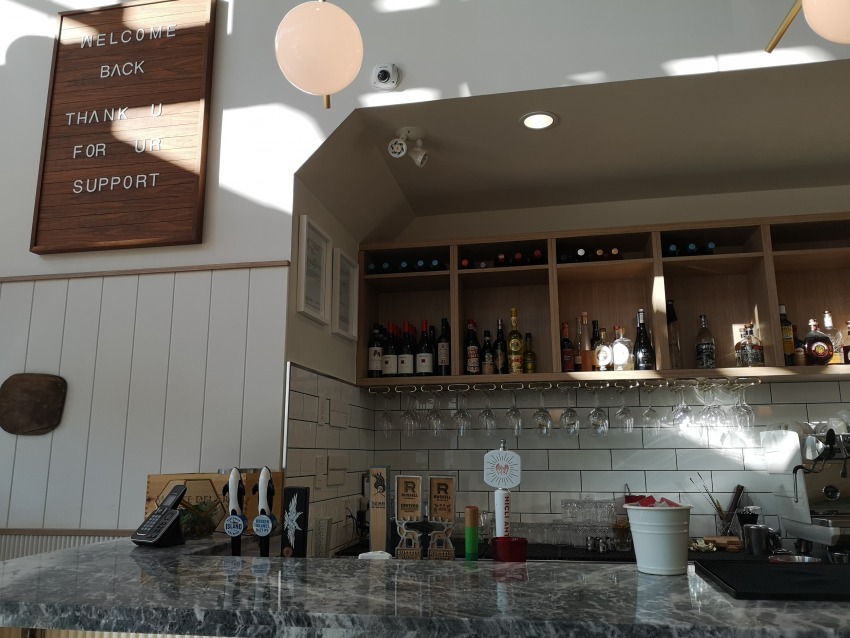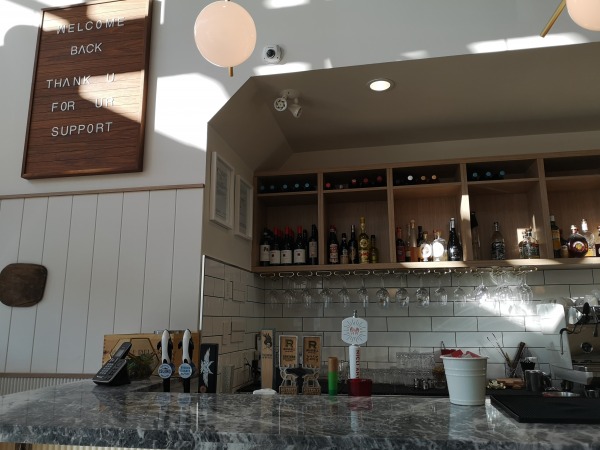 Nicli Antica Pizzeria is an award-winning pizza hub in Vancouver. If you haven't visited spots like Gastown and Edgemont, Nicli Antica Pizzeria is your reason to be. Having fun in the traditional ambience of this place is deeply enjoyable.
Antipasti is a good one to start. Moreover, you can move on to Pesto Pizza. It's filled with house-smoked bacon, grape tomatoes, basil, nut-free pesto, fior di latte, and loaded with crema, and Grana Padano. It's alright if you haven't heard about these ingredients before. Trust us guys, you'll fall in love with this pizza place.
Moreover, you can try Mortadella, Spicy Sausage, and Margherita. Every one of these pizzas is delightfully original and you will hardly forget them. For beef lovers out there, you should try their beef salami and mushrooms.
Enjoy the rich heritage of the Nicli family through their inherited culinary skills and incredible craftsmanship. They use the best and the freshest local ingredients available to them. Experience the authentic Italian experience pizza in Vancouver and top it off with an incredible line of fine wine.
Order through UberEats or DoorDash from the comfort of your cosy couch and enjoy an Italian evening.
Tip: They are taking in for their Patio service on a first-come-first-serve basis.
Address: 3142 Highland Blvd, North Vancouver, BC V7R 2X6
Timings: 11:30am–10pm
Phone: +1 604-770-1240
---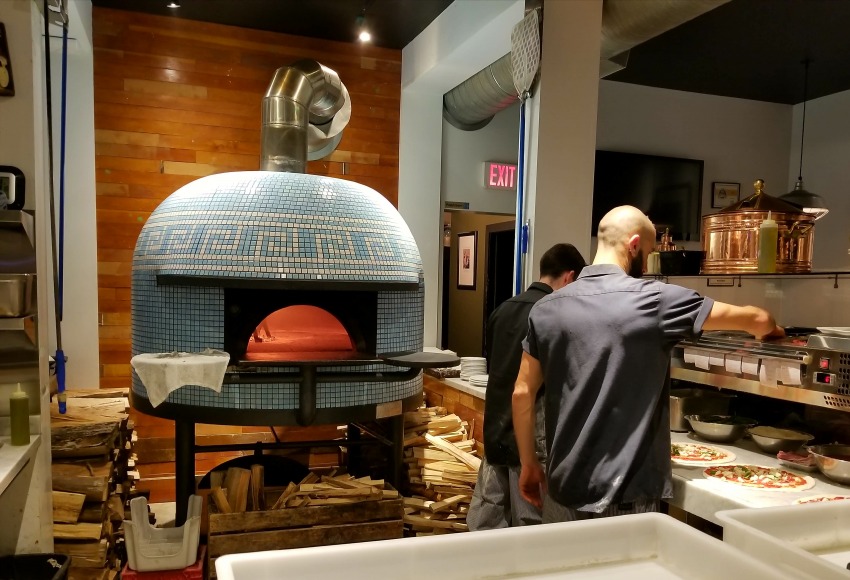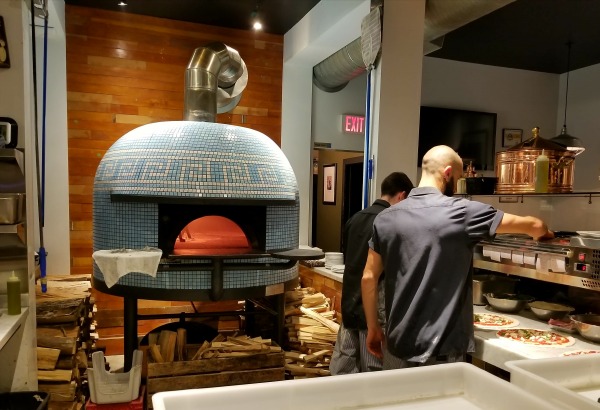 This one is yet another authentic Italian pizza place that will make you smack your lips. According to their website, their story began in Via Tevere, a small street in Naples.
Since then they went on to become the iconic pizza from Naples. Ofcourse, as we said they are authentic, so they use the wood-fire technique to lit up their pizza.
Moreover, their traditional ambience and Neapolitan pizza making ingredients make them a standout. They take great pride in serving you the most genuine Neapolitan pizza ever! They even have their food truck. You will be lucky if you get one running by your home, isn't it?
Enjoy the softest bread, with a possible charred meat base, with its authentic fire-roasted spotting. Expect the freshest arugula and tomato sauce spread over their majestic pizza.
But here's the best part though. If you wish to have a birthday party or anything, Via Tevere Pizzeria Napoletana does catering events too!
By the way, they don't operate or keep open on Mondays! However, be ready for your treat on Sunday, Tuesday, Wednesday, and Thursday between 4 pm to 9 pm. There's an extra hour for folks visiting this place on weekends (Fridays and Saturdays).
You may order online through DoorDash or SkipTheDishes. If you wish to feel the dining experience make sure you reach early.
Address: 1190 Victoria Dr, Vancouver, BC V5L 4G5, Canada
Phone: +1 604-336-1803
---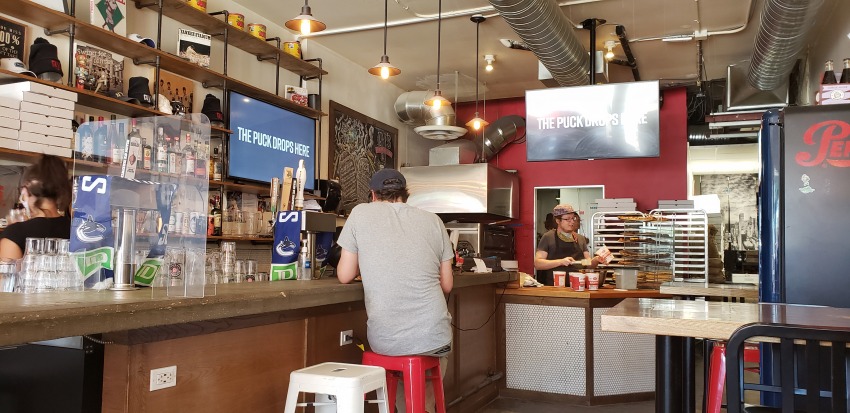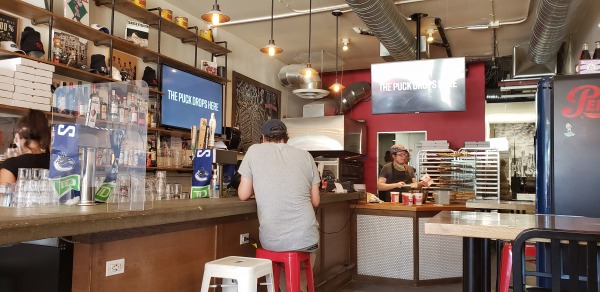 You won't believe how innovative and versatile their pizza in Vancouver is. Aj's Brooklyn Pizza Joint is exactly what it suggests. Their pizza has its American twist to it.
More importantly, if you have ever been to New York, this pizza will bring back memories. They say they bring to you a #asliceofbrooklyn for you!
From the crust to toppings, from the meat to the cheese, everything is just amazing. There are tonnes of options to choose from when you reach here! Apart from their delectable pizzas, there are some nice choices too!
If you are near this place drop in to get the classic traditional new york style pizza. Thin crust and utterly crispy pizzas. You guys must try the meatball pizza, Grimaldi's Classic Margherita Pie, Di Niscorio, Spinaci Sausage (new item), Spicy Tuscan Margherita (new item), and Italian beef (also a new item).
Try whatever you want but don't miss out on The Supreme New Yorker calabrese which is made with shredded Mozzarella and Ricotta cheese, topped with Tomato Sauce, and Pepperoni, Spicy Sausage.
Remember that they give you a custom Build Your option. Pizza is something which we believe is each to his own.
If you love desserts you should try The Detroit Red Top.
Address: 325 E Broadway, Vancouver, BC V5T 1W5
Phone: +1 604-428-5805
---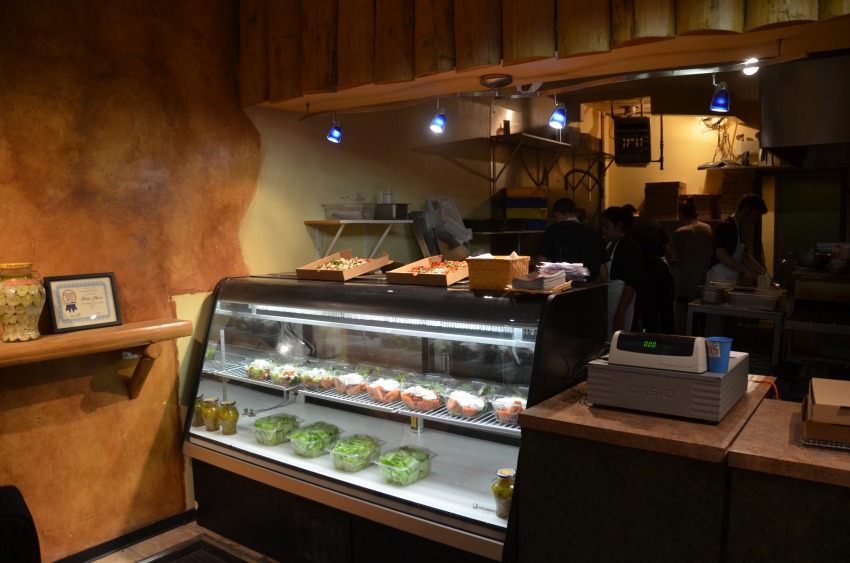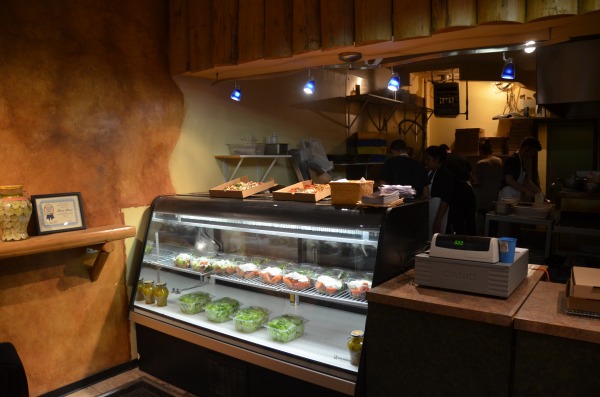 If you wish to experience the truly international grade quality in pizzas, this would be the ideal place for you. Experience the culinary excellence in the world of pizzas here at Steveston's Pizza place.
Every pie here is made with the highest quality of fresh ingredients. Moreover, their crust is said to be 100% organic too! They go to a great extent to make their pizzas not only delectable pieces of art but fresh, with quality ingredients.
Moreover, the chef here is the owner and he bakes these babies with his own hands. Chef Nader personally ensures quality check and control when it comes to his pizzas. It's not just about the pizza either. Their staff is so hospitable that they usually remember you by your name even.
Steveston's entire menu of Pizzas come in the standard size of 12" but are easily shareable. Their menu and the names of these dishes are so interesting that they will surely tickle your intellect and make you wonder.
Change the way you perceive pizzas!
Address: 3400 Moncton St #100, Richmond, BC V7E 3A2
Phone: +1 604-204-0777
Timings: 11 am to 9 pm
---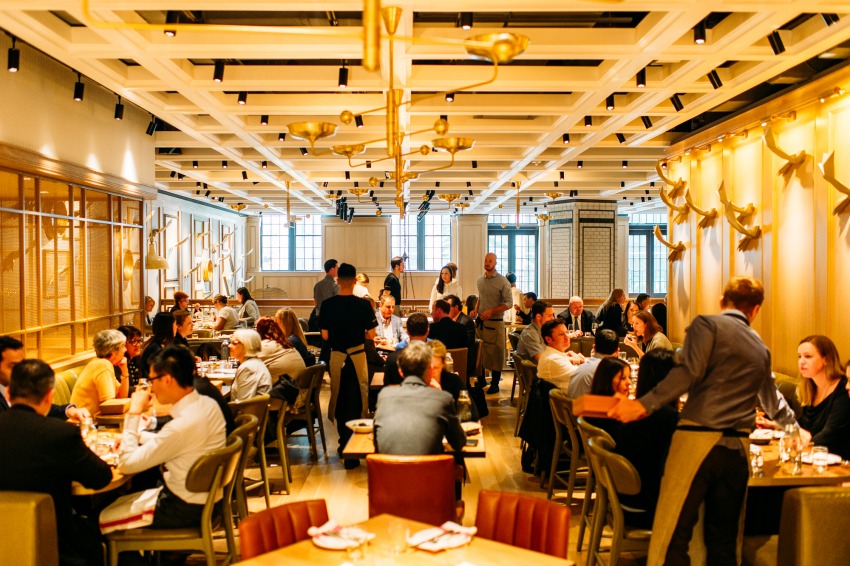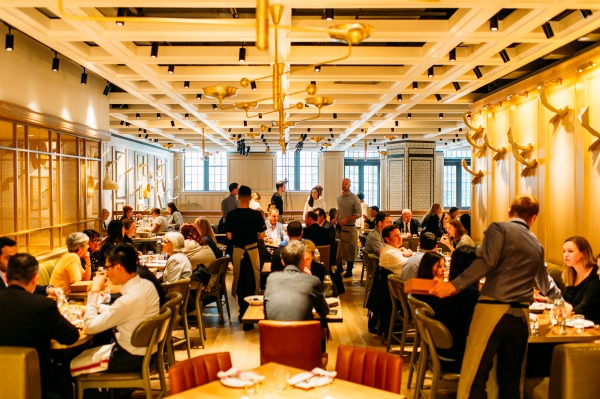 Nightingale is one of the premium places for pizza in Vancouver. They have this unique wood-stone oven right in the middle of the restaurant. One of the reasons why it's called Canada's Best Farm to Table Restaurant.
Guests are usually enthralled with the way Nightingale uses their ingredients which are always organic and sources especially. With an award-winning line of wine, its intricate use of spices makes them stand out.
Delicate thin crusts with seasonal toppings in their traditional roman style of pizza-making are truly amazing. The best time to join them every day is between 3 to 5:30 in the evening.
You are free to use DoorDash and order food from them. Moreover, you can always pick up your order if you are returning from your office.
They take orders for a large office or home parties too! So in case you ever want to celebrate your good days, make Nightingale a part of it. Just fillup all the necessary details and pay for it. Their amazing menu will surely change the way you arranged parties before!
They take only one holiday and that is on Christmas Eve. Otherwise, this restaurant is practically open for 7 days a week from 12 pm to 10 pm.
Address: 1017 W Hastings St, Vancouver, BC V6E 0C4
Phone: +1 604-695-9500
---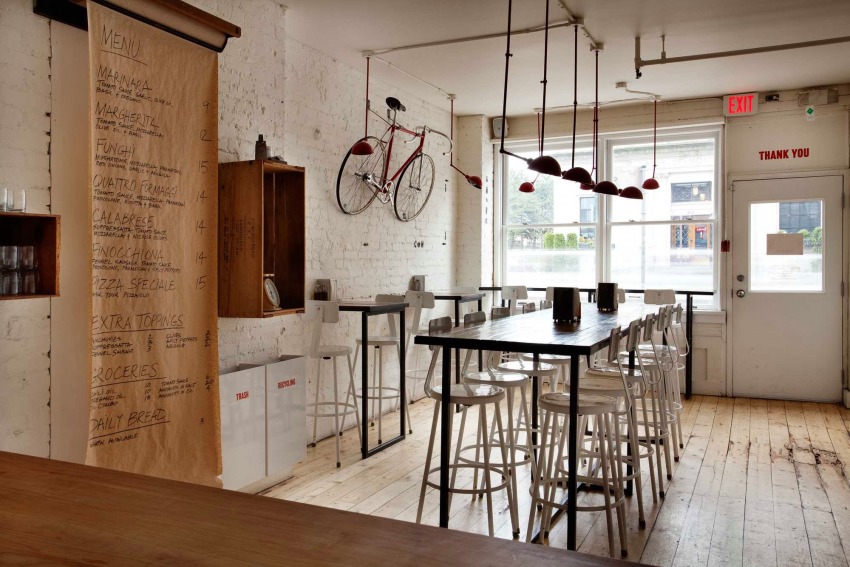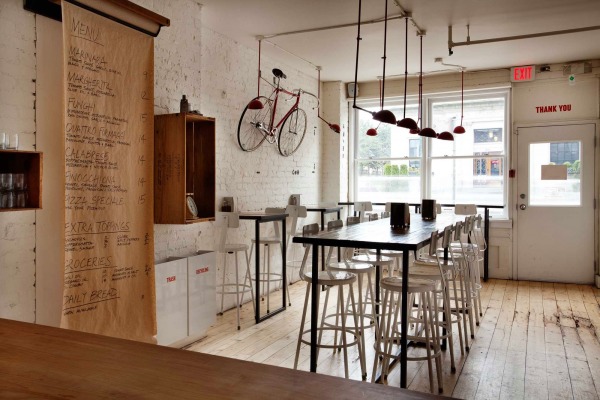 If you are in Vancouver and wish to try out a warm, cosy place for pizza, this is the place for you. You cannot pass by Pizzeria Farina and not sniff your way in. Rich and welcoming aromas coming out of this pizza store will tempt you to the core.
Well known for their crispy thin-crust and super-light pizzas, with simple yet enticing toppings and flavoured sauces.
You may try their Finocchiona pizza to start. Finocchino is perfect for those who love fresh tomatoes, with some Piave cheese and fennel sausages in their pizzas.
Moreover, you may try the much popular Calabrese. It is topped with authentic Nicoise olives, oregano, fior di latte, and soppressata. Moreover, you can try their Funghi. It's a chewy and flavoured dough, cheese, arugula, and earthy mushrooms.
Most importantly, Pizzeria serves until their dough runs out. Unless you are early enough you may not get any of the incredible servings they offer.
By the way, they deliver to homes as well. All you need to do is call within 4 to 9 pm. They can have it delivered provided they did not run out of dough. Moreover, you can always gift someone a redeemable couple code/gift card. These gift cards work just like an Amazon gift card.
Address: 915 main street, Vancouver, BC V6A 2V8
Phone: +1 604-681-9334
Mail: [email protected]
Timings: 7 days a week – 4 pm – 9:00 pm
---

Nook is quite popular in Vancouver. If you have been craving a pizza in Vancouver, this is the place you need to drop by my friend.
Sometimes we wonder what we can gift for their birthdays. Well, not to worry, you can always gift an e-card from Nook. They can redeem the gift card anytime from any of the locations.
Their Homemade Sausage pizza is something you'd adore! It's made with three 3 chillies – Goat horn, Calabrian, Sicilian with basil. You should try their Margherita and Pepperoni pizzas to get the true taste of their pizza delicacy.
Celebrate the happy occasions of your life with Nook and you will not regret it. Their popularity is visible because they have three outlets in Vancouver. And, trust us when we say this – all three are equally impressive.
For a complete Italian evening, you need to get this place for pizza in Vancouver. Try their Mushroom pizza and Anchovy is delicious too!
Address: 781 Denman St, Vancouver, BC V6G 2L6
Phone: +1 604-568-4554
---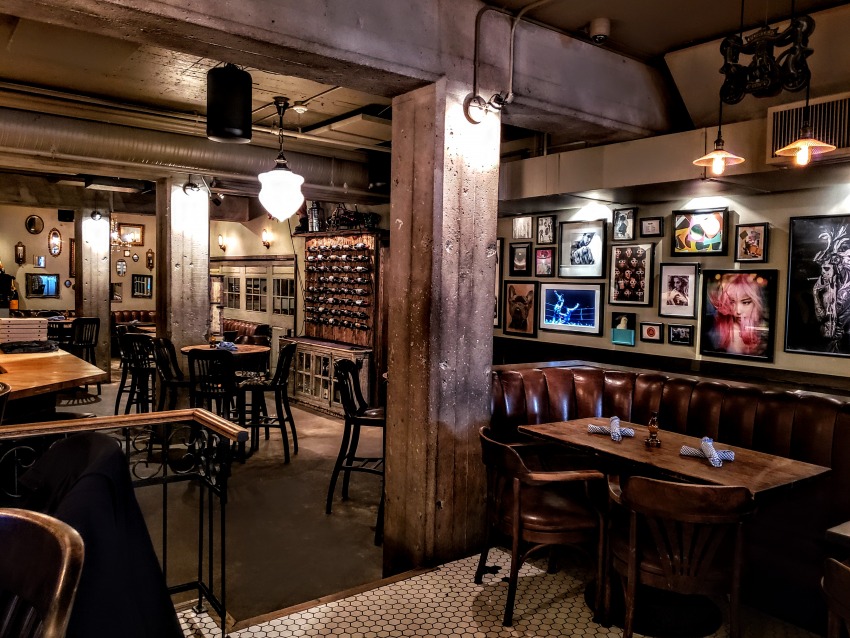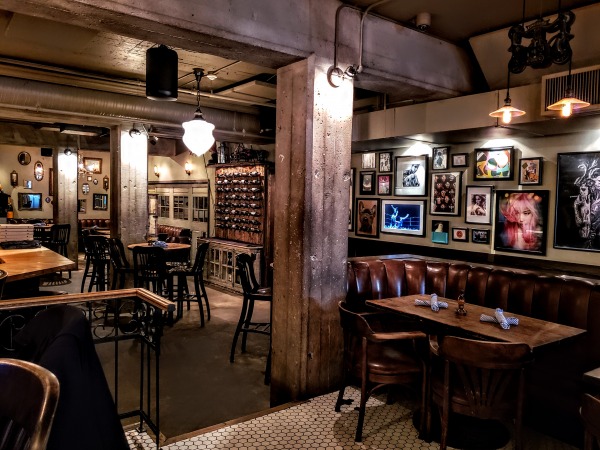 The Parlour needs no introduction for those who stay in Vancouver. They are known for their beautiful ambience and hospitality. Your experience here is bound to be so great that it will leave a lasting impression on your mind.
Topped with pepperoni, meatballs, mozzarella, and Banana pepper, their 'The Dirty' is something incredibly unique – a must-try! This is one of those places where you'd just spend an entire evening with your friends.
You may try their Goldmember and the Zeus to start. These two are loaded with heavy-duty ingredients like caramelized onions, roasted garlic, feta, gruyere Mozza and whatnot.
There's a wide range of cocktails to choose from and they have daily specials going on for specials.
You can order online through any of the three apps like UberEats, SkipTheDishes and DoorDash.
You can book an entire place for yourself – for your corporate office parties or college parties. The ambience is just drooly with low light and exquisite delicacies will surely charm your mind.
Plus, these buyouts are flexible too! Depending on your preferences you may choose any of the two lounges like the lower one or upper lounge. You may even book a partial lounge.
Address: 1011 Hamilton St, Vancouver, BC V6B 5T4
Phone: +1 604-568-3322
---
Conclusion
Hopefully, we have got you covered on Pizza. If you are in Vancouver, do not forget to try these places first. Our journey of learning about the 10 best pizza in Vancouver is coming to an end now.
Let us know how you liked these places in the comments down below. See you next time. Ciao!