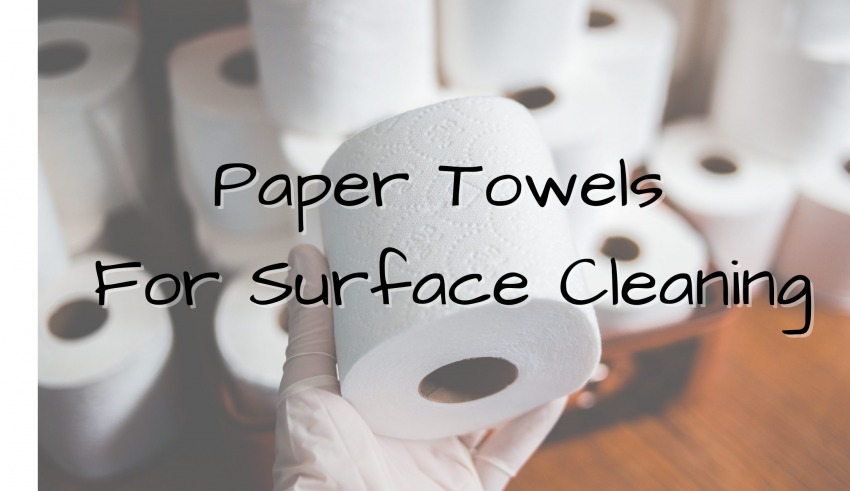 Paper towels are one of the most important necessities in any household or office space. Having good quality papers towels is very important. They help you to keep your house clean and clear up all the spillages. Paper towels have become the top choice when it comes to surface cleaning cloth in America. Finding good value and top-quality towels is a must. we aim to help you solve this dilemma by providing you a list of the best paper towels. This list has been carefully curated to include different types of paper towel companies at various price points.
Here is the List of the 10 Best Paper Towels For Surface Cleaning.
Bounty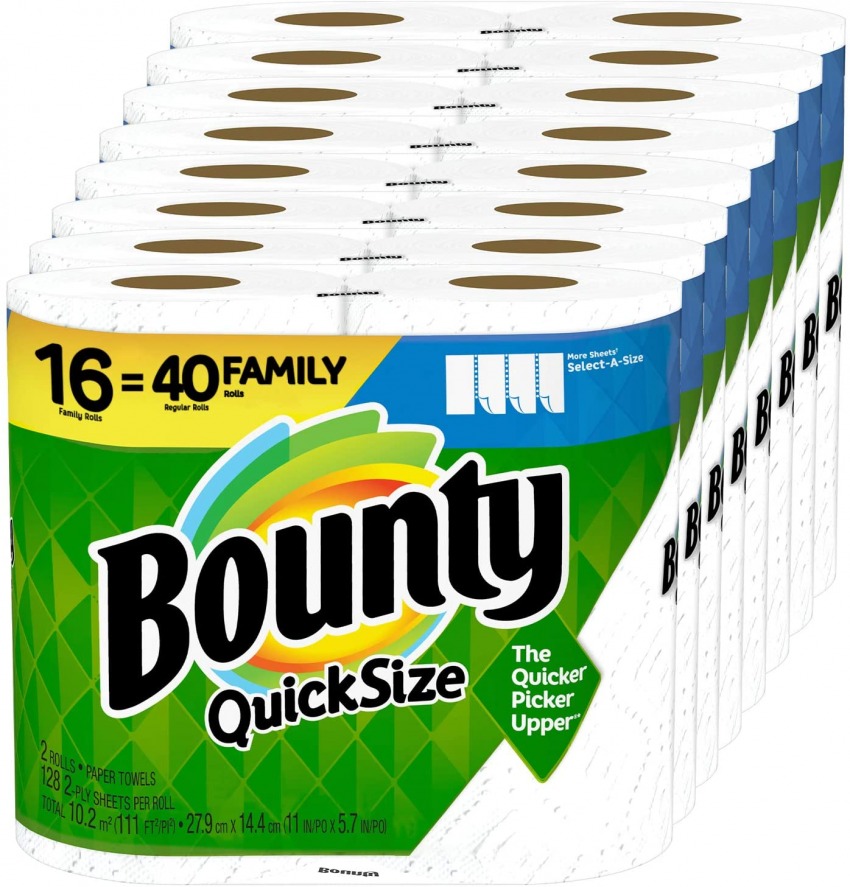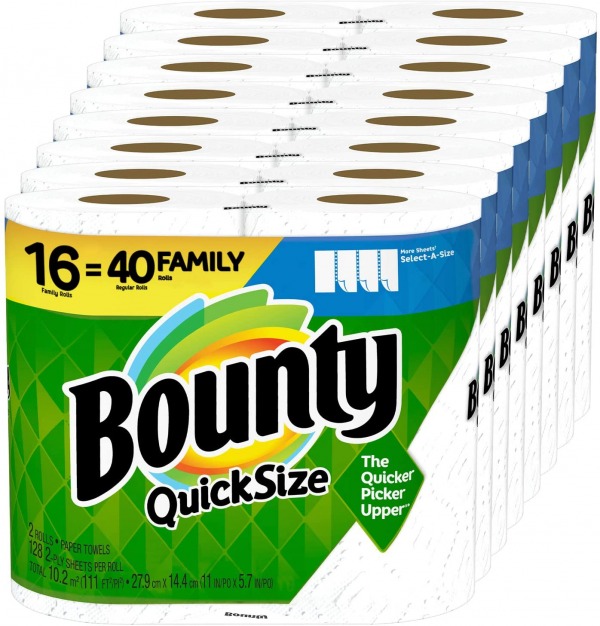 Bounty Quick Size paper towels are one of the top-rated products on Amazon. They have become one of the best brands in the paper towel industry. The company has been able to make paper towels which are great surface wipes. These paper towels have become a household name. Each paper roll that they have contains sheets that are cut into small usable sizes. Using one sheet is enough for cleaning up spillages and other liquids from the surface.
The company has made many claims about its products based on quality check tests that it performed. They claim that their towels are 2 times more absorbent than other leading brands in the paper towel segment. They have increased the number of sheets they provide in each roll. With this new product, they provide 80 more sheets per roll. This makes the product economical and cost-effective. A single roll lasts much longer than the earlier versions.
The company sustainably manufactures paper towels. All of the paper towels they make are used from sustainably sourced raw materials. For every tree that is used for making their towels, they replant at least one tree. They have also stayed away from any deforestation practices which many paper towel companies are guilty of.
The company implements the FSC standards to minimize their effect on the environment. The great customer reviews they have attained speak for themselves. They have been rated 4.9 out of 5 stars. They have been rated by over 50,000 individuals who have purchased their products globally. Even, They have been selected as Amazon's choice product in the paper towel segment. They sell their towels in a pack of 16 rolls. The product retails for $38.84 but can be purchased for $31.57 on Amazon.
---
Presto!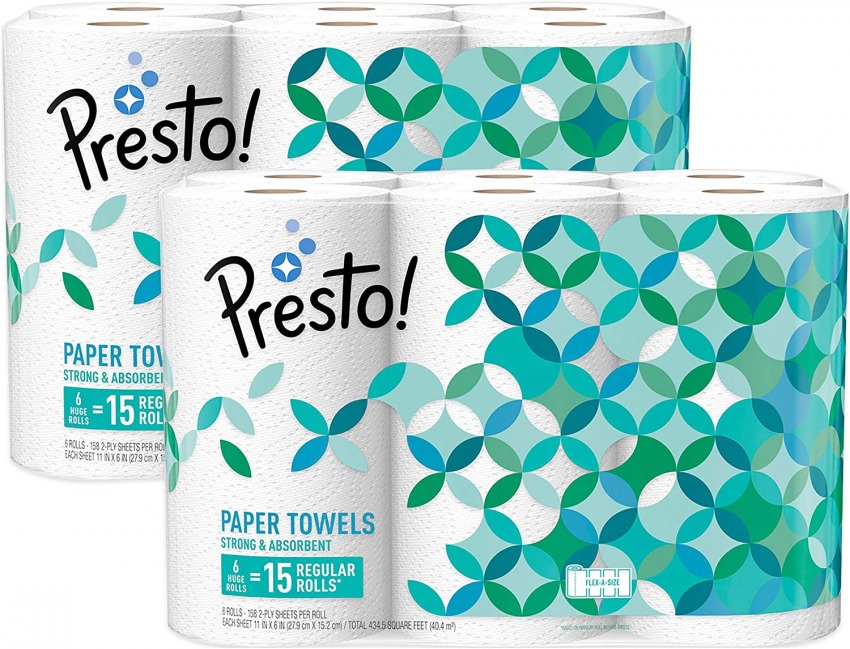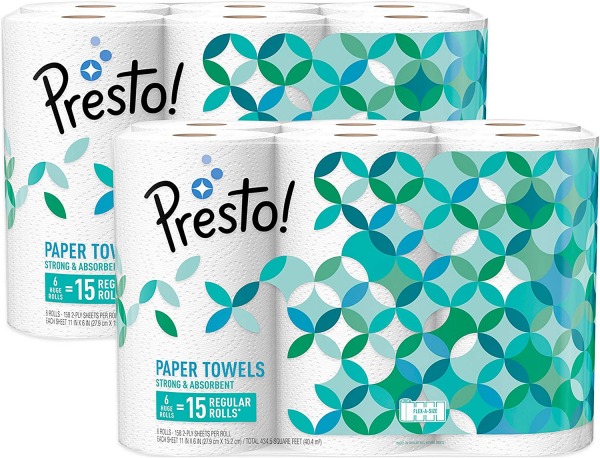 Presto! is one of the biggest paper towel brands in America. They have established themselves as the main competitor in this segment. The company ensures all of its products have the exceptional standards of quality which they aim to deliver. They manufacture towels that will help to deal with all of your kitchen mess without a sweat. They use 2 ply sheets in each roll. This makes their paper towels the best in this segment.
This 2 ply technology is much more advanced than the single-ply towel used by many. The company says that their 2 ply towels are 75% more absorbent than the regular single-ply towels. This helps you to deal with any household mess with ease. The towels can be torn according to your requirements. This helps you to remain flexible with the size of the towel you have to use. Their paper rolls tend to last 2.5 times longer than the regular paper rolls available in the market.
Their products are made from sustainably sourced paper. They understand the need for conservation and ensure that their manufacturing process does not leave a negative effect on the environment.  The product is Alexa compatible as well. You can ask Alexa to place orders for the Presto! paper towels. They provide a satisfaction guarantee with all of their products.
If their clients are not satisfied with their products they refund them within 1 year of purchase. They believe in their product and its quality thus have provided a lenient refund policy. They sell their paper towel in a pack of 12. The company says that 12 rolls of their paper towel are equivalent to 30 regular rolls because of the huge size of thor rolls. You can purchase them on Amazon. The product costs $25.29 for the entire pack.
---
Solimo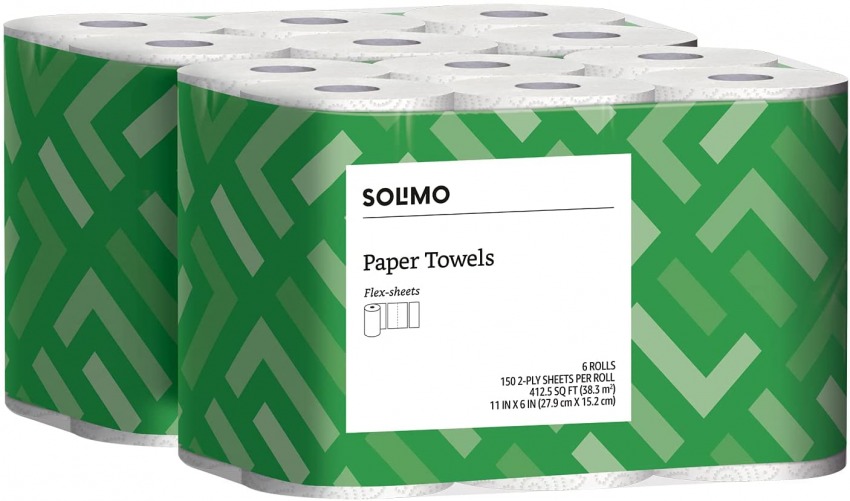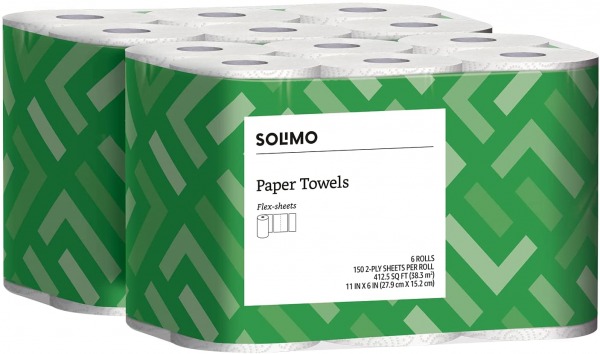 Solimo provides great value when it comes to paper towels. They use the latest technologies available to create some of the best paper towels in the market. They use advanced processes to create 2 ply sheets. These sheets are ideal for dealing with the daily household mess that occurs. These paper towels have good absorbing power. They easily absorb the majority of the mess, making it a great household product.
Solimo is a reliable brand in this industry. They manufacture all of their products in the USA. they use a mixture of domestic and foreign raw materials to make their products. They are one of the most environmentally friendly paper towel brands. Even, They have been certified by the Forest Stewardship Council as a member of responsible forestry to preserve forests. They do their bit in preserving the forests for future generations. The new variant of the paper towel created by them is much longer.
They provide 45% more sheets compared to the previous version. Tier flex sheets allow you to use whichever size of paper towel you require. They mainly use sustainable wood and paper to make their product. They sell the product in a pack of 12 rolls. This pack essentially contains 2 packs of 6 rolls bundled together. They cost $16.25 for this pack and around $0.90 for 100 sheets. This makes them one of the most affordable yet reliable paper towel options. With their satisfaction guarantee, you can return the product within a year of purchase if you are not satisfied with it.
---
Amazon Commercial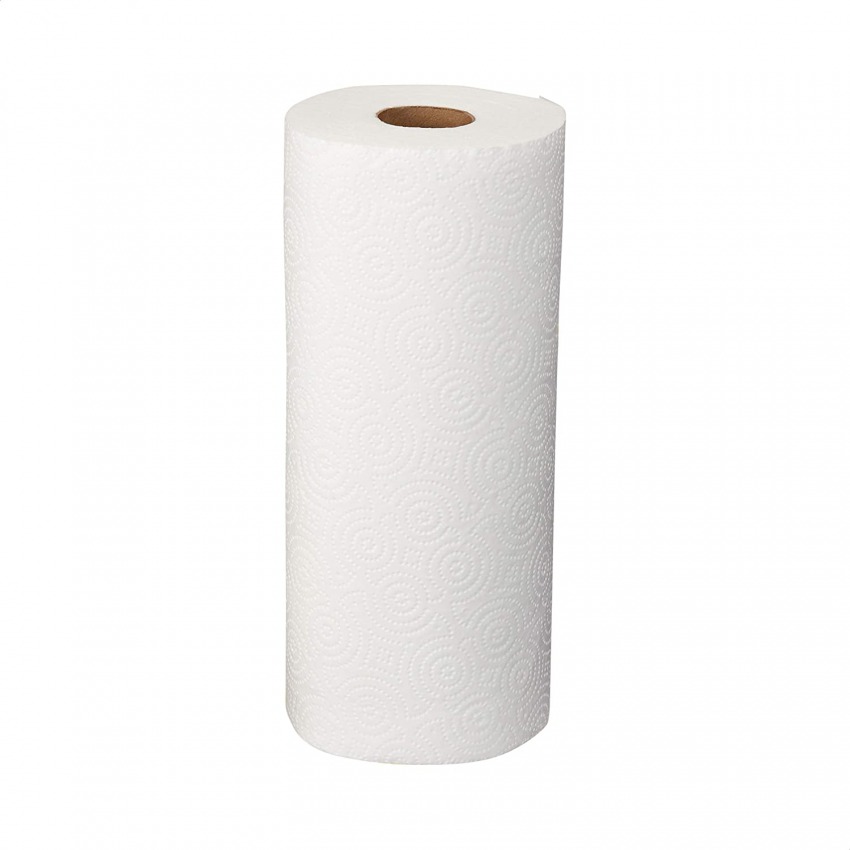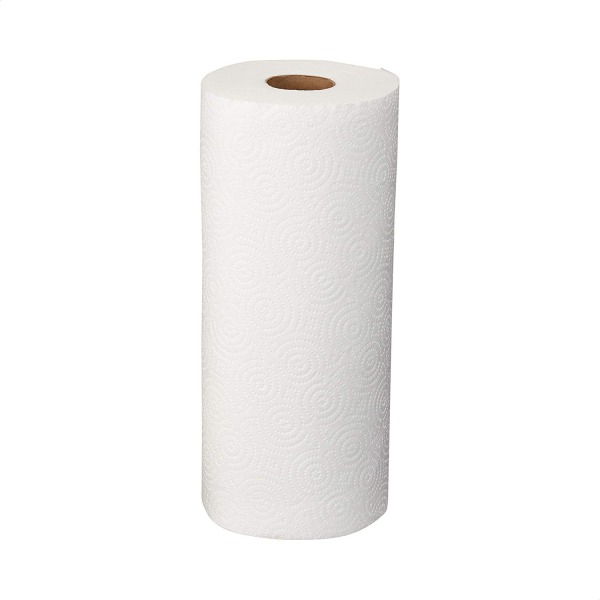 AmazonCommercial is an attempt by Amazon to enter the consumer market. They have been quite successful in this segment. The products they have created have been positively received by the masses. The main reason for their success is the great quality of materials used to create their products and the competitive pricing they provide. They have made an impact in the paper towel industry as well with their Kitchen paper towels.
These towels have been made from sustainable sources. They have certification from both the Forest Stewardship Council as well as the Rainforest Alliance. While their products can be used at home they have been specifically created for commercial settings. These are durable paper towels that have been created from Virgin structured fibers. All of their towels are recyclable. This helps you to reduce the waste and negative impact on the environment. The core of the paper towel is made from cardboard.
This makes it very easy to mount on a stand. All of the paper towels are perforated. They are individually wrapped and then neatly packed in a box. Amazon commercial sells these as a pack of 30 rolls. Each roll contains 85 towels. The product has received a rating of 4.5 stars on Amazon with over 9,000 votes. These can be purchased for $34.99 this is a great price considering these are commercial quality rolls.
---
Brawny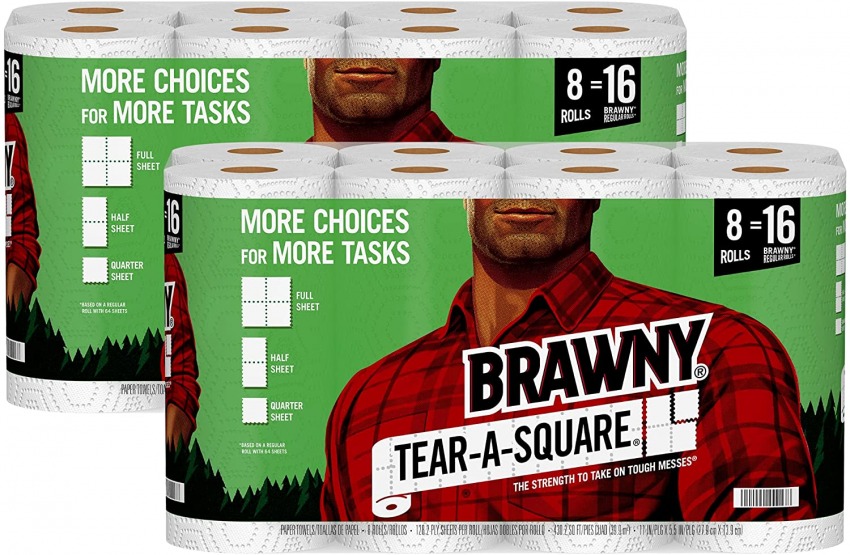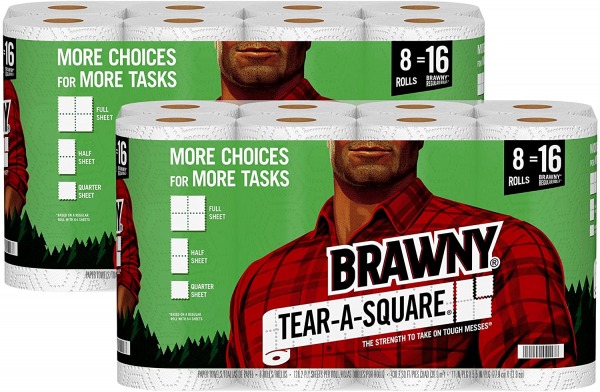 Brawny has created one of the most versatile paper towels in this industry. They have applied an innovative design to the product which has made them very popular. They have used this new technique to make their product suitable for all conditions. You can use their towels by tearing them into three different sizes. You can use a sheet in the normal length for big spillages or cleaning up the mess. If, You can tear a towel in half for smaller spillages.
You can even tear a sheet into a quarter. Having so many sizes which can be achieved through a single product makes it suitable for all types of uses. Having such versatility has added to its demand in the market. This helps you to prevent any waste when using the paper towel.
They sell the product as a pack of 16 rolls with each roll having 128 sheets. The product costs $28.96 on Amazon which is around $2 less than its retail price. This is a great price as the cost for 100 sheets comes to around $0.71. They have acquired a rating of 4.8 stars on Amazon with more than 35,000 ratings making them one of the most highly-rated products in this segment.
---
Sparkle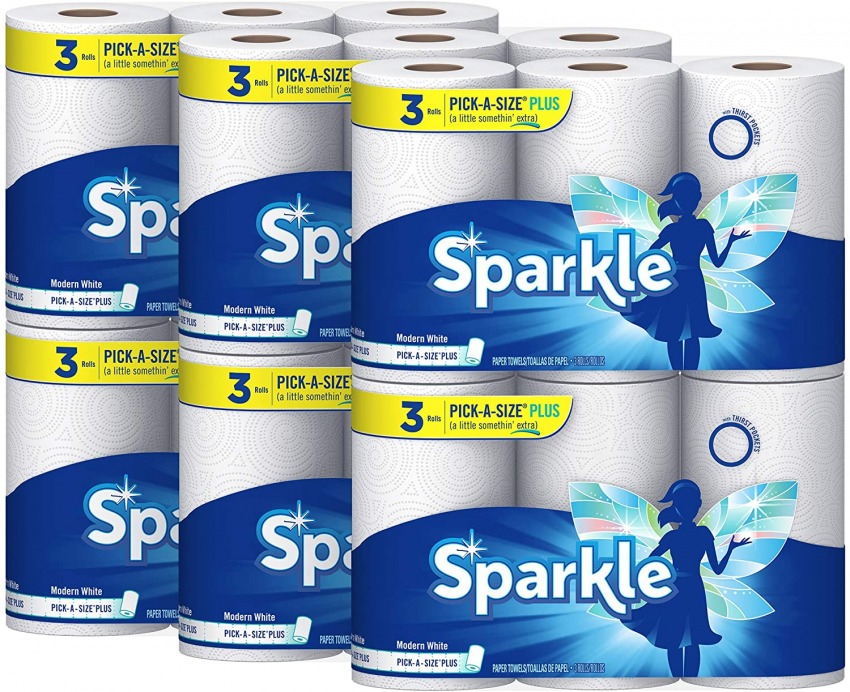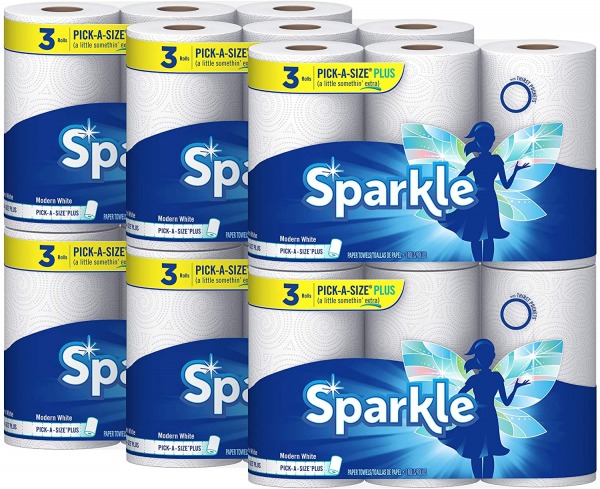 Sparkle has been manufacturing great paper towels which are suitable for all types of situations. The company has the aim of providing you the largest amount of paper towels for the cheapest cost. The company has been a popular choice in the paper towel industry. They have had positive feedback from their clients and it is reflected in the ratings they have on amazon. Even, They have been rated 4.6/5 with more than 10,000 ratings.
They aim to be the leaders in the value segment of the paper towel industry. The company has tried to supply the maximum volume of paper towels in each of their rolls keeping the price considerably low. Each roll that they sell has 116 sheets. The pack they sell contains 18 rolls, 6 packs of 3 rolls each.
The company says that the pack of 18 that they sell has paper towels equivalent to what you get from 37 regular rolls. They sell premium perforated sheets which are ideal for cleaning up your house. The latest paper towels created by them are 1 inch wider than the older generation. You can purchase them on Amazon. They will cost you $28.99 on Amazon.
---
Viva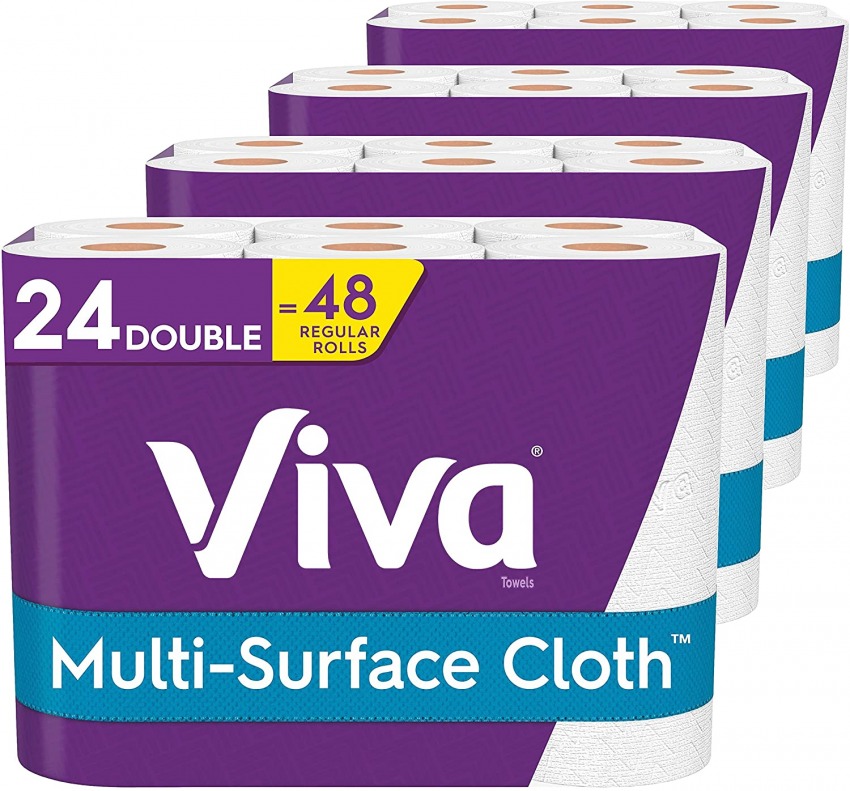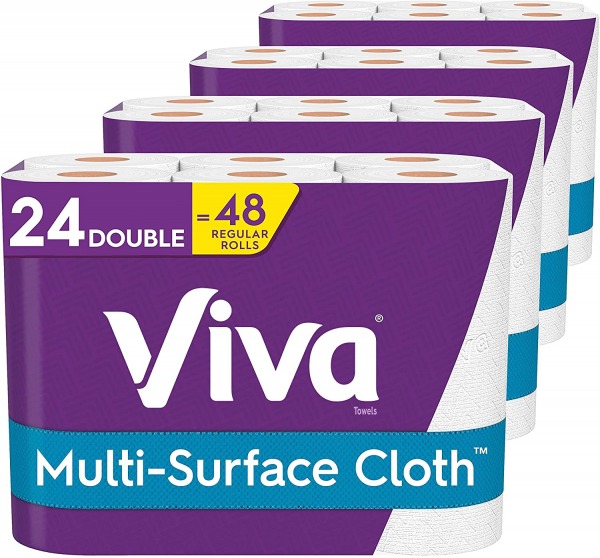 Viva is a climate-friendly paper towel company. Their products follow all of the conservation rules that have been enacted and aim to remove any negative impact on the environment. The multi-surface cleaner is their range of paper towels which are great for cleaning different surfaces. Their product ensures that you get the perfect cleaning on any surface that you use. You can even use it on glass and you will be able to clean it without leaving any scratches on the glass.
This is an all-rounder for all the surfaces you may have to clean in your house. They have used a textured pattern on their paper towels which allows them to clean surfaces better. They claim that tier products can trap mess 2 times better. This is due to the pattern used on the surface of their towels. They sell the towels in a pack of 24 double rolls, which equates to 48 regular rolls. You get 110 sheets per roll which is a healthy number. The products can be purchased on Amazon for $42.33
---
Seventh Generation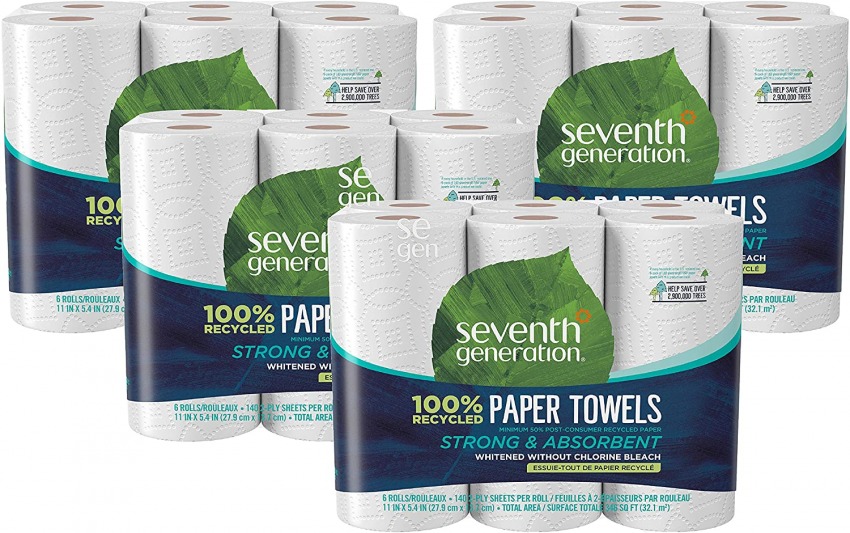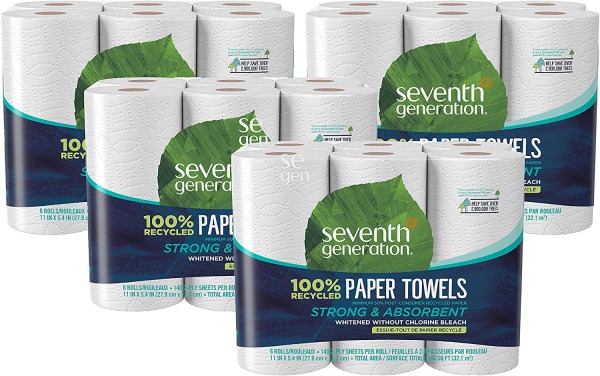 Seventh Generation manufacture paper towels which are made from recycled paper. They have successfully made their entire packaging recyclable. The paper towels, the plastic wrapper, and the cardboard box they are shipped in can be recycled. Using recycled paper to make their towels has led to a positive impact on the environment. While they have opted for recycled paper, they have not hampered their quality. They provide great quality.
The paper towels are soft yet durable. They perform the task of cleaning surfaces with ease. You can customize the size of each sheet to fit your requirements. They do not add any additional chemicals to the towels to ensure that they can be recycled without the need for any additional treatment. You can buy their towels in a 6 count pack of 4. It can be purchased for $39.16 for the entire pack on Amazon.
---
Kleenex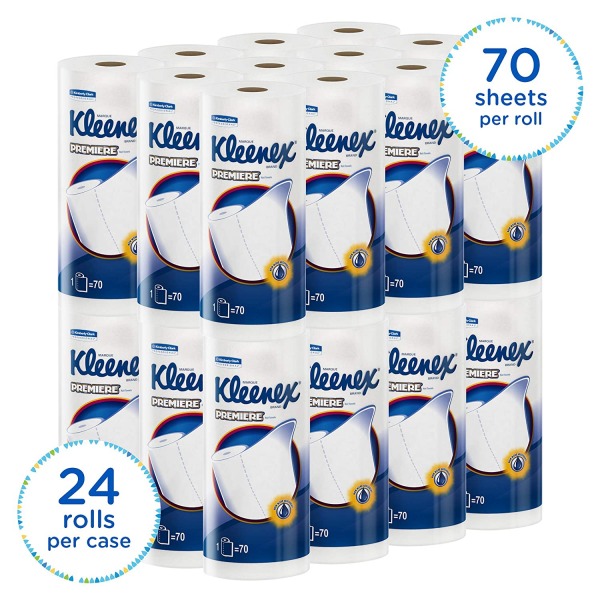 Kleenex paper towels are made by Kimberly Clark Professional. These are some of the top paper towel options when you want to purchase them in bulk. They sell these products in large quantities to ensure that they can provide good quality at cheap prices. You can purchase these as a case. Each case contains 24 rolls. Each roll has around 70 sheets. This is the more premium option. The towels are made from cotton and are durable.
They tend to provide good cleaning options. One drawback is that they are single-ply sheets. This leads to a lack of performance when compared to the widely popular two-ply sheets. They do not have any environmentally friendly certification as well. Even, They claim that the cloth-like feel which their towels have let the users perceive it as a premium towel. They are a bit expensive and are sold for $65.79 on Amazon.
---
Caboo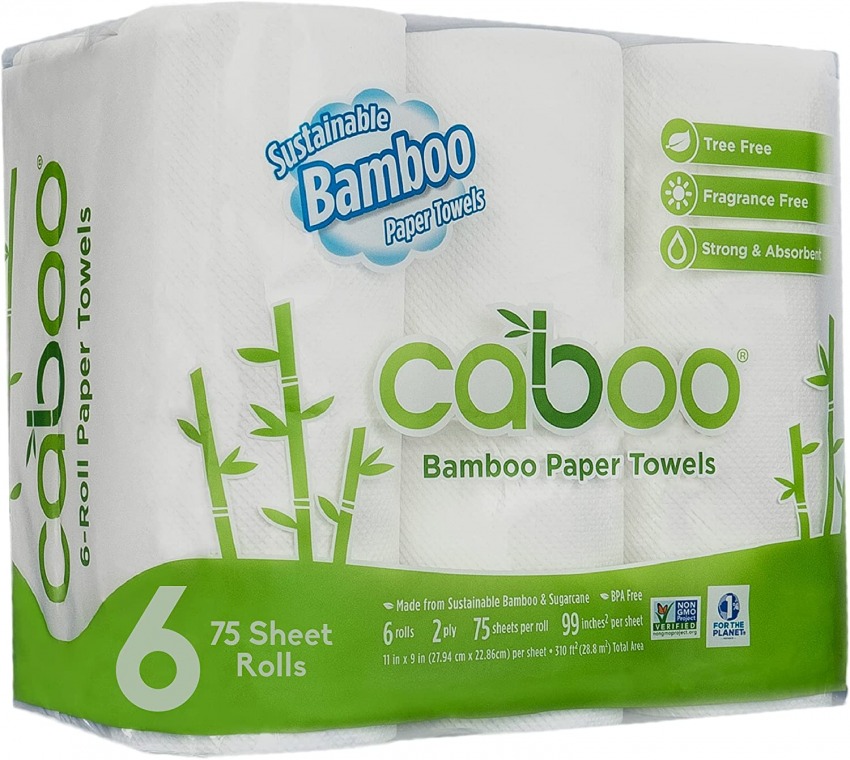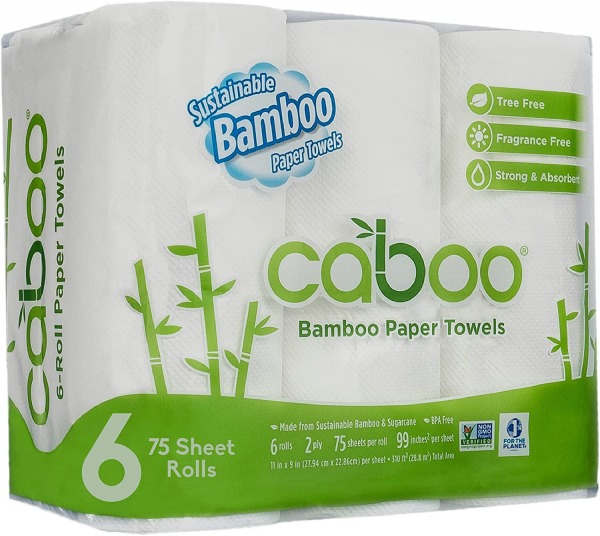 Caboo makes bamboo paper towels. These paper towels are made from bamboo as the name suggests. Making these from bamboo helps to prevent deforestation. The trees from which paper towel is generally made are under the threat of deforestation. Making a paper towel from bamboo is much more sustainable. Bamboo is a fast-growing grass and can be easily replaced. Unlike trees, they do not need many years to grow and provide significant benefits to the environment.
The bamboo generally grows back in 3-4 months. When you compare these with trees which can take up to 30 years to grow, they are the more sustainable option. Even as they are made from bamboo the quality has been maintained. You can purchase these in rolls of 6. They are 2-ply and durable. They cost $19.99 on Amazon. Even, They have many environmentally friendly certifications. They also have a Panda-friendly certification. This signifies that they do not use bamboos which are a source of food for Pandas
---
Scott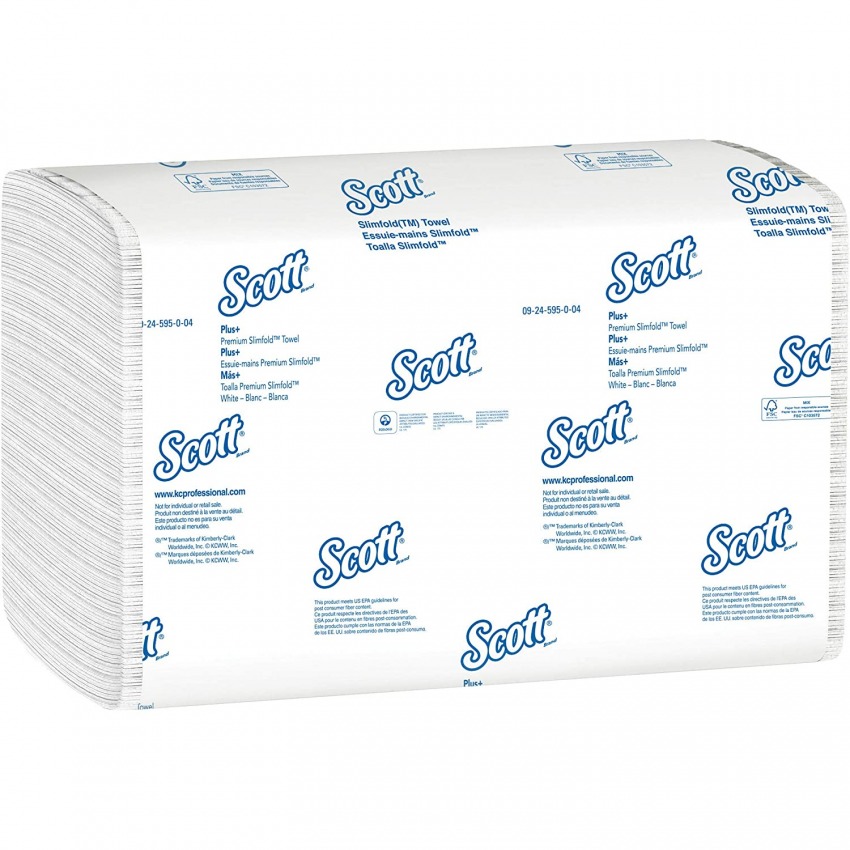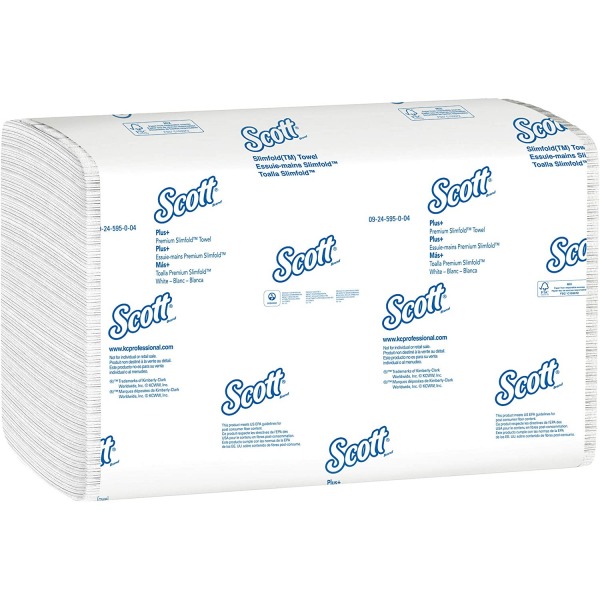 Scott is a reliable brand when purchasing paper towels. They make paper towels which can absorb water and other liquids much master. This is due to their absorbency pockets. This is a technology they have implemented to improve their product. Their paper towels are folded. This helps you to save a lot of space when storing them. When unfolded these towels cover a large area and help you to clean the surface with ease. The cost of each package is $27.82. This provides great value and is a good choice for home and commercial use.
---
Georgia-Pacific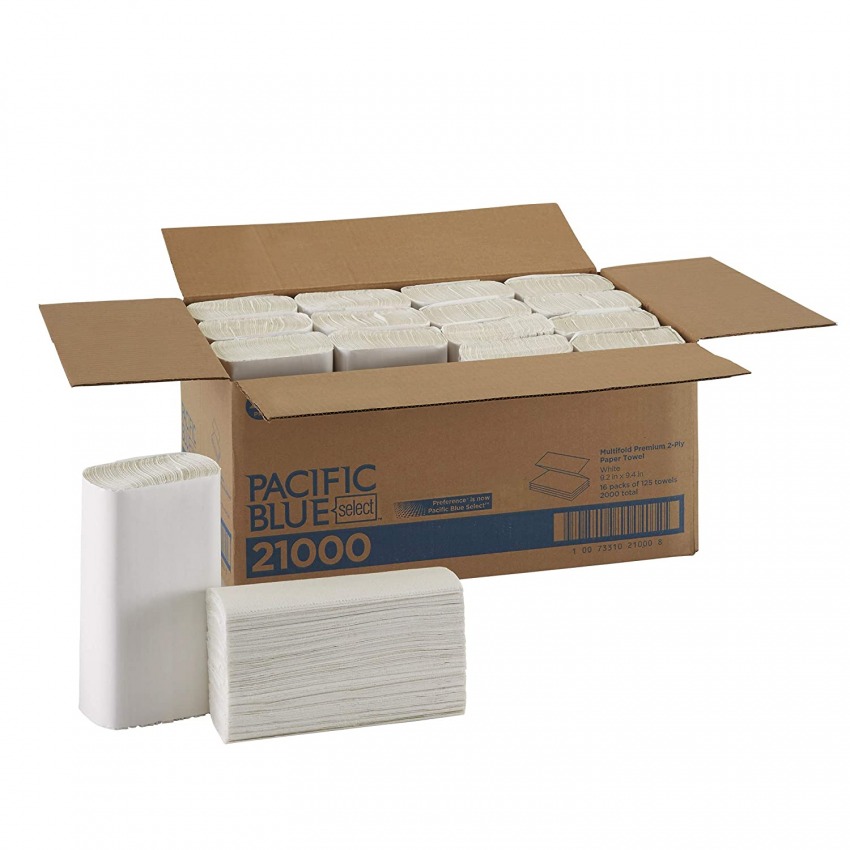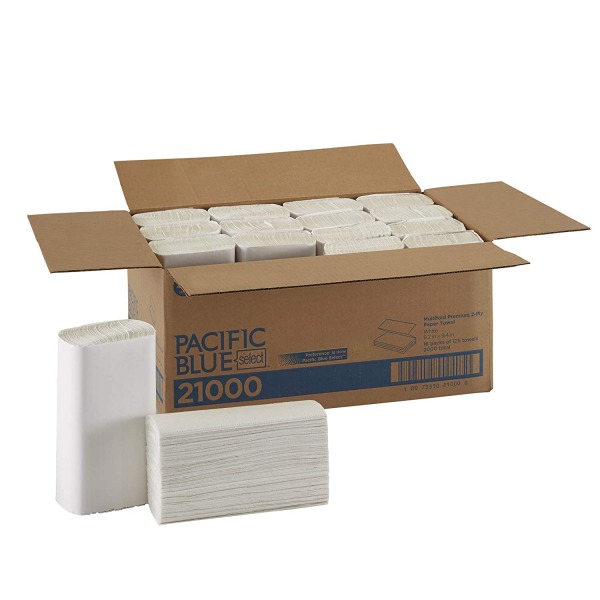 Georgia-Pacific manufactures multifold paper towels. Unlike many of the options available which are generally rolled. They are folded. This helps you to tore them much easier. They create this line of paper towels for office as well as home use. They provide these paper towels in many packages. The most popular variant is the 2000 count. There are 125 paper towels in each pack and each case has 16 packs. You can buy them on Amazon for $23.71.
---
Conclusion
Paper towels are available in many shapes and forms. The article has highlighted many different features these paper towels have. The brands have their own specialties and you will have to choose the one which is the most appropriate for your specific needs. There is a variety of types and price points for you to choose from. You will find the company which is perfect for your needs. The paper towels on this list are durable and meet the everyday needs of offices and households.