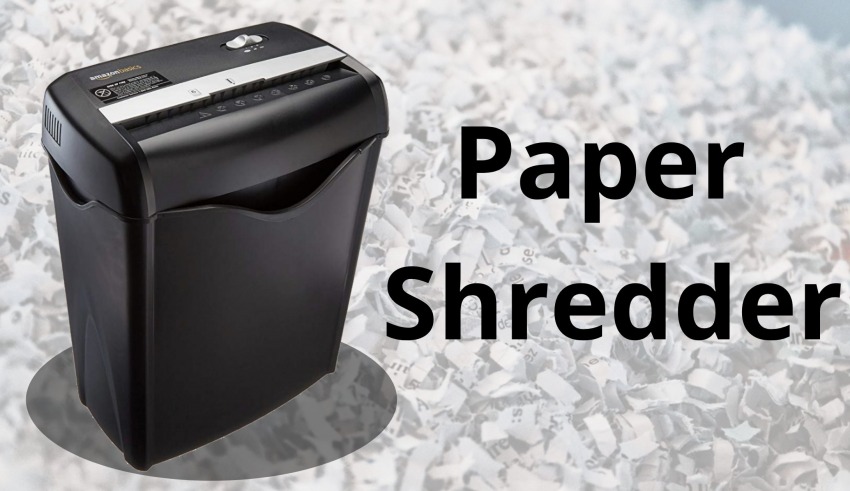 Although shredders aren't the most attractive bit of engineering, they're nonetheless vital, and there's now a wide selection of shredder manufacturers and models to choose from. Since many people think of shredders as large, heavy, and noisy machines that take up a lot of space, the greatest shredders can fit into any contemporary workplace or house. The best paper shredder will take a very less space and will provide you with better functions. 
A reliable paper shredder is crucial for keeping sensitive information confidential — and for your personal peace of mind — whether you're buying one for the business or your home. Many shredders come with extra features like sophisticated shredding processes and the ability to shred credit cards safely and are a lot less expensive now than they used to be. 
Paper shredders enable users to finally get rid of documents while also prohibiting confidential material from being recovered. We've compiled a list of our top selections for both home offices and small companies, along with a breakdown of their characteristics to help you decide which is best for you.
What is the Best Paper Shredder to Purchase?
The following are the shredders that we believe are the most functional and offer the most bang for the buck:
Amazon Basics 6-Sheet Cross-Cut Paper and Credit Card Home Office Shredder

The Amazon Basics 6-Sheet shredder is touted as a portable, light-duty shredder for personal usage. It can only feed up to six sheets of standard-thickness paper at a time, despite the fact that it can handle credit cards, staples, and tiny paper clips. Also, It has a far shorter runtime than the other alternatives on our list, clocking in at only two minutes. It necessitates a 30-minute cooldown after two minutes of constant use. 
This shredder includes an auto-start mode that begins shredding as soon as a paper is inserted into its tray, as well as manual reverse for when a paper becomes jammed. The Amazon Basics 6-Sheet Cross-Cut Shredder is an excellent choice if you need a shredder for personal usage but don't want to spend hundreds of dollars. On Amazon, it's only $33.57, yet it provides Level P-4 data security. This rips paper into cross-cut bits that are 1.84′′ x 0.22′′ in size.
---
Amazon Basics 8-Sheet Capacity, Cross-Cut Paper and Credit Card Shredder

Another Amazon Basics shredder is next on the list, with an 8-sheet capacity that shreds paper into confetti-like bits measuring 3/16 by 1-27/32 inches (5 by 47 mm) and satisfies P-3 security requirements. Credit cards, staples, and tiny paper clips are likewise destroyed (one at a time, using a designated slot).
If you are looking for best paper shredder on a low budget, this can fulfil your needs. 
The shredder's run time and thermal protection are 3 minutes on / 30 minutes off; if the shredder adequate and regular over the specified run time, it will switch off  to protect the motor from overheating. This one has a 4-mode power switch with auto, off, reverse, and forward modes, an LED status indicator with power on and overheat, an 8.7-inch paper entering width, a lift lever for simple shredder-head lifts up, and a 4.1-gallon shredder-head bin.
---
Aurora AS890C 8-Sheet Cross-Cut Paper/Credit Card Shredder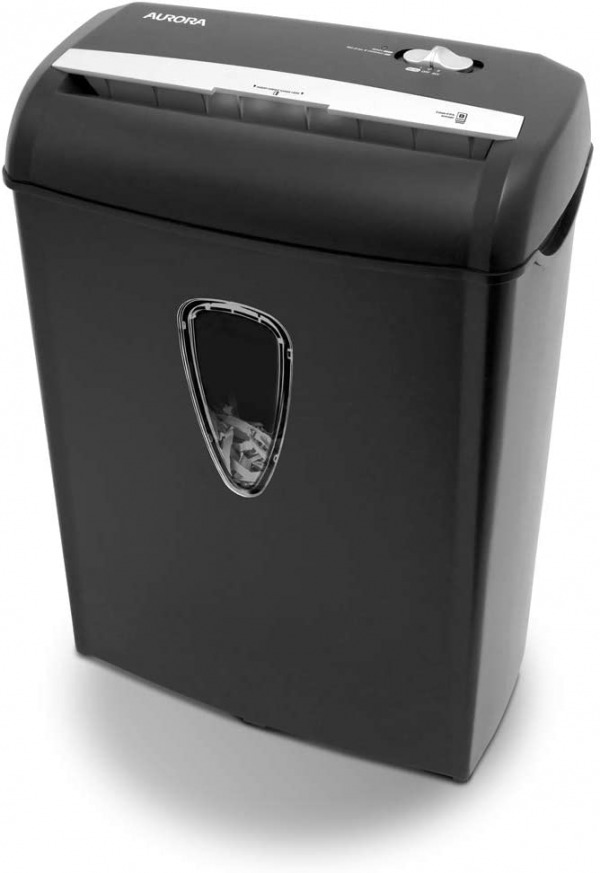 This Aurora shredder is very cheap and can cut anything from paper to CDs and credit cards. It comes in a black and grey style that would look fantastic in any office. It has a 20.4-litre waste bin that can shred up to eight sheets at once. Considering its inexpensive price, this shredder model comes with a long list of functions, including the option to manually advance and reverse paper jams. 
It also consumes no power in sleep mode, making it ideal for any green-conscious home or business. When you put something into the model, it will start shredding right away, and if stray fingers get too close to the blades, the device will shut off immediately owing to a three-way safety mechanism. It provides excellent value for money, especially when data security is a concern. It has two parts: a shredder on top and a plastic trash bin on the bottom, and it seems strong yet is lightweight.
---
Amazon Basics 8-Sheet Strip-Cut Paper, CD, and Credit Card Shredder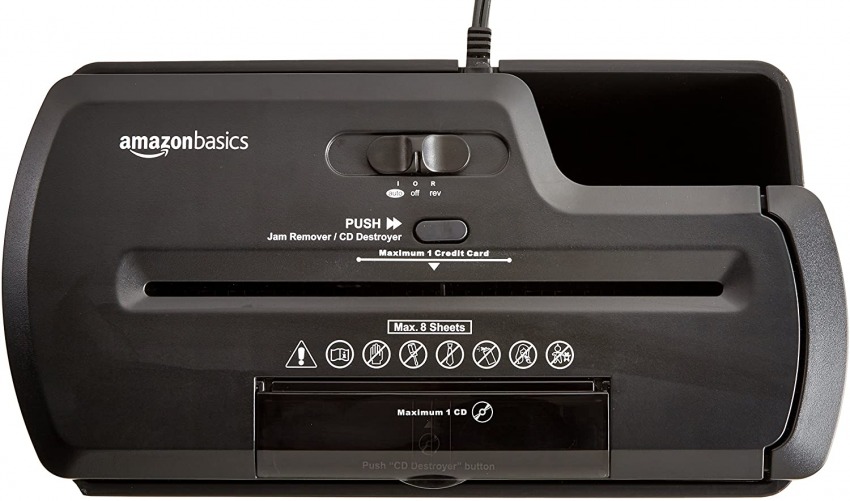 This low-cost Amazon Basics shredder will do many of the same duties as more costly versions, but without the high initial cost. This device will strip-cut paper, credit cards, and CDs into small strips for a penny less than $29 but only for two minutes before requiring a 15-minute cooling period.
Once you feed something into it, it begins shredding automatically, and it has a manual reverse function for clearing paper jams. The Amazon model features an 8-sheet paper capacity, and the 3.2-gallon pull-out bin is enough for the price.
This is an excellent purchase for the money. It's critical to follow the use warning, which states that after a few minutes of continuous use, the device must be turned off. You can shred a lot of paperwork as long as you follow the directions. One thing to keep in mind is that if the device becomes too hot, it may shut down. Simply allow it to cool completely before using it.
---
Fellowes 10MC 10-Sheet Micro-Cut Home and Office Paper Shredder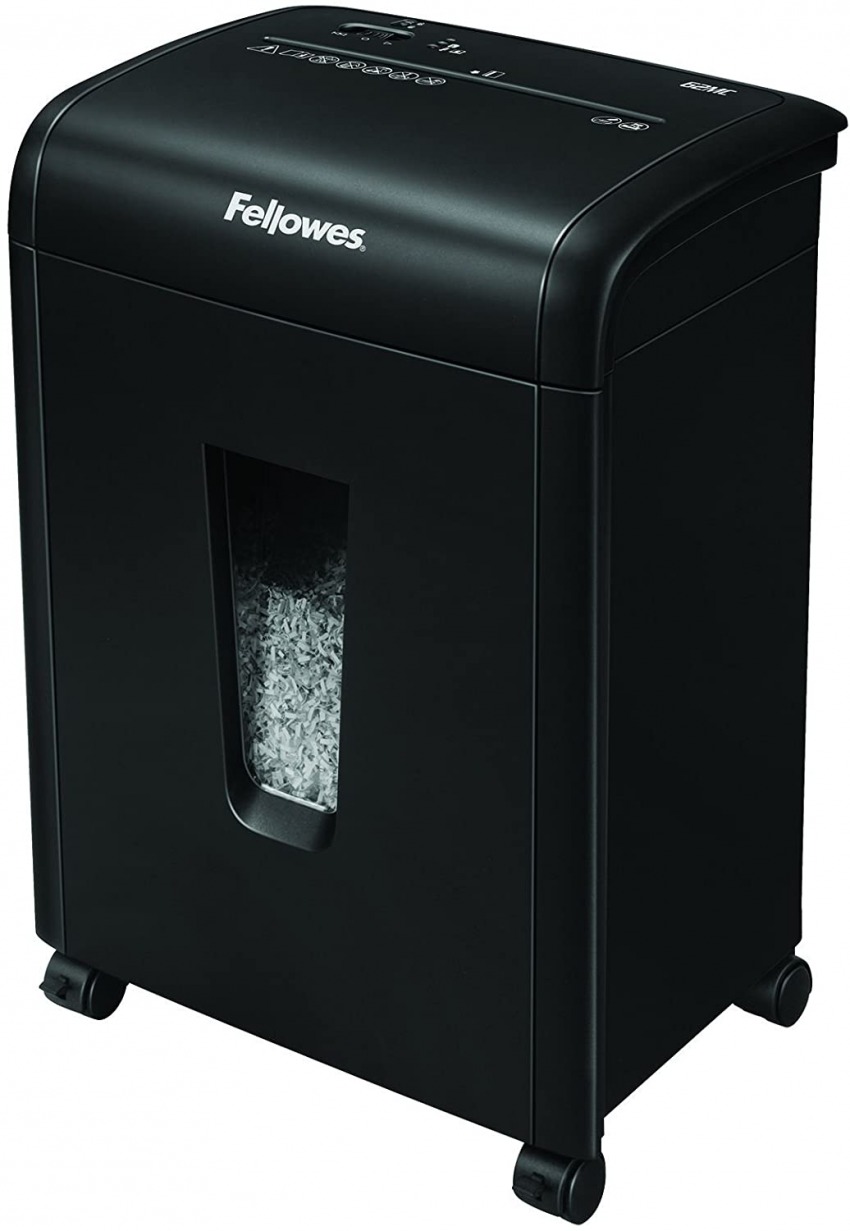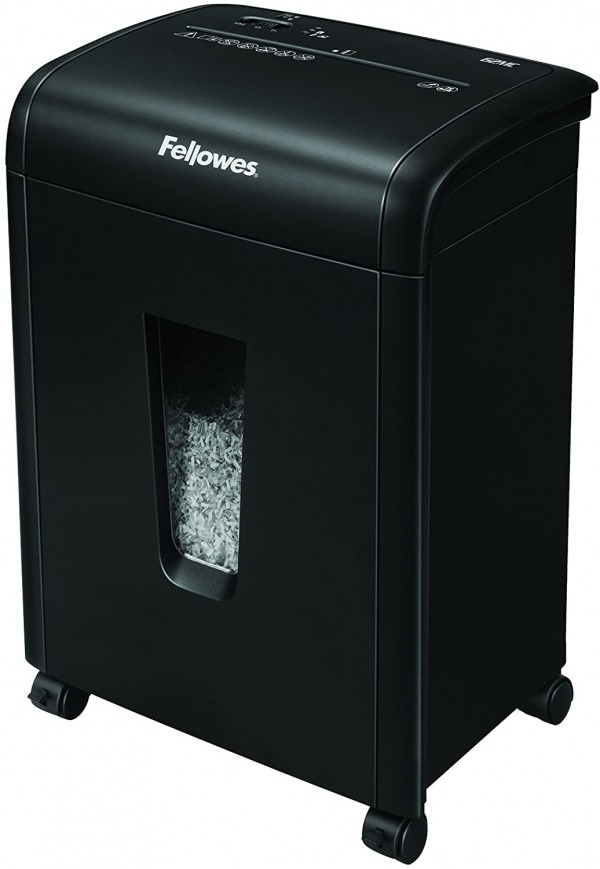 For safely shredding sensitive papers, credit cards, and other confidential information, the Fellowes Micro shred 62MC is required. The innovative Safety Lock function on this kid and pet friendly shredder disables the shredder for extra safety protection. The 62MC shreds up to 10 sheets with micro-cut particles at security Level P-4 and can shred continuously for up to 7 minutes, allowing you to finish comparably small shred chores in a single session.
Before it can cool down, each shredder must operate for a specified amount of time. The more shredding time you require, the more time you'll need. The Fellowes 62MC shreds for up to 7 minutes of constant use, allowing you to do small shredding jobs through one session. If you don't have a budget constraint, this is the best shredder to choose.
---
Royal 112MX 12-Sheet Cross-Cut Shredder

Royal 112MX 12-Sheet Cross Cut Shredder is a dependable solution for rapid and easy document shredding. It is big, with a 3.2 gallon base, and sits nicely on top of a desk — and it also has strong shredding power that can take up to 12 sheets of paper at a time, as well as a separate cutting slot that ensures credit cards are thoroughly destroyed.
Every household and company should have a paper shredder to protect themselves against identity theft. The 112MX console shredder is ideal for personal or home office use. The 1/2-horsepower engine shreds up to 12 sheets of paper at once into minute, unreadable fragments. The 112MX shreds CDs, DVDs, and credit cards as well, totally erasing all written and digital data.
---
GBC ShredMaster Home Office Shredder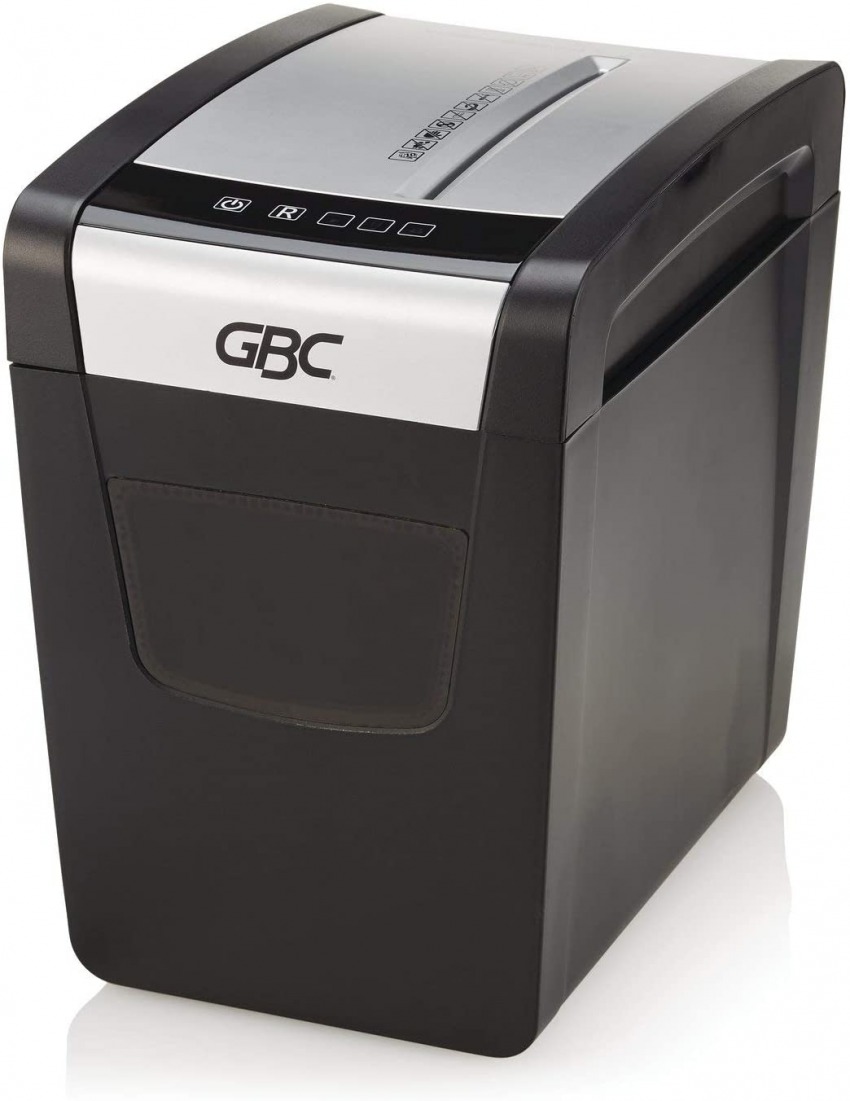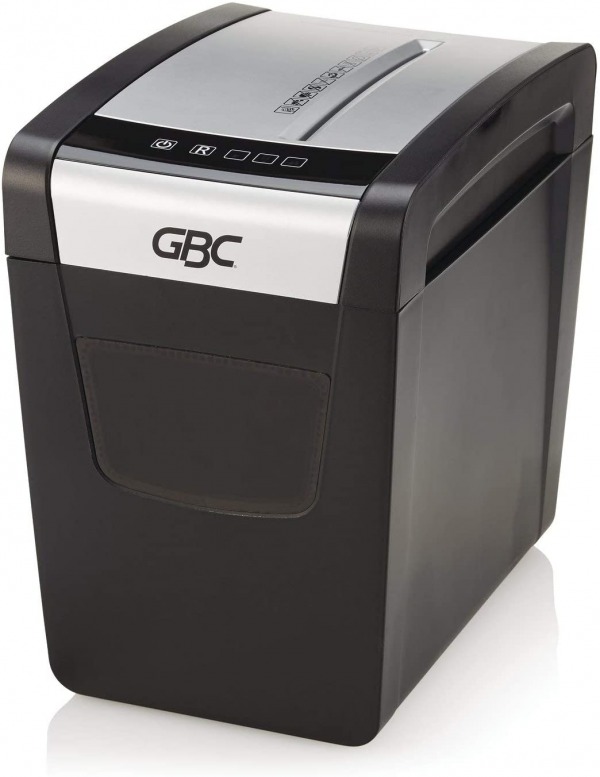 The GBC ShredMaster Super Cross-Cut Shredder makes shredding sensitive documents straightforward. For commercial and sensitive personal information, Confidential Security (Level P-4) is required. Documents are shredded into 3/16″ x 1 1/2″ bits using the Super Cross Cut. With a 6 minute run duration, it shreds up to 10 sheets at a once. Staples and paperclips are also shredded. The 6 gallon bin has a huge capacity for shredding.
The operation is simplified with a contemporary UI with intuitive touch controls. Whisper Shred Technology provides a quieter shredding experience, with an operational noise level of less than 62 decibels. The automatic reverse jam avoidance feature makes it simple to remove jams. Blades that are recessed protect the user. This shredder has a side-facing design that's ideal for use under a desk.
---
Aurora AU820MA High-Security 8-Sheet Professional Shredder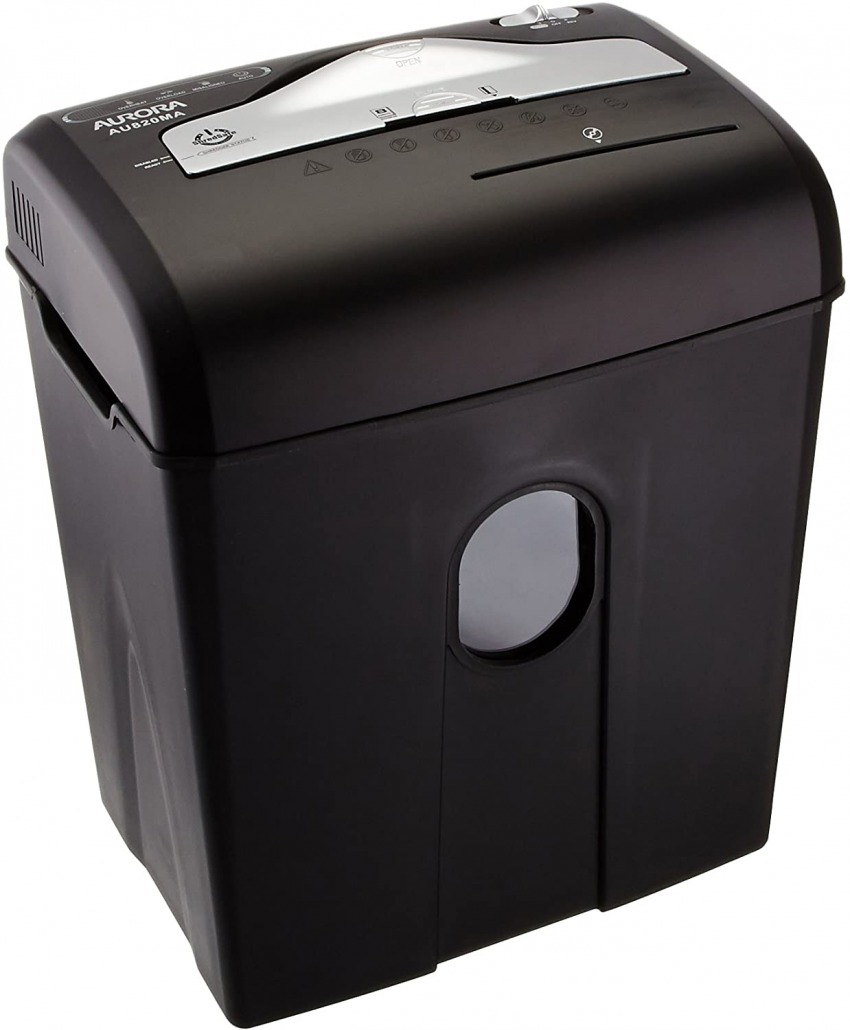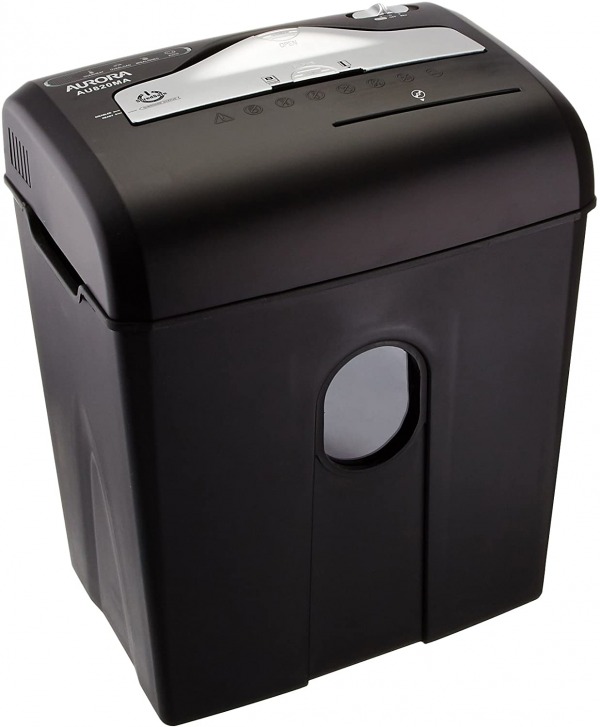 The Aurora AU820MA paper shredder has a compact design that fits over nearly any wastebasket, making it perfect for small offices. On bigger wastebaskets and garbage cans, it includes an extension arm that keeps it stable and secure. Up to eight sheets of paper may be shred into 0.25-inch broad strips. If credit cards, CDs, and DVDs are input into the device one at a time, it can handle them as well.
The paper shredder has an automated start and stop mode that starts on when anything is placed into the blades and turns off when nothing is loaded into the device. It also has an automatic shut-off mechanism to prevent the shredder from overheating or being overloaded with documents. You can shred numerous stacks of documents fast and efficiently using a 5-minute continuous run cycle. If your search for best paper shredder is going on, you can think of this shredder as an option.
---
Fellowes Powershred  18-Sheet Capacity Paper Shredder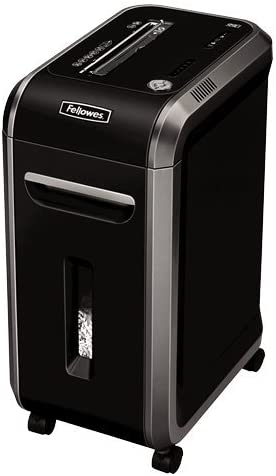 Shredding important tax papers, CDs/DVDs, credit cards, and other confidential items with the Powershred 99Ci Cross-Cut Shredder is a must. SafeSense Technology stops shredding when hands touch the paper opening, making it safe for children and pets. The 99Ci shreds 18 sheets each pass into cross-cut particles measuring 5/32-inch x 1-1/2-inch (Security Level P-4). Before a 40-minute cool down period is required, it shreds for up to 30 minutes. A 9-gallon bin is included.
The 99Ci model is suited for up to three to five people, according to Fellowes, making it a perfect choice for small offices, co-working spaces, and work-at-home professionals. The Powershred 99Ci stands out as a considerably more powerful paper shredder. The 99Ci features a bigger waste bin capacity, a greater sheet per pass capacity, and a longer run-time.
---
Aurora AU800SD Professional Strip Cut Paper Shredder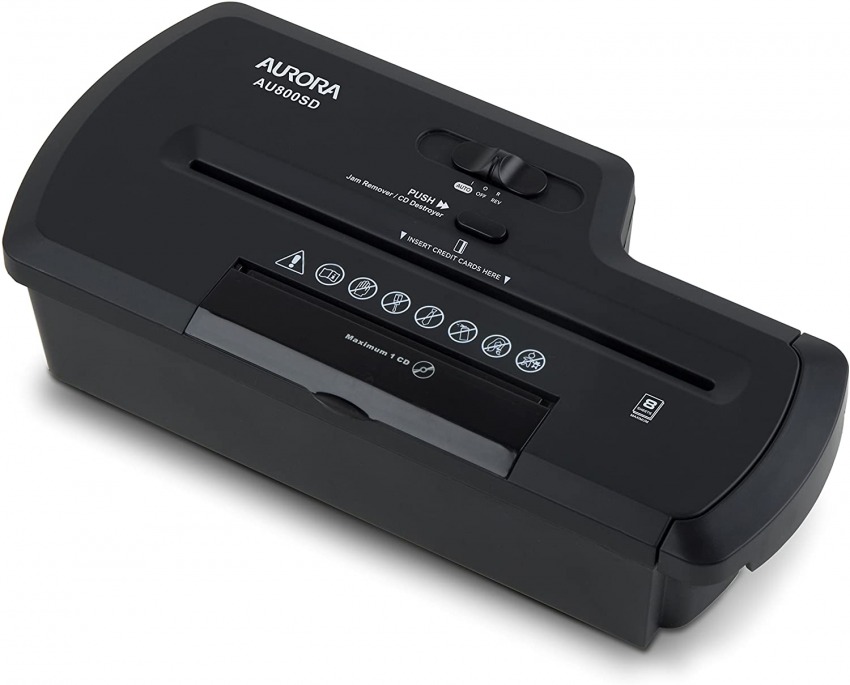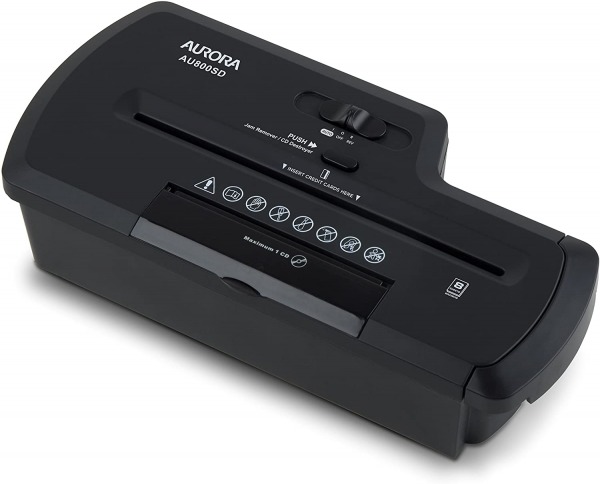 Due to its no-basket design, this small shredder may be used with any size garbage can, including extra-large ones. This is being used by a client to shred around 15 years' worth of paperwork, and they have to say that the quality is well worth the money. It is commendable that it can handle a large number of sheets at once.
The reverse function, as well as the self-regulating heat feature, is so good that it switches it off when it becomes too hot, ensuring that it doesn't die. It features a credit-card shredder and an adjustable arm to accommodate anything. This shredder lasts longer than a standard shredder, making it ideal for large-scale shredding projects.
---
What factors did we consider when selecting the best paper shredder?
Researchers examined owner evaluations on Amazon and on the websites of shredder manufacturers, taking into account the following factors:
After you surpass the run time, your shredder must cool down for a certain amount of time. If you want to go back to shredding as soon as possible, the less the wait time, the better.

Shredding more paper at once, including multiple folded sheets, is easier with a shredder with a greater page capacity. The majority of shredders in our price range could shred 6 to 18 sheets at once.

Any shredder must be able to shred stapled documents as well as plastic credit cards. Paper clips and CDs may be ground up by many shredders, which we thought was a nice feature.

The longer the shredder can run before it needs to cool down, the more you can shred. The finest home and small-office shredders have run times of 10 minutes or more, while the least costly shredders have run times of under five minutes.

We sought for paper shredders from prominent manufacturers that were priced around $250, with a strong preference for those under $100. More costly shredders are meant for workplaces with large teams shredding piles of papers all day; they're overkill for a normal one- or two-person home office.
Who does a paper shredder serve?
Although if your bank and utilities send you paperless statements, a shredder is still necessary. In only the year 2020, there were over 400,000 incidents of identity theft. When it comes to surrendering identification, paper is still the easiest way out. Criminals can use the tiniest pieces of information, such as your name and address, an account number, your signature, or a prescription number, to socially engineer their way into your life. If your bank statement isn't shredded and is found in the trash, someone may contact you, pretend to be the bank using a caller ID spoofing software, recite the last four numbers of your account, and acquire the information they need to transfer money from your account on the following call.
A paper shredder is the most convenient solution for most families and workplaces, whether you intend on destroying a stack of papers once or twice a year or you shred receipts and trash mail on a regular basis. Of course, there are alternative options for destroying papers containing sensitive information. You could burn them or shred them up by hand and dump the pieces in with food or pet waste, but doing it personally will give you feeling of comfort.
Upkeep & Servicing of Paper Shredder
Follow the manufacturer's recommendations for what to shred and what not to shred, as well as how many pages to feed at a time, regardless of which shredder you use. Overfeeding the shredder can cause the blades, motor, and other shredder components to prematurely wear out. Shredder manufacturers recommend oiling the blades on a regular basis to maintain your shredder working smoothly. When to do so and with what type of oil, however, advice differs. A shredder that overheats or malfunctions might pose a safety risk. 
Final Words
You need a paper shredder even if you're not a secret spy and don't believe you have anything to conceal. Bank statements and credit card offers stuffed into garbage and recycle bins are gold mines for identity thieves. A paper shredder is your best defence, since it chews up critical documents and spits them out as rubbish. The best paper shredder will always rescue you from any intense situation.