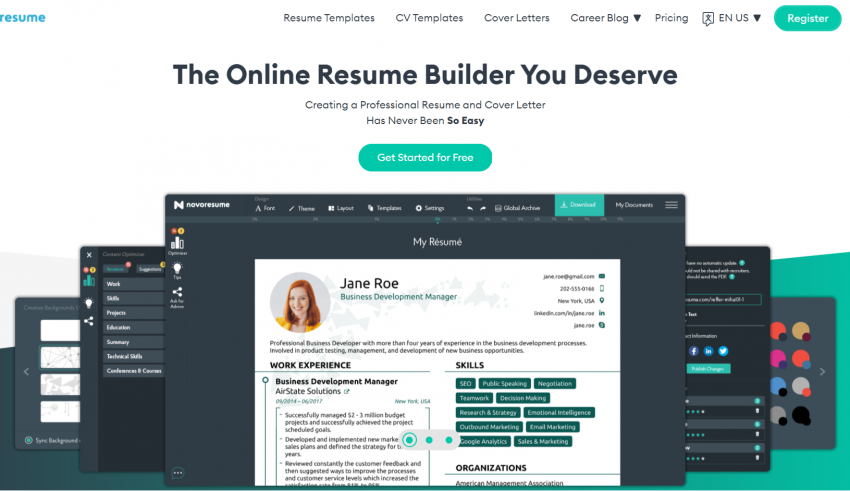 What's a Résumé or CV?
A résumé is a document that individuals create and use to display their background, expertise, and achievements. It is also referred to as a CV (curriculum vitae) in English. Résumés can be utilized for several reasons, but the most common one is to find a new job.
A standard resume includes an "overview" of relevant work and educational experience. The résumé, including a cover letter and sometimes a request for a job, is generally among the first things a hiring manager sees about a job applicant and is used to assess candidates, often followed by an interview.
For most career searchers, a strong résumé is the only thing standing between them and their professional careers. If you write a good CV, you'll get responses from every organization you apply to.
However, if your CV skills are lacking, you may find yourself waiting weeks, if not months, for a single reply.
So you're likely curious how to design a resume that gets you daily invitations to interviews from HR professionals, then let's move on to how to create a perfect resume.
Building a Perfect Resume
Your first thought before starting to work on your resume should be you are going to construct it. Using a basic text editor will not help as much as a resume creator; though it is the most commonly used way, it is very far from the best.
You'll have to invest a lot of time working with the design on a simple text editor CV. You make a minor adjustment and Pow! Your resume's whole structure screwed up.
I suggest using a resume creator, such as Novorésumé, instead of a text editor. This resume builder is quick and straightforward. Novorésumé looks far more admirable and can include a lot more data than a standard and basic resume.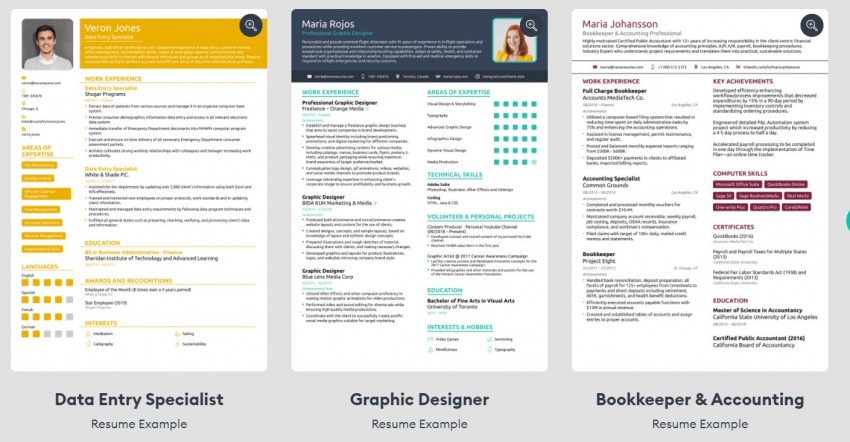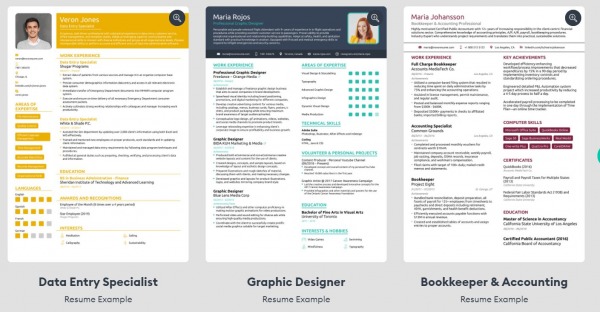 My experience with NovoResume
Using Novorésumé in the middle of my recruitment process was one of the best ideas. It's a fantastic product with a lot of customization options.
I made a one-page résumé and a two-page Curriculum Vitae.
I was also able to enter all of the information I wished for by providing every paragraph the font/highlight and attention required.
And created an excellent design by shifting pieces around and creating new sections utilizing the themes they offered.
I hope they are working on expanding the customizing options in their resume designer and adding additional free designs in the coming future. Even now, I'd take the risk to say that Novorésumé templates are one-of-a-kind.
But, aside from that, one of the key benefits of our services is that the résumé is simple to read, which is essential because recruiters study applications in 6-7 seconds.
Coming to the question, should you use Novoresume or Draft in MS Word?
Well, I would like to answer this in both yes and no. You can choose MS Word if you have adequate familiarity with it and a strong knowledge of the resume layout content and how to write it.
But, you should select a résumé maker if you'd like to develop a quality résumé with industry-specific information, quality CV layouts, keywords that ATS recognizes, and keep up with market developments. Novorésumé includes industry-specific application material, as well as samples and top-quality résumé designs. Their resume creator is simple to operate and ATS compatible, whether you're an expert, a student, a doctor, a motorist, a worker, or a safety officer. This software is ATS proven as it has been tested with many tools, both old and new. So you can entirely depend on Novorésumé.
Pricing Strategy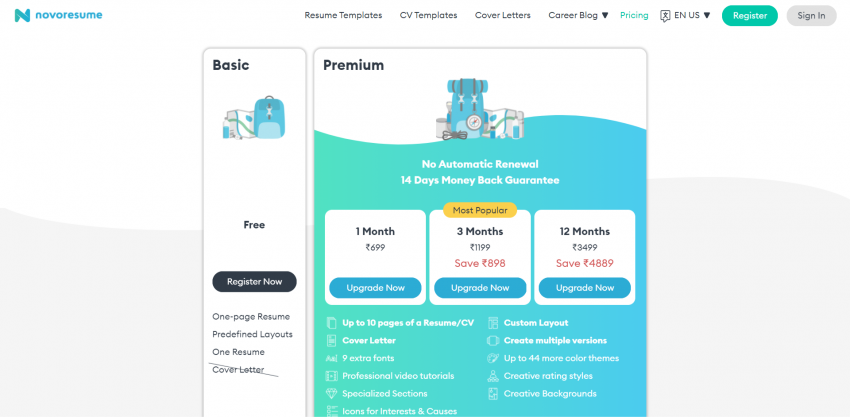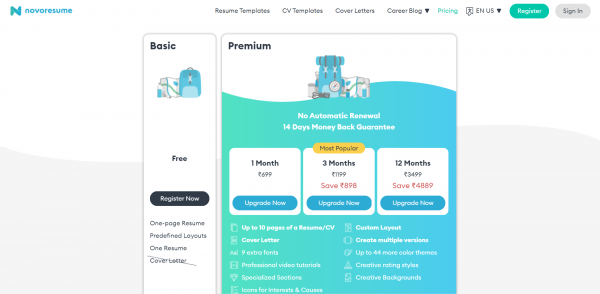 They have a standard or free option, which most customers prefer because it includes all of the tools required to build a one-page professional resume. You can also try most of the premium features which are marked with the help of stars. But you won't have an option to download it as you have to buy a plan.
After purchasing a specific plan, let's say,
Rs 1199/3 months or Rs 3499/annum, it won't be renewed automatically as they don't have a subscription-based plan or an automatic renewal system. So after your plan expires, either you have to renew your plan again or they will host your data for free when the account is switched to basic. So all the data will be in your account even if your plan expires.
I would like to add some Pros and Cons that will give you a better understanding.
Pros:
Simple in use, great designs, constantly improving, and provide helpful hints
A fantastic tool for creating a user-friendly résumé. My resume made quite an impression on my prospective employer.
The software was developed by a professional organization that understands how to satisfy end-users.
Cons:
The free plan is quite limited, so you'll have to subscribe to access the majority of features, but it's an excellent investment
Nothing of the sort; however, additional customization and drag-and-drop functionality may be added.
Conclusion
Coming to a conclusion, before using Novorésumé, I constantly struggled with writing my resumes, deciding what to emphasize, what content is truly essential to the company, how to organize the data, and whether or not to include a photo. Thank you for making my life a little easier. Novorésumé has been helpful in obtaining jobs and later thesis opportunities. I like how the information is graphically organized since it makes it easy for an employer to identify what's important.
If you've been a long-time user of Novorésumé, you'll notice that the company's team values customer opinion. Every time the platform is updated, new additions recommended by users are always included.
Apart from its excellent performance, Novorésumé has a flawless appearance that, in my perspective, should please every user's eye. I would strongly suggest this software because I feel no other platform could deliver such excellent results.
Novorésumé allows you to stand out in a crowd of boring CVs and application forms.