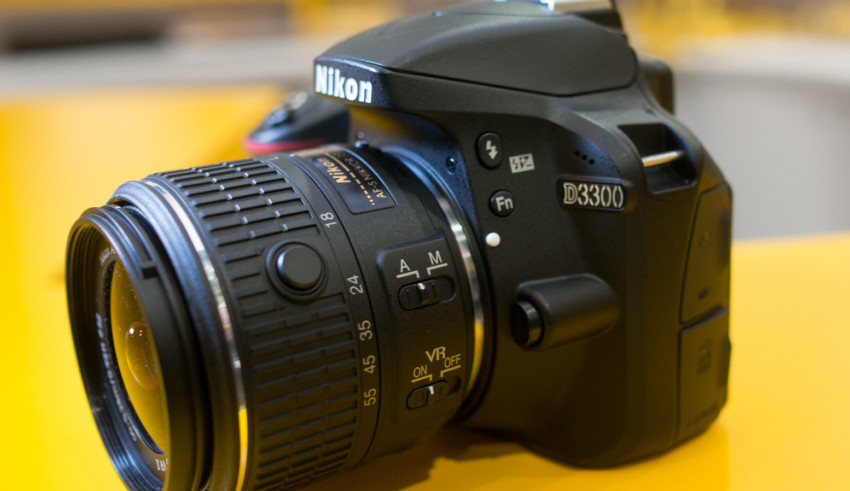 When it comes to entry-level DSLRs, the products that Nikon has been offering haven't been matched by any till date. Yes there are Canon entry-level DSLRs as well, but the D3000 series cameras are something that Canon hasn't been able to match in terms of performance. With time, the cameras in this series have only gotten better. Today the Nikon D3400 is as good as any enthusiastic level DSLR. But we are talking about the D3300 here.
The Nikon D3300 came out in 2014 and it immediately won hearts. In the international markets it replaced the existing Nikon D3200. The D3300 is meant for photography beginners and it is a great learning tool when it comes to learning the use of DSLRs. So it's a highly recommended camera for everyone (unless you have a heartfelt disgust for anything Nikon).
Main features of D3300 are its 24.2 megapixel sensor ISO of 100 to 25,600, 3-inch 921K dot LCD screen and a capability to shoot full HD at 1080P (See full specification list below). The camera can be used to shoot all types of photos given you pair it with the right kind of lens. But we will talk about lenses a little later. Let's now talk about how the D3300 performs.
For an entry-level DSLR, the Nikon D300 offers stellar performance. It uses Nikon's 11-point MULTI-CAM 1000 autofocus system which can be seen in all of Nikon's D3000 series cameras. You could argue that 11 AF point is a little stingy these days, and you'd be right, but in truth we had few complaints about the D3300's AF. But this autofocus system works pretty well. It's fast and accurate. During our test, we found it to focus where we want almost everytime. Only drawback seems to be low light focussing. It seems to struggle when light is really low. Therefore, it is advisable to switch to manual focus.
Photos clicked by the D3300 are also sharp especially if you pair it with a good lens. Even the kit lenses that are offered with the camera also work pretty well. Center sharpness of the images are surprisingly good. There's a little expected drop-off in sharpness around the edges, but it's well within expected parameters and is still well above the performance of most kit lenses.
The LCD screen on the D3300 – 921K dot 3-inch screen –is same as the one we saw in the D3200 and works well. It's clear, bright and has a pleasant level of contrast. The D3300's viewfinder is an improved one over the D3200's. This one has 0.85x magnification.
Videographers will get a surprisingly good deal out of the D3300, especially given its status as an entry-level DSLR. It's capable of capturing 1,920P x 1,080P progressive footage at up to 60fps, and Nikon has thoughtfully included an HDMI output for quick playback. The camera also has a built-in mic and if you record audio in stereo then it may just work for you.
Pros
Excellent value for money
Great performance
Compact design
Easy to use
Cons
No built-in WiFi
High image noise above 3200
Low light focusing not good
Ratings
Design:  8/10
Features: 8/10
Performance: 8/10
Image quality: 9/10
Value for money: 8/10
Specifications
24.2 MP DX format (APS-C) sensor
Expeed 4 processor
Fixed 3.0″ 921k-dot LCD
1080/60p HD video
5 fps continuous shooting
700 shot battery life
Best Lenses for Nikon D3300
The Nikon D3300 is offered with two kit lenses – AF-P DX Nikkor 18-55mm f/3.5-5.6G VR Lens and the AF-P DX NIKKOR 70-300mm f/4.5-6.3G ED VR Lens. Both lenses work well with the camera and produces pretty good quality images. But if you want to take full advantage of the camera's 24.2 MP sensor and get pro looking images then go for lenses other than the kit lenses and buy the body only.
Here's a list of lenses that works well with the Nikon D3300.
Nikkor 35mm f/1.8G
Nikkor 50mm f/1.8G
Nikkor 55-300mm f4.5-5.6 VR
Tokina 11-16mm f2.8 DX II
Nikkor 55-200mm f/4-5.6 VR II
Tamron 70-300mm f/4.5-5.6
Nikkor 40mm f/2.8 Macro
Nikkor 18-140 f/3.5-5.6 VR
Sigma 18-250mm f/3.5-6.3 OS Macro
Price

Sample images
YouTube Reviews
Featured Image : The Phoblographer