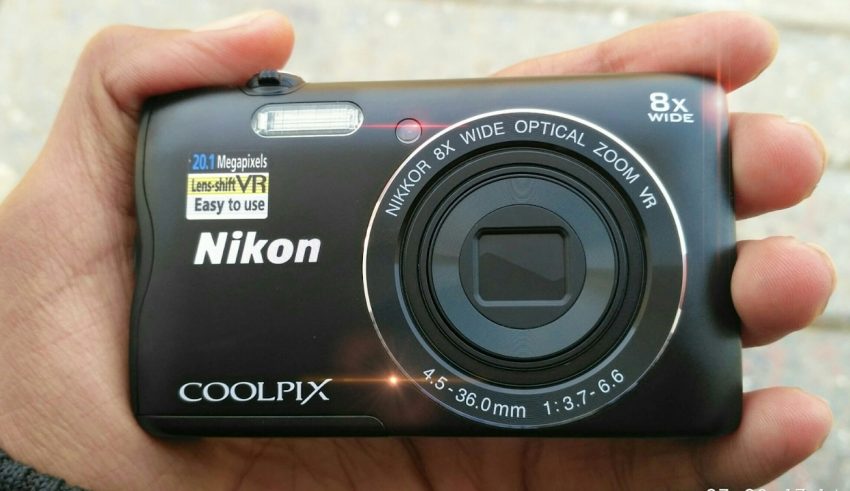 For most part, the entry-level point and shoot segment is struggling today. No, it's not because of the increase in use of DSLRs, but because smartphone cameras today do pretty well what these expensive point and shoots offer. To beat the heat from smartphone manufacturer, Nikon brought in the Coolpix A300. Priced a little over at Rs.7500, the Nikon A300 offers some features that you normally wouldn't expect from cameras at this range and you definitely wouldn't get in any smartphone camera which costs the same. The biggest advantage the A300 has over smartphone cameras at this price range is its 8X zoom and built-in WiFi.
When it comes to design, the Nikon Coolpix A300 is sleek and can fit perfectly into your back pocket.  It measures 2.3 by 3.8 by 0.8 inches (HWD) and weighs just 4.2 ounces with a card and battery installed. Size of the camera is almost similar to its nearest rival, the Canon Powershot Elph 190 IS. Front of the camera is occupied by the 8X zoom lens, which is quite big for a camera this size. The lens starts out at 24mm at its widest point and finishes at 200mm when it's fully zoomed out. When it comes to aperture, the lens has a maximum aperture of f/3.7 and when it's fully extended, maximum aperture stands at f/6.6. This means in daylight, the camera has no problem in gathering lights, but in low lighting conditions, it may struggle for proper exposure without flash. That's where smartphones have an advantage over cameras such as these since most smartphones come with prime lenses with large aperture. The flash on top fires automatically unless you suppress it using the flash button. It's a traditional flash and not the LED light you get with smartphones.
Back of the camera is occupied by the 2.7-inch 230K dot display, which is pretty basic compared to today's standards. On screen images may look muddy and details may get suppressed because of the low resolution of the camera. So it is advisable to review the images on your computer or laptop.  Viewing angles are also a problem—you can view the LCD from the left or right, but try looking at it with the lens tilted down or up away from your eyes and the screen appears washed out and dark.
Performance of the Coolpix A300 is perfectly alright for a camera at this price. It takes 1.6 seconds to start and 0.2 seconds to focus (in bright daylight). Burst mode of the camera is quite slow in comparison to an iPhone. So that's a drawback. The main part of the A300 is its 20MP CCD image sensor. Quality of images, when shot in bright lighting conditions, is pretty decent. But on the down side, the camera handles noise pretty bad. Even when ISO goes up to 200, noise starts creeping into images. For instance, when the camera is fully zoomed into its subject, ISO is pushed up to 200 because of the camera's low aperture value f/6.6. In this scenario, you will start to see noise in your image, but it's not much and won't completely destroy the image and its details. At higher ISO values e.g. ISO 800 to ISO 3200, details get suppressed and images become unusable almost.
The camera records 720p video at 30fps in AVI format for up to eight minutes at a time. You can zoom the lens while recording, but you shouldn't. The A300 does not focus at all when recording, so once you adjust the length of the lens your entire scene goes blurry. So, A 300 isn't really a camera that you would want to use for recording videos.
Ratings
Design and build: 8/10
Performance and features: 8/10
Image quality: 7/10
Value for money: 7/10
Nikon Coolpix A300 Specification
 Camera Type: Compact
 Colour: Red
 Flash Mode: TTL auto flash with monitor preflashes
 Connectivity: USB
 Weight: 119
 Focal Length: 4.5 – 36 mm
 Shutter Speed: 1/1500 – 1s, 4 s
Nikon Coolpix A300 price
Nikon Coolpix A300 Sample Images
YouTube Reviews 
Overall, the Nikon Coolpix A300 is a pretty decent camera for its price. There is nothing earth shattering about it and it gives you pretty much what you expect from it.
Featured Image : Hockrax – Origami