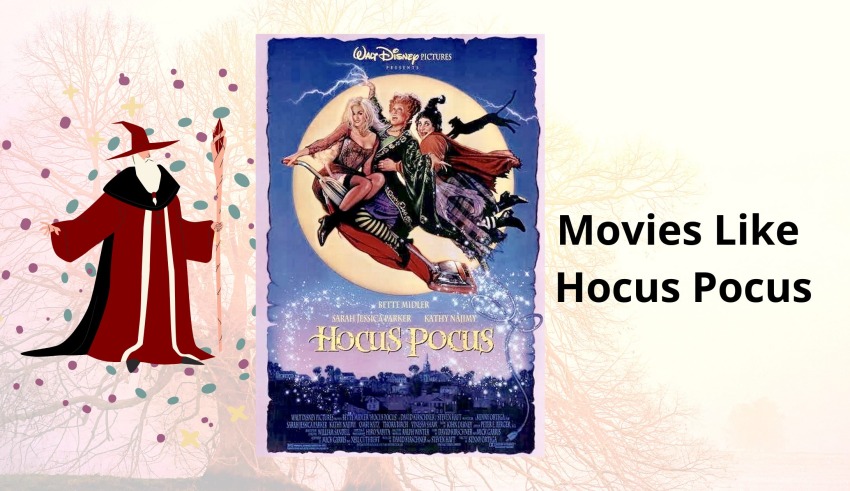 Movies like Hocus Pocus are popular comedy and horror movies that have been favourite for many fans of the genre. The film has sort of gained a loyal cult following because it is a fun movie to watch. The plot focuses on a trio of witches and a teenage boy Max.
The Witches were executed 300 years ago because they were practising dark witchcraft. But as a last attempt to save themselves they used a spell. Max is a teenage boy whose actions end up bringing the witches back to life. But all is not well for them. They may have come back to life but they only have one day.
This means if they want to continue living they need to figure out a way to do so on the same day. The movie is warm and funny and has the right amount of scary and horror elements to make it a family movie. If you have enjoyed this movie and are looking for different movies of the same kind then this list will provide you with some of the best options. So, let's just get into it.
Here is the list of 10 Best Movies Like Hocus Pocus.
Practical Magic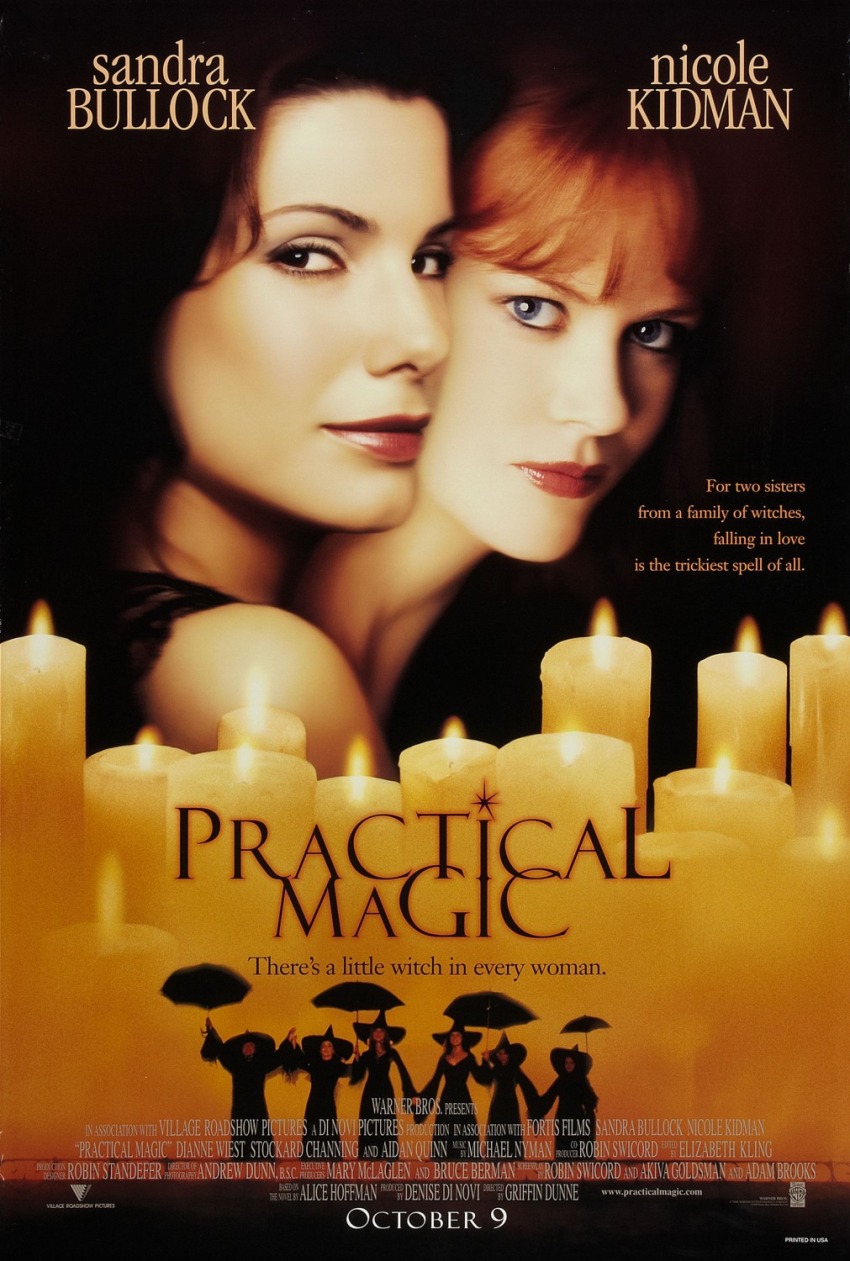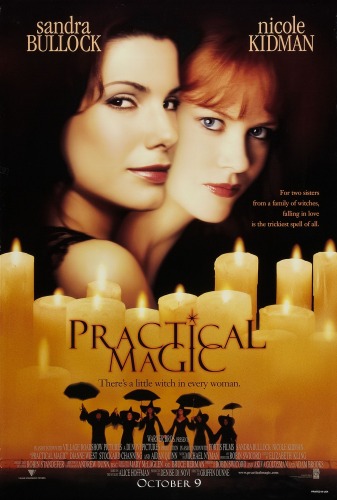 Available at Amazon Prime
Let's start the list with a movie that involves witchcraft which is one of the main highlights of the film Hocus Pocus. Practical magic is a movie that stars the gorgeous divas, Sandra Bullock and Nicole Kidman.
Though the film did not perform that well on the box office it has gone on to become a cult classic over the years. In the film, Sandra plays Sally Owens and Nicole plays Gillian Owens. Sally and Gillian are sisters and they are witches.
Amazing, right! The sisters were orphaned at a young age and their aunt's decided to take the responsibility to raise them. It was here where the sisters learned about practical magic and how to use it.
Their aunts were experts at this and trained the sisters. Thus, the childhood of Sally and Gillian was filled with abnormal and extraordinary events. Having the ability to use magic is great but life is not only fun for the Owens. The family carries a curse.
Any man who falls in love with a woman from the family will receive an untimely death. The film focuses on Sally and Gillian who are now adults and have to use their magical skills to get rid of the curse which is now threatening the lives of the Owens.
It may not be a movie for everyone but if you love magic, romance and comedy you will have a good time watching the movie. As usual, 90s Nicole Kidman and Sandra Bullock give decent performances as the protagonists of a romantic comedy. It is one of the Best Movies like Hocus Pocus.
---
The Craft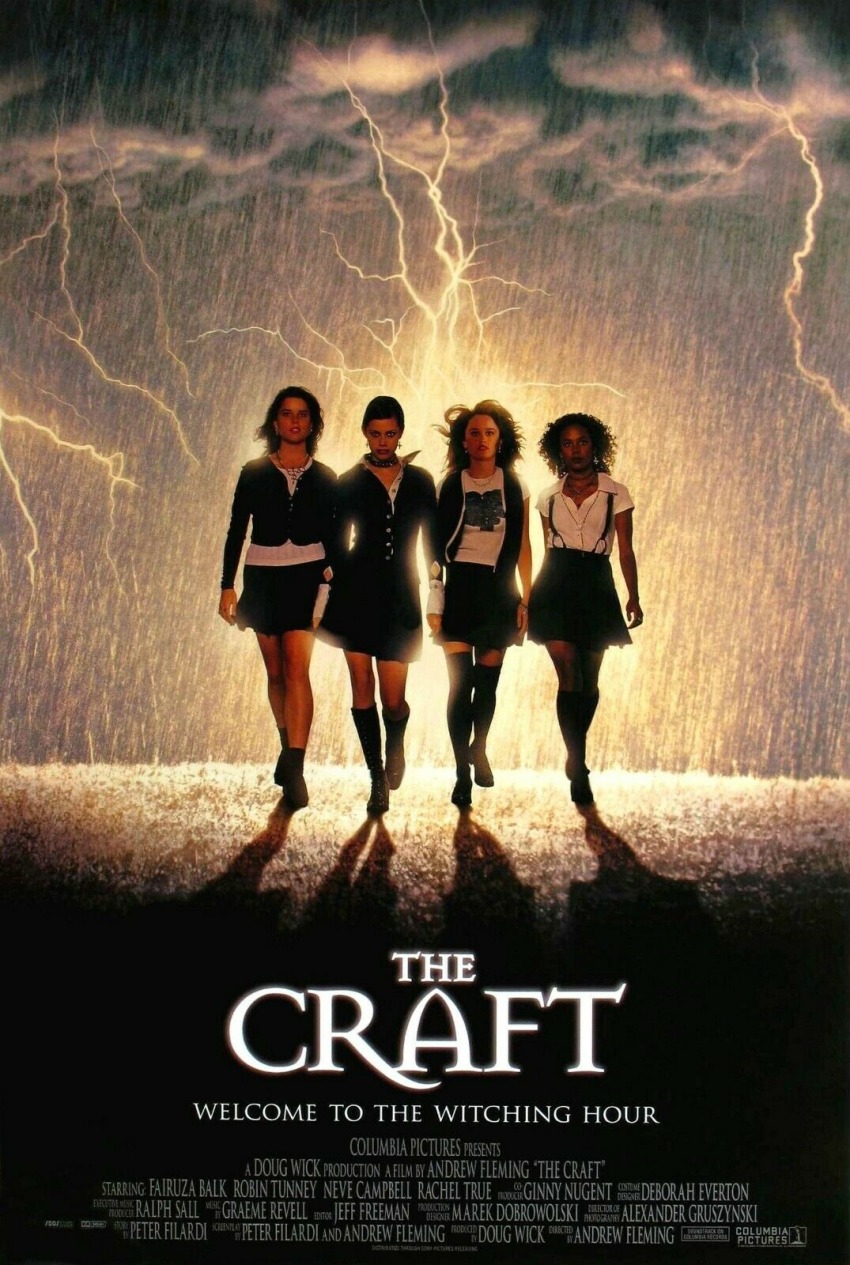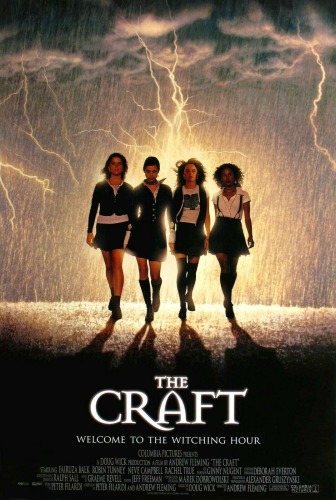 Available at Amazon Prime | Netflix
Let's move on to another movie that has gained a cult following over the years. The Craft wasn't a box office failure either. It managed to earn $55.6 million worldwide while being made with $15 million. I had no expectations from this movie since I hadn't watched the trailer or anything. A friend recommended it to me and I have to say it wasn't a bad movie.
It had entertaining moments and I found myself enjoying this movie. If you like fantasy genre movies Like Hocus Pocus then you may take a liking to The Craft as well. The film follows the life of four witches. Sarah, played by Robin Tunney, has telekinetic powers. She transfers to a high school in Los Angeles where she attracts the attention of a trio of wannabe witches viz.
Bonnie, played by Neve Campbell, Rochelle, played by Rachel True and Nancy, played by Fairuza Balk. All the teens have troubled backgrounds which makes them quite dangerous in combination with their special powers. Soon, the girls discover that their powers can be of great consequences and decide to gain more of them.
The different situations that the girls get themselves into because of being power-hungry is what makes this movie a horror flick as well. What I like about the movie is that all 4 characters are given decent attention.
There are some tropes to their personality but all of them have their own unique set of traits that you can identify. The director has done a credible job in bringing out these characters as the entire movie lies on them. The actresses have done a great job of portraying the teens as well. You will really like the chemistry between them.
---
The Halloween Tree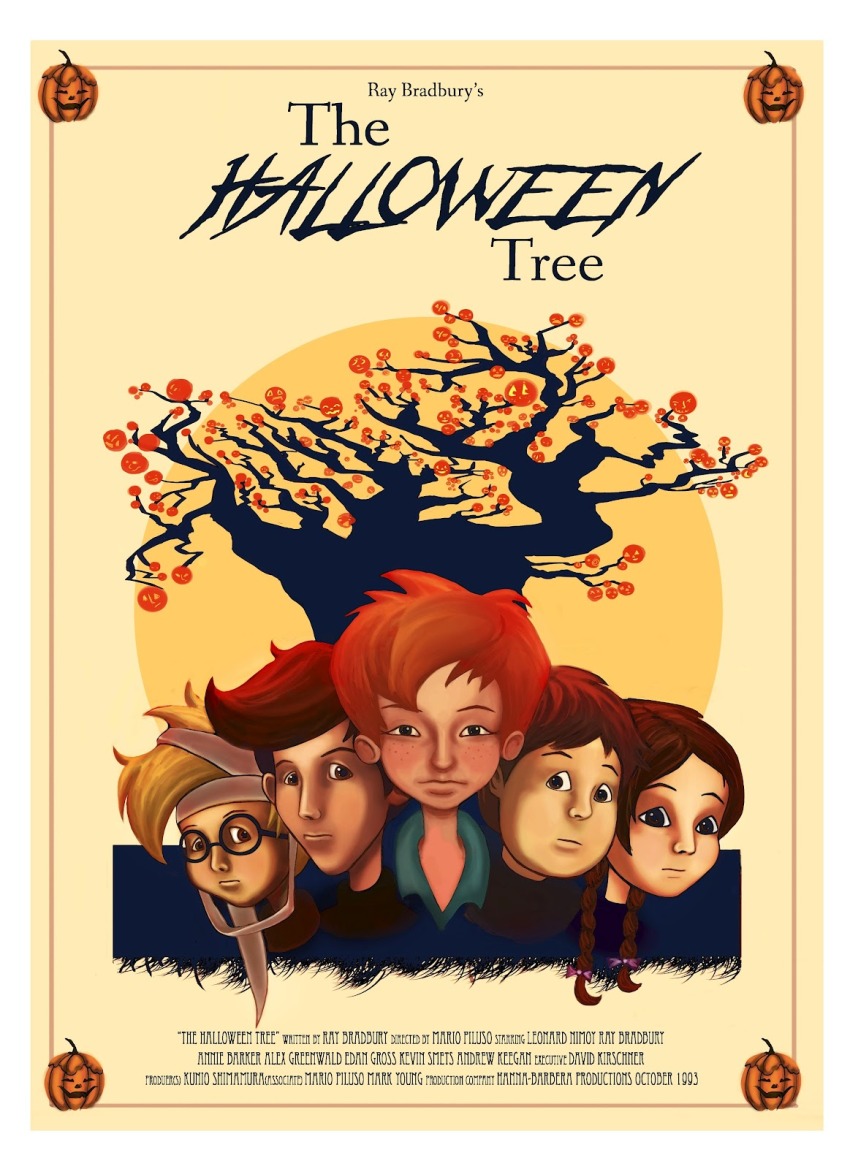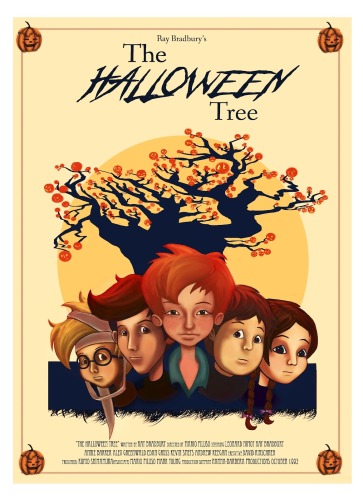 Available at Amazon Prime
From a teenage horror flick let's now move on to a wholesome movie. The Halloween Tree follows the theme of Halloween. Hocus Pocus is about witches and magic which makes it a good movie to watch during the Halloween season. So, we decided to include The Halloween Tree on this list because it is a nice movie to watch with your family.
It is an animated movie that came out in the early 90s. It was a television movie that was released on Cartoon Network when the channel was actually dropping decent shows. This is a movie that I watched as a kid and thoroughly enjoyed. The movie is based on Ray Bradbury's fantasy novel of the same name. If You Love Movies Like Hocus Pocus, You Must Watch This Movie.
The focus of the film lies on a group of young kids who are out on Halloween night trick-or-treating. One of the kids is sick and is unable to go with them. Later, they find him caught by some mysterious forces and is spirited away. Now, the other kids go through a sort of journey to save their friend.
Throughout this journey, they learn about the origin of Halloween and the various influences of this celebration. Ray Bradbury's narration hits home. The screenplay of the movie is quite nice and even won an Emmy.
This is a great movie for kids. If you are looking to enjoy the Halloween nights with your kids and watch a fun movie then you can definitely stream this movie. Believe me, it is fun for adults as well.
---
A Simple Wish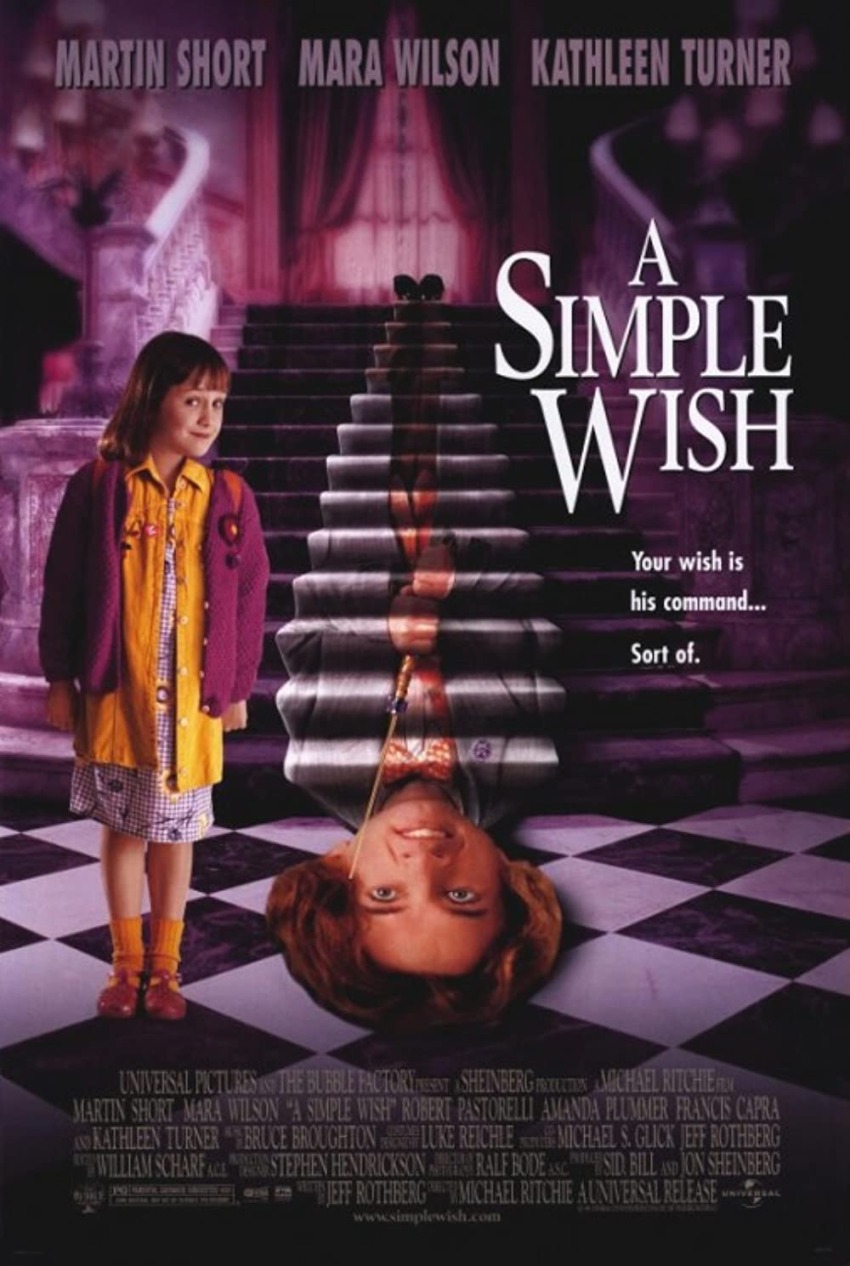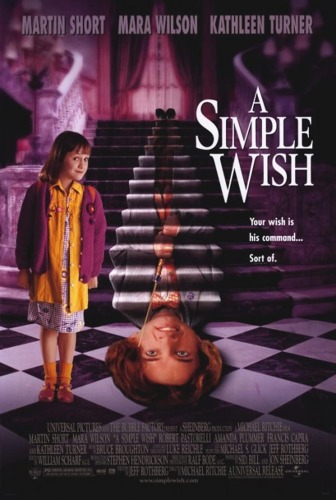 Available at Amazon Prime
Keeping in line with the wholesome theme let's take a look at the next entry on the list, A Simple Wish. This movie came out in 1997 and is a good movie for kids. It is a comedy film that has fantasy elements sprinkled in the plot. If you have enjoyed Martin Short's performances then you will be delighted to know that he portrays one of the main characters in the movie.
Mara Wilson plays the role of a young girl named Annabel. She is a nice girl who is sad that her dad may not get the lead role in a new musical that's going to take place. The lead role is probably going to go to someone popular like Tony Sabek, portrayed by Alan Campbell. But Annabel doesn't want this to happen and wishes to help her dad get the role.
Murray, portrayed by Short, is the first-ever male fairy godmother. He is sent to help Annabel. But well, he is not very good at his job. He ends up messing up the spell and it leads to Annabel's dad becoming a statue in Central Park. This obviously saddens Annabel who along with Murray needs to get her dad back to normal.
But there's another adversary lurking in the darkness waiting to take her revenge. Claudia, played by Kathleen Turner, is an evil witch who has been forbidden to use magic. But she wants to get back at the people she holds a grudge against. Though not the best movie that Martin Short has been a part of, A Simple Wish is a simple movie that can be quite enjoyable for kids who love magic and fantasy related stuff.
---
The Wizard of Oz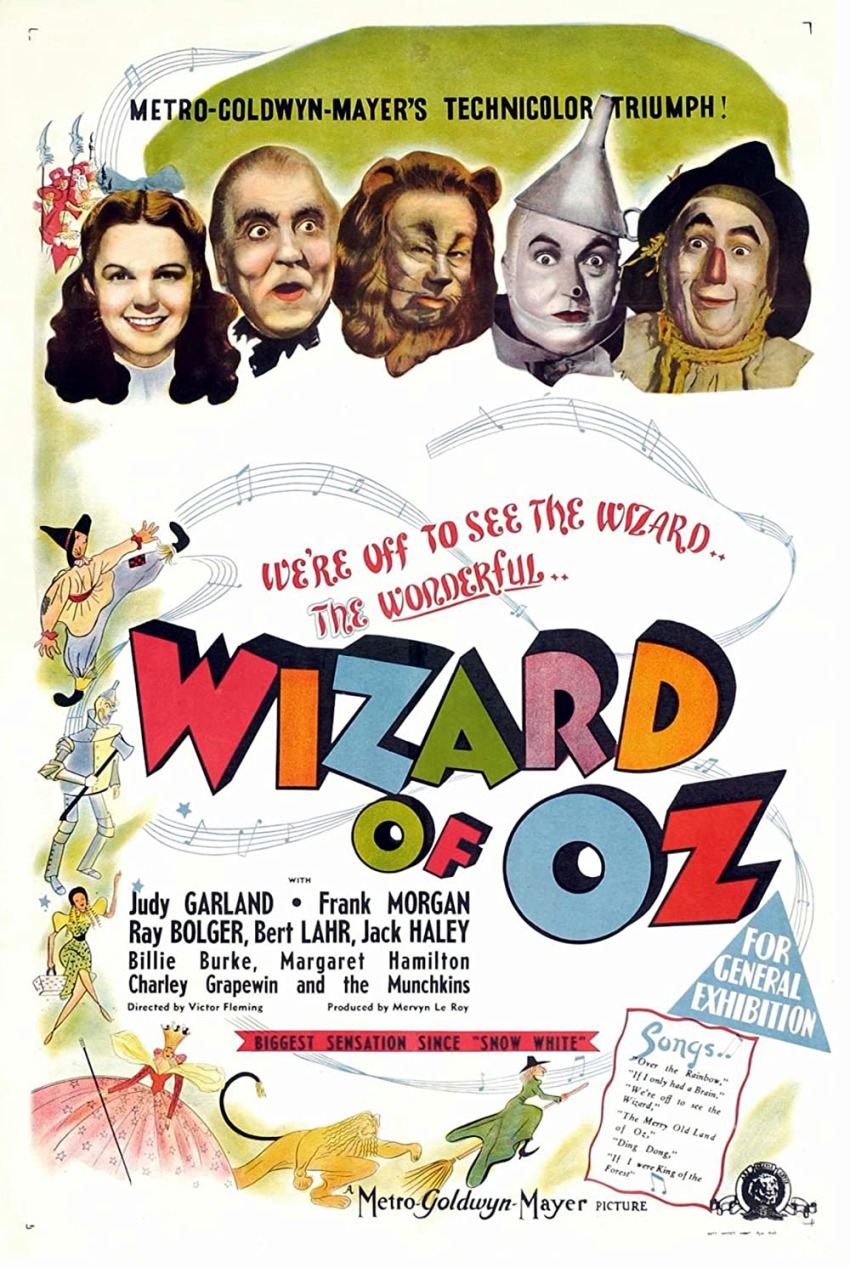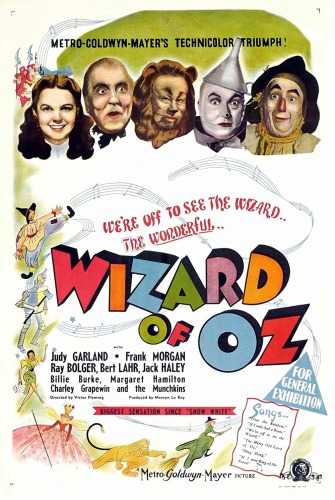 Available at Amazon Prime
Well, you can't go wrong with a classic. The Wizard of Oz is one of the most popular movies to have been made in the fantasy genre. This movie came out more than 7 decades ago and it still holds up. If you just want to watch a nice movie with witches and wizards and magical adventure then The Wizard of Oz is a good movie to watch.
Even if you have watched the movie already you can always watch it again because the movie is really entertaining even after multiple viewings. Dorothy, played by Judy Garland, is a young girl from the city of Kansas. One day the city is hit by a tornado which whisks Dorothy and her dog away.
The duo lands in the land of Oz. Here, they follow a yellow brick road and reach the emerald city. During this journey, they meet a bunch of weird oddballs. There's a scarecrow who needs a brain, then there's the tin man that needs a heart and they also meet a lion that needs courage. In the city, the group meets the wizard of Oz.
He decides to help them but gives them a task to fulfil. They need to bring him the broom of the Witch of the West, played by Margaret Hamilton. If they succeed in their task the wizard will help them. Thus, starts an adventure for the group. The Wizard of Oz is a great example of fantastic storytelling which is why the movie still holds up after 7 decades.
---
The Witches (1990)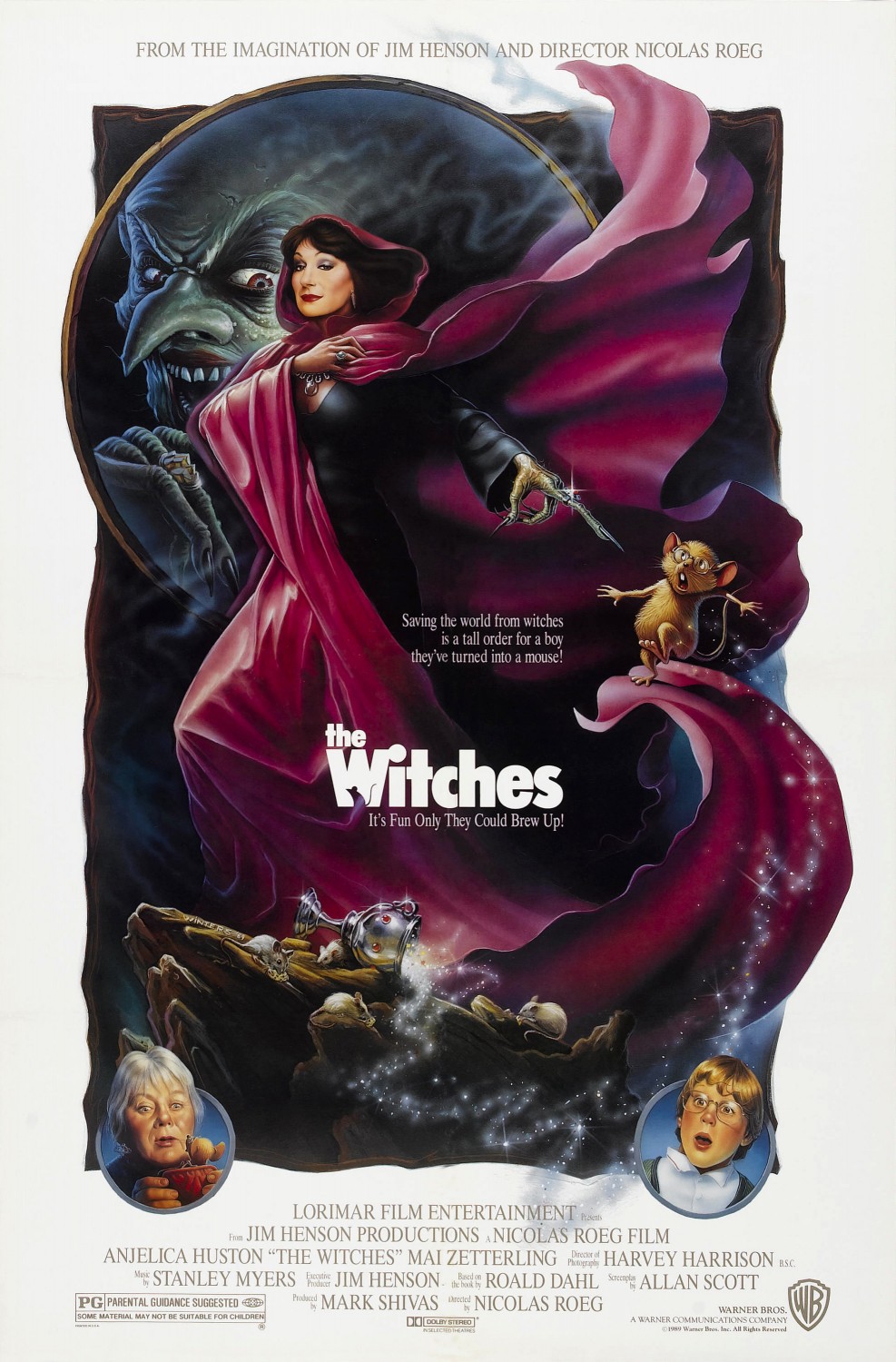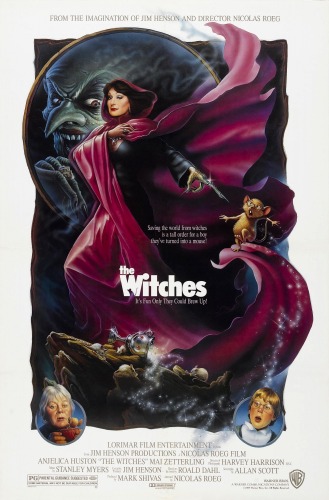 Available at Amazon Prime | Netflix
The Witches, the 1990s classic and not the recent underwhelming 2020 retelling of the story, is a good movie to sit through if you like Hocus Pocus. Here, too you will find witches and magic and an entertaining storyline. Well, most of the credit goes to Roald Dahl for spinning such a wonderful tale that has been a favourite for readers of the dark fantasy genre. The film was directed by Nicolas Roeg who did a fantastic job in telling the story on the big screen.
The amazing Angelica Houston gives a great performance as the Grand Witch. We also see Rowan Atkinson giving a decent performance as Mr Stinger, the hotel manager. The story takes place in England where Luke, a young boy, is staying with his grandmother Helga. Luke decides to check out the hotel and stumbles upon a witch convention. Yup! Scary.
Luke decides to spy on the witches and learns that they have a sinister plan. They have created a formula that will help them turn all the children into mice. This obviously troubles Luke but unfortunately, his presence doesn't go unnoticed as the witches find him. They decide to test their formula on Luke and he gets turned into a mouse.
But Luke is still determined to get back to normal and wants to fight back with the witches to stop them from realizing their horrible plan. He takes the help of his grandmother Helga and the hotel manager, Mr Stinger. The Witch is a fun movie to watch. If you are looking for something that has an adventure in it along with fantasy and magic then this is a nice movie to watch.
---
Rosemary's Baby (1968)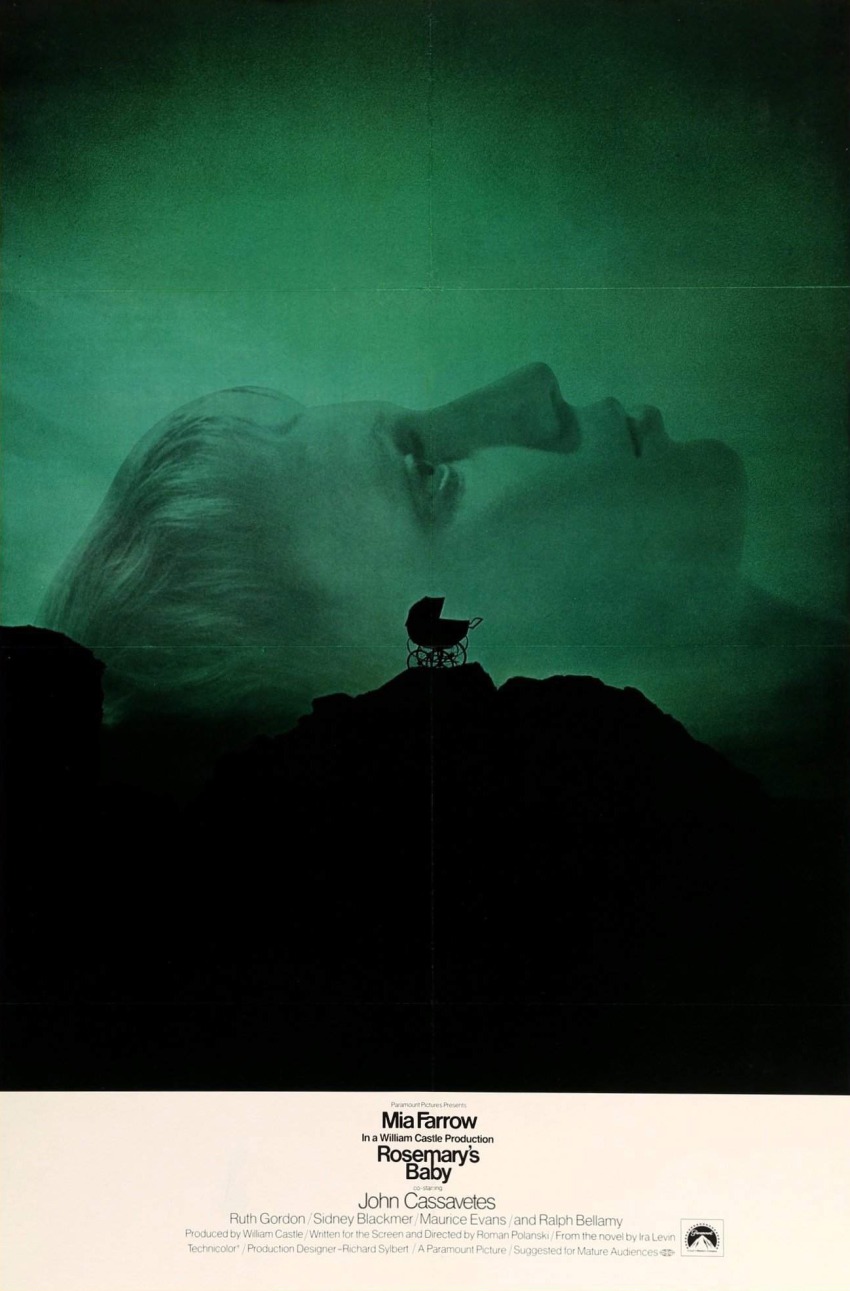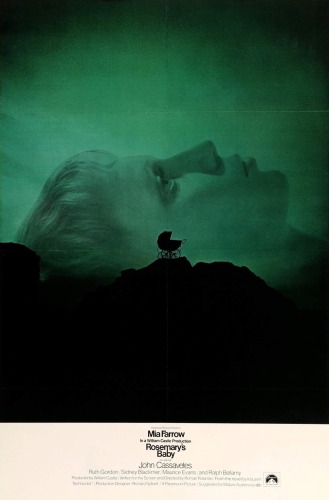 Available at Amazon Prime | Netflix
From family movies with a controlled scare, let's move on to Rosemary's Baby which is a more scary movie. If you want to watch a horror movie this Halloween season then you can stream this movie and have a nice time. The movie came out in 1968 but it still holds up. It is based on a novel of the same name by Ira Levin. The film was written and directed by Roman Polanski.
It has some really good performances by seasoned actors and actresses of the time. The film follows Waifish Rosemary Woodhouse and her husband Guy as they move into a new apartment building. Guy is a struggling actor. This building does not have a good reputation. People say that it has some ominous presence.
The other main characters of the movie are the neighbours Roman and Minnie Castavet. Weird stuff starts to happen with Rosemary after she becomes pregnant. It seems that it has something to do with her baby. Rosemary soon starts to believe that her baby is not something from this world and it takes her through a horrific psychological journey.
The truth of it all is revealed when the child is born. This psychological, nail-bitter is a great movie to watch. It is not something that you watch with kids but can be a good movie to watch alone if you like scary psychological horror.
The movie is well-written and directed. Roman Polanski does justice to the source material as the movie is quite scary as is the novel. Mia Farrow embodies the character of Rosemary and gives a phenomenal performance.
---
Addams Family Values (1993)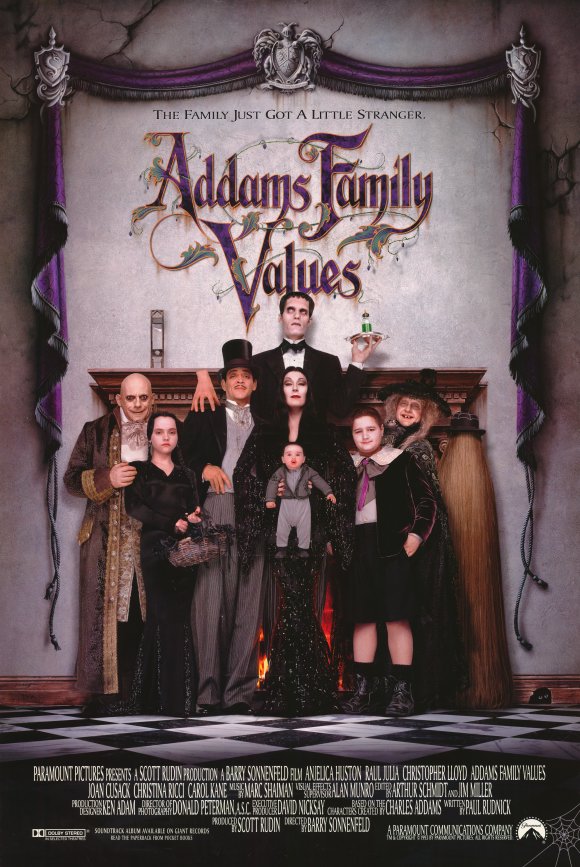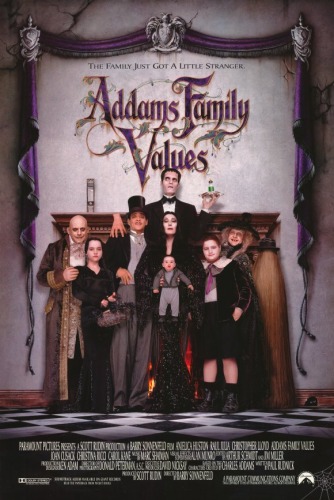 Available at Amazon Prime | Netflix
The 1993 Addams Family movie is one of the best comedy horror movies Like Hocus Pocus that one can watch. It has a bunch of great jokes and funny scenes that make it an entertaining watch. This is a continuation of the previous film in the series The Addams Family which came out in 1993. The characters in the Addams Family Values are more well-rounded and are fleshed out in a much better way than the previous film.
This movie has gone on to become one of the favourites for many dark comedy lovers. If you love quirky horror movie characters and black comedy then you will enjoy this movie as well. The plot of the movie is as dark as the characters. Morticia Addams and Gomez Addams are welcoming a new child in this movie. They are overjoyed and are looking forward to celebrating the arrival of the new addition to the Addams family.
Wednesday Addams and Pugsley Addams are not so thrilled by the news of having a new sibling. They decide to hatch various plans in order to end the infant's life. But the siblings are kept in line by Joan Cusack's character Debbie Jelinsky who acts as a nanny to the kids. Angelica Houston, Christina Ricci, Jimmy Workman, and Raul Julia give amazing performances which elevate the fun involved in the movie.
Even though the plot of the movie is gritty and it has elements of sinister acts the movie wonderfully makes light of all this and delivers a fulfilling dark comedy. This is a perfect watch for the Halloween season or any other day if you just want to watch a nice comedy movie.
---
Under Wraps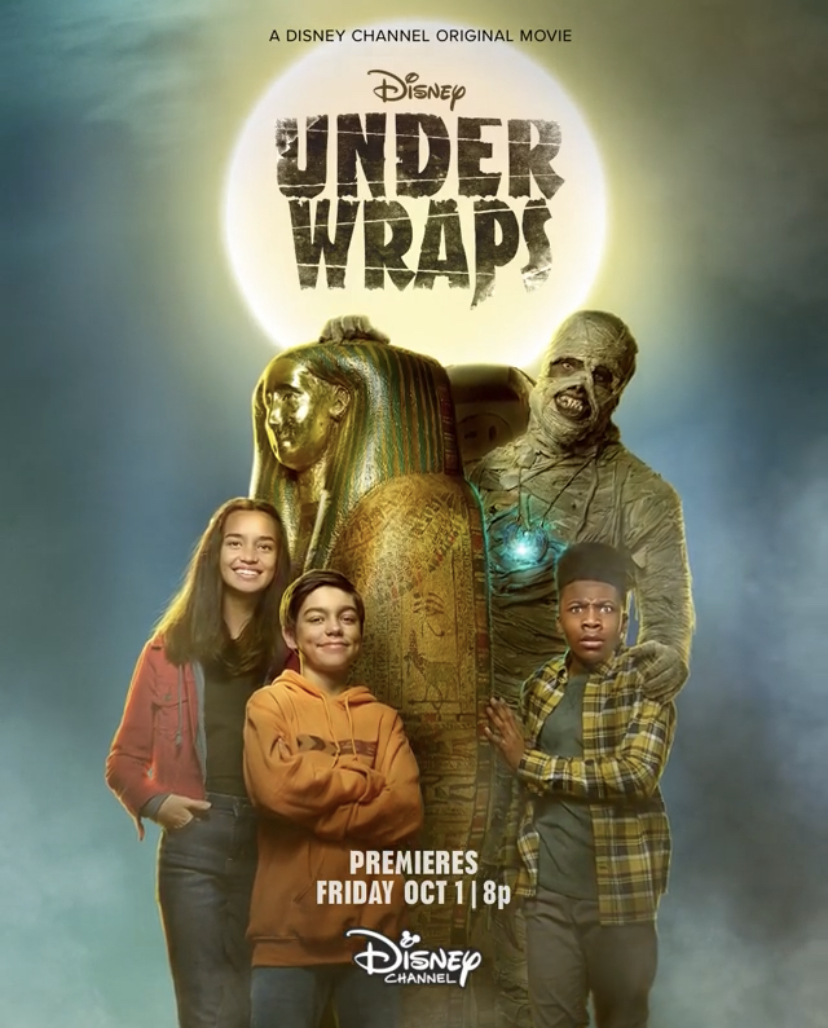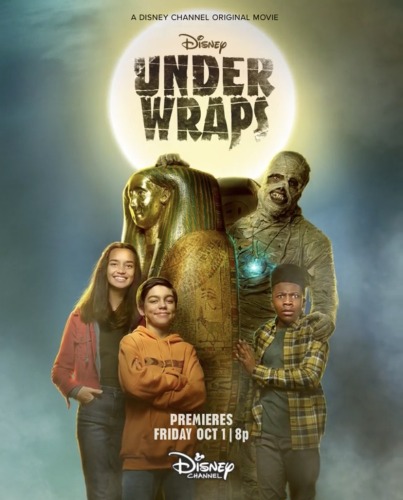 Available at Amazon Prime | Netflix
Under Wraps is a fun movie that you can watch with your family. It was released in 1997 and is a popular children's Halloween movie from the 90s. It aired frequently on the Disney Channel. If you need to watch a horror movie with your family and you have already watched all the other family-friendly stuff on this list then why not give Under Wraps a try.
It may not be the best horror kids movie you have seen but it can be an entertaining watch if you have an hour and a half to pass. I wasn't expecting much from this film as Disney often puts out bad movies on the channel but I was pleasantly surprised. If you like Movies Like  Hocus Pocus and wanted more of the magic elements and the horror theme then give Under Wraps a try. The movie has a simple premise.
What would you do if you had to take care of a supernatural being? Marshall is an avid viewer of monster movies. His friends Amy and Gilbert aren't too keen on this interest of his. But they are quite good friends. The trio soon gets placed in a weird situation. They end up in a dead man's house where they find a mummy.
Now, mummy's are supposed to be dead and this one is too. But due to a magical amulet and the mystical powers of the moonlight, the mummy becomes alive. The children are scared but soon they understand that the mummy isn't going to harm them but rather needs their help to navigate the world since he is very clumsy, slow and confused.
---
Halloweentown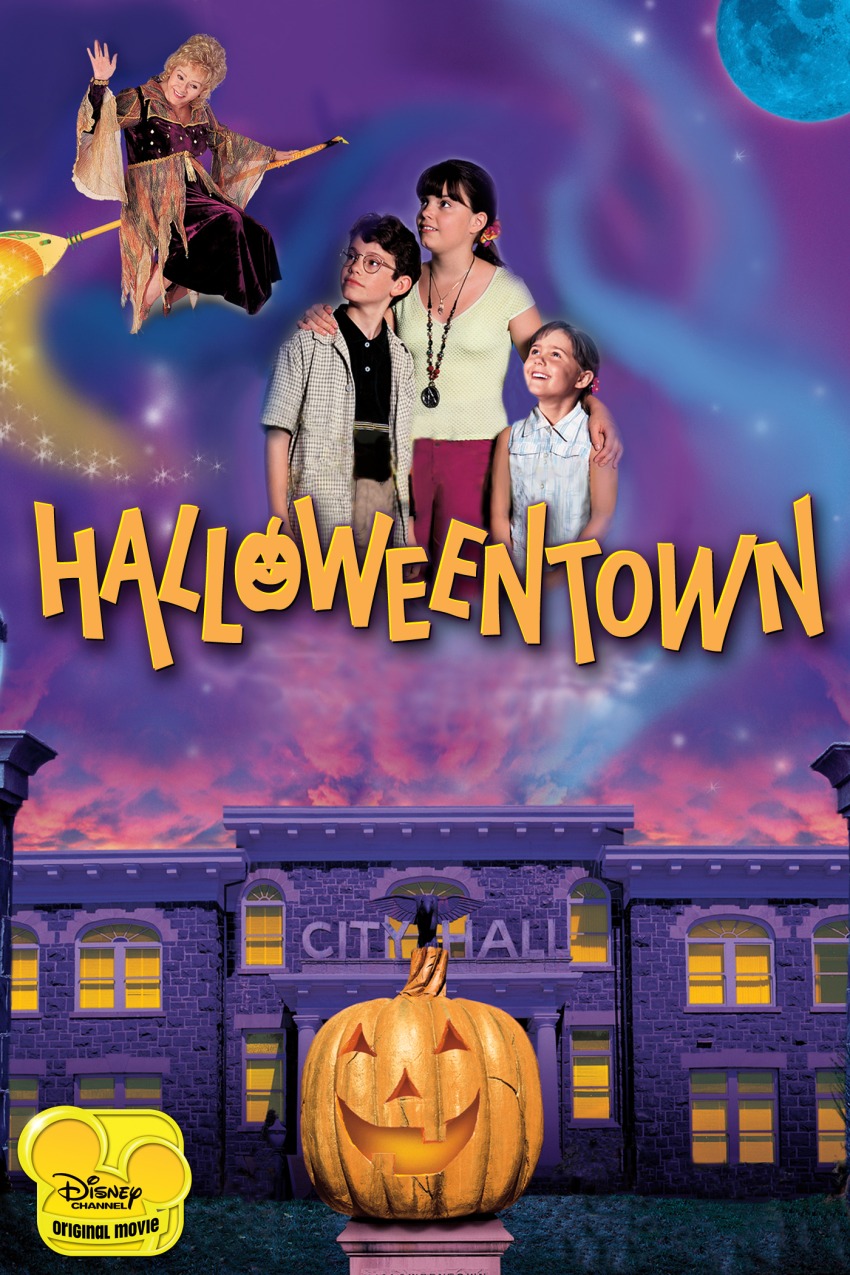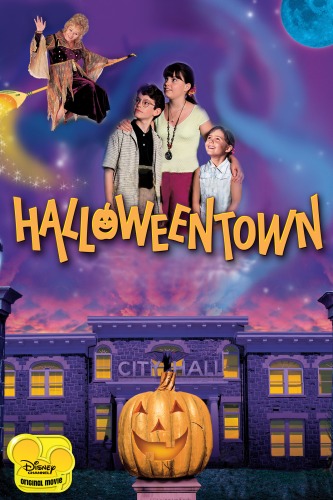 Available at Amazon Prime
One of the popular Halloween themed series is the Halloweentown series. Halloweentown is the first movie in the series. It was released in 1998 and aired on the Disney Channel. The film stars Debbie Reynolds, Judith Hoag, Joey Zimmerman, and Kimberly J. Brown. Did you know that this movie is the fourth of the Disney channel original movies?
This is a good movie for the kids. Oftentimes, there is just too much corniness involved in Disney movies. Don't get me wrong, this movie is corny as well but it manages to balance things out and make it quite fun for kids. So, if you are looking for a nice movie to watch with your kids then this can be a good choice.
In the film, we follow Marrie on her adventure to Halloweentown. Marrie is 13 when she finds out that she is a witch and she has magical powers. She then discovers a magical portal that warps her to a magical town called Halloweentown. This town has all the fantasy elements from magic, to monsters to the different supernatural beings.
You can find witches, wizards, warlocks, werewolves, ghouls, ghosts etc. in this place. The movie has a lot of fun and entertaining bits and your kids will enjoy the movie. The writing of the movie is decent and the performances by the casts are quite good and well.
Conclusion
That marks the end of our list of recommendations for some of the best movies to watch if you like Hocus Pocus and are looking for something Similar. I had a good time enjoying these movies and I hope you find some good options as well. Let us know what some of your favourite Halloween themed, horror genre movies Like Hocus Pocus are. Did you like any of the ones we mentioned? Let us know. Till then, have great viewing.