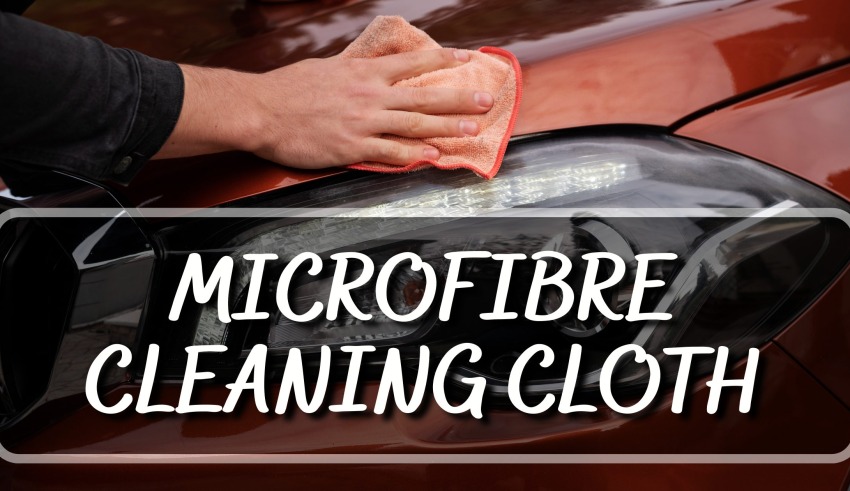 When it comes to cleaning, a microfiber cleaning cloth reign supreme. These microfiber cloths are way more efficient and powerful than traditional towels made with cotton. However, today, if we want to buy one, there are hundreds of options available in the market. Just like everything, some of them are of top-notch quality while the rest are more or less useless. Hence, choosing the right product becomes overwhelming ad challenging. 
Well, you need not worry as we have done the parts of extensive research, analyzing, and comparing for you. In this article, we've put together some of the best products in the market you can go for.
Here are the 10 Best Microfiber Cleaning Cloth:
SIGA Microfiber Cleaning Cloth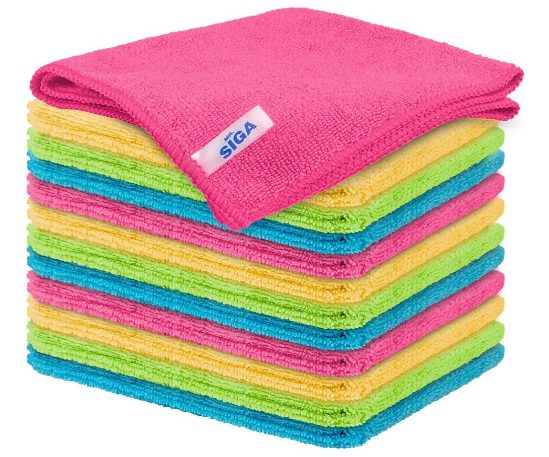 Let's start with one of our personal favorites on the list, microfiber cleaning cloth by MR. Siga. There's hardly any product out there as perfect and suitable for almost all cleaning scenarios as this one. This product comes in a pack of 12 with dimensions of 12.99 x 6.3 x 1.38 inches. 
First and foremost, these cloths are made up of 85% Polyester and 15% Nylon. This makes them ultra-soft, highly absorbent, absorbent, and lint-free microfiber cloth. You can soak up water from the countertop and tables instantly and without any tension of having lint or streaks left behind.
You can use these cloths without worrying about any scratches on items or scraping paint, coatings, or any other surfaces. So, whether you're looking for cleaning windows, kitchenware, cars, or any other delicate surfaces, you can go with this product without any second thought.
SIGA's microfiber cloths are highly-versatile and can be used for literally anything. You can use them as kitchen towels, bathroom towels, floor mops, car towels, mirror cloths, and so much more. That's not it. The best part is that you can wash them by hand or machine hundreds of times and reuse them as they are highly durable. You just need to ensure that you're using water below 40℃ and not using any fabric softener, bleach, or ironing.
---
Buff Pro Multi-Surface Microfiber Cleaning Cloths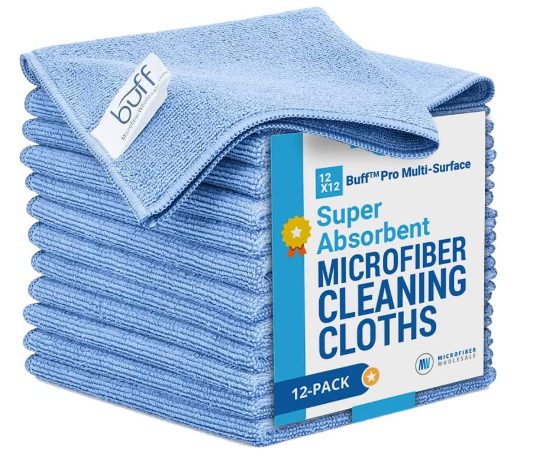 Next up, we have Buff's Pro Multi-Surface Microfiber Cleaning Cloths. These microfiber cloths pretty much go with the saying of jack-of-all-trades and master-of-none. This means that these are not just any average microfiber cloth rather, these are the premium ones you can use for cleaning any mess on any surface. 
With this product, you'll be able to clean any kind of mess such as dust, oils, debris, fingerprints, etc. in seconds. Whether you're looking to clean your kitchens, bathrooms, living rooms, electronic appliances, cars, or anything else, this microfiber cloth will meet your needs.
Each cloth is made using Intra-Weave 2.0 microfiber technology, which makes top-notch microfiber quality out there. As a result, each cleaning microfiber cloth is super-soft, super-absorbent, streak-free, and lint-free. All these make them the perfect option for dusting, scrubbing, polishing, and drying. Also, each cloth has been made quite thicker than other options in the market.
This is to facilitate the thorough removal of grease, grime, and dirt from items. Thick cloth also quickly soaks up liquid from items. This product comes in a pack of twelve and the dimensions measure 12 x 12 x 0.04 inches. The best part is that the product is also washable. So, you can reuse it again and again for a long period.
---
AIDEA Microfiber Cleaning Cloths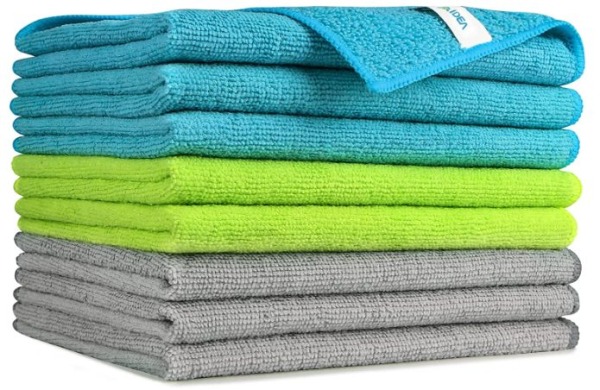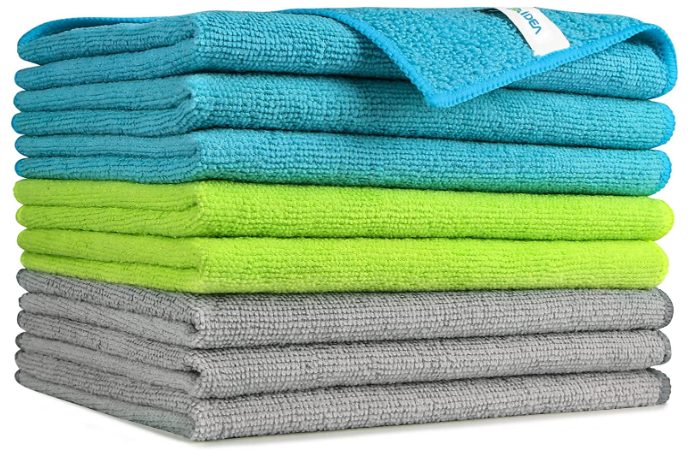 Not all microfiber cloth can go a long way when it comes to repeated cleaning of messes over weeks or months. However, these microfiber cleaning cloths from AIDEA are highly durable and you can use them for a long period. These cleaning towels are quick-drying, easy to wash, and perfectly machine washable. Hence, you can wash and reuse it hundreds of times easily without investing much time and effort. In all these, you won't have to worry about any kind of lint, fade, or losing overall efficacy. 
This set includes 8 individual cloths, each measuring 16 x 12 x 0.04 inches. The materials used for making each cloth include 87% Polyester and 13% Polyamide. Also, each cloth is made up of eco-friendly materials and free of any harmful chemicals. Beyond the sheer quantity of cloths, this microfiber cleaning cloth set is perfect for all sorts of cleaning purposes. 
The set contains some of the best quality and most powerful cleaning cloths out there. Hence, the cloths can be used to eliminate all sorts of mess such as grease, grime, fingerprints, food spills, etc. They can be used on countertops, appliances, stainless steel, cupboards, kitchen floors, and more. Also, each cloth in the set is ultra-soft, scratch-free, lint-free, streak-free, and super-absorbent.
---
Amazon Basics Microfiber Cleaning Cloths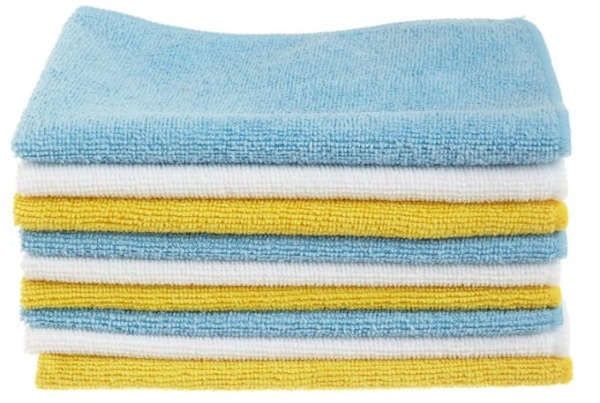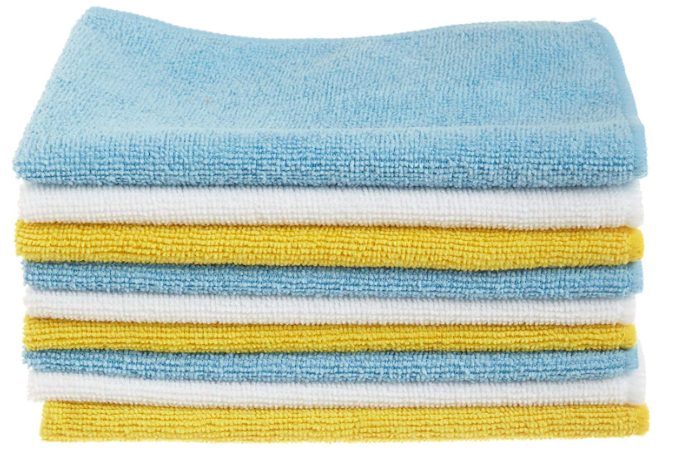 Whether you're looking to clean your cars, trucks, boats, household surfaces, or anything else, you can rely on this product. Amazon Basics microfiber cleaning cloths come in a pack of 24, 36, 44, and 144. It also comes in multiple colors, perfect to work great anywhere. 
Each cloth in the pack measures approximately 16 x 12 x 0.04 inches. Also, one of them is made up of 90% Polyester and 10% Polyamide materials. All of these make them ultra soft, non-abrasive, streak fee, and lint-free, perfect for cleaning all kinds of household messes.
We're sure that this product wouldn't fail you ever when it comes to cleaning garages, cars, boats, household surfaces, etc. The materials of the cloth make it possible for it to absorb eight times its weight in liquid while cleaning. Not just this, the cloths also dries quickly and doesn't require any additional chemicals for cleaning purpose. Last but not least, you can use these cloths to trap dirt, grime, and others without any risk of scratching surfaces. The best part is that each cloth is fully machine washable and can be reused a hundred times.
---
Chemical Guys Professional Grade Premium Microfiber Towels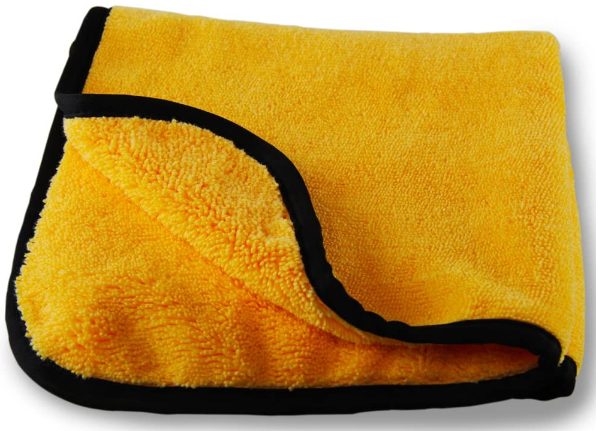 If you're looking for a microfiber cloth for cleaning your cars, we would like to tell you that your search ends here. These premium microfiber towels from Chemical Guys are ideal to serve all your automotive needs. These towels are made super soft and fluffy, perfect for final-touch buffing and wiping off your automobiles. 
Chemical Guys' premium microfiber towels are perfect for cleaning automobiles as they come with a lot of features. Firstly, they have a dual-sided design, in which there are different fibers on each side for more enhanced cleaning. Secondly, they have silk edges that make them lint-free and scratch-free. Thirdly, whether you use the cloths wet or dry, they are effective in both cases. Not just this, the cloths in the set are super absorbent and super-soft.
The set includes 12 individual cloths. All of them measure approximately 16 x 16 x 0.04 inches and are gold in color. Each cloth is made with 360,000 strands of highly refined loop woven microfiber, thus, indicating high-quality manufacturing. With this set of cleaning towels, you can clean and polish both the interior and exterior surfaces of your cars. The only drawback you might face while using this product is that cloths need to be washed separately from laundry.
---
AIDEA Microfiber Cleaning Cloths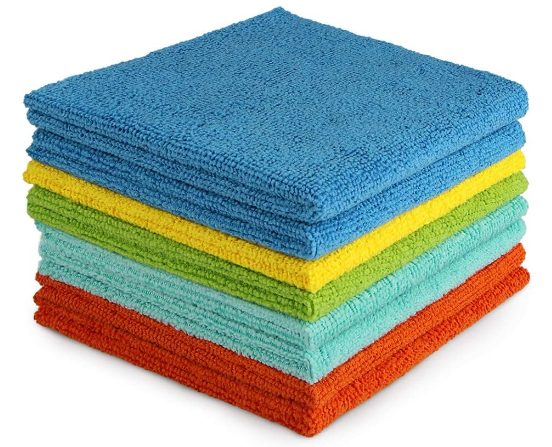 Next up, on the list, we've yet another pack of cleaning cloths from AIDEA. If you liked the previous product by AIDEA, then this product is also something that you can definitely consider. Measuring 12 x 12 x 0.04 inches, the AIDEA Microfiber Cleaning Cloths pack comes with 8 individual cloths.
Each cloth is manufactured using 87% Polyester and 13% Polyamide. Unlike other average quality products out there, each cloth in this product is softer, more absorbent, and lint-free. Also, each cloth Is highly durable, easy to clean, and even easier to use.
---
Pack Super Absorbent Microfiber Cleaning Cloth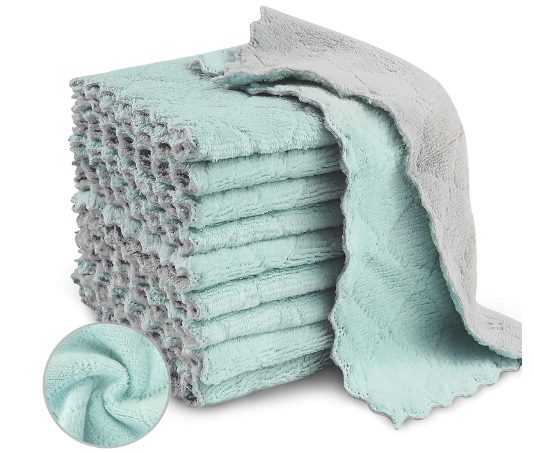 If you're looking to buy cleaning microfiber cloth for your kitchen purposes, then you need not look any further. This pack comes with 20 kitchen towels, each with a size 27x16cm and measuring 10.62×6.30inches. As the name of the product tells, these towels have ultra water and oil absorption capacity. Hence, this makes them perfect for kitchen purposes as they can quickly absorb liquid or oil stains. With this pack of kitchen towels, you can easily achieve the most perfect cleaning effect without investing much time and effort.
There's hardly any better option than this product out there when it comes to kitchen cleaning. We say so because each towel is made of high-quality non-abrasive and extra soft coral velvet thickening material. Also, they are made using natural materials without the use of any chemicals.
Hence, each towel is guaranteed to gove a soft feel and not hurt hands. There's no risk of lint or fade. In addition to the review, you can use these cleaning towels as a perfect substitute for paper towels. Apart from kitchen cleaning, this product is also suitable for cleaning household items, cars, windows, electric appliances, etc.
With the product, you can remove dust, dirt, stain, grease, fingerprints, etc. from all kinds of items. Lastly, the best part is that towels are easy-to-clean, dry quickly, and washable both by hand and by machine. This makes them highly durable and perfect for long-lasting use.
---
Best Microfiber Cleaning Cloths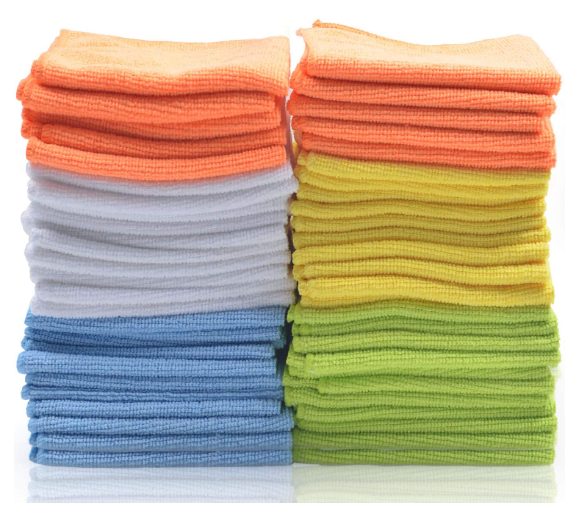 If you're looking for a pack that comes with a good number of cloths, this is the option for you. This pack comes includes 50 individual cleaning cloths in five different colors. The colors that you'll get to see are Green, Yellow, Blue, White, and Orange. Each cloth in the pack measures 13 x 7 x 9 inches. Not just the quantity, but the quality of this product is top-notch. 
Each individual cloth is made using scratch-resistant technology. Hence, you can use it on paints, coats, glass, or any surface without any fear of scratches. Also, the material of the cloth is so gentle that you can even as a washcloth for your hands and face. Designed highly absorbent and quick-dry, this pack of 50 cleaning cloths will serve all your cleaning needs. The best part is that it's machine wash friendly. You can wash, rinse, and reuse the cloths repeatedly hundreds of times.
---
MagicFiber Microfiber Cleaning Cloths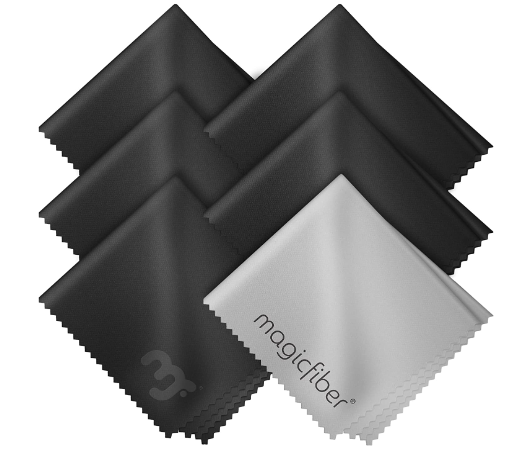 Not all cleaning cloths are suitable or can be used to clean delicate surfaces. However, MagicFber's cleaning cloths are ideal and made for cleaning delicate surfaces. Whether you are looking for a microfiber glass cleaning cloth or a microfiber lens cleaning cloth, you can go with this pack. You can rely on these cloths to remove dust, oil, smudges, fingerprints, dirt, etc. from delicate surfaces especially, glass and lens. 
Apart from glasses and lenses, you can use them for cleaning TV screens, smartphones, jewelry, purses, watches, and many more. We don't say this just for the sake of it. There are a lot of reasons and let's have a look at them. Each cloth in the pack is manufactured using extremely high-quality, soft, microfiber material. These materials make each cloth super absorbent. You need not worry about any scratches, streaks, marks, or lint. 
The best part is that with each pack, you get a polybag to properly store the cleaning cloths. Hence, this helps to ensure that the cloths are always new and ready to use. That's not it, you can wash and reuse these cloths more than 500 times. All you need to ensure is that you hand wash it only, air dry it, and do not use any detergents.
---
SURPRISE PIE Microfiber All-Purpose Cleaning Cloths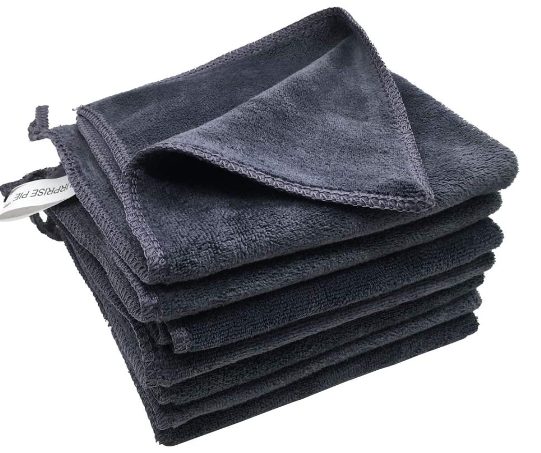 Last but not least, we have SURPRISE PIE's microfiber all-purpose premium microfiber cleaning cloths. As the name suggests, these cloths are ideal for drying, cleaning, and polishing any hard surfaces. Be it furniture, mirrors, windows, or other hard surfaces, you can rely on these cloths.
Each cloth is made of 80% Polyester, and 20% Polyamide, and features 400 GSM. Each cleaning cloth that you'll get in this pack will be nearly three times thicker than those thin and ordinary cloths out there. The materials and features make each cloth super-absorbent, ultra-soft, lint-free, and scratch-free. The best part is that with each pack you get 2 microfiber lens cleaning cloths absolutely free.
Conclusion:
So, there were our top picks for the best microfiber cleaning cloth. These are the products on amazon that we think you must try this year for all types of cleaning needs. Before we come to end, we would like to tell you that all these aforementioned products have got some pretty amazing ratings and reviews. Also, out of all options in the market, we found these products to be offering the best value for money. Hence, we are sure that from the aforementioned options, you will be able to find the right fit for your budget and needs.