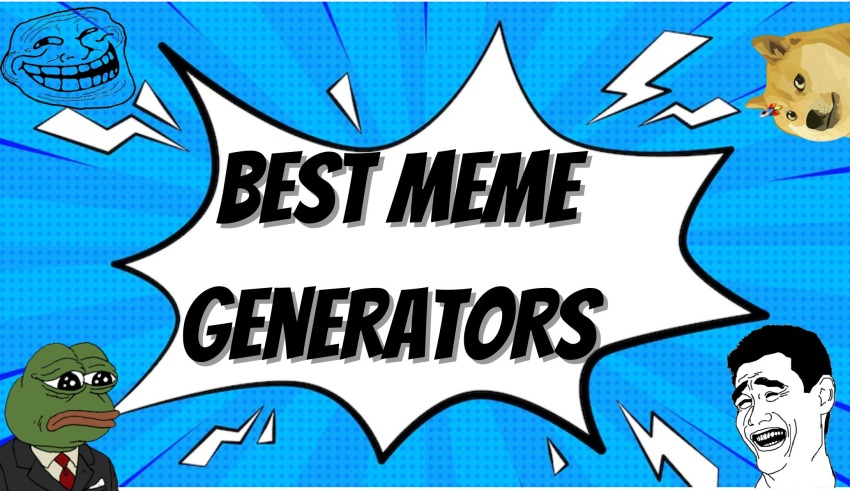 Memes are the most viral things on social media and on internet at large. Not only do they manage to make us laugh for a moment, but also spark our creativity like nothing else doing the job better than them. If you are like us, then you certainly would have felt the urge to create memes at least once in your life. However, making a perfect meme often takes time and creativity. If you want to quickly start creating memes from predefined templates, then you will be glad to know that making memes is made easy by meme generators online.
A meme creator helps you to save time, by providing a famed template with preset pictures and textboxes, in which you just need to fill in the text and get ready with your meme. If this sounds exciting to you,
Then let's have a look at the 15 best meme generation tools on the web.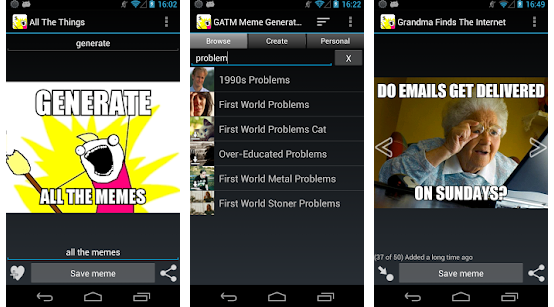 The online resource that tops our list is the GATM meme generators apps, which is quite reliable for people who are amateurs or advanced in the area of meme generators.
The massive library of preset templates make it easy for any creative meme developer to quickly design and post memes on their social media channels, without worrying about creating things from scratch.
Moreover, the platform allows you to make your own templates as well and to use your own images.
The text formatting options are pretty basic, but that's okay. Memes are anyways not about the text style, but the message in it.
People don't care to appreciate the font style and color at all, but do care if your meme can make them laugh. The app is pretty easy to use, but if you want ads to not bother you in the app, you can buy a pro version for $1.95.
---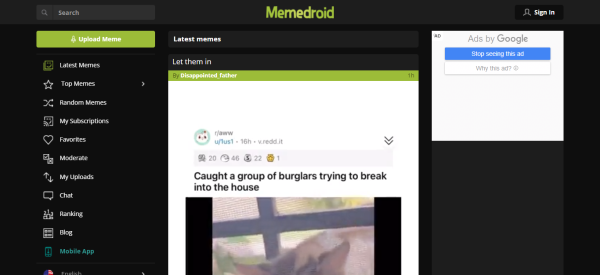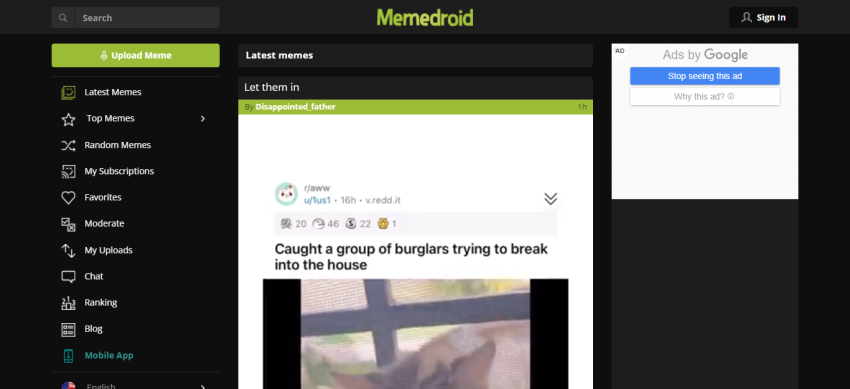 Started in 2015, Memedroid is one of the most popular meme editor platform in all meme generators for accelerating the development of memes. This platform is replete with old and new templates, and the library of templates is always refreshed with what's new and latest in the market.
Therefore, you can feel assured that you will have the most recent meme trends inside the platform as well. You can also use your own templates and images, which is what makes this platform quite popular among meme creator community.
The multi-language support adds another feather in its cap and it allows you to create in a variety of languages to cater to the local communities as well.
---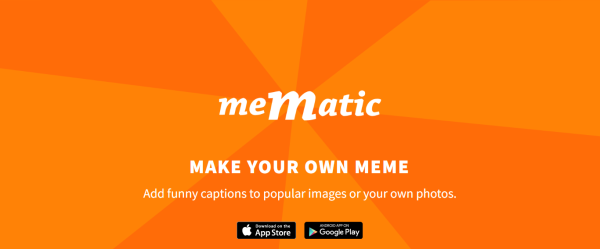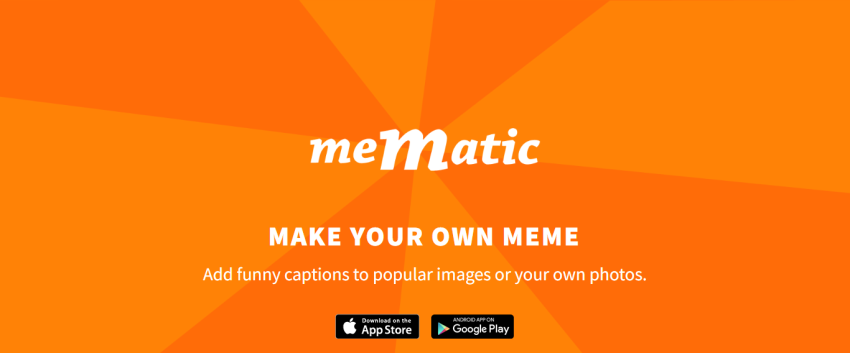 Another one of the great meme generators to make the best memes is Mematic, where you can unlock your creativity to the fullest. The platform will amaze you with not only its predefined templates, but also a humungous library of stock images that you can use freely to make them into memes.
You have a lot of flexibility and agility to make creative memes that can easily make you a point of envy for fellow meme developers. And forget not, most of this is for free.
The app does not bother the phone memory and gives you a lot of options to use stickers, fonts, colors and other elements to suit your creative juice. You can send the memes publicly on social media, or privately on WhatsApp too.
---
Talk of meme generators tool, and it is improbable to not have MEAM feature in the top of the list. If you are fond of diversity in designs, then MEAM is your place to go.
With its 700 different templates and new templates being added proactively, MEAM has become one of the top favorites for people who like to make creative memes and amuse others. What's amazing about this platform is that it automatically imports the top meme posts from Reddit and can also import images from your phone's gallery.
It also connects to KnowYourMeme and Google, and helps to look for more templates. The control that a developer gets over text editing features, resizing and white space management also makes it a top favorite.
---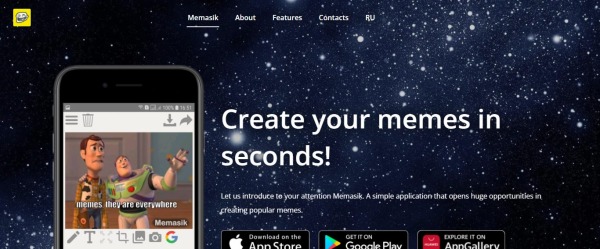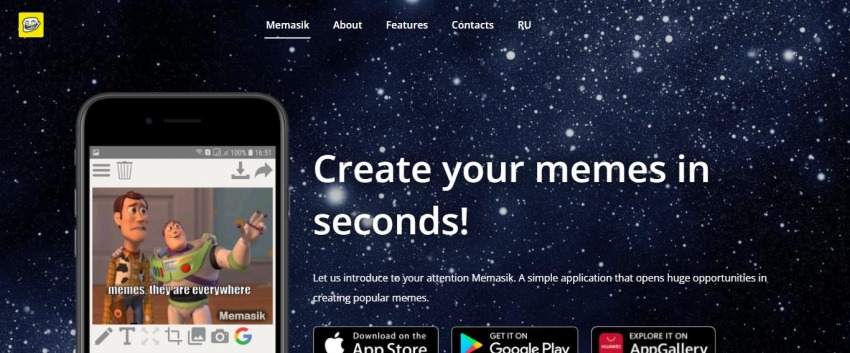 Making memes becomes extremely easy when you use the best tools to make them. Memasik is one such tool that makes creating memes a child's play.
Apart from the immensely large library of images and templates, Memasik also helps you with an active community that helps to push you further in your pursuit for becoming a creative genius. The templates are refreshed automatically and you can be assured of finding the latest meme templates at your disposal on this platform.
The memes can be easily edited to make them look like exactly how you want them to be. You can rotate, resize and move the stickers and text around, to give a customized look to your memes
---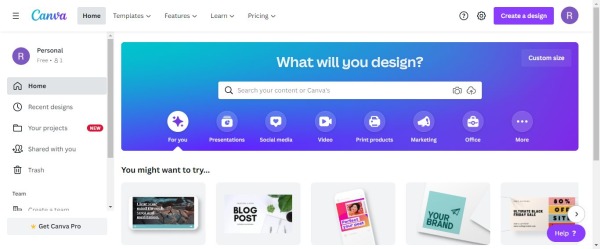 No wonder this meme editor tool has been famous for its poster templates and graphic design features, Canva is also a great tool to make memes.
The trustworthy graphic editing tool has more than 15 million users globally, who know that a simple query "Meme" in the search box on Canva can equip anyone with the best templates to make creative memes.
What makes Canva one of the most fantastic tools for making memes is the fact that it has a vast library of images, emojis, clip arts, stickers, animations and what not. You can simple design your memes from scratch or can drag a preset template for your quick creation.
You have all the liberty to set the dimensions of the meme design and can also play around with a plethora of design elements. No watermarks, no restrictions and no copyrights on the free elements – this is what Canva has to offer to its users.
---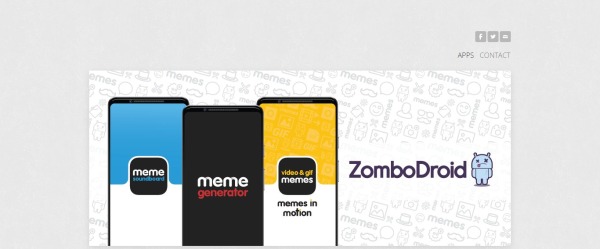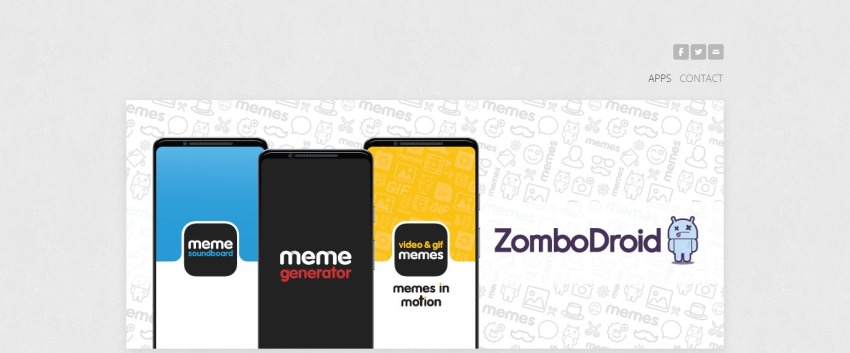 Those who still want to try out a new platform for making memes can go for ZomboDroid. Started in 2011, today it features over 1000 templates to choose from and also contains more than 60 fonts and over a hundred stickers.
What makes it unique is that a meme creator can design one's own stickers and can also use images from the gallery. If there is any app that can help your wings of creativity spread wide and help you to soar high in the world of memes.
The amazing effects like popular deep fry can make your memes look distinct in the online world, where everyone is trying to copy another.
Moreover, the suggestions for captions and the feature to crop images is something many meme generators don't provide. Using just one button, you can share your creation with the larger audience globally on social media.
---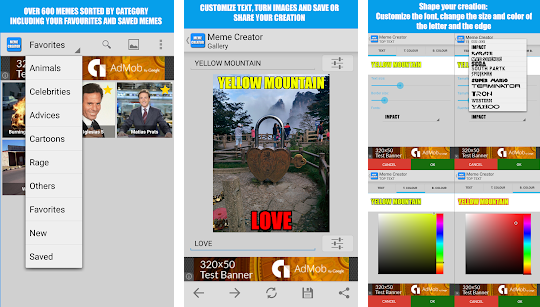 The wonderful machine to make a meme by Gentoozero is one of the best platforms for the beginners. It is quick, nimble and easy to operate.
The text editing features help you to make the best memes with the most creatively designed text on them. Moreover, there is no restriction on the pictures one can use.
The work done on this platform can be saved in the phone storage or can be shared directly with the world on social media. What makes this app stand out is its feature to create comics. Yes, people in the meme world love comics and it has a separate fan base altogether.
If you are also planning to experiment with comics anytime soon, then this is the platform to go for, especially because of its lucid and welcoming user interface.
---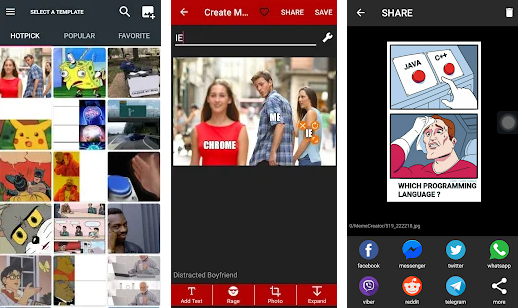 As the name suggests, the platform provides a one stop solution to create memes with utmost ease. It allows people to make memes in a straightforward manner, by using a multitude of meme templates to choose from.
The text editing options, stickers and amazing graphics make it one of the best platforms for beginners.
The app somehow loves your creations and therefore, allows you to store your self-created memes as reusable templates. This is one app that you just cannot ignore.
Besides offering a feature to share your memes on social media, it also allows you to be creative with your memes by learning from the memes made by other people in the meme community.
What can be better than a platform that allows you to be at your creative best, while also making it extremely simple for your to take the first step in meme creation?
---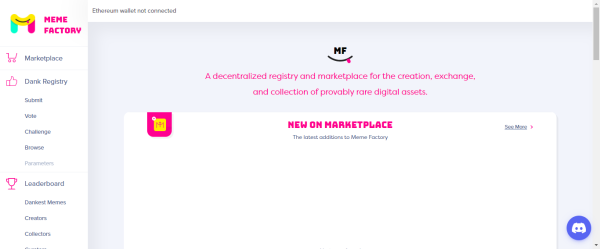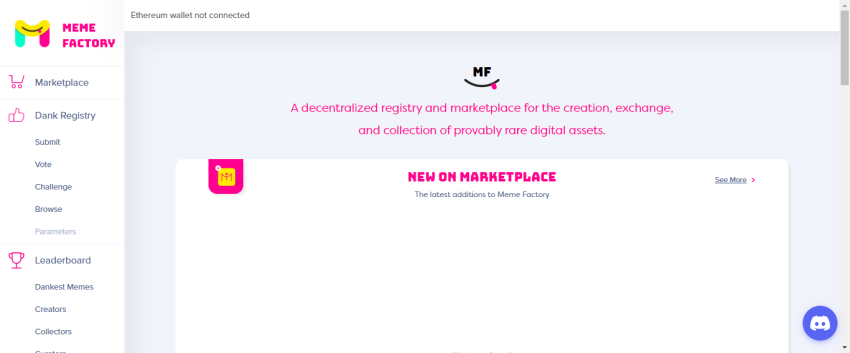 Meme makers want a quick solution for all their meme making needs. One app that serves the purpose of such creative designers is Meme Factory, which makes sure that it provides endless meme templates that can help the designers – amateur or advanced – to quickly get their hands dirty at making amazing memes.
What is even more amazing about this app is that it can help you bring visibility and followers right within the app. Yes, the Meme Factory has a community that can see each other's published creations and can like or dislike them, provide feedback and can follow a designer.
This can help you create your own network on the app and grow your visibility and fame among the meme makers. Just remember, not to violate any community guideline. If you happen to be as amazing as you believe yourself to be, then you will soon be trending on the highlights tab.
---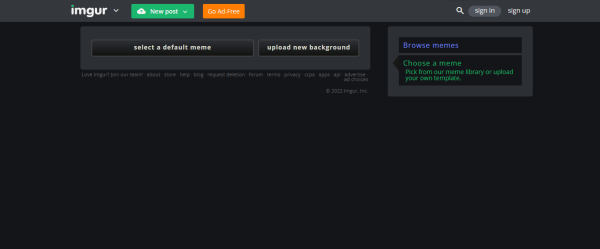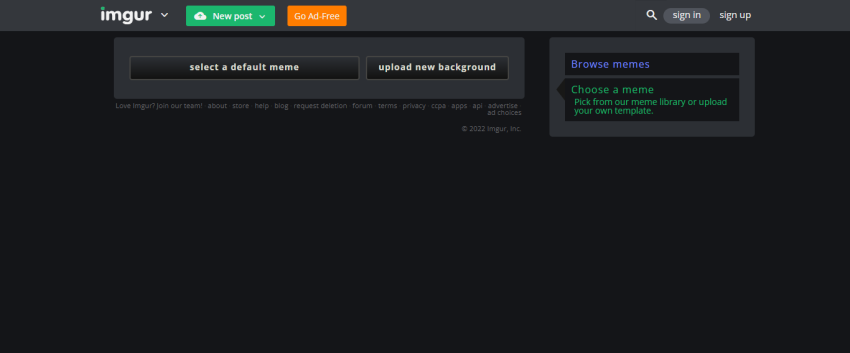 The ultimate meme generators help designers with an entire universe of features that hardly other meme creator platforms can offer. Imgur MemeGen emerges as one of the kings of meme generation community.
This is the primary source of anything funny on the internet. You will be amazed to know that Imgur MemeGen provides you with more than 100,000 templates that can help you make a meme.
You can add your own personal touch too to the memes and share them instantly on social media.
Though the app does not let you edit the text styles, it does make sure that your content is fresh and using the recent templates.
There is no way you can style or color your text, but that does not stop meme makers from leveraging this app to make the world laugh with memes. It is available for iOS alone for now, however the Android version is expected soon.
---
Meme Plus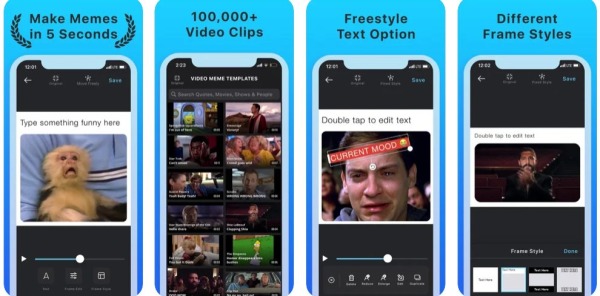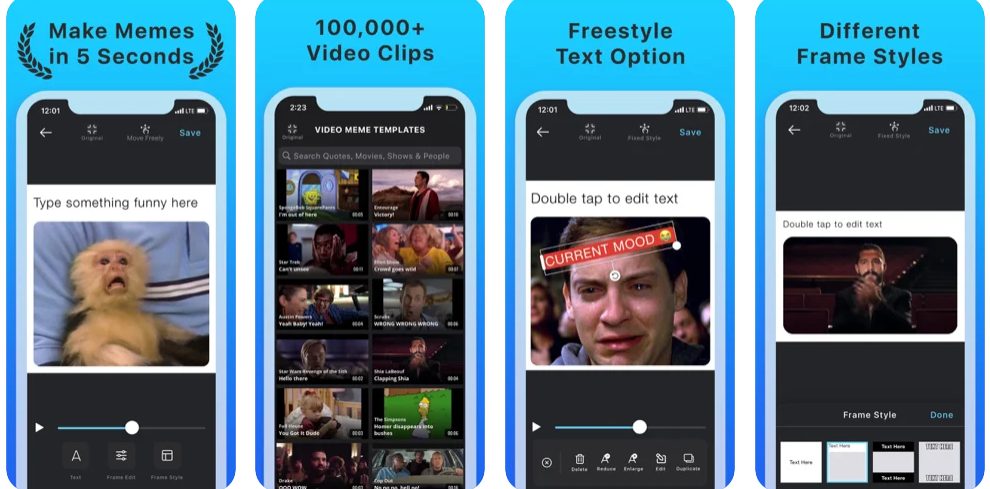 For designers who don't like to be overwhelmed with too many options and want a trimmed down set of templates that have been chosen as the best from a thousand meme templates online, the Modern Memes app is the way to go forward among all other meme makers.
You can edit the text like a pro and can help you create memes from some of the best templates that you will find online. Moreover, the memes created on this app do not get trimmed by Twitter or Facebook, since the app takes care of providing you the perfect dimensions for each template.
The community on this platform helps you to share and receive feedback on your memes, while also creating your own follower base in a world where earning fans and followers is growing competitive. Get this app now and explore the memes seamlessly.
---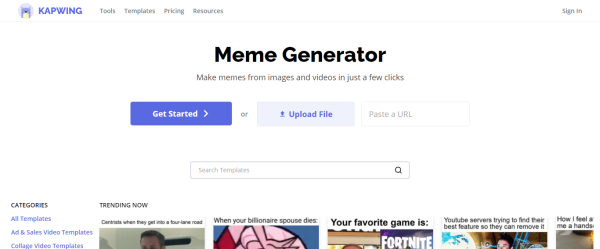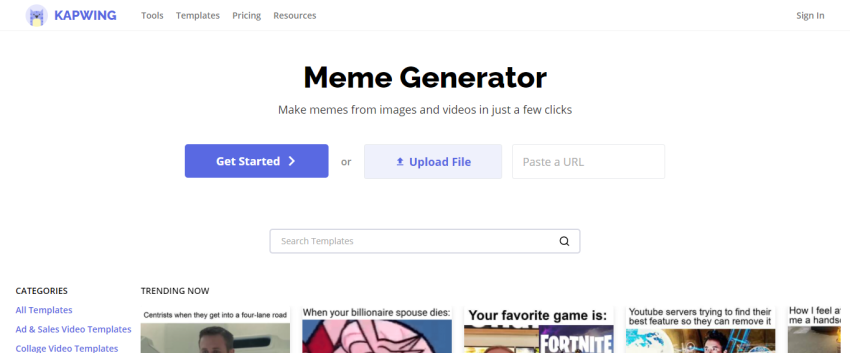 GIFs are one of the best meme formats and people often struggle to get the best apps to make memes in GIF format. Kapwing helps you get there quickly by providing you with template for GIF memes and helps you create a design from scratch as well.
You can simply select one of the templates, replace the text on it, download it and share it on social media. If you still want to save time, you can simply share it on social media directly from the platform.
There are templates for Facebook, Instagram, TikTok, Discord and Twitch.
Which other meme making platform provides so many options for a variety of platforms?
You will also find a lot of templates that have been quite old, but still relevant for a variety of your ideas. Head over to Kapwing if you want to leverage a large library of templates for memes.
---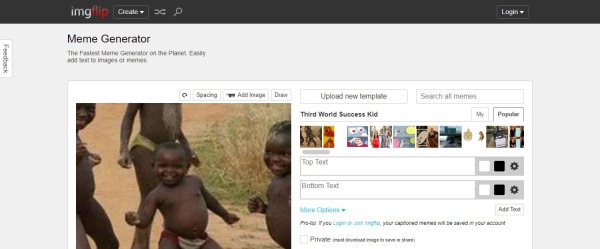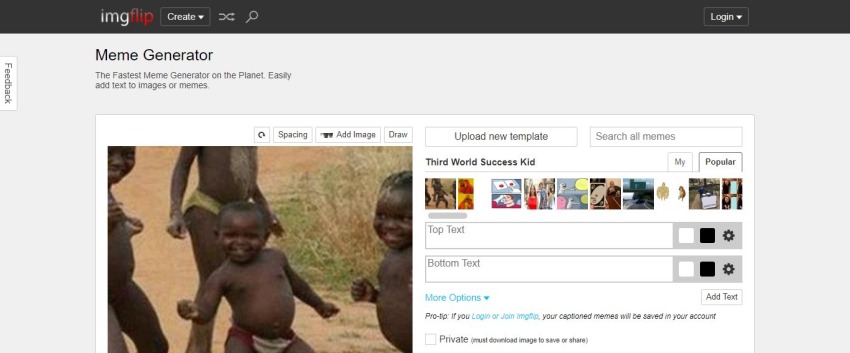 This name must have already rung some pleasant bells in your ears. It provides a very nimble and easy to use website that people can easily go to and make a meme.
Moreover, you don't need to download any app for this, and can do the entre creativity on a website itself. With a lot of old and new templates, the ImgFlip platform has been one of the most widely used websites for making memes. You can simply choose a template and add customizations to it.
The platform has more than 1 million templates uploaded by users and offers the options of adding drawings, stickers, images and emojis to the memes.
---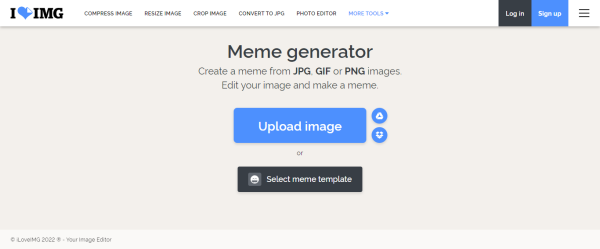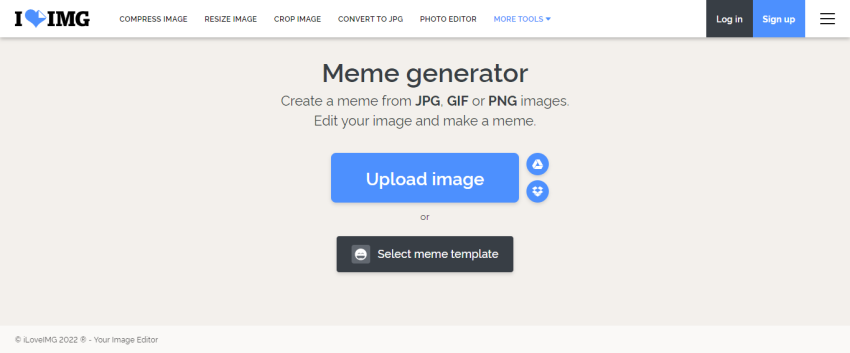 As soon as you visit this meme editor, you will be welcomed with a neat and clean screen asking you to either search for a template or upload a new image to create a meme out of it. By using any JPEG, PNG or GIF format file, you can simply create a meme that you can share with everyone in your community.
Apart from that, you can use the platform to resize, crop and compress any meme. There is hardly any other better platform for making a meme that can impress everyone.
How to make a Meme?
Making memes requires a stepwise process, which is described as follows:
Choose the dimensions of the post and make it suitable for the platform where you want to share it. Twitter Facebook, Instagram and Twitch prefer different dimensions, and hence you must take utmost care of not getting your design cropped unnecessarily.
Select eye-catching icons and illustrations. Do not keep the poster bland, make it appealing. By adding the right icons, you can spruce up the designs and can communicate the story easily.
Add some meaningful background image. The background picture adds a lot of fun element to your meme and also helps the viewer to quickly set the mindset required to interpret the meme.
Be selective with font style and color. Make sure that your text is legible and stands out clearly against the backdrop.
Download the poster and share it on the social media platforms to make the world laugh.
Make sure that you use the right hashtags and also tag a few famous accounts of meme designers, who can help amplify the reach of your posts in their community.
Moreover, save your poster as a reusable template to keep it handy for the next meme creation.
Conclusion
Meme making is a serious business that must have elements of fun and creativity in it. And that's possible only with the best meme generators available in the market. So, the next time you are heading to create a meme out of your ideas, do check out these meme generators to make your job easier.