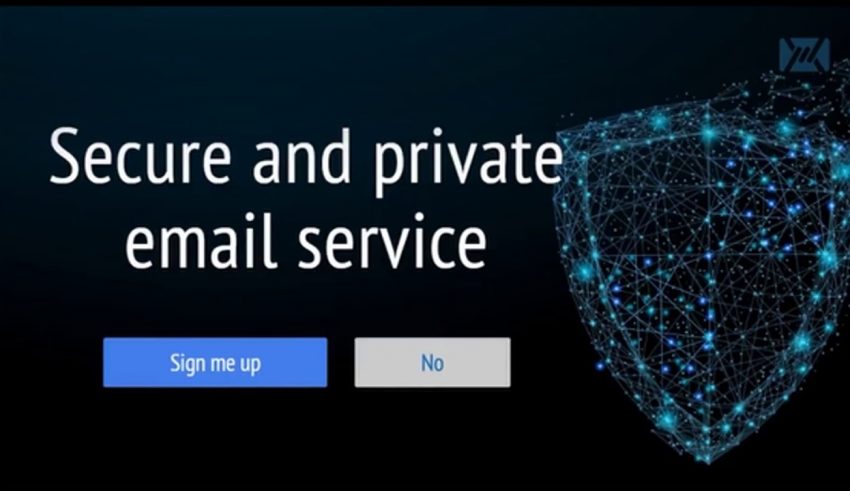 Privacy and security hold a vital place online, considering the amount of time, and dependability it has on our lives. Online privacy has become the need of the hour. With that said, Mailfence is a tool created for an end-to-end encrypted email solution, including the digital signatures. It claims to be much more secure and private than the American equivalents of email. 
What is Mailfence?
Mailfence is secure email provider with end-to-end encrypted email service. It is an email firewall preventing the user from hacking and identity theft. Mailfence also offers a completed email suite, along with calendar, documents and other tools. The main reason to develop Mailfence is to ensure online privacy and security of the user.
The Mailfence encryption is based on Open source cryptographic fundamentals. Mailfence is also compatible with OpenPGP email services. It is service provided by Belgium based company, hence is out of scope for Five Eyes. Belgium is also part of the more significant 14 eyes surveillance of signaling. Also, the authorities can only gain access to the user data with a warrant as per Belgium laws. Mailfence maintains up-to-date canary and transparency listing to check for compromise by authorities.
---
How to use Mailfence?
It is relatively simple to use Mailfence. The user can sign up at the Mailfence website and follow the following steps:
Sign up on the Mailfence website. The user gets a confirmation email with account creation. This is sort of a burner mail which is used for communication in case of an issue.
The next step is to choose an email address. A paid plan user can get a custom domain.
The user can now use email service. The emails are sent to secondary accounts with PGP encryption.
The email contacts can be imported from other email accounts if required.
Mailfence makes it easier for a non-tech user to use this service. The export of contacts from other email clients. With plug-ins included no additional software download is required. It also allows for migrations of keypairs and encrypted data to other email clients. Mailfence has hardened servers and specially acquired SSL certificate.
---
Features of Mailfence
Mailfence comes with the following features:
Allows its users to send encrypted and signed messages to any other email provider. It also provided with crucial OpenPGP management. This allows the users to send password-protected mails within their browser. There are encryption and decryption by both the sender and receiver. The encryption is via open cipher library. The messages can also be sent to non-Mailfence users.
There are no advertisements, monitoring, backdoor, and government surveillance. The users can use this service with ease and complete privacy and security. The SSL certificate does not have any US Certification authority in the chain, thereby emphasizing on the fact that there is nothing to spy on the users.
Support POPS, IMAPS, and SMTPS:
Mailfence supports the popular email protocols.


KeyStore provides with the facility to import existing key-pair. It also allows users to generate key pairs. This comes with both primary and crucial advanced management options.
Two-factor authentication:
Security feature protects the users account when the password is compromised. It provides a double layer of security.
Supports whole Email suite:
To Google's suite, Mailfence provides with calendar, documents, contact. It maintains functionality. Mailfence also supports Groups and the data such as sharing files, contacts, calendars, etc. with other users in the group.
Strips IP from sent mails:
Per the Belgian logs, Mailfence keeps a record of the IP address.
---
 Mailfence Privacy and Security
Mailfence allows its users not to use a real name, and add a burner email address. The user can also pay in cryptocurrencies. The data collection based on Belgian cyber laws. However, Mailfence claims to not sell the user data with third-party organizations.
There is one click OpenPGP encryption for ease. Communication is always via SSL/TLS. For encrypted connections, it comes with Perfect Forward Secrecy (PFS)and allows key pairs generations. All the encryptions occur within the browser, hence making it safer.
---
Pricing
Mailfence comes with four pricing brackets, including a free version.
Free:
Version is free of cost and allows the user to send 500 MB emails and documents. The user can add up to 1000 calendar events. It comes with two-factor authentication. The customer support for this one is only over email.
Entry:
The pack costs 2.50€ per month. This is used for 5GB emails with the alias, 12GB documents, 10000 calendar events, and up to three groups. This comes with custom email domain, with integrations with several mail protocols for different OS. The support for this one is over mail and telephone.
Pro:
costs 7. 50€ per month. This supports about 20GB mails, 24GB documents, 50000 calendar events, and up to 5 groups. This comes with priority support and the same encryption as Entry. The user can choose a custom domain.
Business:
Can be used by big business houses, and the users can create a custom plan. It comes with two-factor authentication and apart from standard protocols and services, also support LDAP, API, LOGO, etc.
---
Conclusion
Mailfence is easy to use, secure email provider for beginners. The encryption is on point with the security being browser-based. There is no requirement for software download. The best part is the availability of a complete suite like Gmail for the users of the latter. The free version comes with comparatively fewer features as paid versions.