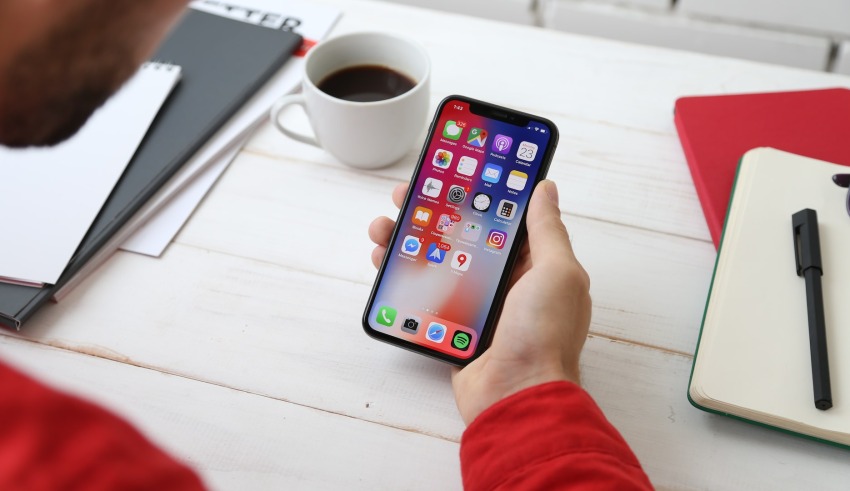 Thanks to the internet and its infinite number of benefits, we are now living in a world where nothing remains in the unknown. Communication has become way too accessible with fast-growing technology. Through apps, we can now talk to people we know and also the ones we don't with security and privacy.
To stress that, here are ten apps that are best for communication:
Spike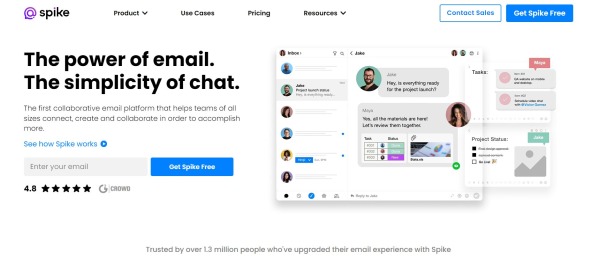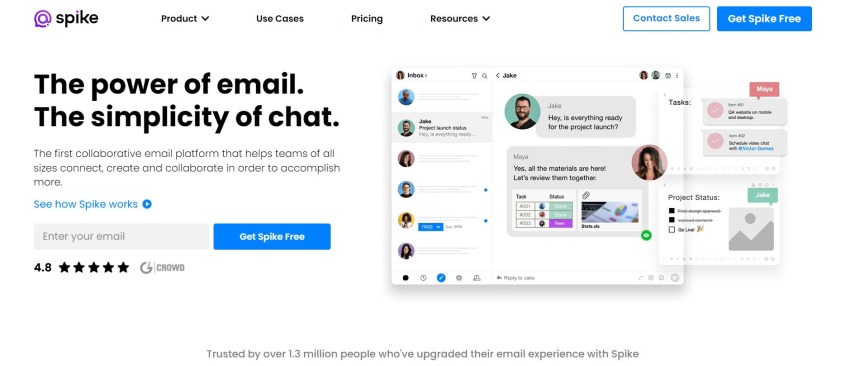 With so many communication apps on the market, Spike offers something unique. Spike is a desktop and mobile app that makes your emails look and feel like a chat. Their robust inbox allows you to view conversations organized by people, just like your favorite chat app, and prioritizes the emails that really matter, helping you get more done in less time. 
Spike wants to eliminate app juggling by offering a single workflow with an "all-in-one" experience. Packed with features like video calls, voice messages, collaborative notes, and more, Spike makes it very easy to complete your work, interact with team members and clients, stay organized, and be productive.
Messenger 
In terms of monthly active users, Facebook is the second-largest messaging app after the largest social network in the world. Facebook Messenger is the most popular chat app in the US, with 105 million users.
You can communicate with anyone who has a Facebook account in Messenger. Even without using Facebook, you can use the app
Any user of the same messaging platform can be contacted through text, voice, or video call using Messenger. You can communicate no matter which device you're using by calling someone's PC from your phone and vice versa.
WhatsApp 
WhatsApp may be a member of the Facebook family and may incorporate numerous Messenger capabilities. However, WhatsApp continues to have a devoted user base that regards it as the finest communication software for their requirements. However, as WhatsApp updated its personal data policy, compelling you to share more data with Facebook, some of those users flocked to alternative apps.
WhatsApp users who have persisted with it can communicate with their connections via text, photo, audio, and brief video messages. Emoji and completely encrypted communications between WhatsApp users are just two of the many recent additions to the app's toolbox. WhatsApp offers video chat capabilities, and up to 50 users can participate in a call.
Telegram 
Telegram places a strong emphasis on security and takes user privacy very seriously. With its message encryption and self-destructing communications, Telegram has become a popular platform among those concerned about security.
As consumers' awareness of how businesses utilize their data grows, this level of privacy is essential and raises the standard for competing messaging services. And Telegram does well in its place. 
Discord 
Discord is a true anomaly. Although it was initially developed with gamers in mind, it is now sold more generally to online communities rather than businesses. There aren't many business-specific capabilities, and third-party bots make up the majority of the integrations. But Discord's superior, always-on audio makes it suitable for business discussion.
Like many other team chat apps, Discord provides text channels. You can include teams of your choice, and threads let you further divide up conversations. The voice channels, which are always-on phone calls where you may speak to everyone on your team, are the main attraction here.
Slack 
When we think of team communication, Slack is among the first few team chat programs that come to mind. It has been used by numerous teams all around the world to enhance teamwork and productivity.
It offers file sharing and automated syncing between several devices, in addition to covering the fundamentals of instant messaging (IM).
Viber
The two apps, Viber and WhatsApp, are fairly similar, but Viber offers extras like stickers and GIFs, video calls, and an in-built QR code scanner.
No matter where they are, Viber members may call and text each other for free. The software enables Communities, which are group talks with an unlimited number of people, and public chat channels you can join.
WeChat
It has more than 1 billion downloads, and wants to expand outside of China, where it has become a particularly well-liked chat app.
WeChat offers users free group chat, multimedia messaging, video and phone calls, and mobile instant messaging (images, video, audio, stickers, etc). Chats can have up to 500 participants, and a Time Capsule function enables you to make video messages that vanish after a day.
Skype 
Another excellent choice is Skype, one of the market's more established and well-known chat applications. Once more, you can text, video chat, and voice calls other people using this app, and you can do all of this for free.
The free capabilities provided by Skype are supplemented by a few paid options. Traditional phone calls can be placed to standard phone numbers. However, these options come with a monthly subscription because, as mentioned earlier, these are premium benefits that only support users with a premium membership.
Microsoft Teams 
The result of turning an organizational chart into a team chat tool is Microsoft Teams. Similar to Slack, Microsoft Teams is great for group projects and teamwork. While Slack is great at its place, Teams go nowhere less in the field.
Every Microsoft Teams account is associated with a single organization, often known as an org, that stands in for your entire business. Users may join one or more teams within a firm, and each team is further divided into channels. These channels further break corporate instant messaging by forcing conversations into threads.
Conclusion 
Communication made easier with technology is what we live for. SMS and MMS are no longer the standard methods used to text people in the world. It all began many years ago with few applications and has since developed into a profusion of very functional options. 
Over the past five years, evolution undoubtedly accelerated. Basically, you have more options than you'll ever need right now. In this article, we went through some of the best communication apps that down communication barriers. The best part is that you can avail of these without having to spend any money.