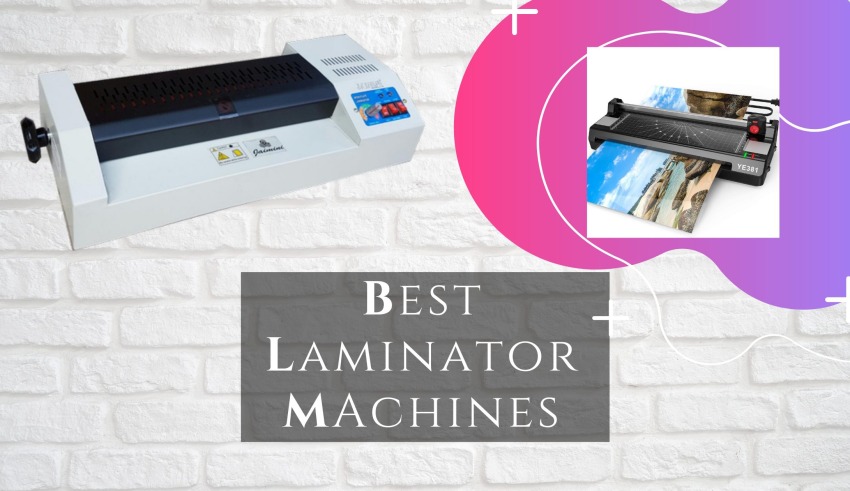 The truth is that as time passes, the paper begins to exhibit indications of damage. Some papers need to be kept for a long time, and laminating them is the best way to do it. Any paper may be laminated and used for years without causing damage to it. This is why you need the best laminator machine to increase the life span of a paper or any other document.
Folks are constantly in need of document storage, but finding a paper laminator in a matter of seconds is not always simple. For any significant papers you may have, this is a must-do. If you're wary of going outdoors to get your documents laminated, now is the perfect time to get a laminator.
You must locate a laminating machine capable of making your papers waterproof, wrinkle-resistant, and long-lasting. If you're attempting to decide between two identical laminators, additional features like jam avoidance and auto shut down might be helpful. Certain laminators merely utilize heat to seal the laminating film and papers together. Go for the thermal laminator machine if you want quick results. We conducted extensive research before producing the list to present the finest laminator machines on the market.
Here is the list of the 10 best laminator machines to Buy In 2022.
Scotch Brand PRO Thermal Laminator


With this easy machine, you can laminate recipe cards, photos, essential or often handled papers, arts & crafts, and more with confidence. This machine has settings for both 3 mil and 5 mil pouches, and most of them include an auto shut-off function after 1 hour of inactivity. This small 9-inch thermal laminator machine has a splash of color.
Depending on the thickness of the pouch you're dealing with, you can pick between 3 mil and 5 mil pouch settings. For the greatest sealing results, center your object within the bag, making sure to allow lamination margin on all sides. As your project feeds out of the machine, you should delete any items that might get in the way. Your machine is heated enough to start laminating once the ready light shines. Use precaution when removing your creation from the machine since it will be hot.
---
Sinopuren 9-Inch Thermal Laminator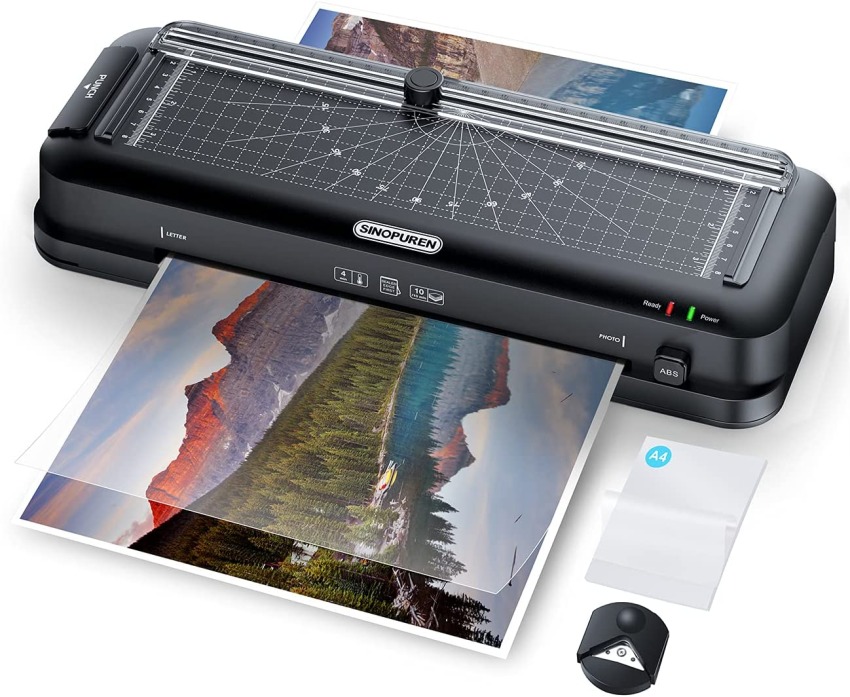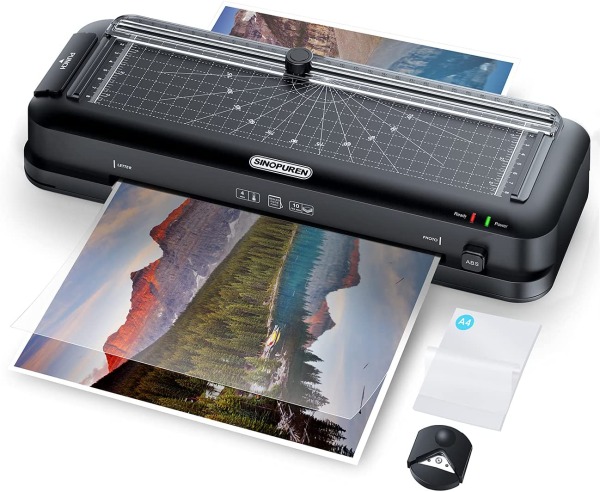 With a built-in paper trimmer and hole puncher, this is genuine all-in-one equipment that makes DIY a breeze. This laminator set comes with a 9-inch laminator machine, an additional 1pc corner rounder, and A4 laminating pouches to meet your daily lamination needs at the office, at home, or school. The Sinopuren laminator is small, light, and easy to carry about.
This best laminator machine is 9 inches wide and can accommodate thermal pouches up to 9 inches wide with a thickness of 3-5 mils. Its max operating temperature is 125°C, and the system's automatic shutdown feature prevents overheating.
The "ABS" button on this A4 thermal laminator machine allows for rapid release. When a paper jam occurs, switch the machine off and push the ABS button, then remove the paper. The ABS button is a simple and effective way to eliminate paper jam problems. To increase your efficiency and protect and preserve your essential papers, there is a 2-roller system with a rapid 3-minute warm-up time and a fast laminating speed of 400mm/min.
---
Merece Laminator – A4 Laminator Machine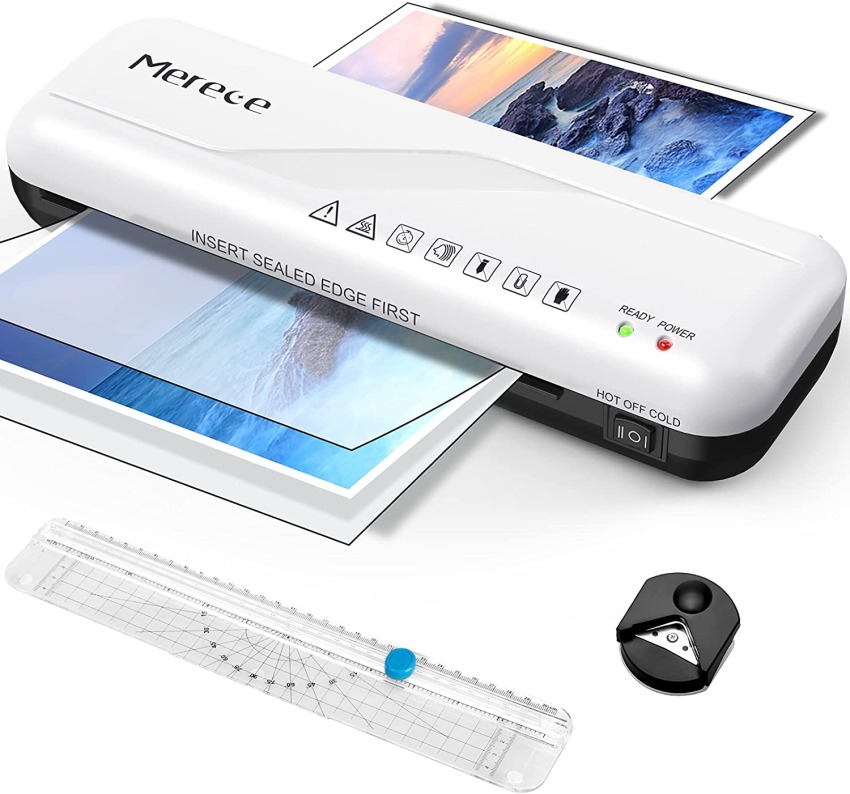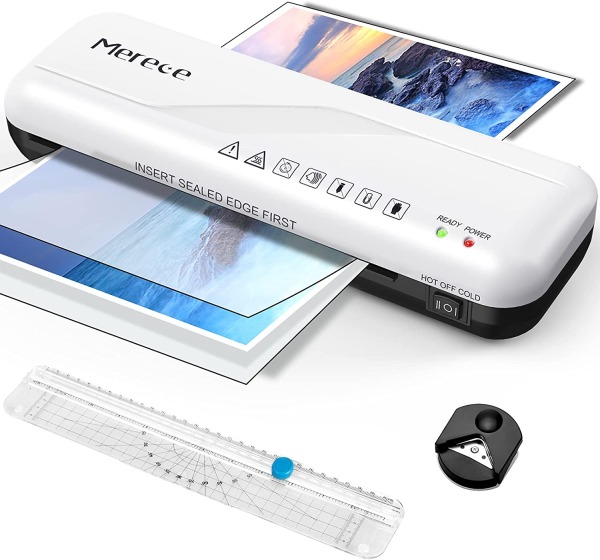 Thermal and cold laminating modes are available on this laminator machine with laminating sheets. When utilizing cold mode, you must utilize self-adhesive pouches, which are ideal for some unique antique photos and papers. This A4 laminator machine is ideal for home, school, and business usage. It comes with a laminating machine, a corner rounder, a paper trimmer, and 30 HOT laminating pouches.
The whole 9-inch portable laminator does indeed have a 230mm throat opening, works with pouches ranging from 150mic (2x 75mic) to 250mic (2x125mic), and is perfect for laminating photos, postcards, letters, legal documents, menus, artworks, and business cards. The efficient and smooth laminating is ensured by the two-roller design. The new rapid 90-second warm-up and incredible 280mm/min speed may help you work more efficiently while also avoiding wrinkles, blisters, and curling, resulting in a faster, smoother, and quieter working environment.
---
Amazon Basics 9-Inch Thermal Laminator Machine


The AmazonBasics Thermal Laminator machine is portable and lightweight, weighing only 2.6 pounds. Allow it to warm up for four minutes before you begin laminating papers up to nine inches wide. That means you can laminate documents of all sizes, including letters, business cards, and photos. To get the greatest results, choose between two heat settings.
You may choose between a 3 mil heat setting for standard documents and a 5 mil heat setting for thinner sheets with the flip of a switch. Any school or home office would benefit from the small design. The jam release lever may be used to swiftly and simply free a jam in the laminating machine if papers become stuck.
---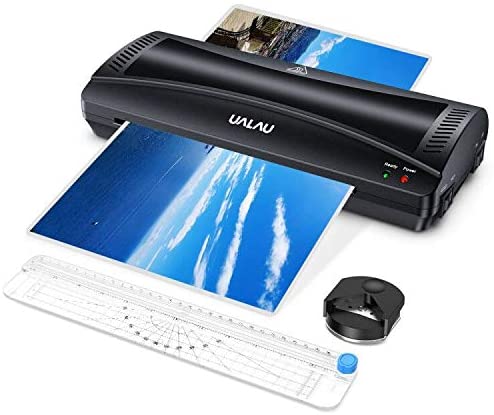 A laminator, 20 laminating pouches of paper, a trimmer, and a corner rounder are included with the UALAU OL280 laminator. This laminator is suitable for use at home, in the classroom, or the workplace. With no noise, the UALAU laminator is suitable with 3-5mm thick laminating pouches. With a lamination speed of 250mm/min and a usage time of up to 30 minutes after optimization, it only takes 3-5 minutes to warm up and improves production efficiency.
This type of thermal laminator machine was created to prevent paper jams. To successfully fix the jams, simply press the button. If there are any paper jams, place the items on the laminating pouch's edge and laminate the sealed edge first. It works with laminating pouches ranging in size from a business card to A4 paper, allowing essential photographs and papers to be preserved indefinitely.
---
Laminator 4 in 1 Thermal Laminator for Home Office School Use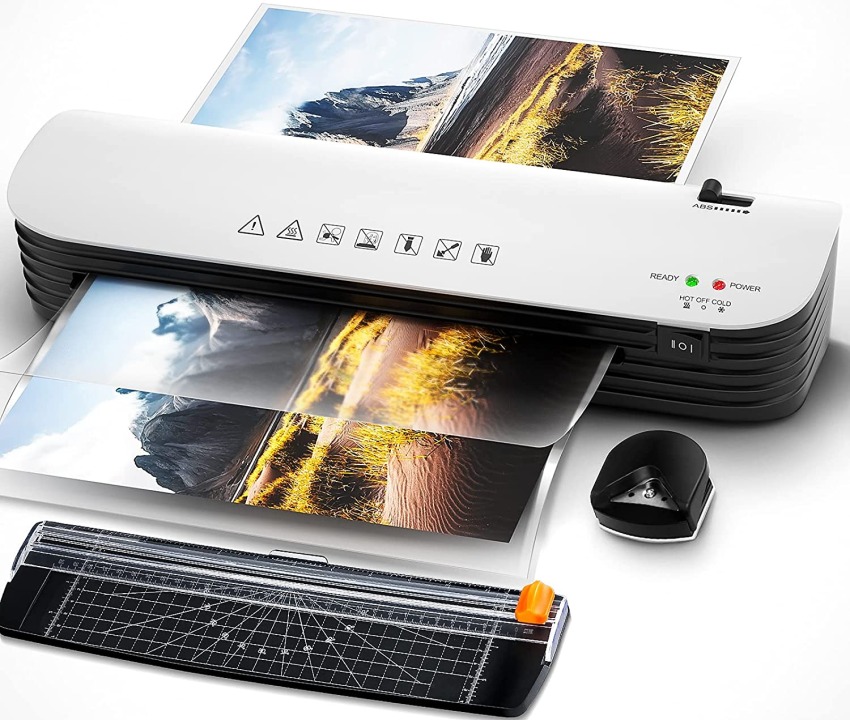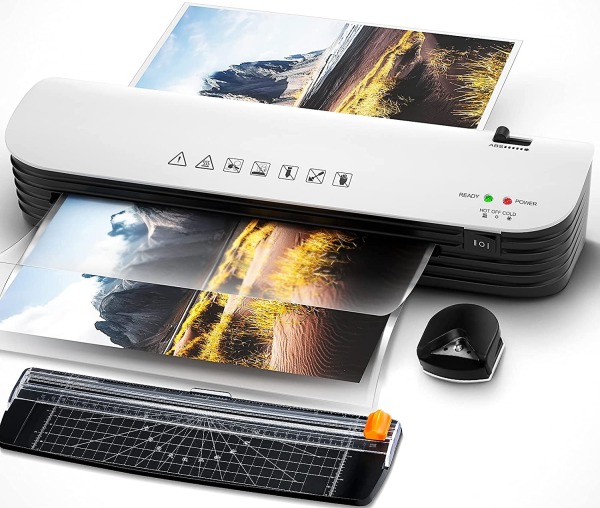 This one of the best laminator machines has an ABS lever that is particularly intended to avoid paper jams. To release the stuck papers or pouches from the laminator, just push the ABS lever. This useful feature allows you to enjoy a smooth and quick lamination for a large volume. With a 3-5 minute heat-up time and a lamination speed of 280mm/min, this machine ensures effective and efficient output.
The laminator has a cutting-edge operating system. High-efficiency operating performance with little undetectable noise, resulting in a quieter working environment. Thermal lamination, which is available in both hot and cold modes, is a method of sealing and protecting materials by activating the adhesive on laminating roll films using heat. Instead of using heat to laminate film, pressure-sensitive laminating employs the pressure of rollers to seal the laminating film to your medium.
---
Fellowes 5736606 Laminator Saturn3i 125, 12.5 inch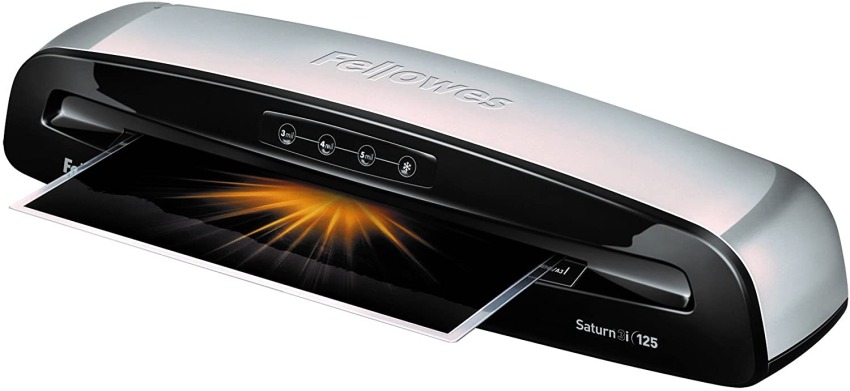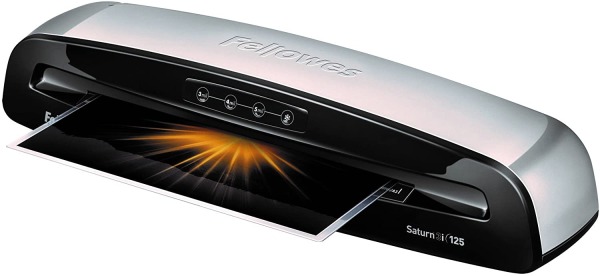 The Saturn 3i 12.5-inch laminator is perfect for laminating presentations, workplace papers, and school assignments. This laminating machine can laminate thermal pouches up to 5 mils thick, providing your documents a professional and long-lasting appearance. To get you started, the Fellowes Saturn 3i 125 Laminator includes ten 3-mil letter-size pouches. This is the thermal laminator machine you are looking for. 
With InstaHeat Technology, this advanced thermal laminator warms up in less than a minute. The Saturn 3i 125 laminating machine also incorporates an auto shut-off mechanism that powers it off after a certain amount of idleness. With the press of a button, the Saturn 3i 125 Laminator can handle thermal or self-adhesive pouches. For quick and easy laminating, send self-adhesive laminating pouches through the Saturn 3i 125 machines on the 'cold setting.'
---
GBC Thermal Laminator Machine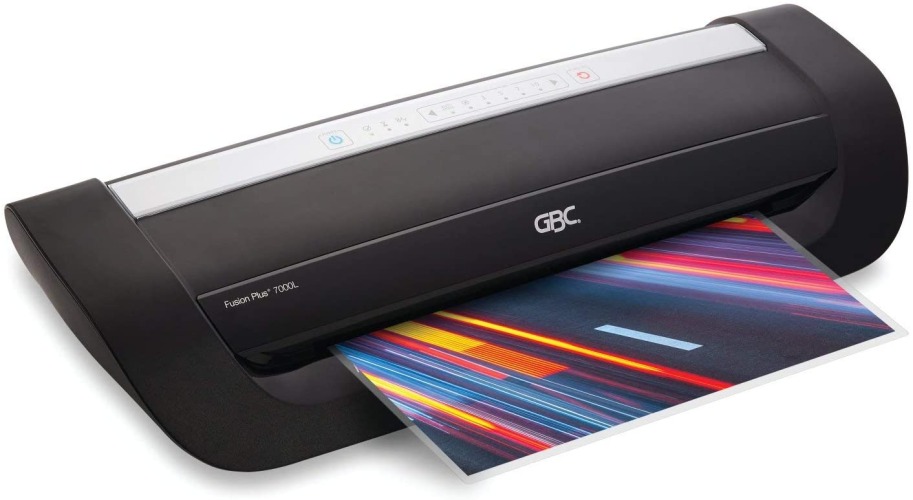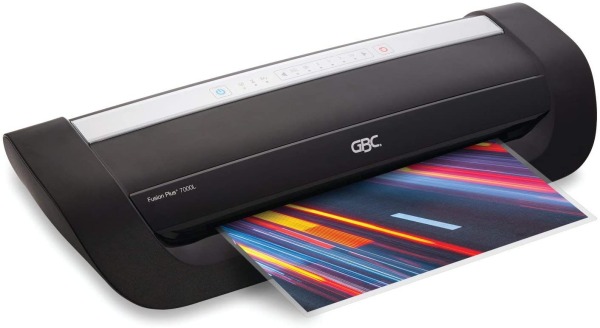 The quality, speed, and ease of use of the GBC Fusion 7000L Laminator will exceed your expectations. This laminator is the best in its class and can handle any of your tasks. Ideal for busy offices with a lot of laminating to do. Warms up in just a minute, enabling you to get right to work on tasks. With a laminating speed of 55″ per minute, you can laminate up to 45 papers in 10 minutes.
The 12″ laminating width provides for more variety and speed on projects, and it is compatible with pouches of 3, 5, 7, and 10 mils. Projects will be wrinkle-free and smooth with six rollers. The mil thickness of your bag and document is automatically detected by the software. 
With a touch-screen interface and feed guidance for fast changes, lamination is straightforward. Errors are easily cleared thanks to auto jam detection and motorized reverse. There's also an auto-shutoff feature and a cold lamination setting.
---
Fellowes Jupiter 2 125 Laminator with 10 Pouches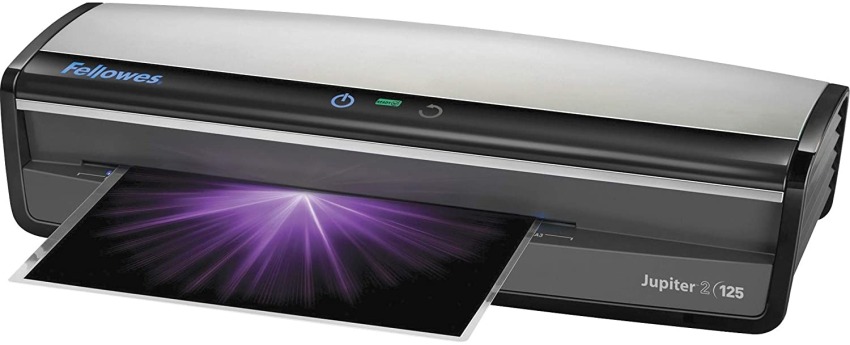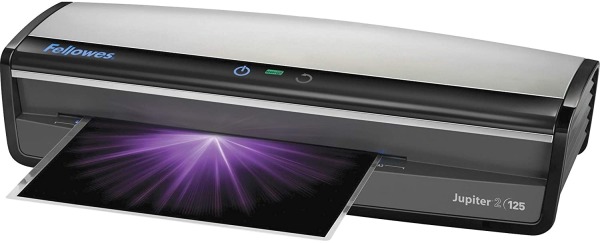 Without the need to wait, the Jupiter2 delivers high-quality output. The Jupiter2 warms up in a minute thanks to InstaHeat Technology. You'll finish the work faster with a six-roller system that provides a high-quality finish at 47 inches per minute. The Jupiter2 is capable of laminating both hot and cold pouches up to 10 mils thick. Its AutoSense Technology recognizes the bag type and automatically adapts to the best setting for your document.
Reverse mode allows pouches to be quickly re-centered or removed in the case of a misfeed or overflow. With InstaHeat Technology, it's ready to laminate in as little as 60 seconds; no waiting, just laminating. Make event signage that will endure a long time. Impress with a professional look by laminating critical presentations.
---
GBC Thermal Roll Laminator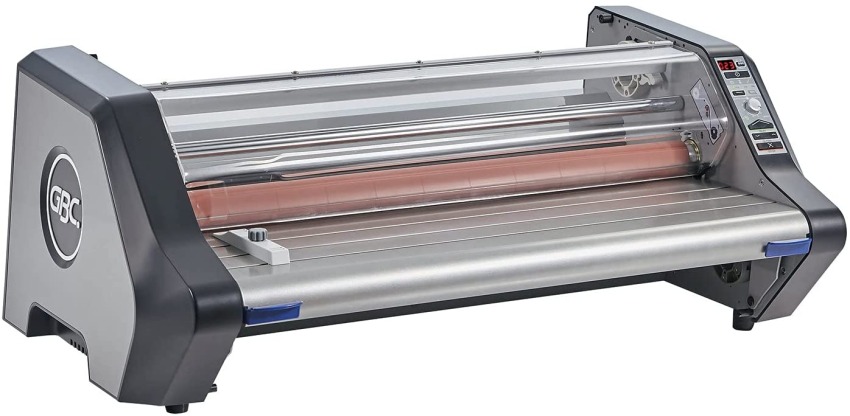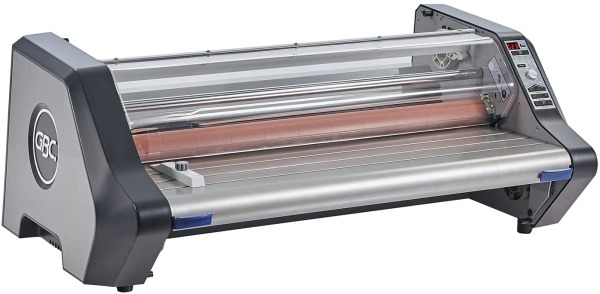 The GBC Ultima 65 Roll Laminator may be used for a variety of projects, including handouts, bus tags, and instructional aids, and produces high-quality results. For schools with a lot of laminating to do, a 27″ laminating width is ideal. Gets going in about 10 minutes and features an Autospeed function for great quality. The rollers are accessible thanks to a pivoting table, and the standard film is easily removed and replaced thanks to AutoGrip shafts.
Front and rear stop buttons, a footage meter to measure film usage, and alignment guidelines to keep papers straight are all included with the Laminator. A built-in trimmer trims completed documents fast, and a slow forward and reverse feature aids in jam removal. A safety barrier is included in the laminator. After 2 hours of inactivity, the machine goes into standby mode and shuts down after 3 hours. It is 1 inch in diameter core.
---
Laminators: What to Seek for?
When you're searching for a laminator machine that will last a long time, you'll want to know what to look for. Consider the following:
Characteristics
Laminators come with a variety of features, including automatic paper jam and thickness detectors, built-in paper cutters, and various temperature settings. Check to discover whether any of those features are incorporated in the laminators you're investigating.
Dimension
Would you be laminating standard-sized materials, such as company cards or images? Will you have to cope with unusual forms and sizes? Consider if a normal laminator or one that can accept bigger document widths is best for you. Also consider the mil thickness, which determines whether your laminated documents will be thin and fragile or thick and durable.
Pace
You probably won't worry about speed if you'll just be laminating on occasion. However, if you plan on doing a lot of laminating, you'll need something that can produce finished papers quickly. To compare speeds, see how long it takes for different models to warm up and how many inches per minute they can laminate.
Count of Rollers
The laminator's quality has a direct impact on this element. In most cases, entry-level laminators contain two rollers that heat or press the document and the material at the same time. Most high-end machines feature numerous rollers for pressing, heating, and finally sealing the laminated paper together.
Spending
Even if your budget won't prevent you from purchasing the appropriate laminator, it can help you limit down your options. There are, however, a plethora of low-cost solutions available. They aren't pricey, yet they are just as excellent as some more expensive alternatives. Reflect on the characteristics, pricing, and quality to be sure they're exactly what you're looking for.
Longevity
Another significant factor to consider when choosing a laminator is its durability. This criterion will reveal if you are happy with the machine or whether it merely disappoints you. Many laminator companies advertise themselves as long-lasting and durable. When buying a laminator, don't take their word for it; instead, conduct some research and read user reviews.
Designing
Light and compact design are required for the residential environment if the equipment is regularly moved. You might pick a heavier machine for office use because it can be put up permanently. However, while a lightweight construction is ideal for mobility, it might reduce the level of durability. A heavy machine, on the other hand, is more difficult to move but may endure a long time.
---
Tips for Laminating Machine Treatment performance
Anybody who wants to keep their items safe and useable for a long time, but most people are unsure how to accomplish so. If you use a decent quality product with a poor hand, it might be ruined in a matter of days. Take a look at this list at least once before purchasing a laminator machine.
Metal or conductive elements should never be pushed into a sheet

Because older glue becomes increasingly difficult to remove, cleaning it regularly is essential. To clean the rollers, never use sharp things such as knives, blades, or others.

Using your laminating machine for more than two hours at a time is not recommended. Keep the cord and your hands away from the hot components of the machine while it is in operation.

Give at least 30 minutes for the machine to cool down once it has been turned off. Avoid starting the machine again within 30 minutes.

When using the laminating machine, never use a damaged plug or cord. Never use your bare hand to touch or inspect a hot surface or rollers.

Avoid operating the machine outside whenever possible. Check to see if the laminator was switched off once the job was completed.
---
Conclusion
You should know a few things before choosing the best laminator machine. However, if you want the greatest and most professional results, you must go a step farther. If you want to learn more about a product, you may go to any of the product pages and learn more. 
Examine each machine featured in this article to see which is the greatest fit for you and your needs. Thermal laminator machines and some of the best laminator machines are included in the list. Check out our list once again to choose the finest one for you.