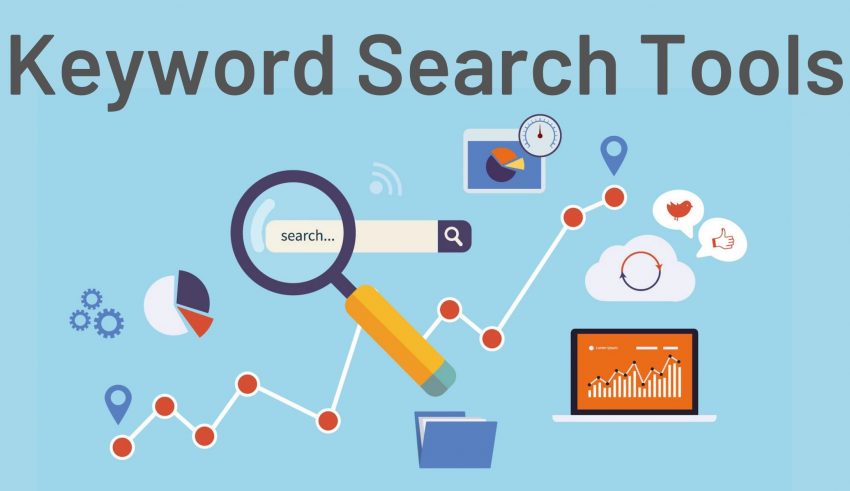 A successful online presence cannot be built around currently trending 'keywords' alone. What is trending today might not be on the charts at all by tomorrow. The keyword is one of the most vital and commonly used building blocks when it comes to SEO. Believe it or not, but people are coming up with websites and businesses based solely on the popularity of keyword searches on Google!
This is the reason why there are so many sites coming up in every niche that are doing extremely well by basing their content on keywords. Keywords are forming the key parts of every video, image caption, blog platform and even landing pages for websites.
The key is to drive as much traffic as possible to your website, right? This is possible only if conduct extensive keyword research. This brings us to the question of the best tools for keyword research present online today.
Here, we have talked about the 10 best online tools for keyword research that are most recommended and can help your business grow and flourish.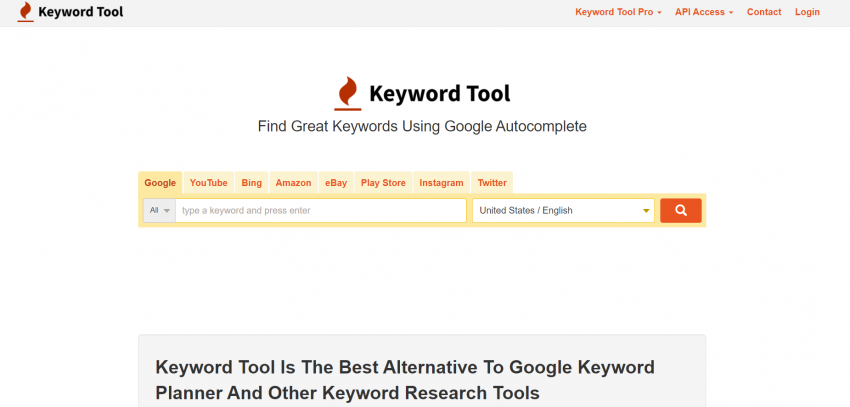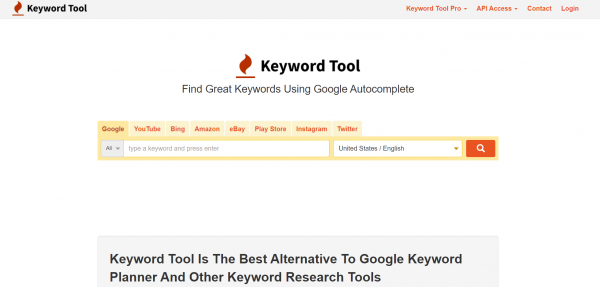 If you are looking for a complete package, that offers not just the best keyword research but also a full-fledged SEO suite. There are a number of features that you can avail of at one go. These include keyword research, SERP analysis, studying website analytics, rank tracking for different keywords, and features that allow website auditing. Using Serpstat one can easily align their content and website to the search engine for better results and rankings.
The Serpstat tool comes with an interesting feature called a competitor graph. You can use this feature to gauge what keywords your competitors are using and how they are working for them.
At the same time, you can comprehend keyword trends depending on your niche. It is easy enough to assess the keyword difficulty as well, which helps you gain a comprehensive idea about the suitability of the keyword for your article.
It is certainly one of the cheapest options on this list of the best tools for keyword research online. Therefore, if you are looking for a budget package for your SEO problems, Serpstat is certainly one of the most recommended.
---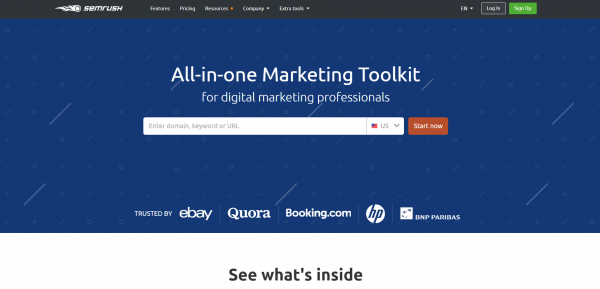 By far one of the best tools for keyword research we have come across has to be SEM Rush. What it does is suggest to you the top 5-10 keywords that some of your top competitors are using presently. This gives you a sneak peek into the more successful brands and ventures that are creating content like you. Getting an idea of their keywords helps you formulate your own plan for content creation and search engine optimization.
With SEM Rush, you can also avail of the benefit of getting yearly keyword trends easily. The platform comes up with worldwide CPC distribution statistics at your doorstep. Therefore, optimizing content becomes even easier and simpler.
You also have complete access to their keyword research toolkit. This is a great feature keeping in mind that you can edit or filter changes according to your niche and competitors.
At the same time, SEM Rush offers you a preview of SEO difficulty and organic traffic insights as well. This makes it easier to gauge how each keyword has been performing and whether or not it is what you seek.
SEM Rush comes with different kinds of pricing plans for its customers. You can avail a 7-day free trial option in case you want to first understand and analyze how things work. You will have to enter your credit card details to avail the free trial, but worry not. There is no need to pay even a single penny in case you opt-out of their subscription at the end of 7 days.
---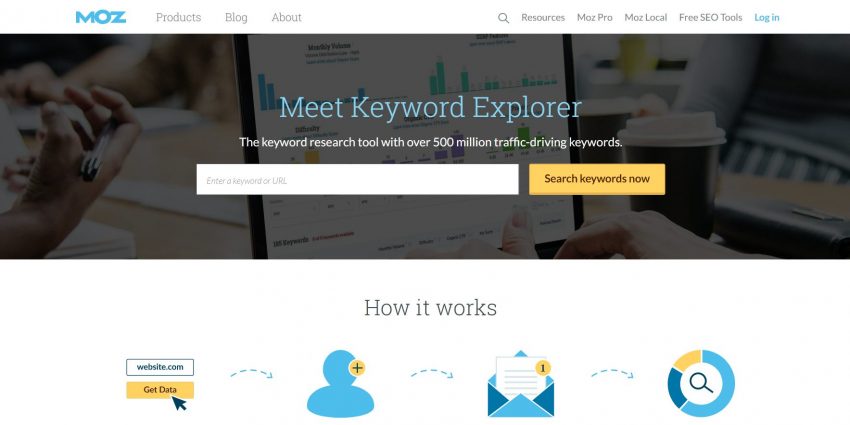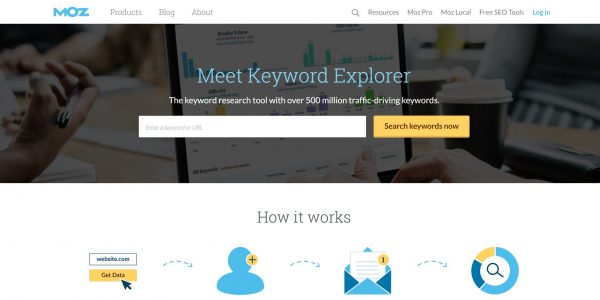 The Moz Keyword Explorer is one of the best tools for keyword research for a reason. Its interface is simple and pretty to use. The keywords it recommends are not common and boring. They are quite out-of-the-box and unique. Therefore, it is easy to make a mark online with keywords researched from Moz Keyword Explorer. At the same time, it does not compromise on other features that come in handy with the best tools for keyword research.
The Moz Keyword Explorer comes with an organic CTR score. This means the site offers you a quick analysis of how many clicks you can expect for your content based on keyword choice. At the same time, you also get a priority score of the keyword of choice. This score is a combined effect of the search volume that we have described previously, along with the CTR and keyword difficulty. Therefore, it makes the task of assessing the researched keyword easier and more comprehensive at the same time.
With Moz Keyword Explorer, you are assured of related keyword suggestions. This comes in handy when writing long articles so that you can use all of them in your article to increase its visibility.
You can get up to 10 free queries every month once you sign up with the Moz Keyword Explorer. Besides, you get full access to the complete suite of SEO once you subscribe to Moz.
This makes it not just a great package but also a super-saver considering the additional features. This is the top reason we have included it in the list of the best tools for keyword research on the internet.
---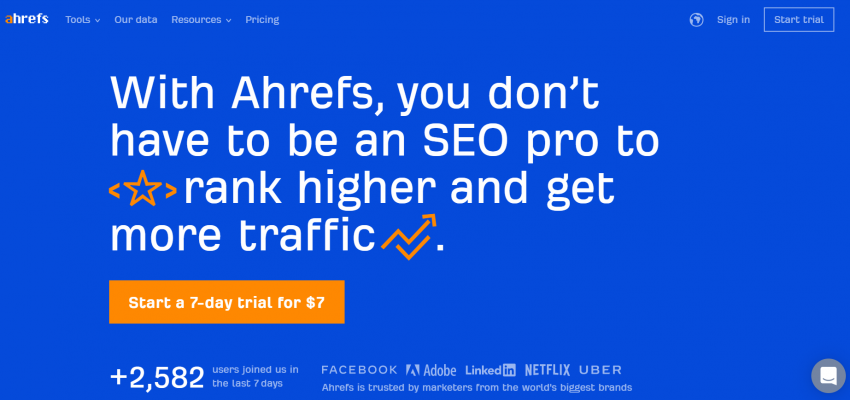 Ahrefs is an SEO software tool primarily used to analyze any website's link profile and keyword rankings. It is a powerful SEO suite to redirect traffic to websites and monitor the webpage's metrics.
Launched in 2011, it was used as a tool to analyze a website's backlinks. However, over the years its features have grown throughout. The tool offers URL rating, domain rating, traffic potential, CTLDs distribution as its important features. Ahrefs charges $7 for a 7-day free day trial.
---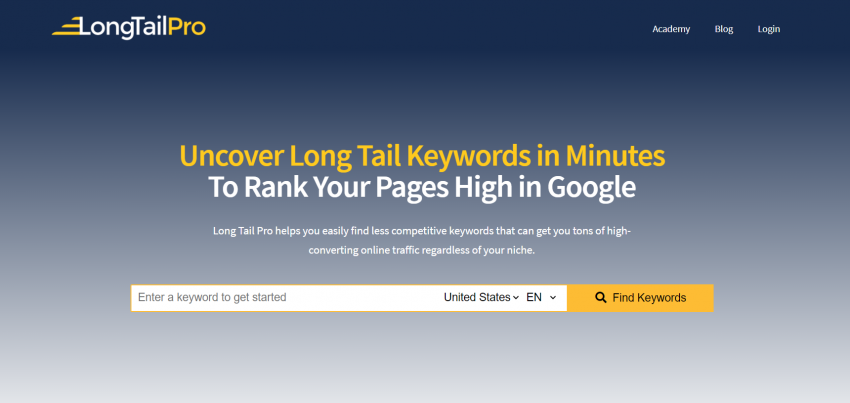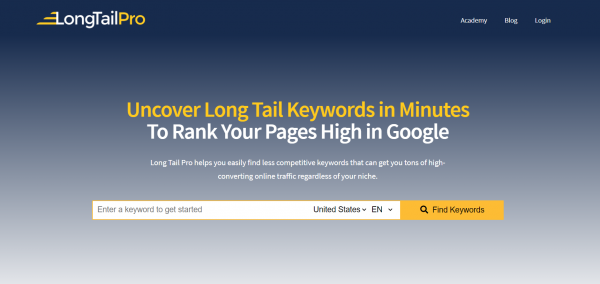 If you are someone who wants to make a mark in the world of online content, you need to remember an important fact. Long-tail keywords are the new big thing in the world of SEO.
This is where Long Tail Profits the picture perfectly. Its recommendations are in the form of long-tail keywords based on the niche you enter. Long Tail Pro is one of the most popular and best tools for keyword research. It sees immense popularity among people who have both niche and micro-niche sites or content.
The best feature of Long Tail Pro is the way it works with powerful and detailed metrics when looking for keywords. With the help of this feature, you can easily find keywords of your choice within no time at all.
Besides, Long Tail Pro also offers multiple recommendations based on your niche, likings of audiences, and organic traffic considerations.
---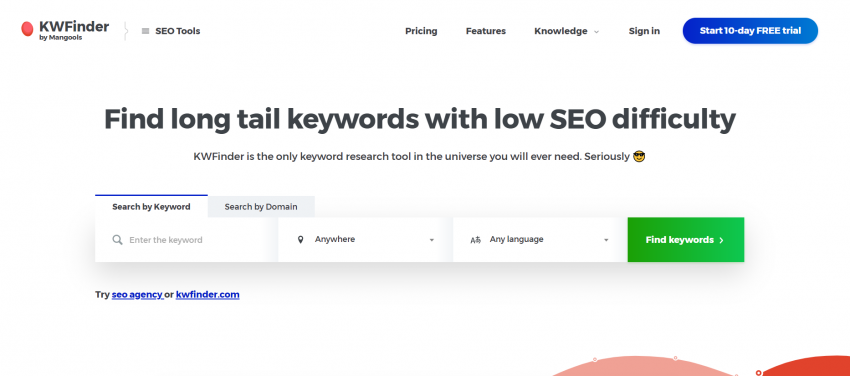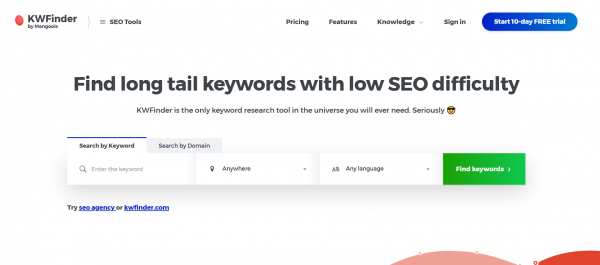 KW Finder stands for keyword finder, and it lives up to its name in every aspect. Firstly, it provides you with a most comprehensive result across categories. All you have to do is enter the keyword or phrase that you want to research.
It could be something as simple as your niche or a keyword you have found your competitor using. Based on your search, KW Finder will return to you a list of relevant results instantaneously.
The best part of KW Finder is its simple and easy-to-use interface. This makes the platform easy to use and pleasing to the eye. Besides, the platform also offers the flexibility of multiple languages in which you can search for targets online.
Not just this, KW Finder also provides you the option of looking at precise statistics related to keywords. Therefore, looking for suggestions, powerful keywords, and filters to refine your search becomes even easier. These are a few reasons why we believe KW Finder is one of the best tools for keyword research.
---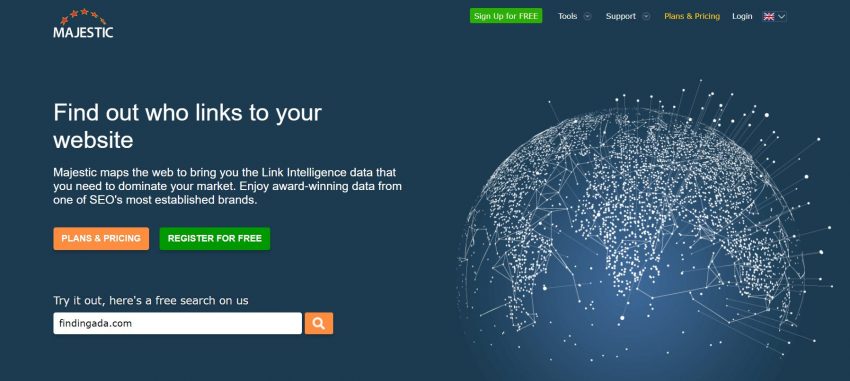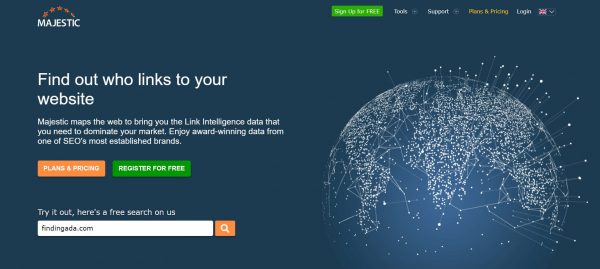 If you were looking for an all-in-one SEO tool that can cater to all your SEO related needs, Majestic is the perfect solution. You do not have to do spend hours manually trying to do look for the right keywords.
Instead, Majestic can help you understand and analyze the impact of keyword search data. The idea is to be able to paint your future marketing campaigns with a smart strategy. And the strategy is born from data, isn't it?
With Majestic, all the needed SEO features are available in a single toolkit for you to explore. You can very easily find target phrases for your online content.
This helps boost you even in the presence of multiple competitors. Before paying for their subscription, Majestic allows you to conduct three free keyword searches.
The idea is to allow people to first try for themselves whether the process and features of Majestic are as per their liking or not. After these free trials, you can make an informed decision about purchasing the premium plan of Majestic Pro.
---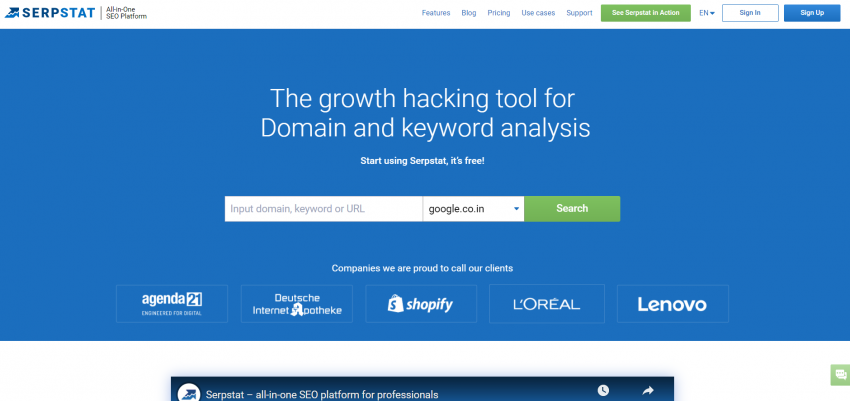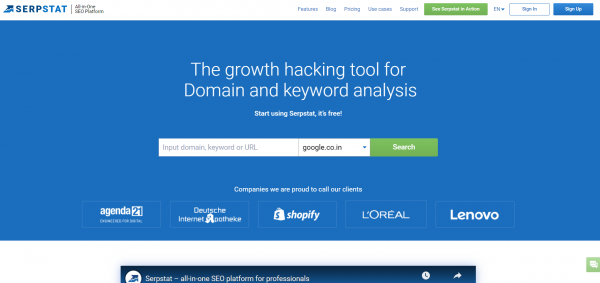 Serpstat is the perfect tool for SEO marketing for those who are looking for a full SEO guide. It has some astounding features and some of its key highlights include finding popular keyword trends and difficulty level, website analytics, SERP analysis, features for website audit, and backlink analysis. It also has a graph feature to have an insight into your competitors, and it is also one of the most budget-friendly SEO tools.
The Lite plan starts at $69 and is best for freelancers to improve SEO. The Standard plan starts at $149 and is best for marketing agencies and established businesses.
It has additional features such as branded reports, 3 users, API credits, and an extended interface. The Advanced plan starts at a $299 monthly fit for established houses that need extensive data, which can be used by 5 users. The Enterprise plan starts at $499 and can be used by up to 5 users and white labels.
---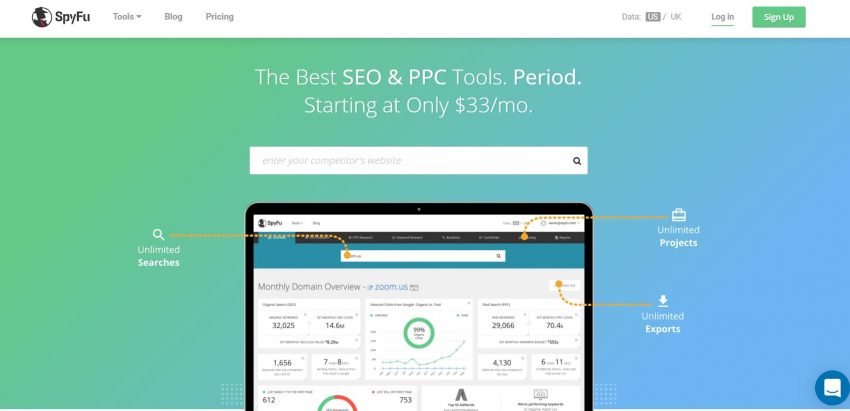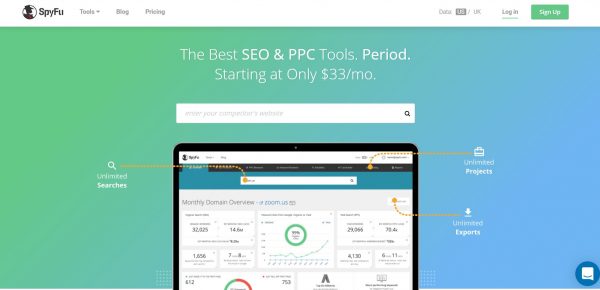 If you want to analyze the SEO optimized keywords used by your competitors, SpyFu should be your priority option. In case you work and write in categories that are heavily saturated and you want to be rank on top pages by Google, this tool can help you a lot.
Some of its key highlights that make this tool exceptional is: in-depth domain analysis for additional modules, competing with different competitors that are working in a saturated field. Their keywords recommendations can help the company figure out untapped keywords.
The Basic plan of SpyFu starts at $33 per month (annually billed). Its features include unlimited data exports, unlimited search results, 10000 top list features, 5000 weekly tracked keyword ranking, 250 lead sales, and domain reports.
The Professional plan can be availed at $58 monthly and provides 500 sales leads, 50000 top list results, 15000 weekly tracked keyword ranking, and 10000 API rows. The Team plan includes 2000 sales leads, 75000 top lists results, 10000 API lists, 5 user logins, and custom brand reports.
---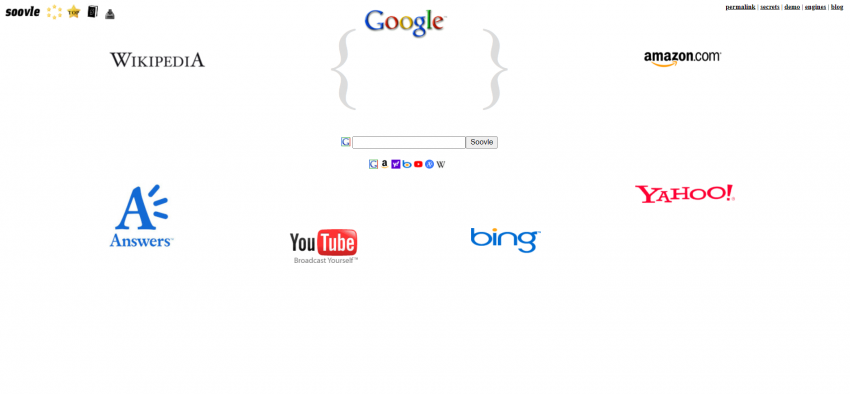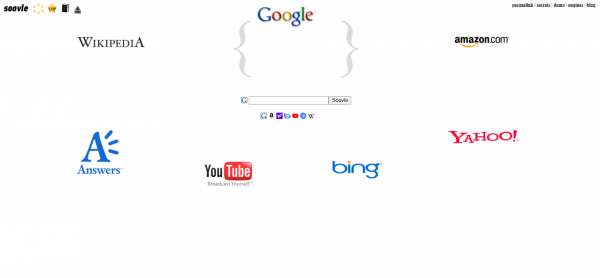 SEO tool Soovle provides keyword suggestions combined from a lot of search engines such as Google, Bing, Amazon, YouTube, and much more. It is like an umbrella tool that covers a wide range of keywords from different platforms.
It also has a drag and drops feature that can help to save suggestions and you can download the most suitable keywords to a CSV file. The interface is simple and user-friendly and can be used by those who aren't tech-savvy. You do not need to create an account an get results as a visitor. All of these features make it one of the leading and best free online tools for keywords.
Just as the name suggests, Growth Bar allows you to grow your website or content unprecedentedly. This is the best tool for keyword research if you are looking for faster results and cannot wait for the reach of your website to grow organically alone. Growth Bar also assures that you get all possible details about different keywords based on your niche and organic traffic-related considerations.
With Growth Bar, all you have to do is enter the keyword or niche you wish to make a mark with. Thereafter, Growth Bar handles the rest for you. It comes up with comprehensive results, complete with keyword rankings and difficulty levels. At the same time, the keywords come with long-tail suggestions. As you must be aware, the changing dynamics of SEO make long-tail keywords an absolute priority these days. Therefore, Growth Bar lives up to its promises of delivering one of the best tools for keyword research.
FAQs
FAQs
What are the Benefits of Keyword Research?
1.    It can bring your article many pages up in search results
Now, to be able to be at the top of the game, you cannot ignore the relevance of SEO. This means more and more of your articles must take care of 'keywords' related to your business either directly or indirectly. The idea is to play the SEO game strong to ensure one of the top spots in the search results, no matter how long the page is.
2.    Keyword Research is a real 'Key to Success'
To put it simply, it will help you gain an idea of the most 'potentially successful' keywords out of the many possible ones for your genre. All you have to do next is to ensure these keywords find a befitting mention in your articles. Continuous scrutiny and regular research can help you embellish your blogs with the most searched phrases and words with ease.
The result is a greater visibility, better rankings, and more site visits.
3.    You get a fair idea of how to filter keywords for your content
The understanding of the most appropriate keyword targets for you also comes in handy. A few questions you can ask before proceeding to compose an article would be:
Is the keyword doing well in terms of volume for your niche?
Is there any connection between the keyword and online purchase?
Are there too many websites writing about this keyword?
Factors such as this and many more can guide your overall strategy towards online marketing through blogs. The profitability associated with the keyword does not need to be stressed more on. After all, your business would intend to write and promote a niche that you see developing into a prospective source of monetary benefits for you, isn't it?
What is the purpose of Keyword Research?
Keyword research helps websites and content creators in more ways than you can imagine. Firstly, it gives you a clear-cut idea about the kind of keywords that are the best for your niche. This includes keyword types as well as keyword search volume data. Both of these can help you assess better which keywords are doing the best for your niche online.
While it is easy to understand what is meant by keyword types and info, understanding keyword search volume is a little tricky. Keyword Search Volume refers to the number of searches on a search engine within a given time frame. Although the period may vary from tool to tool, the value is almost always studied monthly.
---
Final words
The best strategy would be to market your ideas and niche rather than run after keywords. Try to use keywords in the content as an added advantage you can embellish your idea with and not the other way round. You may consult Home Service Direct for SEO services and marketing needs. If you own or run a business venture, the thought of starting an online blog is inevitable. After all, what better place to market your idea than the one which hosts one-third of the world population?
However, with a myriad of sites already posting online content, it is difficult to write anything that is 'completely' unique. This substantiates whenever you type in a few words into the search bar and hit enter. The number of results seems never-ending. This is the reason you need to make your website or your content search-engine optimized. High-scoring SEO content has more chances of getting featured on the top rankings of a search engine like Google compared to one that scores low in it.
Keywords are one of the most important and inevitable parts of any content posted on the internet – blogs, images, videos and so on. Researching the best keywords for your content is therefore as much of a necessity as a tool in your kitty. You can make use of the best tools for keyword research we have listed here for you and garner some of the best keywords for including in your content.