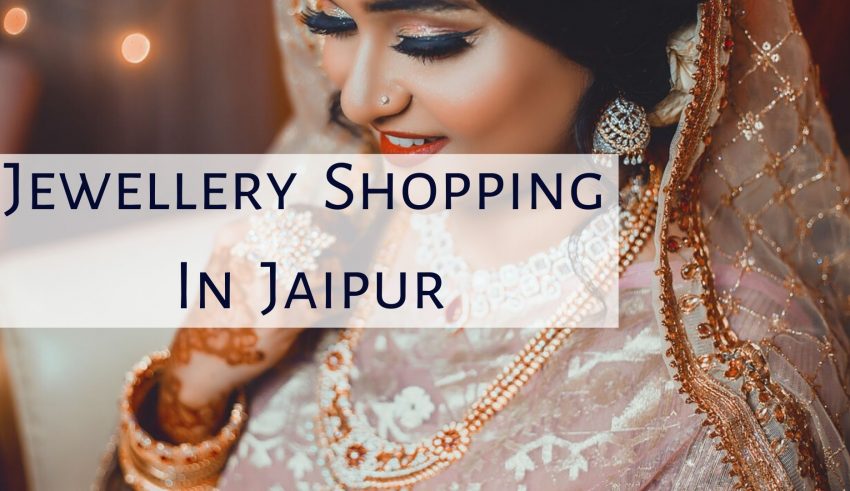 Jewellery has always mesmerised the hearts and eyes of each and every person since time immemorial. They have been an integral part of Indian culture and tradition. Jaipur, the pink city of the country is a nirvana for the shoppers whether it be jewellery or handicrafts or even carpets. Jaipur's jewellery is famous for its unique combination of traditional and contemporary styles.
To add the shine and shimmer to the vibrant fabrics of Jaipur, the jewellery does all the job complementing the fabric and the wearer at the same time. It's time that you add these ethnic jewellery to your collection.
We have shortlisted a few famous jewellery stores in Jaipur where you can buy genuine and quality products:
Fine Jewellery
PC Jeweller
One of the most renowned and trusted jewellers in India, this company was started on April 2005. It is based in New Delhi and is promoted by two brothers- Padam Chand Gupta and Balram Garg. . It presently has 84 outlets in 70 cities of India. They mostly deal in gold and diamond displaying unique designs and excellence which successfully captures the hearts of many.
They provide you with a variety of collection on gold rings, gold anklets, gold and silver necklace, silver anklet and much more. The quality of the items are amazing and you find a vivid variety of jewellery. The ambience is good as well. They maintain the authenticity of the items along with providing products that are trendy and competitive.
Address: 43, Ganga Mata Ki Gali, Gopal Ji Ka Rasta, Jaipur, Rajasthan 302003
Contact: 0141 257 3810
---
Kalyan Jewellers
Kalyan jewellers are one of the oldest Indian jewellery store chains. It was founded by T.S Kalyanaram in 1993. It is based in Thissur, Kerala and is now one of the largest jewellery chains of the country with more than 100 showrooms across India. The store displays rare and beautiful designs excellent in both quality and quantity.
The fine work on the Jewellery screams of professionalism and is extremely pleasing to the eyes. Step into this store to find yourself drooling over the unique Rajasthani Jewellery earrings, maang tikkas, chains, jhumkas and pendants. The staff are work hard to meet the expectations of their customers and try to bring to you the perfect ornaments.
Address: Plot A & B Sen Complex Scheme, Government Hostel Near Vishal Mega Mart, Ajmer Rd, Jaipur, Rajasthan 302001
Contact: 08071 967 826
---
Motisons Jewellers LTD.
Dealing in all kinds of jewellery like gold jewellery, diamond jewellery, Kundan polki jewellery, light weight gold jewellery, bridal jewellery, engagement rings, bracelet, necklace sets,gold mangalsutra, gold spectacles, gold cufflings and many more, it is one of the authentic places in Jaipur to buy the perfect jewellery for yourself.
They also offer diamond encrusted jewellery, astral pieces flaunting the exquisite stones and silver coins. The Motisons building is an excellence in itself and the Jewellery provided is sure to satisfy your desire. Each and every floor gives off its own aura which are equally enticing and mesmerising providing the finest of their ornaments. Furthermore, you get the perfect jewellery for yourself in an affordable price.
Address: SB-110, Motisons Tower, Tonk Road, Opp Nagar Nigam Office, Lalkothi, Jaipur, Rajasthan 302015
Contact: 0141 416 0000
---
Surana Jewellers
Providing the intrinsic and beautiful royal jewellery to the people since 1735, Surana Jewellers has always tried to satisfy their customers with their unique design and supreme quality of their jewellery. They are highly appreciated for their traditionally made Kundan jewellery and are known for their beautiful earrings, necklace and bangles.
Two and a half century have passed but they have never compromised with their fine jewellery products. They always provide their optimum collections, constantly keeping up with the ongoing trends and this has been one of the biggest factors in their huge success and making them one of the revered jewellers amongst the public.
Address: B-7E Surana Enclave, Opposite SMS Hospital, Sawai Ram Singh Rd, Jaipur, Rajasthan 302004
Contact: 0141 414 2000
---
J.K Jewellers
Easily accessible and located in one of the finest places, this store provides the best Jewellery suiting both your taste and need. The one stop showroom for your authentic jewellery that will definitely leave you craving for more. Since its establishment in 1868, J.K.J have grown to a great extent.
They offer stunning and stylised items such as heavy gold necklaces, Kundan and polka sets, bangles encrusted with diamonds, bracelets, nose-pins, etc. and your jewellery designs can always be customized so as to make you feel more connected to your ornaments. The wedding jewellery provided are their speciality and they take care that their jewellery gives complete satisfaction to their customers.
Address: Near Milestone Tower, Tonk Road, Sawai Ram Singh Rd, Jaipur, Rajasthan 302015
Contact: 0141 277 1130
---
JK Mosun & Sons Pvt Ltd
With an exotic and unique collection of jewellery, it is no surprise that this store is one of the best jewellery stores in Jaipur. They try to provide their customers with their finest and classy charms to be remembered for a lifetime.
Their aim is to placate their client's with their elegant and detailed workmanship of their jewels and gives you one of a kind experience. They have an exclusive collection of diamond jewellery and even certified Solitaire diamonds are available making up their special collections.
Address: 342-43-44, Jain Dharmshala, MI Road, Jaipur, Rajasthan 302001
Contact: 0141 236 0465
---
Kalajee Jewellery
Situated at the heart of the Jaipur city, this store is a building full of unique jewellery. A one of its kind, it offers fine and quality ornaments with new and trendy designs.
The building also owns a gem stone unit enabling you to customise your jewellery with those pretty and colourful gems. It also has a gemstone museum, which is shown to their customers on being requested. If you are looking for quality jewellery ornaments, you should definitely visit this place.
Address: 41, K-tower, Near Jai Club, Mahaveer Marg, C-scheme, Jaipur, Rajasthan 302001
Contact: 0141 236 6319
---
Paliwal Jewellers
This jewellery store is well known all around Jaipur for its supreme quality jewellery. They have amazing customer services and the easy return policy is also a notable point. They deal in platinum and gold jewellery along with the natural precious and semi-precious stones. Endowed with stunning and enticing designs, they try to offer flawless products that makes you yearn for more.
They have an impeccable collection of jewellery belonging to both the categories- traditional and high fashion so that each and every generation can have their own piece of charm. Moreover, they alloy gold with other metals to produce the unique pink, red, white and yellow gold.
Address: 360-B, Himmat Nagar, Gopal Pura Circle, Tonk Road, Jaipur, Rajasthan 302018
Contact: 0141 255 1552
---
Raniwala Jewellers Pvt. Ltd.
A highly recommended and winner of many respectable awards in the field of jewellery, the speciality of this store is Jadau jewellery. The history of this store dates back to the 19th century when Rai Bahadur Champalal was bestowed with the title of 'Rai Bahadur" and the mark of "Raniwala". His passion for jewellery has been the hallmark of Raniwala family.
Their main aim is to make this thousand year old art form of jewellery more popular among the people. They give high importance to their designs and try to make each and every jewellery such that it touches your heart and leaves you wanting for more. The designs are unique to the family of the Raniwala's. They are intricate and enriching in their own special way.
Address: 1, Hawa Sadak Rd, C-Scheme, Hawa Sadak, Geejgarh Vihar Colony, Civil Lines, Jaipur, Rajasthan 302006
Contact:  0141 221 4008
---
Amrapali Jewellery
This jewellery store was established in 1978 by Rajiv Arora and Rajesh Ajmera. They have stores in India, Pakistan and London and even have a museum of Indian jewellery in Jaipur. The perfect place for the persons who love silver jewellery and are looking for fine gemstone jewellery.
They have an extensive collection of silver jewellery which showcases excellent craftsmanship and extreme professionalism. The fine details on the jewels topped with the unique designs welcome the customers with open hearts. The jewellery is a bit expensive but the detailed work on the jewellery proves its worth. They also have gold and various stone jewellery along with their special silver charms.
Address: Panch Batti, MI Road, Near Raj Mandir Cinema, Jaipur, Rajasthan 302001
Contact: 0141 491 7608
---
Birdhichand Ghanshyamdas Jewellers
The jewellery store displays a wide variety of jewels which is fulfilling in all aspects. They have an admirable collection of jewellery with amazing designs. They are a trustworthy chain of stores which sell genuine jewellery staring from pure gold to polki.
They have a good customer service and the employees are all determined and hard working. They are also widely known for their traditional yet modern and chic jewellery designs which can be worn by any age group.
Address: Lakshmi Complex, 9, MI Road, Jaipur, Rajasthan 302001
Contact: 0141 237 9228
---
M B Sons Jewellers
This store offers a wide collection of jewellery that perfectly suits you and compliments your style. Established in 1992, they deal in diamond jewellery, diamond studded, gold jewellery, diamond studded gold rings and much more.
The gold and diamond jewellery of this store are one of kind and their unique designs are much appreciable. The workmanship is also stunning which can be clearly seen in the detailed work done on the jewellery. Moreover, all of their jewellery is available at an affordable price range. The place is well maintained and has a professional touch to everything.
Address: MI Road, near Bairathi Bhavan, Jayanti Market, New Colony, Jaipur, Rajasthan 302001
Contact: 0141 236 8218
---
Nandkishore Meghraj Jewellers Pvt. Ltd.
Nandkishore Meghraj Jewellers are one of the most trusted and esteemed jewellery stores since the last three decades. They have been selling authentic and iconic Jewellery consisting of exquisite gold and diamond. They specialise in gold jewellery, diamond jewellery and the traditional Kundan jewellery.
They are trying to keep alive the culture and traditions of India through their unique designs that distinctively touches the traditional Indian sentiment. They have been making jewellery that compliments you so that you look stunning and spectacular in your own light. They have the best goldsmiths at bay who craft the best and the finest Jewellery for you.
Address: 374, MI Road, Panch Batti, Jayanti Market, New Colony, Jaipur, Rajasthan 302001
Contact: 0141 237 3498
---
Kothari Jewellers
A wonderful place offering a plethora of Jewellery to adorn you from your head to your toes. It is widely known among the public for its quality and unique Jewellery. They are famous for their commendable diamond, Kundan Meena, Jadau and colour stone jewellery. They never compromise with the quality and detailed works of their ornaments.
They also provide the best hallmarked jewellery which ascertains their clients of their jewels' genuineness. Moreover, the staff are cooperative and help their customers whenever necessary.
Address: Shop No. 118-119 ,Mall-21, M.I. Road, Opposite Raj Mandir Cinema, Jaipur, Rajasthan 302001
Contact: 0141 237 4827
---
Fashion Jewellery
Shree Shyam Baba Jewellers
Displaying a highly professional collection of Kundan and Jadau jewellery, they offer one of the best deals in these Jewellery. Their authentic collection never fail to satisfy their customers.
Also the designs are crafted by professionals for a proficient finish. The jewellery is highly detailed and the excellent workmanship on these jewellery is evident from their beautiful and authentic designs. They also provide the best deals for silver jewellery, American Diamond jewellery, Kundan Meena jewellery and Ruby and Emerald jewellery.
Address: 178 kushal nagar jaipur, Jaipur, Rajasthan 302029
Contact: 080036 19142
---
Jewellery by Astha Jagwani
The Jewellery by Astha Jagwani is a popular and well-known brand among the jewellery enthusiasts. Its flagship concept store was opened in London in the year 2012 and ever since they have been providing the best jewellery all around the world. They infuse Indian designs into European styled Jewellery and give the traditional Jewellery a fresh and modern touch.
Each jewellery and charm prepared by them is perfectly crafted and seems to be specially prepared for someone special. The preparation of the Jewellery are equally enchanting sometimes using age old techniques for better results.
---
Crystal Bloom
Crystal Bloom is the one stop shop for your everyday Jewellery. With their elaborate design and excellent craftsmanship, the Jewellery is one of a kind and is successful in immediately stealing your heart. The pretty colours and the detailed work on the jewellery will perfectly suit any of your style and can be worn anywhere.
Diviza Jewels
Diviza jewels are a trusted store of jewellery items offering quality jewellery at reasonable price. They have the perfect jewellery for each and every occasion. They offer complete wedding sets, reception sets and anniversary sets.
They specialise in necklaces, rings and earrings and also provide their famous and beautiful bridal jewellery on rental services in Jaipur. The jewellery collection showcased by them is worth craving for.
Address: Shop No K-2, Manglam Mall, opp Riddhi Siddhi, Gopalpura Bypass Rd, Jaipur, Rajasthan 302018
Contact: 089520 95684
---
Tistabene
Tistabene is a young and growing jewellery brand in the field of jewellery business. It is owned by a leading manufacturing company which export gems and jewellery. This fashion jewellery brand has grown to a great extent in a short span of time since the time of its inception due to their diverse collection and fashionable designs.
They offer enticing Jewellery that can adorn you from head to toe and enhance your beauty by complementing your style. They offer fashion jewellery in categories like Kundan jewellery, Meenakari Jewellery, gold Jewellery, silver jewellery, beaded jewellery, coloured stones jewellery and many more.
Address: 344-A, Sewa Sadan Marg, Industrial Area, Gurunanak Pura, Bees Dukan, Adarsh Nagar, Jaipur, Rajasthan 302004
Contact: 0141 404 0644
---
Sanwariya Jewellers
The Sanwariya jewellers are a renowned brand of jewellery in Jaipur. Since its inception in 2009, the brand has been providing authentic and elegantly designed jewellery for its customers.
They are specialised in creating silver products which are unique and classy. They deal in hallmarked Jewellery only. If you are looking for unique silver jewellery, then this shop is the perfect place for you.
Address: Satya Nagar, Fathay Colony, Khatipura Road, Satya Nagar, Fathay Colony Near Khatipura Bridge, Jhotwara, Jaipur
Contact: 097728 22811
---