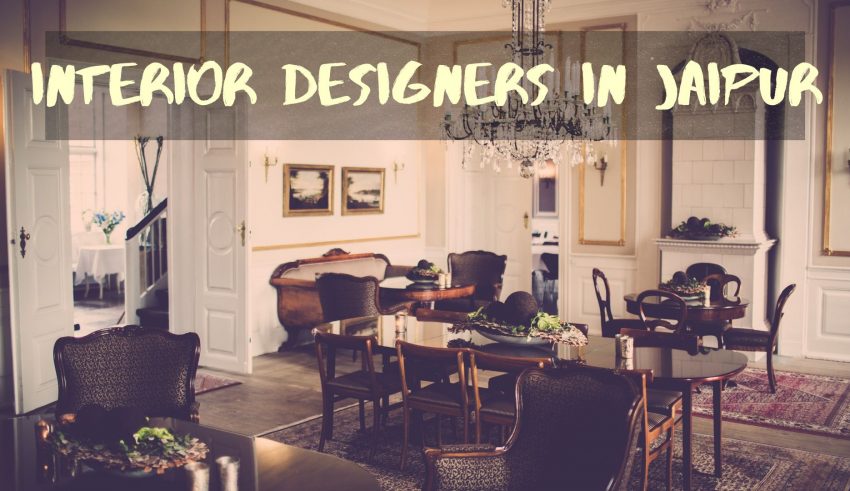 Design and style are an integral part of a person's life in this century. While they tend to be static in our everyday life, they themselves are evolving with time. The architecture and designs of a decade earlier do not excite us to the point the architecture of the present time does. While there are also certain architectural brilliance that engulf us in their enticing beauty time and again irrespective of their time span.
Jaipur, known to be the city of kings and queens is a shelter to such architectural brilliance. Thus, we present to you a list of the famous interior designers of this royal city whose works are imaginative, inspiring and elegant and they never fail to give you the royal experience you crave for.
Here's The List Of Seven Best Interior Designers in Jaipur:
Shantanu Garg Design
We all want our home to be well decorated and efficient in every way possible. It should feel more familiar and inviting and less decorated. Believing in such ideals, Shantanu Garg Design is one of the prominent names in the field of interior designing in Jaipur. They approach the idea of styling your rooms in an imaginative way so that you can always feel the warmth of your home and it in no way looks alien to you.
They create a contented feel for their customers by adding both old and new items in an innovative way. They offer amazing house interior designing services which includes a complete overview of the design of each and every room, furniture settings, flooring, lighting, etc. so that if anything bothers the client, it can be addressed to immediately.
Address: Shyam Colony, Shankar Nagar, Jaipur, Rajasthan 302002
Contact: +91-9549238670
---
Shan Bhatnagar
Shan Bhatnagar is well known across the country for his creative paintings. Expecting no less from this brilliantly creative artist, the spaces he creates for his clients are par in excellence.
He changes empty spaces into ostentatiously beautiful places worth staying in. Moreover, with the issue of climate change approaching fast towards a deadly consequence, he likes to work on environment friendly projects. If you decide to renovate your space or want something creative in your place, you definitely need to check his beautiful designs.
---
Kamal Kavita Interiors
When it comes to luxury interior designing, Kamal Kavita interiors is a tough competitor. They have already built a name and place in this field of interior designing within a short span of time due to their enticingly beautiful interior designs. They have always given high preference to their quality designs and hence today they are one of the big names in this industry.
They offer luxury designing services for residential, commercial and hospitality properties. They create to excel and exceed their clients' expectations. Their highly professional group of interior design experts are very precise and prominent with their architectural plans that are a delight to their customers. They never fail to impress the people with their luxury designs.
Address: A nahri Jaipur, 148, Guru Nanak Marg, Joshi Colony, Sindhi Colony, Nahari Ka Naka, Jaipur, Rajasthan 302016
Contact:  099293 78182
---
Curve Interior
Curve interior is one of the best interior designers in Jaipur. They put their heart and soul in designing your space in the most imaginative and innovative way. These group of expert interior designers are capable of creating a truly engaging home environment that enchants both the hearts and eyes of the people.
They create and amalgamate endless designs and patterns until and unless you are contented with it. Their alluring and tempting designs are one of a kind and are always a pleasure to gaze upon.
Address: B8, Sikar Rd, Maharaja Colony, Parasram Nagar, Dahar Ka Balaji, Jaipur, Rajasthan 302039
Contact: 098878 60099
---
Elite Interior and Décor
This group of expert designers bring an entirely amazing and innovative feel to your place. Starting from the scratch they design and provide ideas for each and every room. Their creative design and room décor ideas are a source of inspiration for art and makes you feel the classy touch that they intend to expound.
Their outstanding work and explicit designs completely satisfies their clients'. They deliver what they promise for and hence you can expect the exact same design that they show you before starting the actual work. They value their clients' opinions the most and therefore immediately work on things again if they do not satisfy your aspirations of your dream home. This trustworthy and modern interior designing company are commendable in their work and services and are hence worth a try.
Address: A-16, Arya Nagar, Mukendpura, Murlipura, Jaipur, Rajasthan 302039
Contact: 094609 87324
---
Skycast Interior designer
One of the prominent interior designers of Jaipur, Skycast provides the best services to their clients. They listen to and understand your style and requirements and deliver the products in such a way that it suits your taste. They try to specifically create an environment for the individual so that they can feel the warmth and love of their home.
They customize the entire space according to your requirements. Their team of entirely professional designers provides just the perfect designs and patterns that immediately enchants you.
Address: Skycast Interiors Pvt Ltd, F- 101, C- 461 A, Siddharth Nagar, Jaipur, Rajasthan 302017
Contact: 094141 16738
---
Stugut Interiors
The Stugut interiors is a first generation enterprise offering high quality designs and services. They specialise in custom renovations and offer the perfect plans for your personal space. They focus on your personal choice and design the layouts accordingly. They offer you the choice of selecting your own designs starting from picking paints to picking the fabrics.
The elegant and incredible style speaks to your heart and soul making you feel all the more comfortable and contented. They provide one of the finest interior designs for residential, commercial, hotel, institutions, cafes and modular kitchen at a pretty decent price range.
Address: Sunny Mart, 323-A, Third Floor, New Atish Market, Jaipur, Rajasthan 302021
Contact: 086198 80768
---
If you are looking to renovate or create an innovative and customised personal space, then the above mentioned interior designers are perfect for you. Enjoy the warmth of your home in a completely new and imaginative way.