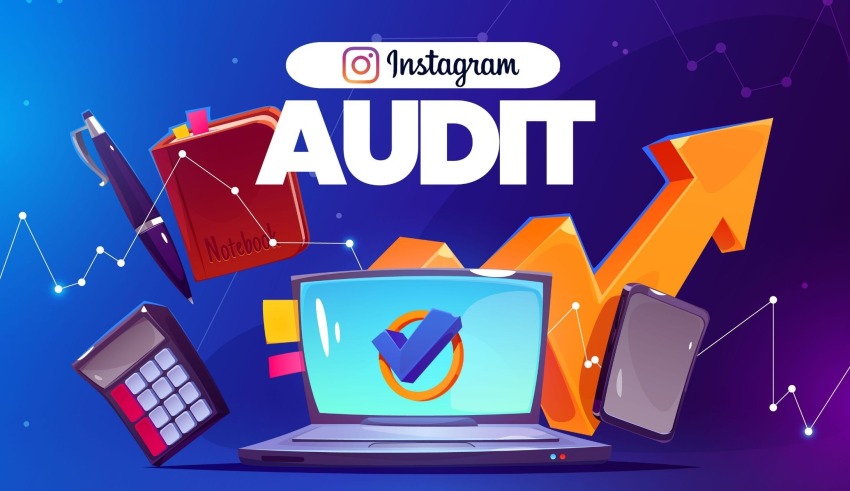 The best way to gain fame on the internet is through Instagram. And as a content creator or brand, it is a very smart marketing move to set up a base on the platform. After all, Instagram hosts one of the largest audiences that you can tap into. It can be very difficult to juggle content creation and marketing simultaneously. But it is also equally challenging to keep your Instagram account clean and optimized all the time. Trust us, sometimes it can feel like an uphill battle to work on Instagram. Plus you have to fight off disreputable accounts and bots. It is also crucial that you keep your account on the right side of the algorithm. The best solution to help figure out how your account is faring is to conduct an Instagram audit regularly.
Luckily, you can find several efficient audit tools online to help you get the job done faster. In addition, Instagram is continuously adding new updates. An important part of an Instagram audit is to ensure that you're up-to-date with all of them. Let's explore more about some of the best Instagram audit tools on the market. 
Here are the 10 Best Instagram Audit Tools: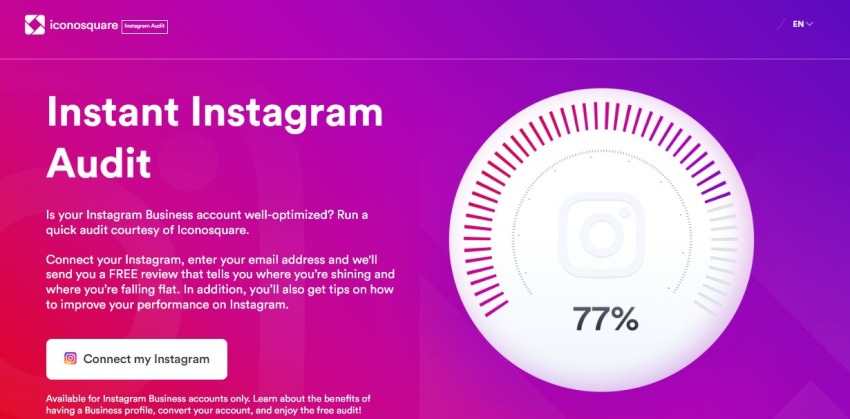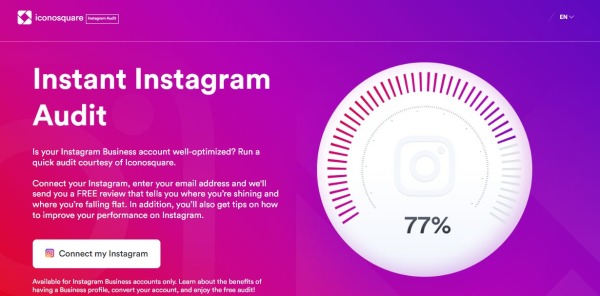 Iconosquare is an all-in-one site that offers everything from analytics to management and scheduling. They cater to many brands and agencies by taking care of their online presence. You can also use their Instagram audit tool to help analyze and assess your Instagram account. All you have to do is to go to their site, link your account and enter your e-mail address. 
Iconosquare is absolutely free and audits your Instagram account according to a selection of important metrics. The tool itself is very professional and has helped many Instagram users clean up their accounts. After auditing, Iconosquare will mail you a free report detailing the high-performance and low-performance areas of your Instagram account. It also rates your account's activity and how optimized your posts are. 
By studying this free scan, you can find the right direction when it comes to optimizing your account. The best thing is that you can use Iconosquare for any other platform too. So you can now make data-driven optimization decisions for Tiktok, Facebook, Twitter and more. 


Previously named Socialbakers, Emplofi.io is an online marketing platform that offers one-stop solutions for all your social media problems. If you run a brand or are an influencer, Emplifi.io is perfect for conducting an Instagram audit on your account. 
You can use their tools to perform audience analysis, community management, analytics and many more functions. One such function that gives it an edge over other audit tools is its ability to create audiences that are unique to every individual. The audit tool on Emplifi.io gives you access to statistics on high-performing posts. This way you can keep track of popularity patterns and understand what gets your audience excited.
In addition, they provide offer other services such as influencer marketing and social customer care. There are also separate categories for services related to social commerce and customer service. To date, they have helped over 7000 businesses to close the client experience gap on online platforms. Their clientele includes popular brands such as Dominos, Delta, Bath&Body Works, Mercedes Benz and more. Their tools offer free basic audits for both personal and business Instagram profiles. But you can also use their paid pro plan to enjoy added benefits 


Just like its name, Hype Auditor is a popular Instagram audit tool that goes in-depth to uncover and analyze your performance and activity. Anyone with more than a thousand followers on Instagram can use this platform to get a detailed assessment of their account. Hype Auditor offers three plans that you can choose from, depending on your needs and preferences. 
The first one is a free plan that gives you limited access to insights into your linked account. The other two are the Starter and Business plans provide more advanced Instagram influencer discovery. You can also buy a 30$ report of your Instagram account with lots of discounts along the way. 
Additionally, Hype Auditor gives you a detailed assessment of how your account is currently ranking. It also carries out a fake follower audit on Instagram to keep your account clean and optimized. If you need help with analytics, discovery, campaign management and market analysis then Hype Auditor is perfect for you.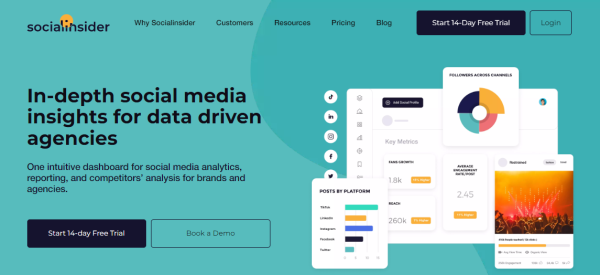 It's great to have an Instagram audit tool like Social Insider that does a thorough job with its scans and analysis. According to the minds behind Social Insider, they work as a one-stop dashboard for social media analytics, reports and competitor analysis. 
If you're not sure whether Social Insider is the right fit for you, you can book a demo on their site first. Plus you can also benefit from their 14-day Free Trail option. But trust us when we say that it is one of the best platforms to get your Instagram account audited. 
You can gain access to crucial metrics that will help you track and absorb your account's performance. It also lets you compare your own progress with leading competitors in your niche. Another added benefit is that you can discover new content ideas and trending topics. Plus you can also get in on proven strategies that others have used to achieve success on social media. 


Do you want to do an Instagram audit on your account with a low budget? Well, look no further because Phlanx is one of the most affordable tools out there. And you can still enjoy their features and services that are ideal for optimizing an Instagram account. 
With Phlanx, you get access to a ton of features that are designed to run your marketing. It includes an influencer directory, collaborations, and Instagram influencer audits. Plus you can also use its engagement calculator for Instagram, Twitter, YouTube, Twitch, and Facebook. The first month is always free for everyone with an Instagram account. Later on, you'll need to subscribe to a paid plan to leverage all its benefits. 
But you don't have to worry because their prices are very affordable. They usually range from $25 to $50 per month. So even micro-influencers and small businesses can use Phlanx. Using this tool, you can easily calculate how well your account is perfect. If you have a YouTube channel or a Tiktok account, you can run the audit there too. 

There are no other Instagram audit tools that are as thorough as Smart metrics. You'll be pleased to know that it analyses over 30 account metrics and 20 hashtag metrics to compile a detailed report for you. In addition, this tool lets you keep track of the growth of your followers over a day or several days. You can also go beyond basic audience demographics to study real-time insights into how good or bad you're performing on Instagram. 
Some of the important metrics include your like count, comments, and mentions that your account gets by the hour. You can also view your posts in the other of high-performing to low-performing. And once you identify certain accounts as competitors, Smartmetrics keeps you posted on their profiles and account activities. You can take advantage of their 14-day Free Trial to see if Smartmetrics is good for your Instagram account. 
The basic $9 per month plan provides analytics for over three Instagram accounts. On the other hand, the $19 per month plan covers seven accounts while the $35 per month plan covers 15 profiles. You can even get a 25% discount if you purchase their annual subscription.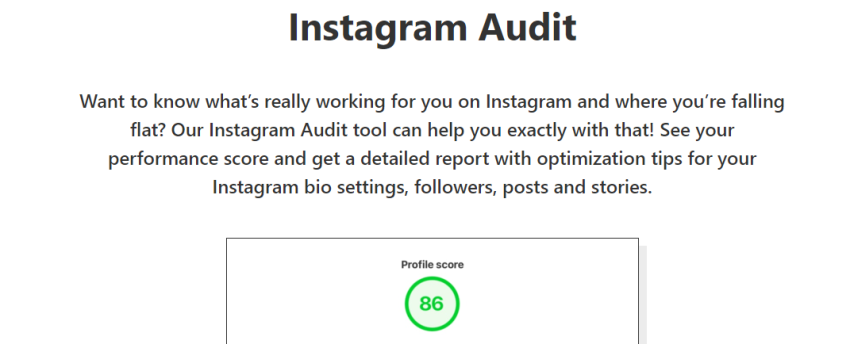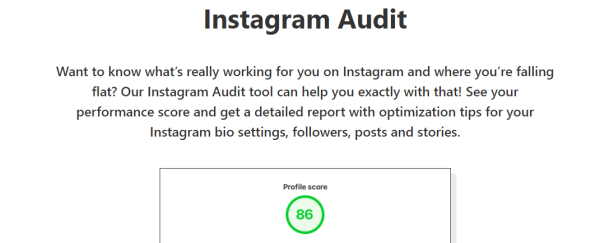 Minter.io lets you get on a microscopic level to assess your Instagram account's performance within a specific date. You can track everything from follower demographics data to engagement and reach rate. So you can use these insights to make well-informed decisions about Instagram marketing. This Instagram audit tool even provides analytics to tell you which filters are more effective. 
But that's not all. Minter even helps you identify followers that are crucial to helping your account grow. It organizes your followers into different levels depending on how high or low their engagement levels are. You also get to handpick the data that should be included in your account's analytics report. Then you can save it to any of your devices as an Excel, PDF or PowerPoint file. 
Additionally, Minter offers a 14-day free trial for all of its three plans. The Silver plan which provides basic analytics, email reports, historical data and audit score, only costs $9 per month. The Gold and Platinum plans also include these features plus a few added benefits like hourly updates, competitor analysis etc. 


SquareLovin is a free Instagram audit and analytics tool designed to keep your account running smoothly. You can see how your followers are engaging with your account and categories all your posts as high-performing or low-performing. Each of your posts will also receive a score based on all kinds of engagement they receive, from likes to comments. 
What makes SquareLovin unique is the fact that it offers a feature called the Optimisation Lab. This shows you the best and worst times to post and find relevant hashtags. You can also get insights into the times of the day when engagement is the highest or lowest. SquareLovin provides useful analysis reports on an hourly, daily, weekly, monthly, or yearly basis too. 
In addition, you can work on the platform itself to manage your account and engage with the audience. Just like Minter.io, SquareLovin also provides a filter impact analysis that can greatly improve the quality of your posts. 
At SquareLovin, you can either avail of their Basic plan for free or get the Influencer plan for $10.40 per month. The Business subscription also offers added benefits for just $15.65.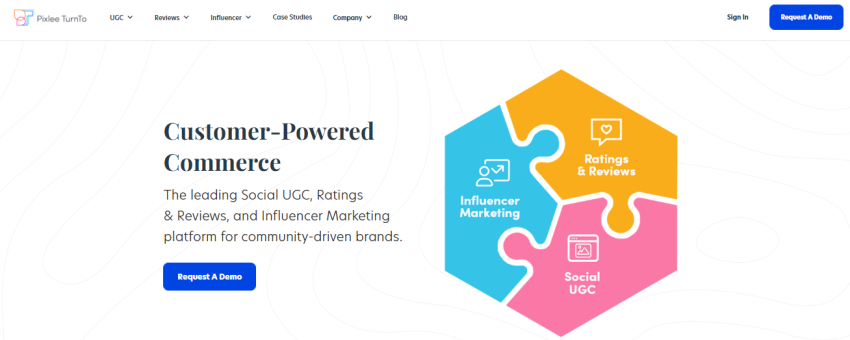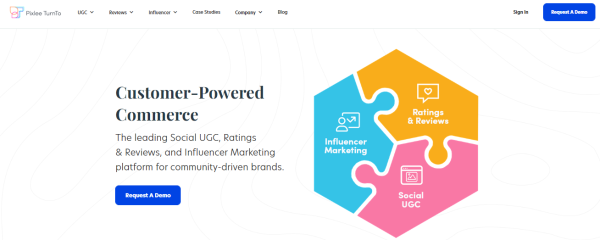 There's no one that needs an Instagram audit more than Instagram shop owners and business profiles. If you fall into these categories, Pixlee is perfect for you. 
Pixlee is a free audit tool that tracks e-commerce metrics such as conversions and average order values of your products. It is also famous for leveraging user-generated content to boost your business. 
You can also discover brand ambassadors using the tools on Pixlee. Plus you can set the platform to compile performance reports on your Instagram account. This way you can easily mail them to your team or ambassadors for reference. 
Pixlee offers its analytics tool for free. But you have to pay to use its user-generated content and influencer marketing tools. With the great results that it produces, Pixlee is definitely worth investing in.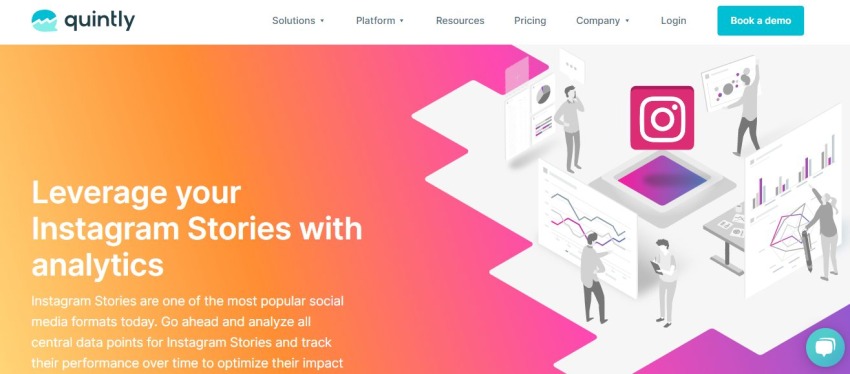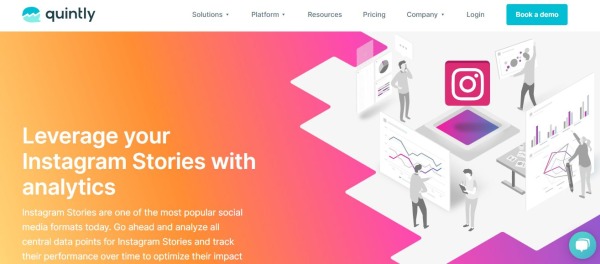 Quintly is a tool that should be in every Instagram account's marketing strategy. It is a crowd favorite because it gives your profile a free checkup. At Quintly, you can get solutions to all your social media problems. This includes finding the best time to post, the best hashtags, the audience's favorite kind of content, and more. 
It carries out the checkup by linking your Instagram account and scanning your activities from the last 30 days. All your posts and user engagement are used to provide insights into the gaps you need to close. Just like most Instagram audit tools, you can use their paid plans to get an even more extensive analysis. You can get real-time data from your Instagram, Facebook, and Twitter account to understand your performance. 
If you're serious about wanting to level up on Instagram, we definitely recommend giving Quintly a try. It is one of the best audit tools to obtain no-nonsense data on your Instagram account based on important metrics. 
Conclusion:
One of the most important steps to running a professional Instagram account is to keep it clean and optimized. This called for a regular Instagram audit to be conducted without fail if you don't want to get on the wrong side of the algorithm. 
Audits are also a great way to assess your performance and identify gaps in your marketing strategy. You can use these insights to figure out the best way to navigate your way through the Instagram marketplace. So what are you waiting for? Use any of these great audit tools to take your account to the next level.