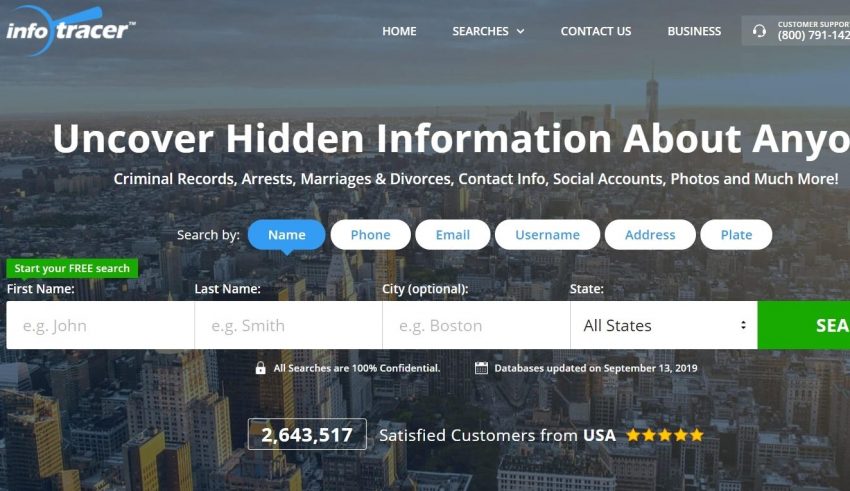 Entering the new age and day of modernization and digitalization there is a sense of transparency that has come to rise. This transparency is greatly appreciated when it comes to conducting background checks. Earlier background checks were mostly conducted for security and recruitment purposes. The process helped them in looking at any criminal records, bankruptcy, or having financial issues. Later, people could also trace out someone they lost contact with. Or looking into the past of a date.
But with so much data online it's getting trickier to track people down. With fake accounts, multiple accounts, or people with similar profiles. Tracking, tracing, and background checking is a tedious job, especially if you do it all on your own. You could hire a professional but that would cost you a hole in your pocket. And it's likely there are using InfoTracer or portals alike. Why not cut the middle man?
InfoTracer offers can provide you with accurate and comprehensive background information in a matter of minutes. When it comes to background checks it is the ultimate. It helps you access records, assets, documents, contact details and more. You can acquire all these data by entering details like location, names, profession, etc. Leading you to a number of individuals in a list related to the search you make. All of this makes it easy for you, your clients, your organization to seek the individual you have in mind.
About InfoTracer
The aim behind InfoTracer is to gather information for the mass in an organized manner and make it easily accessible. They collect billions of data and records that they collect from online, offline, official, and unofficial sources. Like social media, courthouses, registries to name a few. Creating an individual digital profile for your convenience.
After you feed in the keywords in the search section you are exposed to a range of profiles related to your search. Upon finding your desired profile you can gather information personal or official about the individual. Categories ranging from relation status, property records, official documents, social profiles, and even criminal records. InfoTracer brings all this information within a few scrolls of your screen.
With digitalization and the interweb booming, it has become the main and the fastest source to acquire information. InfoTracer uses all these factors to it's, and ultimately yours, benefit. Resulting in obtaining legitimate information through online public records. The sole motive of InfoTracer is to give a place to find, check, and assess any given person's identity. The data provided by InfoTracer is very thorough and is actively updated.
As InfoTracer is not a service for commercial use the data provided may not accurate however it will legitimate and transparent. So it may not help you in knowing whether or not the individual is right for the job, but it will definitely reveal it's criminal records, frauds, personal data to know if the individual is fit for the organization as a whole. Paying more attention to the individual's sense of citizenship and overall placement in society.
---
Why is InfoTracer useful?
InfoTracer is like a hound sniffing needle in the hay. When finding dirt or any information about your targeted individual the background check brings data of not only their records, status, registrations but also has links and references to this info. Including their social media accounts. You can visit their social media pages and even their blogs through InfoTracer for a thorough check-up. You can find people's basic contact details, such as phone numbers, address(es), and more.
And can enable you to see Google Street View of the person. The main reason to do a background check is to find out if an individual has any criminal records. InfoTracers popularity lies in the same domain of search. With just a name you can find out whether or not the targeted individual has any criminal records. This search is applicable for organizations hiring employees and citizens keeping a watch on their neighbors. Through this process, you can be vary of sex offenders, thieves, drug lords, and other convicts.
Through InfoTracer you can look into a person's family background, financial status, and social status. That is if the information is available otherwise. The website has dedicated information tabs for personal information and past history to understand an individual's background. That being said, you can access their family tree, their marital status, their birth/death certificates. Along with that InfoTracer can provide you information such as their license plate, financial records, property ownership, and even bankruptcy and loans.
---
How to use InfoTracer 
When you download the application, the first thing you encounter is the main screen. On the main screen, you will find two menus located. The two are divided into types of search and subcategories of the search you intail. You are given the option of initiating a focused search where you can do in-depth research on the individual.
Doing a research on an individual's full profile unsually leads to a screen full of text. In InfoTracer the information is segregated in various outlines for you to choose from. Saving you your time and efforts. With this menu permanently pinned to your screen, you can jump to reports and also any part of the report you seek.
---
Services Provided
Criminal records
InfoTracer provides reports that contain information on arrest warrants, mugshots, felony records, legal cases, police reports, conviction and disposition details, parole and probation details to name a few.
Court Documents
In this section, you will find records from the government. That is from Municipal, State, Federal courthouses, etc. you can obtain information about the individual's tax liens, bankruptcy, claims, personal issues, and court cases of the same.
Assets
You can find additional information like a person's net worth, property ownerships, investments, businesses, income, etc.
Social Status
There is a section dedicated to an individual's social status, that is if the person is married or divorced. Along with that, you can access related information such as the name of the spouse, and dates and location of their marriage or divorce.
Personal Contact Details
You will be able to find personal contact details in this section. This includes phone numbers, email addresses, social media profiles, current and previous residential addresses of the subject.
Personal Records
This section is dedicated to the background of the subject. You can look into birthdates, relatives, ancestry, family information, social and professional group, presence on social media, blogs, youtube channels, etc. You can also find articles, images, and reports published on the subject.
---
Highs:
It provides an integrated and comprehensive report on an individual
You can avoid hours of research.
It has a desktop as well as a mobile application
The five-day trial cost is fairly reasonable.
It provides thorough and legitimate information.
Lows:
The monthly fee is expensive
It runs slowly and may lack some information
The mobile app may not successfully function
Jumping back and forth on a search is not smooth
Lack of evidence on a few reports.
---
Pricing
InfoTracer is not readily available online, it a pay-to-use service. There is no option of free trials. For premium search access there are two options offered by the website's payment wall:
1. $19.95 for a one-time fee
2. $19.95/m for a recurring subscription fee
There is a five-day trial at the cost of $2.95, which is refundable.
---
Conclusion
InfoTracer provides a well-structured report system at your fingertips. The navigation menu makes research easier and quicker, but the search will still be a long process. It provides a varied and intricate amount of data. There is a probability of you encountering some of the details left empty as the information you seek may be "not on file". By the end of the day, InfoTracer will save you your time and money. Create a compact database that is easily accessible, though at a cost.