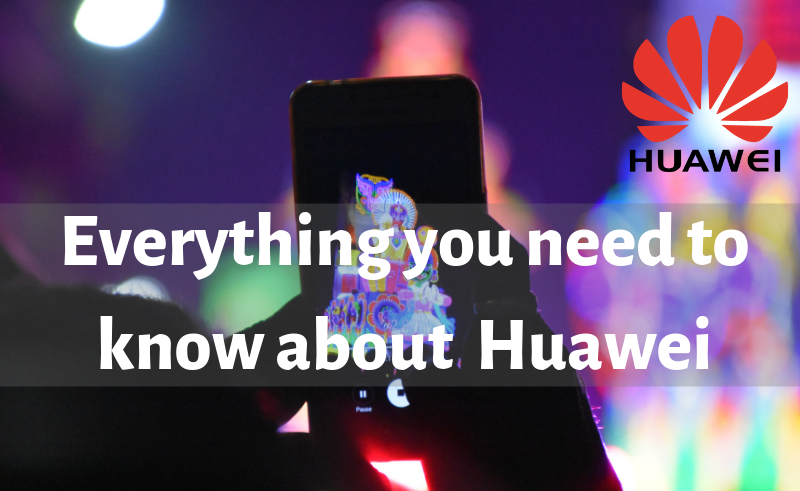 Founded in 1987 by an ex-army engineer Ren Zhengfei, Huawei Technologies Co. has become a Chinese colossus today. As one of the world's largest supplier of telecom equipment and smartphone manufacturer, Huawei's technological grandiose has reached almost every corner of the world.
Check out the infographic below for more intriguing facts about the Chinese giant.
Click here to see all infographics by us
Click here to see all infographics by us
History
Founded just 31 years ago, Huawei has become synonymous with "cutting-edge smartphone technology." Known mostly for its slick android smartphones, Huawei was established in 1987 in Shenzhen, Guangdong, South China. Founder Ren Zhengfei established the company with the vision to gift China its very own indigenous telecommunication system.
Till the 1980s, China imported major chunks of telecommunication equipment from foreign manufacturers. Aiming to invest in local research and development of Chinese equipment, Ren Zhengfei decided to create new phone switches and set up his own company. For this reason, Zhengfei founded Huawei with a view to enhance China's international security system. "The technology of telecommunication equipment was linked to international security, and the country that did not have its own equipment was like a country that had a lack of armed forces," mentions Zhengfei.
A self-made billionaire!
An ex-army veteran, Ren Zhengfei established Huawei at just 42 years of age! In the 1960s Ren joined the People's Liberation Army (PLA) research institute to work as a military technologist in the PLA's Information Technology research unit. After retiring from the army in 1982, Ren moved to Shenzhen and worked in electronics business.
Ren founded the Huawei Technologies Co. Ltd. in 1987, and today, 31 years later, he still stands tall as its President at the age of 73. According to Forbes, Ren Zhengfei is on number 83 in the list 'China's Rich List 2018.'
Huawei, a paragon of Chinese achievement
The first character of Huawei's name in Chinese — 华 — is derived from the Chinese word for flower, but now often refers to 'China' or 'Chinese.' The second character — 为 — means 'achievement' or 'action.' Combined, the two characters literally mean 'Chinese achievement.'
Huawei today does business in more than 170 countries with 180,000 employees. Needless to say, 'Huawei' is truly a mascot for Chinese achievement.
Huawei Products
Huawei has three main business segments:
Telecom carrier networks for providing

telecommunications networks and services to help telecommunications operators expand the capacity of their mobile broadband networks. In 2010, Huawei replaced 3G with 4G and increased mobile data transmission speeds tenfold. Huawei will rollout 5G equipped mobile phones by June this year which are expected to be 100 times faster than 4G.

Enterprise business: Started in 2011, Huawei provides

network infrastructure,

fixed

and

wireless

communication,

data center

, and

cloud computing

solutions

for global telecommunications customers.

Devices: The devices segment of Huawei provides USB modems, wireless modems and wireless routers for mobile Wi-Fi, embedded modules, fixed wireless terminals, wireless gateways, set-top boxes, mobile handsets and video products. Huawei also produces and sells a variety of devices under its own name, such as the IDEOS smartphones, tablet PCs and Huawei Smartwatch.
Dedicated towards R&D
In an attempt to enhance their interface by making meaningful innovations, Huawei has set up around 21 dedicated R&D centres around the globe and has about 79,000 employees solely dedicated towards R&D. The financial report of Huawei for 2017 revealed that it spent almost 90 billion Yuan (USD 13.8 billion) solely on research and development. Company's investment in R&D in 2017 represents a 17.4% increase over the company's R&D spending for 2016.
With an emphatic R&D team, Huawei has undoubtedly become a pioneer in technology in the smartphone business as well as in Enterprise and Carrier business. Huawei's total R&D spendings have exceeded USD 60.4 billion in the past decade alone! Huawei's vehement endeavours in the field of R&D has borne it many 'firsts' in the smartphone industry.  In 2017, Huawei launched the Kirin 970 chip, the world's first mobile processor with a dedicated Neural processing unit  (NPU) for AI. In 2018, the company also released the Huawei P20 Pro with a triple camera setup which is another first in the industry. The Chinese giant is also presently eyeing Cloud computing, Internet-of-Things (IoT) and 5G markets and have invested in such emerging technologies for their widespread application, all owing to its R&D team! Huawei has also promised for inventing a minimum of USD 10 billion on just R&D annually. So expect more innovations from the Chinese giant.
Patents and Acquisitions
The intellectual property of Huawei Technologies includes 8,431 registered patents primarily in the 'Electric Communication Technique' category. Additionally, Huawei Technologies has registered 312 trademarks with the most popular class being 'Scientific and electric apparatus and instruments'. Huawei revealed that it has a total of 74,326 patents as at December 31, 2017.  The company also applied for 64,091 patents in China and 48,758 foreign patent application, of which over 90% are invented patents.
At present, the company has 7 acquisitions.
HexaTier, an

Israeli database security and compliance solutions startup was

acquired by Huawei for USD 42 million on December 27, 2016.

https://www.geektime.com/2016/12/27/huawei-reportedly-acquires-israeli-startup-hexatier-for-42-million/

Toga Networks, another

Israel-based company that

provides

advanced technology research and high level design for the IT and Telecom markets was acquired by Huawei in a deal worth more than USD 100 million

on December 7, 2016.

https://venturebeat.com/2016/12/07/huawei-reportedly-acquires-israeli-it-networking-company-toga-networks-for-150-million/

Neul, a UK based, thirty-person company

was bought by Huawei for USD 25 million

on September 22, 2014. Huawei and Neul are now jointly working on technology that enables the reuse of mobile network operators assets to target ultra-low power deep coverage IoT applications.
https://neul.com/neul-news/news-neul-acquired-by-huawei/
https://www.theregister.co.uk/2014/09/22/huawei_buys_cambridge_internet_of_things_pioneer_neul/
Centre for Integrated Photonics, based in

Ipswich, UK is a research facility specializing in the development of photonics devices that exploit the hybrid integration of materially different components, was acquired by Huawei

on January 26, 2012.
Symantec, a

supplier of

network security

,

storage

and

computing

solutions was

 acquired by Huawei on November 14, 2011 for USD 530 million. Their joint venture is popularly known as 'Huawei Symantec'.

https://www.symantec.com/about/newsroom/press-releases/2011/symantec_1114_03

3Leaf, a

US server firm was

acquired on February 19, 2011 for USD 2 million amidst extreme heat from the US government.

https://www.bbc.com/news/business-12520640

Harbour Networks Holdings, a company which provides Internet protocol-based networking equipment like ethernet switches, IP core and edge routers, etc, was acquired by Huawei on September 11, 2006.
A campus like none other
Located in Shenzhen, China, the campus covers a massive area of 1.25 million square meter filled with trees, European castle like mid-sized buildings and lakes. What could be easily confused for a large university campus, the setting quickly goes from peaceful to thronging as engineers toil away in all directions for their lunchtime.
The campus is so widespread that it requires shuttle vans to get from one point to another. Visitors and residents can even take a 10 minutes tour around the campus in a vintage-style train.
Huawei campus houses thousands of employees along with their families at subsidized rates. The amenities for them include fitness centers, restaurants, grocery stores, minimarts, lakes for sightseeing and childcare.
Huawei's working culture is quite relaxed as employees can take time out time for resting and taking naps in comfortable lounge sofas and chairs. Now that's the work culture the world is highly in need of! (https://www.cnbc.com/2018/05/10/inside-huawei-headquarters-in-shenzhen-china.html)
https://www.wheninmanila.com/using-a-huawei-smartphone-here-are-10-interesting-facts-you-may-not-know-about-this-global-tech-giant/
Take at education
'Seeds for the Future,' is a program run by Huawei for ten consecutive years to help local communities cultivate the next generation of ICT talent.

As of 2017, the program has been deployed in 108 countries and regions across five continents. More than 30,000 students from over 350 universities have taken part in it and most of them are now contributing towards the development of ICT.

The company has invested $1.4 million in Carleton University in Canada with a goal to establish a research lab dedicated largely to the development of cloud computing services and technology.

Huawei has served over 858 million students worldwide by deploying smart education solutions in over 600 universities across 70 countries.

Huawei also harbours its very own technopark and university complete with student housing, etc. at their headquarters in Shenzhen. The qualified graduates are then offered career in Huawei subsequently. Huawei University is a separate large building inside the campus that offers about 25,000 courses to its students and employees.
https://www-file.huawei.com/-/media/CORPORATE/PDF/annual-report/annual_report2017_en.pdf
Huawei is the largest

network service provider

in the world and is also the leading manufacturer of

VoIP and IMS equipment

with about 26 percent of the global market. Ericsson and Nokia are the company's closest competitor in both markets. The company is also one of the main players in the

telecom equipment

and

ethernet switch market

.

Huawei has its strongest market base in places like China, Europe, Latin America and the Middle East.
In 2017, Huawei collaborated with Honor and shipped a total of 153 million smartphones securing more than 10% of the global market share. In 2018, this number went up to a record-setting 200 million.

Huawei remains among the top three phone makers in the world and remains the mark leader in China.

Their global brand awareness increased from 81% in 2016 to 86% in 2017 with a 100% increase in consumers considering a Huawei device in non-Chinese markets.

Huawei products and solutions have reached out to nearly three billion people around the world, including many in remote and underdeveloped regions.
Pan-global reach
Ever since its inception, Huawei has worked with the likes of Vodafone, Motorola, T-mobile, IBM and many more. It has also sponsored a number of major events and sports teams like Arsenal F.C., Paris Saint-Germain, the Ghana Football Association and many more. Huawei operates in more than 170 countries and regions with a vision to build a fully connected and intelligent world.
(https://www.huawei.com/en/about-huawei/corporate-information)
China- Huawei's revenue from the Chinese market increased by 29% year-on-year.
EMEA- Huawei's revenue from revenue from Europe, the Middle East, and Africa (EMEA) increased by 4.7% year-on-year.
Asia Pacific– Huawei maintained its growth momentum in the Asia-Pacific Region and its revenue increased by 10.3% year-on-year.
Americas- Huawei's revenue from this region decreased by 10.9% over 2016.
https://www.huawei.com/en/press-events/annual-report/2017
A New Vision
Google's android and Apple's iOS are probably the most famous and common operating systems in the world. They have acquired about 99.9% of the global market. But Huawei on the other hand, has been working on its very own operating system (OS) since 2012. It has its own OS for tablets and personal computers. Known as Huawei EMUI, this operating system is based on Android and has not yet been released on a large scale as it needs more enhancements. In December 2012, Huawei introduced EMUI 1.0, based on Android 4.0 and in September 2014, the company announced EMUI 3.0. Currently, Huawei phones and tablets run on EMUI 8.0 launched in 2017, capable in different AI-capabilities.
https://en.wikipedia.org/wiki/Huawei_EMUI
https://www.bgr.in/news/huawei-working-on-alternative-to-android-operating-system/
Huawei is world #3 smartphone brand
Apple- USD 1 trillion

Samsung- USD 326 billion

Huawei- USD 92.4 billion

Xiaomi- USD USD 70 billion

Lenovo- USD 45.35 billion

OnePlus- USD 1.4 billion

Meizu- USD 451.5 million

Oppo-USD 137.7 million

Vivo- USD 25 million
Lawsuits and Legal Issues
With Cisco
In February 2003, Cisco Systems sued Huawei Technologies for allegedly developing and marketing a "clone" of Cisco's popular network router technology, including the copyrighted operating system which controls Cisco's routers, the innovative user interface by which customers manage Cisco's routers and the extensive user documentation maintained by Cisco. Huawei was reprimanded by Cisco for its "unlawful conduct" by copying Cisco's source code and plagiarising extensively from Cisco's manuals. Following the grapple, Huawei removed the contested code, manuals and command-line interfaces and the case was subsequently dropped in July 2004.
https://newsroom.cisco.com/dlls/Cisco_Mot_for_PI.pdf
https://www.nytimes.com/2004/07/29/business/technology-briefing-hardware-cisco-drops-patent-infringement-suit.html
https://www.lightreading.com/ethernet-ip/cisco-drops-huawei-suit/d/d-id/604715
With Motorola
In July 2010, Motorola filed a complaint against Huawei that it was stealing Motorola's trade secrets. The case was eventually dropped but the heat maintained between the two giants. In 2011, Huawei booked a lawsuit against Motorola to prevent Motorola from giving Nokia Siemens Huawei's IP information. Before the entire fiasco, Huawei and Motorola were engaged in a licensing relationship which gave Motorola's wireless networking unit details of Huawei's confidential intellectual property rights. In 2010, Nokia acquired Motorola's wireless network for USD 1.2 billion. Ever since this acquisition, Huawei was worried that Nokia might lay its hands on its sensitive information which might put it under irreparable commercial damage. Both Nokia and Huawei are equivalent Chinese competitors.
Finally in April 2011, the long standing feud was put to rest with Motorola paying an undisclosed sum to Huawei for the intellectual property that would be part of the sale to Nokia Siemens Network. Huawei's reputation in the US was adversely affected following this series of turf with Motorola and NSN due to which, its credibility in the United States was jeopardized.
https://www.washingtonpost.com/blogs/post-tech/post/motorola-huawei-settle-their-dispute/2011/04/13/AFSchOWD_blog.html?utm_term=.28a262176209
https://techcrunch.com/2011/04/13/motorola-and-huawei-settle-patent-lawsuit/
https://techcrunch.com/2011/01/24/huawei-sues-motorola-over-patents-disclosed-to-nokia-siemens-acquired-wireless-network/
https://www.reuters.com/article/us-huawei-motorola/huawei-sues-to-alter-motorola-nokia-siemens-deal-idUSTRE70N3V120110124
With ZTE
ZTE and Huawei are two of the biggest Chinese telecom providers in the world today. They are almost synonymous with Chinese aggrandizement over the entire world today. But back in the days, when they had just started to carve out a name for themselves, they entered into a bitter tussle. In April 2011, Huawei filed lawsuits in Germany, France and Hungary against its smaller Chinese rival ZTE for patent and trademark infringement. Huawei said in a statement that ZTE had infringed a series of its patents relating to data card and LTE (long term evolution) technologies and illegally used a Huawei-registered trademark on some of its data card products. Just a day after, ZTE countersued Huawei in China over LTE patent infringement. China's then No.2 telecommunications equipment maker sued Huawei, the world's No.2 telecoms equipment maker and China's largest for infringing on its patent for fourth-generation LTE (long-term evolution) technology.
https://uk.reuters.com/article/huawei/huawei-sues-zte-in-germany-france-hungary-idUKL3E7FS2OV20110428
https://www.theregister.co.uk/2011/05/11/huawei_v_zte/
https://web.archive.org/web/20111007052511/http://onespot.wsj.com/gadgets/2011/04/29/39387/zte-counter-sues-huawei-over-lte
With T-mobile
In September 2014, Huawei found itself in trouble again in the US after T-mobile filed a lawsuit against Huawei for alleged espionage. T-mobile claimed that Huawei's employees snuck into T-mobile's lab in Bellevue, Washington and stole parts of its smartphone testing robot Tappy. The employees then copied operating software and design details, violating confidentiality agreements that both companies signed in the past. T-mobile also stated that Huawei then used that intel to build its own testing robot. Huawei agreed to the allegations and fired the employees involved in the case. Following the series of tussle, the National Security Agency (NSA) kept a close watch on the Chinese vendor and even tried hacking into its system to check on internal communication. T-Mobile has since stopped using Huawei as a supplier and the two settled their difference finally in 2017 after Huawei paid T-mobile a sum of USD 4.8 million as part of damages.
https://www.lightreading.com/mobile/devices-smartphones/t-mobile-accuses-huawei-of-espionage/d/d-id/710732
https://www.theregister.co.uk/2017/05/19/huawei_spied_us_jury_finds
https://www.seattletimes.com/business/technology/july-awards-t-mobile-48m-in-trade-secrets-case-against-huawei/
Recent Legal Issue
With the US
Huawei is the most popular brand in the United States, with a market share of 9.27%, while Motorola ranks second with a market share of 5.83%. This share has been adversely affected due to the flames of the trade war between China and the United States.
Following the U.S. ban on ZTE, Huawei has been under severe heat from the Trump driven US administration. Huawei's chief financial officer, Meng Wanzhou was arrested in Canada in December 2018 at the request of the US government for allegedly committing fraud to evade sanctions on Iran. Meng Wanzhou, daughter of Huawei's president Ren Zhengfei, faced charges in the Eastern District of New York in Brooklyn. A spokesman from the Chinese Embassy said, "Beijing strongly protests over such kind of actions which seriously harmed the human rights of the victim." China lodged a protest against the United States and Canada, urging them "to immediately correct the wrongdoing."
Beijing pushed for Meng's release and suggested that her arrest was part of a US effort to gain an advantage in its ongoing trade battles with China.
Huawei is being investigated by the US since 2016 over the matter of violating export controls and US sanctions related to Iran and other countries. It is still however unclear how Huawei might have evaded sanctions.
The arrest of Meng Wanzhou comes at the moment of growing tensions between US-China relations. China and the US have been long engaged in a counterstroke trade war that has led to bitterness between the two countries. At the heart of this conflict is a White House claim that China violates the rules of global trade through forced technology transfer and cyberwarfare. The US is growing concerned to increase its scrutiny of Chinese firms, including Huawei, on the grounds of national security.
Huawei's President Ren Zhengfei's links to communist leaders of China is another matter of concern for the US. In August 2018, US President Donald Trump signed into law a bill to ban Huawei equipment from use by the US government and its contractors. In 2012, the House Intelligence Committee issued a report on ZTE and Huawei and accused them of "spying on US companies that use their equipment." In response to these disparaging attacks, a spokesperson for Huawei told CNBC, "Huawei is aware of a range of U.S. government activities seemingly aimed at inhibiting Huawei's business in the U.S. market. Huawei is trusted by governments and customers in 170 countries worldwide and poses no greater cybersecurity risk than any ICT vendor, sharing as we do common global supply chains and production capabilities." Additionally, the US government, FBI, CBI and NSA, have warned the American citizens to not use products and services made by Chinese tech giants like Huawei and ZTE.
Following the strife, some other countries have also maintained a similar stance on the case just like the US.
https://www.lightreading.com/spit-(service-provider-it)/security-platforms/nsa-reportedly-spying-on-huawei-whats-chinese-for-ironic-/a/d-id/708348
With the UK
In the first quarter of 2017, Huawei shipped 3.6 million phones in Europe and had a market share of 11.4% in Europe. This number shot up to 6.7 million in the second quarter of 2018. The Chinese company has even surpassed Apple with a market share of 24.8% in Europe. But in spite of the soaring sales, Huawei has faced tribulations in some part of Europe, particularly in the United Kingdom.   
The British telecom (BT) issued a statement publicly in December 2018 against the use of Huawei equipment in its 5G network. The Wall Street Journal reported that the move came after US government's attempts to persuade wireless and internet providers in allied countries to avoid telecommunication equipment from Huawei. BT will however continue to use Huawei's equipment on masts, a benign part of the network.
With New Zealand and Australia
New Zealand and Australia have also banned Huawei and ZTE from its 5G networks. Earlier in November 2018, New Zealand's intelligence agency rejected a request from Spark, the country's largest telecoms operator, to use equipment provided by Huawei in its 5G network, citing a security risk.
Australia banned the firm back in 2012 from bidding contracts on Australia's national broadband project due to concerns about cyber-security. Canberra issued a public statement where it expressed concerns over Huawei's alleged threat its security system. In response, Beijing's Foreign Ministry spokesman Lu Kang said that China was "gravely concerned with Canberra's all types of excuses to create hurdles and taking discriminatory measures." "We urge the Australian side to abandon ideological biases and create a sound environment for the fair competition of Chinese enterprises in Australia," Kang said.
Australia's hostility against Huawei comes at a time when Australia is refocusing its foreign aid programmes in the Pacific where China is a close competitor.
With India
In September 2018, New Delhi issued a statement indicating it may well follow the US and Australia in limiting involvement of Chinese telecom equipment makers. Telecom secretary of India said, "We have written to Cisco, Samsung, Ericsson and Nokia, and telecom service providers to partner with us to start 5G technology-based trials, and have got positive response from them. We have excluded Huawei from these trials." Huawei was eliminated from these trials due to security risks it poses.
This is not the first time Chinese equipment makers have faced trouble in India. Back in 2010, the India government barred mobile phone operators from using telecom equipment from Chinese companies on suspicion that they may be spying into sensitive communication. After this deal, Huawei's revenue from India reportedly came down to USD 700-800 million in 2018 from around USD 1.2 billion in 2017. As of 2019, India has invited the company to test its 5G technology in the country and the company will be manufacturing 90% of Indian smartphones in the next 1-2 years.  (https://telecom.economictimes.indiatimes.com/news/huawei-to-manufacture-90-of-all-its-smartphones-in-india-by-next-1-2-years/63910432)
5G Initiative
Despite being under the radar for alleged "security breach," Huawei launched its first core chip, named TIANGANG, designed explicitly for  5G base stations, at a press conference in Beijing on 24 January, 2019. The firm also announced that its consumer business sales made a record of over USD 52 billion in 2018 on strong demands for its smartphones. In December 2018, Huawei's total revenue increased to USD 109 billion with 21% year-on-year growth, surpassing USD 100 billion for the first time.
TIANGANG will support simplified 5G networks and large-scale 5G network deployment all over the world and has already won 30 commercial 5G contracts and has shipped over 25,000 5G base stations globally.
Ken Hu, the company's deputy chairman and rotating chairman said at Davos that Huawei has been devoted to 5G technology, and has deployed 5G networks in more than ten countries and plans to enter 20 countries in next 12 months. He even predicted that the 5G smartphone will hit the market in June and will be priced at around $100.
Earlier in November 2018, the company's executive director and president of carrier business group Ryan Ding stated that the company  had signed 22 commercial contracts for 5G, and was working with over 50 carriers on 5G commercial tests.
https://www.smh.com.au/business/companies/optus-concedes-5g-service-without-best-technology-after-huawei-ban-20190131-p50us4.html
https://techcrunch.com/2019/01/30/china-continues-5g-push/
https://www.moneycontrol.com/news/world/china-fast-tracking-5g-network-amidst-huawei-row-with-us-3452651.html
Quick facts and stats!
Huawei is pronounced as "wah-way".

Huawei is the

world's largest telecoms equipment firm

Huawei was founded with just 21,000 Yuan (USD 5,000 at the time)

Today its net worth is USD 8 billion

Ren Zhengfei is a billionaire with worth USD 3.2 billion.

Huawei is no. 1 in China after beating other Chinese giants like ZTE, Xiaomi, Oppo, One Plus and Vivo.

Huawei's key competitors are

OnePlus, Xiaomi and ASUS.

In order to be more creative, Huawei changes its CEO every 6 months

The average age of a Huawei employee is 29 years.

The company allows its employees to become part owners by buying company shares after they've worked there for four or more years.

Huawei unveiled its first smartphone in 2009

C300 was the first model of mobile shipped by Huawei

U626 was Huawei's first 3G phone released in June 2005. Its first vodafone branded 3G handset, V710 was launched in 2006.

In 2018, Huawei launched its 'P' and 'Mate' lines.

Huawei's top three selling smartphones are Huawei Mate 20 pro, Huawei P20 Pro and Huawei Mate 10 pro.

Huawei's revenue for the year 2017 was $92.6 million, which is almost 20% increase from 2016, 58% increase from 2015 and 116% increase from 2014.

In 2018, Huawei shipped 66 times as many smartphones as it did in 2010. The substantial increase in shipped smartphones helped the company attain 14.6% of the global smartphone market. (

https://www.androidauthority.com/huawei-smartphone-shipments-2018-937074/

)
In 2018, Huawei sold more than 200 million phones worldwide as opposed to 153 million in 2017, 140 million in 2016 and 108 million in 2015.

Huawei ships its products to 170+ countries worldwide.

With the global market share of 14.6% (in third quarter of 2018), Huawei struck down Apple whose market share was 13.2%. Huawei closed in on Samsung whose market share was 20.3%.

Total employees of Huawei are 36% more than Apple.

Huawei's Mate 20 Pro and P20 Pro were the most sought after smartphones of 2018, giving fierce competition to Apple and Samsung.

Huawei's Mate 20 Pro sold 5 million phones in just 2 months!

Huawei has a total of 92 suppliers worldwide, including 33 US companies and 11 Japanese companies.

Huawei ranked 13 in the list of 'Top 20 technology brands in the world-2018'. Google led the list with a brand value over USD 302 billion, while Apple and Microsoft came on second and third positions respectively. Huawei's share of brand value in 2018 was approximately USD 25 billion.

Huawei has a 38% revenue market share in Asia Pacific and 30% share in Europe.
Amidst all the heated strife from countries around the world, Huawei is expanding its global share with each passing day.
Since 1987, Huawei has continued to grow and today, it has become the world's largest producer of telecommunication equipment and the third largest supplier in the world after Apple and Samsung.  
Years ago, it might have been difficult to imagine, but today Huawei is considered one of the leaders in smartphone and telecommunication production.