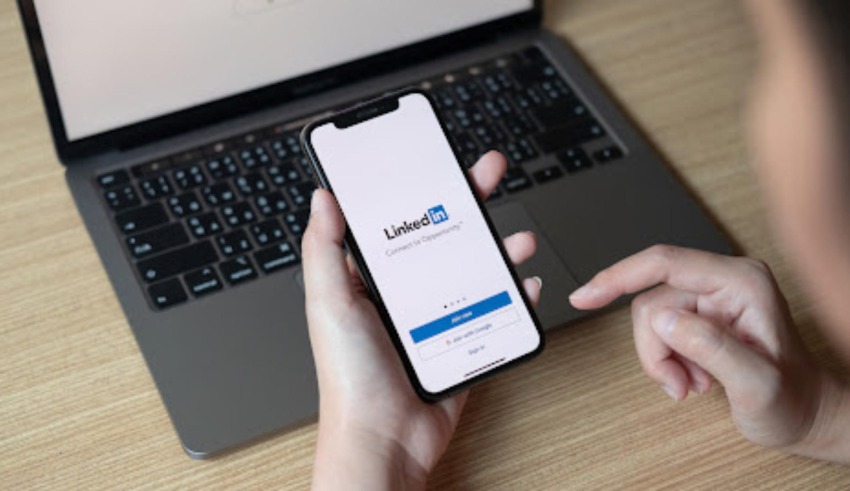 With their massive global user base, social media platforms are an excellent source of networking for marketers to enhance their lead-generation efforts.
The majority of businesses use Facebook, Twitter, Instagram, and LinkedIn for lead generation and brand promotion. LinkedIn's primary focus on professional networking and B2B marketing sets it apart from its more consumer-focused counterparts. 
LinkedIn is Different from other Popular Social Platforms in Several Ways:
Professional Networking:

Unlike other social networks LinkedIn is primarily focused on professional networking, career development, and business-related content.

B2B Marketing:

LinkedIn is an ideal platform for B2B marketing

, with a user base of business professionals, decision-makers, and industry leaders. In contrast, platforms like Instagram, Reddit, and Facebook are more focused on B2C marketing.

Content-Type:

LinkedIn is more text-based and professional-oriented, with users typically sharing industry news, thought-leadership articles, and job-related content. Platforms like Instagram and Facebook are more visual, with users sharing photos, videos, and personal updates.

Advertising Options:

LinkedIn offers a range of advertising options designed for

B2B marketing

,

including sponsored content, sponsored InMail, and display ads. Other platforms offer similar advertising options but with a more B2C focus.
Whether you have a new start-up or are running a small, medium, or large B2B company, LinkedIn offers a unique opportunity to connect with decision-makers in a professional setting. With LinkedIn, you ensure your brand reaches the right audience – influential decision-makers who hold two times the buying power of typical online audiences among the platform's more than 900 million members.
5 Ways to Generate Leads on LinkedIn
Here are five important tips that will help you implement your LinkedIn lead-generation strategies effectively.
Optimize Your LinkedIn Profile
Creating a profile is a basic and important part of building your LinkedIn presence. A polished and professionally branded – but still personalized and human – LinkedIn profile can create a good first impression and make users curious to learn more about your business and what you can offer.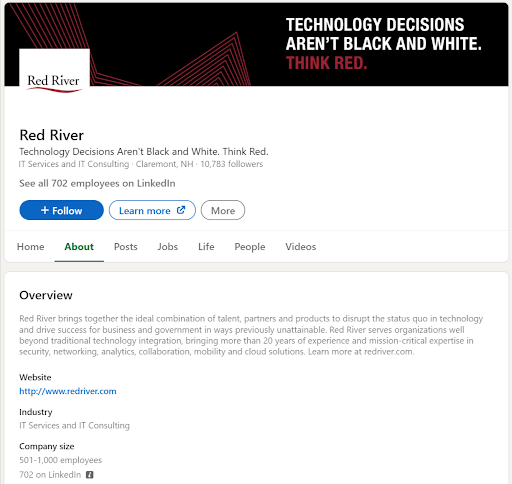 To improve your networking and lead generation on LinkedIn, it's essential to optimize your profile as much as possible. When creating your profile, consider incorporating search engine optimization (SEO) tactics to increase the likelihood of potential leads finding you through search queries. 
Here are Some Effective Ways you can Optimize Your Profile:
Your headline and summary on LinkedIn should be engaging and compelling, clearly conveying who you are and what you do. It's important to make your summary informative and interesting, encouraging users to connect and interact with you or your business.

While making an SEO-friendly profile is highly recommended, avoid "keyword stuffing," the practice of overusing keywords just to rank higher in search listings. Instead, add keywords to the sections of your profile where they naturally fit.

Ensure that each section presents information clearly and concisely.
Post Relevant and Engaging Content
To strengthen your LinkedIn content marketing strategy, it's important to consistently share industry-relevant content. Posting updates regularly can establish you as a thought leader and authority in your niche. Be sure to provide useful and actionable information, as credibility is essential for attracting a significant following and potential leads.
However, remember that not everything needs to always be super serious. Posting thoughtful, actionable content on LinkedIn will build trust among your readership. But if you want to build bonds, don't be afraid to be more lighthearted and personal.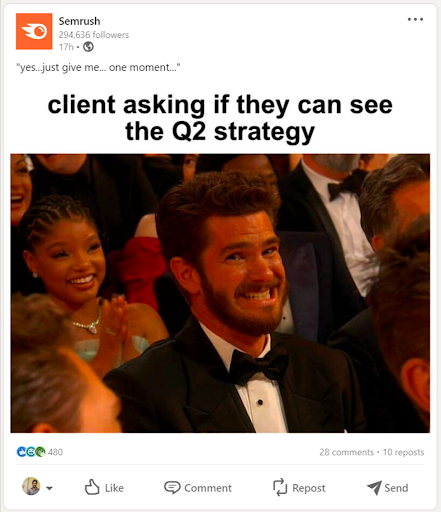 For instance, SEMrush – a tool used by many marketers – knows that sometimes, even in the best marketing teams, things can run a little behind schedule. They're betting that in their audience of fellow marketers, this feeling of needing to scramble is a common one. Creating content that's engaging will help you connect with your audience and let them know that you've been where they are – you're just like them.
By establishing yourself as a reliable source of industry-related content (or, at the very least, great memes), connections within your field will feel confident recommending your content to their networks, potentially exposing you to new audiences. Even if they simply engage with your content by liking it, their connections may still see it on their feed, further expanding your reach.
To determine which posts are receiving the most attention, check the click impressions in the lower-left corner of your LinkedIn post. You can also use LinkedIn's analytics tool that helps you get an in-depth understanding of your page's performance, provided that you are the page administrator. 
Join LinkedIn Groups Related to Your Industry
LinkedIn groups are important for a variety of reasons. They allow individuals with shared interests or professionals in the same industry to connect with each other, share information and resources, and establish themselves as thought leaders and experts. Being a member of a LinkedIn group can also provide opportunities to network and find potential clients, partners, or job opportunities. Additionally, active participation in a group can increase your visibility and credibility within your industry or niche.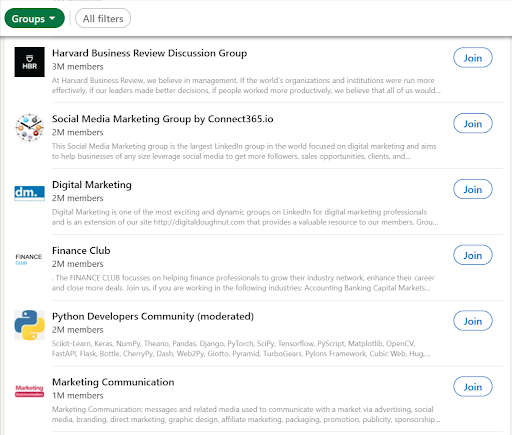 If you're a small business owner looking to build a cost-effective and substantial audience, joining relevant LinkedIn groups can be a great option. However, it's crucial to choose the right groups. Simply joining any group in your industry won't cut it. You need to ensure that the group has a sizable and engaged audience, which means it's active and members are participating in discussions.
Also, ensure that the group has your ideal prospects and they are active in the group. By sharing valuable information and participating in discussions, you can increase the trust factor of potential audience members and develop long-term relationships.  If you can't find a LinkedIn group that aligns with your goals, you can create your own. However, it's essential to have a clear purpose for the group beyond just selling or marketing your product or service.
A successful group should be focused on knowledge sharing, addressing the questions and concerns of your audience, and providing solutions to their pain points. By listening carefully to your group members, you can identify common issues and provide helpful insights, leading to more valuable interactions and positive results in the long run. 
And who knows? You might get ideas for new offerings or services based on what you hear.
Advertise With LinkedIn Ads
LinkedIn is an effective advertising platform for businesses and professionals looking to get immediate results in the form of SQLs (Sales Qualified Leads). LinkedIn ads are popular for several reasons.
Here are some reasons that set LinkedIn ads apart from other social media ads such as those found on platforms like Instagram and Facebook.
Business Targeting
LinkedIn offers advanced targeting options that allow advertisers to reach a highly specific audience based on job title, industry, company size, location, and more. This is instrumental in converting the target audience into customers since the right message is reaching the right audience.
Professional Audience
LinkedIn is a professional networking site, which means that users are more likely to be in a business mindset and open to business-related content and offers. This makes LinkedIn a valuable platform for B2B marketing.
Along with these, here are some general benefits of using LinkedIn ads that are quite similar to what you'd find advertising on other social platforms.
Ad Formats
LinkedIn offers a range of ad formats that cater to different marketing objectives and budget sizes. Advertisers can choose from sponsored content, sponsored messaging, dynamic ads, and more.
Measurement and Analytics
LinkedIn provides detailed analytics and measurement tools that help advertisers track the performance of their ads and optimize them for better results. This helps advertisers to understand what works and what doesn't and make data-driven decisions to improve their campaigns.
Brand Awareness
LinkedIn ads can help to build brand awareness and establish a brand as a thought leader in its industry. This is particularly useful for startups and businesses that are new to the market and need to make a name for themselves.
There are several types of LinkedIn ad formats available for advertisers. These include:
Sponsored Content – These are promoted posts, a type of paid content that appears in the LinkedIn feed.
Sponsored InMail – Personalized messages sent to targeted LinkedIn members' inboxes.
Display Ads – Banner ads that appear on the right-hand side of the LinkedIn desktop interface.
Dynamic Ads

– Personalized ads that use LinkedIn member data to customize the ad's text and image for each viewer.

Text Ads – Simple, text-only ads that appear at the top and bottom of the LinkedIn desktop interface.
Video Ads – Short promotional videos that appear in the LinkedIn feed.
Use LinkedIn Automation Tools
Manually reaching out to potential leads can be an arduous task, consuming much of your valuable time. For a business owner, efficient time management is crucial. LinkedIn automation tools can help you save time and effort by automating repetitive tasks, allowing you to focus on the core areas of your business.
LinkedIn automation tools can provide a range of benefits for businesses and professionals, including:
Time Savings:

Automation tools can save time by automating repetitive tasks such as sending connection requests, messaging, and posting content.

Increased Efficiency:

Automation tools can help users manage their LinkedIn activities more efficiently by scheduling posts, sending messages to multiple users at once, and automating lead generation activities.

Enhanced Targeting:

With the use of automation tools, businesses can target their outreach to specific audiences based on job titles, industries, or other criteria, leading to more relevant and targeted connections.

Improved Analytics:

Automation tools often provide detailed analytics and insights into user engagement, allowing businesses to track the success of their LinkedIn campaigns and adjust their strategies accordingly.

Increased Lead Generation:

Automation tools can help businesses to generate more leads by automating outreach, allowing them to connect with more potential customers and clients.

Saving Money

: LinkedIn automation tools can save money in several ways. Firstly, they eliminate the need to hire additional staff solely for lead generation and outreach, which can result in significant cost savings.

Secondly, automation tools can help target the right audience and avoid irrelevant leads, thereby reducing marketing expenses. Finally, automation can lead to increased efficiency, which can lead to increased productivity and revenue.
Follow Up With Your Leads
A common mistake made by many business owners is to only initiate contact with their potential leads and then stop. However, when it comes to LinkedIn lead generation or any social media lead generation strategy, it is crucial to follow up with your leads and nurture them.
Unfortunately, most people either do not follow up at all or only send one follow-up message. While it's important to not pester your leads so that they get a negative impression of your business, you don't want to let your leads get too cold, either.
Wrapping Up
B2B marketers should use LinkedIn for lead generation as it provides them with incredible opportunities to grow their audience significantly. LinkedIn is a constantly evolving platform, and as a B2B marketer, you need to find smarter ways to utilize this platform to grow your business.
By implementing the LinkedIn lead generation strategies explained in this post, you will be able to take your LinkedIn campaigns to the next level and witness positive results for your business. However, generating leads from LinkedIn can take time to master – so, patience is the key.
Author Bio
Andy Beohar is the Managing Partner of SevenAtoms, a Google and HubSpot-certified agency in San Francisco. Andy develops and manages ROI-positive inbound and paid marketing campaigns for B2B & Tech companies. Connect with Andy on LinkedIn or Twitter.