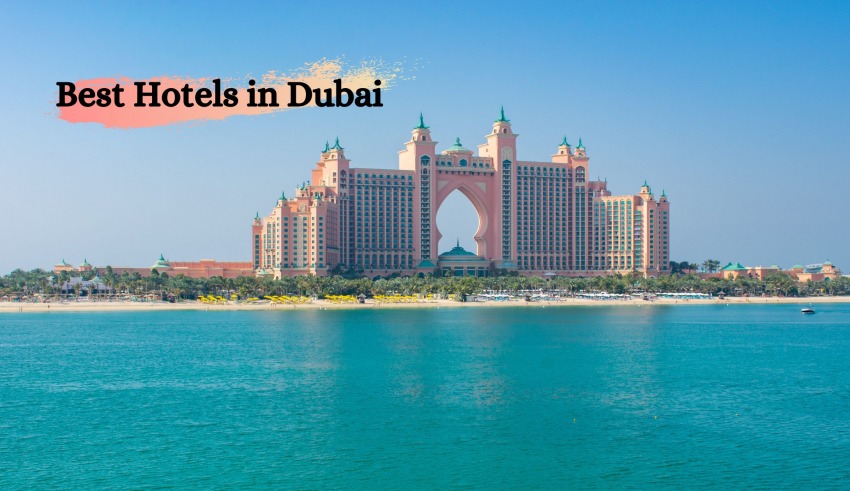 Dubai is one of the most sought-after holiday destinations for couples and families alike. From the world's finest luxury to traditional Arabian heritage, from sky-high shopping malls to underwater hotels, from a vibrant nightlife to indulging spa treatments to help you unwind. Dubai is truly a haven for travelers that spells out pure opulence. The grandeur of this city in the United Arab Emirates also shows itself in some of the best hotels in Dubai.
Home to the world's best luxury hotels and resorts, the city of Dubai is known to offer tourists with eclectic feasts, unforgettable adventures, and luxurious abodes that are still anchored to its Arabian roots. Be it high end luxury hotels, or hotels designed in their palatial grandeur, here is something to suit everyone's taste. 
If you are planning your vacation to Dubai then, book from among the following  best hotels in Dubai to make your stay an indulging highlight for life.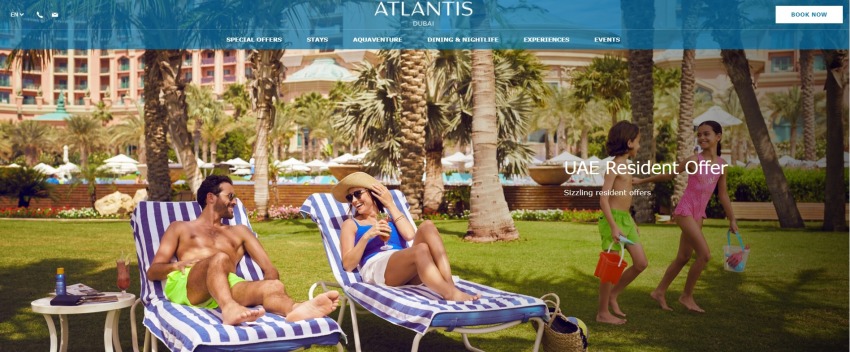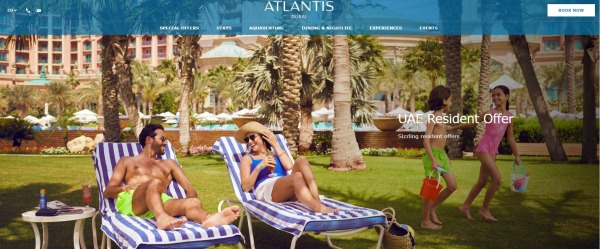 Make lifetime memories of vacationing in Dubai at this luxurious hotel and resort located at the world-famous Palm Island. With brilliant architecture that makes it one of the most photographed buildings in the world.
This hotel is the ideal holiday destination for adventure and luxury combined. This iconic building offers spectacular views of the blue waters of the sea, the sandy island and the glittering skyline of the city. Your perfect holiday begins at Atlantis, the Palm and the Royal that makes every minute of your experience in Dubai, a little above ordinary. 
With luxury stays including Underwater Signature suite, Club Suites and Imperial Club Rooms, this hotel and resort is ideal for families, business travelers as well as couples.
Designed for luxury, comfort and adventure, Atlantis, The Palm also provides a range of aquaventures including underwater aquarium, Dolphin Bay, Trident Waterpark and more. Further, it packs sumptuous dining experiences with a range of cuisines and restaurants besides its vibrant nightlife. It also packs a suite of experiences such as Shuiqi Spa, underwater yoga, nailology and countless more to make your stay a memorable one. 
---


Your ultimate staycation in Dubai awaits you at the exotic Taj Jumeirah Lakes Tower hotel. With lavish rooms and suites that are perfected down to every detail, this five star hotel serves the best hospitality in Dubai's best locations.
It offers a range of accommodation facilities – from deluxe rooms, balcony rooms to Taj Club rooms and Presidential or Executive suites. These rooms combine subtle colors with contemporary, modern amenities and furnishings. 
What truly makes the Taj Jumeirah Lakes Towers an exclusive hotel is its authentic cuisine that surpasses any other restaurants in the city. From the Mediterranean inspired rooftop pool bar at Paros to filling your grasses with chilled draught sampled with mouth-watering delicacies from around the world at TJ's. Here, food would not be the reason your vacation becomes less ordinary.
Dine-in on authentic Indian cuisines in the warm ambiance below splendid chandeliers at Shamiana. The Taj Jumeirah also provides event spaces for weddings, conferences and other corporate events. Start your day here on a healthy note in the state-of-the-art fitness center. 
---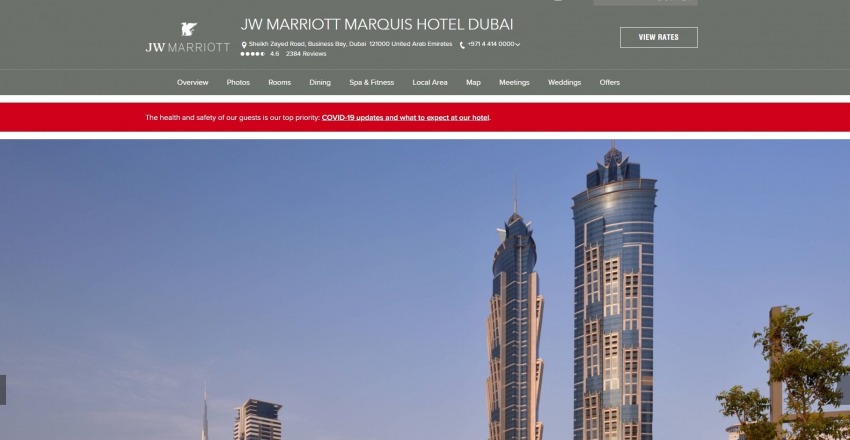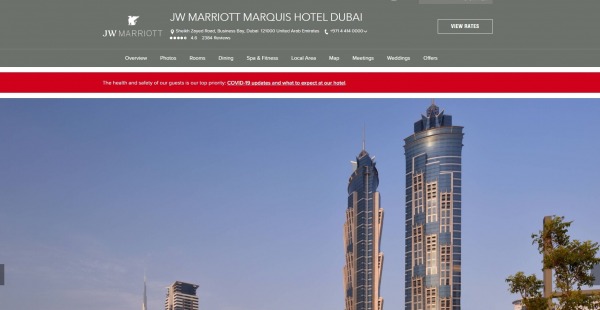 Discover the city in all its essence by staying at one of the best hotels in Dubai. Comprising two iconic towers, the JW Marriott in Dubai is one of the tallest buildings in the world.
Further, it is located at the heart of the city's downtown district and boasts awe-inspiring views of the Dubai cityscape. Beside its iconic location, this hotel is renowned world-over for providing exceptional stays soaked in luxury and finesse. Here, you can choose to stay in modernized accommodations, from deluxe rooms to penthouse suites to rooms with executive lounge access and many more. 
In terms of its dining experience, the JW Marriott Marquis has authentic flavors for everyone. Be it tasting Indian flavors at the Masala Library or savoring the freshly baked French patisseries and signature gourmet coffee at La Farine Café & Bakery.
AT this hotel, you will find flavors and cuisines from all around the world besides premium cigars and a variety of wines, cocktails, and beers at the Vault. During your stay here, do not forget to pamper yourself at the luxuriating Saray Spa featuring a traditional Hammam and a couple's suite for truly restorative wellness. 
---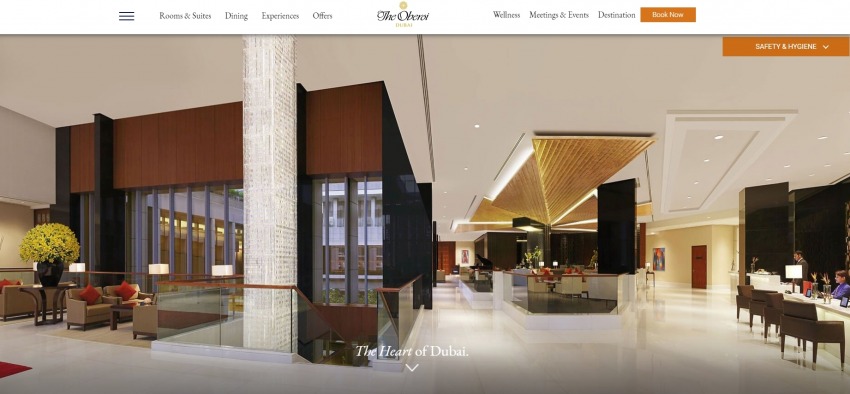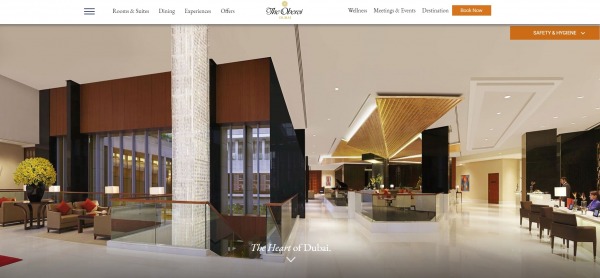 Choose to stay in pure luxury at one of the best hotels in Dubai that redefines the experience of hospitality. This five star rating hotel at the heart of Dubai brings to you spectacular views of the Burj Khalifa and Dubai's cityscapes.
With its extensive range of accommodation facilities in spacious deluxe rooms and intimate suites, it makes for a perfect hotel for family vacations or business travel. Further, from its floor to ceiling windows, you can experience views of the city like nowhere else. Sophisticated and opulent, the hotel couples a warm ambiance with a vibrant décor. 
During your stay here, you can sign up for adventurous experiences including the Desert Safari, Abu Dhabi city tour, Helicopter Ride, and more. Then, dine in the sunlit courtyard of Nine7One or taste the best Indian flavors a la carte at the Ananta.
Head to The Lobby Lounge and Bar for a relaxed coffee or cocktail. What's more, is that they offer exciting offers for extended stays. Now, this is a good reason to stay at The Oberoi a little bit longer. 
---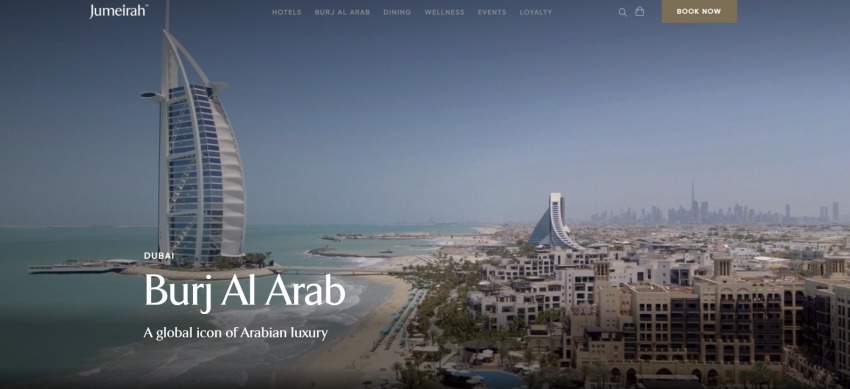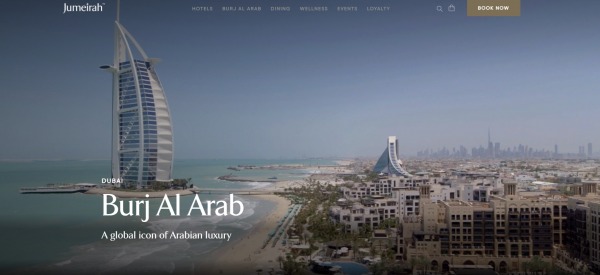 One of the best hotels in Dubai, this exquisite icon redefining modern Arabian luxury is just where you need to go to experience exceptional hospitality.
From deluxe one-bedroom suites to panoramic family suites, this hotel in Dubai offers lavish stays overlooking the Arabian Gulf. In one of the most iconic sail-shaped buildings of the world, this hotel is a global icon in luxury.  When you stay at the Burj Al Arab Jumeirah, you can have wholesome experiences in every aspect of your vacation. 
From entertainment, food, wellness and adventurous experiences, they offer exciting deals to make your stay unforgettable. During your stay here, begin your day with breakfast in the atrium lounge of Sahn Eddar, experience exquisite dining at Sal, or savor the finest French cuisine at Al Muntaha. Further, get your mind and body in balance with the wellness experience at the Talise Spa perched 150 meters above the Arabian Gulf.
You can also relax and rejuvenate in the luxuriate infinity pool and avail of signature treatments and spa packages. Packed with luxury down to every detail, this hotel is the perfect resort to holidaying in Dubai with your spouse, family or friends. 
---


This is one of the biggest hotels and resorts in Dubai. Four Seasons is the ideal place to set camp to immerse yourself in the traditional UAE heritage, art and modernity. With azure waters of the Gulf on one side and Dubai's iconic cityscape on the other, it offers a perfect balance of tranquility and adventure.
Further, accommodations at this hotel combine vibrant Arabian décor motifs with modern, luxury amenities. Check into deluxe rooms, suites or specialty family suites for an authentic, lavish experience in luxuriating architecture. With eclectic drinking and dining options, your stay at Four Seasons is bound to be sumptuous.
Explore the most extensive gin list in the city at the Hendricks Bar or dine alongside views of the Burj Khalifa at sunset at their open-air Mercury Lounge.
Plan ahead to rejuvenate with signature Pearl Spa treatments that are inspired by deserts on Emirates and tailored exclusively for you. With Four Seasons, you can also plan the itinerary for your vacation to experience the best of Dubai. 
---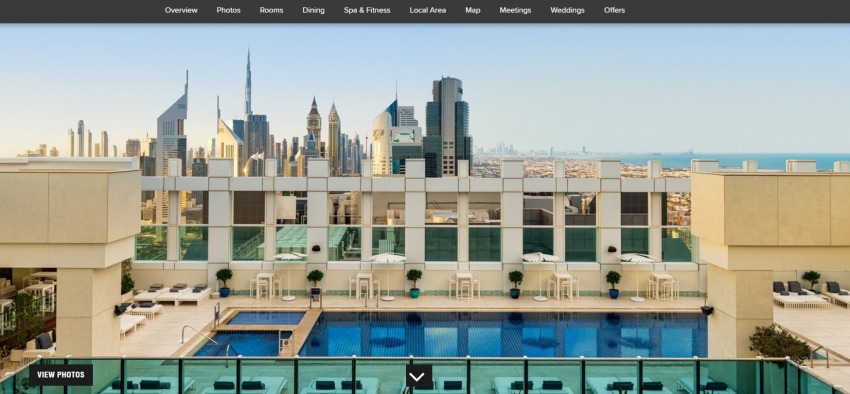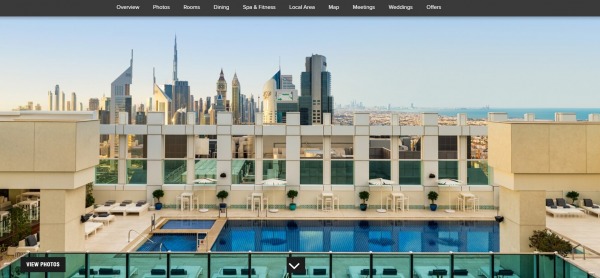 Whether you are traveling to the city for business or leisure. This is one of the best hotels in Dubai to set up camp. The Sheraton Grand boasts off thoughtfully designed spaces that reflect a contemporary ambiance, with a warm timber tone. Located only a 10 minute ride from the Dubai International Airport, this hotel offers seamless access to famous attractions in Dubai such as, the Dubai Mall, Burj Khalifa, Dubai Creek and more.
Its ideal location at the crossroads of Old and New Dubai makes it perfect to explore the city in all its essence. Further, its accommodation facilities span 50+ floors with a combination of deluxe rooms, luxurious suites and bedroom apartments.
 Bringing finest dining experience under the same roof, the Sheraton Grand has you embarking on a culinary journey in downtown Dubai. At &More, unwind in a warm atmosphere with scents of freshly brewed coffee and baked culinary delights.
Savor grilled and roasted food from the seven interactive cooking stations at the Feast or enjoy leisurely cocktails at the rooftop bar, Larimar Dawn & Dusk with Mediterranean vibes and overlooking the sunset. Then, treat yourself with an exotic Spa experience after a long day to experience holistic wellness of the body and soul.
---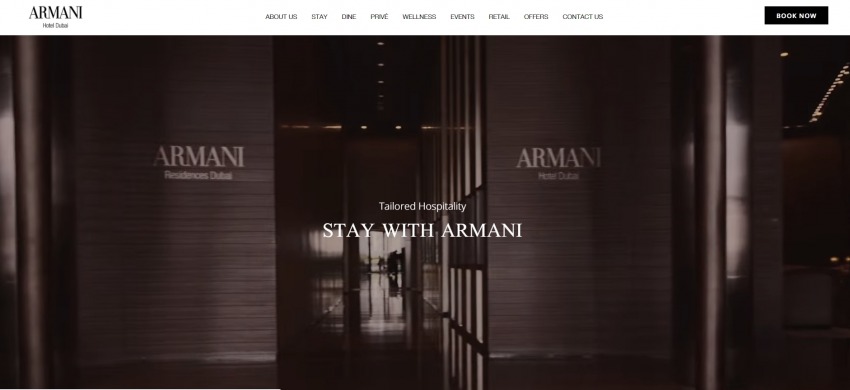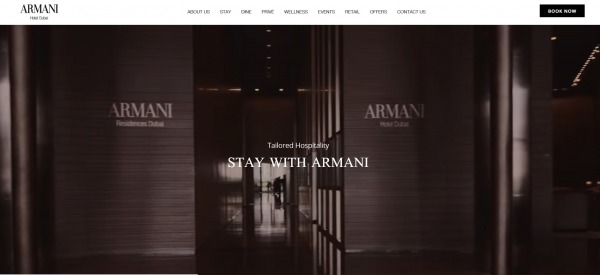 Experience warm hospitality and world-class luxury designed and accessorized by the bespoke fashion giant, Giorgio Armani at this hotel. With an impeccable taste and sophisticated comfort, the Armani Hotel is the right destination to make holidaying in Dubai a highlight for life.
They ensure to make your visit a wholesome experience with tailored hospitality and accommodations furnished by the designs and fabrics of the signature Armani brand. Further, you can choose to stay in a range of room types – deluxe rooms, executive suites, suites with private balconies and Armani Residences that come with well-appointed kitchens and luxurious bathrooms.
Complete your stay here with authentic flavors and cuisines from around the world. Dine at the Armani/Hashi to feast on Japanese cuisine overlooking the Dubai skyline and the iconic Dubai fountain.
Savor an extensive selection of coffees, teas, and wines in the Italian style Armani/Lounge. Take a day to find your balance at the purely indulging Armani Spa experience including signature body treatments, such as Mu, Fluidita and Liberta. They not only help you unwind but also, provide the therapeutic touch to heal the body of stress and deliver a bespoke sensory experience. 
---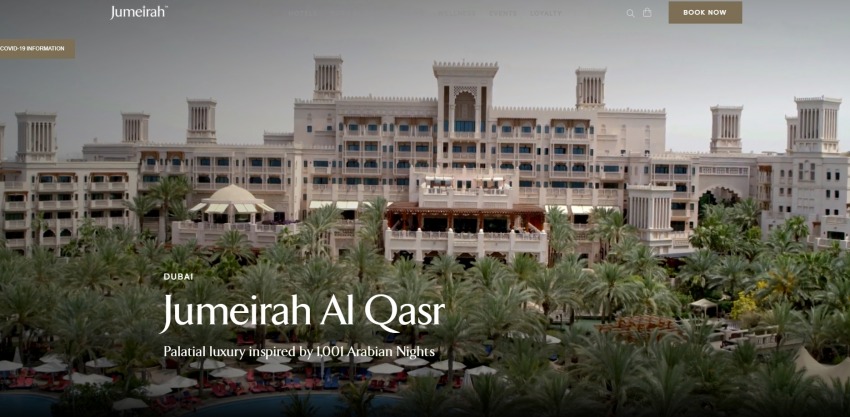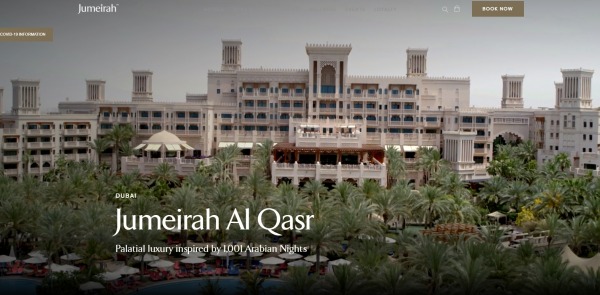 If you want to experience palatial luxury in the heritage of Dubai, then book this hotel without further ado. Inspired by 1001 Arabian Nights and the Sheikh's private residence, this hotel is exclusively designed to deliver the experience of living like Arabian royalty. 
Live your regal fantasy at deluxe bedrooms or lavish suites adorned with Arabian décor and with views of the ocean from private balconies. Also, you can enjoy the glorious golden sand at the pristine private beaches, right at your doorstep. 
Further, indulge in award-winning wellness treatments at the Talise Spa within the tropical gardens and azure waterways of the hotel. From private luxury treatment villas to guided yoga and meditation gardens. Here, you can savor the therapeutic touch of nature to unwind yourself from the city's hustle and bustle.
Treat yourself to extraordinary flavors from around the world at the hotel's dining options. You can feast on international flavors of the Nomad, or refuel with nutritious and delicious snacks at the Plumeria. A plus point, guests at the Jumeirah Al Qasr can get complimentary access to the Wild Wadi Water Park. 
---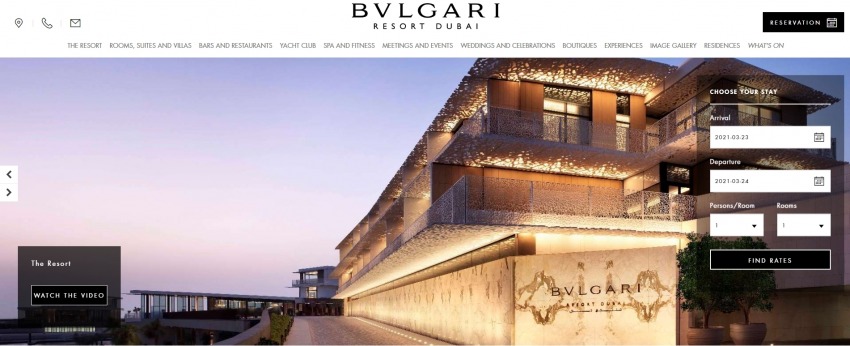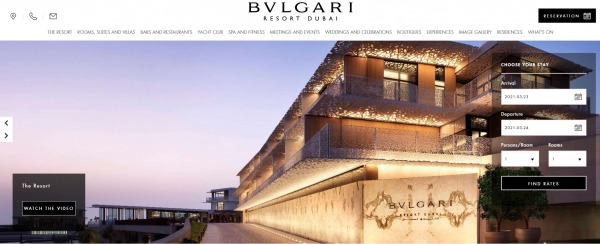 One of the finest masterpieces of modern hospitality, the Bulgari Resort in Dubai is just where you can come home. A glittering jewel situated on a seahorse-shaped island in the Jumeirah Bay, this resort brings Mediterranean style to the Middle Eastern locales of Dubai.
Staying here, you can experience the highest standard of hospitality and unique luxury in a contemporary balance of urban and village feel. Whether you are planning your vacation in Dubai to unwind or for exploration and adventure, this place is where you can do both. 
From spacious deluxe rooms and beach view suites to skyline view luxurious villas, accommodation options here are endless. Further, here you can experience the world's premier Bulgari Yacht Club and Marina that recreates Mediterranean charm. Start your day with breakfast at the Il Café on the decked terrace overlooking the Marina.
At night, savor the delicacies of fine dining at Il Ristorante – Niko Romito. Complement your stay by shopping at the Bulgari Boutique or La Galleria for a special selection of jewelry, watches, accessories and signature Bulgari curations. 
---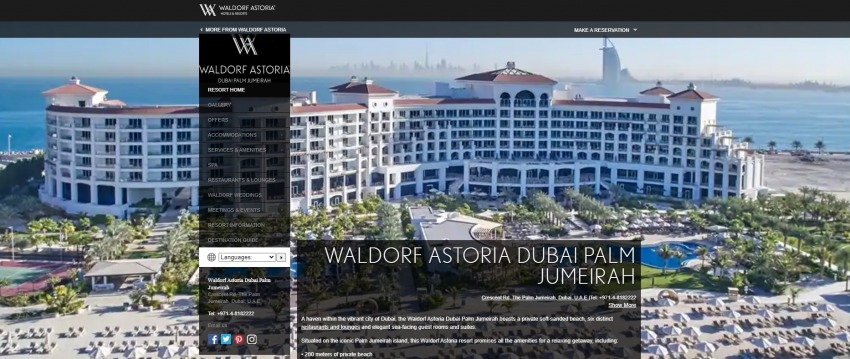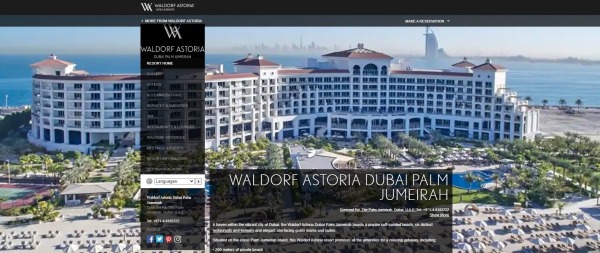 This sky-high wonder of architecture is located at the Palm Jumeirah, the infamous island of Dubai. As such, it is the perfect place to stay if you enjoy a sense of balance and well being amidst luxury.
Packed with amenities ranging from fitness center to temperature-regulated pool and spa. This beach resort boasts elegant sea view rooms and suites overlooking the Arabian Gulf. Further, it spans as a 200 metre private beach that is perfect for a tranquil seaside escape. 
Located in close proximity to Aquaventure and Wild Wadi Water Park. This luxury hotel offers a range of room options – from deluxe rooms to suites. Some of these come furnished with private balconies, soaking bathtubs, rainfall showerheads and more. Start your stay with relaxing body treatments at the Waldorf Astoria Spa.
Also, here you can savor eclectic cuisines from world over. The restaurant and lounge, Palm Avenue features a terrace with private cabanas where you can enjoy cocktails and continental dishes.
The Serafina Bar offers signature cocktails with live entertainment in the evenings. Want to make days in Dubai the most adventurous? Then, this is the destination worth visiting.   
---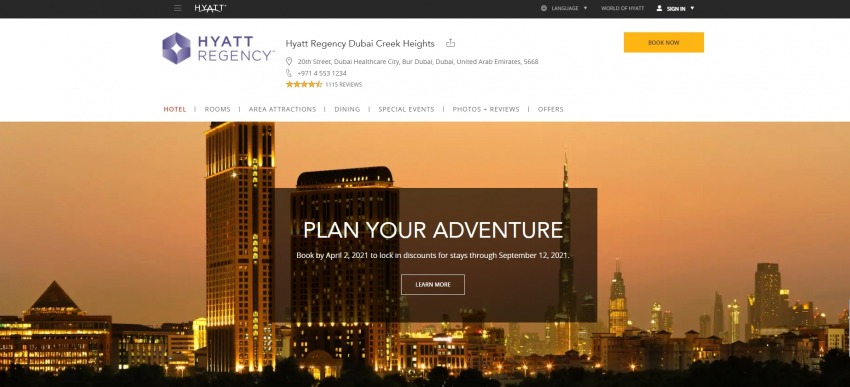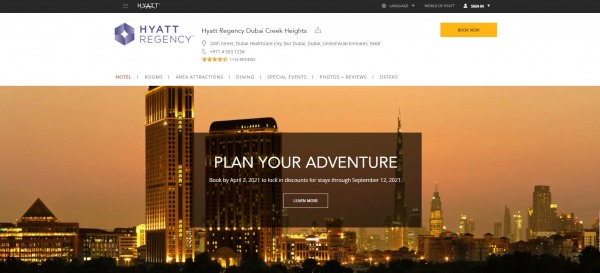 Plan your next adventure in Dubai with one of the best hospitality providers at the Hyatt Regency. Standing as two towers, the hotel overlooks the historic Dubai Creek and the city's skyline.
It brings the signature luxurious comfort of the Hyatt brand in accommodations that offer pano ramic views of the city. Here, you can choose to stay in sublime suites or irresistible guest rooms that are packed with modern amenities. Whether you are travelling with your spouse, or your family, the Hyatt Regency in Dubai has you covered. 
This hotel is conveniently located at the crossroads of the bustling new Dubai metropolis and the ancient charm of the Old Dubai. Therefore, while you are here, you could get the best of both worlds. From renowned arts and culture centers such as Sheik Saeed's House to the vibrant nightlife of the city at Boudoir or Barasti bar.
At the Hyatt Regency, your vacation simply cannot be ordinary. Further, it offers one of the best culinary experiences in the city. At Market24, savor the best coffees, and pastries and dine in the Mexican style, family restaurant called La Tablita. 
---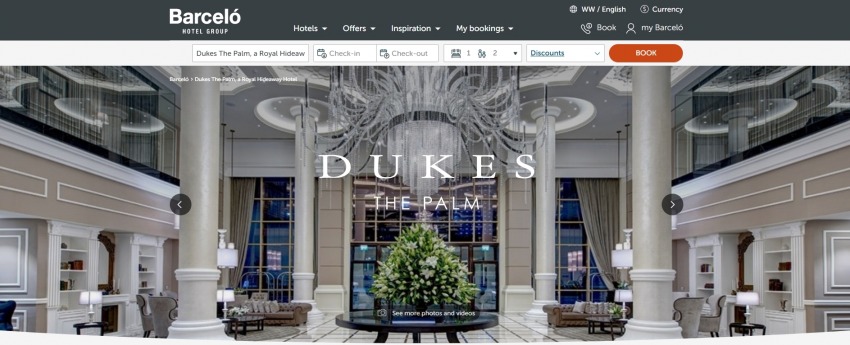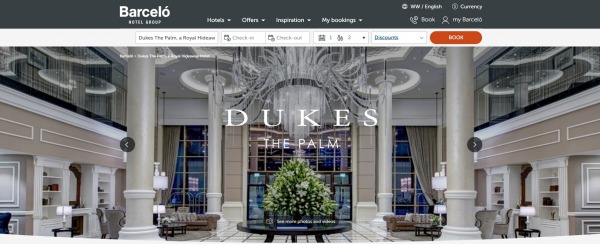 Located near the exclusive, elegant Palm Jumeirah island, this hotel is your perfect vacation hideaway in Dubai. With access to a luxurious private beach and stunning views of the city including the Dubai Marina, the Arabian Gulf and Palm Jumeirah.
This hotel makes for a tranquil escape in the bustling city. Their accommodation facilities soak of luxury with sumptuous open spaces, balconies, and well crafted furnishings. 
In terms of the dining experiences, food at Duke's, The Palm is where innovation meets tradition. From western specialties to the flavors of Mumbai, they offer food experiences that you would not forget for life.
There is also a Cigar, Whisky Lounge, Champagne and Tea Lounge for guests to enjoy a relaxed, peaceful conversation. If you want to make your vacation in Dubai a thoroughly royal experience then check into Dukes, The Palm right away. 
---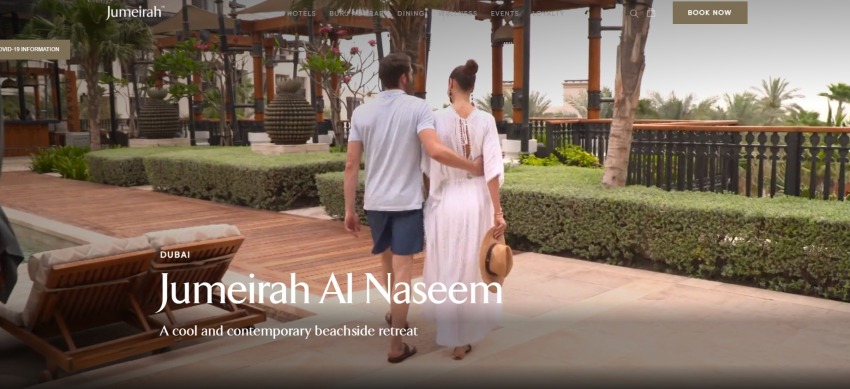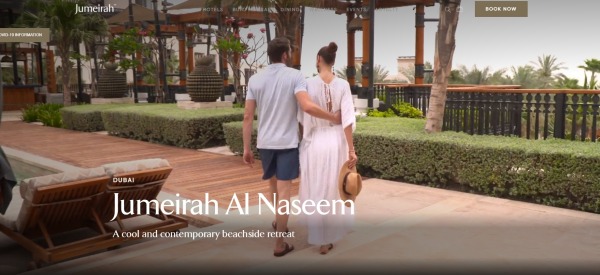 This luxury beach hotel is just where you need to come for a perfect holiday experience in Dubai. The bastion of modern luxury and anchoring well to its Arabic heritage. This hotel is a highly tasteful, contemporary poolside retreat.
With plenty of secluded space for couples as well as sociable family environments, the Jumeirah Al Naseem welcomes all to experience comfort amidst spectacular surroundings. It offers luxuriating accommodations in family superior rooms, pool terrace rooms, Gulf ocean suites, and more. 
A world of exquisite tastes, the Jumeirah Al Naseem brings exotic flavors from around the world to the palate. From beachfront dining on fresh seafood at the Rockfish, or the relaxed afternoon tea at Kayto. This hotel offers specialized cuisines curated by the best chefs in the world. If you check into suites or penthouses at the hotel.
You get complimentary access to exclusive privileges such as Airport transfers and more. Further, there is a whole range of wellness experiences that you can avail yourself of during your stay here. Pamper and rejuvenate yourself from the core with Jumeirah's award-winning Talise Spa. 
---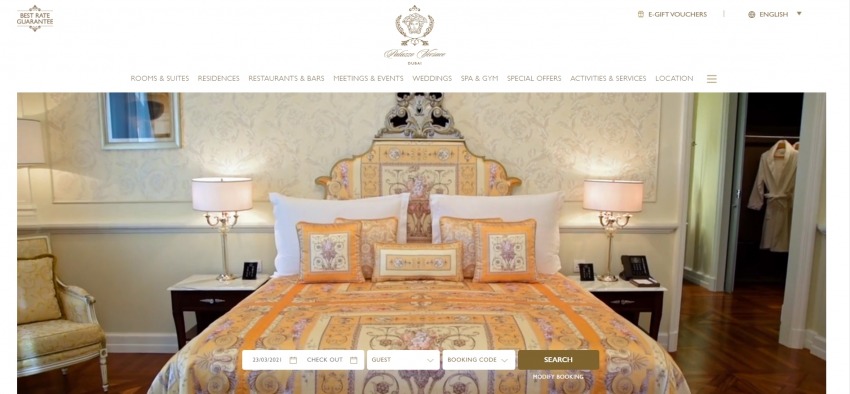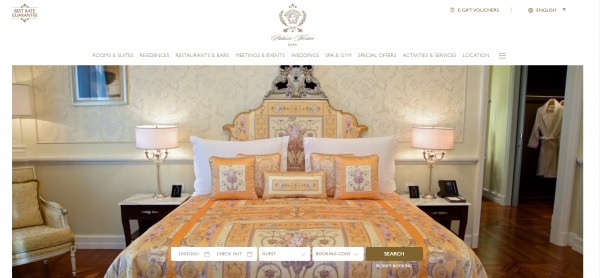 One of the best hotels in Dubai. Palazzo Versace is one of the highly sought-after luxury beach hotels in Dubai. Its splendid architecture is reminiscent of the grandeur of Italian palaces of the 16th century.
The hotel features a striking entrance, high ceilings, landscaped gardens, and well crafted Italian decor and furnishings. This makes it symbolic of an authentic Versace lifestyle with traces of traditional Arabic architecture. From Imperial Suites to Royal Versace Villa and luxury rooms with city and creek views, staying at the Palazzo Versace is a complete vacation in its own right. 
As like as its Italian architecture, this hotel offers delectable Italian cuisines among others. Whether you want to relax at the poolside shisha lounge, Gazebo or indulge in candle light dinner at the Enigma, Taste of Persia.
This hotel brings it all under one roof to deliver a memorable culinary experience. During your stay here, pamper yourself with exotic beauty treatments, spa and regain your strength with cutting edge equipment at the hotel's gym. Check into this hotel to experience pure Italian indulgence amidst the Arabic heritage of Dubai. 
---
Conclusion 
So, what are you waiting for? Book your next visit to Dubai with some of the finest, best hotels in Dubai. Experience opulent luxury, exceptional hospitality and make memories of a lifetime at these world-class hotels and resorts.
From entertainment and adventure to award-winning culinary and wellness experiences. These luxury hotels in Dubai are just where you need to come for a vacation of pure opulence and fun.