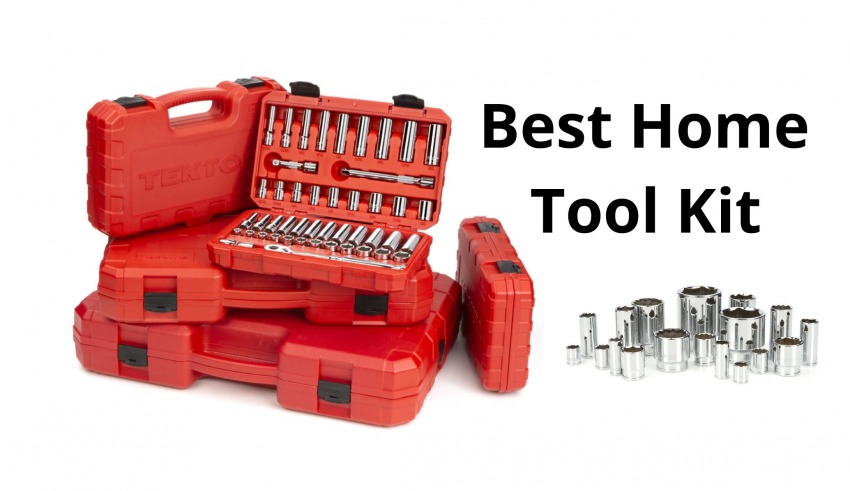 Did you feel clueless about what to do if you need to hang a family photograph in your drawing room? Have you ever felt the itch to build something crafty and did not have the right tools to do it? If you can relate to these experiences, all you need is a good-quality home tool kit.
We have surveyed the market thoroughly to find out the 10 best home tool kits available online. We have analyzed all the crucial factors like quality, user reviews, the number of tools included, and the durability of the household tool kits. In this article, we will explore the contents of these 10 tool kits and what makes them a worthwhile purchase.
With these tool kits, you will be able to do all the minor repairs, upgrades, DIY projects, and household maintenance chores without having to look for someone. As a bonus, you will have all your equipment ready to be able to explore your creative side.
Keep reading to find out more about these 10 household tool kits.
Amazon Basics Household Tool Kit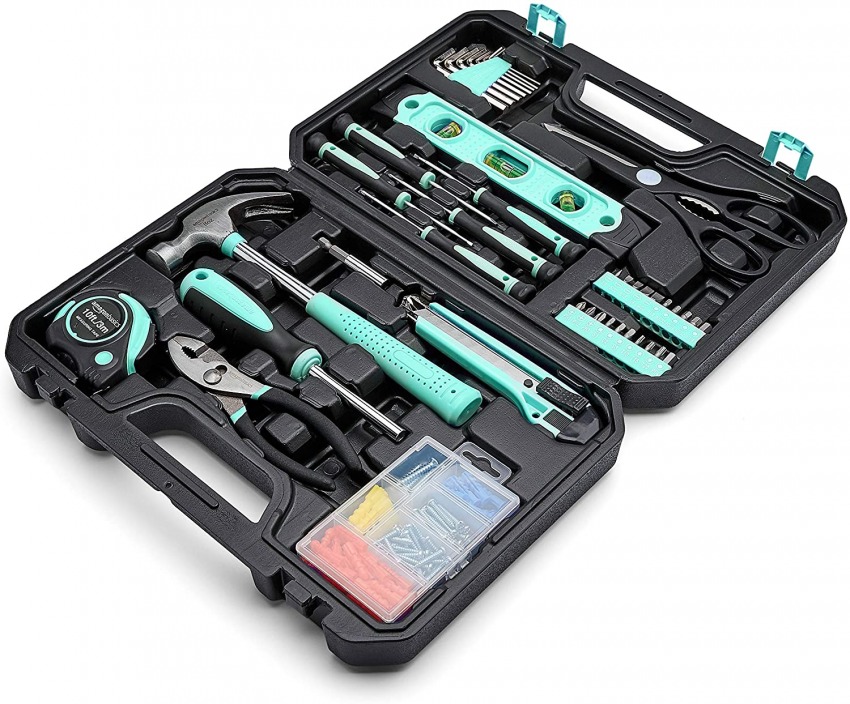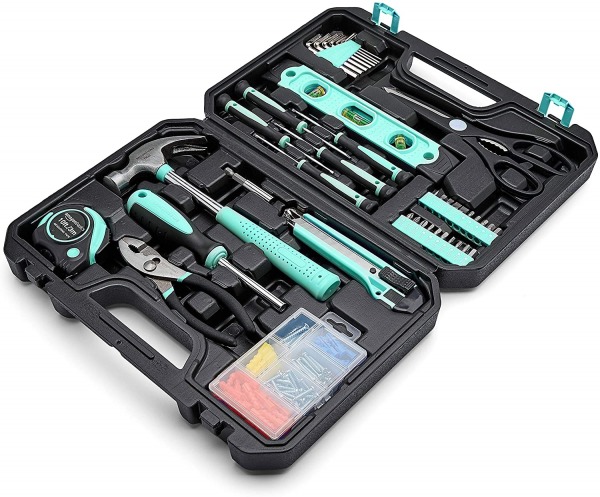 Want to assemble furniture or just want to be prepared to do the minimal repair works around the house, the AmazonBasics Household tool kit can be the best home tool kit for you. It is a 142-piece set containing all the essential tools and hardware you need to be able to do all the DIY projects you always dreamt of accomplishing.
The tools are made with premium quality metal. They are electroplated using heat treatment to make them corrosion-resistant and long-lasting. The tools are equipped with non-slip handles so that they stay well in your grip while you are working with them.
People have found that these tools can be a great starter pack for teaching your kids some handiworks. The set is available in two adorable colors: turquoise and pink. If your friend has just moved into a new house, this can be an excellent housewarming gift for them.
Pros:
Comes with a portable, lightweight blow-molded toolbox.
All the tools are plated with a corrosion-resistant layer.
Quite affordable
Cons:
The quality could be better
Could use a spanner.
---
Cartman 148-piece General Household Tool Set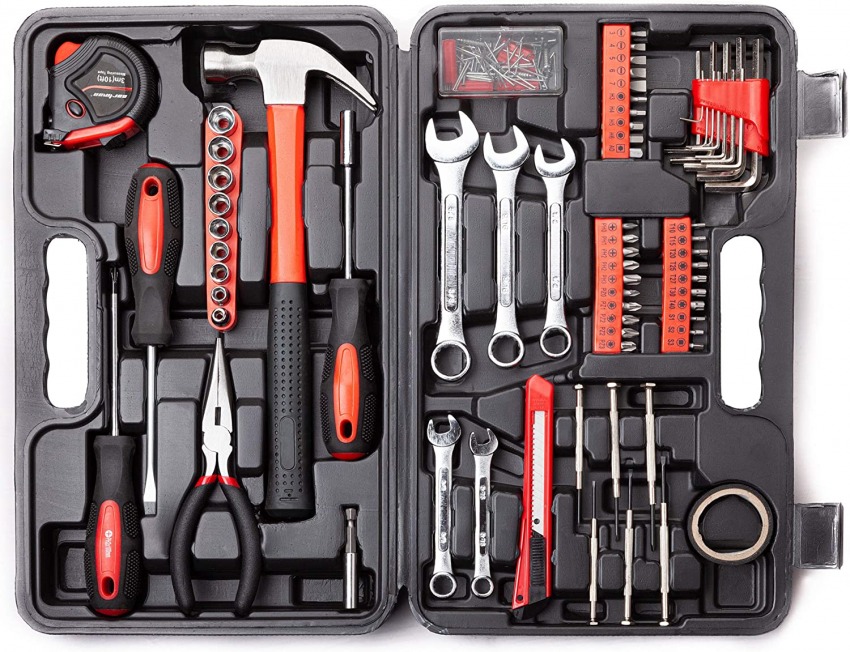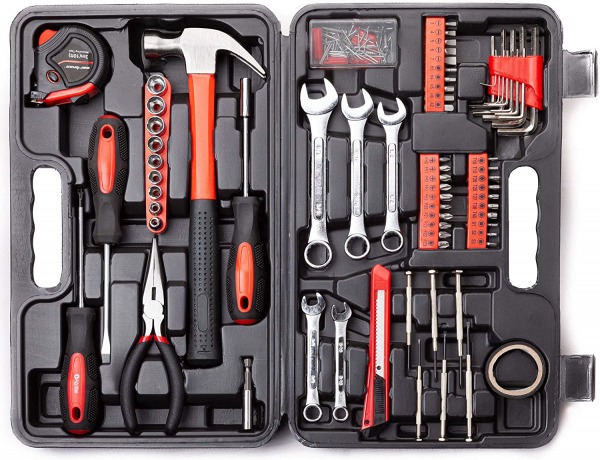 Don't have much space at your house, yet want an all-purpose tool kit? The Cartman General household tool kit is exactly what you need. The kit consists of 148 hardware pieces that will help you to carry out all the small and medium repairs and renovations around the house. You can also use these tools to do garage work.
The tools are made with high-quality, and sturdy alloy steel. They are heat-treated and chrome-plated to ensure corrosion resistance and increased durability. They are equipped with rubber gripped handles so that they don't slip from your hand while using them. Whether you are looking for a hammer, a wrench, or a spanner, you will get everything you need in this tool kit.
The kit offers 9 pieces of sockets and 5 different combination wrenches. You will get a claw hammer, 12 hex keys, a long nose plier, a magnetic holder, a cutter, and tape, and a lot more. All the tools are housed in a super-portable blow-molded plastic case. They can be a great gift idea too.
Pros:
Comes with a toolbox with multiple molded slots for proper storage.
The toolbox is compact and takes up minimal storage space.
Available in different color combinations.
Cons:
---
Craftsman Home/Mechanics Tool Kit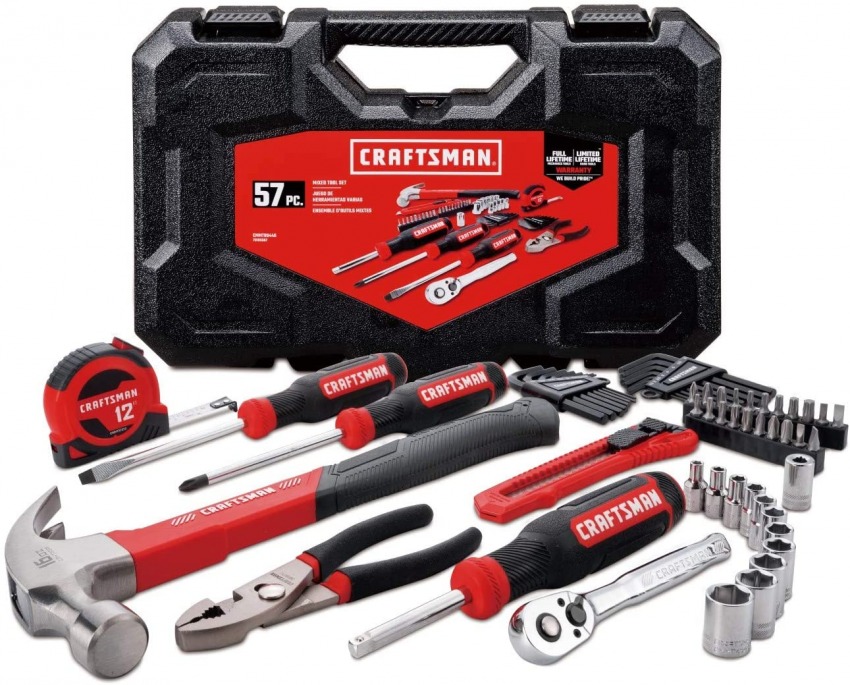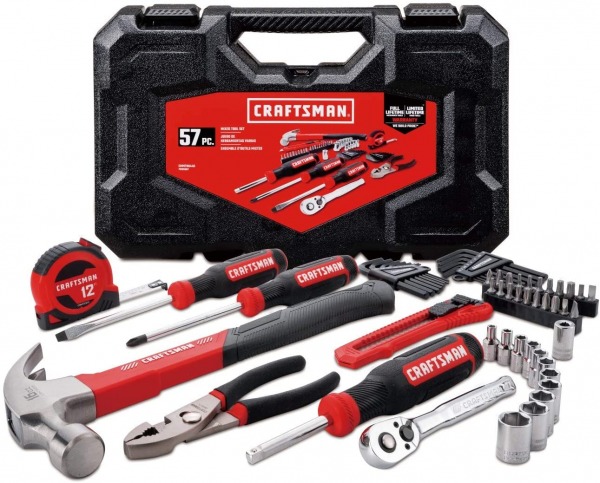 Is your son going out to college in a few days? Gift him this Craftsman Household tool kit to help him get self-sufficient while he starts to live on his own. This 57-piece set can be one of the best starter tool kits for anyone. You will get a drive ratchet, a slip joint plier, an easy-to-read tape that helps to take quick measurements, and other useful tools.
The set also includes 11 pieces of specialty bit bars, 2 multi-purpose screwdrivers, a snap-off knife, a fiberglass hammer, and 8 pieces of Hex Key Sets. All these tools are made with high-quality materials to ensure durability and longevity. The slip joint, groove joint, and long nose pliers will enable you to be prepared in various situations.
The fiberglass hammer is designed to give your increased comfort and reduce hand fatigue. The screwdrivers are made with alloys and are built ergonomically to help increase comfort while working. The tools are polished and marked with large markings for easier identification. They are coated with corrosion-resistant plating.
Pros:
All the tools are housed in a portable, blow-molded case.
The box is compact for easy storage.
Equipped with ergonomic, non-slip grip.
Cons:
The kit could use a few more tools.
Considerably Expensive
---
Cartman Orange 39-piece General Household Tool Kit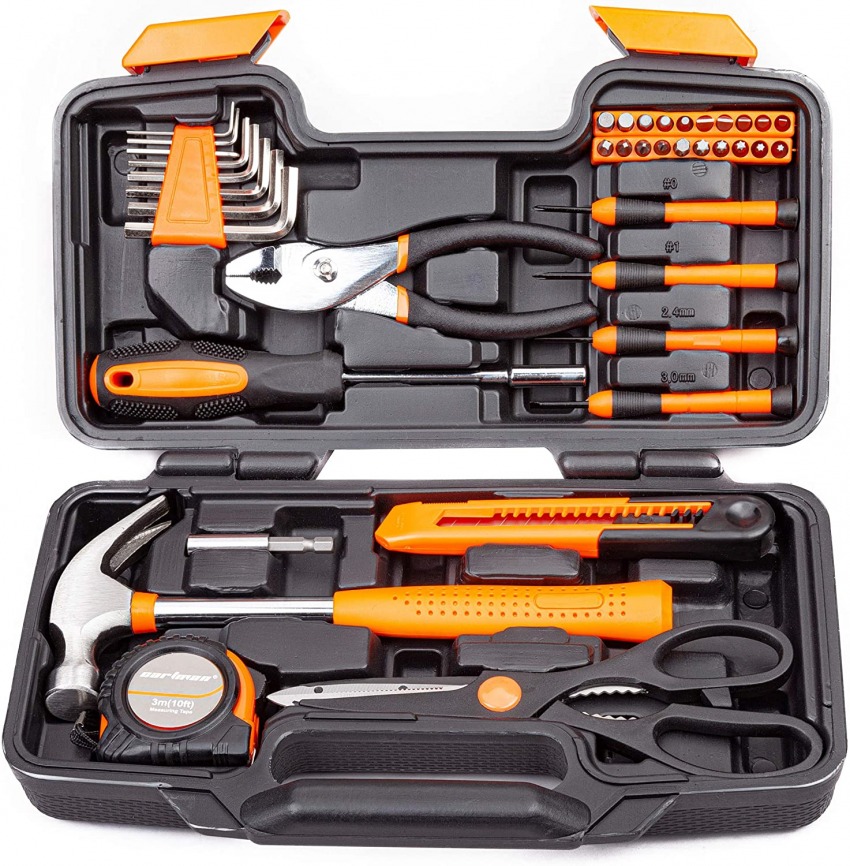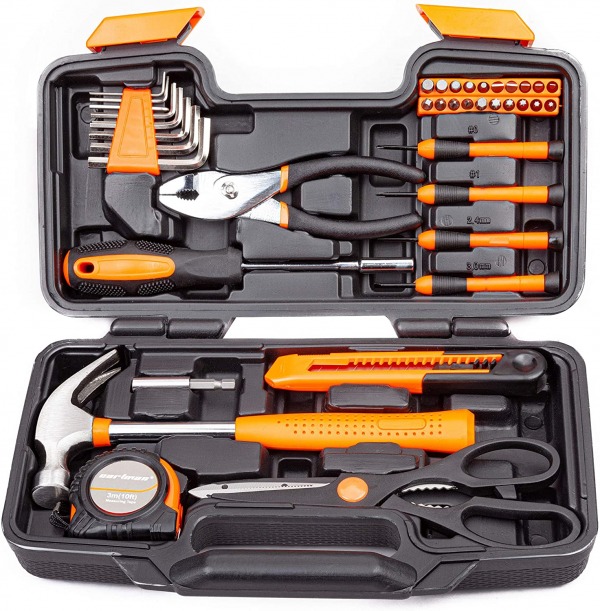 One of the most affordable options on the list, the set offered by Cartman can be the best home tool kit for any beginner. A minimal toolkit, it contains all the must-have tools and hardware every home needs. If any small repairing situations arise around your house, you will always be ready when you have this tool kit at your disposal.
All the tools are manufactured with high-quality chrome-plated, corrosion-resistant metal. They are heat-treated to ensure high durability and longevity. All these come included in a handy storage box. The inner part of the box is divided into several slots to help you keep the tools between uses.
Each of the hardware included in the toolset meets the ANSI critical standards and ensures the highest degree of safety. It is perfect for small apartments, where you have minimal storage space. Whether you need your bike fixed, or need some plumbings to be repaired, Cartmen 39-piece is exactly what you need.
Pros:
They come in different colors.
Equipped with non-slip handles.
Inexpensive
Cons:
Could use a few more tools like a spanner.
---
Dowell 24-piece Homeowner Tool Set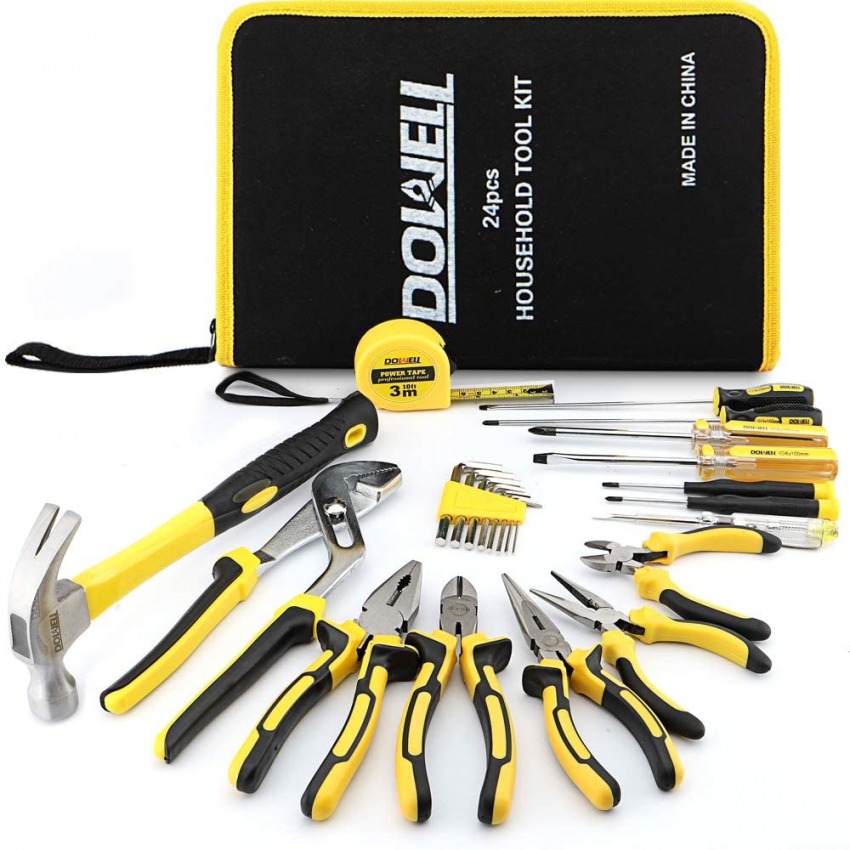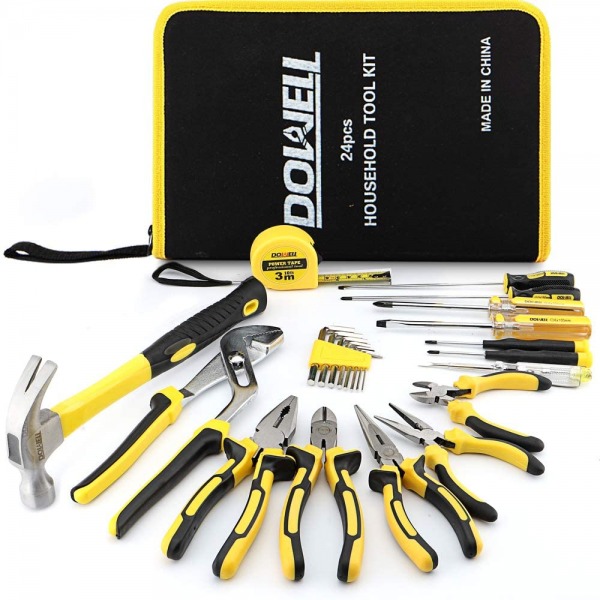 Want the basic minimum tools with a few extras for your household repairs and DIY projects? The Dowell 24-piece can serve your purpose the best. With ergonomically designed TRP handles and heat-treated steel tools, your home maintenance would be an easy process.
The set contains groove joint pliers, a 7″ combination plier, and a pair of diagonal cutting pliers. It also contains a pair of needle-nose pliers that help you to access the smallest of spaces, a set of multi-purpose screwdrivers, 8 pieces of Hex key sets. You will also get a claw hammer, a measuring tape, and an electrical test pen to check your electronics.
All these tools come housed in a super-handy canvas tool storage bag. You can put the pouch in your bag and use them for outside handiworks too.
Pros:
Manufactured with premium quality alloy steel.
Has easy-grip handles so that they don't slip while working.
Highly affordable.
Cons:
Storage could have been better. There have been complaints about the ripping of the pouch.
---
Dowell 9-piece Household Tool Set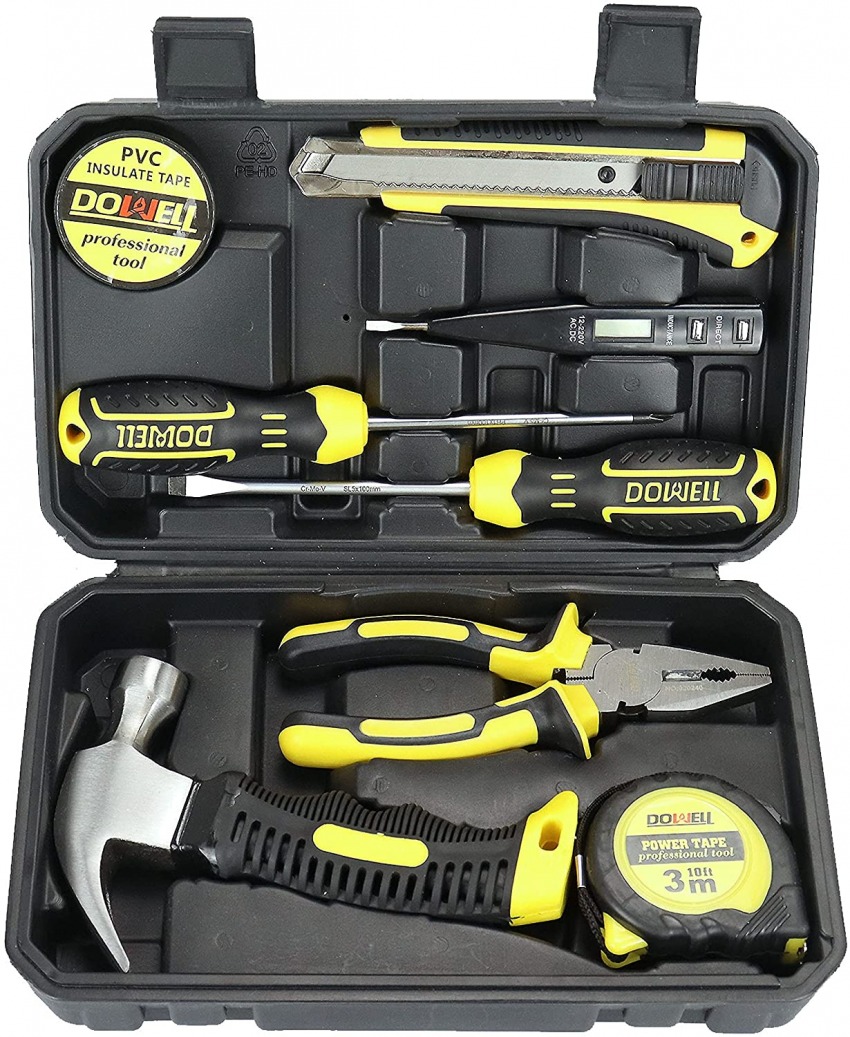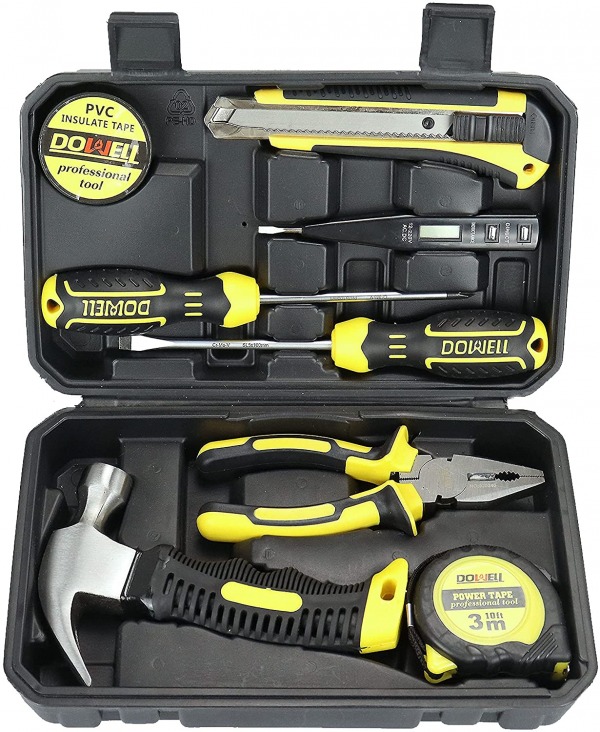 Not ready to invest in a big toolbox? The Dowell 9-piece Household tool kit can be one of the best options for you. The set is widely preferred all over the country as it provides you with the most essential tools any home might need.
You will get a screwdriver, a hammer, a measuring tape, a pair of pliers, a utility knife, and a much-needed insulation tape. The box also includes a voltage tester pen. All the tools are forged with industry-grade steel and finished with high-polish chrome playing.
The handles of the tools are made with TRP material, which makes them comfortable to hold and maneuver. The handles are ergonomically designed so that you don't feel fatigued even when you work with them for a long time. Containing limited tools for unlimited functions, this is one of the best home tool kits in the market.
Pros:
The tools are housed in a sturdy toolbox with slots for proper organization.
The tools meet ANSI critical standards.
Comparatively cheaper.
Cons:
Not suitable for heavy-duty jobs.
Could have included a spanner.
---
Prostormer Home/Auto Repair Tool Set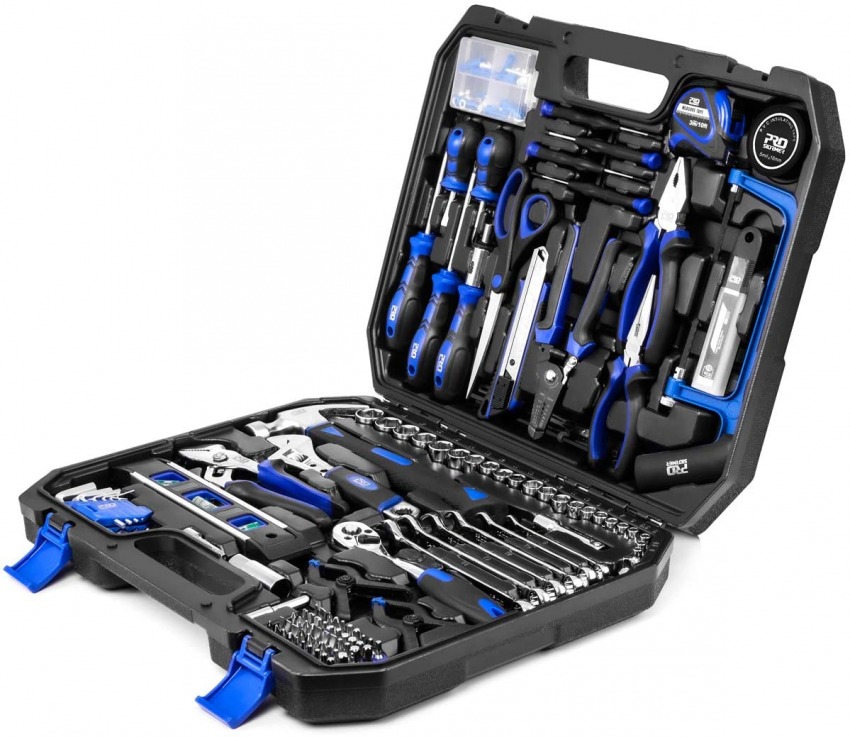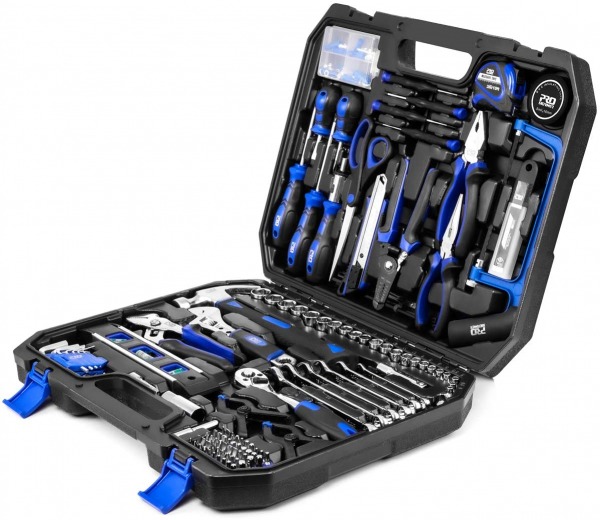 If you have become a pro in handiwork and want to upgrade your old tool, the Prostormer Home/Auto repair toolset can be an excellent choice. You will have 210 pieces of high-quality tools, heat-treated for high durability and corrosion resistance.
The tools have TRP-made handles for a comfortable grip. The set includes professional-grade tools and is intended for heavy-duty use. All the tools offered by the Prostormer tool kit exceed ANSI standards.
It comes with a compact, easy-to-carry toolbox. Manufactured by blow-molding high-quality plastic, the storage toolbox is extremely durable and handy. The toolbox has multiple different-sized compartments to help keep your tools organized when they are not in use.
Pros:
The tool kit is easy to carry and stock.
Has internal molded slots for organizing the tools.
Cons:
The box needs to be kept in a particular direction to prevent the tools from falling.
---
Black+Decker 20V Max Drill & Home Tool Kit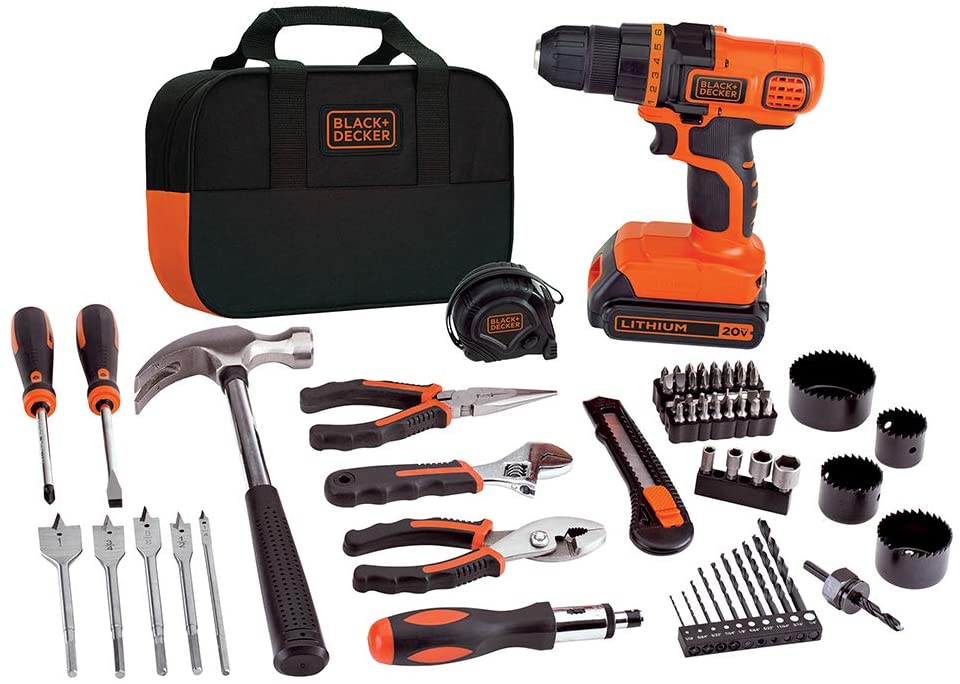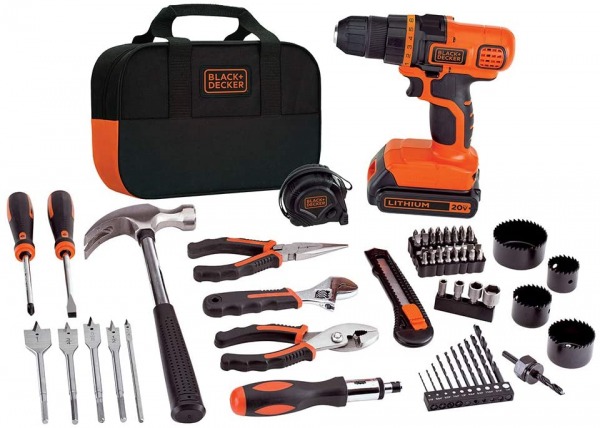 The Black-Decker home tool kit is one of the best choices for you if you are looking to upgrade your home improvement tools. Why? It is the only option on the list which offers you a power drill machine making the tool kit an irresistible purchase.
Whether it is building a treehouse for your kid, or fixing up your car, you will always be independent.
The drill comes with the 11-position clutch which prevents stripping, and overriding stress. The other 68 essential tools and accessories are made with high-quality, durable metal. The tools have easy-to-hold, non-slip handles for perfect grip. The kit includes a rechargeable battery, which can hold a charge for up to 18 months. The kit can be a wonderful gifting option too.
Pros:
Includes a power drill driver.
The tools are housed in a convenient carrying bag.
Comparatively expensive.
Cons:
A metal or plastic toolbox could have been better.
---
Werktough 44-Piece Home Repair Ladycraft Tool Kit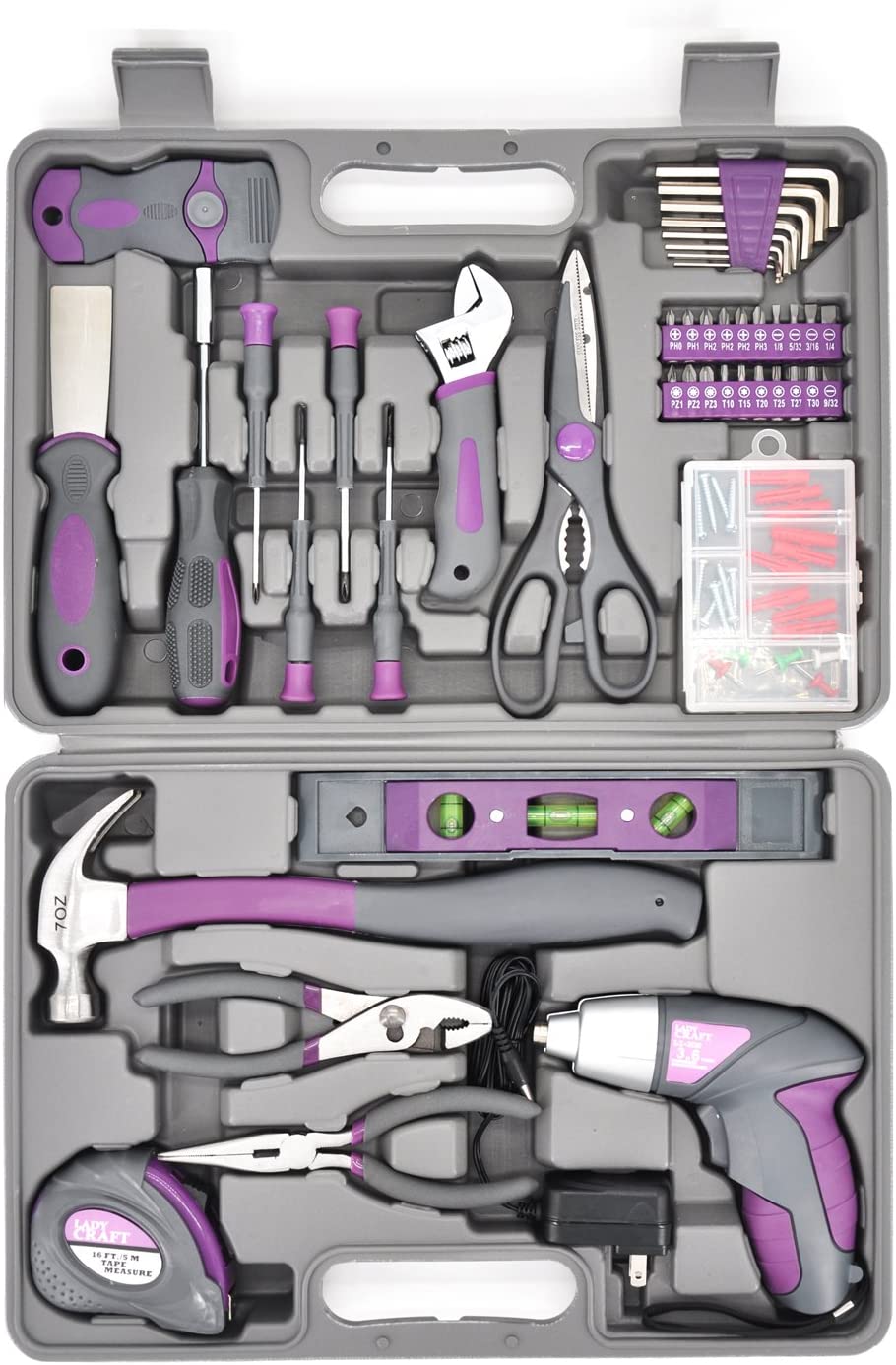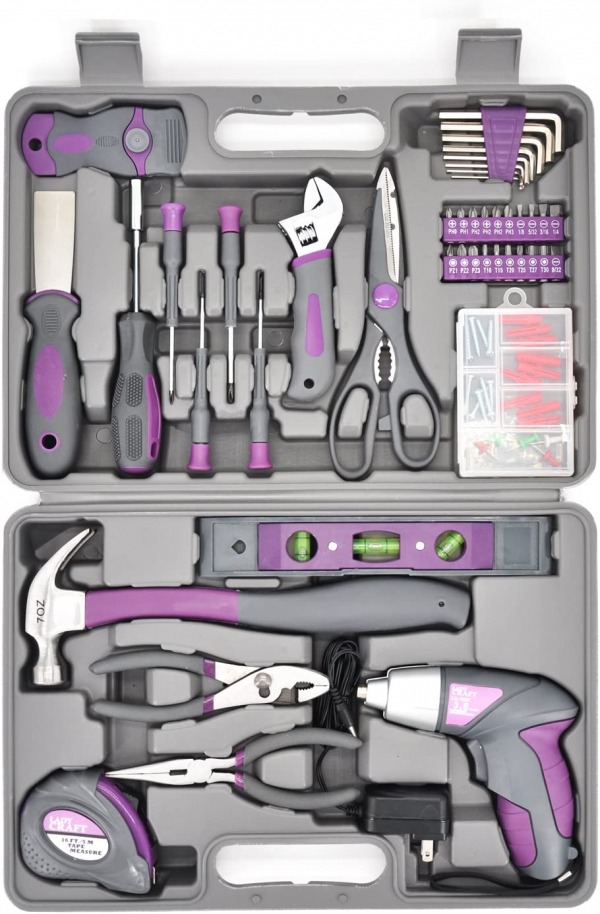 Made for the ladies who prefer to do their renovations and repairs themselves, the Werktough home-repair tool kit is a must-have for all empowered women. It contains 44 pieces of essential hardware that you can use to set up furniture, fix your kid's bike or your car, or just want to hang up a family photo in your living room.
It contains a cordless automatic screwdriver with excellent battery life, which makes the tool kit more special. You will get a charger too to recharge the screwdriver. The set includes a set of multifunctional screwdriver attachments too.
You will also find the basic tools such as slip-joint pliers, long-nose pliers, wrench, a putty knife, a mini razor scraper, a pair of multipurpose scissors, and a lot more. The handles of the tools are made with high-quality, tough fiberglass, designed to give you the utmost comfort while working.
Pros:
Made to give you the best comfort while working.
Comes in an easy-to-carry, compact storage box.
Comes in an attractive color combination.
Cons:
---
Decare 103-piece Home Tool Kit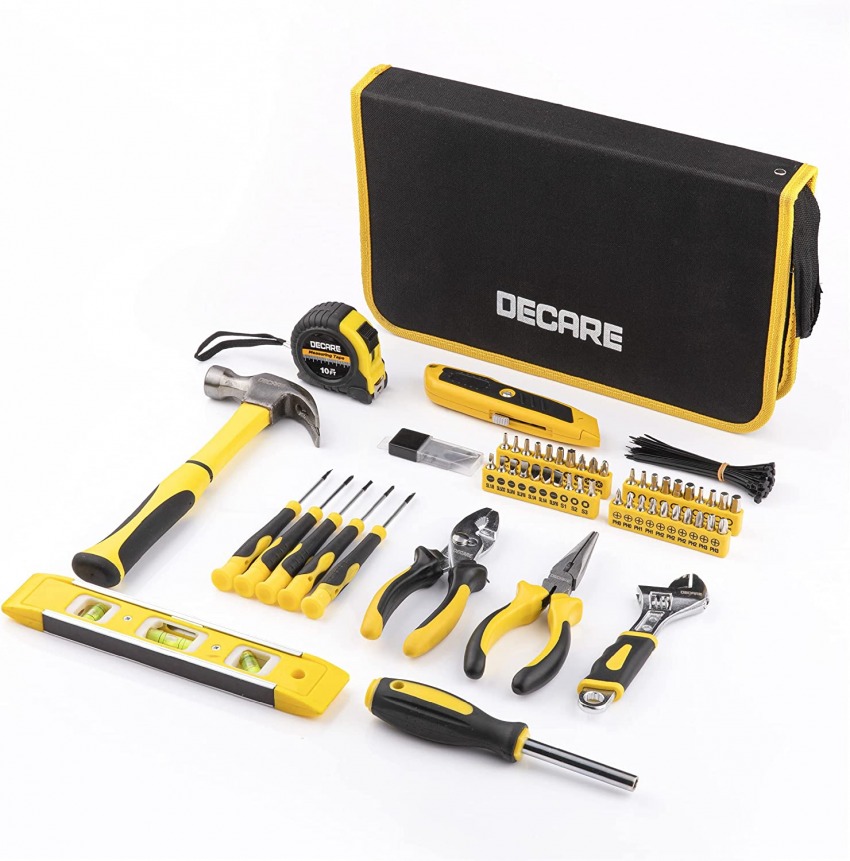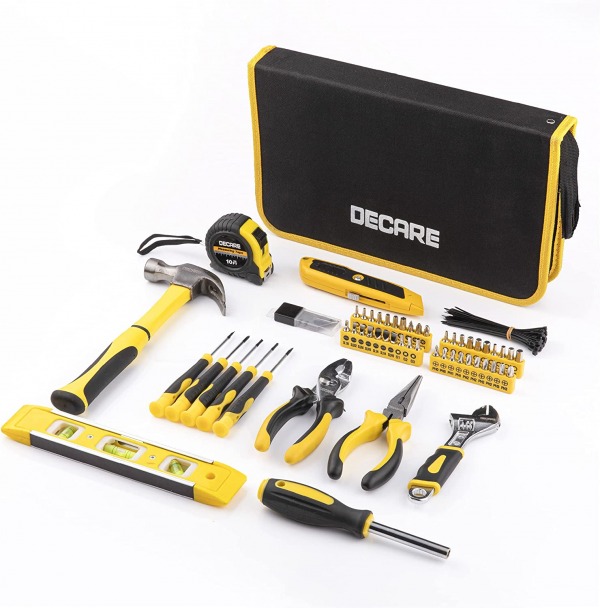 If you are tired of asking for help every time some repair work comes up, the Decare toolset can be the best home tool kit for you. The kit will provide you all the necessary tools and hardware you will need to perform the DIY projects you always wish to do.
All the tools are made with high-quality, heat-treated steel so that they last you a lifetime. They are equipped with ergonomically designed bi-colored handles so that you can work as long as you want without feeling any fatigue.
You will get precision screwdrivers with magnetic tips, a torpedo level, a measuring tape with thumb locking, a heavy-duty utility knife, and several more instruments in the set. The tools are arranged in a thick, durable fabric tool bag. It gives you the flexibility to store the tool kit anywhere you want.
Pros:
Comes in an easy-to-carry bag.
The tools have non-slip handles.
It is ideal for automotive and home maintenance of, plumbings, or general assembly tasks.
Cons:
---
What Should You Look for While Buying a Household Tool Kit?
Type of Tool Boxes
Buying tools for your household chores is not sufficient. You need a place to store them and keep them organized between uses. So, while buying a tool kit, make sure they come with a proper toolbox rather than individual loose pieces.
Tools boxes vary according to their shapes, sizes, and capacity. Here are the different kinds of toolboxes you can get:
Plastic Tool Box: These are inexpensive yet effective. You can use this for in-home, and garage tools.
Aluminum Tool Box: These are strong and durable, yet lightweight than plastic toolboxes. They have a better life.
Steel Tool Box: If you are looking for a box to store heavy-duty tools and instruments, a steel toolbox is exactly what you need. They have high durability and will last a lifetime.
Cantilever Tool Box: These boxes are usually made up of metal. They have two or four shelves which give you a mole space to store and organize your tools.
---
Portability
When you have multiple tools to store, your toolbox can get quite heavy. But if you need to carry it around your house for different chores you need to consider the portability of the box. If you have a large collection of tools, you can get a small, lightweight box to carry the most essential ones and keep a separate bigger toolbox where you can keep your less-essential tools organized.
---
Number of Pieces
Household tools kits are available with different numbers of tool pieces. But that does not mean you have to get the biggest kit you get. If you only require 10 tools in a 100-piece kit, there is simply no reason for keeping the other 90 pieces to eat up your storage space. We recommend you identify your needs before you make a purchase and then buy only the kit which contains the tools you truly need.
---
Prices
No matter how big or small an item you are thinking of purchasing, price is always an important aspect to consider. Buying a toolbox is a substantial investment, so make sure you look for the price range offered by different brands that make tool kits. Cheaper kits are not always of poor quality. Also, a higher price does not mean they have better quality. We suggest you look for a mid-range product.
---
Conclusion
If you prefer to do all your little repair work at your home, a good-quality tool kit is an indispensable commodity for you. But to buy an efficient and durable tool kit, you need to consider a few factors. To make your shopping experience smoother, we have taken into consideration all the aspects that make a toolbox a worthwhile purchase and brought to you a list of the 10 best home tool kits. We hope you have found this listicle valuable and have helped you to pick the best tool kit for your home.