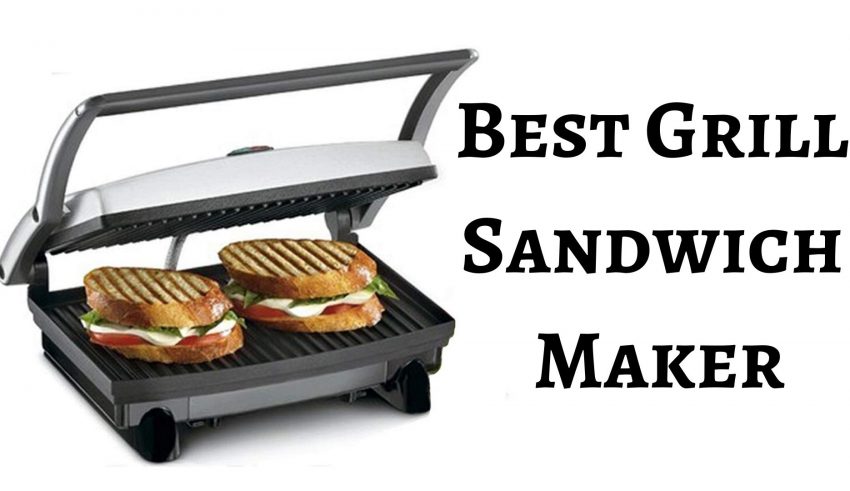 Sandwiches are the most delicious and enjoyable snacks for the children and people of all ages. Sandwiches are not just delicious but they are also easy to make. Sandwiches are ideal food for a picnic or during tea time or breakfast. The grill sandwich maker is one of the latest technological innovations in the kitchen appliances which make the sandwich more crispy and crunchy.
People usually face problems while making sandwiches where they are not that crispy and become oily and soggy. Grill sandwich maker ensures that the sandwiches come out crispy and less time consuming.
The following are the best grill sandwich makers which you can use to turn your usual snacks into crispy delicacies: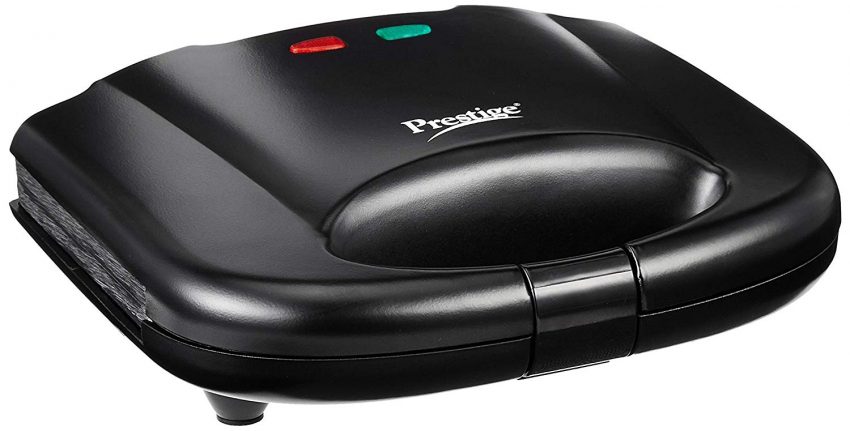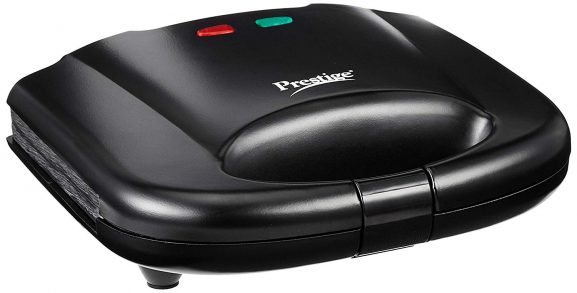 Prestige is a very well known and respected brand of kitchen appliances. The Prestige PGMF 800 Watt grill sandwich toaster with fixed grill plates is a very useful device through which you can make delicious sandwiches in no time.
You don't have to go to a restaurant to eat these delicacies rather you can have such quality food made in your house. This is a made in India product with 800 watts power. It has a beautiful stylish black body with non stick heating plates and fixed grill plates.
---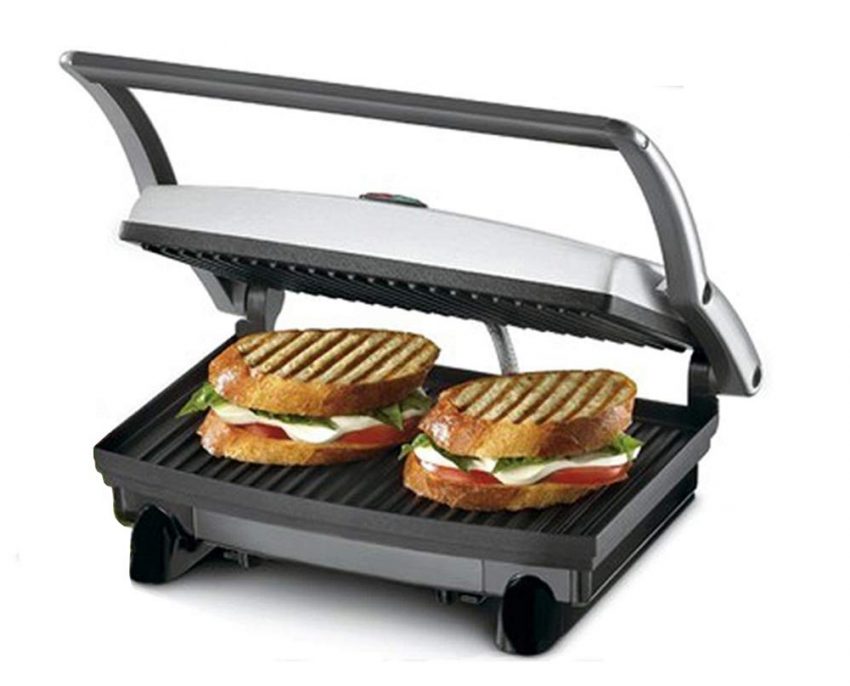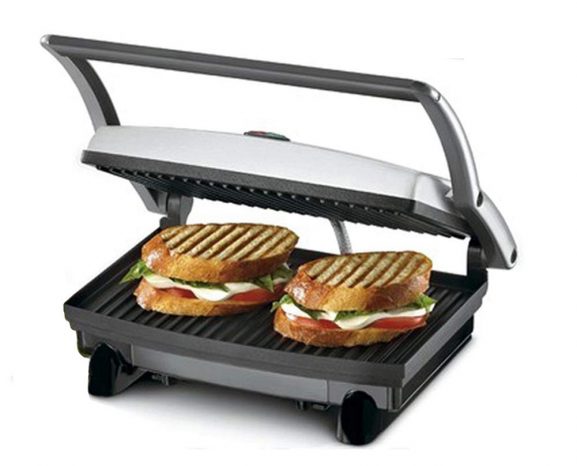 The Nova NSG 2439 700 Watt Panini grill sandwich maker creates crispy sandwiches. This grill sandwich maker grills the sandwich making it crunchy and crispy. It is quite an efficient sandwich maker with non stick coating heating plates and also has non skid feet which makes it easy for you to make the sandwich in the kitchen or any other place because these ensure that no mess is created.
It is quite an ergonomic model. It also has a grilling function which gives extra hint of crispiness to the sandwich. It has a LED light indicator which indicates the whole progress of sandwich and ensures that the sandwich doesn't get burned.
The out handles of the sandwich maker are not made of heat conductors hence it is easy to open and close it and it gives a cool touch.  It has a lid lock and uses 700 Watt power. 
---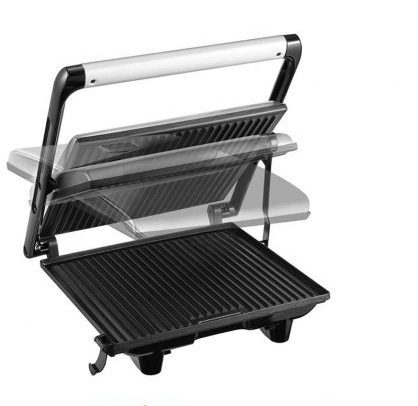 The Nova 2 slice Panini grill sandwich maker is very utilitarian product. It has a capacity for creating 2 sandwiches and consumes 700 Watt of power. It has Teflon grill plates which offers non stick grill plates which ensure that nothing sticks in the sandwich maker.
This let's you make a well structured crispy sandwich without creating a big mess while making it.  This product has both toasting and grilling features so you can toast or grill the sandwich bread. It has a heat proof structure which prevents from any type of burns. 
---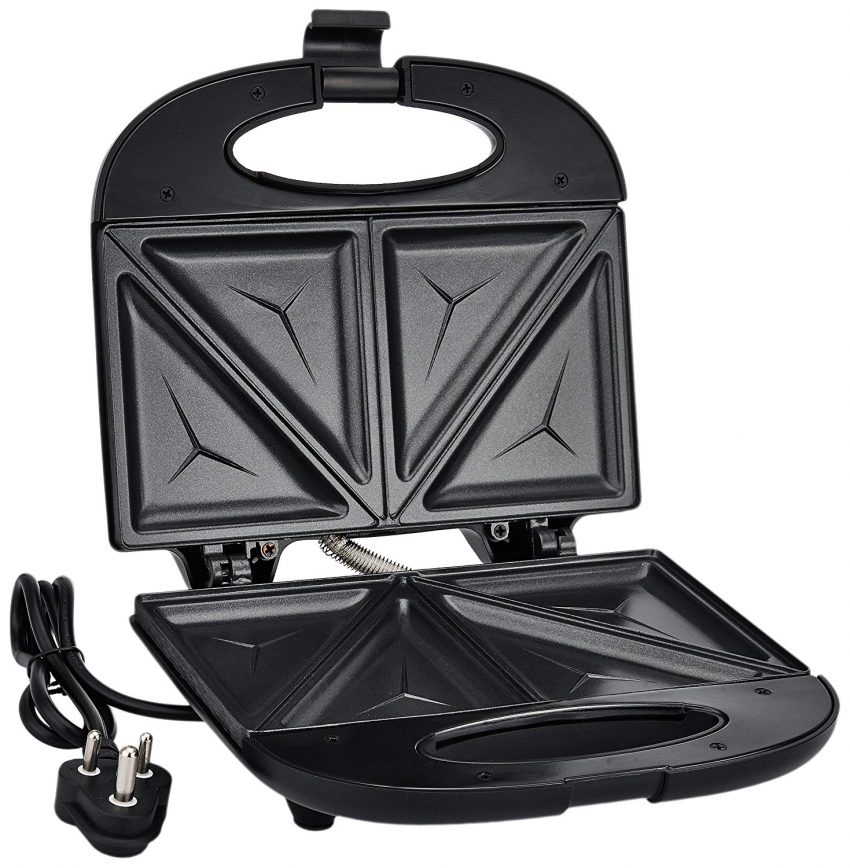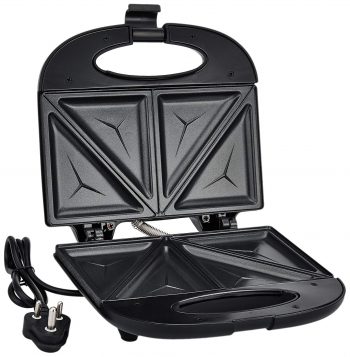 The Prestige PGMFB grill sandwich maker which ensures quick creation of yummy sandwiches. The grill sandwich maker operates on 220-240 Voltage. It has convenient non stick heat plates which ensure that sandwiches are created efficiently.
The grill sandwich maker has a very compact and sleek shape hence it is easy to use and store in your kitchen. The compact shape also let's you easily clean the product after using it. It has power on and power off indicators which makes you easily manage the whole process of creating of a delicious grilled sandwich.
---
Bajaj Majesty New SWX 4 750-Watt Grill Toaster
A convenient and useful product, the Bajaj majesty new SWX 4 750-Watt grill toaster is 1.44 kg grill sandwich maker which creates crispy sandwiches for you. It has a sleek and beautiful compact body and has a cool exterior not made of heat conductors which limits any type of burn caused while making the sandwich.
It has non-stick cooking plates which make it easy to clean and for maintenance. It has 750 watt power consumption. It has a buckle clip which let's you lock the grill and also retains the heat. It has a LED neon light indicator which ensures when the power is on or off. 
---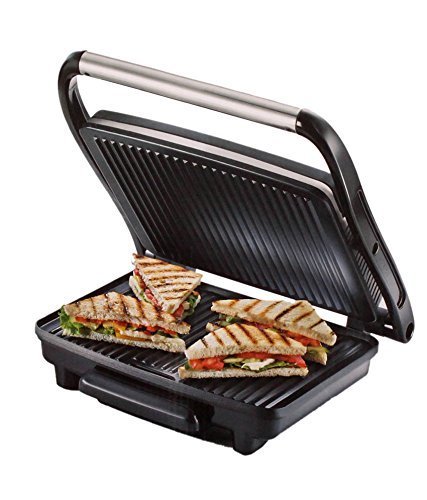 Prestige electric commercial grill toaster is made of Steel and weighs about 3.28 kg. This grill toaster has a strong motor with power 1500 watts consumption.  You can get quite comfortable while using this product as it has superior non stick coating which ensures none of the food gets stuck in it and it is easy to clean and maintain it.
It has a detachable oil collector which collects all the extra oil and one can remove it so as to make it easy to clean the grill toaster. It has a temperature control knob through which you can control the temperature as per much as your sandwich requires. It has a floating hinge design which lets it get closed even when the sandwich is big or has lots of stuffing in it. 
---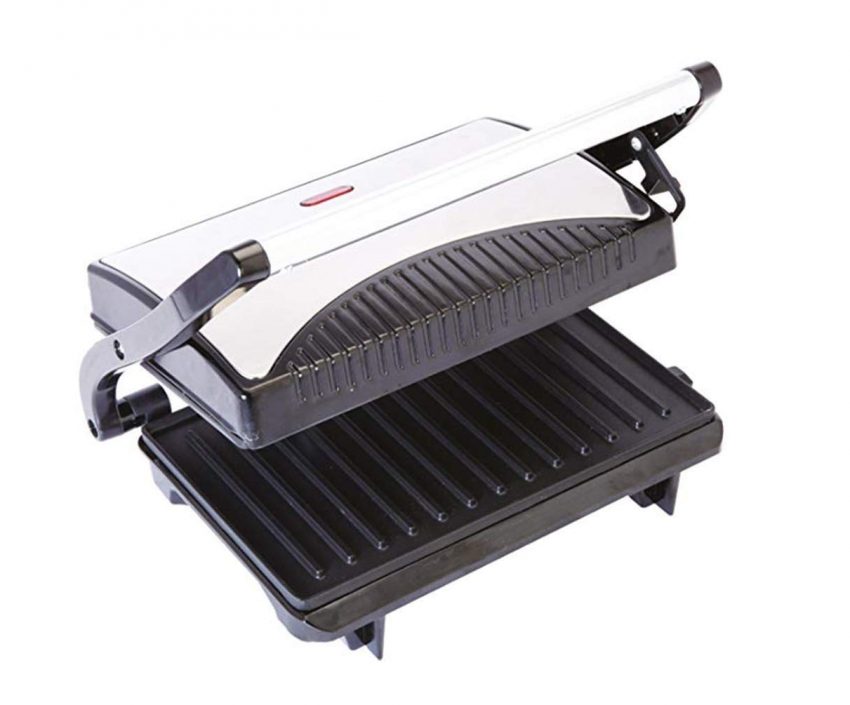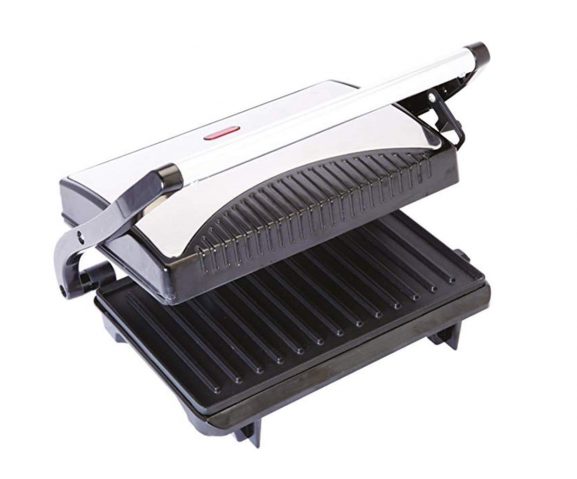 The Cello super club 200 750-watt grill maker has a beautiful black body.  It is a 2 slice press grill will floating hinge and adjustable height which let's you create different types of sandwiches with different fillings. It has stainless steel outer covering and weighs 1.6 kg.
It has non toxic coating which let's you make good and healthy sandwiches with less use of oil and grease. It has non stick cooking plates and a ergonomic handle which is easy to use and doesn't lead to your hands getting burned. It is easy to use, efficient and a durable product.
---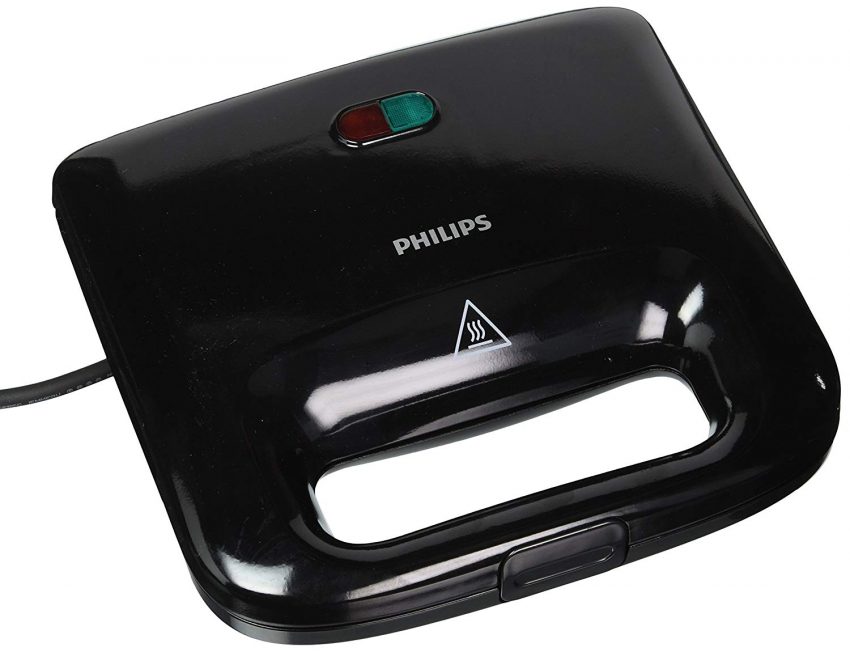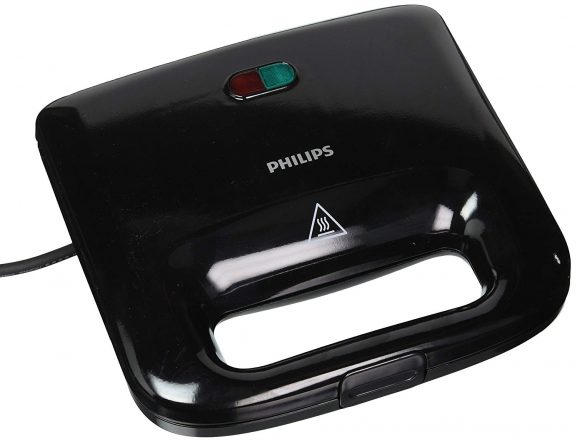 The Philips HD 2393 820-watt sandwich maker creates perfectly made delicious sandwiches. It has high temperature with cut and seal plates which ensures that the sandwich maker seals all the sandwiches inside it. It is easy to use and to maintain. You can easily store it since it has good vertical compact storage option.  It consumes 820-watt power which let's you create perfectly toasted sandwiches quite quickly.
It has rubber feet to make it stay in one place and cool handle which ensures that hands don't get burned when you operate the product. It has an on and off switch as a safety measure too. A special non stick heating plate feature is also present which doesn't let any thing get stuck and is easy for cleaning and maintenance.
---
The Wonderchef Chef Kapoor Standard size tandoor is a grill sandwich maker in which you can create perfectly grilling sandwiches also you can use it to grill paneer or pizza or cheese.  It has a 180 degree heating so you can grill sandwiches on both the sides of the tandoor.
It has thermostat control through which you can control the temperature required for you to create perfect grill sandwiches. It has a floating hinge whereby you can create sandwiches of 2 inch thickness easily and also it contains a adjustable slope.
---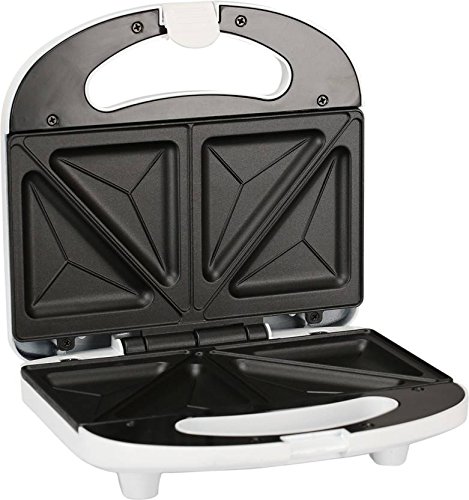 The Pigeon 122283 750-watt Sandwich toaster has a compact and sleek white outer body. It has a shock proof outer body with power on and off buttons to ensure safety. It has non stick coating plates which let's you clean and maintain it quite efficiently.
It has non slide rubber feet which are heat resistant and makes it stable to use. It consumes 220-240 voltage of power. It is compact so it's easy to store it and it has adjustable height which let's you make different varieties of sandwiches in it. 
---
Grill sandwiches are delicious savories and the grill sandwich makers ensure that you create these in quick amount of time with safety measures. The grill sandwiches are crispy and crunchy, they are easy to make. They are the best snacks you can make quickly for everyone.