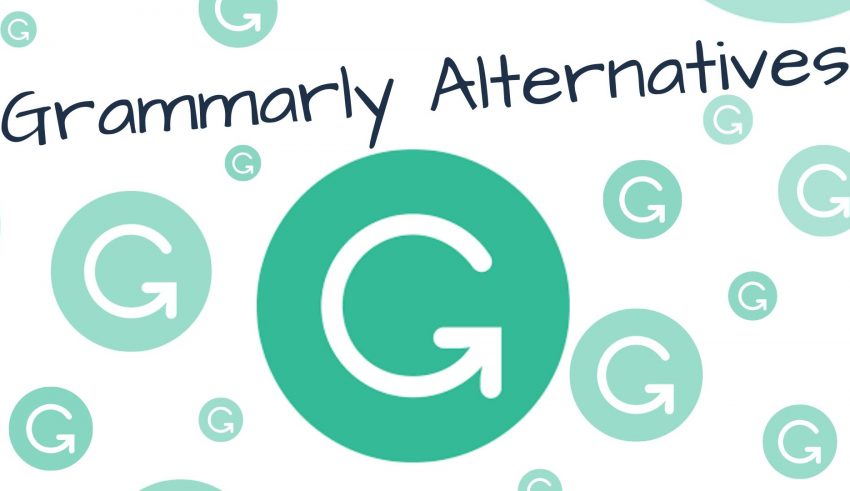 "Writing is thought." Have you ever heard that before? Well, you might have. Our writing reflects who we are, our thoughts, emotions and ideas. The true mark of a great writer is how he or she invokes your emotions just by mere words, how he or she makes you think what he wants you to think and how you start feeling and thinking the same way as your characters. Basically how he puts his thoughts on paper precisely enough to invoke a better reaction or emotion in you.
Writing has been one of the prime things that our evolution has provided us. It's a means of communication. How you transfer an idea from one place to another, writing is about that. Blogs are one such media where somebody with an idea can share that idea with millions of people in an instant, depending on his or her credibility and popularity among the masses. Blogs have emerged as one of the best ways you can help change the world. Turns out "Pen (or keyboard in this case) is actually mightier than the sword."
Recently, there has been a lot of popular blogs that have emerged on the internet scene (like ours), but not everyone knows how to properly crystallize the knowledge and present it in a structured form, free from any sorts of mistakes and errors. Many people (like me) earn from such blogs by writing and presenting our ideas on them. But not everyone is a good writer. I mean they may be great in their knowledge and expression but sometimes writing needs much more than that and that's organization and correction. How many times do you come across writings that are innately incorrect with the incorrect formation of words, improper use of punctuations and just laden with mistakes from top to toe? And surely reading such writings often create an eerie feeling around me. You need to be grammatically correct whenever you're writing.
Don't know how to write properly?
Well, worry not. I've got a solution for you. No, you need not read your 8th standard grammar books or enrol into a grammar course. The solution is a simple app known as, "Grammarly." If you haven't heard about Grammarly, you must have been living in an exile till now. Grammarly is a simple to use, free and amazingly fast grammar application that helps you correct your grammar on the go. Worrying about tenses or spelling mistakes? Don't stress. Grammarly has got you covered. It is a one-stop solution for correction in your language and writing. If used frequently, you might as well start to learn from Grammarly and improve your spoken English skills as well. The app works well and easily. You just have to write your content and leave the rest for Grammarly. You just need a working internet connection for Grammarly to show its magic. The app will give you suggestions and reasons for that suggestion and you can choose whether to implement them or not. The app also provides you synonyms for places where it becomes repetitive.
I personally don't know any writer who doesn't use Grammarly. It's fast, free and simple. You can find it across all platforms. Android, iOS, PC, you name it. Grammarly has got it covered for you. The app is so popular that it has over a million downloads just on Android's play store, let alone other stores. Still, feel that it's not gonna help you? Well, try it once and you'll get to know how effective it is.
Even after being across all platforms and being great in its working, there are still a few people that might not like the app. It may be because of its design, or working or anything. Don't worry. I'm not judging you. But for you, I've got something.
Here are 10 Best Grammarly alternatives for people out there who don't wanna use Grammarly: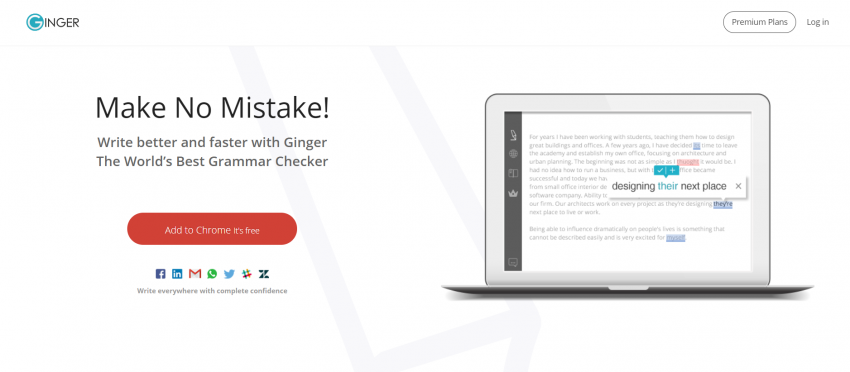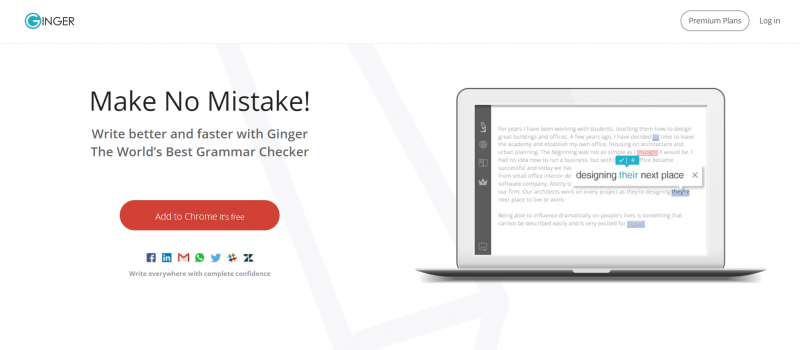 Ginger is a simple, elegant and beautiful to use keyboard app that is highly customisable, easy to use and a lot of fun. It is colourful, vivid and gives a ton of options to customise your keyboard according to your needs. But that's not just about it. Along with those features, it has a built-in grammar editor and spells checker that checks for a grammatical error in a jiffy.
The tool provides for Thesaurus as well as provides for translating words into various other languages of the world. The keyboard comes in two variants: a free and a premium version. You can opt for a free version if you want to, but I'd suggest you go for the premium one to explore the app's full capabilities.
---

ProWritingAid perhaps the least heard of the app on the list, but still one of the best out there. When I didn't know about Grammarly, this was the app I used to go for. It is a feature-rich application that has a great interface and goes head to head with Grammarly. The app provides a grammar editor and is highly affordable.
You can choose from a range of affordable variants according to your budget and needs. In addition to that, it provides you with analytics that is basically, statistics about your writing via reports. The app can be integrated into google docs and hence proves to be very beneficial.
It also offers a vocabulary tool that helps you find conjunctions and synonyms in the sentences for proper formations. One can also edit text while you copy it from any other source, as the case is with Grammarly.
---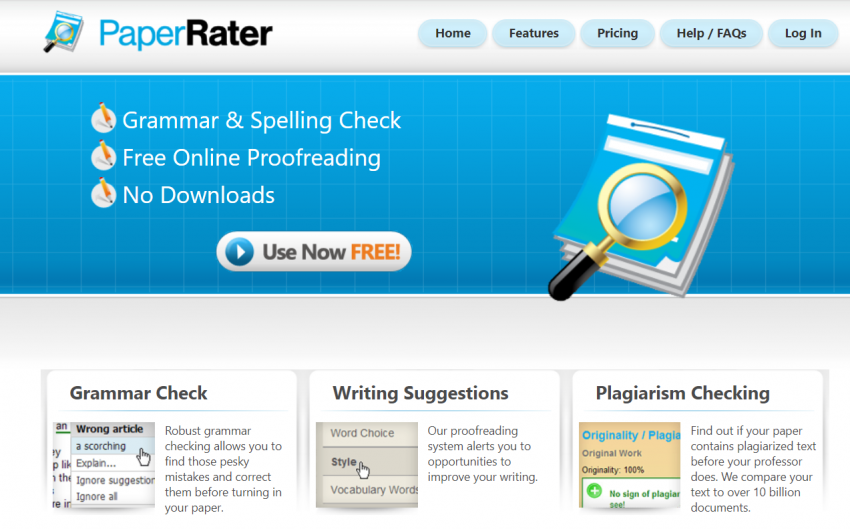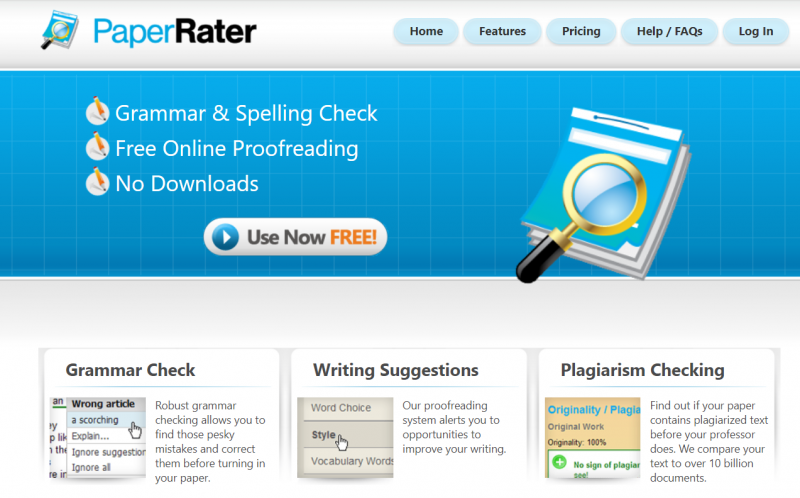 PaperRater next up on the list is PaperRater. The app is a great app with an awesome UI which is very user friendly. It is a great spellchecker, plagiarism checker and grammar editor and that's not just all about it. The app is powered by cloud and hence helps in easy sync across various platforms.
Also, having a cloud option means that you can also save your data and settings on the cloud platform and don't worry about losing them. It has Artificial Intelligence integrated into it, an AI interface known as Grendel reviews your text and can provide instant feedback which helps in easy detection of errors, gives smart suggestions and can even look for duplicate content on the web.
---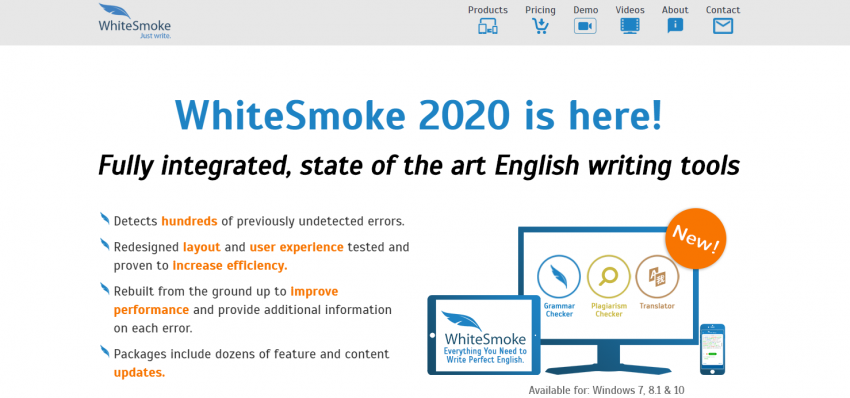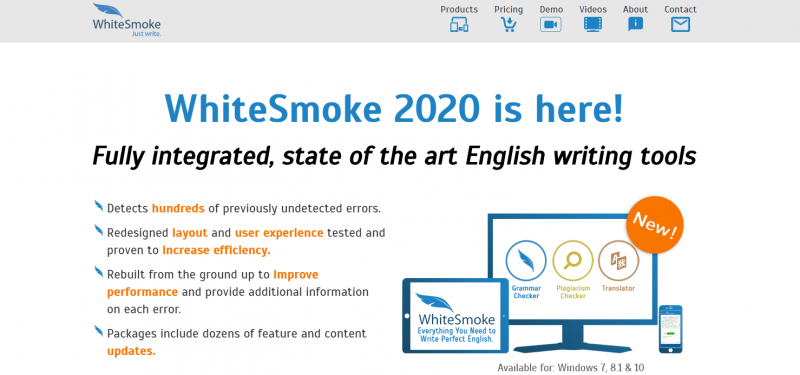 You must be sleeping for long if you don't know about Whitesmoke. It's a great Grammarly alternative and it provides plugins to browsers and MS-Office. The app is laden with rich features and is very pocket friendly. The app is great and unique in the sense that it actually looks out for distinct anomalous things like wrong tenses, sentence fragmentation, frequently occurring words and other punctuation errors.
The database is constantly updated by people all around the world and offers a lot of customizable templates to work upon. It is available across various platforms. The app also provides you with a reason for flagging something as an error or mistake in a very lucid, easy to understand way.
---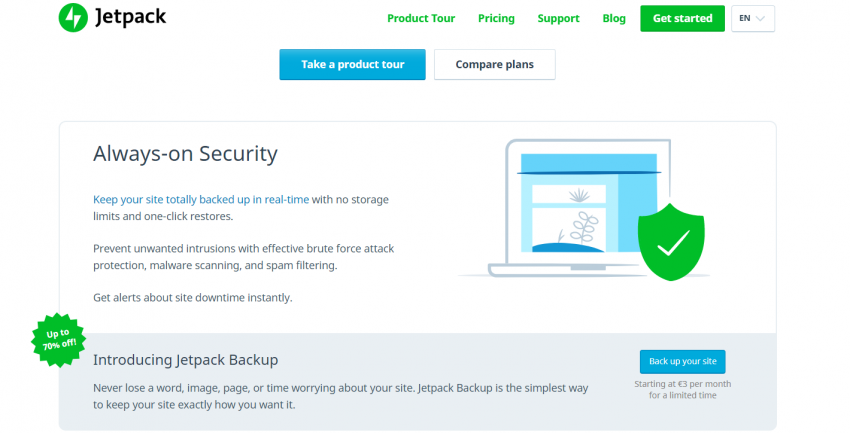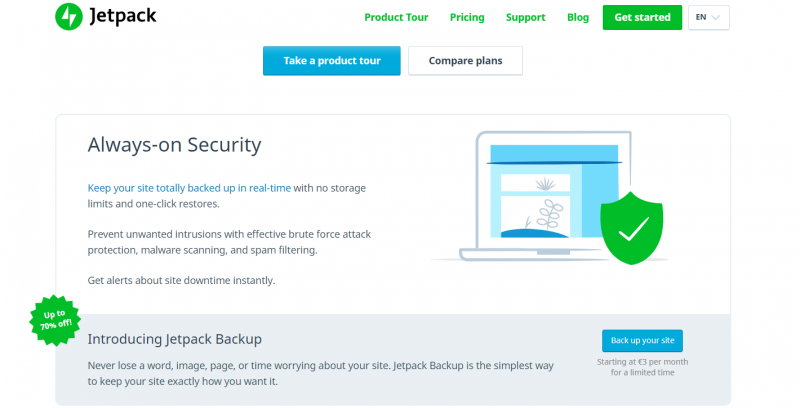 No. We're not talking about any video game. Jetpack is a great WordPress plugin that helps you edit your creative content on the go. It is a smart plugin that lets you analyse, correct, edit and update your content fast and easy. Its most significant and amazing feature is its colour coding of errors. It helps you to actually analyse your content in a jiffy.
The tool has 3 distinct colour coding schemes: red, blue and green. The red colour is for incorrect spellings and incorrect word formation, the Green colour will refer to grammatical mistakes like punctuation, alphabetical cases and Blue colour refers to suggestions for making you a better writer.
It also backs up your data which consist of frequently used words and other analytics for future use. The app also acts as an antivirus while you work on it and checks for site's uptime and security.
---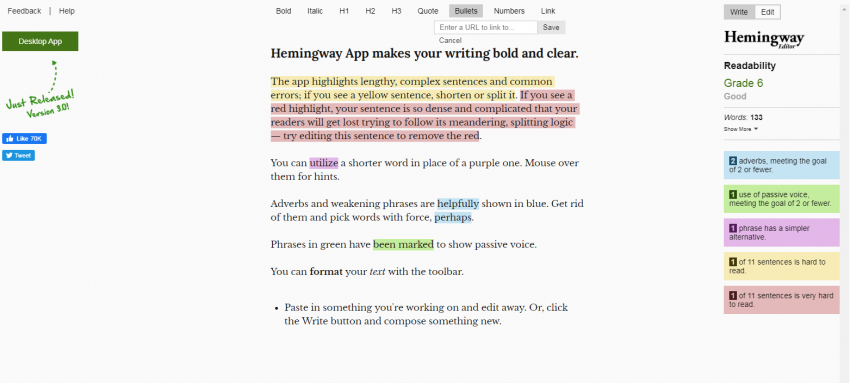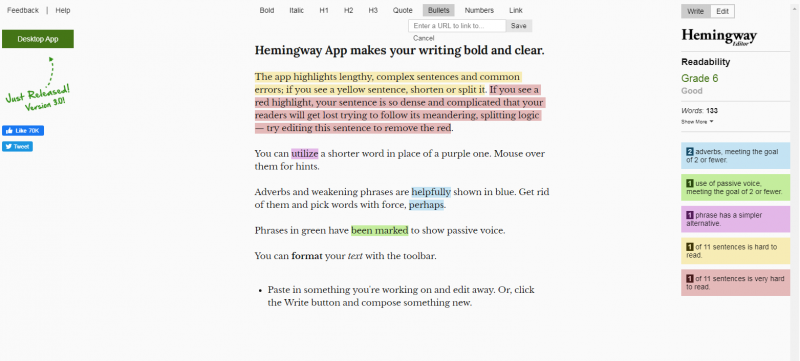 Named after the famous writer, Hemmingway is a simple, fast, reliable and elegant text editing tool that provides basic proofreading functions like grammatical corrections and spell checking and is great for improving overall structure and readability of the content. The editor stands true to its name with its features that will make you feel no less than a great writer.
The app has a feature that lets you check and detect passive constructions of sentences and flags them accordingly as they weaken the prose. Hemmingway has a desktop application that can be used even when you don't have good internet connectivity. The app is just great and also comes with a one-click integration for medium and WordPress.
---


Slick Write is a grammar editor and proofreading software. It is giving a tough competition to Grammarly in the sense that it is free along with being great in its overall functionality. The app highlights things like wrong words, common words, repetitive words and lets you quickly correct them without any hassle.
The application is so great that one can even learn a lot from it. The app provides Wikipedia definitions for easy reference and understanding. It also lets you make custom reports and you can even selectively correct the content. The application provides all its great features for free.
---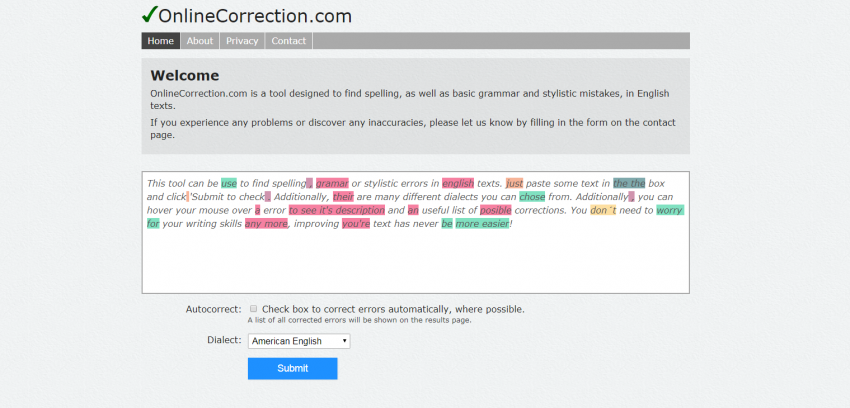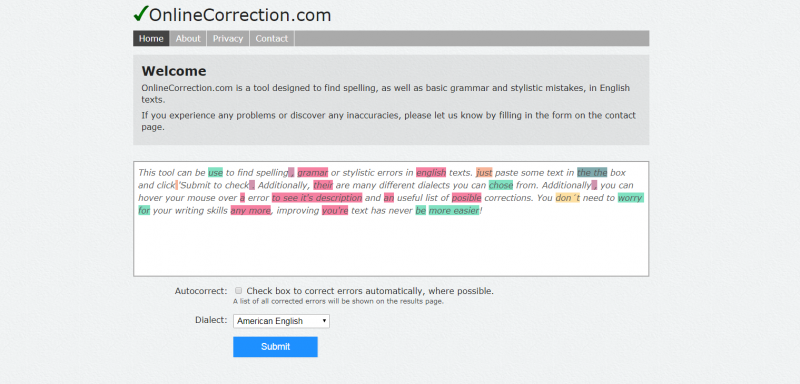 Staying true to its name, the site offers a lot of great functionality and helps to identify common grammatical mistakes and errors. The site is so designed that it detects such mistakes and provides you with remarkable feedback and suggestions through its redressal mechanism. The site is one of the most useful sites on the web for checking mistakes and proofreading.
The tool is simple and reliable along with being a free alternative to Grammarly. It has a minimalist design and interface and that helps you to to get immediately to what you want without any hassle. It is fast, easy to navigate and simple to use. It provides stylistic hints for your writing and lets you decide if you want to implement them or not.
---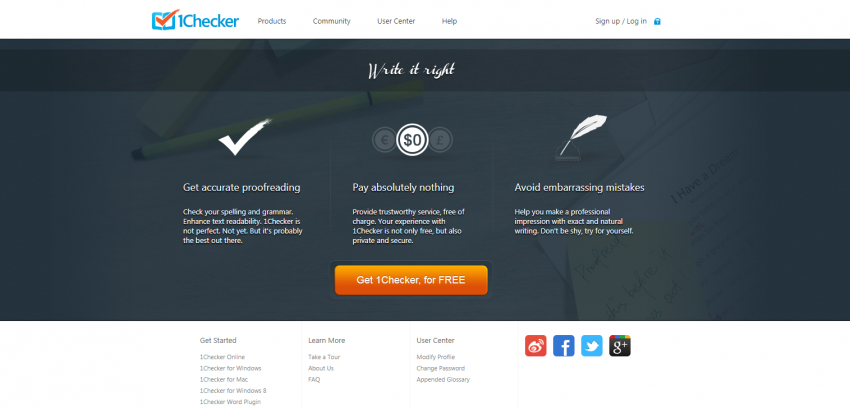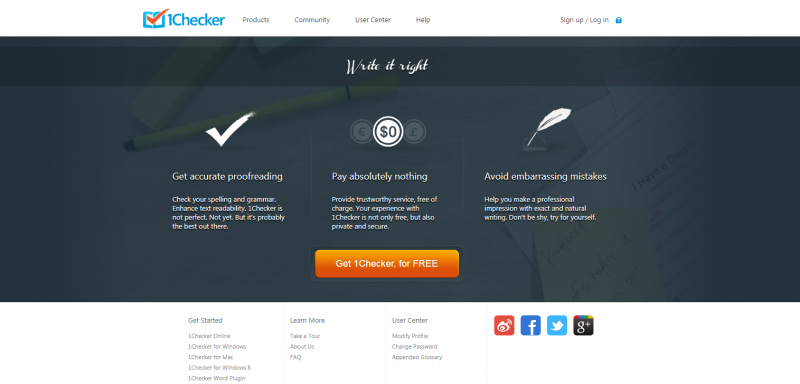 1Checker is a great tool not just because it helps you to correct grammatical errors but also as it is a Pandora box of great tools all fitted into one tool. It has grammar correction, thesaurus, beautiful templates and an inbuilt translator. What else do you want now? It uses a contextual learning system that tries to understand the context of a sentence before marking it as an error.
It also provides synonyms of words so that you don't have to use those words again and again which makes your content look repetitive and boring. The app goes further in providing all at one place so even so that it can also review your social media posts and comments. Imagine that!
---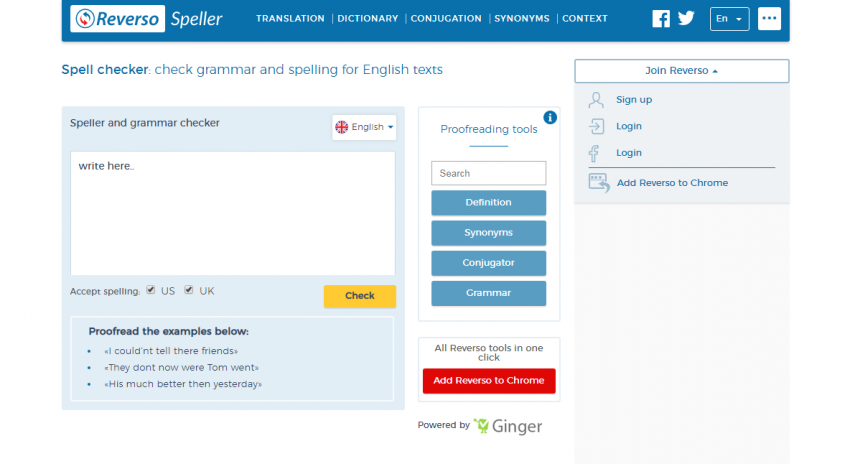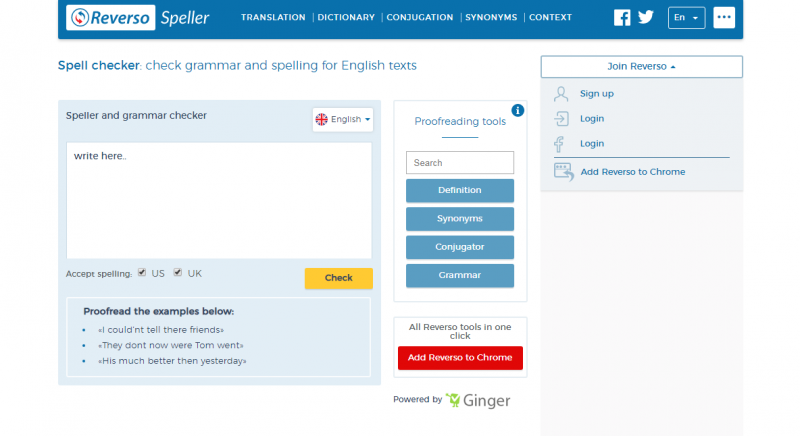 Reverso is a free grammar checking tool that lets you check and correct your grammar. As of now, it's not an app but one can access it through the browser or its plugin. The tool is distinct and emerges out as different from its competitors in a lot of aspects. In reverso, you can actually create a personal dictionary of frequently used words so that it doesn't flag words.
It also offers synonyms and conjunctions of words so that you can form proper sentences without repetitive words. You can also translate words into other languages as well and it also offers a great user database of syntax and grammar.
---
Conclusion
There are a lot of tools out there to act as alternatives to Grammarly we could not mention here. Most of the mentioned tools are free and easy to use. They offer reliable solutions and one can easily use them due to their easy interface and UI.
So go ahead writing that novel you've been putting off or that gets your content proofread that you couldn't due to lack of budget. These tools will surely help you to be a better writer but also will help you to learn better and easier. So with these tools write better and write right and you'll be able to do justice with your craft.