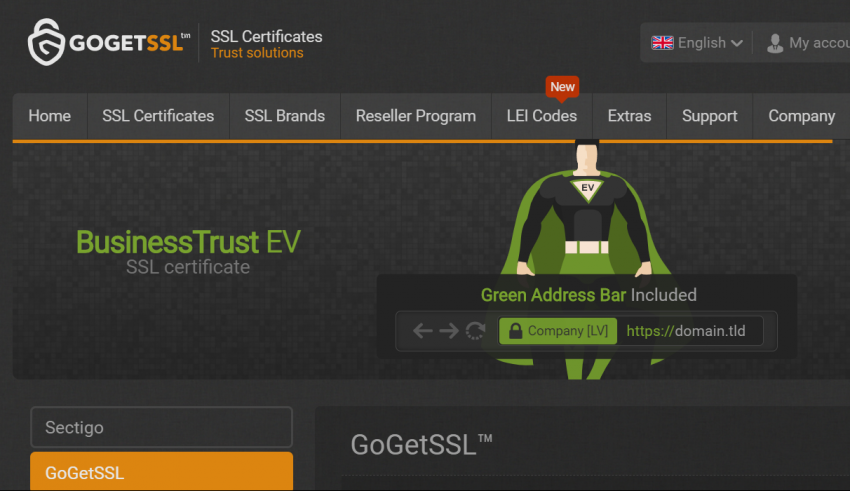 SSL certificates are trusted license you need while starting your website or blogging platform. The broad form of SSL is secure sockets layer. SSL certificates carry out an important role in the security of data on your website.
It is much more than a certificate. It protects your data from Cyber Theft and makes your website secure. SSL certificates also remains a critical factor in SEO. A single SSL certificate can boost the SEO ranking on the digital platform.
SSL certificates are digitally expensive. They cost at least $42.23 for domain SSL certificate per year. On the other hand, domains also distribute free SSL certificates throughout the internet.
But there is a considerable risk of Cyber Theft of data in that case. Your financial data can be stolen and used illegally. So never opt for cheap SSL certificates.
There are certain platforms which sell genuine SSL certificates at cheap prices. One of them which is highly trusted among developers is GoGetSSL. GoGetSSL serves inexpensive SSL certificates with originality.
It has been serving SSL certificates since 2009 and currently is popular for its work. They provide 8 different services on their website which includes Domain certificates, Business Validation certificates, Multi-Domain SSL, Wildcard SSL, Extended Validation SSL and much more.

Features of GoGetSSL:
GoGetSSL provides the following prominent features to its users:
1. Domain SSL certificates
Domain SSL certificates are issued by $3.88 per year on GoGetSSL. For getting a domain SSL certificate you don't need paperwork and business or company verification on GoGetSSL. DV certs are supported by Google on behalf of GoGetSSL.
2. Business SSL certificates
These certificates cost $24 per year. These are slightly costly because they are purposely significant for protecting your data. Habitually, use a valid Business SSL certificate because having a valid business name and verified organization number while building a website is important.
3. Extended validation certificates
This certificate enables the Green Bar on your website. Users pay serious attention to it. These certificates increase your sales by 17%. And that's why they cost up to $75 per year. Extended SSL certificates may endure a week for approval.
4. Wildcard SSL certificates
Wildcard SSL certificates are used for multiple subdomains usage. It enables you to use all subdomains at a unique time. This certificate works on behalf of all other SSL certificates. On GoGetSSL they will evaluate you up to $44 per year for Wildcard SSL certificate.
5. Multi-domain SSL certificate
Single area network is used for the security of a domain and subdomain. SAN is very important when multiple domains are issued at the same time. A single multi-domain SSL certificate can protect up to 250 SAN on GoGetSSL. A single multi-domain certificate costs $15, and with the help of this, you can protect more than 200 SAN at one time. It is affordable and also multi-tasking at the same time.
6. Code signing SSL certificates
Code signing SSL certificates are very essential as they make sure that no malware or virus downloads through the browser. It is ordinary among hackers to send malware through random file downloads. It will cost you $60 on GoGetSSL. They are slightly lavish because they are distributed to GoGetSSL through reputed companies like Thawte and Comodo.
7. Email and document signing
Email signing is essential these days. To manufacture your company in a professional manner you need to make sure your emails are safe and signed. They will present a pleasant side of you to your further business partners. Email and document signing will cost you up to $11 on GoGetSSL.
Benefits of Using GoGetSSL
1. Time-saving
GoGetSSL serves SSL certificates within minutes. It doesn't mean they serve fake certificates. The SSL certificates are 100% genuine. All certificates can be issued within 10 minutes. But the Extended validation certificate takes at least a week for validation.
2. Price comparison
If you have found more affordable price range on any other website then GoGetSSL will compare it with the website and clarify the status. It is very helpful to know whether that SSL certificate will further work or not.
3. Free SSL for 90 days
Free SSL certificates will be issued to you in the initial stage. It is issued to check whether they work or not with your browser and system. They work with almost 99% of websites and browsers on the internet.
4. Money back
GoGetSSL policy conveys that they will return back 100% money if the issued SSL certificates aren't genuine. This policy lasts only 30 days from the day SSL certificate was issued through GoGetSSL.
5. Cheap service
GoGetSSL provides at least 75% cheaper SSL certificates from the actual SSL certificates. The price of SSL certificates depends upon the importance of the particular SSL certificate.
6. Unlimited prolongation
This means that you can extend your subscription for a particular SSL certificate according to your choice.
LEI Codes
GoGetSSL distributes LEI codes to companies and startups at a cheap price. LEI code is a 20 character reference code which is used to identify whether a particular entity is legal or not. It is mostly checked within financial transactions. LEI codes play a crucial role in measuring systemic risk when a business is started.
GoGetSSL has a package for 5 years utmost in $216 at one time. LEI codes are very important for trade. With an LEI code, you will get a free Business SSL certificate too in the package. LEI codes on GoGetSSL will be distributed by GETLEI officially. Now you don't need to worry about the issued LEI codes as they will be 100% genuine.
GoGetSSL Reseller program
GoGetSSL provides you a chance to become a partner with the company. If you wish to sell SSL certificates or codes of GoGetSSL through your company then you can become a partner with it easily. All you need to do is to fill the form linked below, and the company's team will make an account for you instantly.
Around 7k+ companies are at present working with them. They use the White-label policy so that your customers would no nothing about your company's partnership with GoGetSSL. No commitments or deposits are required.
How to Use GoGetSSL
Here are the steps that will guide you through the process of getting an SSL certificate.
Visit this link, which is on the official website.
Point your mouse on the tab SSL Certificates and select the type of certificate you are searching for.
Then go ahead and tap on "Buy SSL."
Directly choose among the list that will be displayed.
Click on BUY SSL.
Select the subscription time period and then add the product description.
Pay through the given options.
Select CSR and domain.
Wait for the Approval email.
That's done now. Your SSL certificate is ready.
Conclusion
In a world teeming of fake SSL certificate get your hands on GoGetSSL. It is amazingly inexpensive and includes at most everything on its website. The most important thing is customer satisfaction.
It has different policies helping customers understand about their work. Go get your SSL certificates through this amazing website and stop worrying about your data.
GoGetSSL will secure your data and make your business function more professional. Even though, if you are fretted about some expensive SSL certificates. Go ahead and compare it on GoGetSSL. It is a comprehensive package of web development.