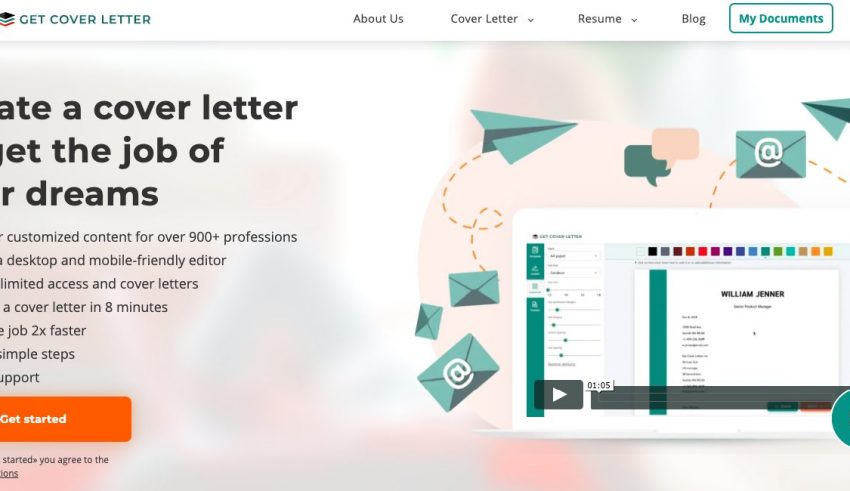 Looking for the best cover letter maker? Based on reviews, GetCoverLetter.com website is widely-considered a powerful builder. See more details.
GetCoverLetter.com Review: Why it is the Best Cover Letter Builder
In today's competitive environment, a cover letter is a good opportunity to increase your chances of getting the job you want. More than 83% of HR professionals consider a cover letter one of the critical factors in hiring. At the same time, many recruiters expect a candidate to attach a cover letter even if it is not specified in the job offer. That is why it is essential to prepare a document of the highest quality.
But what does it take to write a powerful letter: time, inspiration, proper structure? The answer is a professional editor. In this article, we will talk about a helpful online builder GetCoverLetter.com that provides examples of cover letters and gives the ability to generate your custom document from scratch quickly. We have analyzed its features and competitive advantages and are ready to describe why this is the best online cover letter builder.
GetCoverLetter Overview
Get Cover Letter company was launched in 2019 by a team of career experts. Since that time, its generator has helped users worldwide create more than 133,000 cover letters for 24 different industries. According to reviews about GetCoverLetter on Trustpilot, the website provides a wealth of useful information on preparing for an interview, creating a quality resume, finding a job without experience, hiring nuances in different industries, etc.
Besides, the site offers attractive prices and gives a trial period of 7 days, during which customers get free access to all platform functions. Another significant advantage is the ability to create a custom resume. Thus, by purchasing a subscription, users can qualitatively prepare the complete package of documents required for a job application. In general, GetCoverLetter is a great resource that is useful for both professionals and job seekers with limited or no experience.
GetCoverLetter Advantages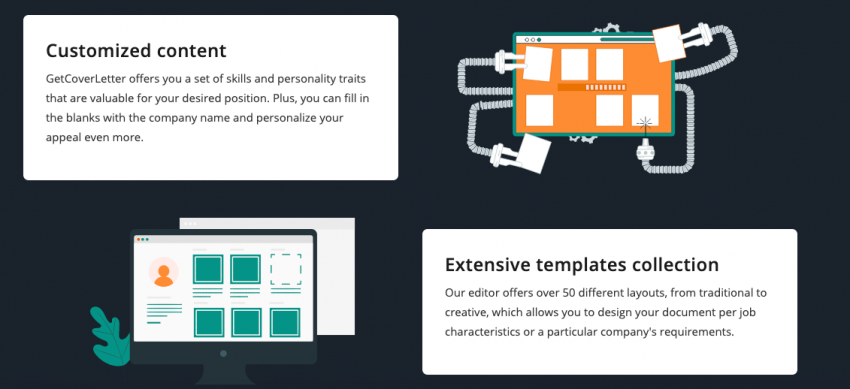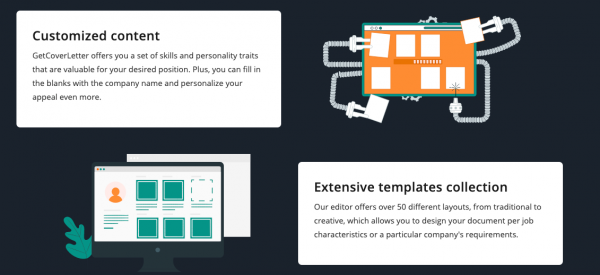 Based on many GetCoverLetter.com online reviews and our personal experience, we have prepared an overview of the main benefits of this service. Below you will find the essential characteristics that make users love it.
Convenient and Fast Interface
Perhaps most consumers on the web would agree that interface and overall performance matter. GetCoverLetter has a nice and attractive appearance as well as convenient and reliable functionality. All of its elements are arranged to make creating a cover letter as simple as possible. The system loads very quickly, so you don't have to wait too long for the page to be displayed. We can say that in terms of performance, the editor shows excellent results.
Lots of  Professions
GetCoverLetter has an extensive database and can create custom cover letters for over 900 professions in various areas. This builder includes entry-level and management positions, making it a universal solution for all applicants, regardless of their professional background and qualifications. Here are the industries the system covers:
Arts & Design
Administrative
Business
Consulting
Customer Services & Support
Education
Engineering
Finance & Accounting
Healthcare
Human Resources
Informational Technology
Legal
Marketing
Media & Communications
Military & Protective Services
Operations
Product & Project Management
Retail & Food Services
Research & Science
Sales
Scholarship
Skilled Labor & Manufacturing
Transportation
Other
Simple Questionnaire
The GetCoverLetter system is very simple and intuitive, allowing users to save time on creating cover letters. When customers register on the website, they are asked to answer a few simple questions about their experience and qualifications. The builder creates a professional, customized self-presentation that the user can add to or edit as needed by analyzing the responses.
Large Set Of Skills
When applying for a job, it is essential to demonstrate your hard and soft qualities. Employers make decisions based on these skills. Thus, they have to be described as qualitatively as possible. GetCoverLetter provides a vast list of skills for various professions. Users just need to select the required qualities from the drop-down list, after which the system combines them into one logical text and explains how each skill chosen will help the user succeed in the desired position.
It is a very convenient functionality since clients do not need to describe all this on their own. The GetCoverLetter system is especially suitable for those users who have writer's block. You can choose your professional abilities, strengths, soft skills, and even work style on the platform.
Right Structure
A strong cover letter has a precise structure that includes a greeting, opening, body, and closing. GetCoverLetter templates follow this structure.
All paragraphs are clearly outlined, making the letter easy to read. Another feature of the system is that you do not need to format your document yourself. You simply select the necessary design layout, and the online creator takes care of the font, margins, and space of your text.
Custom Templates
The platform offers over 50 cover letter templates and different color schemes. Cover letter builder reviews on Reviews.io indicate that users are very impressed with this functionality.
These templates provide an opportunity to prepare not any faceless document, but an effective and memorable letter that meets business correspondence standards.
Fast & Easy Process
Have you ever written a cover letter yourself? Did it take an hour or more? It is worth admitting that the process of writing a letter yourself can be too long.
So, another indisputable pro of the builder is that it saves time when creating a document. Get Cover Letter service reviews on Proven Expert and Sitejabber testify to the fact that it took users about 10 minutes to prepare the letter from start to finish. This is a very impressive result.
The entire process of creating a cover letter consists of 3 main steps:
Choosing the template of the letter;
Selecting a candidate's skills and strengths;
Editing the appearance or content of the document as needed.
Edit & Change
Your document can be easily edited. After completing the questionnaire, you will receive a preview of your cover letter.
At this stage, you can add necessary information to the text, change the formatting settings, or go back to the questionnaire and re-select the components of your self-presentation.
Download, Print & Email
After your sample is ready, you can download it to your device, print it on a nearby printer, or immediately send it to a recruiter. This is pretty convenient, as some editors allow clients to download the completed document for an extra fee.
With GetCoverLetter, you can send and download your letter as many times as you want without additional payments.
Create & Store Unlimited Number of Documents
By purchasing a subscription to the GetCoverLetter platform, you get access to an editor to generate an unlimited number of cover letters and store them in one online library.
Thus, you can be sure that all your documents are safely collected. Since a separate cover letter must be generated for each position you are applying, reliable storage is a huge advantage. Many editors are limited to storing only a couple of documents, while with GetCoverLetter, you can create and save as many letters as you want.
24/7 Support
This online cover letter maker has a support team that is always in touch. Regardless of what questions you have about the editor, your subscription, or any other site features, you will always get help.
Cover letter writing service reviews on various resources confirm that the GetCoverLetter team values its customers and responds to requests quickly. They are available 24/7 via email or call center.
---
Conclusion
As our analysis shows, GetCoverLetter is a convenient system for preparing professional cover letters and resumes. With this site's help, users create solid documents very quickly, increasing their chances of employment. Moreover, the services are quite cheap, which is also a significant advantage. In general, GetCoverLetter is a reliable assistant for all those looking for a new job.